This is the BEST Lasagna Recipe on the Internet! It's made with a hearty bolognese, classic tomato sauce and delicious homemade béchamel.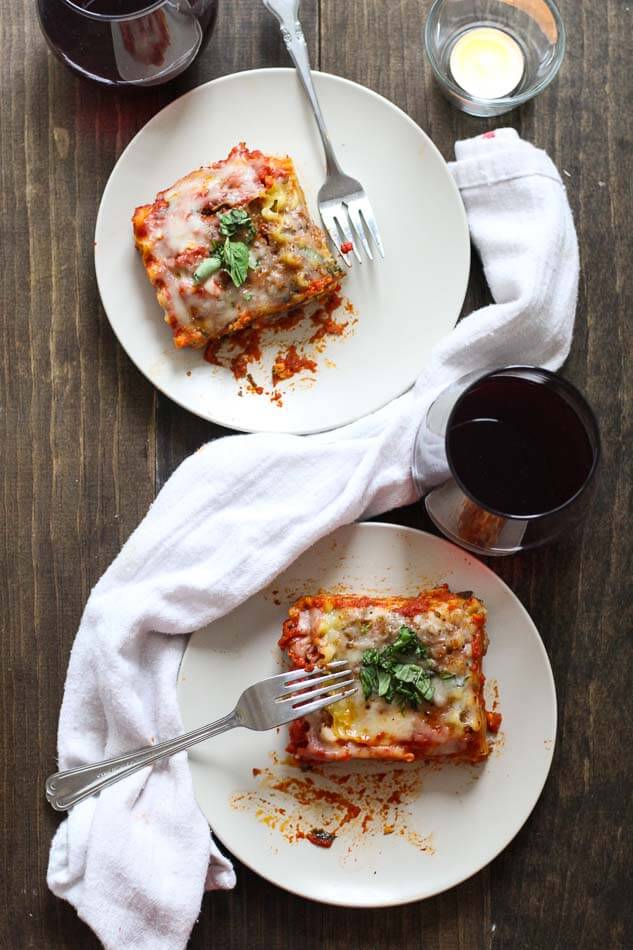 Ingredients and substitutions
Oven-ready lasagna sheets – gluten free lasagna sheets work great. Thin layers of eggplant and zucchini can be substituted, but will not produce the same texture.
Chopped vegetables – veggies like peppers, mushrooms and spinach are all great options.
Bocconcini cheese – extra mozzarella can be used in place of bocconcini, if needed. Any semi-soft cheese will work.
Mozzarella cheese – if mozzarella is not available to you, provolone or white cheddar can be used instead.
Parmesan cheese – Piave or asiago cheese can be used in place of parmesan if needed. If cheese isn't your favourite, nutritional yeast can work, too.
Tomato sauce – if making homemade sauce is not your thing, store-bought or jarred also work. Any tomato-based sauce will do!
Bolognese sauce – ground beef can be switched for ground turkey or vegetarian mince. The wine can also be substituted for white wine vinegar, white grape juice or any type of broth.
Béchamel sauce – this sauce can be exchanged for store-bought alfredo sauce. This can also be made with lactose free cream, milk and butter if that's more your style.
Bolognese sauce
Olive oil – or another neutral cooking oil of your choice.
Yellow onion – white onion would also be good here.
Garlic – freshly minced garlic is best but jarred minced garlic will work in a pinch.
Celery – swap out for another veggie of your choice or leave this out altogether.
Carrot – see substitution notes above.
Ground beef – you can also make this sauce with ground turkey or vegetarian mince.
Salt & pepper – to taste.
Dry white wine – white wine vinegar, white grape juice or any type of broth will work instead.
Can crushed tomatoes – chopped tomatoes would also work.
Béchamel sauce
Butter – or a butter substitute of your choice.
Garlic – freshly minced garlic or jarred minced garlic can be used.
Salt & pepper – to taste.
Flour – feel free to use gluten-free flour if you want to make this recipe gluten-free.
Milk – dairy-free milk can be used but it may alter the flavour.
Cream – you can use half-and-half, but the sauce won't be as creamy.
Tomato sauce
Olive oil – or another neutral cooking oil of your choice.
Passata – a can of strained tomatoes is the substitute here.
Garlic – use freshly minced or jarred minced garlic.
Brown sugar – make your own brown sugar using white sugar and molasses.
Salt & pepper – to taste.
Fresh basil – use dried basil or fresh oregano instead.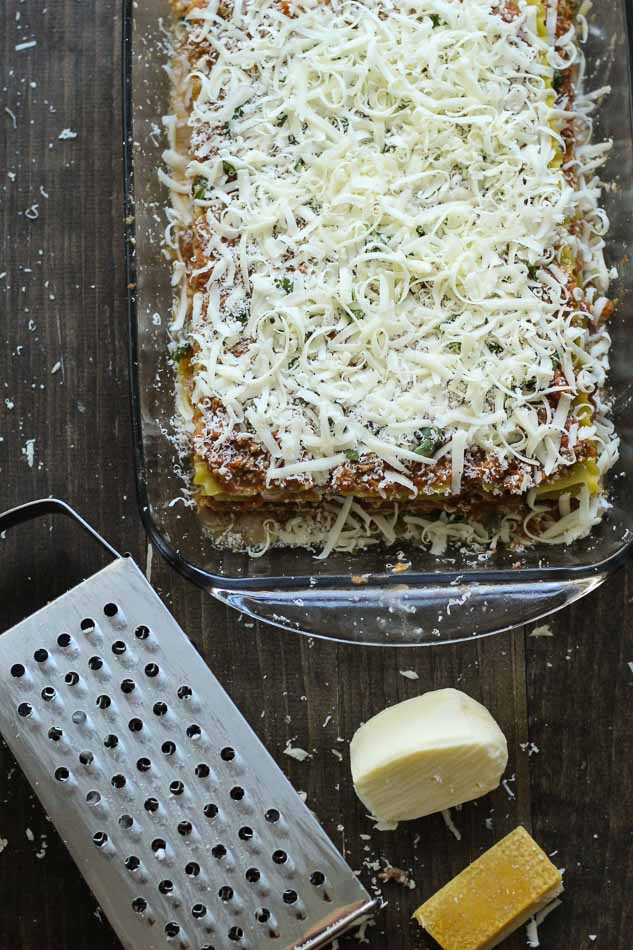 Skip the Ads and Get Right to the Recipes!
ZERO ADS on over 600 recipes!
Weekly Meal Plans, Grocery & Prep Lists
Bonus eBooks
How to make lasagna
Roast the veggies.
Make the sauces.
Layer your lasagna.
Pour the sauce over top.
Bake and serve!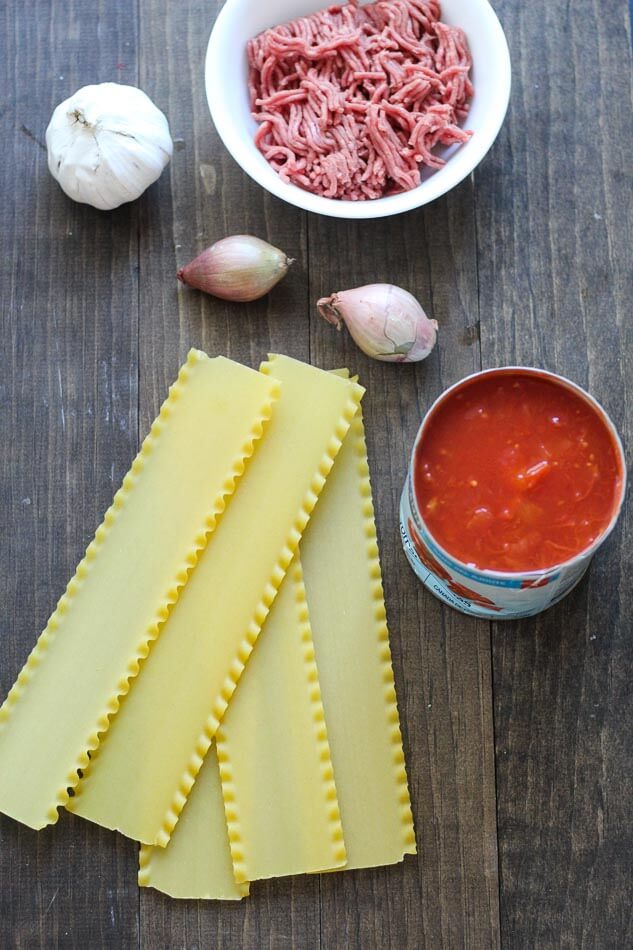 How to layer lasagna
To make your layers, you'll be following a pattern of a thin layer of béchamel sauce, then a layer of lasagna sheets, bolognese sauce, a second layer of béchamel sauce, your shredded cheeses, then your roasted vegetables.
This pattern will be repeated about four times, starting with your lasagna sheets and finishing with your cheeses. This can be topped with some tomato sauce and the remaining cheese. Some fresh basil is a nice touch on top, too.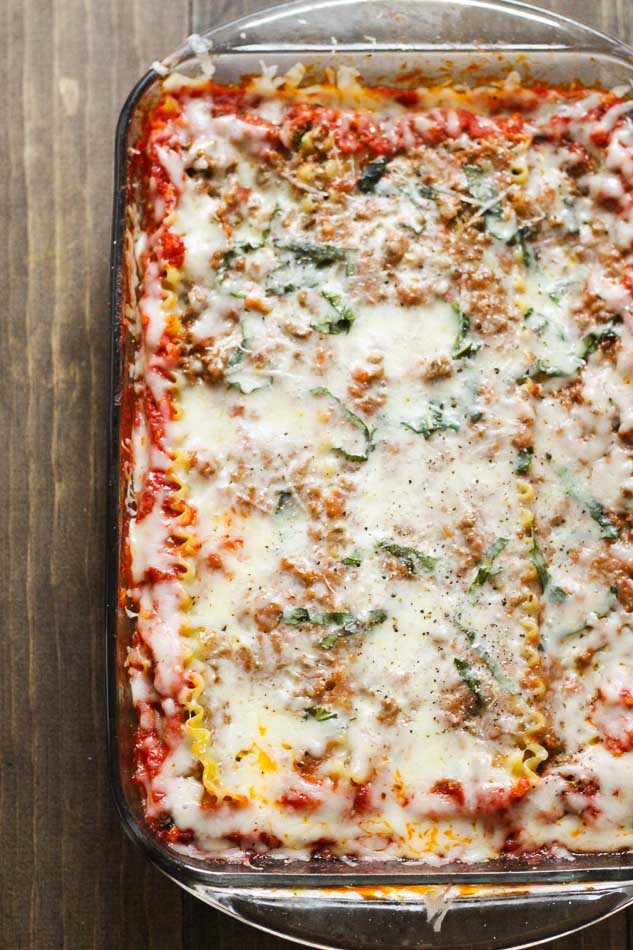 Frequently Asked Questions
What's the difference between lasagna and lasagne?
Lasagna refers to the entire dish whereas lasagne refers to the fresh pasta sheets that are used in your lasagna dish.
What are the three main components of this dish?
The three main components of lasagna are the sauce, the cheese and the pasta. For this recipe, I actually used three different kinds of sauce: bolognese sauce, tomato sauce and béchamel sauce.
Should it be 3 or 4 layers?
Depending on the depth of your baking dish, four layers is a good, safe number. Having too many layers can cause your lasagna to fall over sideways, as the height and weight may be too much. With four layers, you can be confident that every type of sauce and cheese used will be distributed evenly.
Does authentic lasagna have ricotta or béchamel?
Authentic lasagna from the northern and southern regions of Italy is actually made with béchamel sauce, not ricotta. A lot of American restaurants and recipes will use ricotta instead of béchamel sauce because it's easier to make – but trust me, the béchamel sauce is totally worth it!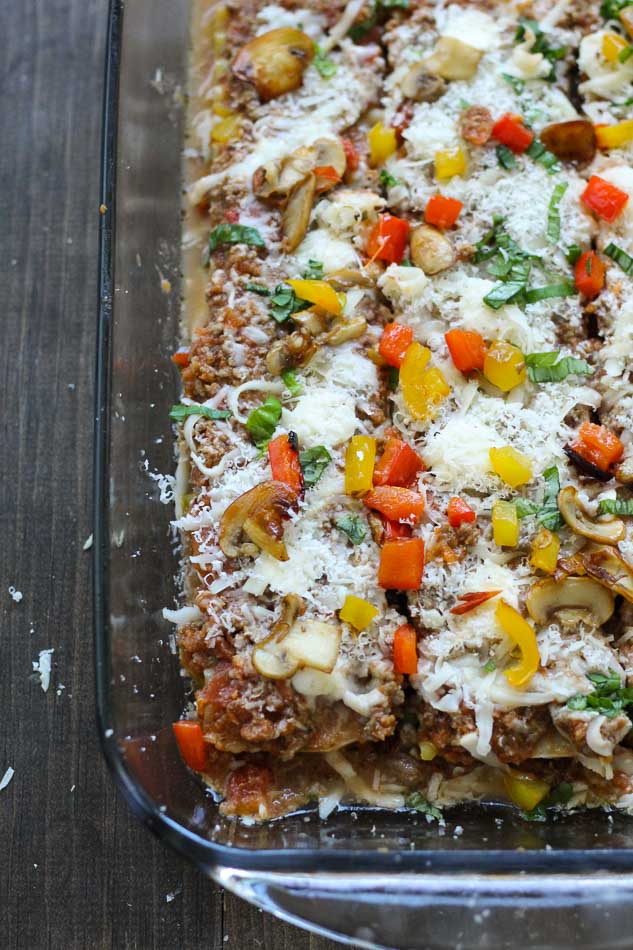 Storing and reheating
Once your lasagna has been fully cooked and has cooled completely, store it in an airtight container and refrigerate it for 3 to 5 days. When it's ready to be eaten, reheat it in the microwave for about 1-2 minutes until hot. Sprinkle some fresh grated cheese and basil for a dish that's as good as new!
Can you freeze lasagna?
Freezing your lasagna works best when assembled but uncooked. To freeze your uncooked lasagna, I recommend assembling it in a foil or glass container in individual servings. You can also freeze the whole lasagna in a covered airtight container or tightly wrapped in aluminum foil. Your cooked lasagna can be frozen as well once cooled.
When you're ready to enjoy, pull the lasagna out of the oven and defrost it in the fridge overnight or cook it right from frozen.
Wanna Learn How To Meal Prep?
My meal planning service, Dinner Prep Pro, removes the guesswork and helps you get dinner on the table in 15-20 minutes each night. My meal prep checklists only take 1 hour each week!
Meal prep tools for this recipe
The BEST Lasagna Recipe on the Internet!
This is the BEST Lasagna Recipe on the Internet! It's made with a hearty bolognese, classic tomato sauce and delicious homemade béchamel.
Print
Pin
Rate
Click Here to Remove Ads
Servings: 8 servings
Calories: 567kcal
Ingredients
8 oven-ready lasagne sheets
1 cup vegetables of your choice chopped (I used yellow and red pepper & mushrooms)
1 cup Bocconcini cheese sliced
1 cup mozzarella shredded
1 cup Parmesan cheese shredded
Bolognese Sauce
1 tbsp olive oil
1 small yellow onion chopped
2 cloves garlic chopped
1 stalk celery chopped
1 carrot peeled and chopped
1 lb ground beef
1 tsp salt
1/2 tsp pepper
2 tbsp dry red wine
1 (796mL) can crushed tomatoes
Bechamel Sauce
4 tbsp butter
2 cloves garlic minced
1/2 tsp salt
1/4 tsp pepper
2 tsp flour
1 cup milk
1 cup cream
Tomato Sauce
1 tbsp olive oil
1 (650mL) jar passata (strained tomatoes)
1 clove garlic minced
1 tsp brown sugar
1 tsp salt
1/2 tsp pepper
1/4 cup fresh basil finely chopped
Instructions
Roasted veggies:
Preheat oven to 425 degrees.

Slice peppers in half and drizzle in olive oil and season with salt and pepper. Add sliced mushrooms and garlic. Cook in the oven for 30 minutes, then remove and chop up peppers.
Bolognese Sauce:
In a blender or Magic Bullet, pulse onion, garlic, celery and carrots until finely minced.

Heat olive oil in large pot over med-high heat, and add onion-carrot mixture. Add ground beef, seasoning with salt and pepper, and cook for 20 minutes until fat begins to render. Add red wine and cook another 2 minutes, then add crushed tomatoes and simmer for another 10 minutes. Set aside.
Bechamel Sauce:
Melt butter in small pot over medium heat and add garlic, cooking for 30 seconds until beginning to roast. Add salt and pepper, then slowly whisk in flour. Add milk and cream, whisking to remove lumps. Continue until mixture is boiling and then remove from heat.
Tomato Sauce:
Heat olive oil in a medium sized pot over med-high heat, then add garlic. Saute for about 30 seconds, then add strained tomatoes, sugar, salt and pepper, bringing to a boil then simmering for 10 minutes. Remove from heat and stir in basil.
To assemble lasagna:
Coat a 9×13′ oven safe dish with butter and olive oil. Add a thin layer of béchamel, followed by lasagne sheets, bolognese sauce, more béchamel, the trio of shredded cheeses and then the roasted veggies. Repeat the same steps four times over, always beginning with the lasagne sheets and finishing with the cheese.

When you've added the final layer and before you cover the top with cheese, pour tomato sauce over the top of the lasagna and make sure it goes down the sides of it, covering the entire dish. Finish with cheese and sprinkle some fresh basil overtop if desired.

This lasagna can be made up to 24 hours in advance. Cook covered by tin foil at 425 degrees for 40-45 minutes and let stand 5 minutes before serving.
Notes
Swap out the bechamel sauce for a store-bought alfredo sauce. Store leftovers in the fridge for 3-5 days. Reheat in the microwave for 1-2 minutes then sprinkle on some fresh cheese. Freeze your lasagna either assembled but uncooked or fully cooked.
Nutrition
Calories: 567kcal (28%)Carbohydrates: 23g (8%)Protein: 25g (50%)Fat: 42g (65%)Saturated Fat: 21g (131%)Polyunsaturated Fat: 2gMonounsaturated Fat: 14gTrans Fat: 1gCholesterol: 131mg (44%)Sodium: 1154mg (50%)Potassium: 393mg (11%)Fiber: 2g (8%)Sugar: 4g (4%)Vitamin A: 3328IU (67%)Vitamin C: 5mg (6%)Calcium: 348mg (35%)Iron: 2mg (11%)
Join The Girl on Bloor Premium!
ZERO ADS!
Weekly Meal Prep Checklists
Bonus eBooks