These 30-Minute Ginger Beef Sweet Potato Noodles are so delicious! Use spiralized sweet potato noodles for an easy low carb meal.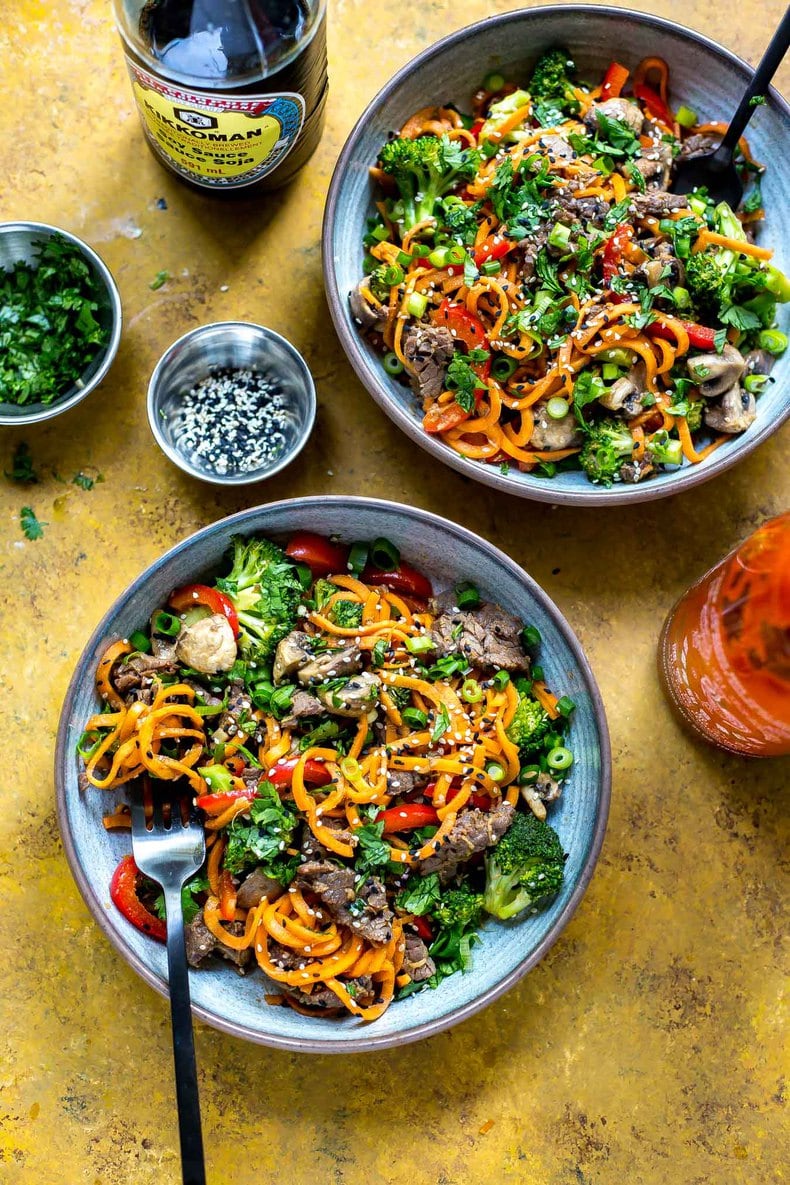 Ingredients and substitutions
Steak – use fast-fry beef strips, chicken or tofu. If you use chicken, you'll need to cook it for 8 minutes.
Baking soda – this will help tenderize the meat, so you can leave it out, but the steak won't be as tender.
Cornstarch – potato starch would be a good substitute here.
Sweet potato – spiralize another veggie like zucchini, butternut squash or beets.
Broccoli – cauliflower would also be good or you can swap out for another veggie of your choice.
Mushrooms – use any variety of mushrooms or another veggie.
Red pepper – yellow, orange or green peppers can be used instead.
Scallion – swap out for yellow or white onions if you don't have any scallions.
Stir fry sauce
Soy sauce – coconut aminos or tamari are the best substitutes for soy sauce.
Sesame oil – you can use a neutral cooking oil like olive oil but it will have a milder flavour.
Garlic – freshly minced garlic is best but jarred minced garlic will work in a pinch.
Ginger – use a bit of ground ginger instead.
Sriracha – leave this out altogether if you're not a fan of spice.
Sesame seeds – black or white sesame seeds would be good garnishes.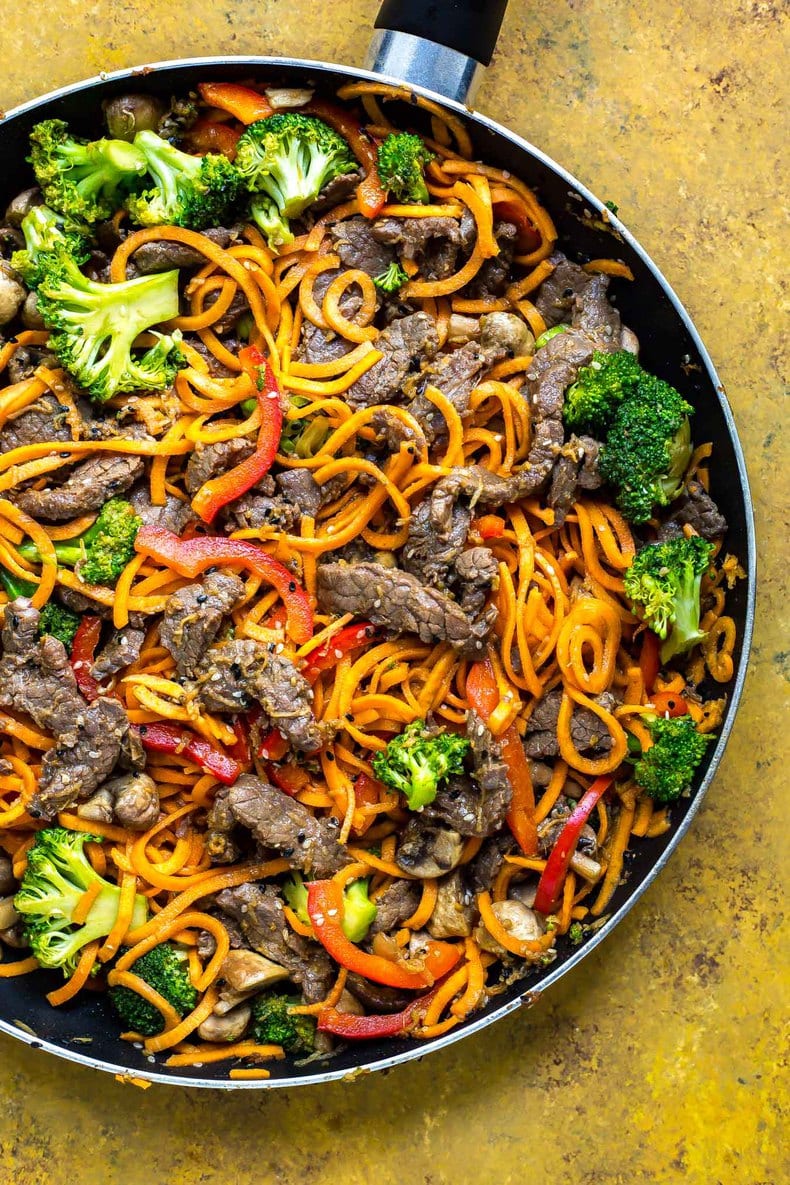 Skip the Ads and Get Right to the Recipes!
ZERO ADS on over 600 recipes!
Weekly Meal Plans, Grocery & Prep Lists
Bonus eBooks
How to make ginger beef sweet potato noodles
Marinate the steak.
Make the stir fry sauce.
Spiralize the sweet potatoes.
Sauté the steak and veggies.
Serve and enjoy!
Spiralizing sweet potato noodles
I may have cheated a little and bought some pre-spiralized sweet potato noodles at the store. When I'm in a rush or don't have too much time to chop and prep veggies, I love grabbing some pre-packaged veggies. Anything from chopped and peeled butternut squash to spiralized zucchini, different veggie blends and cauliflower rice make meal time so much easier!
You can also spiralize the sweet potato at home using a spiralizer. You'll want to peel the sweet potato first, then attach the sweet potato between the two prongs of the spiralizer and push it through. You'll have strands of sweet potato noodles in no time! You can even spiralize them up to 2 days in advance so all you have to do is add them to your stir fry at the last minute.
Frequently Asked Questions
Are sweet potato noodles healthy?
Yes, they are! Sweet potatoes are highly nutritious.  Sweet potatoes are loaded with Vitamin A and Vitamin C, which help support your immune system and healthy vision, as well as enhancing brain function. 
What is ginger beef?
Ginger beef is a dish made of beef that's cooked in a ginger stir fry sauce, typically garnished with sesame seeds. For this recipe, I marinated the beef in a homemade stir fry sauce made using common pantry ingredients. All you need to make the sauce is soy sauce, sesame oil, minced garlic, minced ginger, sriracha and sesame seeds, with some baking soda to tenderize the meat.
How long do you cook the noodles for?
Any type of spiralized vegetable will cook much quicker than regular noodles, so you're only going to sauté these sweet potato noodles for 2 minutes or so. I use high heat so that they will maintain their crunch but also become a little bit tender. Because this is a stir fry recipe, you'll want to use a large skillet on high heat or a wok so that your vegetables become tender-crisp. This will also help to thicken the sauce.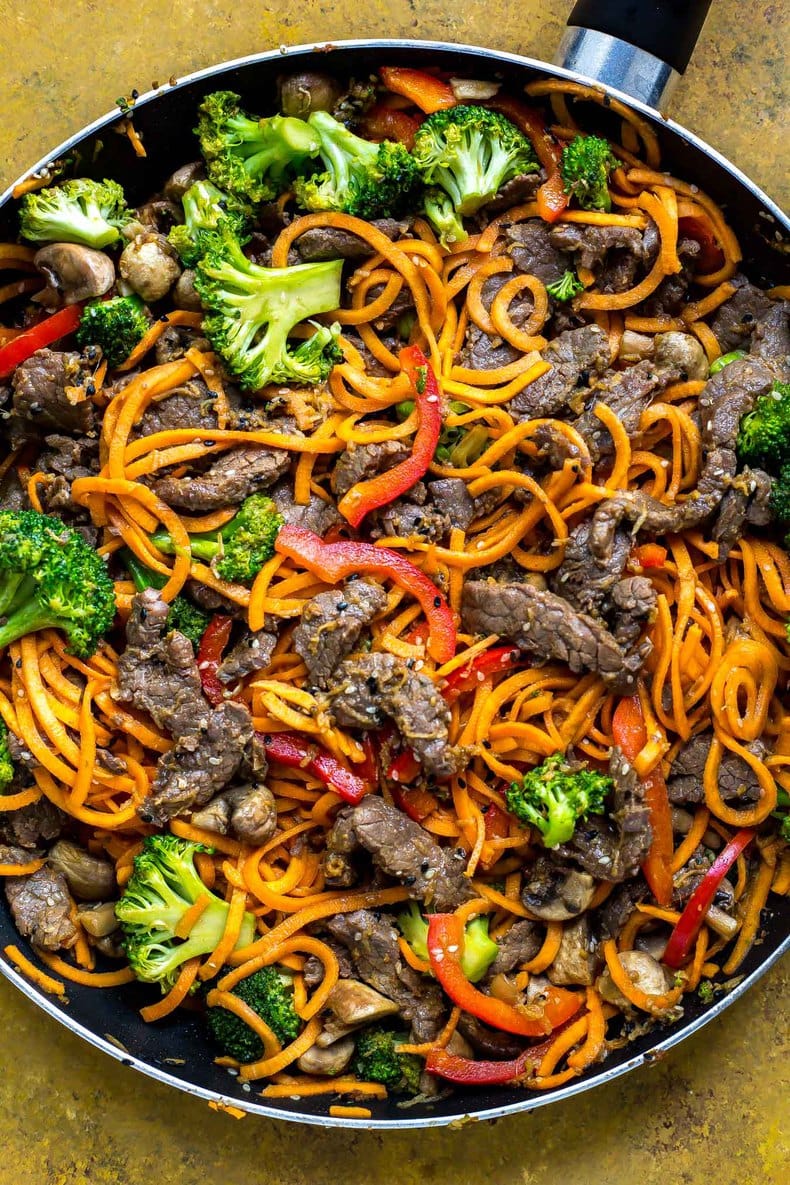 Storing and reheating
This sweet potato noodle stir fry makes great leftovers, but you need to eat them within 2 to 3 days or they're get soggy. Instead of reheating in the microwave, I'd recommend reheating in a large skillet over high heat on your stove. This way you can revive the dish and add a bit of crunch back in – if you reheat the stir fry in the microwave, you risk the noodles getting soggy.
Freezing the ginger beef
Unfortunately, you can't freeze this cooked dish, but you can freeze the steak in the marinade! This way, part of the recipe is already done for you and you can just get on with cooking it. Freeze it in a Ziploc bag for up to 3 months. When you're ready to use it, just let it defrost in the fridge overnight then use it in the recipe as normal.
Wanna Learn How To Meal Prep?
My meal planning service, Dinner Prep Pro, removes the guesswork and helps you get dinner on the table in 15-20 minutes each night. My meal prep checklists only take 1 hour each week!
More sweet potato recipes
Meal prep tools for this recipe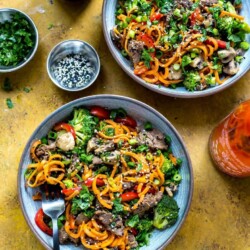 30-Minute Ginger Beef Sweet Potato Noodles
These 30-Minute Ginger Beef Sweet Potato Noodles are so delicious! Use spiralized sweet potato noodles for an easy low carb meal.
Print
Pin
Rate
Click Here to Remove Ads
Servings: 4 servings
Calories: 257kcal
Ingredients
8 oz steak or fast fry beef strips
2 tsp baking soda
2 tsp cornstarch
1 sweet potato, spiralized (I bought a pre-packaged mix at the store which amounted to 2 cups)
1 head Broccoli, chopped
1 cup mushrooms, sliced
1 red pepper, sliced
2 scallions, sliced
Stir fry sauce
3 tbsp low sodium soy sauce
1 tbsp sesame oil
4 cloves garlic minced
1 tbsp ginger, minced
1 tsp Sriracha
1 tsp sesame seeds
Instructions
If steak is not already cut, slice raw steak into thin strips for stir frying. In a medium-sized bowl, add steak and toss with baking soda and cornstarch. Let marinate for 5 minutes.

Meanwhile, mix all ingredients under the stir fry sauce heading together then chop broccoli, mushrooms and red pepper. Spiralize sweet potato noodles if not buying pre-spiralized from the store (this is what I recommend – they should be located at the front of the store with other prepared veggies).

Heat a large skillet over high heat. Add steak, sauteeing for 1-2 minutes or so until just cooked. Remove from heat and set beef aside.

Add in broccoli and mushrooms to skillet, sauteeing for 4-5 minutes until tender. Add in red pepper, sweet potato noodles, beef and stir fry sauce, tossing to coat. Cook another two minutes on high until sauce thickens then remove from heat.

Serve immediately and garnish with scallions and extra sesame seeds (optional). Enjoy!
Video
Notes
Cut down on prep time by using pre-spiralized noodles. You can swap out the sweet potato for zucchini, butternut squash or even beets! Store the leftovers in the fridge for 2-3 days then reheat in a skillet over high heat. Freeze the steak in the marinade for up to 3 months. Defrost in the fridge overnight then cook as normal.
Nutrition
Calories: 257kcal (13%)Carbohydrates: 20g (7%)Protein: 18g (36%)Fat: 12g (18%)Saturated Fat: 4g (25%)Cholesterol: 34mg (11%)Sodium: 586mg (25%)Potassium: 919mg (26%)Fiber: 6g (25%)Sugar: 6g (7%)Vitamin A: 6549IU (131%)Vitamin C: 178mg (216%)Calcium: 99mg (10%)Iron: 3mg (17%)
Join The Girl on Bloor Premium!
ZERO ADS!
Weekly Meal Prep Checklists
Bonus eBooks