These 30+ Delicious Meal Prep Salad Recipes are perfect to make ahead for summer or all year long – they're great for lunches or potlucks!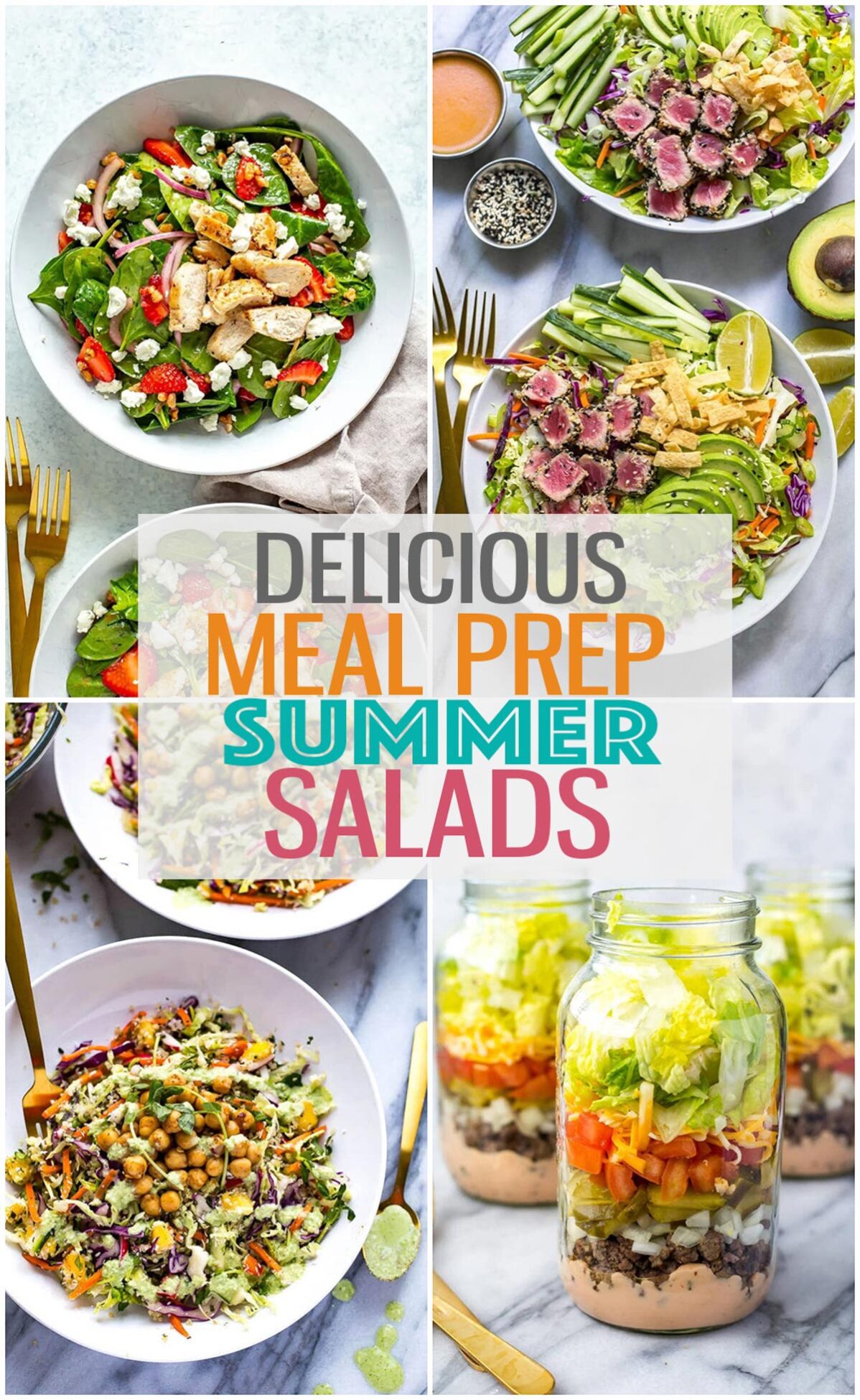 Summer Salad Recipes
Now that the good weather is finally here, I'm ALL about summer salads! My fave kind of summer salad recipe is one that blends marinated proteins with a variety of greens and veggies – throw in some avocado, add some bomb dressing and a few out of the box toppings like crunchy tortilla strips, fresh herbs and hot peppers, and you've got me sold on salad for lunch or dinner!
The great thing about these summer salad recipes is that you can switch up the ingredients and customize them to whatever you've got on hand. It's all about nailing the dressing and then improvising from there. Really, there's no magic formula, so that's another reason why I love salad meal prep. You really can just go with your cravings and take it from there.
Looking for more summer recipes? Check out my No Cook Summer Recipes and Summer BBQ recipes, too!
Salad Jars
Meal prepping salads in jars is a total game changer! These recipes were developed and designed to be stored in jars so they stay fresh and tasty.
Green Salads (Romaine, Kale, Arugula & More)
The salads all have a leafy base, ranging from crunch romaine to peppery arugula. You can follow the recipes as instructed or swap out the greens for your favourite! The choice is yours.
Quinoa, Couscous & Bean Salads
Don't like lettuce? No problem! These salads have different bases, including quinoa, couscous, beans and legumes. They're all excellent for prepping ahead.
Broccoli, Pasta & Potato Salads
If you're looking for a filling salad to bring to a potluck, look no further than these recipes! They're popular options that'll hold up in the fridge for several days.
Frequently Asked Questions