These 15+ Delicious Meal Prep Summer Salad Recipes are perfect to make ahead – they're a great way to enjoy seasonal fruits and vegetables!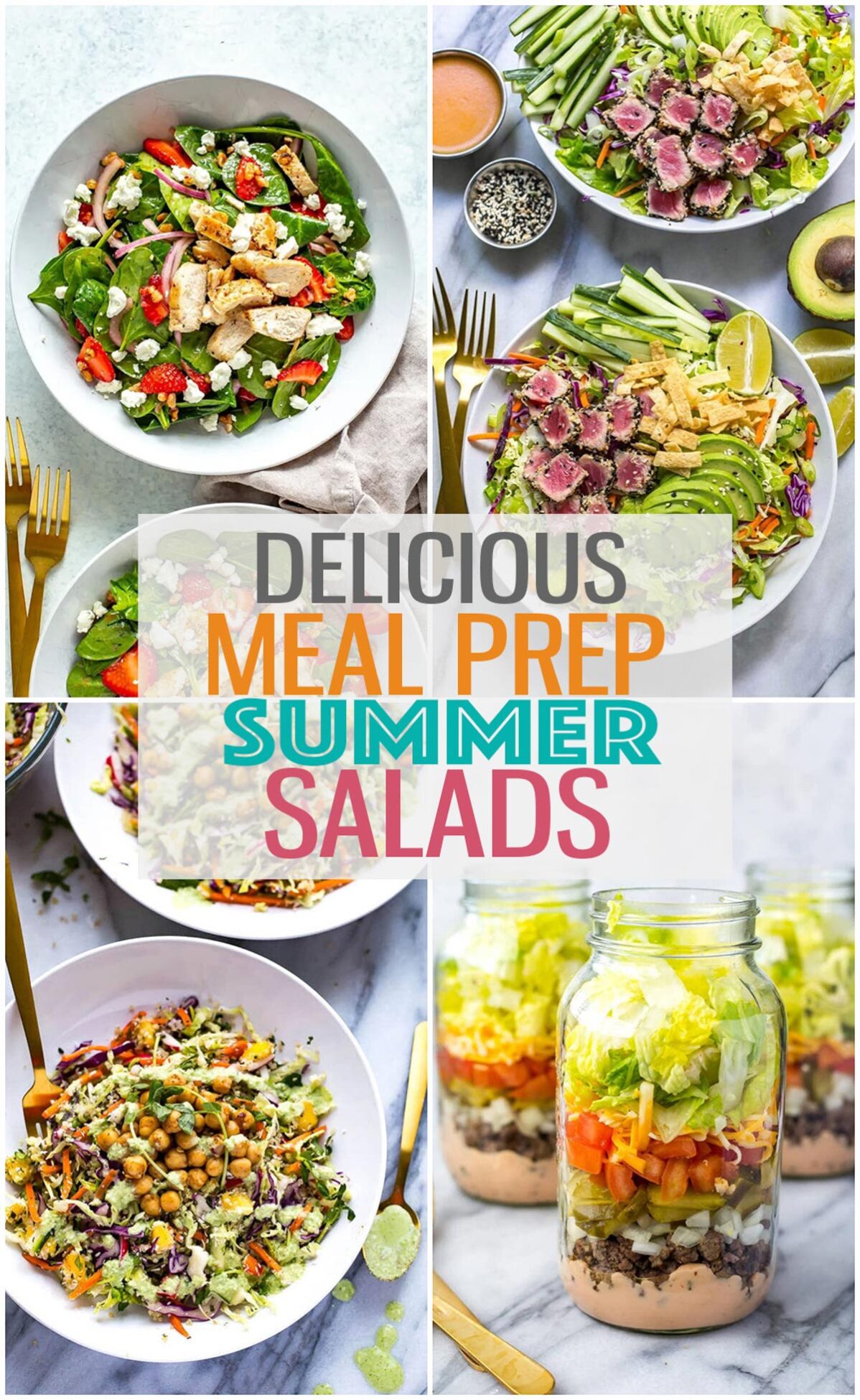 Summer Salad Recipes
Now that the good weather is finally here, I'm ALL about summer salads! My fave kind of summer salad recipe is one that blends marinated proteins with a variety of greens and veggies – throw in some avocado, add some bomb dressing and a few out of the box toppings like crunchy tortilla strips, fresh herbs and hot peppers, and you've got me sold on salad for lunch or dinner!
The summer salad recipes featured in this post are perfect for any meal and are substantial enough to get you through your work day without having to stop for extra food. We've got everything from seared ahi tuna with a sesame carrot ginger dressing to crunchy wonton chicken salad, Mexican chicken orzo salad, avocado ranch with crispy chickpeas and more.
The great thing about these summer salad recipes is that you can switch up the ingredients and customize them to whatever you've got on hand. It's all about nailing the dressing and then improvising from there. Really, there's no magic formula, so that's another reason why I love salad meal prep. You really can just go with your cravings and take it from there.
Looking for more summer recipe inspiration? Check out my No Cook Summer Recipes and Summer BBQ recipes, too!
How to meal prep salads
When it comes to meal prepping salads, mason jars are the way to go. They help keep your salads fresh for days so you can make a big batch on the weekend and enjoy them throughout the week.
Layering is key when it comes to storing your salads in mason jars. Make sure you add everything to your jars in the following order:
Dressing on the very bottom (you can also store it separately on the side).
Grains like quinoa, brown rice, couscous, etc.
Protein like chicken, tofu, ground beef, etc.
Other veggies like bell peppers, onions, sweet potatoes, etc.
Lettuce or leafy greens on top.
If you're including any nuts or tortilla strips, I suggest storing those on the side in a little container or Ziploc baggie to keep their texture.