These 15 Delicious Meal Prep Summer Salad Recipes are perfect for summer and a great way to enjoy the bounty of fresh fruits and veggies available during the warmer months!
Now that the good weather is finally here I'm ALL about summer salads!
I know, I know. When you think of salad, you probably think of boring food that has been stripped of its deliciousness in order to make it healthy but I say it's time to rethink the salad! Meal prep salads are actually perfect for busy work weeks because they allow you to clear the fridge of food that's about to go bad, and you have the excuse to bring together so many flavours and textures.
My fave kind of summer salad recipe is one that blends marinated proteins with a variety of greens and veggies – throw in some avocado, add some bomb dressing and few out of the box toppers like crunchy tortilla strips, fresh herbs and hot peppers, and you've got me sold on salad for lunch or dinner!
The summer salad recipes featured in this post are perfect for any meal of the day, and are substantial enough to get you through your work day without having to stop for extra food. We've got everything from seared ahi tuna with a sesame carrot ginger dressing to crunchy wonton chicken salad, Mexican chicken orzo salad, avocado ranch with crispy chickpeas and more.
The great thing about these summer salad recipes is that you can switch up the ingredients and customize them to whatever you've got on hand. It's all about nailing the dressing and then improvising from there. Really, there's no magic formula, so that's another reason why I love salad meal prep. You really can just go with your cravings and take it from there.
Keep reading to learn how to meal prep summer salads and get a bunch of delicious ideas just in time for the good weather!
Sashimi Tuna Salad with Carrot Ginger Dressing via The Girl on Bloor
Mexican Chicken Salad with Orzo via Salt & Lavender
Roasted Beet and Kale Salad with Maple Candied Walnuts via The Endless Meal
Avocado Ranch Chopped salad via Isabel Eats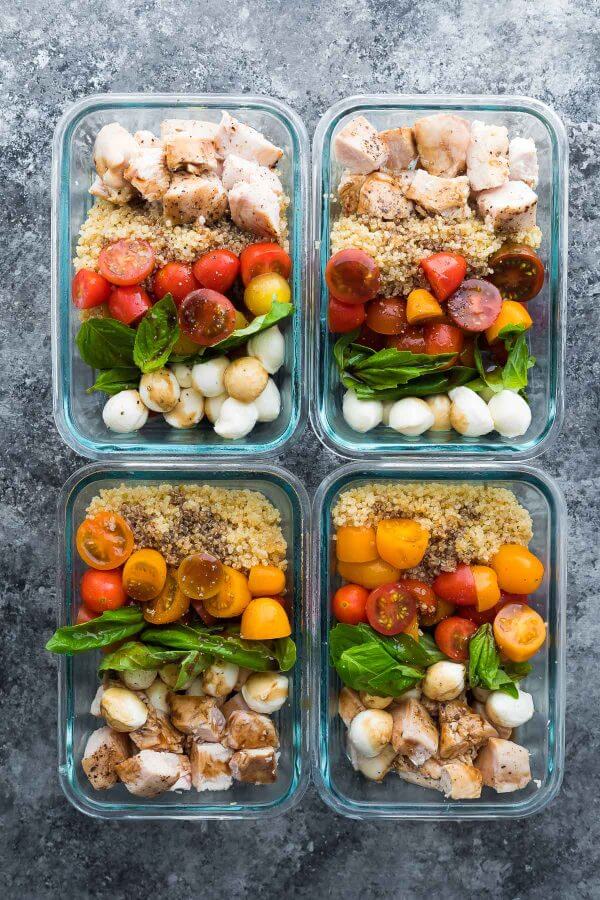 Caprese Chicken Salad Meal Prep Bowls via Sweet Peas and Saffron
Farmers Market Salad via Spices in my DNA
Avocado Ranch Ahi Tuna Poke Bowl with Mango via The Butter Half
Whole30 Vegan Sweet Potato Falafel Bowl via Paleo Gluten Free Eats 
Mediterranean Quinoa Salad with Roasted Veggies via The Awesome Green
Chickpea Salad with Avocado via Dinner at the Zoo
Slow Cooker Chipotle Honey Chicken Taco Salad Lunch Bowl via Sweet Peas and Saffron
Grilled Haloumi & Pearl Couscous Salad via The Verdigris
The Best Taco Salad Recipe via Isabel Eats
Healthy Broccoli Salad via Salt & Lavender
Asian Chicken Wonton Nacho Salad via The Girl on Bloor