Cabbage is full of antioxidants, making this Clean Eating Cabbage Soup a nutrient-rich meal that is perfect for a healthy diet!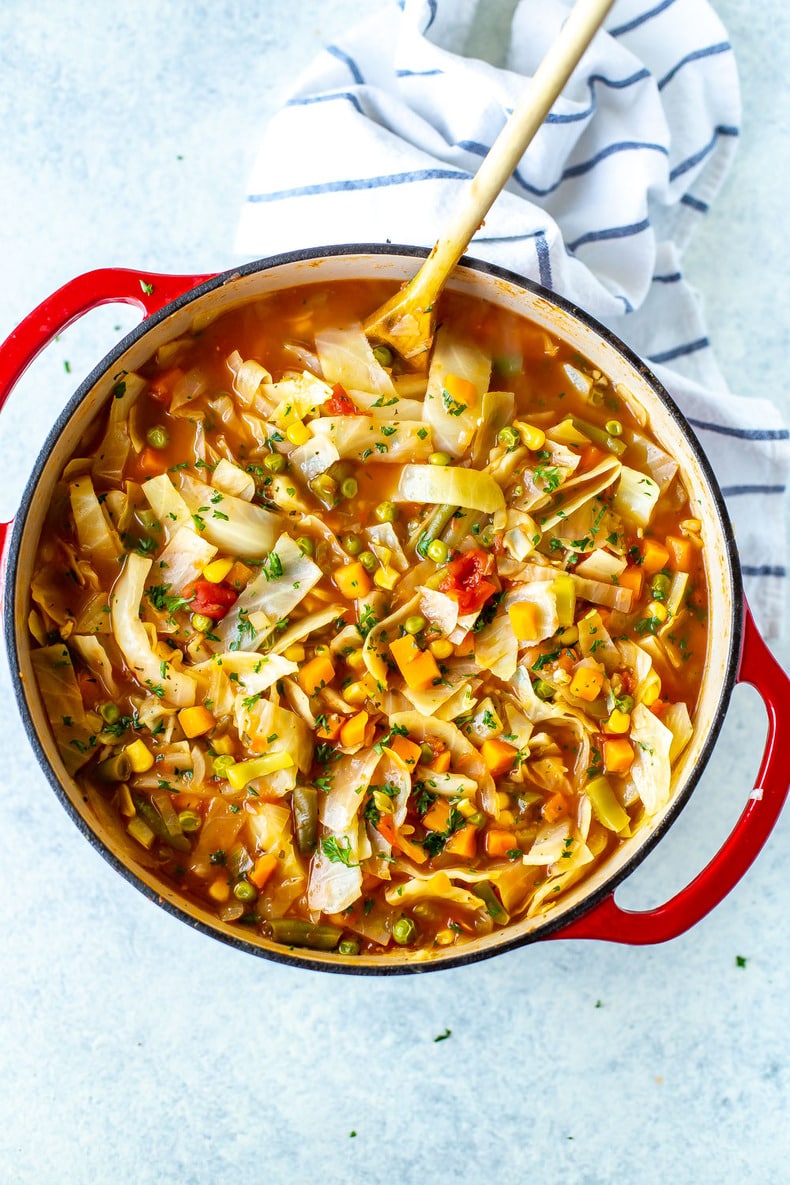 Ingredients in cabbage soup
This soup is full of fresh, healthy veggies and simple but flavourful spices! Here's what you need on hand:
olive oil, or any other neutral flavour of oil
1 head green cabbage
celery stalks
yellow onion – Not a fan of yellow onion? White or red will work perfectly too!
garlic cloves
dry Italian seasoning – Feel free to make your own blend, or buy it from the store. Even Italian salad dressing mix will work
canned diced tomatoes, in their juices
vegetable broth or stock – If you don't need to keep the soup vegetarian, chicken stock is perfectly fine
mixed frozen vegetables – I usually use a blend of carrots, corn, and peas, and beans
fresh chopped parsley, for garnish (optional)
How to make cabbage soup
Here's how to make this easy recipe:
Add olive oil to a large 6 or 8- quart stock pot or Dutch oven over medium heat, then add your cabbage.
After a minute or two, toss in the celery and onion, and continue cooking for 5 minutes. To prevent anything from burning, stir it a few times.
Add all of the remaining ingredients, except for the parsley. You'll add that later.
Bring everything to a boil, then reduce the heat and simmer for 20 minutes, stirring occasionally.
After 20 minutes, stir in parsley, if you are using it.
Ladle the soup into bowls, serve, and enjoy!
Ingredient add-ins and substitutions
There are plenty of ways you can customise the soup to make it your own!
Cabbage – As mentioned earlier, any color of cabbage is fine; just use whatever you have on hand.
Veggies – If you ask me, there isn't a single vegetable that wouldn't be delicious in this vegetarian soup! If you prefer to use fresh vegetables rather than frozen, you can do that, but you will need to parboil or steam them for a couple of minutes first. You can also add them in right at the beginning when you're sauteeing the cabbage. This is especially true of firm vegetables like carrots and bell peppers.
What type of cabbage is best for soup?
When I make this recipe, I use one head of green cabbage. Although, I think red/purple cabbage would bring an extra pop of color to the soup. Even Napa cabbage would be delicious with this recipe!
Is cabbage soup good for weight loss?
Yes, this healthy soup recipe can certainly be part of a nutritionally balanced weight loss plan!
Cabbage is full of antioxidants, fibre, and beta-carotene. Plus, it's a good source of both vitamins and minerals!
Just be sure to use veggies that are lower in carbs and calories, and avoid high sodium stock, which can cause water retention.
How many calories are in cabbage soup?
The calories in this soup will vary, depending on what ingredients you use. However, if you make it with the same ingredients I do, one serving will be around 106 calories.
Oh, and one serving is one-sixth of the entire batch of soup, so this recipe makes a ton of soup.
It's delicious and low in calories – what more could you ask for?!
What is the 7 day cabbage soup diet?
This seven day diet plan is designed for rapid weight loss. It is extremely low in calories. In fact, you consume so few calories that it's not something you will want to stay on permanently.
Back in the late 1970's, when the plan first came out, cabbage soup was just about the only thing you would eat for the entire week.
Other versions of the diet exist now. The most popular one consists of eating nothing but fruit and/or vegetables for the first 3 days. On day 4, skim milk is allowed, and on day 5, lean beef or chicken are allowed.
Storing and reheating
If you want to make the soup to enjoy later, don't let it sit at room temperature for too long.
As soon as it is room temperature, transfer it to an airtight container and store it in the refrigerator. It will keep well for up to five days.
You can reheat individual servings in the microwave for a couple of minutes. Or, to reheat the entire batch at once, transfer it to a pot on the stove top.
Can you freeze cabbage soup?
To prepare this recipe as a freezer meal, transfer the cool soup to a freezer-safe container or in freezer bags. You can also add the leftovers to small glass bowls to make individual servings.
To save space in your freezer, if you use bags, you can lay them flat.
It will keep well in the freezer for up to four months. If in bowls, you can defrost and reheat right in the microwave up to 7-8 minutes, stirring partway through.
Wanna Learn How To Meal Prep?
My meal planning service, Dinner Prep Pro, removes the guesswork and helps you get dinner on the table in 15-20 minutes each night. My meal prep checklists only take 1 hour each week!
More healthy soup recipes
BONUS: Make my Healthier Napa Cabbage Rolls!
Meal prep tools for this recipe
Clean Eating Cabbage Soup
Cabbage is full of antioxidants, making this Clean Eating Cabbage Soup a nutrient-rich meal that is perfect for a healthy diet!
Print
Pin
Rate
Click Here to Remove Ads
Servings: 6 servings
Calories: 109kcal
Ingredients
1 tbsp olive oil
1 head green cabbage, chopped
4 celery stalks, chopped
1 yellow onion, diced
4 cloves garlic, mined
1 tsp Italian seasoning
1/2 tsp each salt & pepper
1 (796mL) can diced tomatoes in their juices
6 cups vegetable broth
1 (750g) bag mixed frozen vegetables
1/4 cup fresh chopped parsley (optional)
Instructions
Add olive oil to a large 6 or 8qt pot/Dutch oven, then add cabbage, celery and onion, sauteeing for 5 minutes, stirring often.

Add remaining ingredients, except for parsley, bringing to a boil and simmering for 20 minutes and stirring occasionally.

Once soup is finished, stir in parsley (optional), then serve and enjoy!
Video
Nutrition
Calories: 109kcal (5%)Carbohydrates: 20g (7%)Protein: 4g (8%)Fat: 3g (5%)Saturated Fat: 1g (6%)Sodium: 698mg (30%)Potassium: 453mg (13%)Fiber: 7g (29%)Sugar: 7g (8%)Vitamin A: 2997IU (60%)Vitamin C: 62mg (75%)Calcium: 93mg (9%)Iron: 1mg (6%)