This Healthy Sweet Potato Salad is the perfect summer dish to make ahead and bring to a potluck or picnic – it even has bacon in it!
Ingredients and substitutions
Olive oil – any neutral oil will work in place of olive oil.
Sweet potatoes – you can try using regular potatoes but they won't be as healthy.
Green onion – if you don't have green onions on hand, use chives or leave out completely.
Celery stalks – carrots will give a similar texture and crunch to celery.
Red pepper – feel free to swap out for any colour bell pepper.
Corn – use defrosted frozen corn or canned corn kernels to cut down on prep time.
Black beans – use another bean or lentil to replace black beans while still getting similar nutrients.
Turkey bacon – feel free to use regular bacon, but note that it won't stay crispy – so it's worth it to use healthier turkey bacon.
Dressing
Light mayo – the only replacement for mayo would be vegan mayo. If you're in a pinch, you can add extra sour cream, but I highly recommending using the mayo for this recipe.
Sour cream – plain Geek yogurt is a great alternative to sour cream.
Chili powder – cayenne, paprika or crushed chili flakes will also work.
Garlic powder – garlic salt can be used in place of garlic powder. If using garlic salt, be weary of how much salt you add on top of this.
Salt & pepper – to taste.

How to make sweet potato salad
Dice and bake the sweet potatoes.
Fry the turkey bacon.
Prep your toppings.
Make the dressing.
Toss the salad.
Serve fresh or divide amongst meal prep containers!
Skip the Ads and Get Right to the Recipes!
ZERO ADS on over 600 recipes!
Weekly Meal Plans, Grocery & Prep Lists
Bonus eBooks
Are sweet potatoes healthy?
Sweet potatoes are often looked at as the healthier choice over potatoes. This is because they're complex carbs, but they both provide equal energy sources to the body. The number of calories, protein, carbs and fats are virtually the same. However, sweet potatoes can be considered the better option because they're high in nutrients. They're packed with fibre and vitamins like vitamin A, B6 and C.
Many suggest that beyond this nutritional difference, sweet potatoes are also the healthier choice because of how they're prepared in comparison to white potatoes (ex: white potatoes are associated with chips and fries).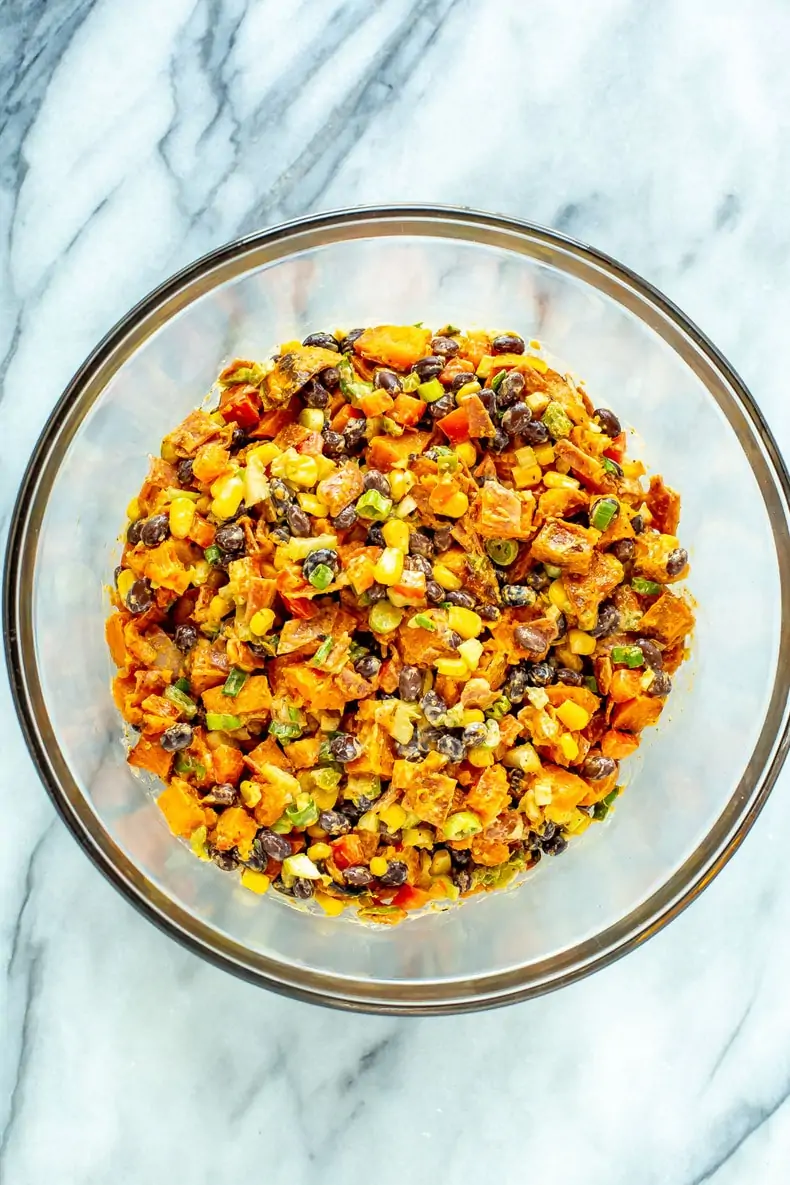 Frequently Asked Questions
How do you cook sweet potatoes?
I like to bake the sweet potatoes for this recipe so they're nice and crispy. All you have to do is peel and cut them into one-inch pines, drizzle with olive oil, season with salt and pepper and bake for 24 minutes on a parchment-lined baking sheet at 450° Fahrenheit. If you want them to be extra crispy, add another 5 minutes onto the cooking time.
How many calories are in this recipe?
This recipe has 212 calories per serving – it's super delicious and super healthy!
What is the healthiest way to eat sweet potatoes?
As long as you're not frying them or drowning them in butter, sweet potatoes are healthy in pretty much any form!
Storing and reheating
The sweet potato salad will be the top hit at any BBQ or picnic you have, but if you have any leftovers, you will want to store them in the fridge immediately because of the fresh mayo. This delicious sweet potato salad will last in the fridge for up to 3 days!
To store, divide your salad into individual servings in meal prep containers for easy access the next day. This is a cold potato salad, so it doesn't need to be warmed up. If you're looking to meal prep this salad in advance, store the dressing separately and mix fresh when you're ready to enjoy so that the salad doesn't get soggy.
Freezing sweet potatoes
This sweet potato salad isn't a freezer-friendly meal, but if you are looking to extend the life of your sweet potatoes, they can be frozen. To freeze your sweet potatoes, you will want to partially bake or boil them first.
Dice or slice your sweet potatoes into your preferred shape, bake or boil until softened and then package into a freezer-safe container or freezer bag for up to 6 months. Once you're ready to enjoy, bake them as instructed and enjoy!
Wanna Learn How To Meal Prep?
My meal planning service, Dinner Prep Pro, removes the guesswork and helps you get dinner on the table in 15-20 minutes each night. My meal prep checklists only take 1 hour each week!
More healthy salad recipes
Meal prep tools for this recipe
Healthy Sweet Potato Salad
This Healthy Sweet Potato Salad is the perfect summer dish to make ahead and bring to a potluck or picnic – it even has bacon in it!
Print
Pin
Rate
Click Here to Remove Ads
Servings: 10 servings
Calories: 212kcal
Ingredients
1 tbsp olive oil
4 medium-sized sweet potatoes, chopped into 1 inch pieces
4 green onions, sliced
2 celery stalks, diced
1 red pepper, diced
1 cup frozen corn, defrosted
1 can black beans, rinsed and drained
6 slices turkey bacon, cooked and chopped
Dressing
1/3 cup light mayo
1/4 cup sour cream
1 tsp chili powder
1 tsp garlic powder
3/4 tsp salt
1/2 tsp pepper
Instructions
Preheat oven to 450 F. Peel sweet potatoes then cut into 1-inch pieces. Line a baking sheet with parchment paper, then drizzle sweet potatoes with olive oil and season with salt & pepper. Bake for 24 minutes, flipping halfway through (should be 12 minutes per side). Continue cooking another 5-7 minutes if you want them extra crispy.

Meanwhile, prepare your other fillings. Cook the turkey bacon in a large pan on the stove for 5-6 minutes, then chop up when cool.

Remove the sweet potatoes from the oven and let cool for at least 30 minutes. In a large bowl (the same bowl you're going to toss the salad in), mix together the ingredients under the dressing heading.

When sweet potatoes have cooled, add them along with remaining ingredients to the bowl with dressing, tossing very gently to coat. Serve and enjoy! Salad can be made up to 2 or 3 days in advance.
Video
Notes
You can use regular bacon, but it won't stay as crispy as the turkey bacon. Use canned corn to cut down on prep time. If you plan on meal prepping this salad, store the dressing separately and add in on fresh. Extend the shelf life of sweet potatoes by baking or boiling them for up to 6 months.
Nutrition
Calories: 212kcal (11%)Carbohydrates: 37g (12%)Protein: 7g (14%)Fat: 5g (8%)Saturated Fat: 1g (6%)Trans Fat: 1gCholesterol: 4mg (1%)Sodium: 290mg (13%)Potassium: 588mg (17%)Fiber: 8g (33%)Sugar: 6g (7%)Vitamin A: 13390IU (268%)Vitamin C: 19mg (23%)Calcium: 55mg (6%)Iron: 2mg (11%)
Join The Girl on Bloor Premium!
ZERO ADS!
Weekly Meal Prep Checklists
Bonus eBooks