This Ahi Tuna Salad is a colourful dish served with seared tuna steaks, sliced avocado, crunchy wontons and a delicious sesame ginger dressing.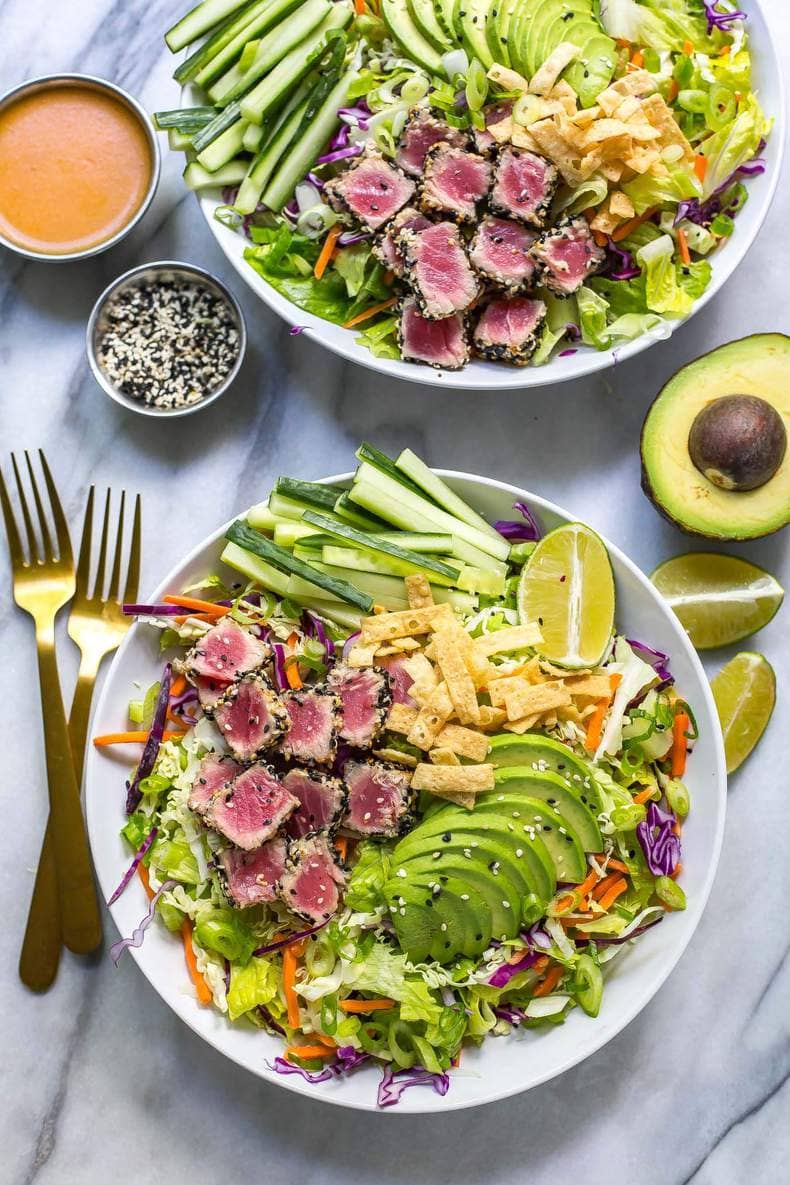 Ingredients and substitutions
Olive oil – or any other neutral cooking oil like avocado, canola or grapeseed oil.
Tuna steaks – try using sushi-grade ahi tuna or sashimi-grade salmon.
Sesame seeds – white or black sesame seeds would both work here.
Romaine lettuce – iceberg, bibb or Boston lettuce are the best substitutes.
Carrot matchsticks – replace with the vegetable of your choice like edamame or spiralized zucchini.
Red cabbage – broccoli slaw or Napa cabbage would also be delicious.
Cucumber – try celery, zucchini or another vegetable of your choice.
Green onions – use scallions or leave these out altogether.
Avocado – substitute for a vegetable of your choice if you don't like avocado.
Wontons – tortilla strips add the same amount of crunch to the salad.
Carrot – leave this out altogether if you don't have any carrots on hand.
Celery – you can leave the celery out.
Sesame oil – grapeseed oil or olive oil can be substituted but they won't have the same flavour as the sesame oil.
Rice vinegar – white wine vinegar or apple cider vinegar would be the next best option.
Honey – try using agave or maple syrup.
Minced ginger – fresh ginger is best but you can use ground ginger in a pinch.
Soy sauce – tamari and coconut aminos are a great replacement for soy sauce.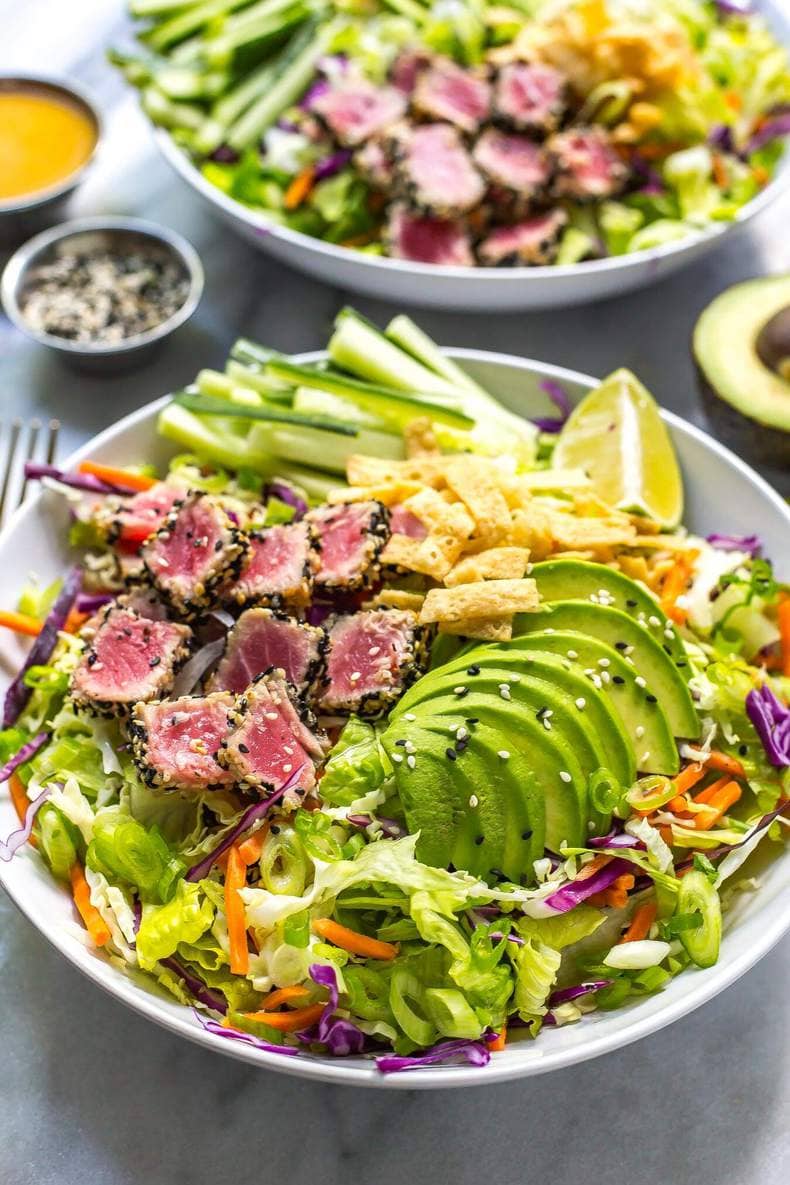 How to make ahi tuna salad
Make the dressing.
Season the tuna and coat in sesame seeds.
Sear the tuna then slice.
Assemble your salads and mix in the dressing.
Serve and enjoy!
Cooking the perfect seared tuna
Making the perfect seared tuna can be tricky, especially when tuna steaks come in varying ranges of thickness. I typically do 30 seconds per side to make sure the tuna isn't overcooked, but you can always cook them longer if desired.
Frequently Asked Questions
What is ahi tuna?
Ahi tuna, also known as yellowfin tuna, is found in tropical or subtropical climates. It's a great source of lean protein and is most commonly served seared or raw in sushi dishes.
Is this recipe healthy?
Yes! This recipe is super healthy. It's made with lots of fresh veggies and the tuna steaks are a great source of lean protein. Tuna is also low in carbs and high in nutrients like vitamin B and omega-3 fatty acids.
Can you eat raw ahi tuna?
You should only eat raw ahi tuna if it's marked as sushi-grade or sashimi-grade. That means that the tuna has been properly cleaned and is safe for consumption.
Storing leftover salad
You can store the leftover salads in containers in the fridge up to 3 days. I would recommend storing the tuna and salad separately so the veggies themselves can stay fresh. The avocado should also be stored separately so that it doesn't brown. You can squeeze some lemon juice overtop and not slice the avocado until ready to be used again to prevent browning and softening.
Freezing the tuna
You can freeze the tuna steaks for up to 3 months. Store the tuna in an airtight glass container or in a freezer-safe Ziploc bag. When you're ready to eat, let it thaw in the fridge overnight and serve over fresh salad.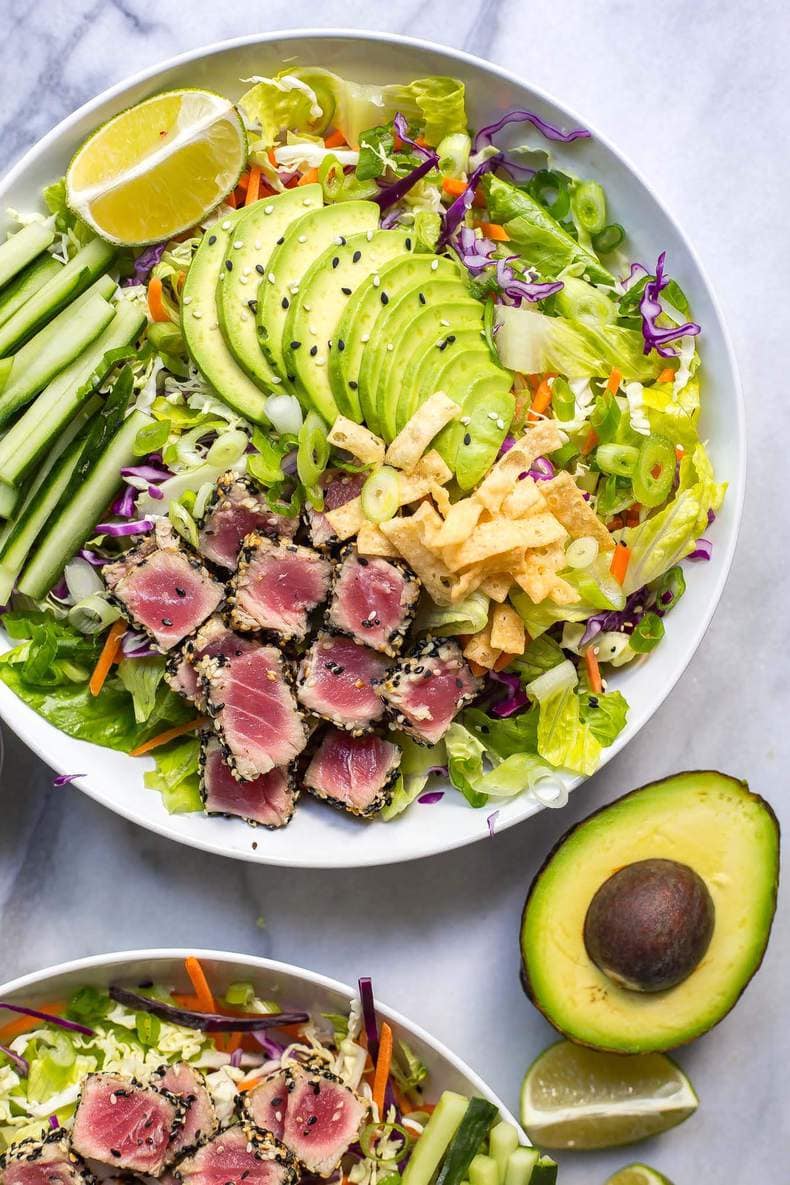 Wanna Learn How To Meal Prep?
My meal planning service, Dinner Prep Pro, removes the guesswork and helps you get dinner on the table in 15-20 minutes each night. My meal prep checklists only take 1 hour each week!
More ahi tuna recipes
Meal prep tools for this recipe
Ahi Tuna Salad with Sesame Ginger Dressing
This Ahi Tuna Salad is a colourful dish served with seared tuna steaks, sliced avocado, crunchy wontons and a delicious sesame ginger dressing.
Print
Pin
Rate
FEELING BURNED OUT?We've got you covered with a December self care plan! Sign up for weekly habit audits, 3 weeks of meal prep plans, weekly goal setting printables + live calls!👇
Join our December ✨Feel Good✨ Challenge!
Servings: 4 servings
Calories: 454kcal
Ingredients
1 tbsp olive oil
2 medium-sized tuna steaks (fresh or frozen, each steak should be about 8oz)
Sesame seeds for encrusting tuna, plus more for garnishing
1 head romaine lettuce, chopped
1 cup carrot matchsticks
1 cup sliced red cabbage
1 cucumber, cut into matchsticks
4 green onions, thinly sliced
1 avocado, thinly sliced
Wonton or tortilla strips (optional, for garnish)
Carrot Ginger dressing
1/2 medium sized carrot, grated
1 stalk celery, chopped
2 tbsp sesame oil
2 tbsp rice vinegar
1 tbsp honey
1 tbsp minced ginger
1 tbsp soy sauce or tamari if gluten-free
Instructions
In a Magic Bullet, blender or food processor, blend ingredients for dressing. Set aside. If you don't have carrot or celery, you can just mix sesame oil, rice vinegar, honey, ginger and soy sauce together but it won't be as authentic as real sushi-style dressing. It will still taste great though!

Meanwhile, prepare veggies for the salad and divide evenly among four large salad bowls. Season tuna with salt and pepper before coating in sesame seeds.

Add olive oil to a large frying pan over high heat. Wait until oil is smoking, then add tuna steaks, searing for 30 seconds per side. Remove from heat and slice with a sharp knife, adding half of each steak to each salad.

Garnish each salad with sesame seeds and wonton strips, then add dressing. Serve and enjoy!
Notes
You can substitute the vegetables for whatever you have on hand. Sear the tuna on each side for 30 seconds. Store the tuna, veggies and dressing separately in the fridge for up to 3 days, then assemble your salad fresh.
Nutrition
Calories: 454kcal (23%)Carbohydrates: 24g (8%)Protein: 32g (64%)Fat: 27g (42%)Saturated Fat: 4g (25%)Cholesterol: 43mg (14%)Sodium: 361mg (16%)Potassium: 1280mg (37%)Fiber: 10g (42%)Sugar: 11g (12%)Vitamin A: 23313IU (466%)Vitamin C: 31mg (38%)Calcium: 156mg (16%)Iron: 4mg (22%)