This Ahi Tuna Salad is a vibrant, colorful dish served with seared tuna steaks, sliced avocado, crunchy wontons and a sushi-style sesame ginger dressing.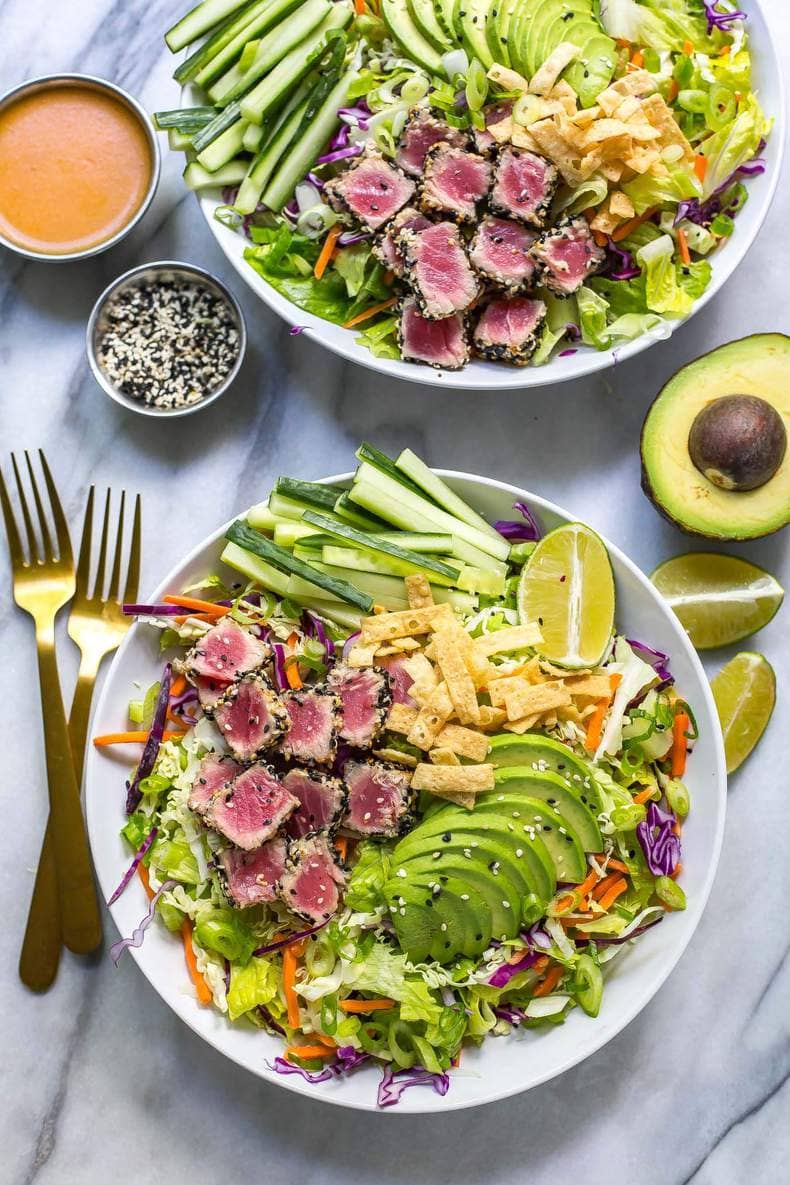 GUYS.
Let me tell you about this Sashimi Tuna Salad with Carrot Ginger Dressing.
First of all, I'm not ashamed to admit that it's sort of my own version of the salad at Joey's. Haven't heard of Joey's? It's this amazing chain (yes, I'm saying that about a restaurant chain!) of high end restaurants mostly based on western Canada. When I was working as a construction worker in rural Manitoba a few years ago, I discovered it while on vacation in Winnipeg and needless to say I was hooked!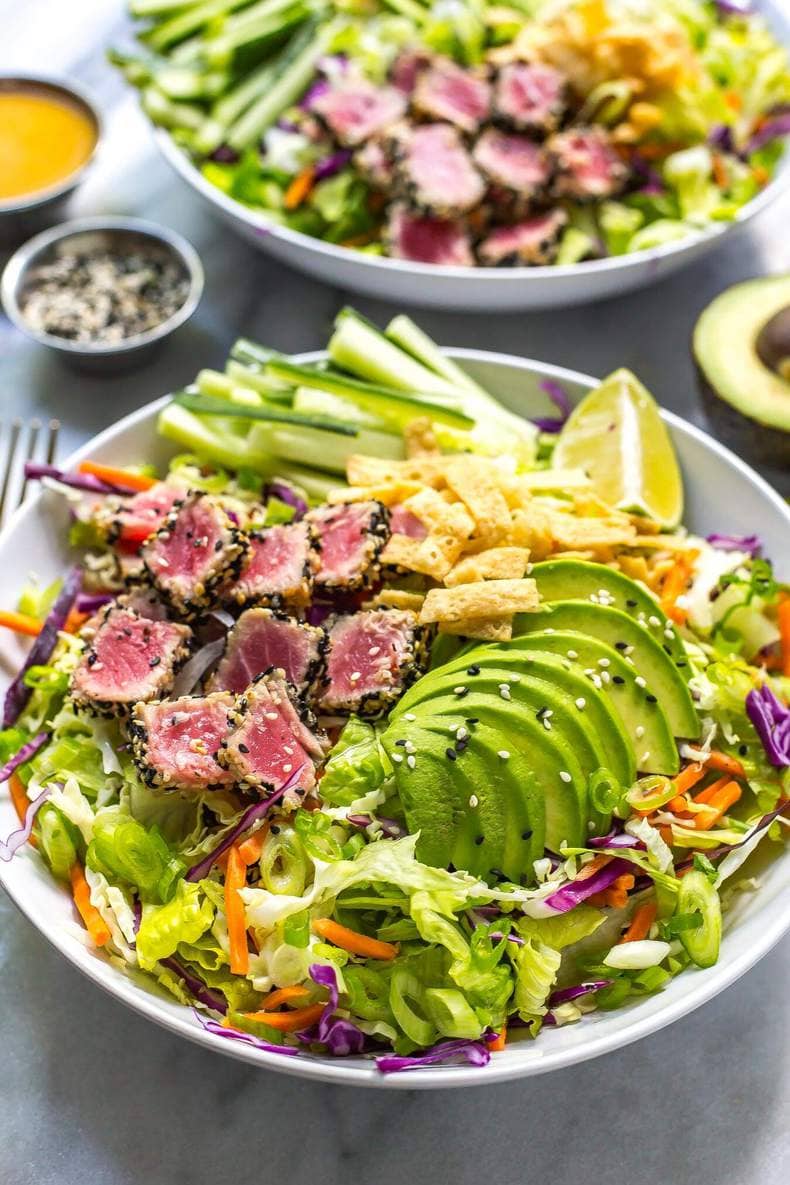 I might have had their steak and sushi combo one too many times while I was there…hey, I was on vacation, right?!
I still remember having lunch at Joey's right before leaving the city to head back to our worksite with my then truck driver boyfriend and wanting to cry because I knew it was back to cold cuts and dry snack food on the road from there on out. I sat staring at this insanely delicious sashimi tuna salad, the ruby red, perfect sear on the ahi tuna and pile of fresh veggies just taunting me, and me wishing I never had to leave.
Well, that summer was quite an experience needless to say. I've worked so many odd jobs over the years (lifeguarding, working stock at a grocery store, cashier work, construction work and freelance writing work) that I still have to pinch myself when I realize that I've really succeeded at working on my blog full time. Honestly, it's a dream to make and shoot food as my day job, and I feel blessed to not only have a professional outlet for my creativity, but I also no longer have to go back to "roughing it" and leave my fave food behind.
Because when you live to eat like I do, that's basically what it always comes back down to in life. The food.
So, without further ado, let's get down to the nitty gritty of this Sashimi Tuna Salad with Carrot Ginger Dressing. That's then main difference between my version and the version at Joey's: the dressing.
This is my fave salad dressing EVER as evidenced in this Rainbow Chopped Superfood Salad. Actually, that was one of the first salads I ever made for the blog that I was truly in love with. If you haven't tried chopped up broccoli in a salad yet, I don't think you're really a salad connoisseur. And in my typical fashion, that superfood salad was packed into mason jars. Maybe not as cool as these Shrimp Dynamite Sushi Jars, but it sure is healthy and just packed with veggies.
Anyway, this dressing. It's the same style dressing that you get at your local sushi joint, so you don't even need to head for takeout to make it at home. It's quickly become one of my go-tos over the years, even if it has a short shelf life. But the bonus is that you're getting an extra serving of veggies with your veggies. I mean, that's a win to me. Low cal and delicious. Gimme!
For the tuna, high heat and low cooking time is key. I like to use fresh tuna steaks when I can afford it (strike that – when I can find them at the seafood counter of my local grocery store), but the frozen steaks will work just fine here. They're much cheaper anyway, and more easily located. Coat your tuna in sesame seeds, season with salt and pepper, and sear on high heat for 30 seconds per side. You'll know the skillet is ready when you start to see the oil smoking.
Once the fish is seared and the dressing is made, it's time to serve and enjoy! Boom, 30 minute meal on the table all chock full of nutrients and lean protein. Now somebody come over and make me this for dinner pretty please. I have wine.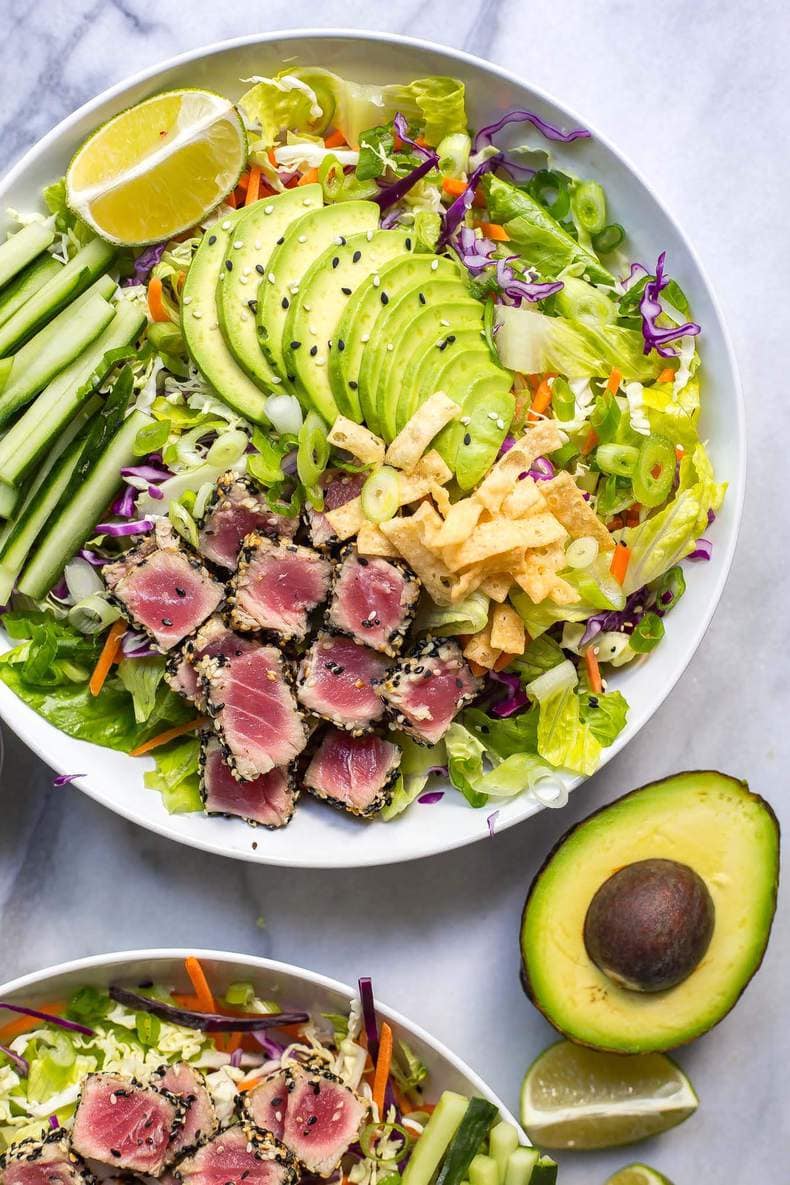 Ahi Tuna Salad
This Ahi Tuna Salad is a colorful, vibrant dish served with seared tuna steaks, sliced avocado, crunchy wontons and a sushi-style sesame ginger dressing.
Print
Pin
Rate
Ingredients
1

tbsp

olive oil

2

medium-sized tuna steaks (fresh or frozen, each steak should be about 8oz)

Sesame seeds for encrusting tuna, plus more for garnishing

1

head

romaine lettuce, chopped

1

cup

carrot matchsticks

1

cup

sliced red cabbage

1

cucumber, cut into matchsticks

4

green onions, thinly sliced

1

avocado, thinly sliced

Wonton or tortilla strips (optional, for garnish)
Carrot Ginger dressing
1/2

medium sized carrot, grated

1

stalk

celery, chopped

2

tbsp

sesame oil

2

tbsp

rice vinegar

1

tbsp

honey

1

tbsp

minced ginger

1

tbsp

soy sauce
Instructions
In a Magic Bullet, blender or food processor, blend ingredients for dressing. Set aside. If you don't have carrot or celery, you can just mix sesame oil, rice vinegar, honey, ginger and soy sauce together but it won't be as authentic as real sushi-style dressing. It will still taste great though!

Meanwhile, prepare veggies for the salad and divide evenly among four large salad bowls. Season tuna with salt and pepper before coating in sesame seeds.

Add olive oil to a large frying pan over high heat. Wait until oil is smoking, then add tuna steaks, searing for 30 seconds per side. Remove from heat and slice with a sharp knife, adding half of each steak to each salad.

Garnish each salad with sesame seeds and wonton strips, then add dressing. Serve and enjoy!
Nutrition
Calories:
454
kcal
|
Carbohydrates:
24
g
|
Protein:
32
g
|
Fat:
27
g
|
Saturated Fat:
4
g
|
Cholesterol:
43
mg
|
Sodium:
361
mg
|
Potassium:
1280
mg
|
Fiber:
10
g
|
Sugar:
11
g
|
Vitamin A:
23313
IU
|
Vitamin C:
31
mg
|
Calcium:
156
mg
|
Iron:
4
mg