This Chickpea Quinoa Power Salad with Jalapeno Dressing is a delicious, vegetarian rainbow slaw with diced mango and 2-minute chili lime chickpeas!
Hello Monday, hello Chickpea Quinoa Power Salad.
You know, a power salad to power you through the toughest day of the week.?
This salad is my newest obsession. It's got so many veggies and natural flavours packed in there, you won't even know where to start. I'm talking fresh herbs, a little bit of shredded coconut, all kinds of chopped veg and even a little bit of tropical mango for a bit of a kick.
And yes, that's saying a lot considering I'm normally a fruit hater in all other aspects of my life. But honestly? The mango works wonders in this salad. It might just be one of my favourite parts. Mixed with fresh mint and basil and thrown in among all the other crunchy veggies, it's pure magic.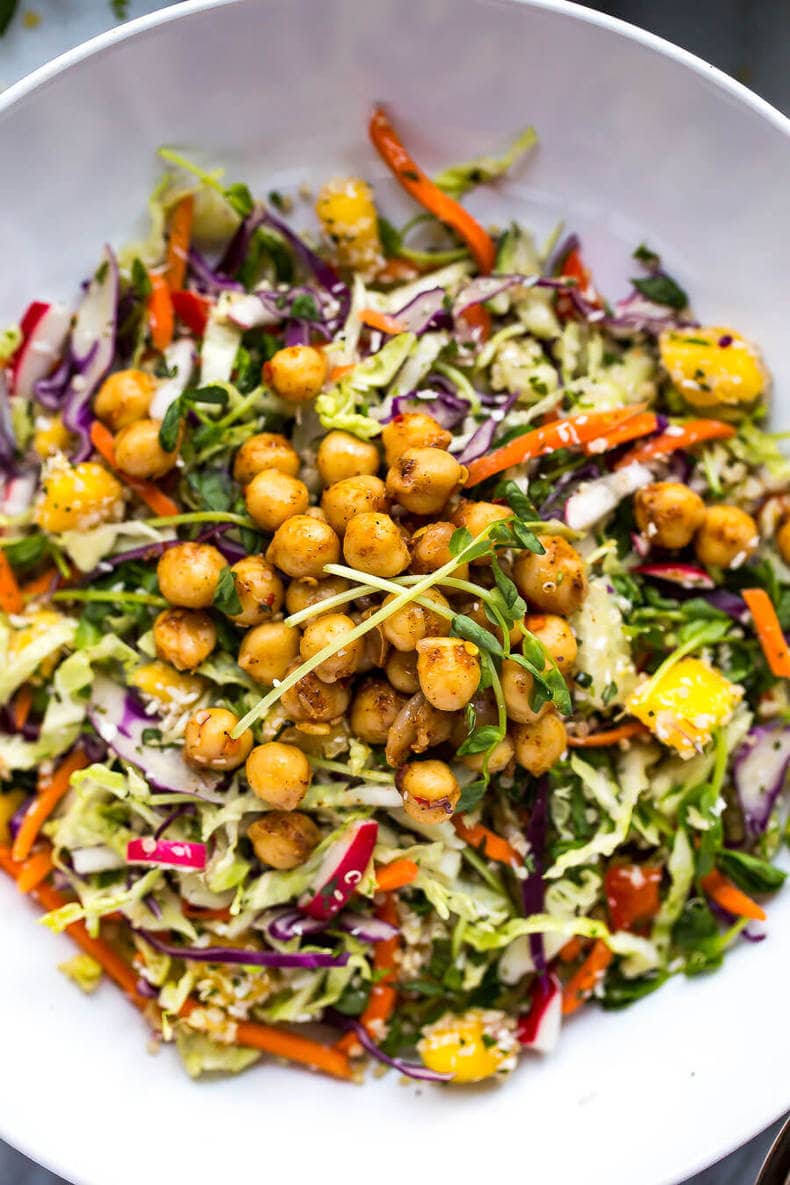 Now why am I such a fruit hater you ask? Isn't it normally the opposite where you're supposed to love fruit and hate veggies? Like, there's a reason fruit trays and gift baskets and all that are so expensive – because most people just really love fruit. Nature's gift some would say.
Not me.
I think it stems from my mom forcing fruit down my throat when I was little. After school snacks always consisted of the mandatory "fruit and treat" routine. Basically, my little brother and I couldn't get a treat (aka loads and loads of candy) until after we had choked down some fruit. Now my brother, who took no issue with obedience and had no problem taking orders from the big boss, he very happily downed an apple before I could even contemplate sinking my teeth into one. I don't know if he just really liked fruit or was determined to get his candy faster.?
I, on the other hand, hated the uncertainty that could be either sweet or sour strawberries, or an apple that took my tiny mouth forever to eat. Eventually I realized you could wolf down a soft banana in two seconds flat and have the whole experience be over and done with, so I started picking fruits that were just quicker and easier to eat. To this day, I could go a whole week without eating fruit and not miss it. Let's just say I don't have much of a sweet tooth, and when I do, I go for the good stuff. Chocolate tarts, creme brulees.
THE GOOD STUFF.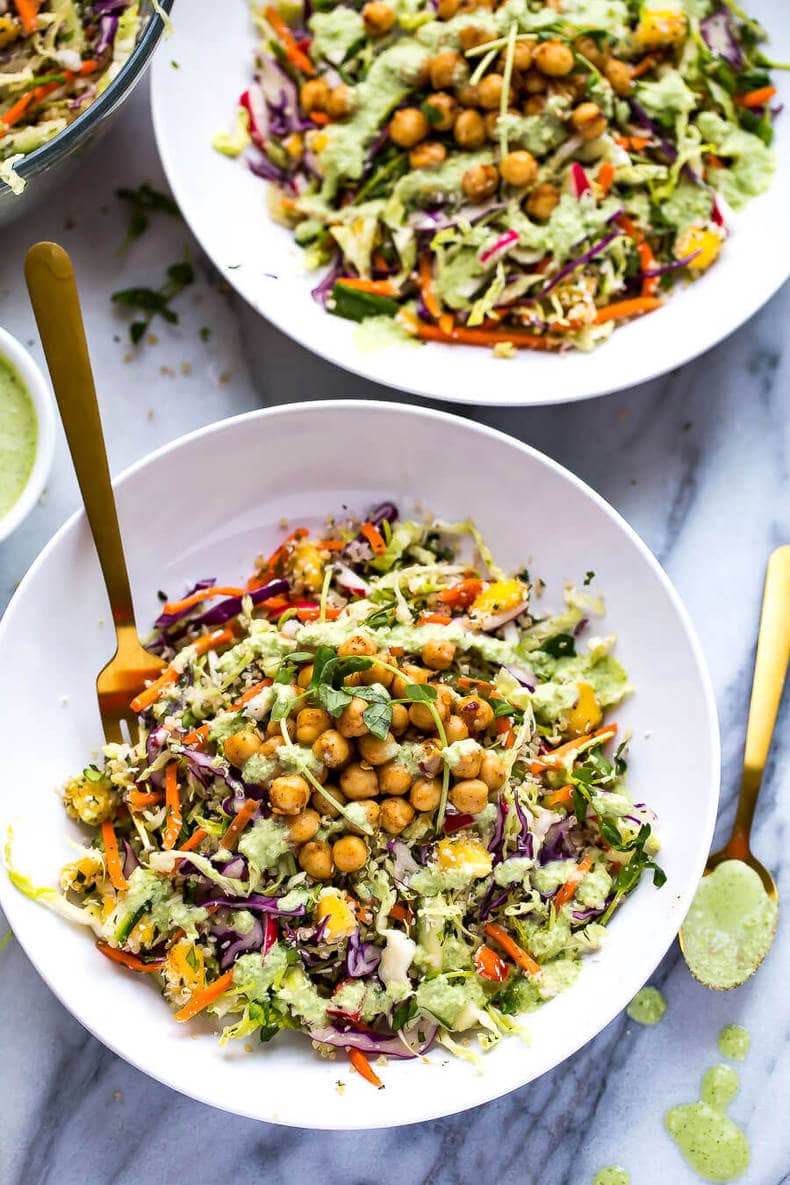 Though I've always really loved vegetables, my favourite way to eat them has either been grilled out on the BBQ, stir fried, tossed in with pasta or roasted in the oven. Mainly, I really love how certain veggies become caramelized or charred and bring out these impossibly savoury, delicious flavours. Every veggie has its own unique flavour and texture when cooked in different ways, and I really love that. Bring me veggies pretty much every way but steamed (with lots of garlic too of course!) and I'm a happy girl.?
I do not really enjoy veggies raw though, unless accompanied by endless amounts of dip. I've even fallen off the salad bandwagon in recent years because you gotta pair them with a delish dressing and at that point the whole salad thing just becomes too high maintenance for me.
But this salad, I'm telling you. It's got ALL the flavours and textures. It's worth the extra prep time. And I'm absolutely here for it.
In fact, I find a chopped salad kinda does that – it allows you to really get a good mixture of flavours all at once. Each veggie I've used here has its own distinct flavour profile – like the bite of the radishes for instance, the tangy, smooth nature of the mango or the delightful crunch from the red cabbage – and they all blend together perfectly in a way that your ordinary, average salad just can't stand up to.
I think there's a reason salads get a bad rep: because they're often thrown together at the last minute and overlooked as a necessary yet boring component of dinner meant to force you to eat healthier.
But with this Chickpea Quinoa Power Salad, no element is overlooked. Especially the jalapeno dressing – this stuff is BOMB! ?Whizz everything up in the food processor and enjoy a mildly spicy, creamy sauce that is so fresh and peppery. You're gonna wanna make this salad the star of the show, not a last-minute oversight!
As usual, living outside Toronto at the moment is forcing me to visit constantly and eat my heart out everytime I go – this salad is inspired by one of my new favourite rotisserie chicken restaurants called Flock. I know I've written about it before because I've gotten takeout from there about four times in the past two months, it's just THAT good.
Like, I'm talking in my top 5 here. The chicken is always incredibly moist and spot on, and their sides (mac n cheese, roasted sweet potatoes, kimchi green beans, etc) and sauces (Caribbean pepper sauce & chimmichurri) are out of this world – I can't even get this place off my mind.
But what I discovered the last time we went was that they also have salads that are crazy amazing. And my Chickpea Quinoa Power Salad with Jalapeno Dressing is inspired by their Fancy Flock salad. If you're ever in Toronto, you gotta check out the real deal.
But if you're like me and living far away and can't quite make it, this salad is certainly a close second to the amazingness that is the Fancy Flock.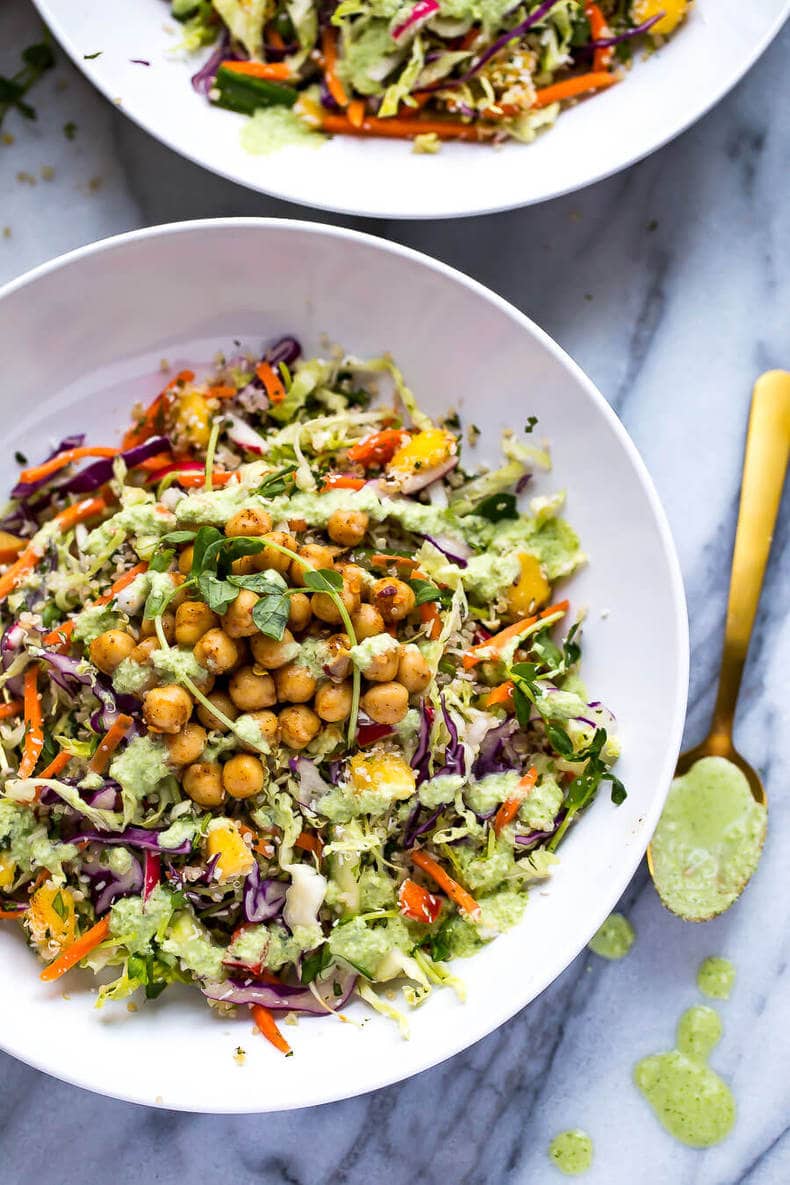 Will you be making this Chickpea Quinoa Power Salad with Jalapeno Dressing? 
This is hands down one of my favourite new salads, and it's worth the extra little bit of chopping and effort. It will keep well up to five days in the fridge as long as you leave the dressing off, and it's basically a big giant meal in and of itself. Give me more salads like this every day please!
If you try any of my recipes be sure to let me know on Instagram, Twitter, Facebook or in the comments – I'd love to see what you come up with!?
Chickpea Quinoa Power Salad with Jalapeno Dressing
This Chickpea Quinoa Power Salad with Jalapeno Dressing is a delicious, vegetarian rainbow slaw with diced mango and 2-minute chili lime chickpeas!
Print
Pin
Rate
Ingredients
1

cup

cooked quinoa

2

cups

thinly sliced napa cabbage

2

cups

thinly sliced red cabbage

1

cup

Carrot matchsticks

1/2

cucumber, cut into matchsticks

1/3

cup

basil, finely chopped

1/3

cup

mint, finely chopped

1

mango, diced

1

cup

pea shoots

1

bunch

radishes, cut into matchsticks

1/2

cup

unsweetened shredded coconut
Jalapeno Dressing
1

jalapeno, deseeded

1/2

cup

sour cream

1/2

cup

cilantro

1/4

cup

unsweetened shredded coconut

1

tsp

lime juice

1/2

tsp

salt
Chili Lime Chickpeas
1

can

chickpeas

1

tbsp

chili powder

2

tsp

lime juice

1/2

tsp

salt
Instructions
In a large bowl, mix together ingredients for chili lime chickpeas. Set aside.

Mix together ingredients for jalapeno dressing in a food processor, blender or Magic Bullet and set aside.

Chop and prepare veggies and mango, dumping into a large bowl. Meanwhile, cook quinoa according to package directions at the same time. Toss all salad ingredients together (including chickpeas and jalapeno dressing - I would start with half the dressing and add as much as you'd like from there) and serve.

Alternately, if serving later or using for weekly meal prep, keep chickpeas and dressing separate, adding right before serving to ensure salad stays fresh. Enjoy!