Instant Pot Chicken Fajita Pasta
This Instant Pot Chicken Fajita Pasta with fresh salsa and bell peppers is a delicious one pot pasta idea that comes together easily with the help of your pressure cooker! Just dump all your ingredients and serve – it's all ready in under 30 minutes!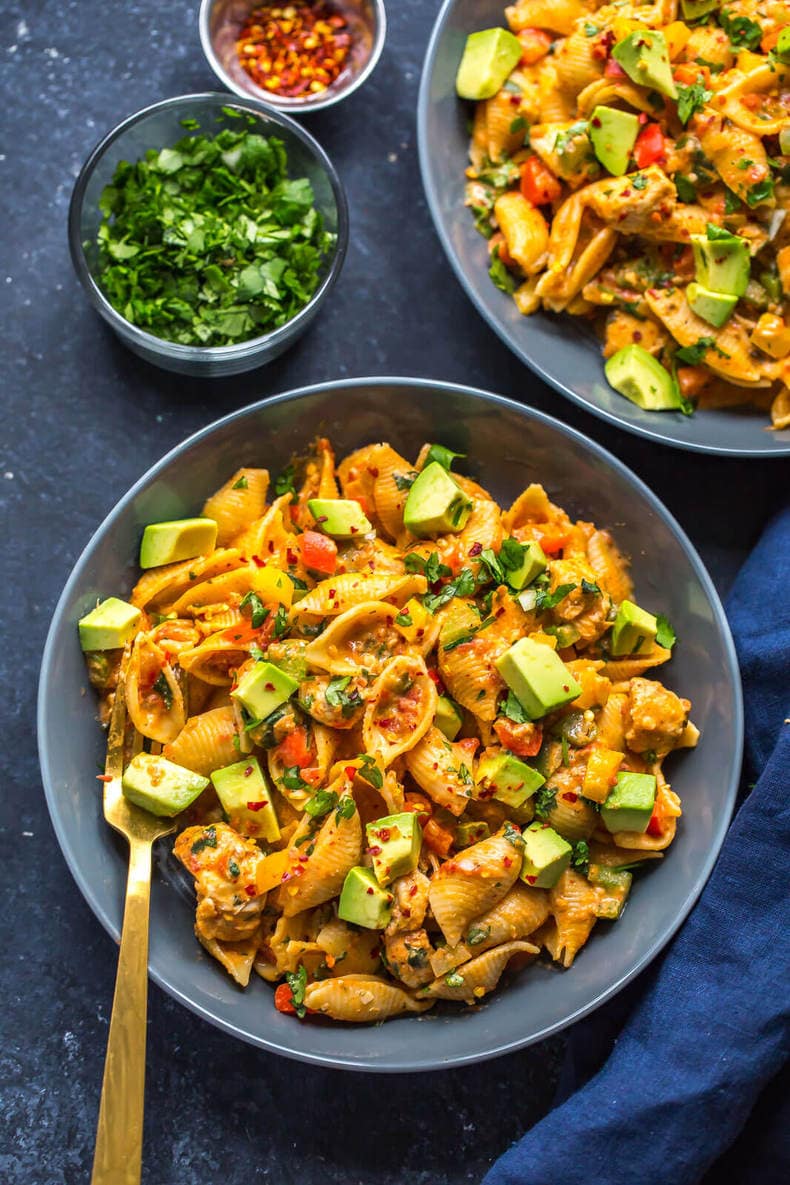 GUYS!
I have been eating Instant Pot Chicken Fajita Pasta for the past four days now.
I literally think I have a problem. I rarely ever make these crazy declarations about something I've made, but I mean it when I say that if there's one recipe you end up making from my blog, please make sure this is it. Honestly, it is SOOOOOOO GOOOOOOOOD.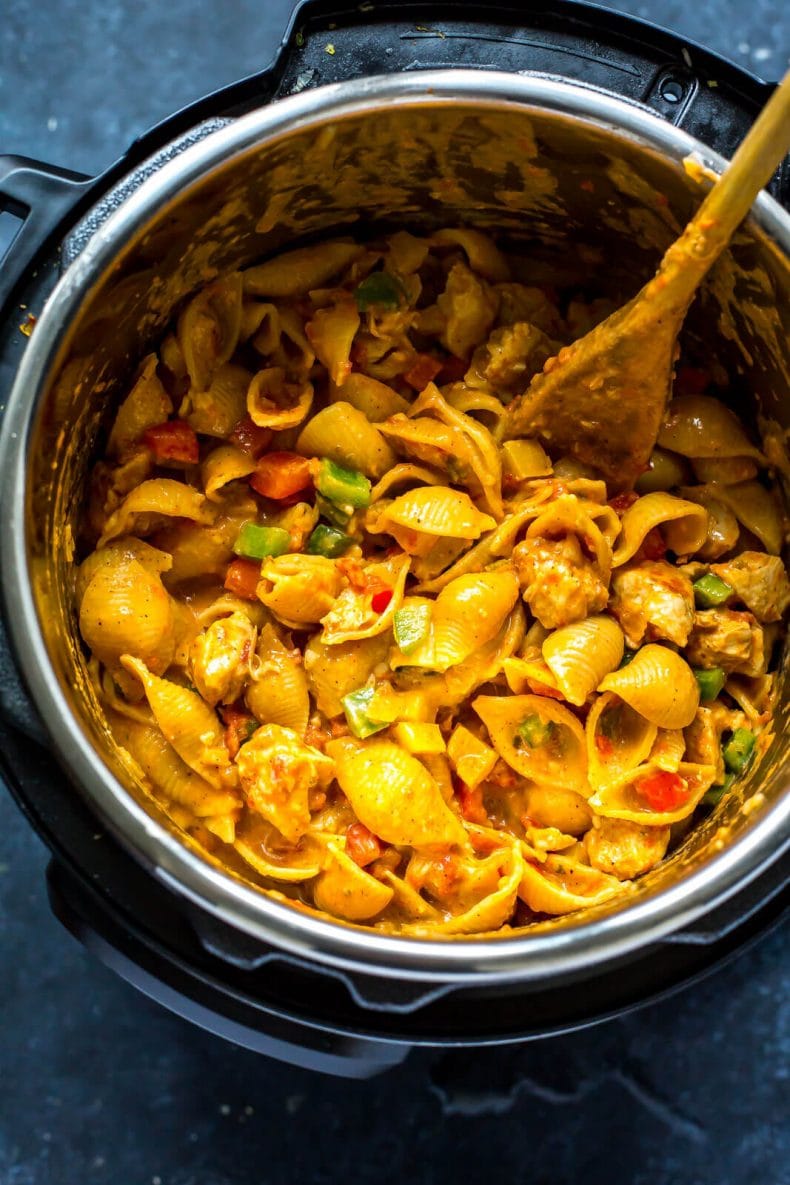 And I think the secret combination of deliciousness is fresh salsa + taco seasoning + sour cream + cheddar cheese. And the pasta of course. But legit, this stuff is crazy addictive, and you'll be including it on your dinner menus for eons to come.
Now, I hope you aren't disappointed but this is an Instant Pot recipe, and a damn good one if you ask me, but I have not tested it on the stovetop yet. I imagine it would be fairly easy, but keep in mind as I list some suggestions here you will have to bear in mind that I haven't tried it myself.
If you were to do this Instant Pot Chicken Fajita Pasta on the stovetop, I would saute the chicken with the onions, garlic and taco seasoning first for 4-5 minutes or so, then add in the broth, salsa and pasta shells and bring to a boil. From there, simmer the mixture until the pasta is cooked and the liquid is mostly absorbed. Stir in the sour cream, cheese and cilantro at the end  – YUM!
That's basically the formula for when you make this one pot fajita pasta in the Instant Pot, but the appeal of the Instant Pot is that it all gets pressure cooked in one pot all at once so you have minimal hands on cooking time.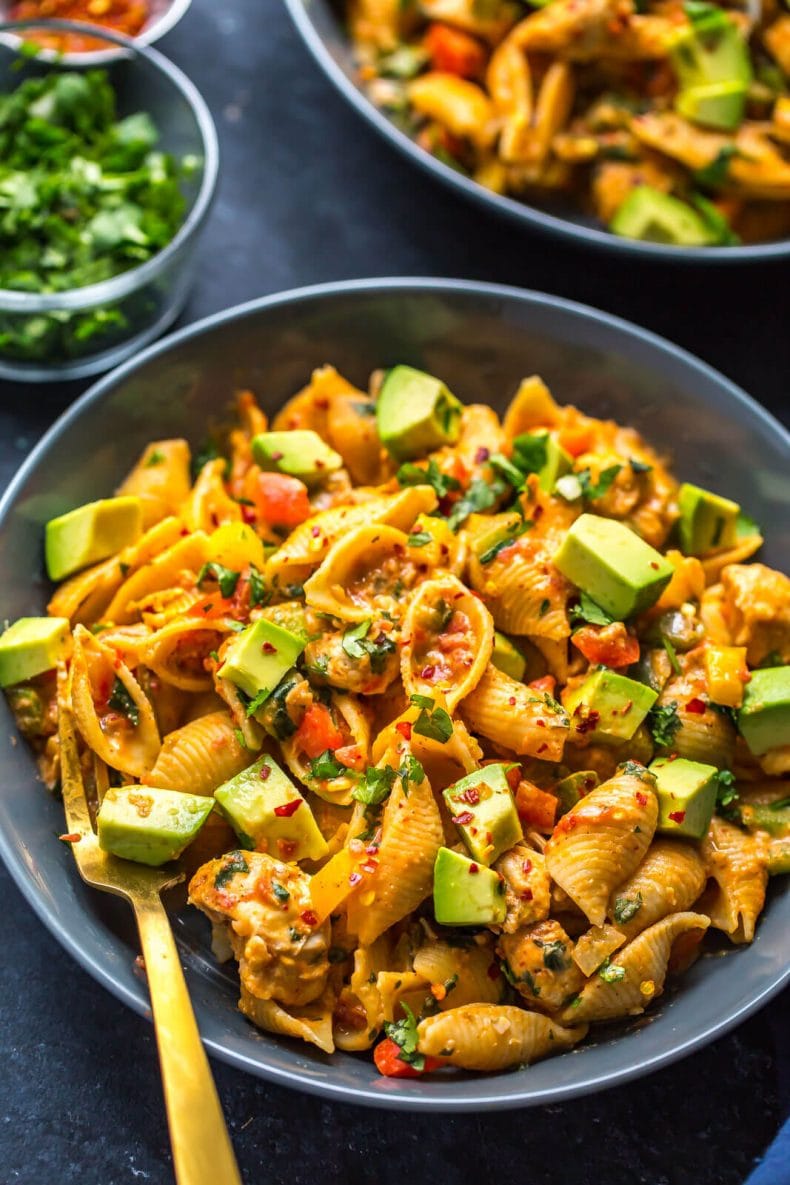 I'm honestly kind of surprised by how easy it is to cook pasta and all kinds of grains in the Instant Pot. Most of the quinoa, rice and pasta dishes I've tried have turned out perfectly with the right ratios of liquids to dry ingredients – you can see the delicious evidence with these Instant Pot Chicken Burrito Bowls and this Instant Pot Pad Thai.
But let me tell you, this Instant Pot Chicken Fajita Pasta is one of a kind right here, and if you're into the whole pressure cooking thing as much as I am then you'll know how amazingly easy it is to whip up a bunch of one pot meals like this in no time flat.
This Instant Pot pasta is the bomb.
There are a couple of things you should probably know about this Instant Pot Chicken Fajita Pasta, the first being that it is the tiniest bit spicy so go easy on the taco seasoning if you're not into the heat. You also don't need to necessarily use taco seasoning, but I keep a homemade blend on hand for occasions like this as I use it quite often.
It's super easy to make homemade taco seasoning: just blend up some chili powder, cumin, coriander, paprika, garlic powder, minced dried onion and a pinch of cayenne pepper (that last one is optional for a bit of heat!). I will usually just eyeball it but use mostly chili powder with a little spoonful of everything else. Having homemade spice blends like taco seasoning, Italian seasoning, Greek seasoning and more just makes your life so much easier when you go to make different recipes or just want an easy seasoning to add to meats and veggies on the fly. And you'll save money while you're at it!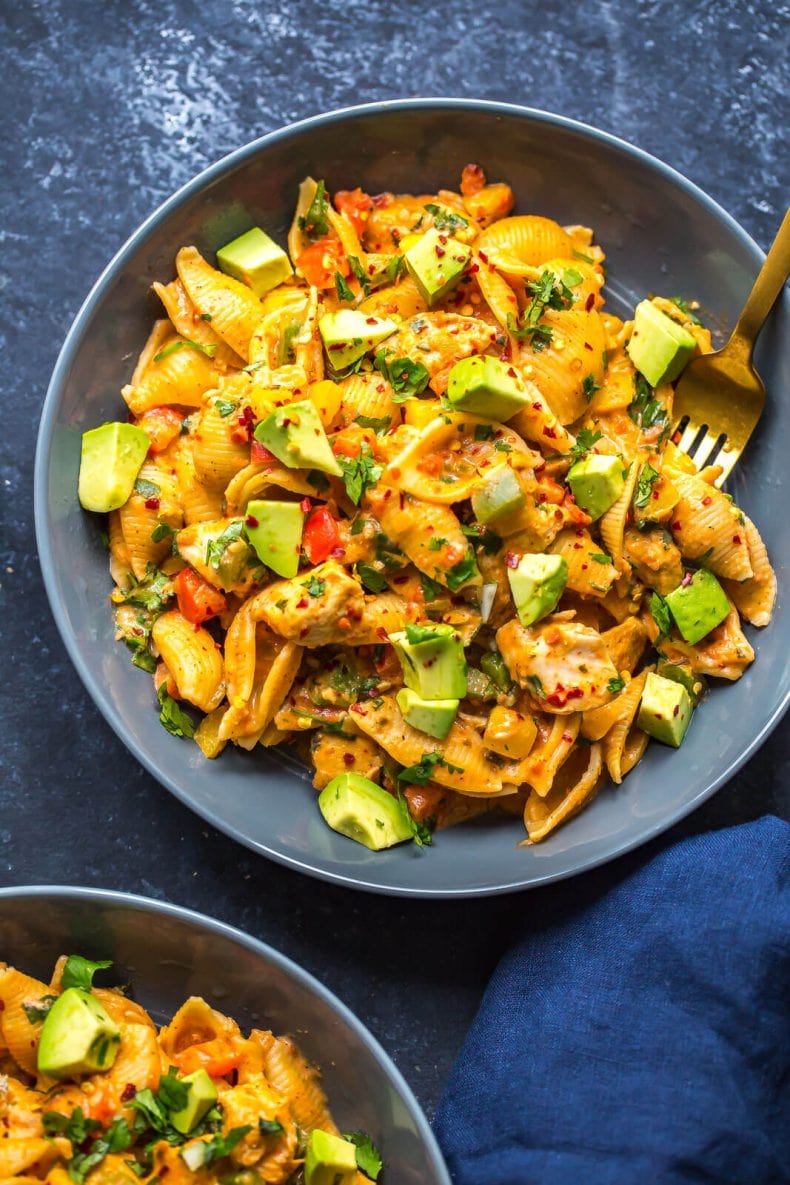 For this fajita chicken pasta you should also try and use fresh salsa if you can; I get it in the fresh vegetable section of the grocery store, usually near the store-bought falafels or refrigerated salad dressings, but I've also seen them in with the dips and hummus. Jack's is my favourite brand (not an ad I promise haha) and easily found just about anywhere so really try and use the fresh salsa, not the jarred stuff.
If you don't have fresh salsa, you can try the jarred salsa or use canned diced tomatoes so you do have options, but I highlyyyyyyy recommend a fresh salsa. It adds a whole other level of flavour, I promise!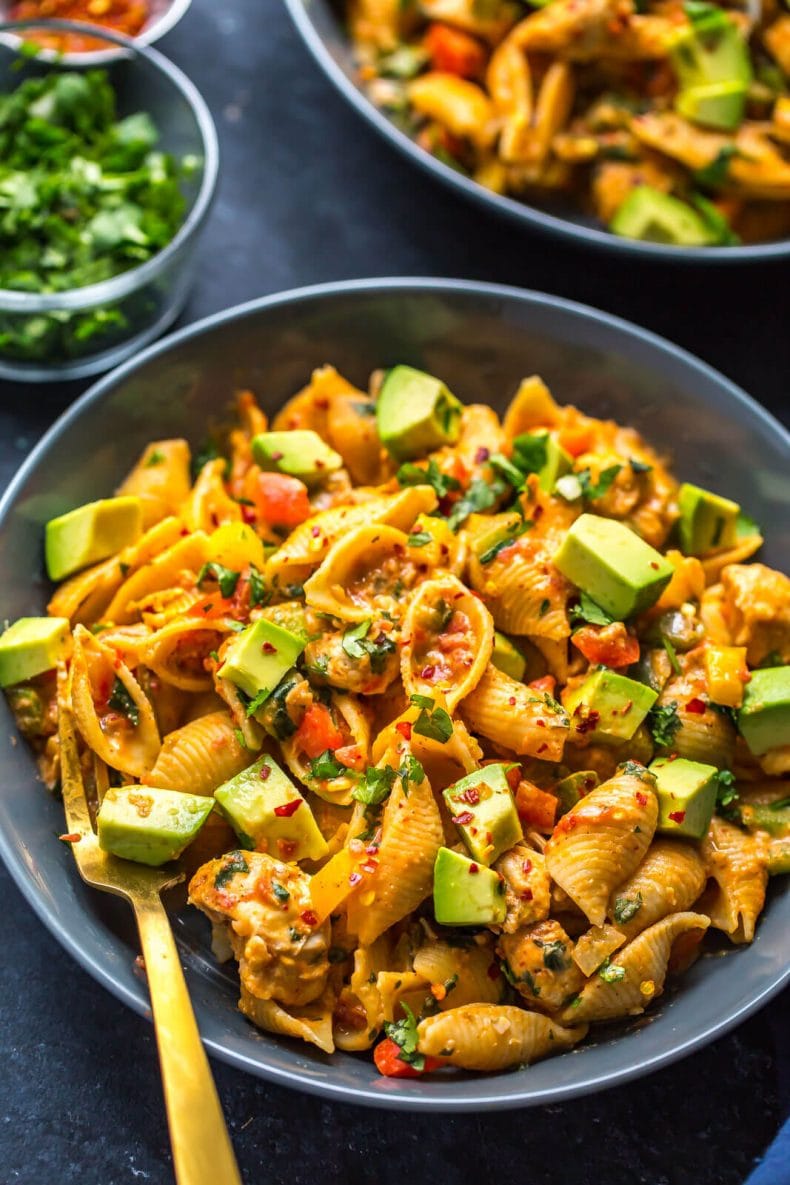 Will you be making this One Pot Fajita Pasta? 
I'm thinking dinner needs to come together in 30 tonight…and leave you with plenty of leftovers! 😉
If you try any of my recipes be sure to let me know on Instagram, Twitter, Facebook or in the comments – I'd love to see what you come up with!
The Instant Pot DUO Plus 60
 is the version I use in this recipe.
These are similar to the pasta shells I used.
And of course I get all my free-range chicken breasts from Butcher Box!
Print Recipe
Instant Pot Chicken Fajita Pasta
This Instant Pot Chicken Fajita Pasta with fresh salsa and bell peppers is a delicious one pot pasta idea that comes together easily with the help of your pressure cooker! Just dump all your ingredients and serve - it's all ready in under 30 minutes!
Ingredients
1

tbsp

olive oil

2

medium-sized chicken breasts, diced into 1 inch pieces

1

tbsp

taco seasoning

4

cloves

garlic minced

1

yellow onion, diced

2

cups

chicken broth

2

cups

fresh salsa (I use the Jack's Fresh brand, or canned diced tomatoes will work)

1

lb

large pasta shells

1

each

red, green and yellow pepper, finely diced

1

cup

cheddar cheese, grated

1/2

cup

sour cream

1/3

cup

chopped fresh cilantro

1

avocado, diced
Instructions
Add olive oil, chicken, taco seasoning, garlic, onion, chicken broth, salsa and shells to the Instant Pot in that order, making sure to leave the shells sitting on the top of all the other ingredients.

Cook on high pressure for 3 minutes, then do a quick release of the pressure. Instant Pot will take about 10-15 minutes to preheat, then pressure cook for 3 minutes.

Remove lid when safe to do so and stir in bell peppers, sour cream and cheddar cheese, stirring well. Replace lid and let sit for five minutes.

Remove lid again and stir in cilantro, then serve among 6 bowls, topping with avocado. Serve and enjoy!
Nutrition
Calories:
521
kcal
|
Carbohydrates:
67
g
|
Protein:
30
g
|
Fat:
19
g
|
Saturated Fat:
7
g
|
Polyunsaturated Fat:
1
g
|
Monounsaturated Fat:
7
g
|
Cholesterol:
47
mg
|
Sodium:
818
mg
|
Potassium:
203
mg
|
Fiber:
4
g
|
Sugar:
6
g
|
Vitamin A:
900
IU
|
Vitamin C:
22.3
mg
|
Calcium:
200
mg
|
Iron:
2.9
mg