With Valentine's Day coming up, I'm bringing you 25 sweet treats and indulgent entrees to celebrate the most romantic day of the year!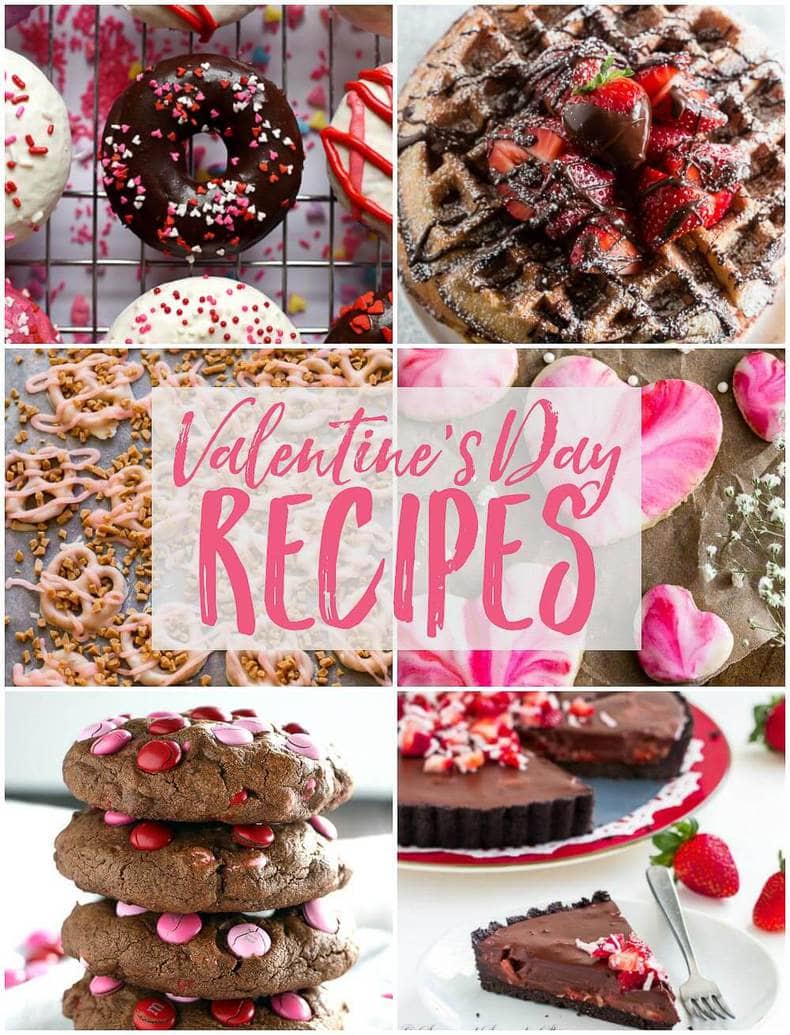 Valentine's Day is one of my favourite holidays.❤ Yes, I know, it's kinda a lame day manufactured by marketers to sell a bunch of stuff, but I've come to see it as a fun excuse to get together with all the people you love in life.
No significant other? No problem! I'll be celebrating Galentine's with my girlfriends this Saturday by hosting a fancy dinner and dance party. Half the fun is getting dressed up, decorating with a whole bunch of red and pink metallic hearts and balloons, and eating out-of-this-world delicious food.
So, without further ado, get your virtual feast on with these Valentine's Day-themed recipes. And yes, you'll find more than just chocolate and cookies here: I've also included a few ideas for your signature cocktail and fancy, elevated entrees for two thanks to some of my fave food blogger friends.
Get ready to get your romance on – happy planning!
Ditch those chalky heart candies! Gluten Free Conversation Heart Cookies via What the Fork are exactly what you need to express your love this Valentine's Day!
This Lobster Linguine via Simple Seasonal is the ultimate seafood dish. Go ahead and treat yourself – you deserve it!
Red Velvet Donuts via Let's Eat Cake literally have about a thousand different decorating options. Please tell me I can eat these for breakfast.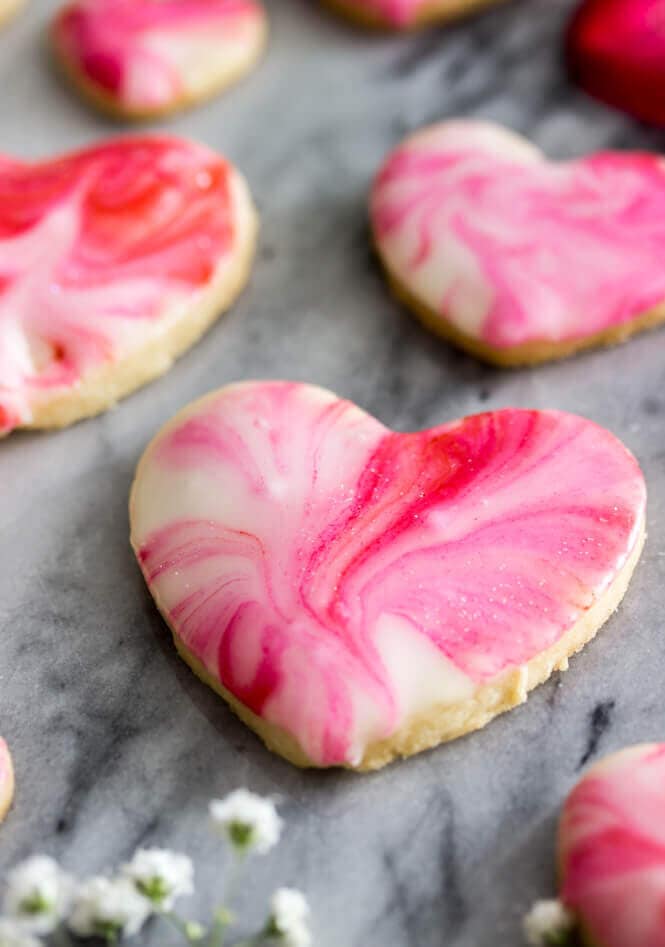 These Heart Cookies via Sugar Spun Run are decorated with a beautiful swirl of pink icing – how perfect are these for your next Valentine's Day party?
This Pomegranate-Persimmon Winter Sangria via Salt & Lavender is a delicious option for getting cozy on your next date night in.
Okay, this Bailey's and Oreo Tart via My Kitchen Love is just screaming any chocolate lover's name.
Chocolate M&M Valentine's Day Cookies via The Salty Marshmallow are so fun and colourful – just be sure to share 'em if you make them! 😉
This Vanilla Pomegranate Mulled Wine via Justine Celina pratically belongs in your lap in front of a fireplace. Grab a blanket and your significant other – date night made.
How cute are these Hershey Pretzel Pretzel Kisses via Lord Byron's Kitchen?! I think I could eat about a billion of these!
Treats don't have to be reserved for dessert only! This Sugar-free Choco-coco Overnight Oatmeal via Vibrant Plate is a healthy way to enjoy a bit of chocolate this Valentine's.
These Lemon Cupcakes with Grapefruit Buttercream via Crumb Kitchen make such great use of seasonal citrus and are oh-so romantic!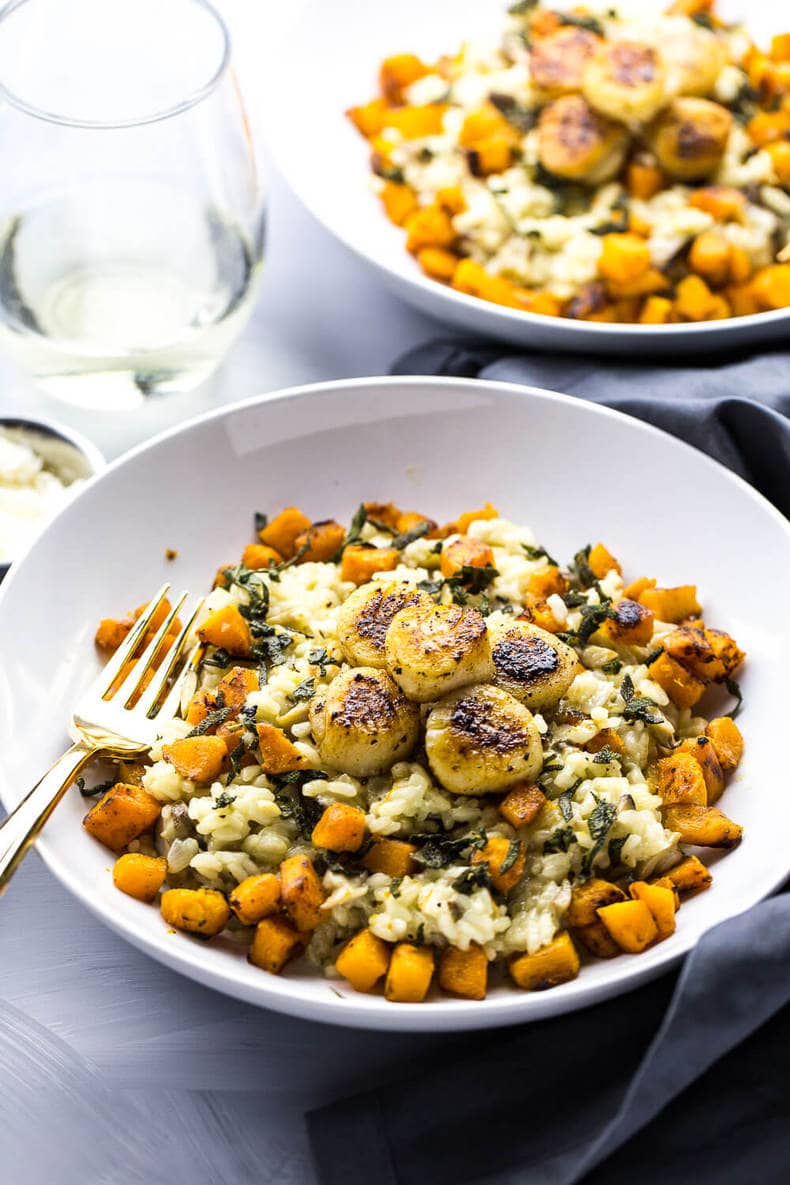 Seared Scallops and Butternut Squash Risotto  is one of my new favourite entrees and the perfect excuse to enjoy seared scallops. Talk about romance on a plate!
This Red Velvet Chocolate Coffee Cake via Peas and Peonies combines all my fave flavours into one cake. Good luck sharing it if that's what you're planning on…
These Nutella Strawberry Puff Pastry Hearts via A Life Well Consumed are a fantastic combination of flavours and textures – and how cute are the hearts?!
Red Velvet Popcorn via Cookies and Cups is a unique, fun way to enjoy a little Netflix and chill time, if you know what I mean…
This Pink Champagne Cake via Liv For Cake is so over-the-top beautiful! Valentine's Day is the perfect occasion to recreate this masterpiece!
These Heart-shaped Churros via Supergolden Bakes are such a unique way to enjoy your fave Mexican dessert, just in time for Valentine's Day.
These Chocolate-Covered Strawberry Buttermilk Waffles via Nutmeg Nanny can TOTALLY be eaten for breakfast. Just make sure someone brings them to you in bed!
This Chocolate Truffle Tart via Sweet and Savory by Shinee is practically calling my name – I need that smooth chocolate and juicy strawberries in my life ASAP!
Strawberry Shortcake and Lemon Curd Parfait via The Rising Spoon is a beautiful combo of flavours that are perfect for Valentine's – and they're so pretty, too!
This Vanilla Rose and White Chocolate Cocktail via The Flavor Blender is a rich, delectable cocktail option to serve at your next Valentine's Day party!
Which one of these delicious recipes will you be making this Valentine's Day?! I wanna devour them ALL!?