These Ahi Tuna Sushi Stacks are a delicious copycat version of the ones on the menu at Canadian restaurant chain Cactus Club Cafe – with a sesame-soy marinade, avocado, cucumber & micro greens, it's a deliciously light dinner idea!
Get ready for a delicious restaurant-worthy meal made easy at home with these Ahi Tuna Sushi Stacks! I've got Meal Prep Sushi Jars up on the blog, and these easy Shrimp Stacks, and now I've brought you a tuna version because tuna steak is my FAVE.
They're such an easy, light dinner idea and one of my favourite ways to enjoy sushi without the high price tag or the trouble of rolling everything up into a wrap.
Now I know these Ahi Tuna Sushi Stacks look super fancy and all but I promise you they're super easy, and you can even sub in other types of protein if you don't have any tuna steaks on hand, although I usually keep some in the freezer just to keep costs down. When I feel like splurging, I'll go to the fish counter and grab some fresh!
Okay, so how do you make these exactly? All you need is a 1-cup measuring cup! Pack in all your ingredients, then dump out onto a plate and top with greens. Genius much?!
We have this amazing restaurant chain in Canada called Cactus Club Cafe, so I've tried my best to replicate the tuna stacks on the menu there by using some pantry staples as a marinade for the tuna steaks.
I've mix together sesame oil, soy sauce, lime juice, nori and sesame seeds and tossed the tuna in that mixture – I find that often just a few simple ingredients are needed for this recipe to really shine. The bonus is that you should already have most of them on hand so it's just a matter of opening up your pantry and pulling out some staples. To make this recipe gluten free, make sure to use tamari in place of soy sauce.
From there, it's just a matter of making the sushi rice and having the veggies on hand!
I usually make the sushi rice a couple of days ahead of time to cut down on cook and prep time – besides the rice, this is actually a no-cook recipe so it's one of those things where you can have a few elements of the recipe ready ahead of time then just assemble the day of for a quick and easy dinner ready in less than 30 minutes.
I know the second it starts getting nice outside I just wanna get dinner on the table and worry about enjoying the evening instead so it's handy to have super quick and easy recipes like this in your arsenal of ideas!
To make the sushi rice, I recommend using a rice cooker – if you don't have one they are absolutely LIFE CHANGING. I was hesitant about adding another kitchen appliance to my already overcrowded kitchen but it's so nice not to have to worry about burning your rice or anything – the appliance does the work for you as long as you add the right ratio of liquid to rice.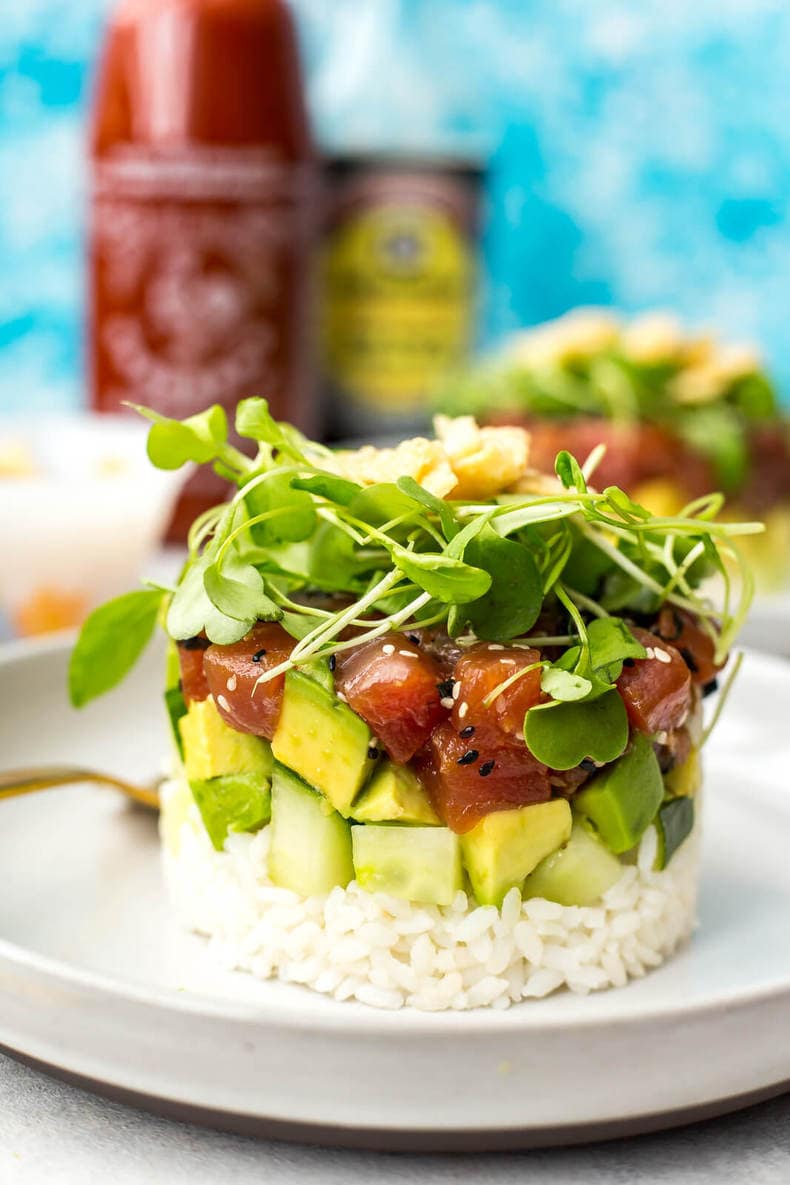 To make authentic-tasting sushi rice for these Ahi Tuna Sushi Stacks, you basically just add equal parts rice vinegar and sugar (I do 2 tbsp per 2 cups of cooked rice) and then a pinch of salt. Pair that with the nori (dried seaweed) and your tuna steaks (or even imitation crab or cooked shrimp) and you've nailed that delicious sushi taste.
You can enjoy the rice hot or cold, but I honestly usually eat it cold just because that's the way I normally eat sushi. So good.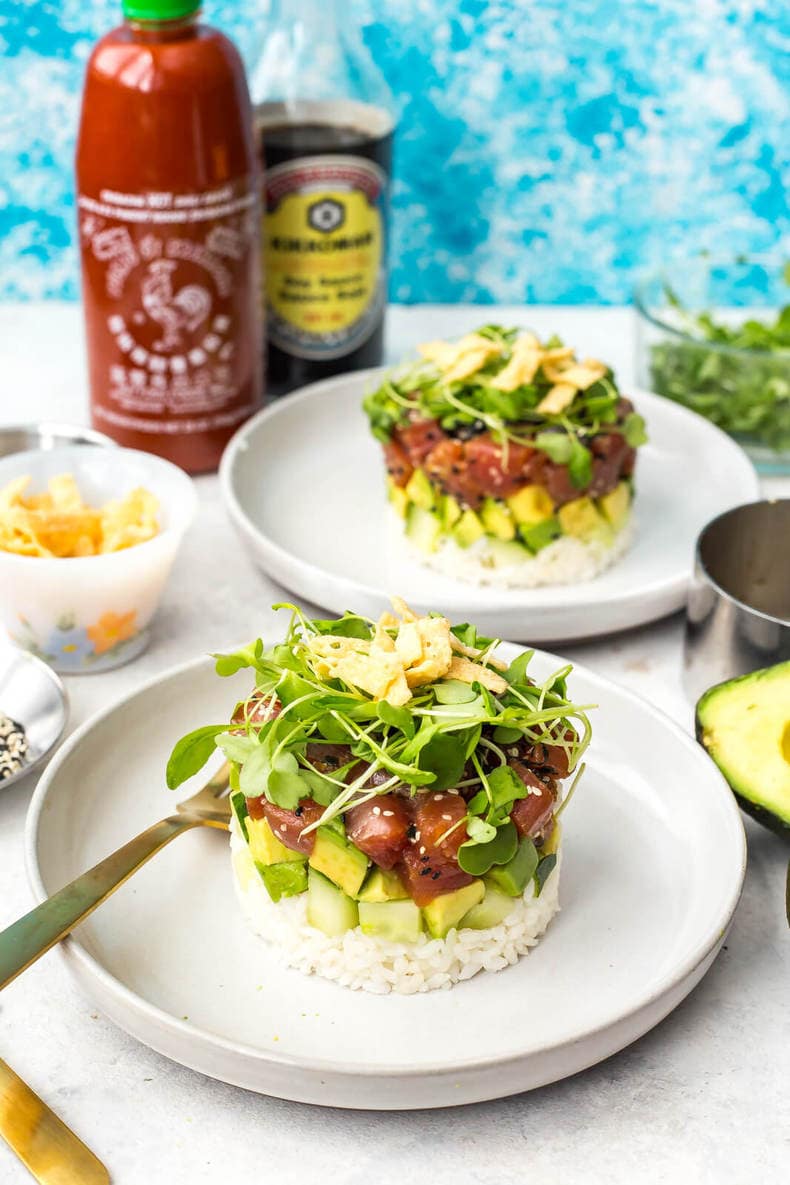 Now for the veggies! I used avocado and cucumber here, then topped my Ahi Tuna Sushi Stacks with some microgreens and smashed wonton crisps that I got in the salad dressing isle of the grocery store. You don't have to use microgreens but I was trying to stay as close as possible to the Cactus Club version.
OMG let me tell you, this place has amazing food if you ever have the chance to visit. I believe most locations are in western Canada (BC and Alberta), and they opened one in Toronto a couple years ago and I'll go for a special occasion. It has a fantastic patio in the summer and is located right downtown in the financial district so it's kind of a happening spot. Exactly what I think of when I think of chic, cosmopolitan city living.
And now you can bring at least *some* of that home while you sip wine in your sweatpants after work LOL.
Or is it just me that did that when making this recipe…
Will you be making these Ahi Tuna Sushi Stacks? 
You are absolutely going to love them – they're the most perfect mix between tuna poke and sushi rolls, and you can make most of it ahead to cut down on your overall amount of time in the kitchen. BRB while I make these pretty much every day this summer!
If you try any of my recipes be sure to let me know on Instagram, Twitter, Facebook or in the comments – I'd love to see what you come up with!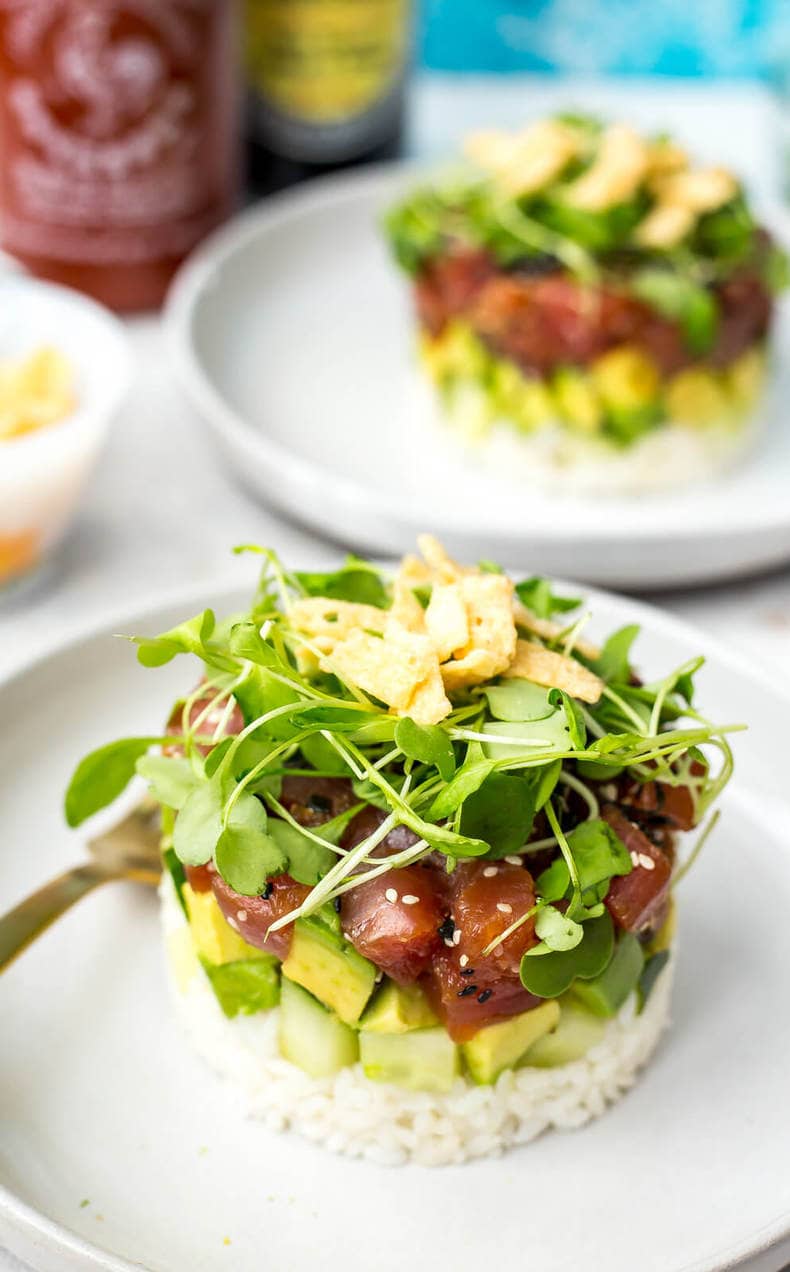 Here's where you can order sticky rice.
This is the low-sodium soy sauce I use.
You can get black and white sushi sesame seeds here.
Here's where you can get nori sheets.
And here's where you can get wonton crisps!
I use the 1-cup measuring cup from this set – metal cups make it so much easier to dump all the ingredients out into a stack.
Ahi Tuna Sushi Stack (Cactus Club Copycat)
These Ahi Tuna Sushi Stacks are a delicious copycat version of the ones on the menu at Canadian restaurant chain Cactus Club Cafe - with a sesame-soy marinade, avocado, cucumber & micro greens, it's a deliciously light dinner idea!
Print
Pin
Rate
Ingredients
2

avocados, diced

1/2

cucumber, diced

1

cup

microgreens

1/2

cup

wonton crisps (you can get them in the salad dressing isle at your local grocery store)
Sushi rice
2

cups

cooked sticky rice (usually 1 cup dry sticky rice, 2 cups water)

2

tbsp

rice vinegar

2

tbsp

sugar

1/2

tsp

salt
Tuna marinade
2

medium-sized

tuna steaks

3

tbsp

low sodium soy sauce

1

tbsp

sesame oil

1

tbsp

lime juice

1

nori sheet, cut into thin strips

1

tbsp

Sesame seeds for garnish
Instructions
Cook sticky rice in a rice cooker or on stovetop according to package directions. Mix in rice vinegar, sugar and salt once done cooking. Let cool in fridge at least 30 minutes to an hour (I make it the day ahead then let it sit in the fridge overnight).

Cut tuna steaks into 1/4-inch pieces. I find it easiest to freeze tuna for about 1 hour to get them to harden up so it's easier to cut them, but you can definitely cut them fresh if you're in a pinch. Toss tuna with soy sauce, sesame oil, nori strips and sesame seeds.

Try your best to divide all ingredients in four. Add a bit of tuna to a 1 cup measuring cup, then layer with avocado, cucumber and sticky rice, pressing down hard on sticky rice with the back of a spoon. Flip measuring cup upside down on a plate so mixture comes out in a stack-like form. Top with microgreens and wonton strips, then serve and enjoy!
Video
Nutrition
Calories:
464
kcal
|
Carbohydrates:
43
g
|
Protein:
25
g
|
Fat:
24
g
|
Saturated Fat:
3
g
|
Polyunsaturated Fat:
4
g
|
Monounsaturated Fat:
3
g
|
Cholesterol:
30
mg
|
Sodium:
533
mg
|
Potassium:
429
mg
|
Fiber:
7
g
|
Sugar:
6
g
|
Vitamin A:
300
IU
|
Vitamin C:
9.9
mg
|
Calcium:
10
mg
|
Iron:
0.7
mg