This Penne alla Vodka Pasta Bake is a hearty, rich spin on classic Italian comfort food. Creamy, velvety tomato-based vodka sauce, layers of spinach, red pepper and chicken with a cheesy top make this pasta bake unforgettable!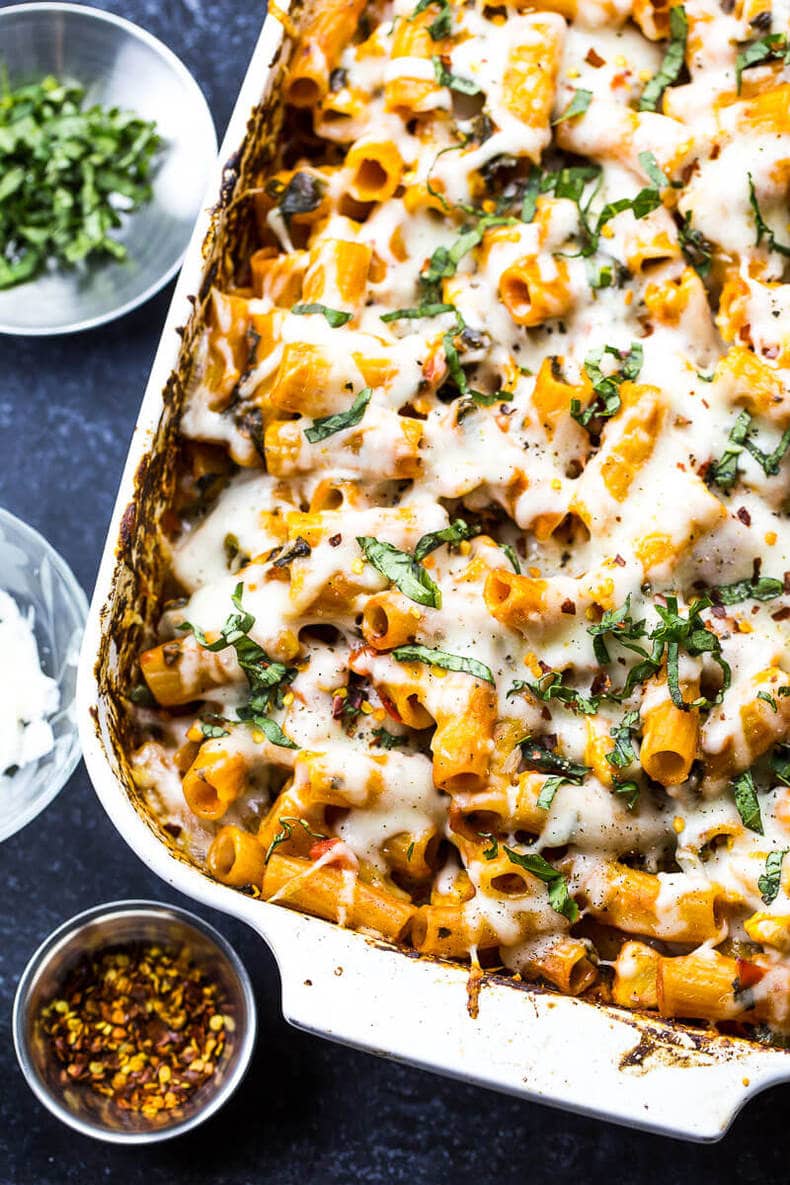 This post is sponsored by Mutti. Thanks so much for supporting the brands that help keep my blog up and running!
Happy Monday!!!
You seriously need a pasta bake in your life.?
I mean, the beginning of the week is hectic, and busy. Meals that you can throw together and let bake in the oven while you enjoy a glass of wine or two are absolutely what you deserve after a long day.
This Penne alla Vodka Pasta Bake ain't exactly a one pot meal. Yes, I wish I could bring you a recipe that requires a little less clean up too.? But, you'll have leftovers all week with this thing – or you could freeze it for leftovers all next week. This is a true busy girl's meal.
I am especially opposed to cooking of any sort this week because it's about to be my busiest yet of this year.
LOL I know, we're only a month into 2017. But seriously, I don't know that I've ever had such a busy work week planned since I was in school and writing last minute papers and studying for like, 10 end of the year exams.
I have two videos to edit for Wednesday, as well as an income report to publish the same day, and I also need to send in a completed blog post draft for that day. So yeah, four deadlines in one day TOTALLY reminds me of my University of Toronto days. Any alumni will know what I'm talking about. 😉
And as if that isn't enough, I also have an upcoming Facebook live event in downtown Toronto that I'm SUPER excited for, but it basically means that I have to cancel my entire workday on Thursday. Then on Friday I will rush home for a last minute photoshoot (and publish another video the same day!), and on Saturday I will help my grandma move from the home she's lived in for the past 25 years.
To say I'm a little bit stressed out and that I have a lot going on is an understatement.?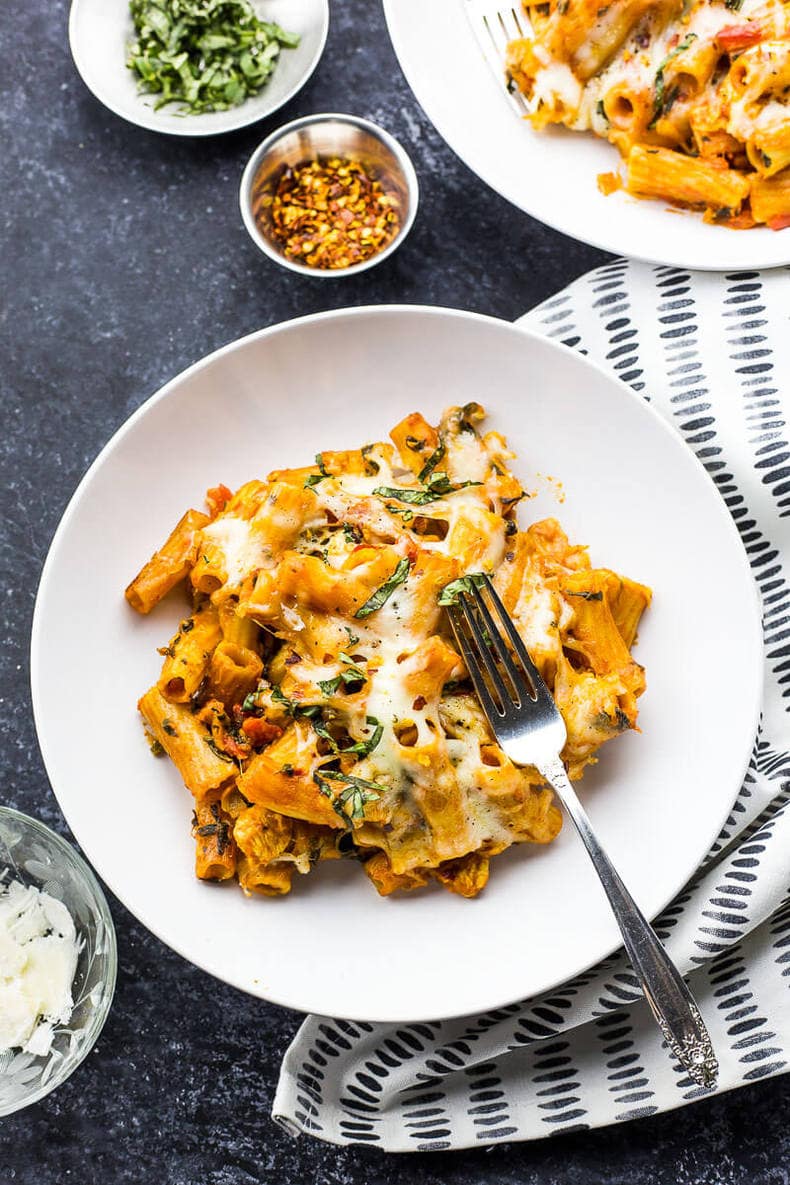 That's where penne alla vodka pasta bake comes in to fix all my problems.??Delicious comfort food ready for the whole week, and food that you'll actually WANT to eat for the whole week.
And yes, I know, I've used rigatoni pasta here, so technically it isn't quite penne alla vodka. But that's okay. Because you need an extra large pasta shape to soak up all this delicious sauce. If you don't start eating the sauce right out of the pot first.
I may be guilty of this. Just sayin'.
With a little bit of tomato paste, passata, cream, red chili flakes and parmesan cheese, you're well on your way to carb city heaven with this cheesy, saucy pasta bake.
And I suppose it also works quite well for entertaining and dinner parties. Excuse me for losing my mind over here with work and just thinking of feeding myself for the entire week. This is a giant, delicious pile of food, but it's also an easy, elevated dish that's luxurious enough to impress your guests and serves a GIANT crowd.
You could feed 10-12 people easy with this Penne alla Vodka Pasta Bake and a salad.
But don't be fooled and think you actually need a salad if you don't want one, because this pasta bake does have a ton of veggies stuffed in there as well. Spinach, red pepper, onion and fresh basil alongside diced chicken breast and two kinds of cheese make this pasta bake an extraordinarily delicious way to eat your vegetables.
I'm gonna need more of this ASAP.
Will you be making this Penne alla Vodka Pasta Bake?
I'd love to hear what your favourite comfort food recipes are. Are you a pasta person, or more of a homemade soup person? I've got a ton of delicious ideas to keep you warm and toasty this winter while satisfying all sorts of cravings!
Reach out to me on Instagram, Twitter, Facebook or in the comments – seriously, I'd love to hear from you!?
*This recipe is loosely adapted from The Modern Proper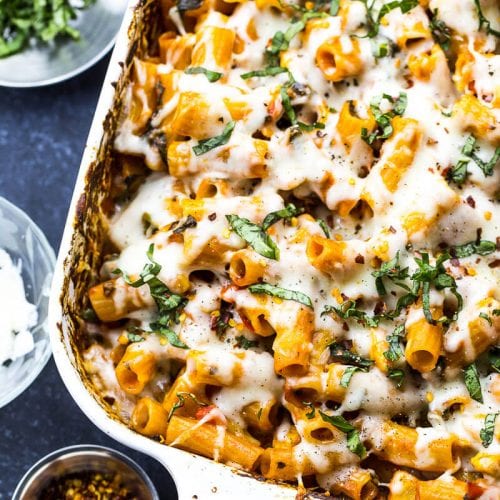 Penne alla Vodka Pasta Bake
This Penne alla Vodka Pasta Bake is a hearty, rich spin on classic Italian comfort food. Creamy, velvety tomato-based vodka sauce, layers of spinach, red pepper and chicken with a cheesy top make this pasta bake unforgettable!
Print
Pin
Rate
Ingredients
2

tbsp

olive oil

2

small shallots, diced

3

cloves

garlic minced

2

chicken breasts, diced

1

750mL jar

Mutti passata (strained tomatoes)

2

tbsp

Mutti tomato paste

1/2

cup

vodka

2/3

cup

whipping cream

1

cup

Parmesan cheese

1

tsp

salt

1/2

tsp

pepper

1

tsp

red chili flakes

600g

rigatoni pasta

1

red pepper, diced

2

cups

spinach, chopped

2

cups

chicken broth

2

cups

shredded mozzarella cheese

1/4

cup

finely chopped fresh basil
Instructions
Heat olive oil in large pot over med-high heat. Add shallots and garlic, sauteeing for 30 seconds. Add chicken and cook for 3-4 min until lightly browned. Add passata, tomato paste and vodka. Bring to a boil and simmer, covered, for 10 minutes. Meanwhile, preheat oven to 375 F.

Add whipping cream, parmesan cheese, salt, pepper and red chili flakes, stirring well to combine. Cook for another 2-3 min then emove from heat. Add dried pasta, chicken broth, red pepper and spinach, tossing well to coat.

Grease a large oven safe dish (I used a 9x13 baking dish) and then add pasta mixture, pushing pasta down into liquid as much as possible.

Cook in the oven, covered in tin foil, for 40 minutes, stirring halfway through cooking time. Remove from oven and top with mozzarella cheese, then cook for another 10 minutes or until cheese is melted.

Garnish with fresh basil and serve!