These Homemade Beaver Tails are made with pizza dough for an easy treat you can make at home – no need for deep frying either!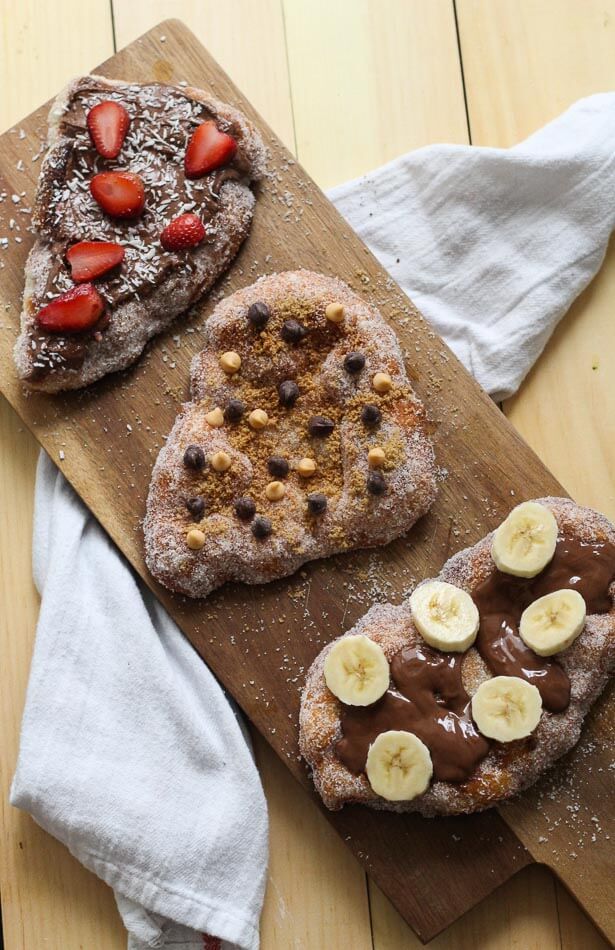 How to make this recipe
Add seasonings to pizza dough and mix together in a large bowl.
On a heavily floured surface, roll out dough then cut it into 6 pieces.
In a large, deep frying pan, pour in sunflower oil, then fry each piece.
Meanwhile, prepare a plate of cinnamon sugar.
Move beaver tails to a paper towel lined plate to drain.
Transfer to the sugar plate, coating on all sides.
Decorate with your favorite toppings. Ex: Nutella, coconut and strawberries.
Ingredients and substitutions
Sunflower oil – vegetable oil, canola oil, or coconut oil can be used in place of sunflower oil.
Dough
Pizza dough – make your own dough or use a store-bought pizza dough as I've listed for easy assembly.
Brown sugar – pre-made cinnamon sugar or white sugar can also be used in place of brown sugar.
Vanilla extract – there is no exact substitution for vanilla extract so if you don't have it, leave it out entirely. Or you can substitute it with another extract of your choice.
Flour – use cornstarch or pastry cloth as substitutions for flour in this recipe.
Want to Learn How to Meal Prep? Join Dinner Prep Pro!
Our meal planning service removes the guesswork and helps you get dinner on the table in 15-20 minutes each night thanks to our prep ahead checklists. It takes just one hour of ingredient prep on a Sunday!
What is a Beaver Tail?
A Beaver Tail is a Canadian staple! It's the go-to dessert paired with a hot chocolate after a day of skiing or skating. It's essentially a stretched dough that is deep fried and covered with cinnamon sugar. You can enjoy it as is or add just about any topping that you can think of on top! The most popular one available at the Beaver Tails chain is the Killaloe Sunrise, which is cinnamon sugar and fresh lemon juice! Another favourite is the Chocolate Hazelnut, which is a Beaver Tail covered with a chocolate hazelnut spread.
Topping ideas
The best part about making your own Beaver Tail is being able to mix and match the toppings to your liking! Not sure where to start? Here's some delicious options:
Nutella
Fresh fruit (strawberries, bananas, apples, etc.)
Shredded coconut
Chocolate chips
Mini marshmallows
Butterscotch chips or toffee
Caramel sauce
Pretzels
Oreo crumble
Fresh lemon slice
Chocolate/candy (Reese's pieces, Skor, etc.)

Storing and reheating
If you have any leftovers, which is doubtful, or you've made a few extras for a later date, store them in the fridge in an airtight container or freezer bag. Store them with no toppings so they stay fresh and are easy to reheat the next day. To reheat you can microwave them but I prefer to oven bake them so they don't get too soggy. Once reheated, add your favourite toppings and enjoy!
Freezing leftover Beaver Tails
Freeze any leftover pizza dough for a later date. You'll be able to use it for a future pizza or if you're hoping to create even more of these delicious Beaver Tails!
You can also freeze any extra Beaver Tails that you've made for a later date! Once they've cooled to room temperature, store them without toppings in the freezer in an airtight container or a freezer bag (make sure there's no extra air in the bag). When ready to enjoy, bake them in the oven until warmed all the way through and then add your desired toppings!

More healthy sweet treats
Meal prep tools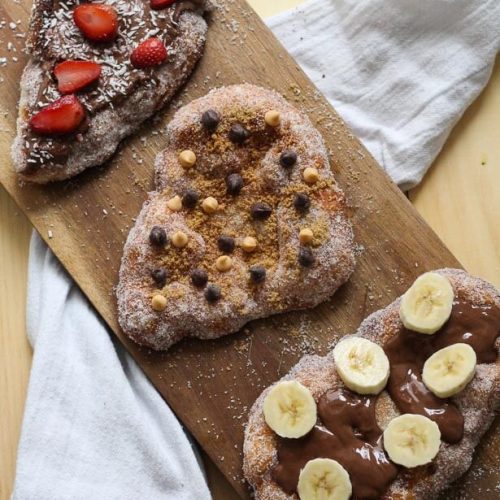 Homemade Beaver Tails with Pizza Dough
These Homemade Beaver Tails are made with pizza dough for an easy treat you can make at home – no need for deep frying either!
Print
Pin
Rate
Servings: 6 beaver tails
Calories: 370kcal
Ingredients
Dough
1 bag pizza dough
2 tbsp packed brown sugar
2 tsp vanilla extract
1/2 tsp cinnamon
2 tbsp water
2 tbsp flour
Dipping Mixture
Plate filled with white sugar
1 tsp cinnamon
Topping Ideas
Strawberries
Shredded coconut
Sliced bananas
Nutella
Brown sugar
Chocolate/butterscotch chips
Reese's pieces
Mini marshmallows
Any other candy you desire!
Instructions
Add ingredients to pizza dough then tear apart and mix together in a large bowl. This will probably take a while, but just do your best to get it all mixed together.

On a heavily floured surface, roll out your dough so that it is about a 1/4-1/2 inch thick. Using a knife, cut dough into 6 pieces and then use the knife to cut the dough (this step is optional and only for aesthetic reasons) so that the dough forms the shape of a beaver tail (basically a long, oval shape).

In a large, deep frying pan, pour in sunflower oil.

Take a small piece of flattened dough and put it in the oil. You'll know when the oil is hot enough when the dough floats to the surface and starts to cook. Remove the piece of dough at this point and add a larger piece of dough, cooking for 2 minutes each side. Set your stopwatch on your phone to ensure precise cooking times, and only cook one to two beaver tails at a time in the oil. Of course, be careful when cooking around hot oil as well.

Meanwhile, combine a plate full of sugar with cinnamon and stir to combine.

When the first beaver tail is done, use a large slotted serving spoon to remove it from the pan and let it drain on a paper towel lined plate for about a minute.

Transfer to sugar plate, coating on all sides.

Decorate with your fave toppings (mine is Nutella, coconut and strawberries!)
Nutrition
Calories: 370kcal (19%)Carbohydrates: 8g (3%)Protein: 1g (2%)Fat: 38g (58%)Saturated Fat: 5g (31%)Polyunsaturated Fat: 1gMonounsaturated Fat: 30gSodium: 13mg (1%)Potassium: 25mg (1%)Fiber: 1g (4%)Sugar: 6g (7%)Vitamin A: 1IUVitamin C: 1mg (1%)Calcium: 10mg (1%)Iron: 1mg (6%)