This Easy BBQ Salmon with Avocado Salsa is the perfect summer dinner idea and takes only 10 minutes to cook on the grill!
Ingredients and substitutions
Sockeye salmon filets – you can also use regular salmon, trout, tilapia or tuna.
Olive oil – swap out for any neutral cooking oil like canola or avocado oil.
Brown sugar – leave this out altogether if you don't have any on hand.
Salt & pepper – to taste.
Avocado salsa
Avocado – feel free to leave this out or swap for a fruit like pineapple or mango.
Red pepper – use any colour bell pepper you like or leave the pepper out altogether.
Yellow pepper – use any colour bell pepper you like or leave the pepper out altogether.
Red onion – you can use white onion, but it will have a different flavour.
Lime juice – freshly squeezed or bottled lime juice would both work here.
Cilantro – basil or parsley are good alternatives.
Red chili flakes – leave the chili flakes out if you don't like spice.
Salt – to taste.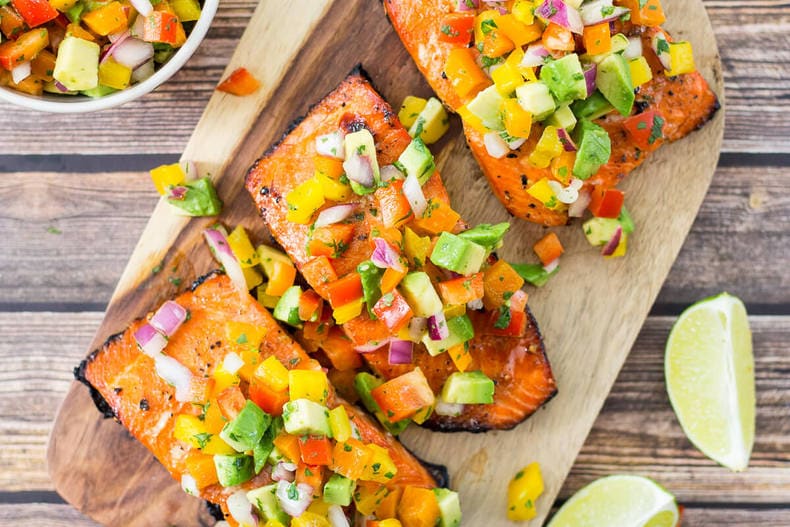 Skip the Ads and Get Right to the Recipes!
ZERO ADS on over 600 recipes!
Weekly Meal Plans, Grocery & Prep Lists
Bonus eBooks
How to make salmon on the BBQ
Brush the salmon with oil and seasonings.
Grill the salmon skin-side down for 10-20 minutes.
Make the avocado salsa.
Remove from the grill, top with avocado salsa and enjoy!
Farmed vs. sockeye salmon
There's a big difference between farmed salmon and sockeye salmon. First of all, sockeye salmon is wild-caught fish. If you eat a lot of salmon, you'll probably notice right away that sockeye salmon is a drastically different colour – it's a bright, orangey red as opposed to the pink colour you may see in other varieties of farmed salmon.
Typically, sockeye salmon is free from antibiotics (unlike farmed salmon where there are no guarantees), and the bright red colour comes from the diet that they eat in the ocean, primarily small crustaceans.
Farmed salmon, on the other hand, are fed a canola, grain and sometimes soy-based diet that strips the flesh of the natural red or pink hue. However, there are other factors to watch out for whenever you eat wild-caught fish: they usually contain higher levels of mercury, so you may only want to indulge a couple times a month.
Frequently Asked Questions
What temperature should salmon be cooked at?
Salmon should be cooked to an internal temperature of 145° Fahrenheit, but you can usually tell salmon is done when it flakes easily. It cooks super quickly, so you're looking at a total of 10 minutes on the grill or in the oven.
Do I need to flip the salmon on the grill?
You do not have to flip salmon on the grill! Make sure to grill it skin side down for 10 minutes and when it starts to easily flake, transfer to a plate and serve. Easy peasy!
What should I serve on the side?
I usually serve this grilled salmon recipe with avocado salsa and some rice or potatoes on the side. You can always get the potatoes grilling while you prep the salmon and salsa, or have some rice going in a rice cooker while you're doing your prep.
What should I season it with?
I used a combination of olive oil, brown sugar, salt and pepper as my seasoning for this salmon, but you can just use olive oil and salt and pepper. I have a whole bunch of salmon marinades listed here if you'd like to learn some more ways to season salmon.
Storing and reheating
You can store leftover salmon for 2-3 days in the fridge, although I think it tastes best fresh and don't really like to eat leftover salmon. The leftovers always taste extra fishy to me and just aren't the same. If you're going to reheat, I suggest sprinkling some water over top so the salmon doesn't dry out, then add on the fresh avocado salsa.
Freezing the salmon
You can freeze the salmon cooked or raw for up to 3 months in airtight glass containers or freezer-safe Ziploc bags. When you're ready to eat it, let it thaw in the fridge overnight before reheating on the grill.
Wanna Learn How To Meal Prep?
My meal planning service, Dinner Prep Pro, removes the guesswork and helps you get dinner on the table in 15-20 minutes each night. My meal prep checklists only take 1 hour each week!
More delicious seafood recipes
Meal prep tools for this recipe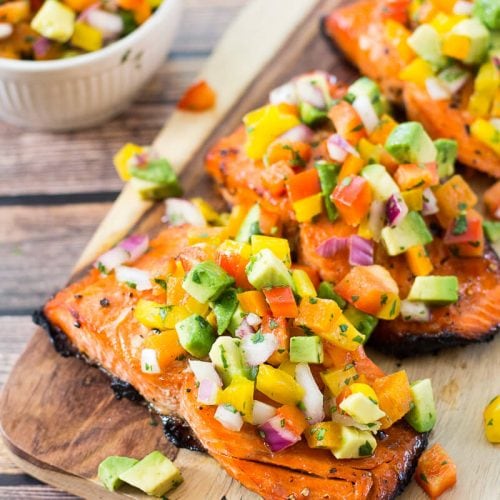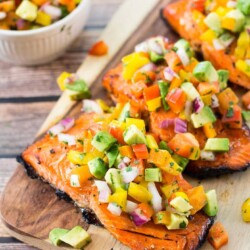 Easy BBQ Salmon with Avocado Salsa
This Easy BBQ Salmon with Avocado Salsa is the perfect summer dinner idea and takes only 10 minutes to cook on the grill!
Print
Pin
Rate
Click Here to Remove Ads
Servings: 4 servings
Calories: 393kcal
Ingredients
4 (5oz) frozen or fresh sockeye salmon filets
1 tbsp olive oil
1 tbsp brown sugar
Salt & pepper to taste
Avocado salsa
1 avocado diced
1 red pepper diced
1 yellow pepper diced
1 small red onion diced
Juice of 1 lime
1/4 cup cilantro basil or parsley, chopped (I highly recommend the cilantro!)
1/2 tsp salt
1/4 tsp red chili flakes
Instructions
Preheat BBQ to med-high heat.

Brush salmon with a little bit of olive oil, then brown sugar. Season with salt and pepper then put on the grill skin-side down for 10-12 min, watching carefully so it doesn't overcook.

Meanwhile, mix together the salsa.

Remove salmon from the grill and add salsa overtop. Serve alongside brown rice or BBQ potatoes and enjoy!
Notes
Swap out the salmon for trout, tilapia or tuna.
Try out a range of different salmon marinades.
If you don't like avocado, you can try making pineapple or mango salsa.
Store any leftovers in the fridge for up to 3 days. Sprinkle some water over top then reheat in the microwave and add on fresh salsa.
Freeze the cooked or raw salmon for up to 3 months.
Nutrition
Calories: 393kcal (20%)Carbohydrates: 14g (5%)Protein: 36g (72%)Fat: 22g (34%)Saturated Fat: 3g (19%)Cholesterol: 94mg (31%)Sodium: 375mg (16%)Potassium: 1243mg (36%)Fiber: 5g (21%)Sugar: 6g (7%)Vitamin A: 1237IU (25%)Vitamin C: 100mg (121%)Calcium: 36mg (4%)Iron: 2mg (11%)
Join The Girl on Bloor Premium!
ZERO ADS!
Weekly Meal Prep Checklists
Bonus eBooks