Delicious Chicken Thigh Marinades – 5 Ways
These delicious Chicken Thigh Marinades are perfect for boneless, skinless chicken. Try Asian, Chipotle, Greek, Balsamic and Honey Dijon all on one sheet pan using foil dividers! Jump to Recipe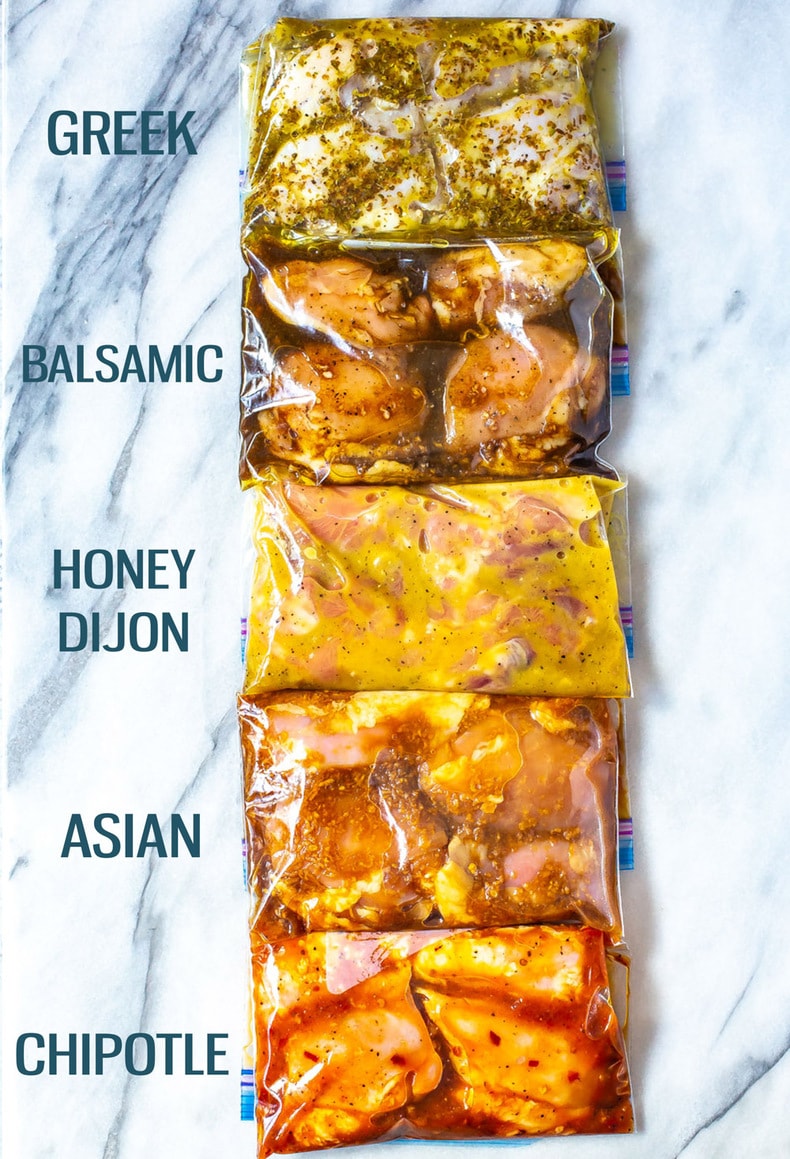 Boneless vs bone-in thighs
Buying chicken thighs with or without the bones is really a matter of preference. Boneless thighs cook a little quicker, but bone-in thighs are slightly cheaper because there is no extra work required by the butcher.
However, if you are used to cooking with boneless skinless chicken breast, boneless thighs are a great swap. Similar in cooking methods and times, the thighs of the chicken have a rich taste and tender texture.
Either type of chicken thigh will work with these marinades so go by personal preference.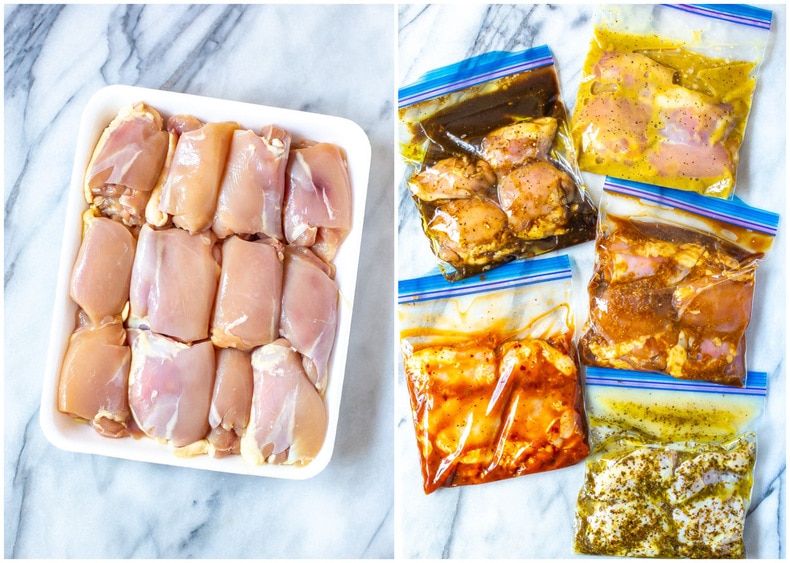 Ingredients in a chicken thigh marinade
A great chicken marinade has just a few components that work together to make the meat juicy and delicious.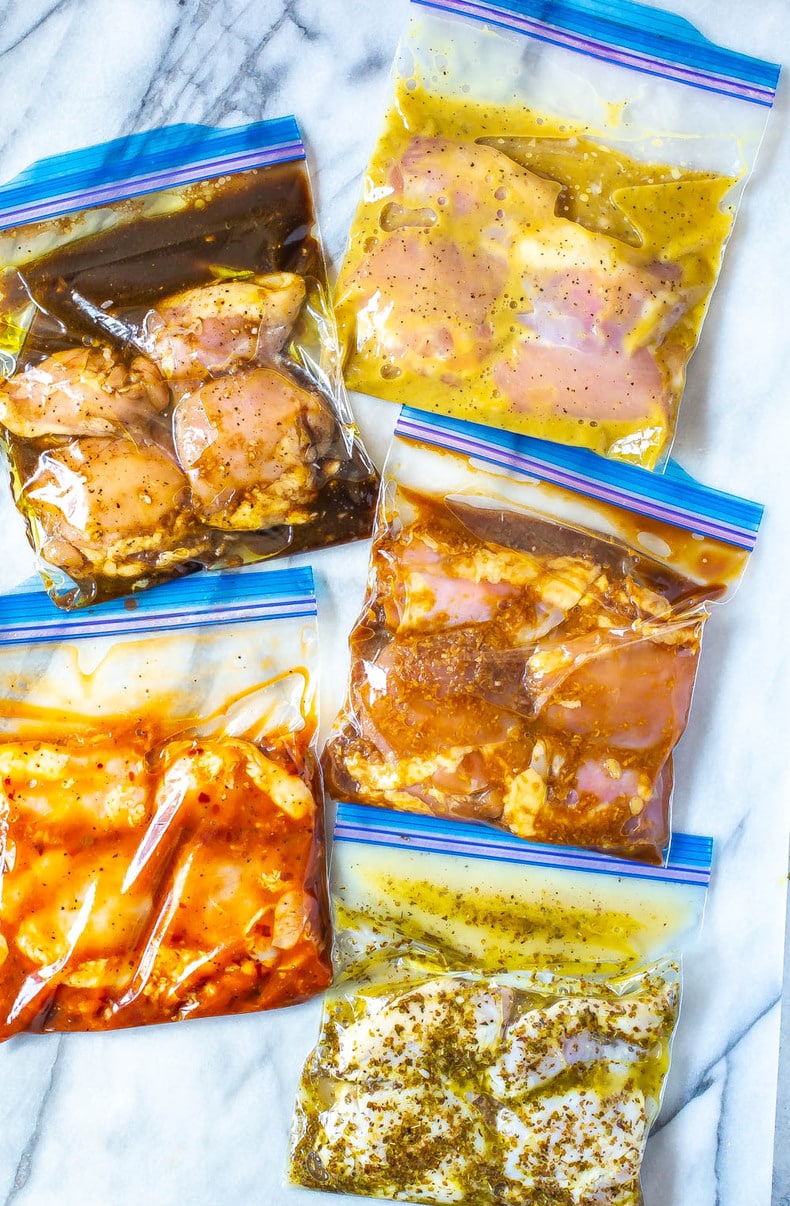 How to make chicken thigh marinades (step-by-step)
Marinades are a simple way to elevate any meal. Just mix all of the ingredients of choice together.
I've listed five different marinades below so just choose which one you'd like to make, then stir the ingredients together in a small bowl.
Let the chicken marinate for at least 15-20 minutes. If you want to put the chicken in the marinade in the morning so they are ready to cook at dinner time, just leave them in the refrigerator. They can marinate as long as overnight.
From there you can bake or grill your chicken thighs until they reach an internal temperature of 165 F. Jump to Recipe for full instructions below!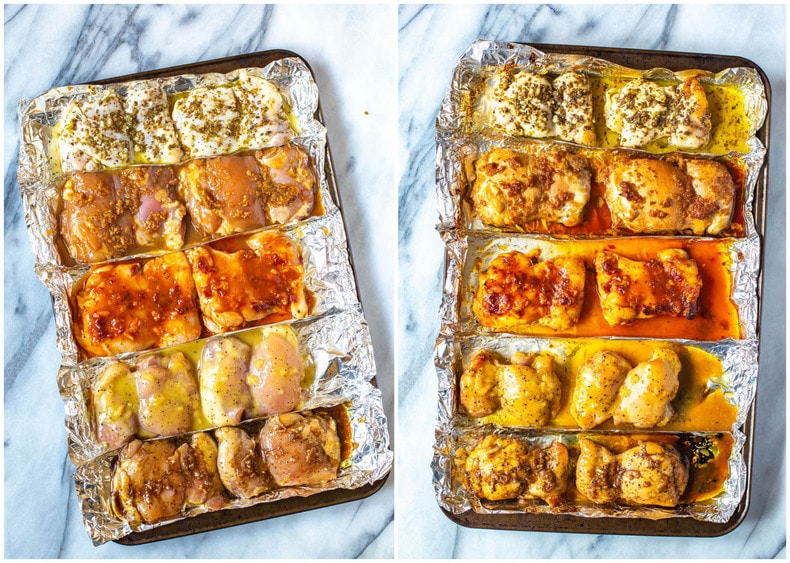 Making multiple marinades at once
If you're making this chicken for your weekly meal prep, you can easily whip up multiple marinades at once and bake using foil dividers as pictured above.
If you'd like to do multiple marinades at a time, make dividers using your tin foil as shown. Add your marinated chicken thighs, ensuring the dividers are high enough to separate any excess liquid from each marinade. Bake for 12 minutes, then flip and bake 8 more minutes. It's so easy!
Cooking chicken this way ensures you easily have some variety in your week and you can create multiple different types of meals this way.
I wouldn't recommend using more than 2-3 thighs per marinade and foil divider. You also don't have to cut the marinade ingredients in half if dividing up your thighs among different marinades. As long as you remove the chicken from the marinade and don't pour any excess liquid onto the foil dividers you will still get the same flavour without it being overpowering.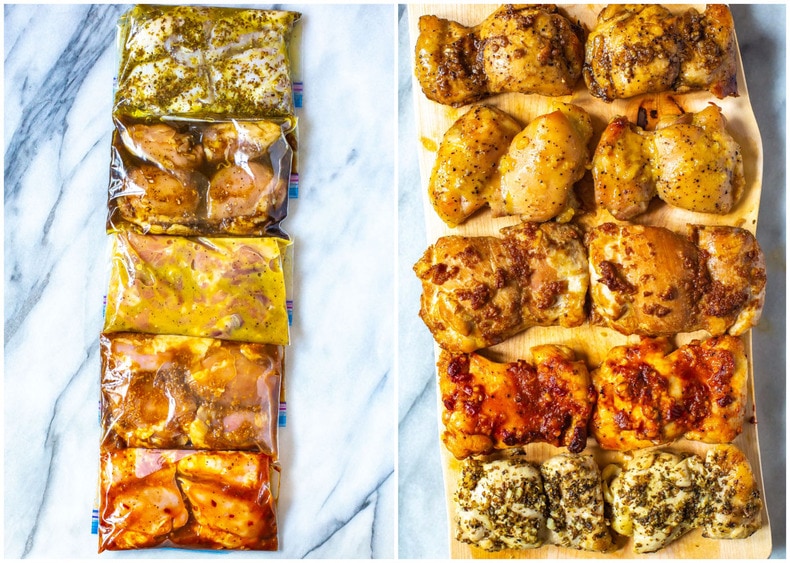 Storing chicken thigh marinades
If you prepare your chicken marinade ahead of time, store it in the refrigerator or freezer.
You can refrigerate chicken thighs in marinades up to 24 hours in the fridge, and if you're in a pinch, 15 minutes is really all you need for your chicken to get the flavour you're looking for. Chicken thighs are more tender than breasts so you're not using the marinades to tenderize the meat. You're simply looking to add flavour.
Very Important Note: Never reuse a marinade that is left over from marinating another meat. The bacteria from the other meat will contaminate the marinade. As a result, the marinade will contaminate the chicken thighs.
Can you freeze chicken in marinades?
Yes, you can freeze chicken in a marinade!
After the marinade is prepared, put the chicken and marinade in a zip top plastic freezer bag. Remove all the air and seal the bag. Lay flat to freeze it. You can freeze chicken thighs in marinades up to 3 months.
When ready to use your chicken, transfer the package to the refrigerator and allow it to thaw out before cooking. Typically I'll allow my chicken to defrost in the fridge for 24 hours and then bake it or grill it.
5 different types of chicken thigh marinades
Pictured below are the five different marinades listed in the recipe card. Pick one of the following or use the foil divider method to make them all! All of these recipes are made using simple ingredients you should already have on hand at home, and require five ingredients or less.
Chipotle marinade
Greek marinade
Asian marinade
Honey dijon marinade
Balsamic marinade
How do I know when thighs are cooked?
The best way to know that your thighs are fully cooked is to use a meat thermometer. It should read at least 165 degrees Fahrenheit in the thickest portion of the meat.
Also keep in mind that thigh meat will look pinkish-brown, even after cooking. Breast meat will be white when fully cooked.
Typically, boneless chicken thighs will need to cook for 20 minutes in a 425 F oven but this is just a general guideline. Using a meat thermometer is the safest way to know your meat is cooked.
How to get chicken crispy
The skin of chicken is what gets crispy. So, if you are cooking skinless chicken thighs or breasts, they are not likely to become crispy. Make sure to use bone-in, skin-on chicken thighs if you are looking for crispy skin.
To produce crispy chicken in the oven, cook at 450 degrees. The top third of the oven is the hottest so put the chicken there. It also helps to occasionally baste the thighs with marinade.
Side dish ideas for chicken thighs
Your protein is covered with all of these chicken thigh recipes. Here are some ideas to complete your meal.
More chicken recipes and resources
Don't stop here with ways to cook chicken. Chicken is a great, low fat way to get lots of protein into your diet. Try these other chicken marinades and recipes!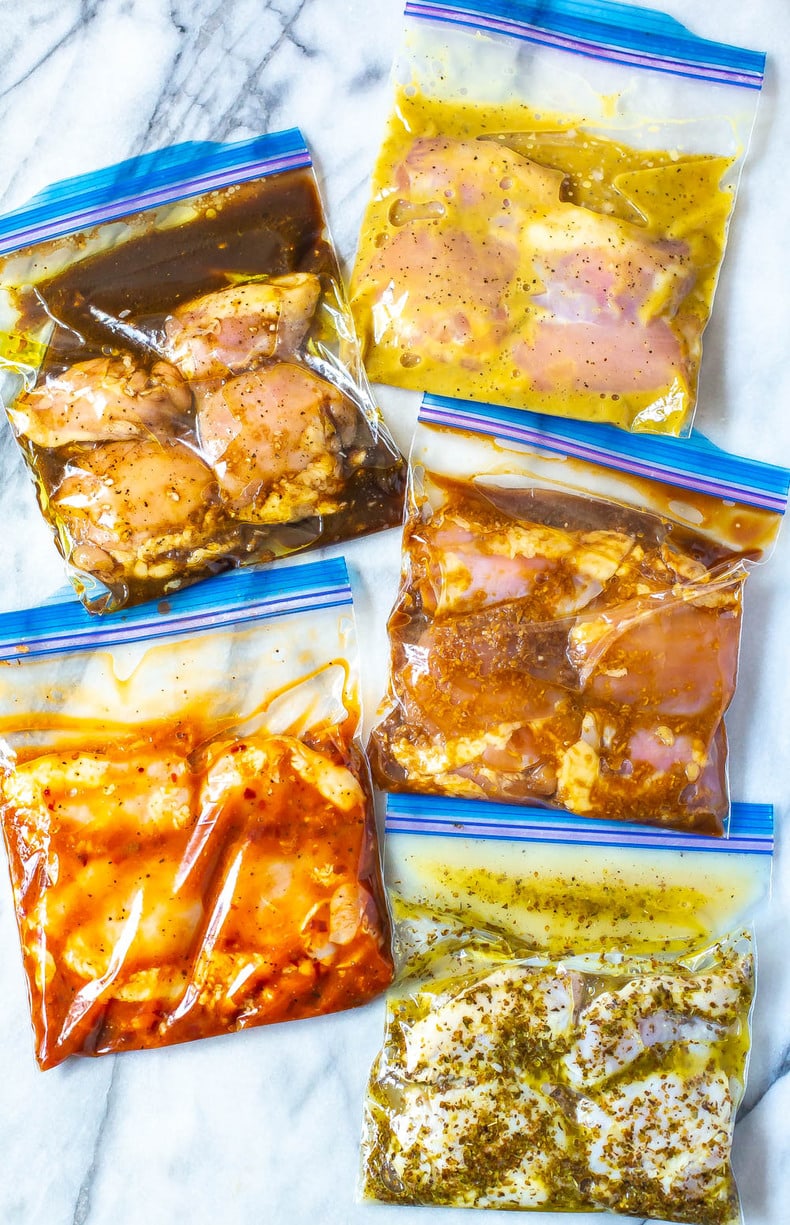 Meal prep tools for this recipe
Meal prep challenge
If you'd like some more help with meal planning, then you'll love my free 5-day meal prep challenge! It's basically a free course that will teach you how to meal prep and cook healthy meals at home with some PDF bonus materials. Sign up for free below: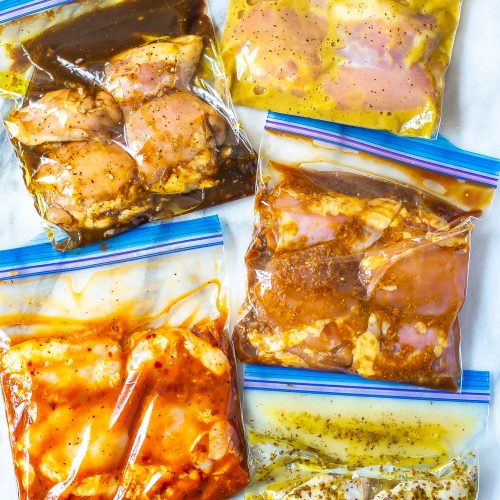 Chicken Thigh Marinades
These Delicious Chicken Thigh Marinades are perfect for boneless, skinless chicken. Try Asian, Chipotle, Greek, Balsamic and Honey Dijon all on one sheet pan using foil dividers!
Print
Pin
Rate
Ingredients
8

boneless, skinless chicken thighs
Asian marinade
1

tbsp

sesame oil

1/4

cup

low-sodium soy sauce

2

cloves

garlic, minced

1

tbsp

fresh minced ginger
Chipotle marinade
1

tbsp

olive oil

1/4

cup

chipotle peppers in adobo sauce

1

tbsp

lime juice

2

cloves

garlic, minced

1/2

tsp

each salt & pepper
Honey dijon marinade
2

tbsp

honey

2

tbsp

Dijon mustard

1

tbsp

olive oil

1/2

tsp

each salt & pepper
Balsamic marinade
2

tbsp

olive oil

1/4

cup

balsamic vinegar

2

tbsp

honey

2

cloves

garlic, minced

1/2

tsp

each salt & pepper
Greek marinade
2

tbsp

olive oil

1/4

cup

lemon juice

1

tbsp

oregano

2

cloves

garlic, minced

1/2

tsp

each salt & pepper
Instructions
Preheat oven to 425 F. Mix together chicken marinade of choice in a small bowl and pour over chicken in a Ziploc bag or small bowl. Marinate for 15-20 minutes.

Line a baking sheet with parchment paper or tin foil. If you'd like to do multiple marinades at a time, make dividers using your tin foil as shown in the video below. Add chicken thighs with bottom area facing down. Bake for 12 minutes, then flip and bake 8 more minutes.

Check that chicken is cooked through by slicing one of the thighs down the middle and if meat thermometre reads 165 F.

Let chicken rest for 5-10 minutes before slicing or chopping. Store in glass containers for later or serve immediately with a side dish. Enjoy!
Video
Nutrition
Calories:
308
kcal
|
Carbohydrates:
1
g
|
Protein:
44
g
|
Fat:
13
g
|
Saturated Fat:
3
g
|
Cholesterol:
215
mg
|
Sodium:
732
mg
|
Potassium:
582
mg
|
Fiber:
1
g
|
Sugar:
1
g
|
Vitamin A:
54
IU
|
Calcium:
23
mg
|
Iron:
2
mg