This foolproof formula makes perfect salmon every time – you'll love these honey garlic, maple dijon, chili lime, teriyaki and mango marinades!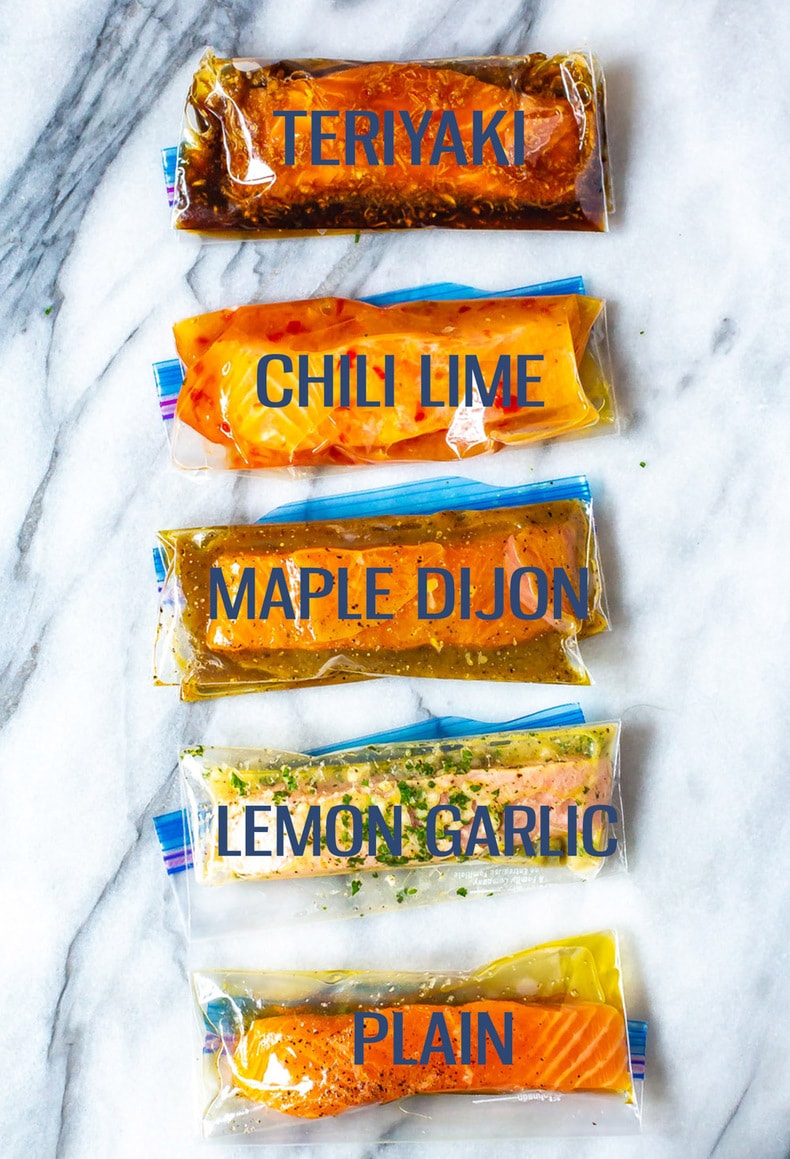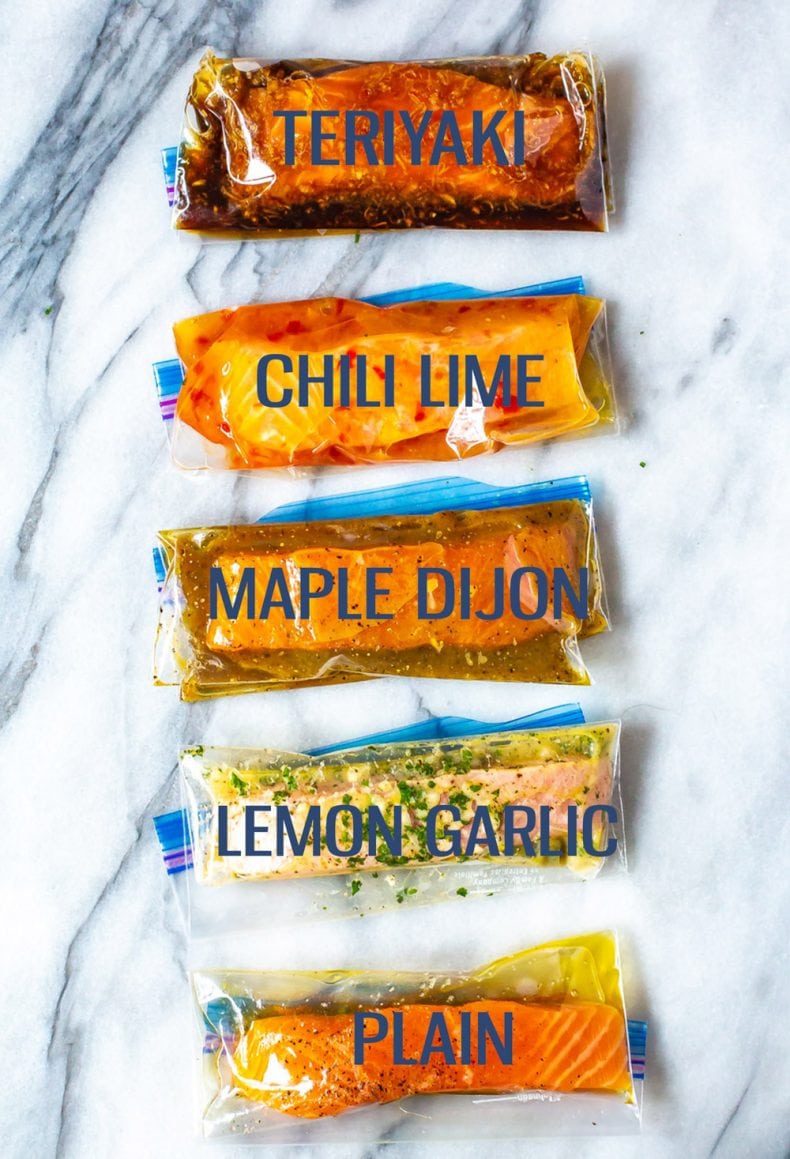 Which type of salmon should you buy?
You basically have two options when it comes to buying salmon, and that is farmed and wild. Farmed salmon is usually a bit more pink in colour, and it can be fattier while containing more calories per serving than wild salmon. Wild salmon (also labelled sockeye salmon) eat a very different diet than farmed salmon so this type tends to be leaner, lower in calories and more nutritionally dense.
You can read more on the nutritional differences between wild vs farmed salmon here.
Try to choose wild sockeye salmon if budget allows as this tends to be the better choice flavour-wise and you get more of the nutritional benefits of salmon. You can often find it frozen in bulk, which can help with the higher costs.
How long does it take to cook baked salmon?
Knowing how long to bake salmon will ensure that your dish doesn't come out of the oven undercooked or overcooked.
As it cooks, salmon changes from a raw-looking, translucent red color to an opaque pink.
This recipe calls for a 375 F degree oven, and the salmon will be done in exactly 12 minutes (of course, this does depend a bit on your oven but for the most part this holds true).
How to avoid overcooking salmon
Most salmon recipes call for a 15 minute cook time at this temperature but you have to remember that whatever you have cooking in the oven will continue to cook for a little bit on the hot pan even after you take it out of the oven. Cooking for 12 minutes gives you a little bit of extra time to compensate for the salmon continuing to cook after you have removed it from the oven.
If you are worried about your salmon overcooking, you can check on it at about eight minutes. Use a knife to check the salmon to see if it's finished cooking. Using the tip of the knife, peek inside the thickest part of the fish. The salmon should be opaque pink (a little translucency in the middle is fine) and just starting to flake. If it still looks raw, put it back in to cook for a few more minutes and check again.
Food safety states that salmon should be cooked to an internal temperature of 145 degrees Fahrenheit. Check the temperature by putting the tip of a meat thermometer into the middle of the salmon fillet where it's thickest.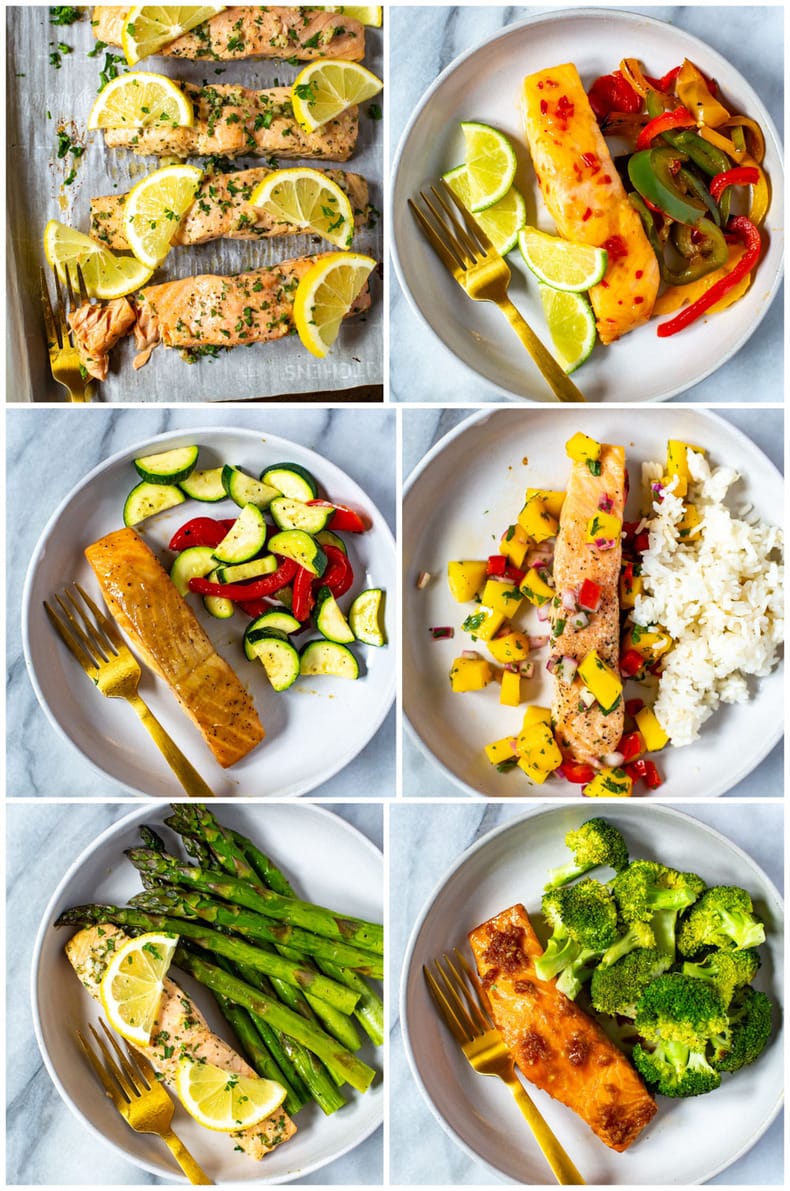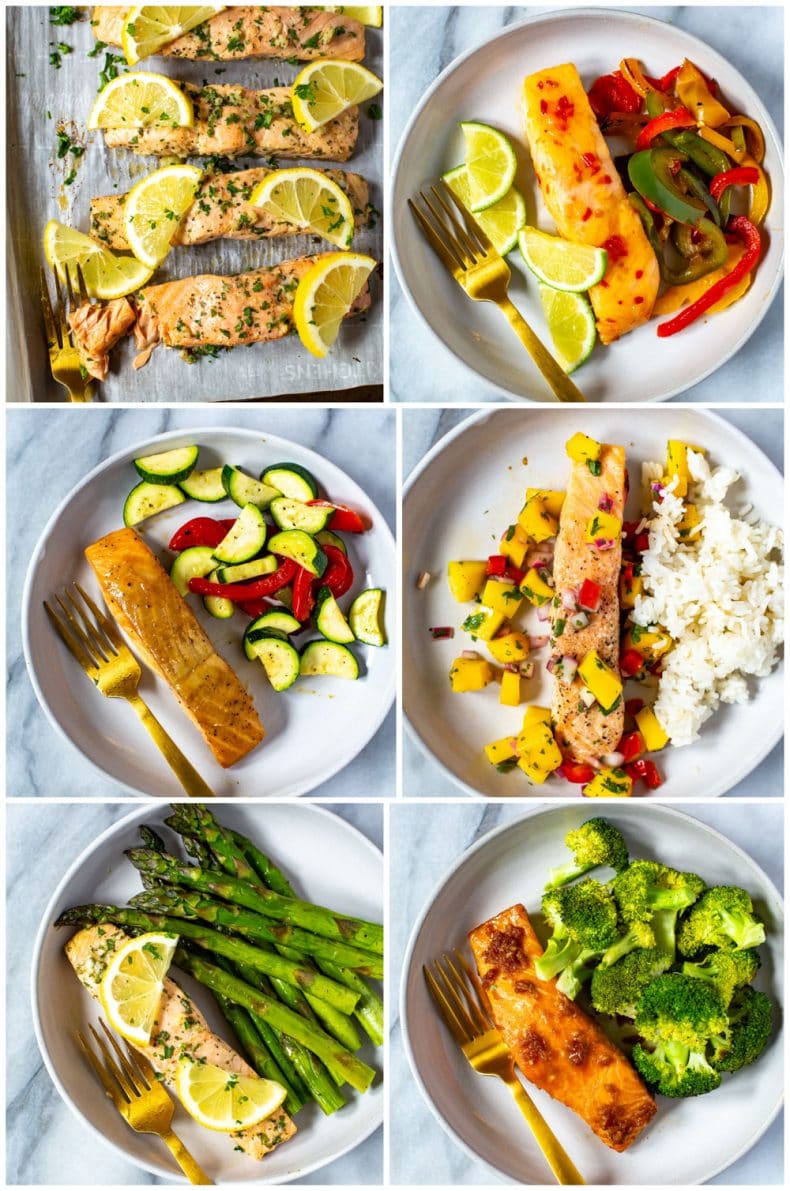 Why bake instead of pan frying
Pan frying can leave quite the mess, and you often need a bit more oil than you need to cook the salmon in the oven. If you use a parchment-lined baking sheet, the salmon does not stick and leaves little clean up.
You also won't have to deal with a fishy smell in your house for days on end like you would with pan frying.
Leaving the skin on vs off
When you cook salmon in the oven, leaving the skin on is the best way to retain more moisture. On the other hand, some people feel as though the skin changes the taste.
I recommend you leave the skin on and then peeling off after baking to ensure that you have moist salmon. I find the taste of dried out salmon is the worst! Then again, some people find the skin off-putting and unappetizing so you have to see what your own personal preference is. You can also eat the skin believe it or not!
If removing the skin, salmon does bake up slightly faster. Taking the salmon out of the oven at the 10 minute mark should help if you have salmon fillets where the skin is removed.
Why should I marinate salmon?
Salmon marinades can add a lot of flavor to the fish, especially when you're baking it. I'm not a giant fan of fish or salmon personally, but these marinades cut the fishy flavor. You'll convert to a fish fan after trying them!
The length of time it takes to marinate salmon depends on the marinade you're using.
Marinades with acids. Don't marinate the salmon for longer than 30 minutes or it will start "cooking" the fish (anything with lemon juice or vinegar will do this)
Marinades without acid. You can marinate the salmon overnight in the refrigerator, but don't leave it for longer than a day. Fish tend to start going "mushy" if left to marinate too long.
Salmon marinades
Below you will see the different salmon marinades pictured and labelled. Then you can just to get cooking!
Each marinade is super simple and has 5 ingredients or less – and you should have most of the ingredients already on hand at home. The best part about marinating salmon is that it really only needs 15 minutes or so to capture the flavours.
Asian marinade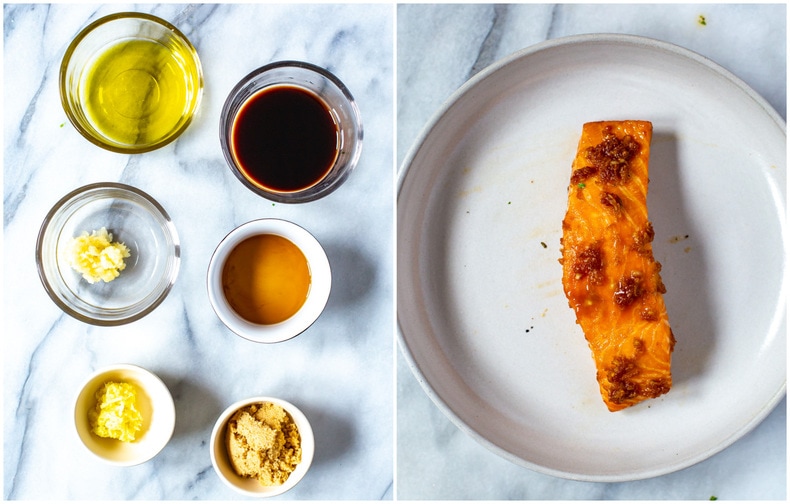 Lemon garlic marinade
Sweet chili marinade
Honey dijon marinade
Mango salsa marinade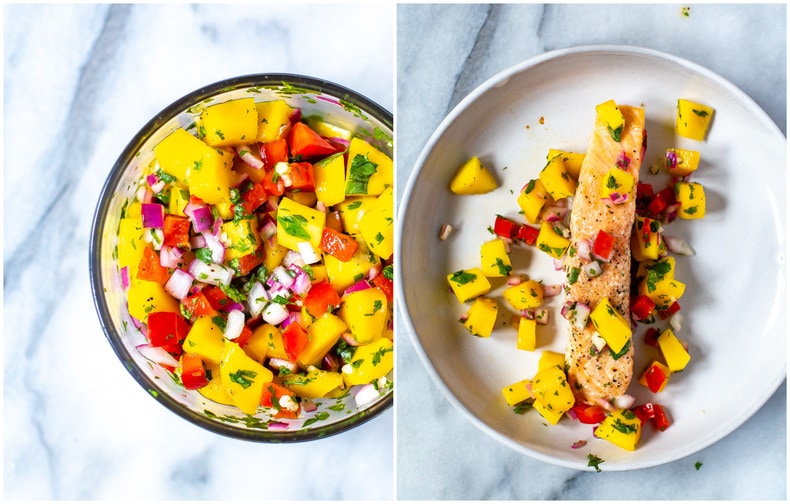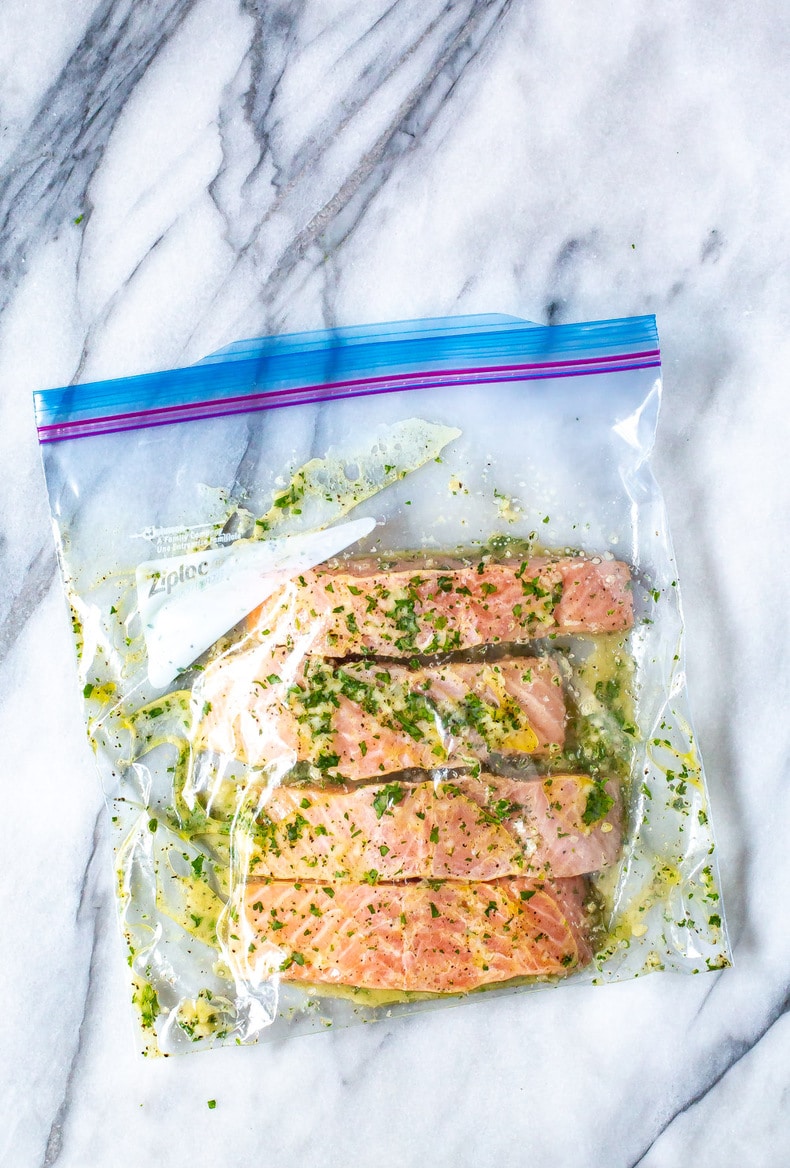 How long can you store raw salmon before using it?
You can store frozen, raw salmon without losing much quality for two to three months in a freezer.   
Avoid thawing your salmon using heat. Instead, cover it and leave it in the refrigerator overnight to thaw. You can leave it in the refrigerator for up to two days before using it.
If you're pressed for time, place the frozen salmon in a sealed bag and under cold running water until it thaws. (If you do this, you need to cook it the same day.)
Before cooking, let it sit for about 15-20 minutes so that it comes closer to room temperature.
What do I do with salmon leftovers?
If you have any leftovers, gently reheat it the next day. Make sure you go low and slow – fish will dry out from aggressive re-heating. Sprinkle some water overtop of the salmon, then place a wet paper towel on top and microwave on low for 1 minute or so. This is the best way to reheat!
You can also take your baked salmon and turn it into something else. Instead of eating the baked salmon the next day as is, why not take a fork, flake it apart and use it in a completely new dish? Try substituting if in place of meat or other fish in recipes:
make a salmon salad sandwich
add it to pasta
toss the salmon flakes into a salad and eat it cold (this way you avoid any fishy taste from overheating)
What to serve with baked salmon
I've listed a bunch of side ideas below in the recipe card () so you can choose what you'd like to serve with it. Here are some of my fave ideas:
Sauteed bell peppers
Roasted veggies such as zucchini, asparagus and broccoli
Mango salsa
Rice
Roasted potatoes
Other salmon recipes to try
Love salmon and want to try to incorporate it into your weekly meal plan? Here are some other salmon recipes on my site that you should try:
Chili Lime Salmon Taco Bowls
Other meal prep marinades
Here are some other great marinades you should check out for chicken and steak.
Meal prep tools for this recipe
Easiest Ever Baked Salmon Recipe
This Easiest Ever Baked Salmon Recipe is a foolproof formula for perfect salmon every time - plus 5 easy marinades like maple dijon, honey garlic & more!
Print
Pin
Rate
Ingredients
Teriyaki Marinade
1

tbsp

sesame oil

1/4

cup

low-sodium soy sauce

2

tbsp

brown sugar

2

cloves

garlic, minced

1

tbsp

fresh ginger, minced
Lemon Garlic Marinade
1

tbsp

olive oil

1/4

cup

lemon juice

2

cloves

garlic, minced

1

tbsp

fresh chopped parsley

1/2

tsp

each salt & pepper
Chili Lime Marinade
1

tbsp

olive oil

1/4

cup

sweet chili sauce

1

tbsp

lime juice

1/2

tsp

each salt & pepper
Maple Dijon Marinade
1

tbsp

olive oil

2

tbsp

Dijon mustard

2

tbsp

maple syrup

1/2

tsp

each salt & pepper
Mango Salsa
1

mango, diced

1/2

red pepper, diced

1/2

red onion, diced

2

tbsp

lime juice

1

tbsp

finely chopped fresh cilantro

1/2

tsp

each salt & pepper
Optional Side Dish Ideas
Sauteed bell peppers

Roasted broccoli

Roasted/sauteed zucchini

Roasted asparagus

Mixed green salad

Roasted potatoes

Rice
Instructions
Preheat oven to 375. Mix together marinade of choice (with exception of mango salsa), then add to a large Ziploc bag along with salmon fillets and marinate for 20 minutes.

Add marinated salmon to a baking sheet lined with parchment paper, along with optional veggies of choice. Bake for 12 minutes until salmon is fully cooked and flaky. Serve and enjoy!

If making mango salsa, add 1 tbsp olive oil to salmon fillets and season with salt and pepper. Bake for 12 minutes until salmon is fully cooked and flaky. Remove salmon from oven and top with mango salsa - serve and enjoy!
Video
Nutrition
Calories:
200
kcal
|
Carbohydrates:
1
g
|
Protein:
23
g
|
Fat:
11
g
|
Saturated Fat:
2
g
|
Cholesterol:
62
mg
|
Sodium:
581
mg
|
Potassium:
584
mg
|
Fiber:
1
g
|
Sugar:
1
g
|
Vitamin A:
45
IU
|
Calcium:
16
mg
|
Iron:
1.2
mg