These Chicken Shawarma Meal Prep Bowls are great for your weekly lunches, with a homemade shawarma seasoning that's made of pantry staples.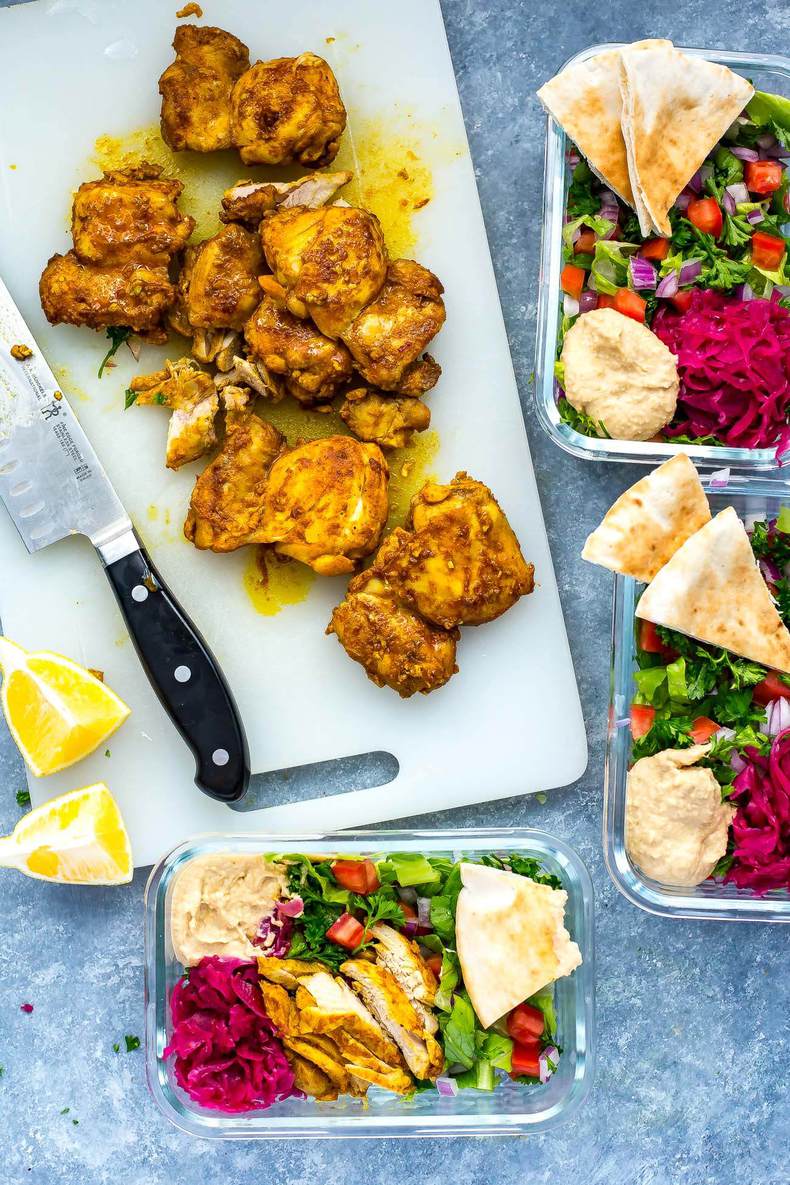 Ingredients and substitutions
Chicken thighs – chicken breasts are a great alternative and are a leaner option.
Romaine lettuce – iceberg lettuce or a blend of your favourite mixed greens can be used instead.
Plum tomatoes – cherry tomatoes will be the closest alternative to plum tomatoes in this recipe.
Red onion – if you don't have red onions on hand, yellow onions are a good replacement.
Parsley – parsley brings out an authentic flavour from traditional shawarma dishes but you can leave it out if you don't have any on hand.
Pickled turnips – pickled red cabbage will provide a similar flavour.
Hummus – tahini, baba ghanoush (made from eggplant) or garlic sauce are popular substitutes for hummus.
Lemon wedges – lime would also be good here.
Pita – if you're looking for an alternative to pita bread, I love to use pita chips for added texture and a similar taste. Or if you want a lower carb meal, remove this altogether.
Shawarma marinade
Olive oil – see notes above for olive oil substitutions.
Lemon juice – fresh lemon juice is preferred but bottled lemon juice/lime juice can also work.
Garlic – use fresh minced garlic or jarred minced garlic.
Salt – to taste.
Cumin – ground coriander will provide a similar flavour.
Chili powder – make your own chili powder using a blend of paprika, cumin and cayenne.
Turmeric – if you don't have turmeric, you can replace this with curry powder.
Paprika – cayenne pepper or additional chili powder can be used instead of paprika.
Nutmeg – garam masala, mace, allspice are all good alternatives to nutmeg.
Cinnamon – extra nutmeg, allspice or cassia can be used in place of cinnamon.

How to make chicken shawarma bowls
Make the shawarma marinade.
Marinate the chicken.
Assemble your bowl toppings.
Cook the chicken.
Slice into bite-sized pieces.
Divide amongst your bowls and enjoy!

What to serve with chicken shawarma
These chicken shawarma bowls are super filling on their own and have all the components of a full meal with chicken, veggies and pita. I personally like serving them on their own, but if you're looking for more side dish ideas, here are some great options:
French fries
Grilled veggies
Side salad
Corn on the cob
Roasted potatoes
Rice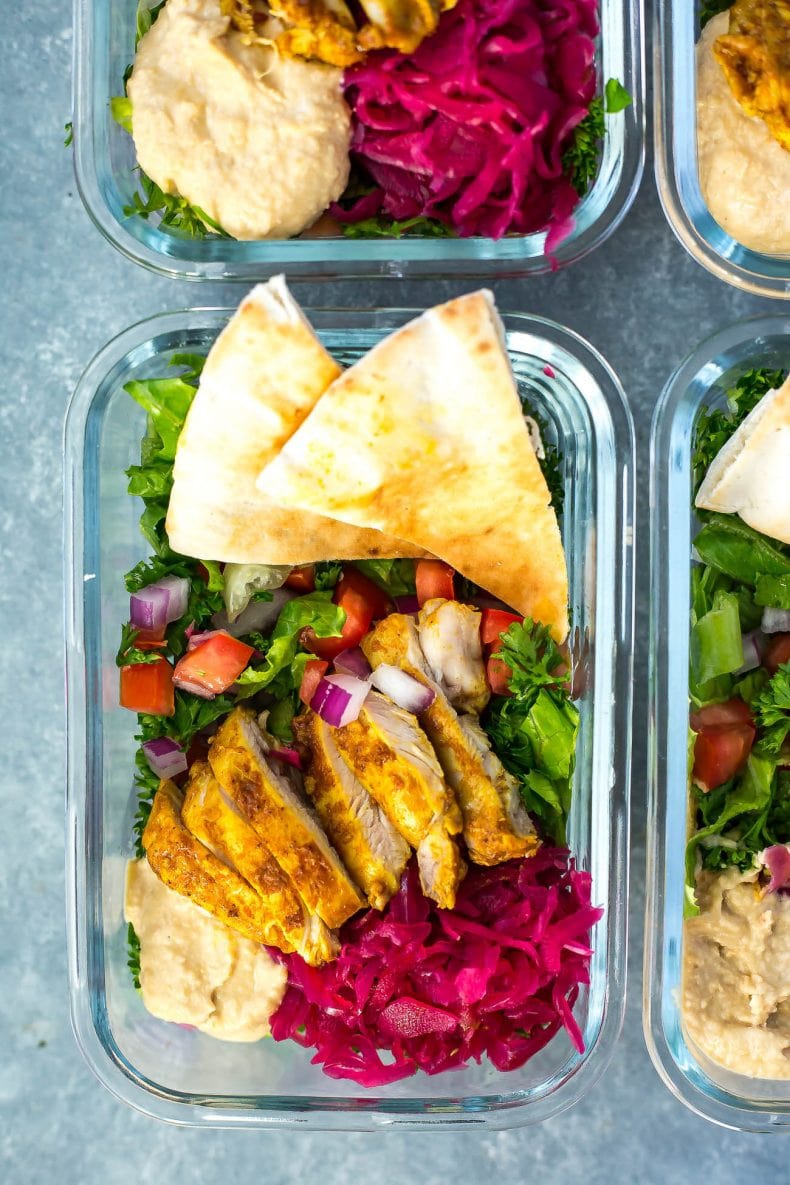 Frequently Asked Questions
What is shawarma chicken made of?
Shawarma chicken is a street food dish from the Middle East. It's traditionally made of chicken marinated in Middle Eastern flavours, then roasted on a spit and served in a wrap or over rice. For this recipe, I used a shawarma-inspired marinade but baked the chicken instead of roasting it on a spit.
Is it healthy?
Yes! This recipe is a healthier version of the kind you'd get at a restaurant. Chicken shawarma is typically served in a pita or over rice and this version is healthier since there's less carbs.
How many calories are in this recipe?
This recipe has 377 calories per person, so it's a great low-carb option for lunch or dinner.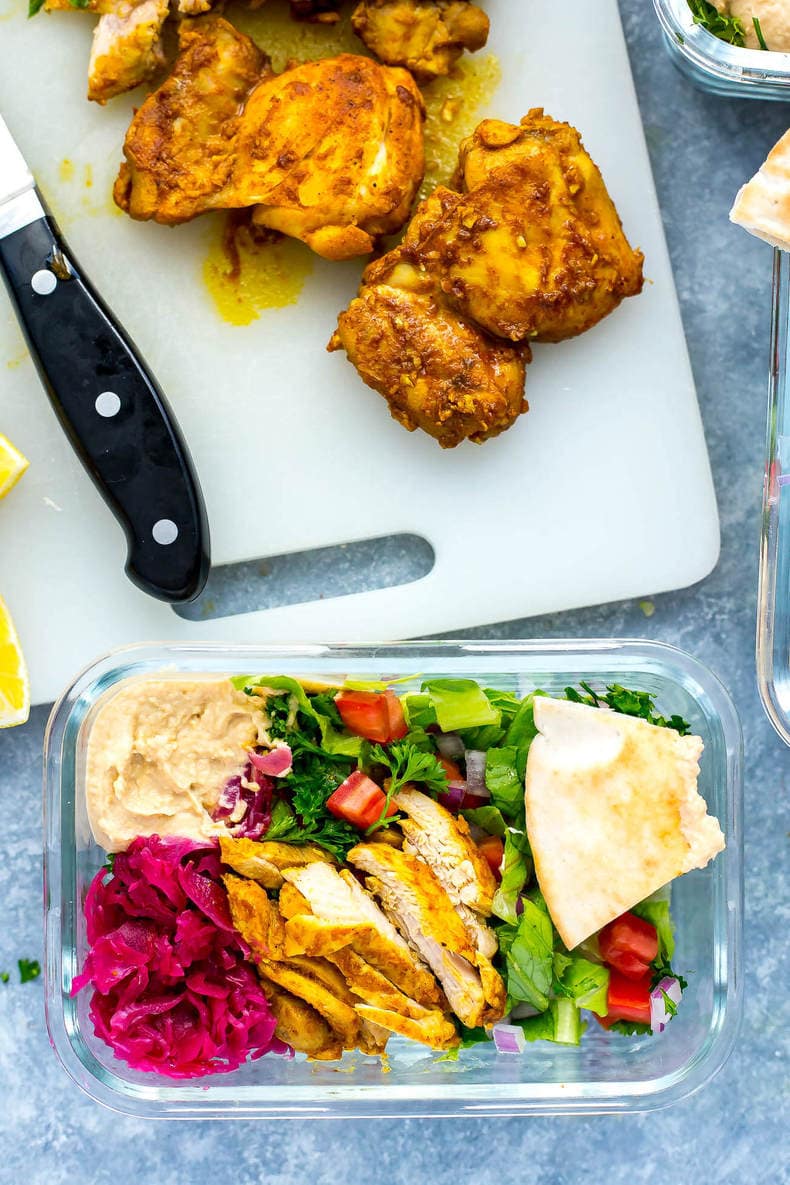 Storing and reheating
Storing your shawarma meal prep bowls are easy in theory but there is one thing to watch out for! Make sure to store the chicken separately from the rest of the bowls as it is the only component that you would want to warm up in the microwave. The reason why I say this is because microwaved salads aren't typically a fan favourite. If you don't like to warm up your food and prefer to eat it straight from the fridge, feel free to store it altogether. You can store the bowls in the fridge for 3 to 4 days.
If you're storing your chicken separately from your salads, all you have to do is warm it up in the microwave for 1-2 minutes. Add the reheated chicken to the rest of your bowls and enjoy!
Freezing the chicken
While you can't freeze the entire bowl, you can freeze the chicken in this recipe for up to 3 months cooked or up to 9 months raw and marinated. That means an easy shawarma bowl whenever you're in the mood for one!
If you're freezing the cooked meat, make sure the chicken has cooled to room temperature then divide the leftovers into individual portions and freeze them in airtight meal prep containers or Ziploc bags. You can also freeze the chicken raw in the shawarma marinade for up to 9 months.
When you're ready to enjoy, let the chicken defrost in the fridge overnight then reheat or cook as normal. Use it for chicken shawarma bowls or turn it into loaded chicken shawarma fries!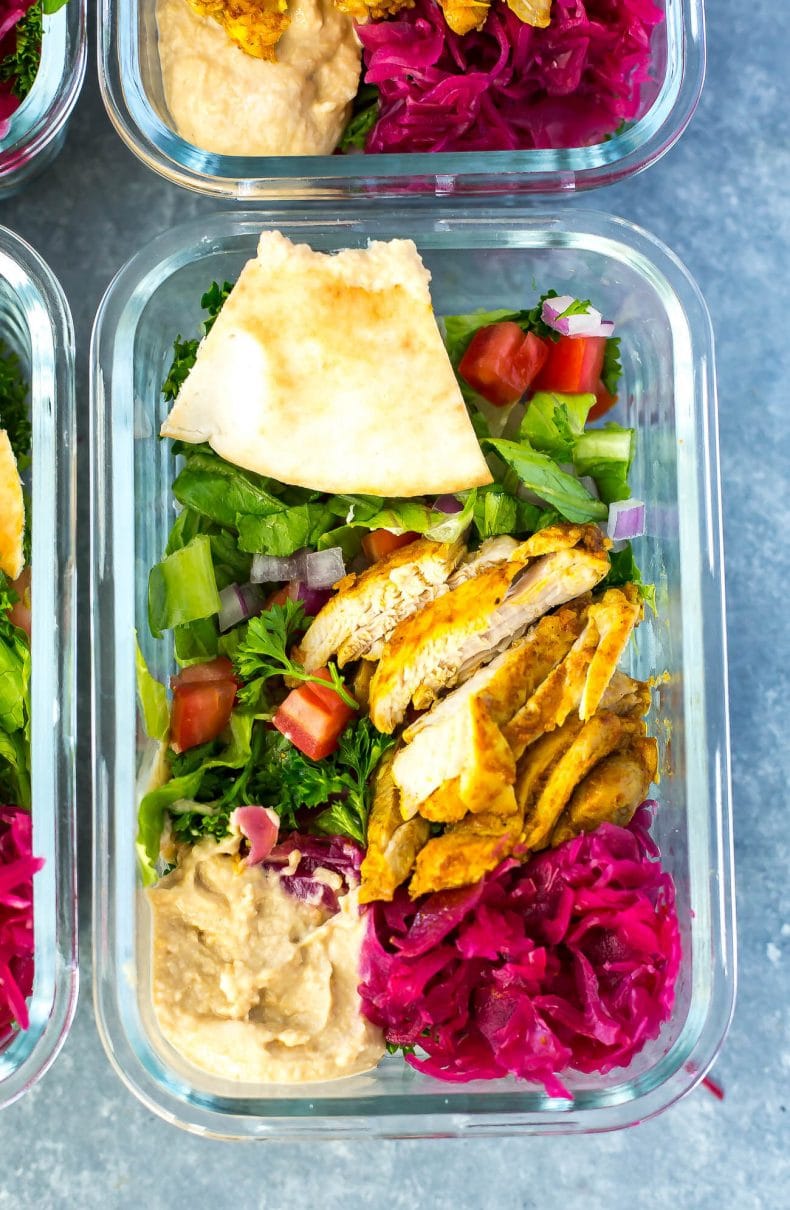 Wanna Learn How To Meal Prep?
My meal planning service, Dinner Prep Pro, removes the guesswork and helps you get dinner on the table in 15-20 minutes each night. My meal prep checklists only take 1 hour each week!
More chicken meal prep bowls
Meal prep tools for this recipe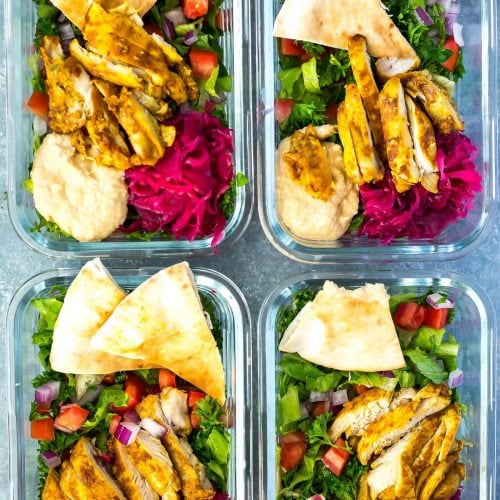 Chicken Shawarma Meal Prep Bowls
These Chicken Shawarma Meal Prep Bowls are great for your weekly lunches, with a homemade shawarma seasoning that's made of pantry staples.
Print
Pin
Rate
IN A CYCLE OF EATING POORLY?We've got you covered with our free Routine Revamp mini course! You'll receive 8 lessons and free coaching with us! Register👇
Join Routine Revamp!
Servings: 4 servings
Calories: 377kcal
Ingredients
1 tbsp olive oil
1 lb boneless skinless chicken thighs
1 head romaine lettuce, chopped
2 plum tomatoes, diced
1 small red onion, diced
1 cup parsley, chopped
1/2 cup pickled red cabbage or pickled turnips (this is the secret to shawarma!)
1/2 cup hummus
1 lemon, quartered
1 pita, cut into 8 triangles
Shawarma Marinade
2 tbsp olive oil
2 tbsp lemon juice
4 cloves garlic, minced
1 tsp salt
1/2 tsp cumin
1/2 tsp chili powder
1/2 tsp turmeric
1/2 tsp paprika
1/2 tsp nutmeg
1/2 tsp cinnamon
Instructions
Preheat oven to 400 F. In a large bowl, mix shawarma marinade ingredients together, stirring well to combine. Add chicken and toss to coat, then marinate 10-15 minutes.

Meanwhile, add lettuce, tomatoes, red onion, parsley, cabbage/turnips, hummus, lemon wedges and pitas to each bowl.

In a large oven-safe skillet, heat a bit of olive oil over med-high heat. Add chicken and saute for 3-4 minutes each side, then place in oven and cook for another 10 minutes.

Slice chicken once cooled and divide among each meal prep bowl. Eat all bowls within 5 days!
Video
Notes
Marinate the chicken for at least 15 minutes. If you want, you can even marinade it overnight. Make this recipe with chicken breasts for a leaner option. Store the chicken and the rest of the ingredients separately for 3-4 days. Reheat the chicken then add to the rest of the bowls. Freeze the chicken cooked for 3 months or raw and marinated for 9 months.
Nutrition
Calories: 377kcal (19%)Carbohydrates: 25g (8%)Protein: 23g (46%)Fat: 21g (32%)Saturated Fat: 4g (25%)Polyunsaturated Fat: 2gMonounsaturated Fat: 9gCholesterol: 85mg (28%)Sodium: 328mg (14%)Potassium: 159mg (5%)Fiber: 3g (13%)Sugar: 5g (6%)Vitamin A: 950IU (19%)Vitamin C: 22.3mg (27%)Calcium: 60mg (6%)Iron: 2.3mg (13%)
Don't wait until January to eat healthy!Sign up for our free Routine Revamp mini course!
Join Routine Revamp!