These Crockpot Chicken Tacos with Pineapple Salsa are so fun – use the chicken for tacos, burrito bowls, salads and more!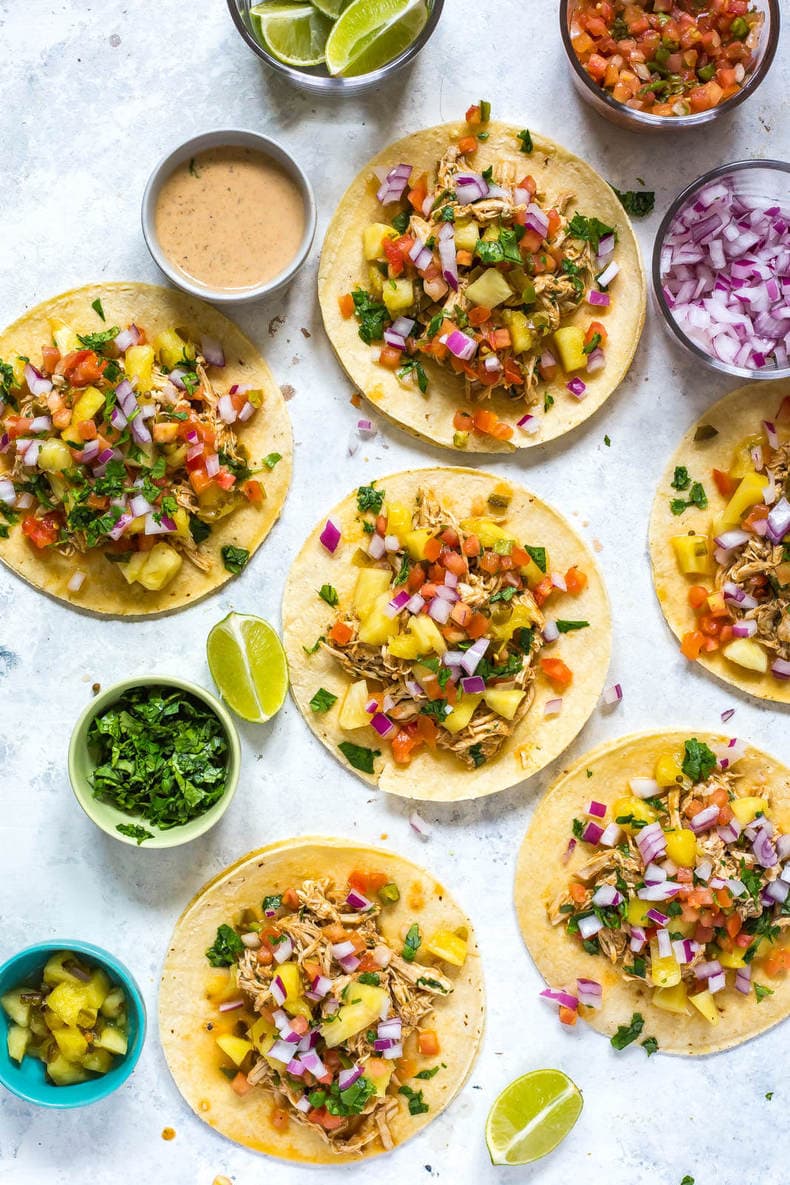 Ingredients and substitutions
Corn tortillas – use flour tortillas or lettuce wraps instead.
Chicken breast – chicken thighs can also be used for this recipe.
Chicken broth – use vegetable broth or a bouillon cube mixed with water to replace the chicken broth.
Yellow onion – red onion, white onion or sweet onions are all great alternatives.
Chili powder – cayenne pepper, crushed chili flakes or paprika can be used in place of chili powder.
Garlic powder – use fresh or jarred minced garlic.
Salt – to taste.
Chipotle peppers – the best option is the canned variety that comes in an adobo sauce. You could also use some sliced up jalapenos.
Cilantro – if you're not a fan of cilantro, leave this out altogether.
Salsa – use a homemade or store-bought salsa or pico de gallo of your choice.
Pineapple salsa
Frozen or diced pineapple – you could try making this salsa with peaches or mango.
Lime juice – freshly squeezed lime juice is best but bottled lime or lemon juice would both work.
Red onion – top with green onions or shallots in a pinch.
Cilantro – leave this out if you don't like cilantro.
Salt – to taste.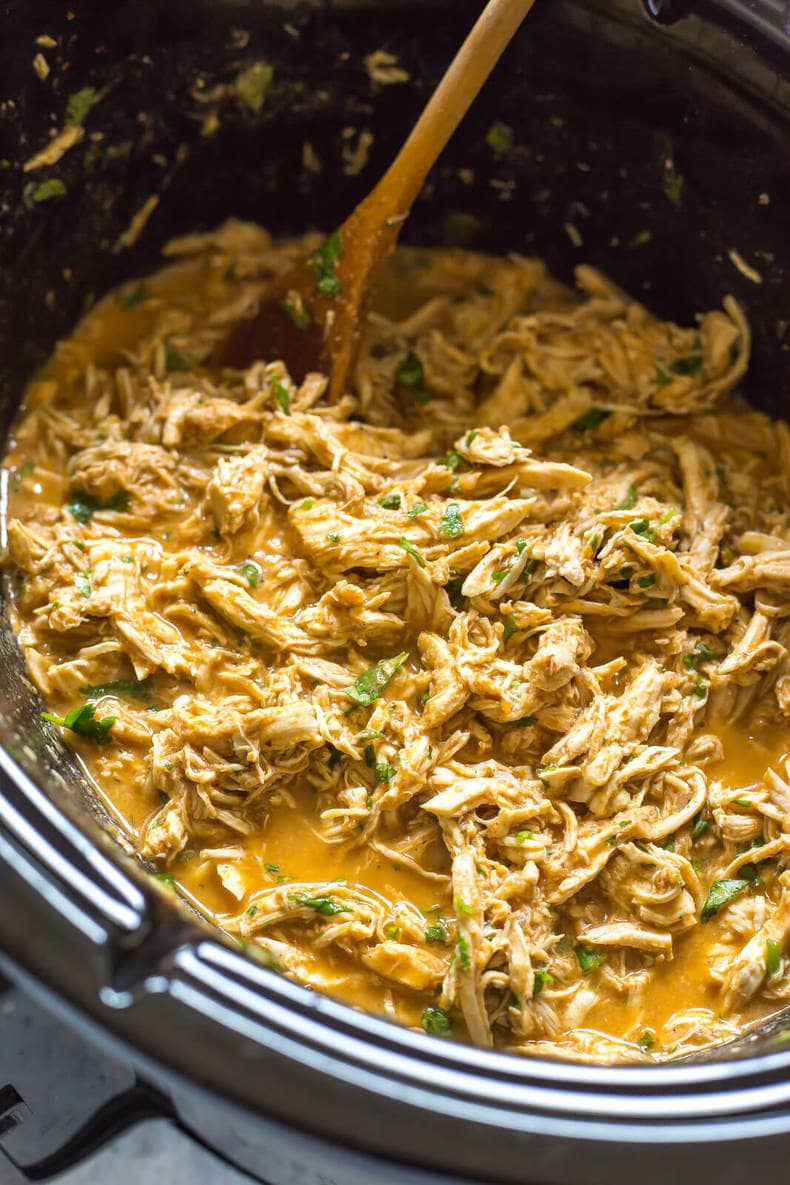 Skip the Ads and Get Right to the Recipes!
ZERO ADS on over 600 recipes!
Weekly Meal Plans, Grocery & Prep Lists
Bonus eBooks
How to make chicken tacos in the crockpot
Add everything to the crockpot.
Cook on high for 3 hours or on low for 6 hours.
Shred the chicken.
Serve with your favourite toppings and enjoy!
Making shredded chicken in the slow cooker
Making shredded chicken in a slow cooker is the ultimate, all-purpose skill to have! Shredded chicken is so versatile and can be the perfect addition to tacos, wraps, sandwiches, salads or casseroles. The best part is that it practically cooks itself in the slow cooker and you can freeze the leftovers for later.
To make shredded chicken in the slow cooker, follow these easy steps:
Add chicken breast or thighs to the slow cooker. Add your seasoning of choice as well as chicken broth then set to cook. Cook on low for 6-8 hours or on high for 4 hours.
Once cooked, remove only the chicken from the slow cooker and shred it with a fork and knife.
Add the chicken back into the broth and allow the flavours to seep into the pulled chicken.
Use right away or freeze for a future recipe!
Frequently Asked Questions
What are chicken tacos made of?
These chicken tacos are super easy to make, especially since you're using the slow cooker. To make these chicken tacos you'll need chicken breasts, chicken broth, onion, garlic, chili powder, cumin, paprika, chipotle peppers and your favourite taco toppings and shells. For this recipe I used a homemade pineapple salsa and corn tortillas!
Does taco seasoning taste good on chicken?
Yes! Taco seasoning tastes just as good on chicken as it does on meat. You can use a pre-made taco seasoning to save time but I like to make my own blend. It's a lot healthier and is made up of pantry staples you probably already have on hand.
How many calories are in this recipe?
These crockpot chicken tacos have 386 calories per serving. If you want to cut down on the calorie count, you can use lettuce wraps instead of corn tortillas for a low-carb option.
Storing and reheating
If you're storing these delicious tacos for later, make sure to store the components separately to avoid a soggy mess.
The shredded chicken can be stored in an airtight container for up to 4 days. When you're ready to eat it, sprinkle some water over top and then microwave for 1-2 minutes until warmed. You can use it to make fresh tacos or another recipe like burritos or salad!
You can keep the rest of the toppings like the pineapple salsa in the fridge for up to 5 days. I suggest keeping the tortillas in a cool and dry place to keep them from drying up or hardening. No one likes stale tortillas, after all.
Freezing the shredded chicken
If you're looking to meal prep like a boss, double or triple the servings of chicken because it is super freezer-friendly and will last in the freezer for up to 3 months!
To freeze, allow the chicken to cool to room temperature and then freeze it in individual portions in freezer-safe Ziploc bags or glass bowls. I recommend freezing the extra chicken in small portions that are pre-measured so you can add them to dishes like pasta, soup or salads as you cook them.
When ready to use, defrost the chicken in the fridge overnight or reheat it in the microwave for 5-6 minutes. Be sure to sprinkle about 1 tbsp of water overtop if microwaving and stir halfway through the reheating time to avoid any leftover chicken taste and to ensure that the chicken doesn't try out.
Wanna Learn How To Meal Prep?
My meal planning service, Dinner Prep Pro, removes the guesswork and helps you get dinner on the table in 15-20 minutes each night. My meal prep checklists only take 1 hour each week!
More slow cooker recipes
Meal prep tools for this recipe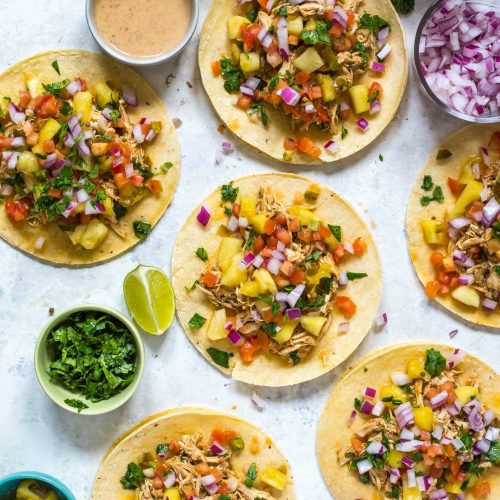 Crockpot Chicken Tacos
These Crockpot Chicken Tacos with Pineapple Salsa are so fun – use the chicken for tacos, burrito bowls, salads and more!
Print
Pin
Rate
Click Here to Remove Ads
Servings: 4 servings
Calories: 386kcal
Ingredients
For the chicken
1 lb chicken breasts
1 cup chicken broth
1 medium-sized yellow onion, diced
4 cloves minced garlic
2 tbsp chili powder
1 tsp cumin
1 tsp paprika
1/2 tsp salt
1/3 cup Finely chopped chipotle peppers in adobo sauce
Toppings
1 (8oz) container store-bought salsa or pico de gallo
1/2 cup finely chopped cilantro
Pineapple salsa
1 cup frozen or fresh pineapple diced
1 tbsp lime juice
1/3 cup red onion finely diced
2 tbsp chopped cilantro
1/2 tsp salt
Instructions
Add chicken, broth, onion, garlic, chili powder, cumin, paprika, salt and chipotle peppers to slow cooker. Cook on high for 3 hours or on low for 6 hours.

When chicken is ready, shred right in the crockpot with a fork and knife.

Serve chicken on corn tortillas and top with pineapple salsa, pico de gallo and cilantro. Enjoy!
Video
Notes
If you're not a fan of pineapple, make the salsa using peaches or mango. Use any leftover shredded chicken to make burritos, quesadillas and even salads. Store the toppings separately in the fridge for 4-5 days. Reheat the chicken then assemble your tacos fresh. Freeze the chicken for up to 3 months. Defrost in the fridge overnight then reheat as normal.
Nutrition
Calories: 386kcal (19%)Carbohydrates: 56g (19%)Protein: 30g (60%)Fat: 6g (9%)Saturated Fat: 1g (6%)Polyunsaturated Fat: 2gMonounsaturated Fat: 2gTrans Fat: 1gCholesterol: 74mg (25%)Sodium: 1551mg (67%)Potassium: 793mg (23%)Fiber: 10g (42%)Sugar: 12g (13%)Vitamin A: 2800IU (56%)Vitamin C: 28mg (34%)Calcium: 107mg (11%)Iron: 3mg (17%)
Join The Girl on Bloor Premium!
ZERO ADS!
Weekly Meal Prep Checklists
Bonus eBooks