Crockpot Chicken Tacos with Pineapple Salsa
These Crockpot Chicken Tacos with Pineapple Salsa are a fun, easy way to meal prep for the week and the Mexican-inspired pulled chicken is so versatile – it can be used for tacos, burrito bowls, salads and more!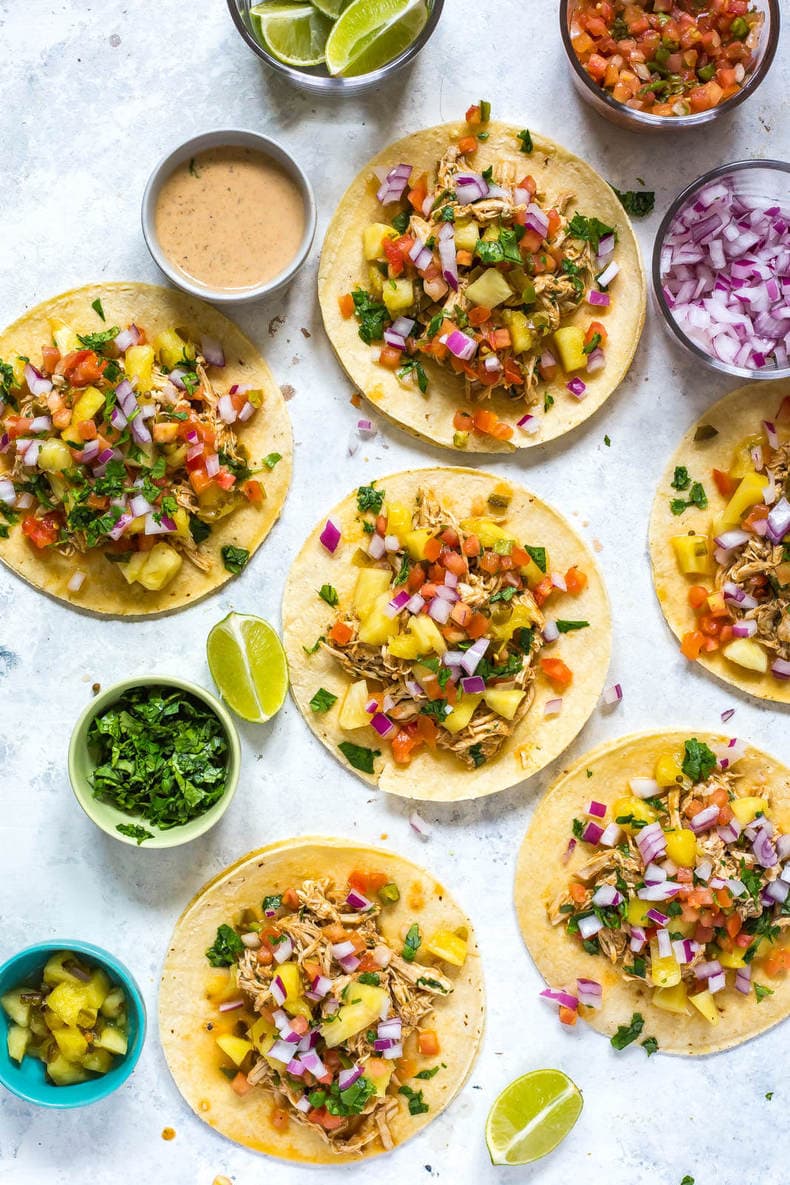 This post is sponsored by Kensington Market Street Food. Thanks for supporting the brands I love and use – they help keep my blog up and running!
Say hello to the BEST Crockpot Chicken Tacos you'll ever have!
Today I'm partnering with a local food brand based right here in Toronto to bring you a healthy, easy idea to whip up as we ease back into our routines and head back to work and school.
And what better way than with pretty much everyone's favourite food, tacos?
Kensington Market Street Food is a just-launched Canadian brand based in Toronto; the owners grew up in the eclectic neighbourhood of Kensington Market and I thought it pretty fitting to partner on this recipe since it's the neighbourhood I'm currently living in!
I absolutely love being able to venture around and explore, and the overall vibe of the neighbourhood attracts people from all over the world – both to visit and live! Kensington Market Street Food is a line of products inspired by the rich ethnic history of Kensington Market and, just like the neighbourhood itself, there's a little something for everyone!
Kensington Market Street Food really embodies the unique nature of Kensington Market while paying homage to food that's bold and flavourful but also super familiar. Everything is locally sourced whenever possible using the highest quality ingredients, and the coffee is roasted right here in Toronto!
The whole product line includes coffee, slaws, pickled fruits perfect for salsas and delicious internationally-inspired dressings. Kensington Market Street Food is definitely for anyone who considers themselves a foodie and who loves trying new things, but most of the products are focused on food that's also very approachable and familiar.
Everyone knows caesar salad dressing, for instance, but the version by Kensington Market Street Food has an added twist with sriracha. Or let's take the slaws – their kimchi slaw in particular is based around a trendy ingredient but almost everyone is familiar with the concept of coleslaw. I love that the slaws in particular can be eaten as sides or used as a condiment to spice up a dish and, if I had to do these tacos over, I might try them with the pickled ginger slaw next time and put an Asian-inspired twist on the chicken!
But let's dive more into the specifics of these Crockpot chicken tacos though, I know you're dying to find out which of the products I used in this recipe! Whether you've got a Crockpot at home or want to make these chicken tacos on the stovetop, you've got options on how you can make these tacos as well.
When I'm running behind in my day and I need to ensure dinner's ready and waiting at home,,I turn to my slow cooker to cook up healthy proteins or dump dinners. Tacos are always a go-to for bold, tasty flavours, but if you haven't planned ahead you can still boil the chicken on the stovetop for about 15-20 minutes and then shred with a knife and fork when cool enough to handle.
From there, you can cook the shredded chicken in broth along with the spices, garlic and onions and then once you remove it all from heat you can stir in the dressing and cilantro.
Easy peasy!
How to Make Crockpot Chicken tacos
Cooking chicken in the crockpot is one of my fave ways to meal prep.
It takes a lot of time and effort off your plate in terms of spending a ton of time in the kitchen, and the seasonings are relatively simple so you don't have to run out and buy a whole bunch of ingredients.
In this case, I've used chicken broth, onions, chili powder and garlic powder as a simple seasoning base and then used Kensington Market Street Food's Mexican Adobo Dressing as a way to kick the flavours up a notch. I love using simple ingredients with bold flavours like this dressing as a shortcut in the kitchen. Add in some fresh cilantro (or parsley) and this chicken will easily get you through the work week.
From there it's just a matter of adding your homemade salsa, and again, I'm using another delicious product from the Kensington Market Street Food lineup of products – the Pickled Pineapple and Jalapeño is a delicious salsa in its own right and all I've done is chop the pineapple up a little bit more before adding it.
Add your other fave taco toppings to the chicken and corn tortillas and dinner is served!
Easy right?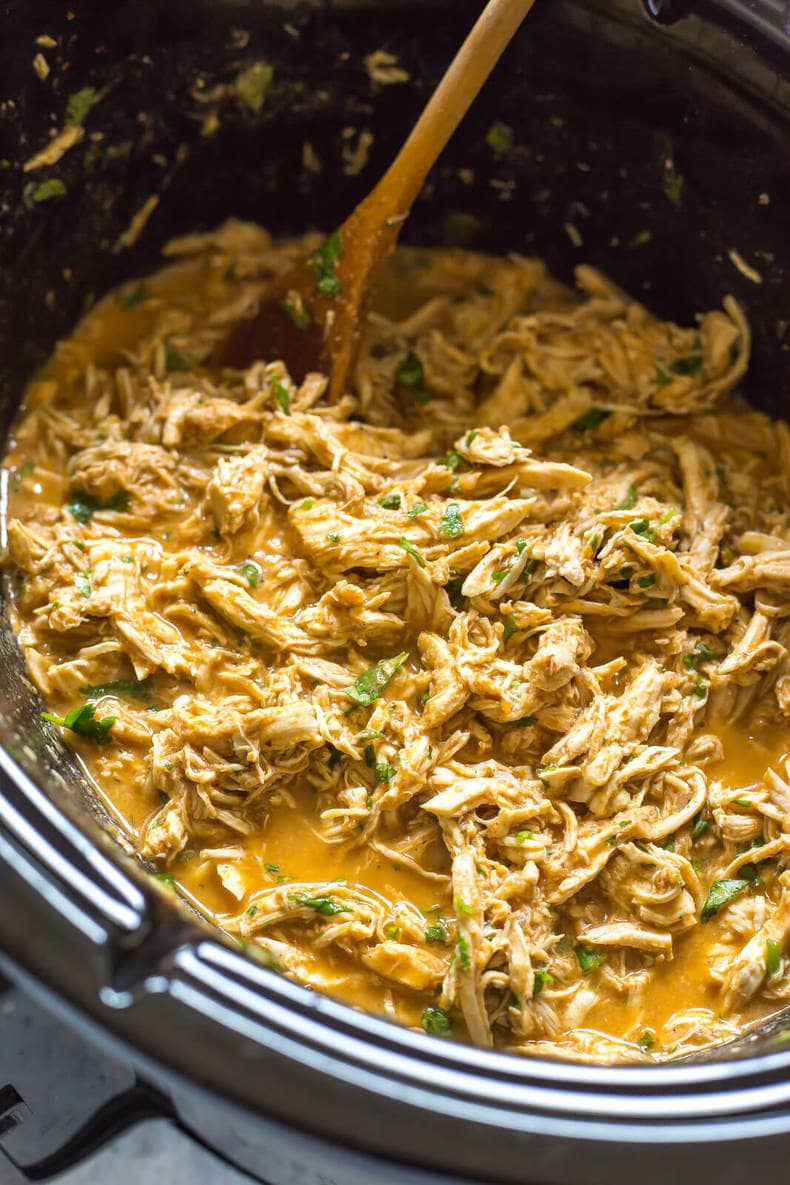 Will you be making these Crockpot Chicken Tacos?
This chicken is so versatile and guaranteed you're going to want to use it on everything! Next time try it with another one of the Kensington Market Street Food dressings – the Smoked Tomato is a close second in terms of being one of my favourites!
If you try these Crockpot Chicken Tacos be sure to let us know on Instagram, Facebook or in the comments – you can find Kensington Market Street Food in Longo's and select GTA independent grocers, or online through Grocery Gateway! For additional information or serving suggestions, check out kensingtonmarketfoods.com.
Get your square glass meal prep bowls here – they're so great for packing up your leftovers!
Print Recipe
Crockpot Chicken Tacos
Yum
These Crockpot Chicken Tacos with Pineapple Salsa are a fun, easy way to meal prep for the week and the Mexican-inspired pulled chicken is so versatile - it can be used for tacos, burrito bowls, salads and more!
| | |
| --- | --- |
| | |
Add chicken, broth, onion, chili powder, garlic powder and salt to slow cooker. Cook on low for 8 hours.

When chicken is ready, remove from juices and shred with a fork and knife. Add back to juices and stir in Kensington Market Street Food Spicy Mexican Adobo Dressing and cilantro.

Serve chicken on corn tortillas and top with Kensington Market Street Food Pickled Pineapple & Jalapeno, salsa, red onion and cilantro. Enjoy!
Nutrition Facts
Crockpot Chicken Tacos
Amount Per Serving
Calories 450
Calories from Fat 135
% Daily Value*
Total Fat 15g 23%
Sodium 1044mg 44%
Potassium 186mg 5%
Total Carbohydrates 50g 17%
Protein 28g 56%
* Percent Daily Values are based on a 2000 calorie diet.