These Crockpot Chicken Tacos with Pineapple Salsa are so fun – use the chicken for tacos, burrito bowls, salads and more!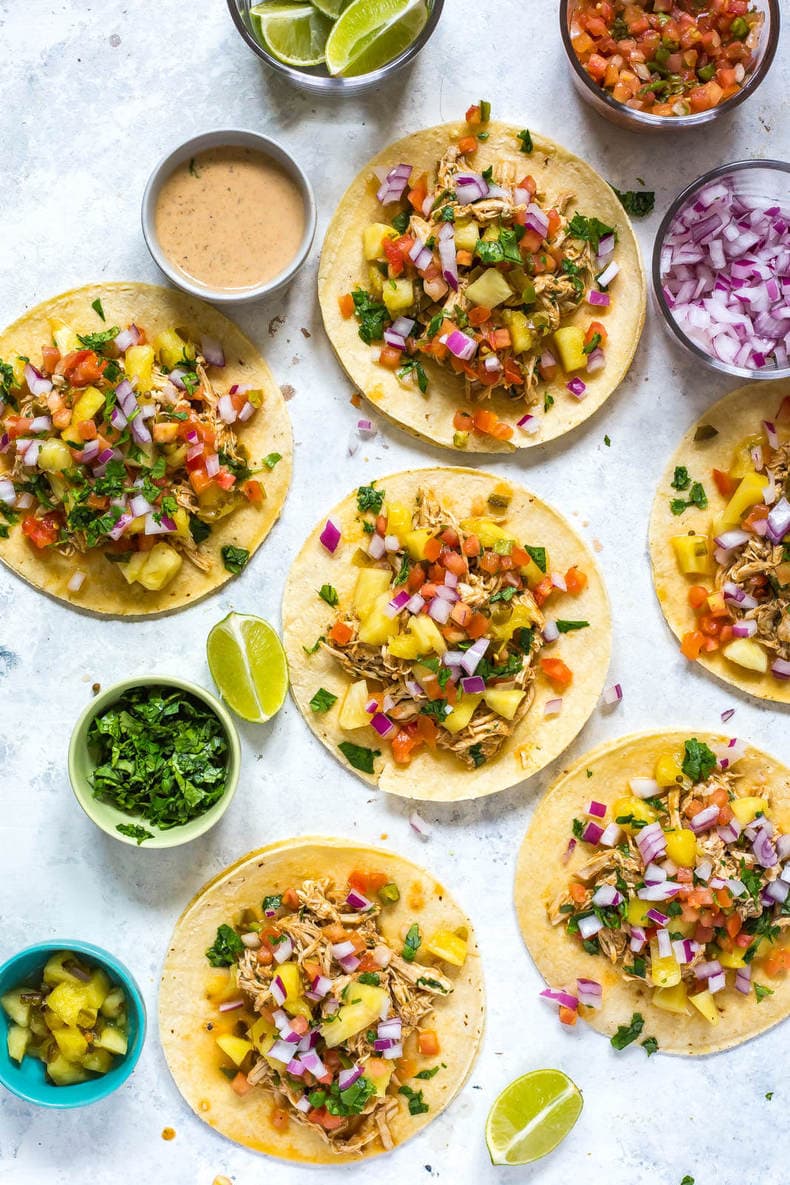 How to make crockpot chicken tacos
These delicious crockpot chicken tacos are so easy to make! All you need to do is follow these three easy steps:
In the slow cooker, cook the chicken, broth, onion, chili powder, garlic powder, salt and chipotle peppers on low for 8 hours.

Once chicken is cooked, remove the chicken and shred. Add back into crockpot after shredded and let it sit in the juices. Stir in cilantro.

Serve the shredded chicken on corn tortillas. Top chicken with salsa, red onion and more cilantro to garnish.
Ingredients and substitutions
Corn tortillas – use flour tortillas or lettuce wraps as an alternative to corn tortillas.
For the chicken
Chicken breast – chicken thighs can also be used for this recipe.
Chicken broth – use vegetable broth or a bouillon cube mixed with water to replace chicken broth.
Yellow onion – red onion, white onion or sweet onions are all great alternatives to yellow onion.
Chili powder – cayenne pepper, crushed chili flakes or paprika can be used in place of chili powder.
Garlic powder – use fresh or jarred minced garlic instead. You can also substitute garlic powder with garlic salt or onion powder. If using garlic salt be weary of adding in extra salt.
Salt (to taste)
Chipotle peppers – the best option is the canned variety that comes in an adobo sauce.
Cilantro (to garnish)
Toppings
Pineapple salsa – use fresh or homemade pineapple salsa. If you're not a fan of pineapple, replace with a mango salsa, papaya salad or peach salsa.
Salsa – use store-bought salsa or pico de gallo of choice. You can also alternatively make your own versus using store-bought.
Red onion – top with green onions or shallots in place of red onion if in a pinch.
Cilantro (optional)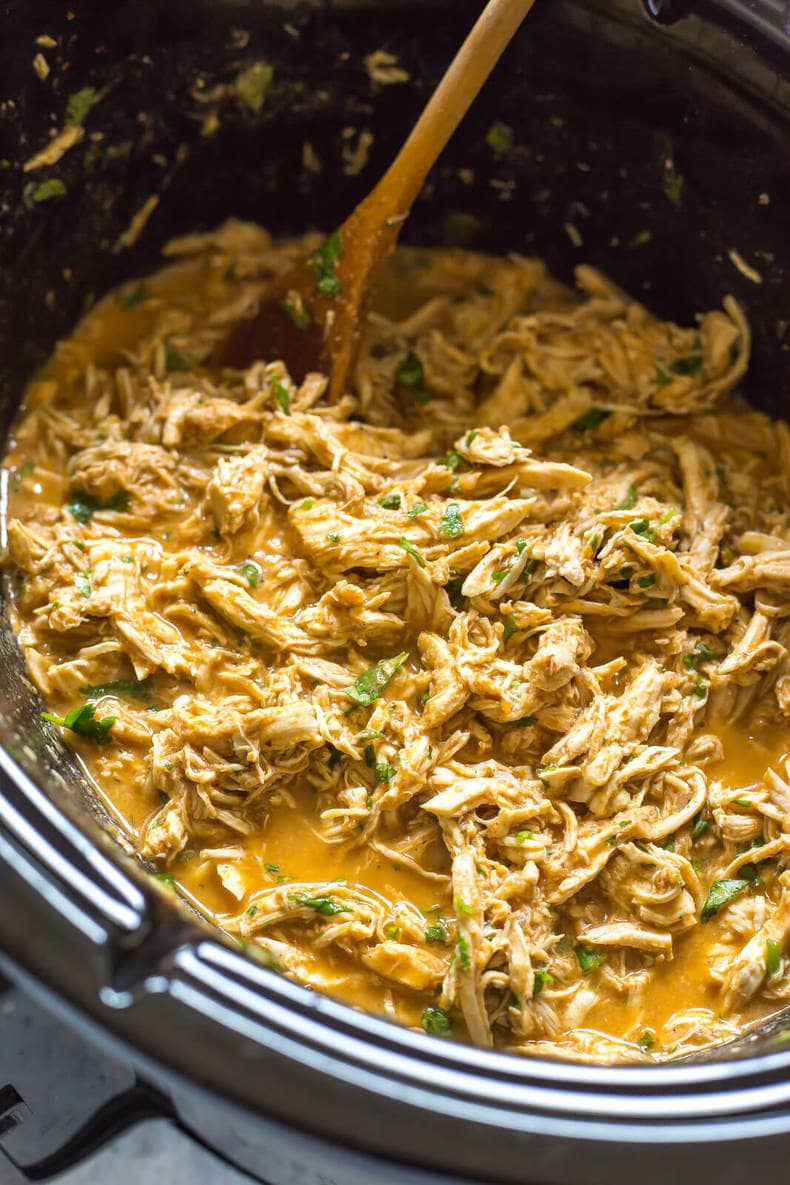 How to make shredded chicken in a slow cooker
Making shredded chicken in a slow cooker is the ultimate, all-purpose skill to have! Shredded chicken is so versatile and can be the perfect addition to tacos, wraps, sandwiches, salads or casseroles. The best part is that it practically cooks itself in the slow cooker and you can freeze the leftovers for later.
To make shredded chicken in the slow cooker, follow these easy steps:
Add chicken breast or thighs to the slow cooker. Add seasoning of choice as well as chicken broth then set to cook. Cook on low for 6-8 hours or on high for 4 hours.
Once cooked, remove only the chicken from the slow cooker and then pull into shreds with a fork and knife.
Add the chicken back into the broth and allow the flavours to seep into the pulled chicken.
Then, use right away or freeze for a future recipe!
Can you use frozen chicken in the slow cooker?
There's definitely a lot of information online on whether or not cooking frozen chicken in a slow cooker is safe or dangerous. To stay on the safe side, I recommend not using frozen chicken in the slow cooker but rather letting it thaw before cooking. The reasoning comes down to the conversation around bacteria.
While chicken thaws in a crockpot rather than cooking, it sits at a time where harmful bacteria, like salmonella, can grow. That is definitely not ideal!
Though there is research that shares how to safely cook frozen chicken in a slow cooker, if you choose to do so, please do your research and proceed with caution.
Storing and reheating 
If storing these delicious tacos for later, make sure to store the components separately to avoid a soggy mess. Keep the shredded chicken stored separately from toppings that do not need reheating.
Storing and reheating shredded chicken: Place in an airtight container and keep in the refrigerator for up to four days. When ready to use, microwave the chicken for 1-2 minutes until warmed. Then you're ready to assemble your tacos!
Storing the salsa and toppings: Place the salsas and toppings separately in glass meal prep containers in the fridge. No reheating is required when you're ready to make this recipe.
Storing and reheating corn tortillas: Keep the tortillas in a cool, dry place. This will keep them from drying out or hardening. When ready to make your tacos, warm them on the stovetop and then assemble your tacos!
Freezing the shredded chicken
If you're looking to meal prep like a boss, double or triple the servings of chicken because it is freezer-friendly! Freezing any leftover shredded chicken is such an easy task.
To freeze, allow the chicken to cool to room temperature and then freeze in individual portions in freezer Ziploc bags or in glass bowls. I recommend freezing the extra chicken in small portions that are pre-measured so you can add them to dishes like pasta, soup or salads, as you cook them.
When ready to use, defrost the chicken in the fridge overnight or reheat in the microwave for 5-6 minutes. Be sure to sprinkle about 1 tbsp of water overtop if microwaving and stir halfway through the reheating time to avoid any leftover chicken taste and to ensure the chicken doesn't try out.
More slow cooker recipes
Meal prep tools for this recipe
Grab some glass meal prep bowls if you plan on turning this shredded chicken into meal prep
I get all my free-range chicken from Butcher Box, conveniently delivered to me frozen
Get a meat thermometer to make sure your chicken is cooked through
Use these Ziploc bag holders if you're marinating the chicken then freezing it
Freeze this recipe in glass microwave-safe bowls up to 3 months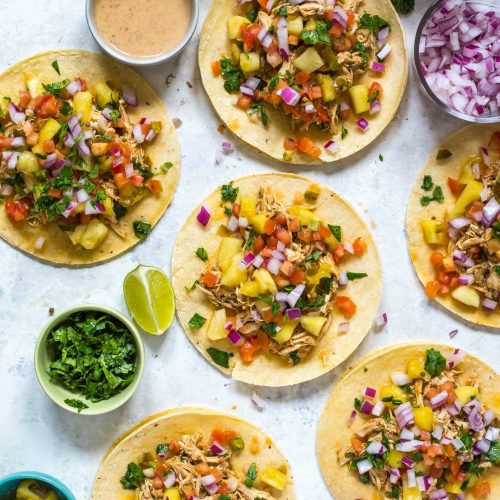 Crockpot Chicken Tacos
These Crockpot Chicken Tacos with Pineapple Salsa are so fun - use the chicken for tacos, burrito bowls, salads and more!
Print
Pin
Rate
Ingredients
For the chicken
1

lb

chicken breasts

1

cup

chicken broth

1

medium-sized yellow onion, diced

4

cloves

minced garlic

2

tbsp

chili powder

1

tsp

cumin

1

tsp

paprika

1/2

tsp

salt

1/3

cup

Finely chopped chipotle peppers in adobo sauce
Toppings
1

(8oz) container

store-bought salsa or pico de gallo

1/2

cup

finely chopped cilantro
Pineapple salsa
1

cup

frozen or fresh pineapple

diced

1

tbsp

lime juice

1/3

cup

red onion

finely diced

2

tbsp

chopped cilantro

1/2

tsp

salt
Instructions
Add chicken, broth, onion, garlic, chili powder, cumin, paprika, salt and chipotle peppers to slow cooker. Cook on high for 3 hours or on low for 6 hours.

When chicken is ready, shred right in the crockpot with a fork and knife.

Serve chicken on corn tortillas and top with pineapple salsa, pico de gallo and cilantro. Enjoy!
Video
Nutrition
Calories:
386
kcal
|
Carbohydrates:
56
g
|
Protein:
30
g
|
Fat:
6
g
|
Saturated Fat:
1
g
|
Polyunsaturated Fat:
2
g
|
Monounsaturated Fat:
2
g
|
Trans Fat:
1
g
|
Cholesterol:
74
mg
|
Sodium:
1551
mg
|
Potassium:
793
mg
|
Fiber:
10
g
|
Sugar:
12
g
|
Vitamin A:
2800
IU
|
Vitamin C:
28
mg
|
Calcium:
107
mg
|
Iron:
3
mg