These Healthy Pumpkin Recipes are perfect for fall and include everything from pumpkin bread to soup, dessert, pasta and more!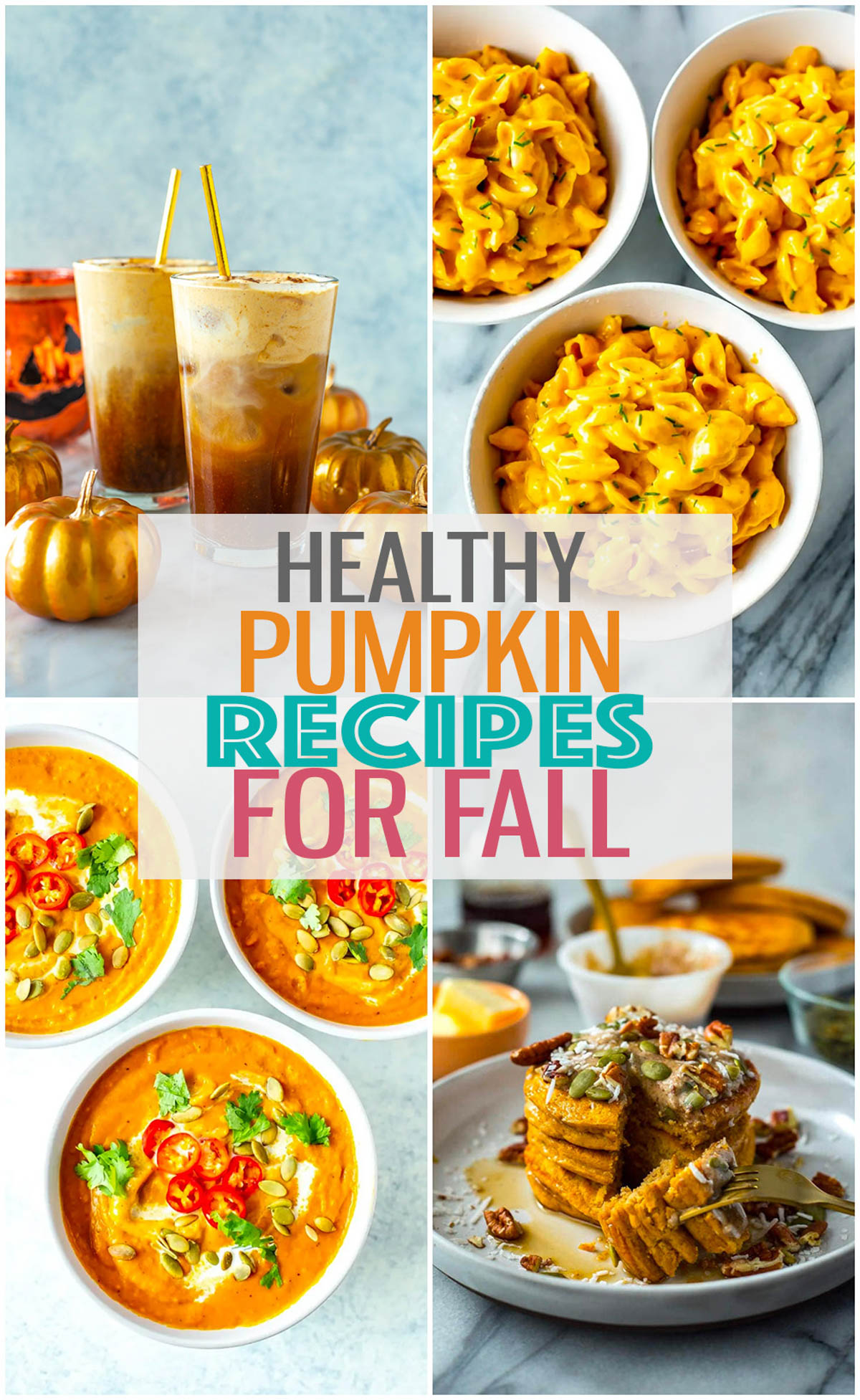 Healthy Pumpkin Recipes
There are so many pumpkin recipes available online, it can sometimes be difficult to know which ones to try first. To make things as easy as possible, I rounded up my favourite healthy pumpkin recipes to try this fall.
These healthy pumpkin recipes use mostly canned pumpkin puree, so rest assured that they are also super easy to make. While pumpkin is often used in sweeter recipes, it can also be a way to boost flavour in savoury recipes while adding an extra nutritional component.
Frequently Asked Questions
Pumpkin Breakfast Recipes
Start your day off with one of these delicious pumpkin breakfast recipes. From pumpkin pancakes to protein bars, they're a great way to get in some healthy nutrients and feel full for longer.
Pumpkin Bread, Muffins & Snacks
Nothing says fall like a warm slice of pumpkin bread or a pumpkin muffin! Check out my favourite pumpkin snack recipes – they're super delicious and really healthy.
Pumpkin Latte & Drink Recipes
Pumpkin spice lattes are where it's at! Enjoy the flavours of fall all year round with this delicious pumpkin latte and drink recipes. They're easy to make at home with fewer calories.
Pumpkin Soup & Dinner Recipes
While pumpkin is usually more common in snacks, sweets and drinks, it's also a great way to add some flavour to dishes like pasta, curries and soups. Check out these healthy pumpkin dinner recipes.
Pumpkin Dessert Recipes
Have a sweet tooth? You're going to love these pumpkin desserts. They're all on the healthier side, too, so you don't have to feel guilty about indulging in these sweet treats!