This Creamy Pumpkin Curry Soup comes together with coconut milk, canned pumpkin and curry paste. It's a delicious twist on fall comfort food!
Ingredients and substitutions
Coconut oil – feel free to swap out for a neutral cooking oil like olive oil.
Yellow onions – white onion or shallots would also be good.
Garlic – freshly minced garlic is best but jarred minced garlic will work in a pinch.
Ginger – substitute for ground ginger powder if you don't have any fresh ginger.
Red or yellow curry paste – swap out for curry powder instead of paste if need be (use 1 tsp. curry powder for every 1 tbsp. curry paste).
Turmeric – saffron or curry powder would be good alternatives.
Chili powder – make your own using a combination of cumin, paprika and cayenne.
Cumin – coriander or extra chili powder are the best substitutes here.
Salt & pepper – to taste.
Pureed pumpkin – you'll need to use pumpkin puree not pumpkin pie filling.
Coconut milk – heavy cream, Greek yogurt and sour cream are all good substitutes, although the flavour will be different.
Vegetable broth – for a richer flavour, feel free to use stock. Chicken broth or stock would also be good.
Skip the Ads and Get Right to the Recipes!
ZERO ADS on over 600 recipes!
Weekly Meal Plans, Grocery & Prep Lists
Bonus eBooks
How to make pumpkin curry soup
Prep your ingredients.
Sauté the onions.
Add the spices.
Stir in the pumpkin, coconut milk and broth.
Blend with an immersion blender.
Serve with your favourite garnishes and enjoy!
Adding protein to this soup
This a healthy vegetarian soup, but adding protein is definitely possible, and will make the dish heartier!
Consider blending cooked lentils, chickpeas or other legumes of your choice into the soup. If you would rather not puree the protein into the soup, there are other options. You could stir in a cup of cooked quinoa, tempeh or wild rice.
If you don't need to worry about keeping the soup vegetarian, you could sauté some chicken or sausage up in the beginning and then add it back in again once you have blended the soup.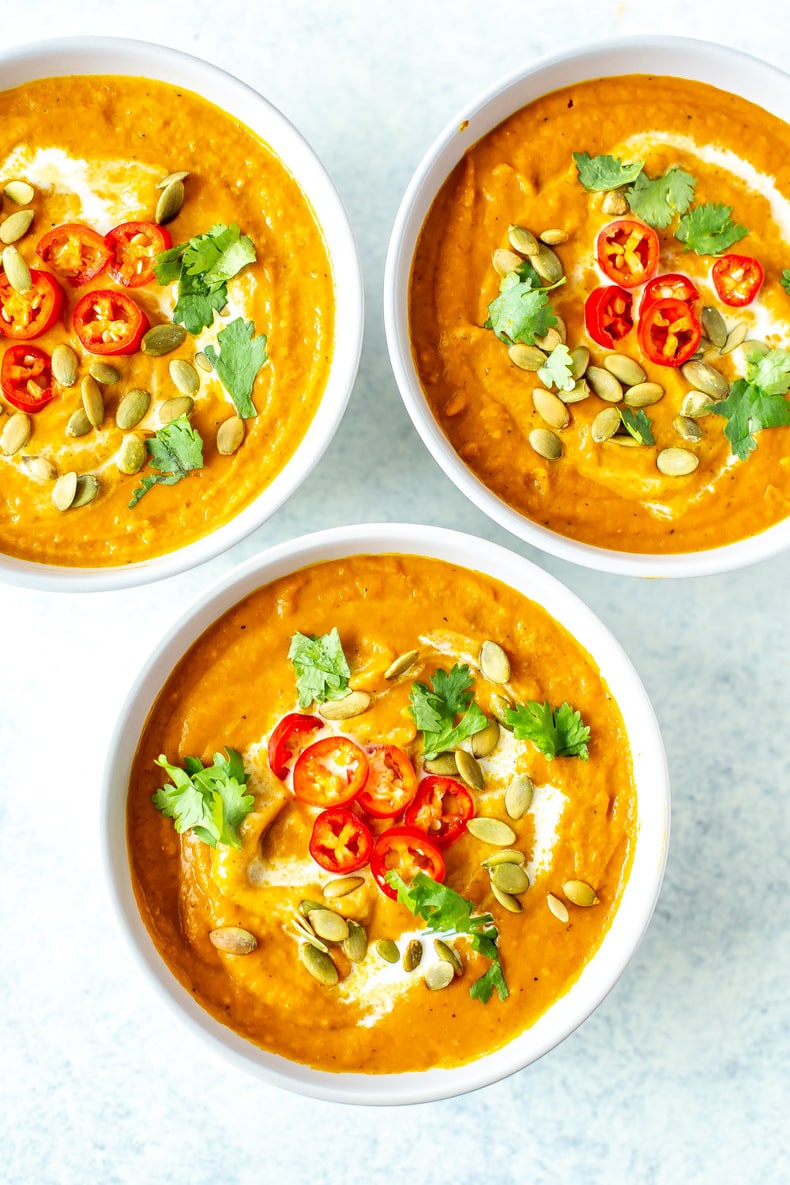 Frequently Asked Questions
What is pumpkin curry soup made of?
This pumpkin curry soup is made with onions and garlic, fresh minced ginger, red or yellow curry paste, a blend of spices (including turmeric, chili powder and cumin), canned pureed pumpkin, coconut milk and vegetable broth. It's so easy to make!
How many carbs are in this recipe?
This recipe has 16 grams of carbs per serving.
What do you serve on the side?
As with any other soup, a side of fresh garden salad is always a good choice. You might also want to serve some flatbread, pita, naan or thick slices of crusty bread. Another tasty way to make the curry a complete meal is to serve it with grilled vegetables or panini sandwiches. Of course, marinated chicken breast would be great, as would skewers of roasted or grilled lamb.
What toppings can you add?
I like to garnish my soup with creme fraiche, pumpkin seeds, fresno chilies and fresh cilantro. Other great toppings for a creamy soup like this include spicy condiments like hot sauce, finely snipped greens like kale or peppery arugula, scallions, finely chopped peanuts, sour cream or Greek yogurt.
Storing and reheating
Store any leftovers in the fridge in an airtight container for up to 5 days. The best way to reheat your soup is in a pot on the stovetop. Stir it occasionally to ensure that it warms through. If you're in a hurry, you can also microwave it for 2 to 3 minutes, stirring halfway through.
Freezing this recipe
This meal may be kept frozen for up to 3 months. However, for the best flavour and texture, try to use it within 2 months.
Allow the soup to cool to room temperature before transferring it to freezer storage bags or individual serving sizes in glass containers. This helps to prevent ice crystals from forming on the top of the soup.
You can microwave the soup from frozen if you've stored individual portions in glass containers. Simply reheat for 6 to 7 minutes, stirring partway through. If defrosting from freezer bags, then defrost in the fridge overnight before reheating.
TIP: To save space in your freezer, store the soup in large freezer storage bags. Be sure the bags are properly sealed, then lay them down flat in the freezer. This way, you can easily stack them.
Wanna Learn How To Meal Prep?
My meal planning service, Dinner Prep Pro, removes the guesswork and helps you get dinner on the table in 15-20 minutes each night. My meal prep checklists only take 1 hour each week!
Meal prep tools for this recipe
Creamy Pumpkin Curry Soup
This Creamy Pumpkin Curry Soup comes together with coconut milk, canned pumpkin and curry paste. It's a delicious twist on fall comfort food!
Print
Pin
Rate
Click Here to Remove Ads
Servings: 6 servings
Calories: 212kcal
Ingredients
1 tbsp coconut oil
2 yellow onions, diced
2 cloves garlic, minced
1 tbsp ginger, minced
2 tbsp red or yellow curry paste
1 tsp turmeric
1 tsp chili powder
1/2 tsp cumin
1/2 tsp each salt & pepper
2 (15oz) cans pureed pumpkin NOT pumpkin pie filling
1 (14oz) can coconut milk
1 cup vegetable broth
Optional garnishes
Creme fraiche
Pumpkin seeds
Fresno chilies
Cilantro
Instructions
Heat coconut oil in a large pot over med-high heat. Add onions and saute for 2-3 minutes until softened.

Add garlic, ginger, curry paste, chili powder, turmeric, cumin, salt & pepper and saute for another minute or so until fragrant.

Stir in pumpkin, coconut milk and broth, bringing to a boil then reducing the heat to a simmer. Simmer for 20 minutes, then blend with an immersion blender.

Serve in deep bowls and top with desired garnishes. Enjoy!
Video
Notes
Add some protein to this soup using cooked lentils, chickpeas or other legumes. Swap out 1 tsp. curry powder for every 1 tbsp. curry paste if you don't have any curry paste on hand. Store the leftovers in the fridge for up to 5 days. Reheat in a pot on the stovetop or in the microwave for 2-3 minutes. Freeze this soup for up to 3 months. Defrost in the fridge overnight or microwave from frozen for 6-7 minutes.
Nutrition
Calories: 212kcal (11%)Carbohydrates: 16g (5%)Protein: 3g (6%)Fat: 17g (26%)Saturated Fat: 15g (94%)Sodium: 169mg (7%)Potassium: 690mg (20%)Fiber: 2g (8%)Sugar: 6g (7%)Vitamin A: 12938IU (259%)Vitamin C: 17mg (21%)Calcium: 57mg (6%)Iron: 4mg (22%)
Join The Girl on Bloor Premium!
ZERO ADS!
Weekly Meal Prep Checklists
Bonus eBooks