Healthy One Pot Pumpkin Alfredo
This Healthy One Pot Pumpkin Alfredo with chicken, roasted red peppers & crispy sage is a lighter, more nutritious fall spin on your favourite pasta sauce! Jump to Recipe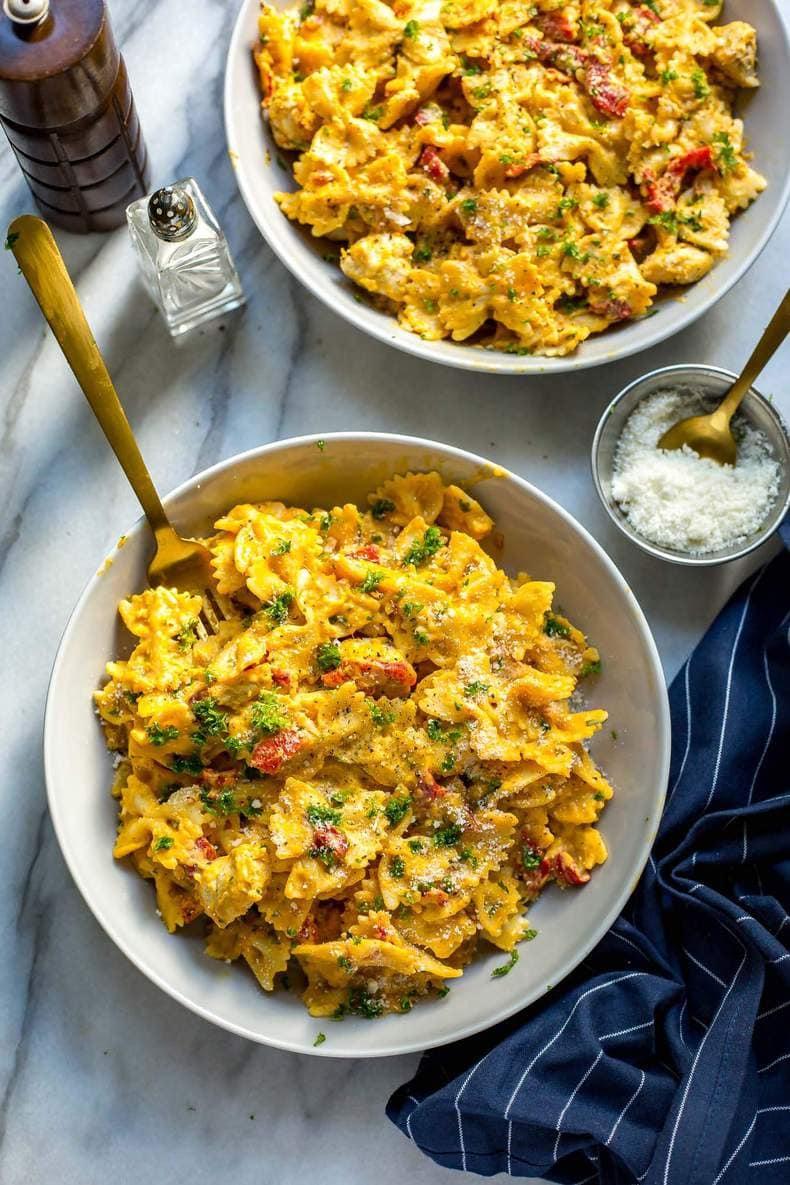 Ingredients in pumpkin alfredo
This pumpkin alfredo is a healthier fall pasta recipe that is sure to please! Besides the canned pumpkin puree, you'll need evaporated milk, pasta and any toppings. Those are your big ticket items. Here's a list of everything you need below, with ingredient substitutions listed further down in this post.
bowtie pasta (or any shape)
olive oil
chicken (optional, for protein)
butter
garlic
flour
evaporated milk
heavy cream (optional – it just makes the pasta super creamy without adding a ton of calories)
canned pumpkin puree
parmesan cheese
roasted red peppers (optional filling)
sage leaves (optional flavour add-in)
How to make pumpkin alfredo
This pumpkin alfredo comes together in one pot so it's super easy to make! Here are the step-by-step instructions:
Cook pasta until al dente. Drain and set aside, then dry the pot out to use again.
Saute chicken until browned, then remove chicken from heat and set aside.
Add butter to pot. When melted, add garlic, then add flour. Add evaporated milk, cream and pumpkin puree, whisking as it thickens. Add salt & pepper and parmesan cheese, whisking well to combine.
Add cooked pasta, chicken, sage and roasted red peppers to sauce, tossing to coat and cooking until hot. Serve and enjoy!
What to do with leftover pumpkin puree
You only need 1/2 cup of pumpkin puree for this recipe, so you will be left with quite a bit afterward depending on the size can you purchase. The pumpkin adds a bit of sweetness and makes the alfredo sauce super creamy so it's definitely worth adding! If you'll be using the leftovers within a couple weeks, you can store the leftover puree in a glass container in the refrigerator or even just put plastic wrap overtop of the can.
I go through a lot of pumpkin puree in the fall because I make things like pumpkin muffins, cookies, breads, etc. and I stir it into pumpkin spice lattes and sometimes even my morning oatmeal. There are so many ways you can incorporate it into other recipes so it won't go to waste.
You can also freeze leftover pumpkin puree for up to 3 months. This way you can use it far in the future!
Alfredo sauce method
If you took a look at the ingredient list above (or below), then you'll see that I use canned evaporated milk instead of heavy cream or other types of milk.
I got this technique from Anne Lindsay's lighter fettuccine alfredo recipe; it was one of the very first recipes I cooked for a family dinner one night, and though many years have passed since then, I have experimented with all kinds of alfredo sauces and let's just say that her method remains one of my go-tos. This canned milk can be found in the baking aisle of your local grocery store. It cooks up a bit creamier than regular 2% milk and it's a far lighter alternative to whipping cream.
I still include 2 tbsp of cream in this recipe just to add a bit more richness and flavour, but I know how expensive cream is and you don't usually use up the whole carton unless you drink it with your coffee so go ahead and feel free to leave it out if you don't want to spend the extra cash. The evaporated milk and flour combo will do just fine.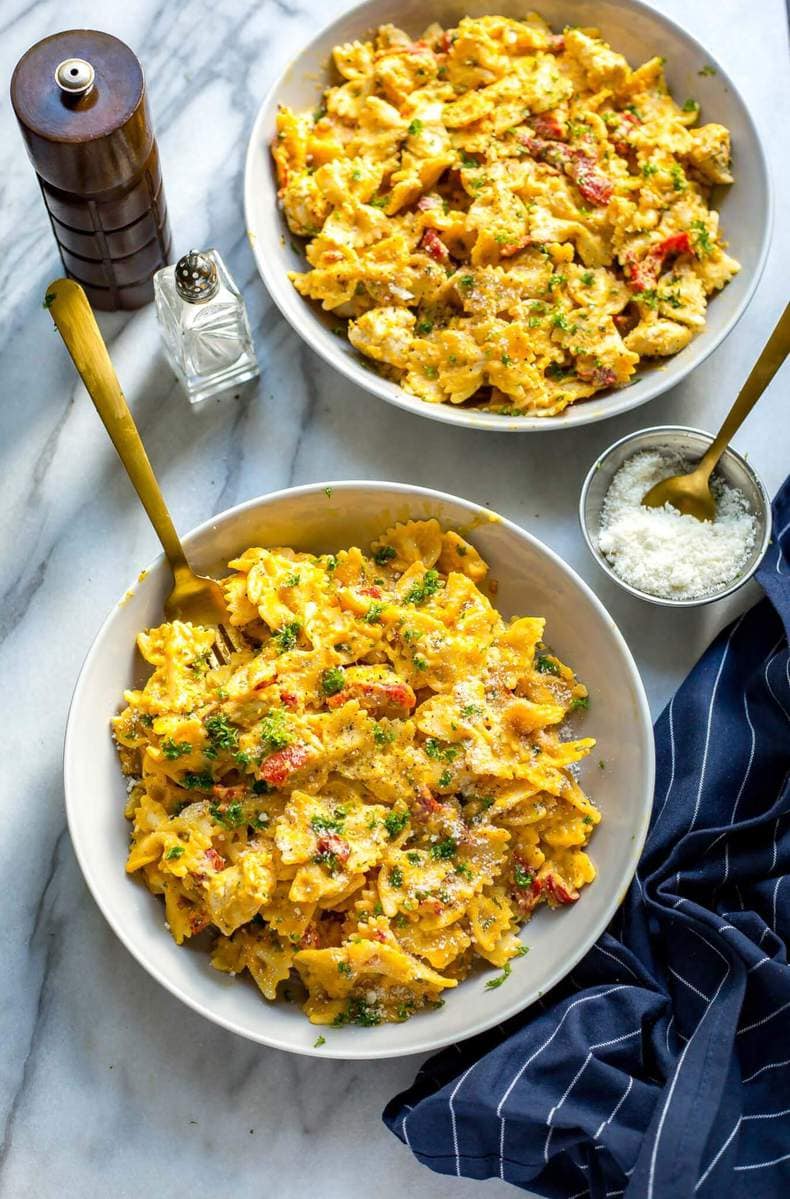 Ingredient substitutions
Pasta – You can use any pasta shape in this recipe! Don't feel forced to use bowties.
Milk – I use canned evaporated milk for this pumpkin alfredo, but you can sub in 2% or whole milk as well. They will work just fine! I do not recommend non-dairy or skim milk. You can also omit the heavy cream.
Cheese – I use real parmesan cheese that I grate fresh from the block. Using pre-shredded cheese just won't result in the same flavour or creaminess.
Fillings – I use chicken for extra protein, but you can certainly leave it out – it will save you some time and trim off some calories from the dish! I also include roasted red peppers for an extra vegetable but again, feel free to omit them. Some extra veggie suggestions include sliced red onions, sauteed bell peppers, mushrooms and chopped spinach.
Herbs – I absolutely love fresh sage and pumpkin, but if you don't have any you can leave it out. You can also use fresh parsley to add some contrast to the dish.
Storing and reheating pumpkin pasta
This pumpkin pasta serves 6, so you will likely have leftovers. Lucky for you, I'll let you in on a little secret to reheating it for lunch and reviving it.
You'll want to make sure to add in 1-2 tablespoons of milk, cream or water whenever you're reheating pasta. If it's a dairy-based pasta, I make sure to use whatever dairy I was using for the recipe before microwaving because you totally gain back that creamy flavour while ensuring the pasta stays moist when reheating, but water totally works in a pinch.
There's seriously nothing worse than dried out leftover pasta but I'm telling you, you don't have to keep doing that to yourself. My reheat method works wonders! Add a bit of extra liquid, then reheat for 2-3 minutes.
Freezing pumpkin alfredo
Yes, you can freeze this pumpkin pasta!
You'll want to store it in individual portions in glass containers – this recipe will last in the freezer up to 3 months. When you're ready to reheat, pull a portion out of the freezer, sprinkle some milk/cream/water overtop and then microwave for 6-7 minutes, stirring halfway through the cooking time.
You can have pumpkin alfredo all year long!
Why add pumpkin to pasta?
I think pumpkin is such a polarizing fall flavour. Sure, we all head to the pumpkin patch every year and spend time decorating jack-o-lanterns, and we even devour pumpkin shaped chocolates and indulge in the pumpkin theme the whole month of October pretty liberally.
But when it comes to actually eating pumpkin? Well, let's just say I've had more than one person turn their nose up at me at the very mention of Pumpkin Spice Lattes or anything remotely close in flavour.
So why should you add pumpkin to your pasta? Well, it's highly nutritious and rich in vitamin A, and it's full of antioxidants. It's a great way to make your alfredo sauce a little bit healthier and sneak a veggie into your food. Give it a try!
More pumpkin recipes
Meal prep tools for this recipe
Meal prep challenge
If you'd like some more help with meal planning, then you'll love my free 5-day meal prep challenge! It's basically a free course that will teach you how to meal prep and cook healthy meals at home with some PDF bonus materials. Sign up for free below:
Print Recipe
Healthy One Pot Pumpkin Alfredo
This Healthy One Pot Pumpkin Alfredo with chicken, roasted red peppers & crispy sage is a lighter, more nutritious fall spin on your favourite pasta sauce!
Ingredients
1

lb

bowtie pasta

1

tbsp

olive oil

2

chicken breasts, diced

1

tbsp

butter

2

cloves

garlic minced

2

tsp

flour

1 1/2

cups

evaporated milk

2

tbsp

heavy cream

1/2

cup

pumpkin puree

1

tsp

salt

1/2

tsp

pepper

1/2

cup

parmesan cheese, grated (plus more for serving)

1/2

cup

roasted red peppers

8

sage leaves, finely chopped
Instructions
Heat a large pot of salted water to boiling. Add pasta and cook for 10-12 minutes until al dente. Drain and set aside, then dry out pot with paper towel.

Add olive oil and chicken to pot, sauteing for 5-6 minutes until chicken is browned. Remove chicken from heat and set aside.


Add butter to pot. When melted, add garlic, sauteing for 30 seconds, then add flour. Add evaporated milk, cream and pumpkin puree, whisking as it thickens up. Add salt & pepper and parmesan cheese, whisking well to combine.

Add cooked pasta, chicken, sage and roasted red peppers to sauce, tossing to coat and cooking over medium heat for 2-3 minutes until everything is heated through.
Video
Nutrition
Calories:
519
kcal
|
Carbohydrates:
66
g
|
Protein:
31
g
|
Fat:
14
g
|
Saturated Fat:
6
g
|
Cholesterol:
79
mg
|
Sodium:
727
mg
|
Potassium:
700
mg
|
Fiber:
3
g
|
Sugar:
9
g
|
Vitamin A:
3546
IU
|
Vitamin C:
8
mg
|
Calcium:
200
mg
|
Iron:
2
mg