These 5-Ingredient Pumpkin Protein Pancakes are a healthy and delicious breakfast idea that can be frozen and reheated in the toaster.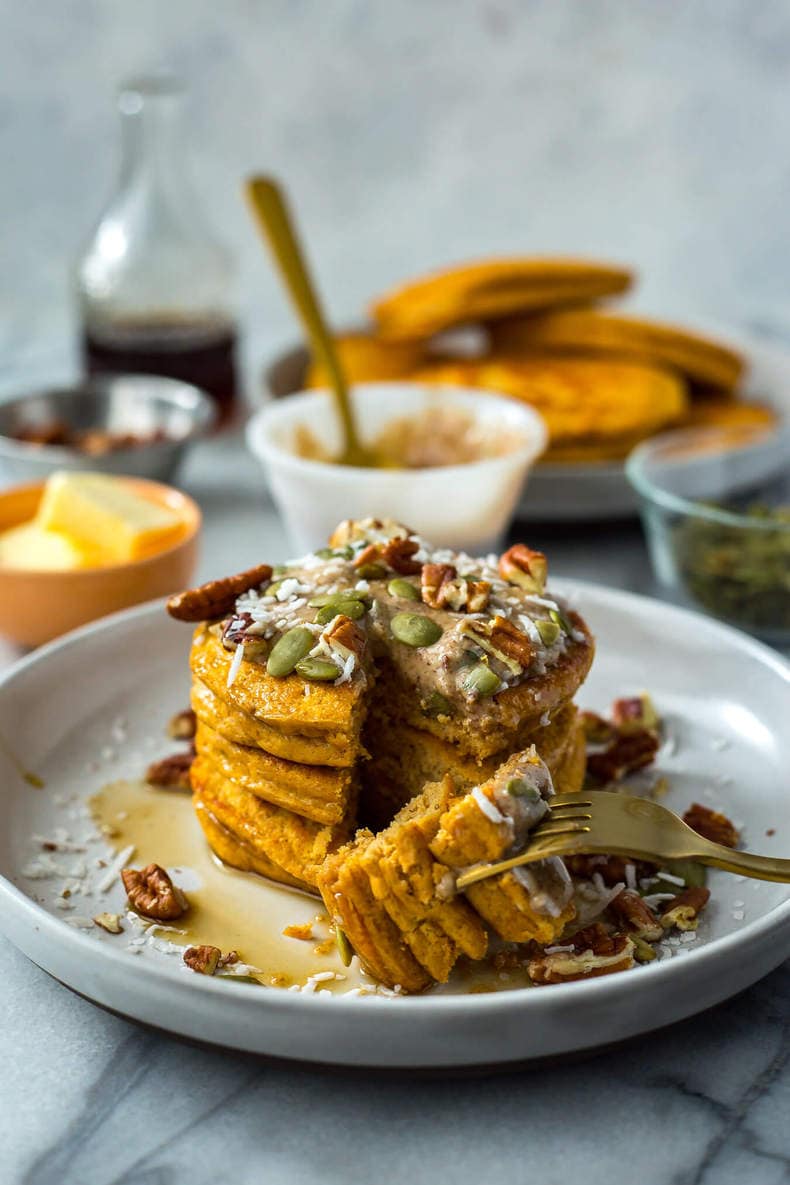 Ingredients and substitutions
Butter – swap out for a dairy-free substitute of your choice.
Egg whites – you could also make these pancakes using 4 whole eggs instead of 8 egg whites.
Pumpkin puree – mashed bananas would also be good here.
Whey protein powder – I use whey protein powder in this recipe; this is the only type of protein powder that can be used with this recipe. Here is the protein powder I use. 
Pumpkin spice – you can make your own using a blend of cinnamon, nutmeg and ginger.
Baking powder – there's no real substitute for baking powder and it's pretty essential to the recipe.
Topping ideas
Shredded coconut – unsweetened or sweetened would both be good.
Almond butter – try another kind of nut butter like sunflower butter.
Pumpkin seeds – swap out for some sunflower seeds instead.
Chopped walnuts – chopped pecans or another nut of your choice would be good.
Maple syrup – honey or jam are also great toppings!
Skip the Ads and Get Right to the Recipes!
ZERO ADS on over 600 recipes!
Weekly Meal Plans, Grocery & Prep Lists
Bonus eBooks
How to make pumpkin pancakes
Make the batter.
Add the batter to the skillet.
Flip once the bottom starts to form.
Serve with your favourite toppings or freeze for later.
Pumpkin pancake topping ideas
Since no pancake is ever complete without an obnoxious amount of toppings, I've loaded these up with shredded coconut, chopped pecans and pumpkin seeds, then drizzled 'em with maple syrup and almond butter.
The toppings are optional, but part of what makes these pancakes so fun is that you can literally dress them up with whatever you happen to have on hand. My personal favourite is almond butter – it adds some more healthy fat and sweetness to them – but maple syrup is also great in a pinch.
Here are some more topping ideas you'll love:
Shredded coconut
Almond, peanut or cashew butter
Pumpkin seeds
Chopped walnuts
Pecans
Maple syrup
Whipped cream
Sunflower seeds
Chia seeds
Hemp hearts
Frequently Asked Questions
Are protein pancakes healthy?
These protein pancakes are a great way to start your day and a healthy breakfast idea. They're high in protein so you'll stay full for longer and they only have 156 calories per serving (one serving equals two pancakes).
Can I add pumpkin puree to pancake mix?
Yes! For this recipe you'll need to add 1 cup of pumpkin puree to your pancake mix. If you don't have any pumpkin puree on hand, you can also use mashed bananas.
How many carbs are in this recipe?
These pumpkin pancakes have 9 grams of carbs per serving.
What's the best protein powder to use?
There are a lot of options on the market when it comes to protein powder, and it can be overwhelming at first. I recommend choosing a whey protein that has the fewest ingredients possible with no artificial sweeteners or added sugar. Here is the protein powder I use if you're looking for a clean one. I typically buy it at Costco but you can order it online too! PLEASE NOTE: you do need to use whey protein powder with this recipe. No other type of protein powder will work.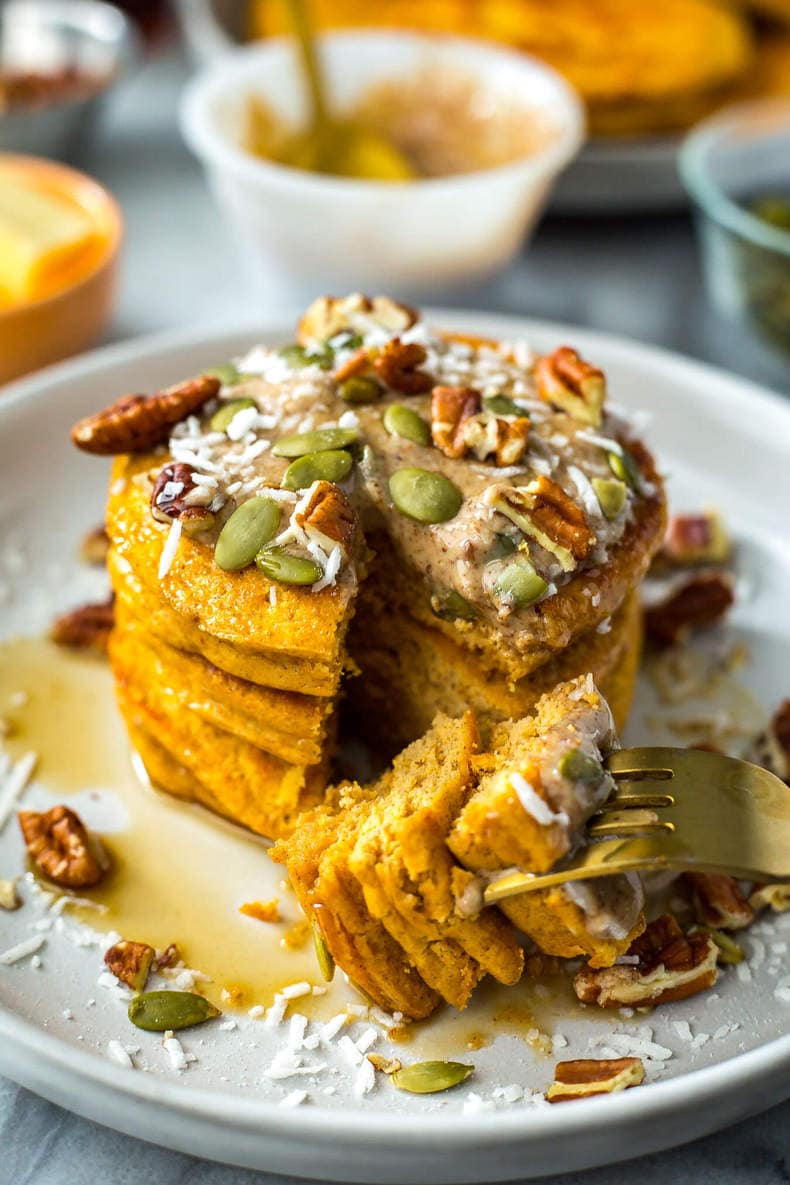 Storing and reheating
Since there are only 5 ingredients in these pumpkin protein pancakes, you can rest assured that weekend meal prep will barely take any time at all. Mix together some whey protein, egg whites, pumpkin puree, pumpkin spice and baking powder, fry them in a pan and you're good to go – THAT'S IT!
From there, you can store the leftover pancakes in glass containers or a Ziploc bag for up to 7 days. You can reheat them for 1-2 minutes in the microwave or for 1 minute in the toaster. I personally like popping them in the toaster since it makes them a bit crispier and fresher.
Can you freeze protein pancakes?
These pancakes are totally freezer-friendly! The bonus of freezer-friendly breakfasts is that everything is ready beforehand, which gives you that much more time to get ready in the morning.
To freeze, store the pancakes flat in a Ziploc bag and freeze them for 2 to 3 months. In the morning, all you have to do is throw them in the toaster for 1-2 minutes or reheat them in the microwave for 2-3 minutes.
Wanna Learn How To Meal Prep?
My meal planning service, Dinner Prep Pro, removes the guesswork and helps you get dinner on the table in 15-20 minutes each night. My meal prep checklists only take 1 hour each week!
More pumpkin recipes
Meal prep tools for this recipe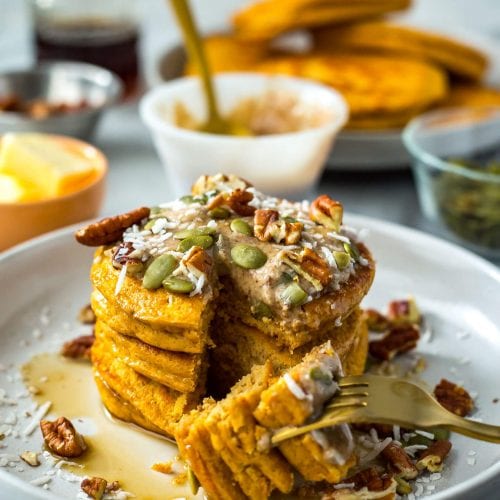 5-Ingredient Pumpkin Protein Pancakes
These 5-Ingredient Pumpkin Protein Pancakes are a healthy and delicious breakfast idea that can be frozen and reheated in the toaster.
Print
Pin
Rate
Click Here to Remove Ads
Servings: 8 pancakes
Calories: 156kcal
Ingredients
2 tbsp butter, for frying
8 egg whites
1 cup pumpkin puree
2 cups whey protein powder PLEASE NOTE: you DO have to use whey protein powder for this recipe. No other type will work.
1 tsp pumpkin spice (or a mix of cinnamon, nutmeg and ginger)
1 tsp baking powder
Topping ideas
Shredded coconut
almond butter
pumpkin seeds
Chopped walnuts or pecans
maple syrup
Instructions
In a large bowl, mix all ingredients for pancakes together until just combined.

Heat butter in a large frying pan over medium heat. Add a small spoonful of pancake mixture to test, making sure skillet is hot enough to add pancake batter. Once bottom of tester pancake starts to form, flip and then remove from heat.

Add pancake batter by large ladle scoop, cooking four pancakes at a time and flipping once a bottom starts to form, about 5 minutes.

Freeze pancakes up to 2 months, reheating in microwave on high for 1 1/2 to 2 minutes or reheating in the toaster. Top with optional toppings and serve!
Video
Notes
Nutritional info is for 2 pancakes with no toppings. Add on your favourite toppings to take these pancakes to the next level. Whey protein powder is what needs to be used for this recipe; please note that it does not work with any other type of protein powder. This is the exact protein powder I use: https://www.kaizennaturals.com/products/whey-protein  Store the leftover pancakes in the fridge for up to 7 days then reheat them in the toaster. Freeze this recipe for 2-3 months then reheat them from frozen.
Nutrition
Serving: 2pancakesCalories: 156kcal (8%)Carbohydrates: 9g (3%)Protein: 21g (42%)Fat: 5g (8%)Saturated Fat: 3g (19%)Cholesterol: 63mg (21%)Sodium: 146mg (6%)Potassium: 286mg (8%)Fiber: 1g (4%)Sugar: 3g (3%)Vitamin A: 4855IU (97%)Vitamin C: 1mg (1%)Calcium: 176mg (18%)Iron: 1mg (6%)
Join The Girl on Bloor Premium!
ZERO ADS!
Weekly Meal Prep Checklists
Bonus eBooks