These Freezer-Friendly 5-Ingredient Pumpkin Protein Pancakes are a healthy, delicious breakfast idea that can be reheated in the toaster.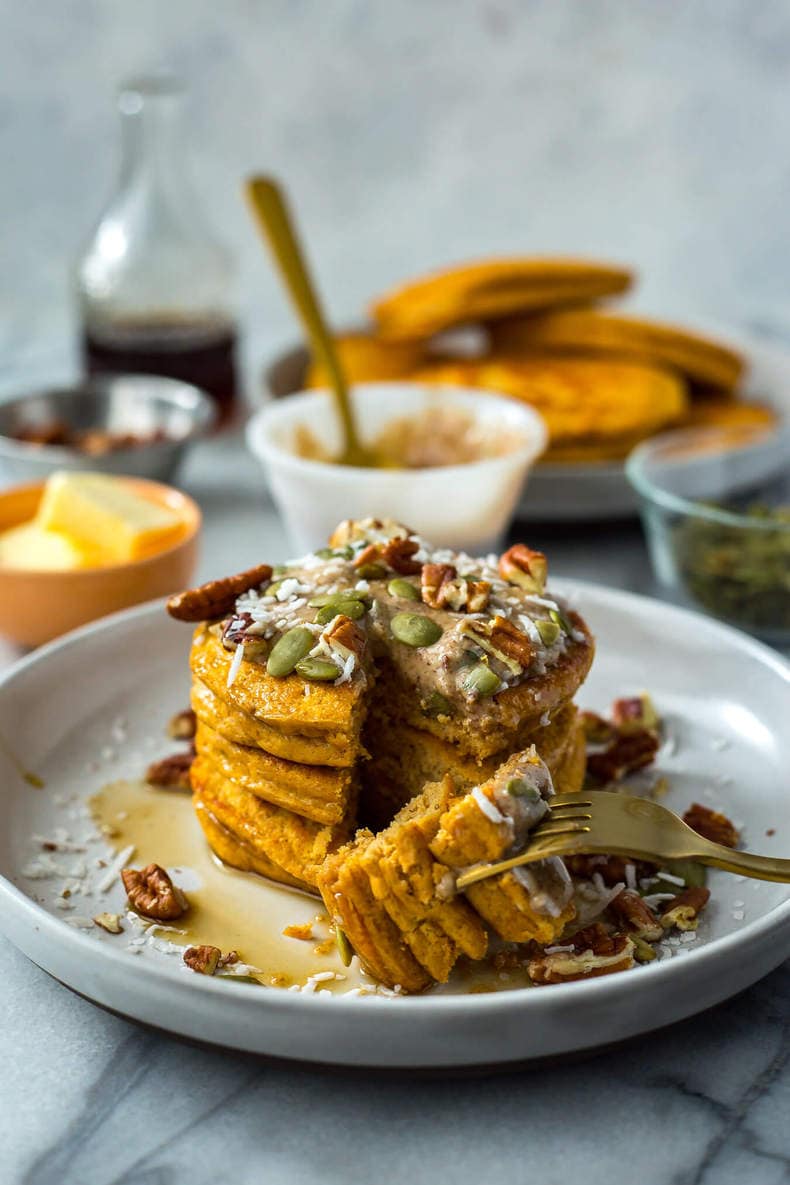 How to make protein pancakes
You basically make these protein pancakes the same way you would make regular pancakes. Here are the full steps below:
Mix all the ingredients for the pancakes together in a large bowl.
Heat butter in a large frying pan, then add pancake batter by a large ladle scoop, cooking four pancakes at a time and flipping once the bottom is solid, which should be about 5 minutes.
Top with toppings then serve and enjoy!
Now these are definitely a different texture from your ordinary pancake. They aren't exactly light and fluffy, and they're definitely a little more dense but the flavour is there. And for a pancake packed with 21g of protein (a serving is two btw so you're looking at a whopping 22g of protein for breakfast), you're gonna be surprised at how delicious these are.
Ingredients in pumpkin protein pancakes
Say hello to the easiest, coziest fall breakfast ever! Of course, it's a pumpkin recipe – but nothing screams fall like pumpkin. Here's what you need to make these pumpkin protein pancakes:
Butter
Egg whites
Pumpkin puree
Vanilla protein powder (I used whey protein)
Pumpkin spice (or an even mix of cinnamon, nutmeg and ginger)
Baking powder
Ingredient substitutions
These pancakes can actually be made pumpkin-free if you can believe it! Here are some ingredient substitutions to keep in mind.
Protein powder – I use whey protein powder in this recipe, but you can use just about any type of protein powder you'd like. It will change the flavour, but if you have dietary restrictions and can't consume whey, this is something to keep in mind.
Pumpkin puree – You can substitute pumpkin puree with mashed bananas! Make sure to use the same amount cup for cup.
Egg whites – This recipe calls for 8 egg whites, but you can use whole eggs instead. Use 4 whole eggs (yolk and egg) instead of 8 egg whites.
What type of protein powder to use
There are a lot of options on the market when it comes to protein powder, and it can be overwhelming at first. Here are some tips to choosing a clean protein powder:
Choose a whey protein that has the fewest ingredients possible, and make sure that the first ingredient listed is protein.
Select a powder that has at least 25 grams of protein or more per serving. Most should have about 30g of protein.
Make sure the protein powder does not have artificial sweeteners or added sugar.
On the label, you'll either see protein isolate or protein concentrate. Choose the protein isolate – this means that it contains more than 90% protein.
Here is the protein powder I use if you're looking for a clean one. I typically buy it at Costco but you can order it online too!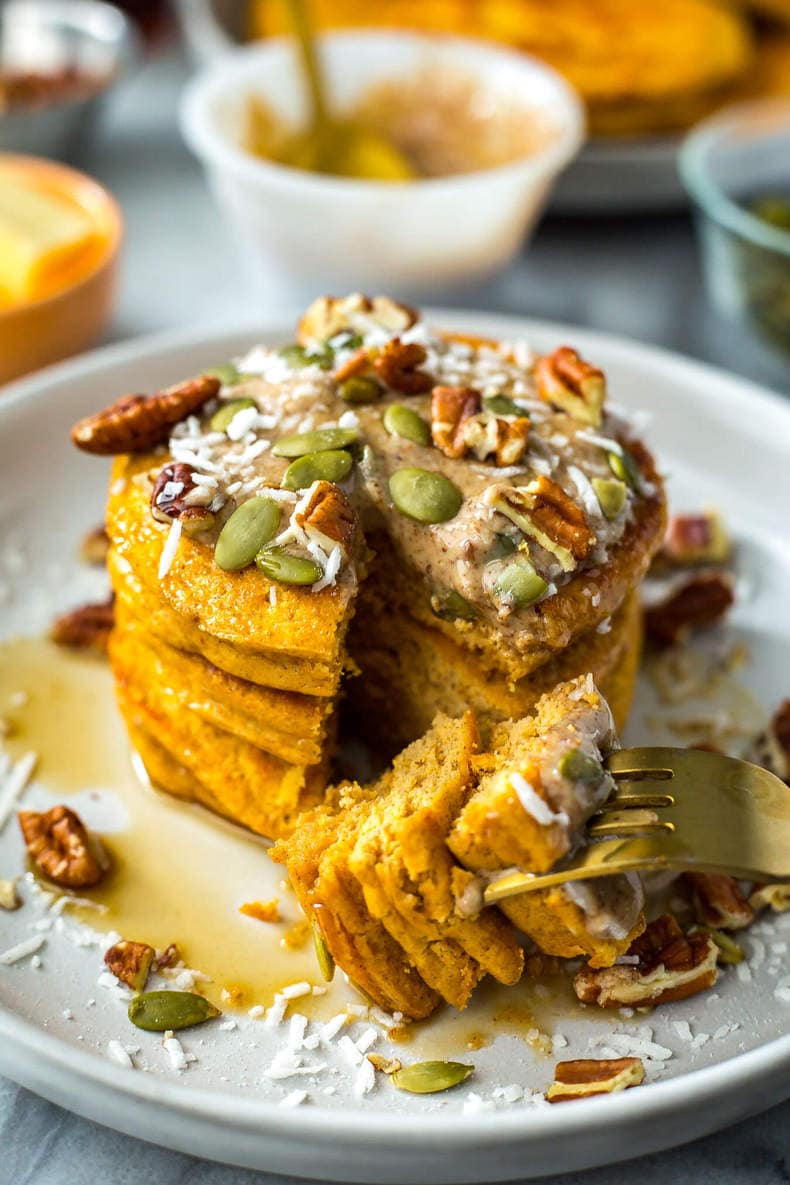 Pumpkin pancake topping ideas
And of course because no pancake is ever complete without an obnoxious amount of toppings, I've loaded these up with shredded coconut, chopped pecans and pumpkin seeds then drizzled 'em with maple syrup and almond butter.
The toppings are of course optional but that's what makes these 5-Ingredient Pumpkin Protein Pancakes so fun: you can literally dress them up with whatever you happen to have on hand. My personal favourite is almond butter and it adds some more healthy fat and sweetness to them, but maple syrup is also great in a pinch.
Here are some more ideas of what to add:
shredded coconut
almond, peanut or cashew butter
pumpkin seeds
chopped walnuts
pecans
maple syrup
whipped cream
sunflower seeds
chia seeds
hemp hearts
Storing and reheating
Because there are only 5 ingredients in these Pumpkin Protein Pancakes, you can rest assured that weekend meal prep will barely take any time at all. Mix together some whey protein, egg whites, pumpkin puree, pumpkin spice and baking powder – THAT'S IT!
From there, you can store the leftover pancakes in glass containers or a freezer Ziploc bag. They'll last for 7 days as leftovers in the fridge, and you can reheat them for 1-2 minutes in the microwave or 1 minute in the toaster (this will crisp them up more and make them taste fresher).
Freezing protein pancakes
The bonus of freezer-friendly breakfasts is that everything is ready ahead of time and it gives you that much more time to get ready in the morning. And you bet these pancakes can be frozen!
To freeze, make sure they are closer to room temperature then store them flat in a freezer bag. They'll last 2-3 months that way. To reheat, throw them in the toaster for 1-2 minutes. You can also reheat them in the microwave for 2-3 minutes.
Use up leftover pumpkin puree
This recipe uses 1 cup of pumpkin puree, so you'll be left with some extra. Use up the leftovers within a couple weeks – store the leftovers in a glass container in the refrigerator or even with some plastic wrap on top of the can.
Here are some ideas to use up the rest of the puree:
Cakes, cookies, pies, bars and other baked goods
Muffins, waffles, scones and other breakfast items
Pumpkin spice coffee drinks
Savoury dishes such as pasta, curries, soups, etc.
You can also freeze leftover pumpkin puree for up to 3 months. This way you can use it in the future!
More pumpkin recipes
Here are some more recipe ideas if you're looking for more ways to use up that canned pumpkin!
Meal prep tools for this recipe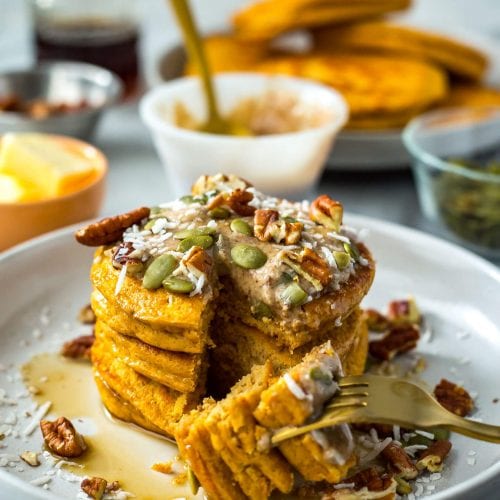 5-Ingredient Pumpkin Protein Pancakes
These Freezer-Friendly 5-Ingredient Pumpkin Protein Pancakes are a healthy, delicious breakfast idea that can be reheated in the toaster.
Print
Pin
Rate
Ingredients
2

tbsp

butter, for frying

8

egg whites

1

cup

pumpkin puree

2

cups

vanilla protein powder (I used whey protein)

1

tsp

pumpkin spice (or a mix of cinnamon, nutmeg and ginger)

1

tsp

baking powder
Topping ideas
Shredded coconut

almond butter

pumpkin seeds

Chopped walnuts or pecans

maple syrup
Instructions
In a large bowl, mix all ingredients for pancakes together until just combined.

Heat butter in a large frying pan over medium heat. Add a small spoonful of pancake mixture to test, making sure skillet is hot enough to add pancake batter. Once bottom of tester pancake starts to form, flip and then remove from heat.

Add pancake batter by large ladle scoop, cooking four pancakes at a time and flipping once a bottom starts to form, about 5 minutes.

Freeze pancakes up to 2 months, reheating in microwave on high for 1 1/2 to 2 minutes or reheating in the toaster. Top with optional toppings and serve!
Video
Nutrition
Serving:
2
pancakes
|
Calories:
156
kcal
|
Carbohydrates:
9
g
|
Protein:
21
g
|
Fat:
5
g
|
Saturated Fat:
3
g
|
Cholesterol:
63
mg
|
Sodium:
146
mg
|
Potassium:
286
mg
|
Fiber:
1
g
|
Sugar:
3
g
|
Vitamin A:
4855
IU
|
Vitamin C:
1
mg
|
Calcium:
176
mg
|
Iron:
1
mg
*nutritional info is for 2 pancakes, toppings not included