Pumpkin Spice Lattes with Real Pumpkin Puree
These Pumpkin Spice Lattes are just like the Starbucks drink – this version is made with real pumpkin puree and less sugar. The pumpkin spice blend lasts up to 3 months too!  Jump to Recipe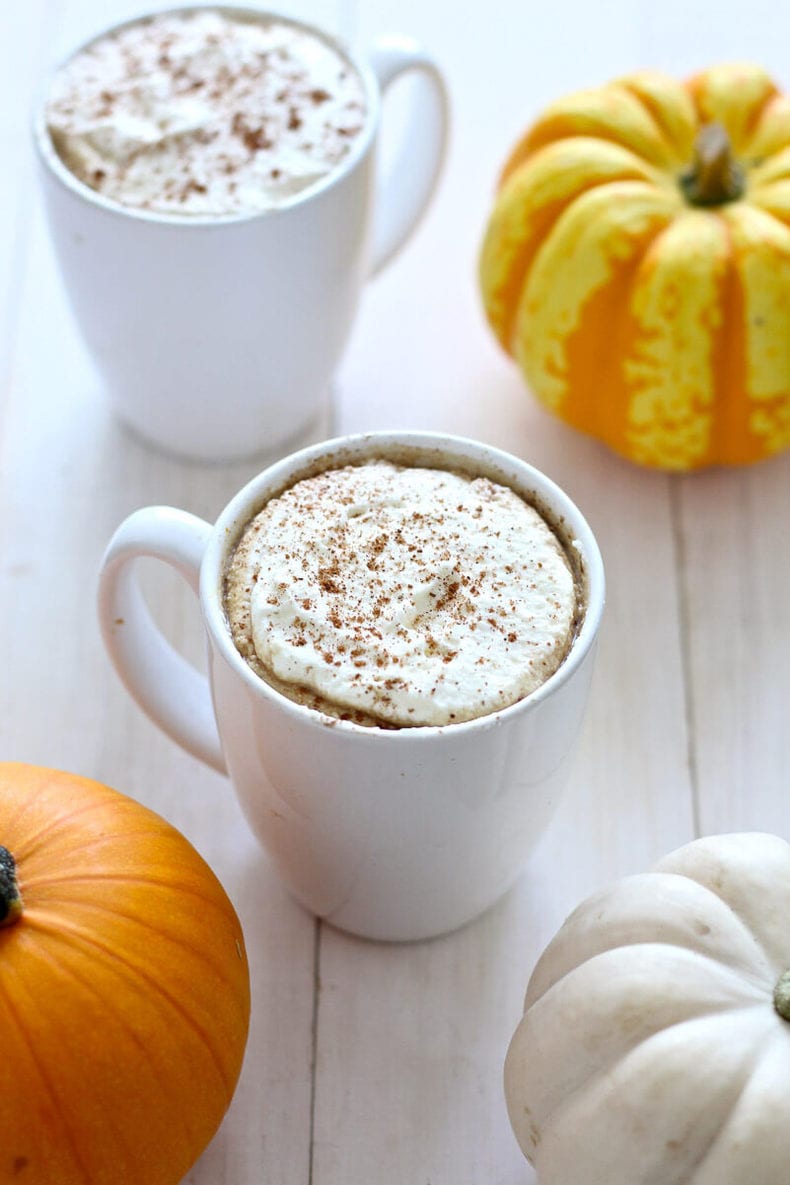 What is in a Starbucks pumpkin spice latte?
The key to getting the perfect Pumpkin Spice taste is to use pure pumpkin puree (not pumpkin pie filling!) and use the right blend of spices. Some may recommend using a nutmeg, cinnamon, all-spice and cardamom, but I substituted the allspice for a bit of dried ginger. It adds a bit of a kick and saves money in the end. Here's everything you need to make a homemade PSL:
espresso
pumpkin puree
homemade pumpkin spice blend
homemade simple syrup
milk
Whipped cream (optional)
How to make a pumpkin spice latte
It's SO easy to make a pumpkin spice latte at home. Here are the exact steps below:
Make simple syrup and pumpkin spice blend ahead of time – you can do this up to 2 months in advance.
Brew espresso shots.
Mix simple syrup, pumpkin puree and pumpkin spice mix into coffee.
Froth your milk – you can do this either by shaking a mason jar, or using a milk frother. Pour milk into coffee mixture.
Top with whipped cream (optional) and a sprinkle of pumpkin spice mix on top!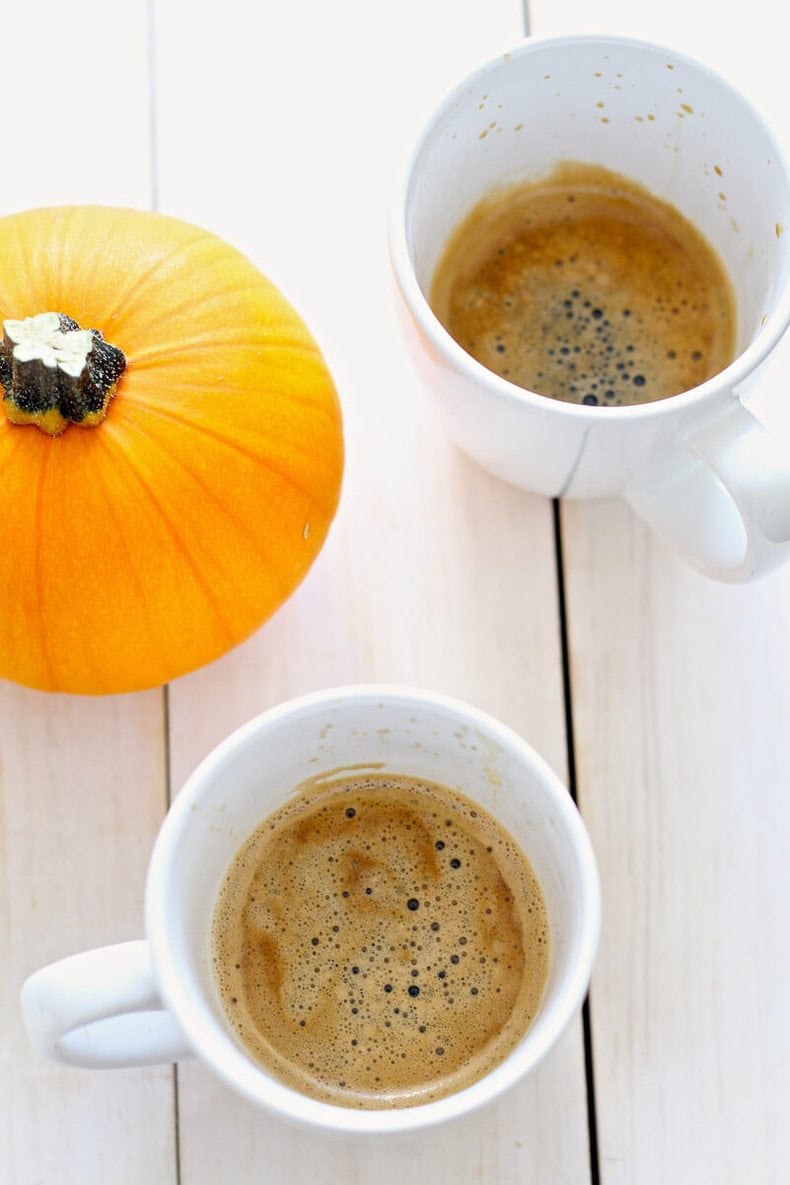 How does this drink compare to Starbucks?
If you take a look at the Starbucks pumpkin spice latte, you'll see that it uses pumpkin spice, 2 shots espresso, 2% milk and pumpkin sauce, which is a blend of vanilla syrup, pumpkin puree, sugar, salt and condensed milk. You could try to replicate this pumpkin sauce at home, but it would require a host of complicated ingredients and extra time to boil everything in a saucepan on the stove.
In this homemade pumpkin spice latte, you blend pumpkin puree, vanilla syrup, pumpkin spice, milk and espresso to get an uncomplicated copycat recipe, and you can barely tell the difference! Say hello to your own pumpkin spice latte in the comfort of your own home, and you don't need to spend $6 on a single drink!
Homemade pumpkin spice lattes are not only cheaper, but way less in calories. My version is just 156 calories per drink as opposed to the 380 calorie drink that Starbucks serves.
What type of coffee?
I like my coffee strong, so using espresso is key here – not to mention the fact that true lattes use espresso and not coffee itself anyway. That's not to say you can't use regular brewed coffee, but the drink will taste a little bit watered down unless you use espresso.
I don't have a fancy or expensive coffee maker, but my Tassimo machine and Nabob espresso disks do the trick. My parents gave me this old machine that they don't use anymore and though coffee snobs may stick their noses up at it, I find that it's quick and easy to use, and gives you some coffee in a hurry! I've since graduated to a Nespresso espresso machine, but the taste is very similar.
One day I will have a truly fancy espresso maker and I'll enjoy better-than-Starbucks coffee from home. One day…
If you're looking for a great tasting espresso blend, I prefer Lavazza. Otherwise, just use the espresso disks or pods that come with whatever machine you have on hand at home.
What type of milk to use
I use 2% milk in this recipe but you can also use whole milk for a richer latte, or skim milk to save on some calories. If you're looking to make this drink dairy-free, you can use almond milk, coconut milk or soy milk as alternatives. If possible, I do highly recommend the 2% milk because you will be adding calories regardless of the milk you use, and 2% milk will ensure that creamy latte taste you're looking for.
Frothing the milk
Frothing warm milk is tricky, but The Kitchn's tutorial helped me out here. All you have to do is use 2% milk and shake it in a jar to produce some froth, then take the lid off and microwave it for a few seconds.
Milk frothers are also relatively affordable, and are a worthwhile investment if you're looking to enjoy more lattes at home! You can order a cheap one off Amazon.
Making the simple syrup
The simple syrup is so easy to make and you'll have lots on hand for future drinks as well! Here's how to make it:
Add 1 part boiling water to 1 part sugar (I usually do 1 cup to 1 cup, but you can also do 1/2 cup to 1/2 cup) in a mason jar.
Add 1 tbsp vanilla extract.
Mix together and store in the fridge up to 2 months!
Storing components of the drink for later
I usually make the simple syrup and pumpkin spice blend far in advance so that it's easy to add some when the time comes to make your pumpkin spice latte. You can store both components in your kitchen up to 2-3 months, so you can enjoy your homemade PSL for the whole fall season!
You can also store leftover pumpkin puree in a tupperware container. It will last up to 2 weeks in the fridge, so no need to worry about wasting it!
More festive coffee recipes
Meal prep tools for this recipe
Order a milk frother for authentic latte foam
I use 16oz mason jars as storage containers for the simple syrup, and to froth the milk
I use smaller 4oz jars for storing homemade spice mixes (and just regular spices) such as the pumpkin spice blend
Meal prep challenge
If you'd like some more help with meal planning, then you'll love my free 5-day meal prep challenge! It's basically a free course that will teach you how to meal prep and cook healthy meals at home with some PDF bonus materials. Sign up for free below: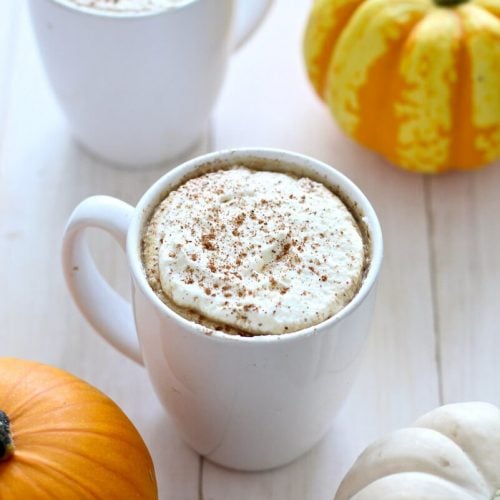 Print Recipe
Pumpkin Spice Latte with Real Pumpkin Puree
These Pumpkin Spice Lattes are just like the Starbucks drink - this version is made with real pumpkin puree and less sugar. The pumpkin spice blend lasts up to 3 months too!
Ingredients
2

espresso shots

1

tbsp

pumpkin puree

1

tsp

pumpkin spice

recipe as follows

1

tbsp

simple syrup

recipe as follows

3/4

cup

2% or whole milk

Whipped cream to taste

optional
Pumpkin Spice Mix
2

tbsp

cinnamon

1

tbsp

nutmeg

1

tbsp

dried ginger
Simple syrup
1

cup

water

1

cup

sugar

1

tbsp

vanilla
Instructions
Brew espresso shots in whatever coffee maker you have on hand.

While coffee is hot, mix in simple syrup, pumpkin puree and pumpkin spice mix.

In a mason jar or beverage container with waterproof lid, shake milk until frothy. You can also use a milk frother. Remove lid and microwave for 30 seconds. Pour milk into coffee mixture.

Enjoy with whipped cream (optional) and a sprinkle of Pumpkin Spice Mix on top!
Simple syrup
Add one cup boiling water and 1 cup sugar to a mason jar, stirring well. Stir in vanilla, then let cool to room temperature. Store in the fridge up to 2 months for future drinks.
Pumpkin spice mix
Mix all ingredients together in a small mason jar or Ziploc bag. Store up to 3 months in your pantry.
Nutrition
Calories:
153
kcal
|
Carbohydrates:
26
g
|
Protein:
6
g
|
Fat:
4
g
|
Saturated Fat:
2
g
|
Cholesterol:
14
mg
|
Sodium:
97
mg
|
Potassium:
248
mg
|
Fiber:
1
g
|
Sugar:
24
g
|
Vitamin A:
2515
IU
|
Calcium:
224
mg
|
Iron:
1
mg
*Nutritional info is for 1 drink using 2% milk and no whipped cream