These Starbucks Pumpkin Spice Frappuccinos are a tasty spin on a fall fave – they're perfect for iced coffee lovers with way less calories!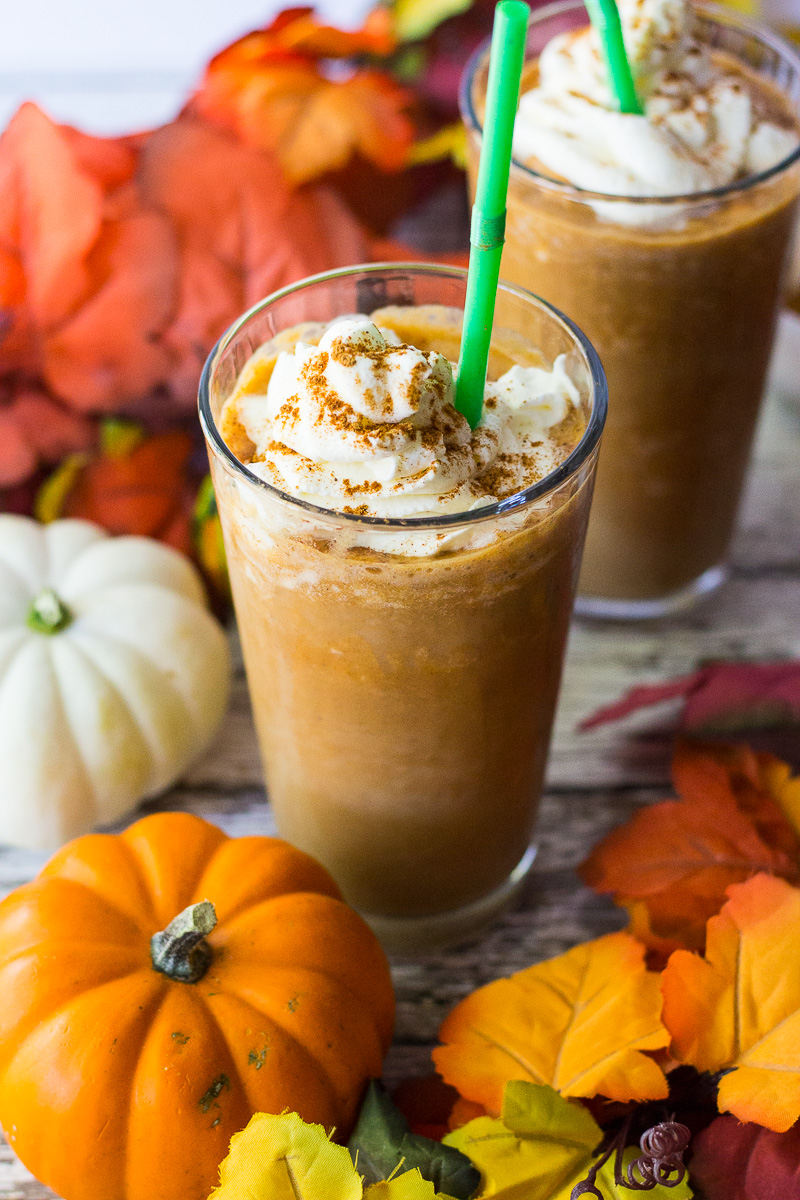 Ingredients and substitutions
Espresso shots – you can use a fancy espresso maker or a pod coffee machine, just make sure to brew the espresso shot.
Milk – use any dairy or dairy-free milk of your choice. Skim milk is a good choice if you want to cut down on calories.
Pumpkin puree – mashed bananas can be used instead, but your drink won't have that strong pumpkin flavour.
Whipped cream – leave this off if you're trying to cut down on calories.
Simple syrup
Sugar – or any cup-for-cup sugar substitute of your choice.
Pumpkin spice mix
Cinnamon – double up on the nutmeg if you don't have any cinnamon.
Nutmeg – use more cinnamon or even mace.
Ginger – add in some more allspice instead.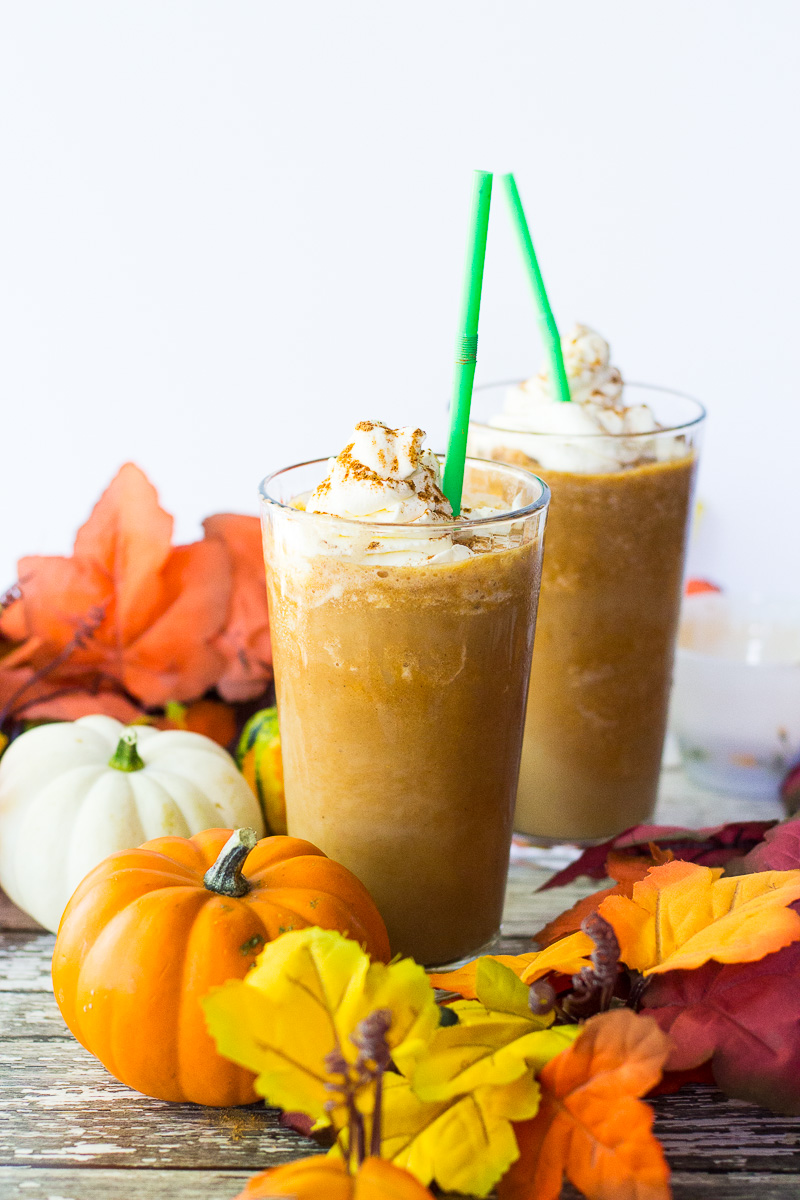 Skip the Ads and Get Right to the Recipes!
ZERO ADS on over 600 recipes!
Weekly Meal Plans, Grocery & Prep Lists
Bonus eBooks
How to make a pumpkin spice frappuccino
Make the simple syrup.
Add everything to a blender.
Blend until smooth.
Garnish with whipped cream and the spice mix and enjoy!
Making a dairy-free frappuccino
With just a few small changes, this drink can easily be made vegan or dairy-free!
I use dairy milk and whipping cream for the pumpkin spice frappuccinos, but they can easily be switched for non-dairy milk and whipped cream. Coconut milk is a great option because it is thicker and more creamy than dairy milk, and you can even find coconut whipped cream in many grocery stores these days!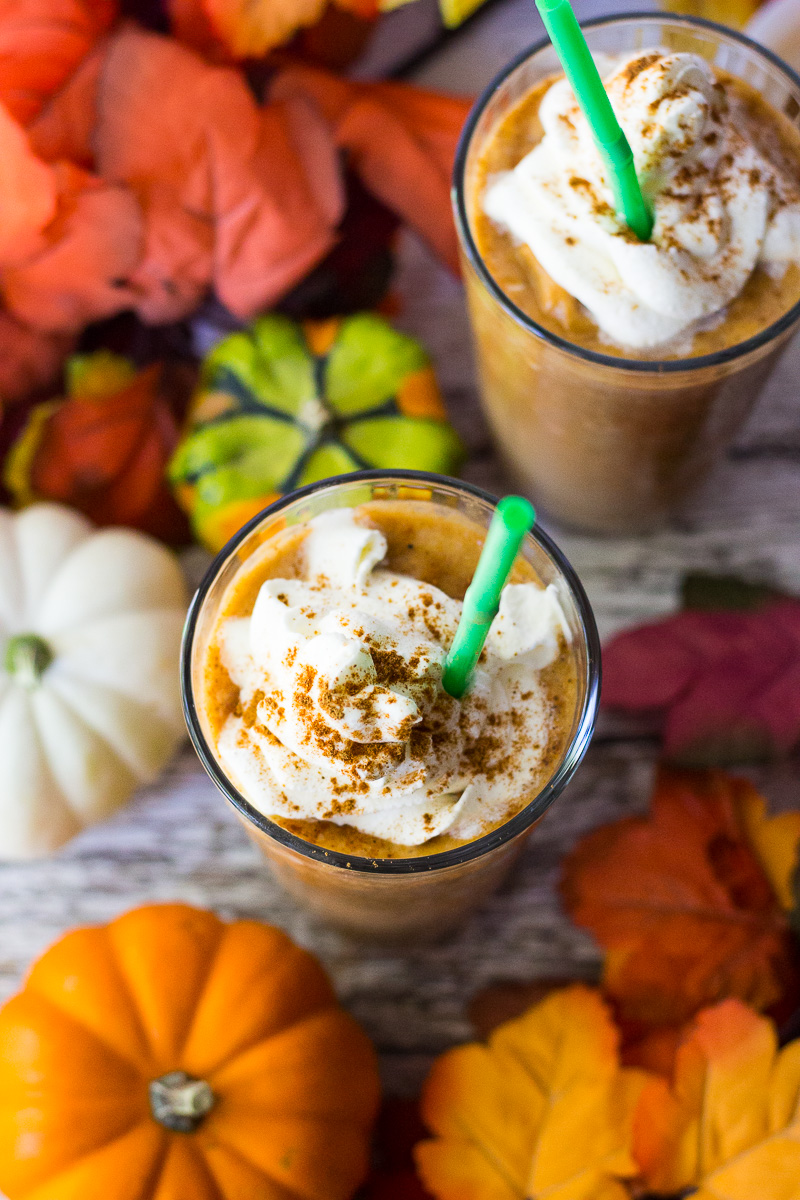 Frequently Asked Questions
What is in a Starbucks pumpkin spice frappuccino?
To make this pumpkin spice frappuccino, you'll need espresso shots, simple syrup, milk, pumpkin puree, pumpkin spice mix (made using a simple blend of spices you probably already have on hand), ice and whipped cream. It's surprisingly easy to make at home and you'll save money and calories!
Does this drink have coffee in it?
Yes, it does. Just like the pumpkin spice frappuccino at Starbucks, each drink has two shots of espresso. The total caffeine content will vary based on what kind of espresso mix you use. If you don't want it to be too strong, feel free to use just one shot of espresso per drink instead of two.
How many calories are in this recipe vs. Starbucks' version?
Starbucks' pumpkin spice frappuccino has a whopping 420 calories per serving for a Grande (16 oz.) size, whereas mine only has 227 calories per serving, so you're saving a significant amount of calories by making this drink at home.
Storing components for future frappuccinos
I make the simple syrup and pumpkin spice blend in advance so that it's easy to make a frappuccino in no time! You can store both the simple syrup and the pumpkin spice blend for 2 to 3 months. You can also store leftover pumpkin puree in a glass container up to 2 weeks so that you can enjoy multiple frappuccinos!
I don't recommend making these drinks in bulk because they will become watered down – they are best to enjoy right away.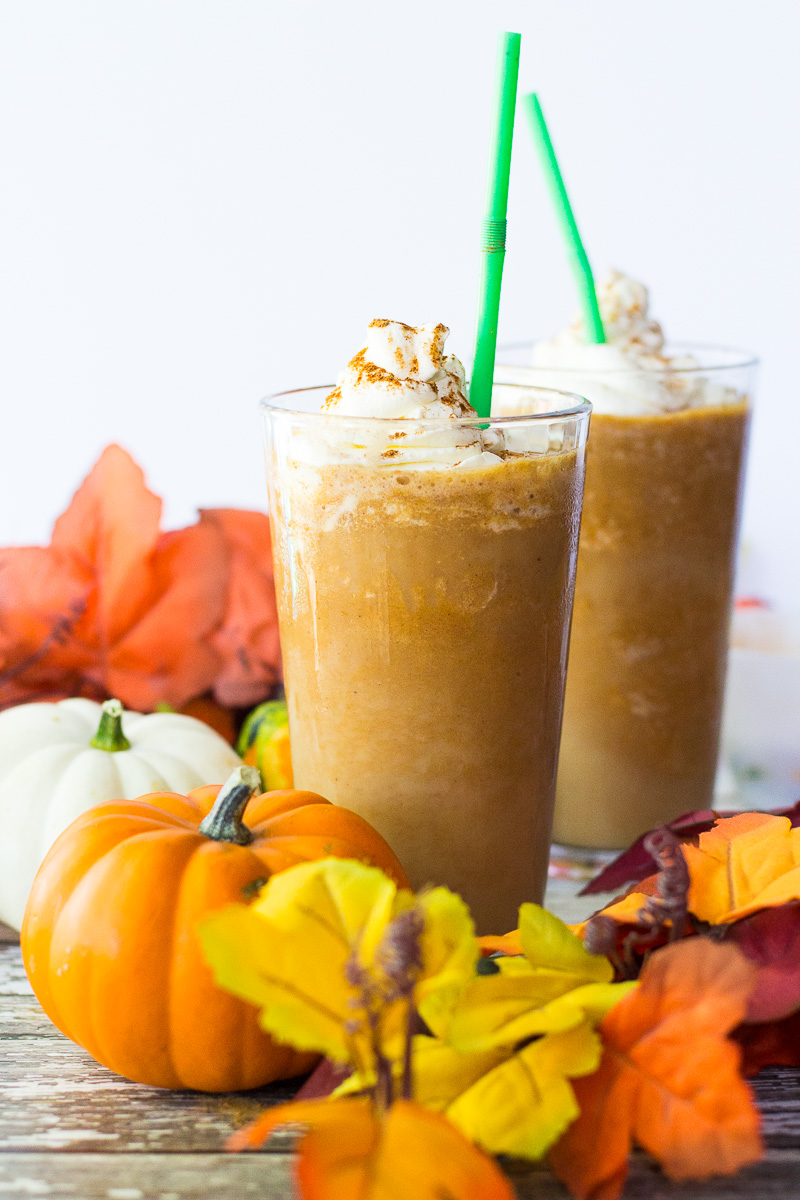 Wanna Learn How To Meal Prep?
My meal planning service, Dinner Prep Pro, removes the guesswork and helps you get dinner on the table in 15-20 minutes each night. My meal prep checklists only take 1 hour each week!
More pumpkin spice recipes
Meal prep tools for this recipe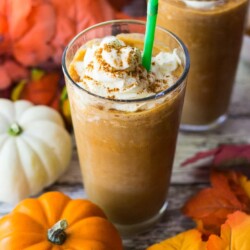 Starbucks Pumpkin Spice Frappuccinos
These Starbucks Pumpkin Spice Frappuccinos are a tasty spin on a fall fave – they're perfect for iced coffee lovers with way less calories!
Print
Pin
Rate
Click Here to Remove Ads
Servings: 2 drinks
Calories: 227kcal
Ingredients
4 espresso shots
1/3 cup simple syrup more or less depending on how sweet you like things
1 cup 2% milk 1% or skim if you want a low-fat version)
1/4 cup pumpkin puree
2 tsp pumpkin spice mix
12 ice cubes
Whipped cream optional
Pumpkin spice mix for garnish
Simple syrup
1/3 cup boiling water
1/3 cup sugar
Pumpkin Spice Mix
2 tbsp cinnamon
2 tbsp nutmeg
1 tbsp ginger
Instructions
Make simple syrup by boiling water and mixing it with sugar. In a small bowl, mix together the pumpkin spice mix and set aside.

Add espresso, simple syrup, milk, pumpkin puree, pumpkin spice mix and ice to a blender.

Mix together until there are no chunks of ice left.

Add whipped cream (if desired)and garnish with a pinch of pumpkin spice mix. Serve and enjoy right away!
Video
Notes
*Nutritional info is for 1 frappuccino minus the whipped cream – add 25-30 more calories for the whipped cream.
Make this recipe dairy free by swapping out the milk for a non-dairy milk and use coconut whipped cream.
Make the simple syrup and pumpkin spice blend in advance for 2-3 months.
Store any leftover pumpkin puree in the fridge for up to 2 weeks. Use it to make frappuccinos, pumpkin spice protein bars and more!
Nutrition
Calories: 227kcal (11%)Carbohydrates: 50g (17%)Protein: 4g (8%)Fat: 3g (5%)Saturated Fat: 2g (13%)Cholesterol: 9mg (3%)Sodium: 91mg (4%)Potassium: 264mg (8%)Fiber: 1g (4%)Sugar: 48g (53%)Vitamin A: 4887IU (98%)Vitamin C: 1mg (1%)Calcium: 168mg (17%)Iron: 3mg (17%)
Join The Girl on Bloor Premium!
ZERO ADS!
Weekly Meal Prep Checklists
Bonus eBooks