Pumpkin Spice Frappuccinos!
These Pumpkin Spice Frappuccinos are a tasty spin on a fall fave, especially if you love iced coffee – and you won't even need to go to Starbucks!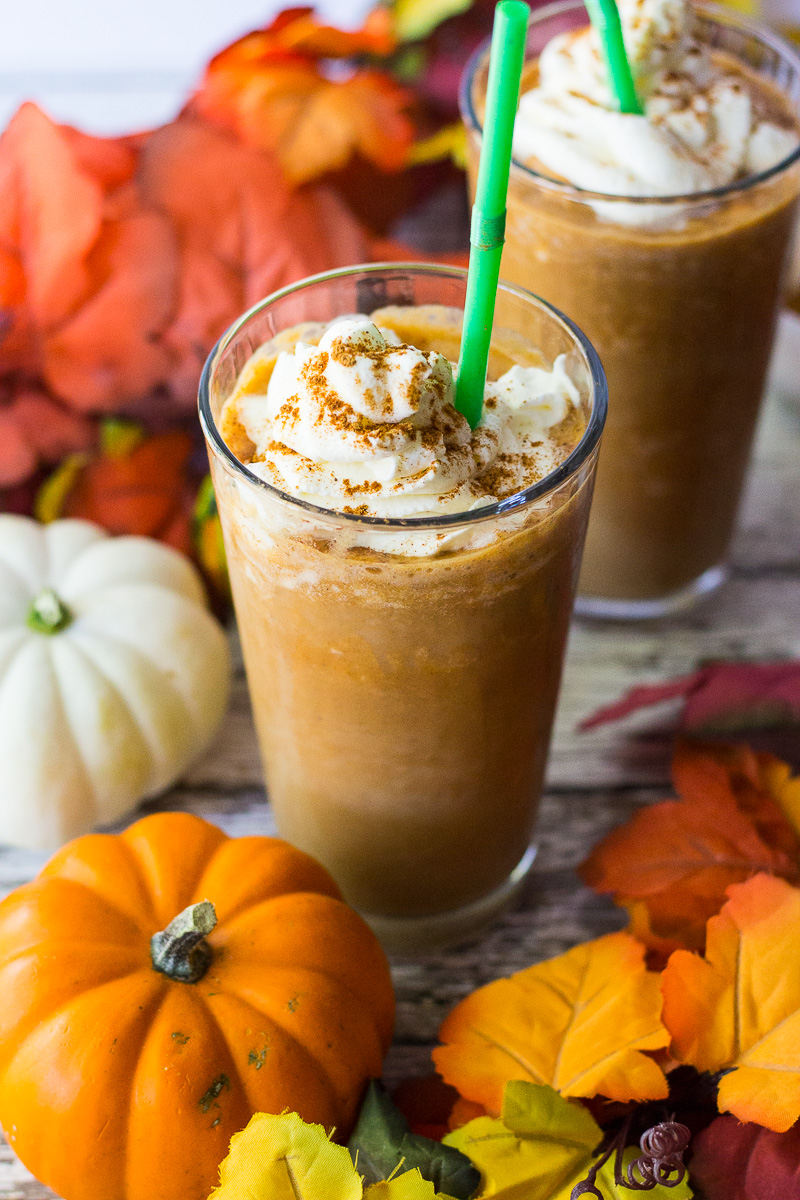 Ahh, the fall season. Not only is it my most absolute favourite (crunchy, colourful leaves and crisp smokey air – yes please!), but it is also home to the ubiquitous Pumpkin Spice Latte.
Well, these Pumpkin Spice Frappuccinos are basically like a Pumpkin Spice Latte on steroids.
Dessert in a glass.
Or your morning coffee, whatever perks your fancy.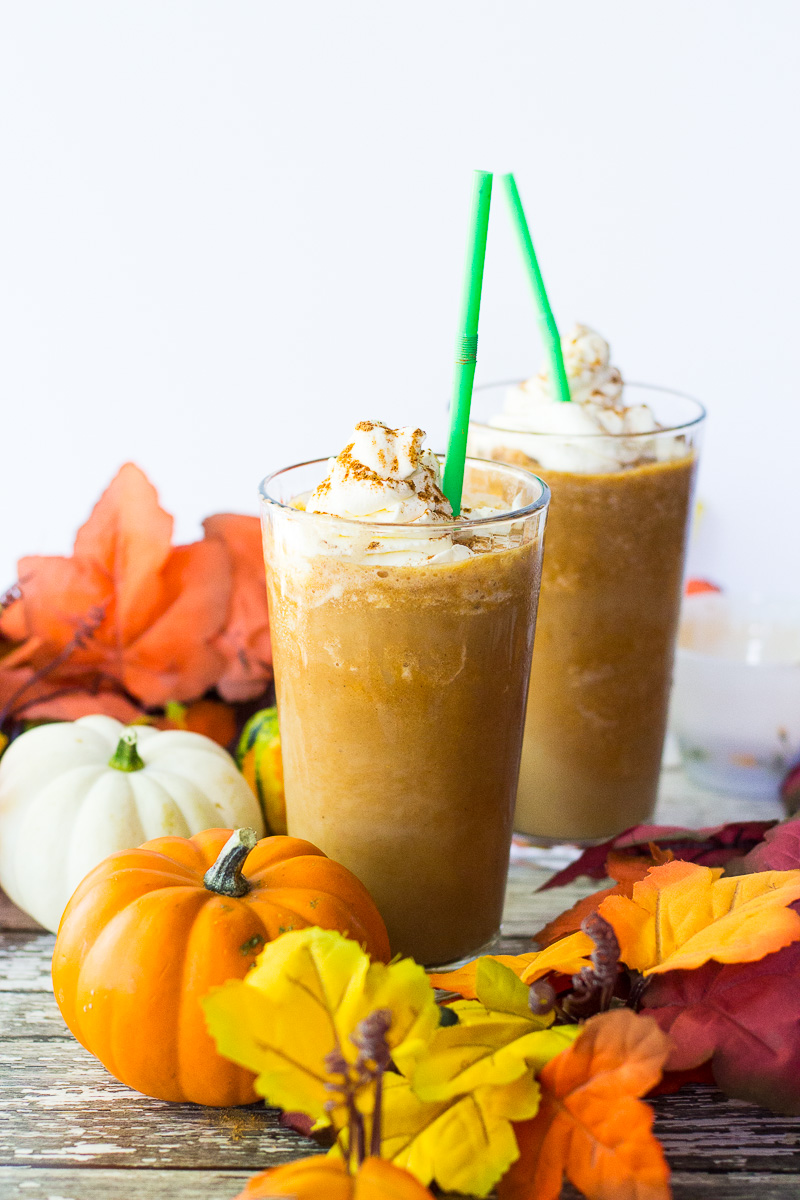 These things are:
Refreshing
Delicious
Easy to make
Inexpensive
And if you know anything at all about my Starbucks obsession, then you know that I need to start making more copy cat recipes at home so I can start saving a little more money. I've got to get these grad school loans paid off sooner rather than later, after all. 😉
I made these Pumpkin Spice Frappuccinos in my Vitamix, and let me tell you, these frapps were completely blended within seconds. This thing powers through everything.
I should mention that while this post is not sponsored by Vitamix, I do have a super cool giveaway that I'm co-hosting with them and 6 other fab Canadian bloggers over on my Brown Butter Butternut Squash Gnocchi recipe post. And there's a video there as well. Not to entice you too much or anything hehe.
Did you know that canned pumpkin is really just other types of squash? Food & Wine recently released an article basically revealing that "pure pumpkin" is really just a variety of other winter squash that tends to be sweeter and better to use in baked goods and other recipes. Who knew!
So I guess technically this is a spiced squash frappuccino…………
Yeah, I'm not the biggest fan of that name LOL.
So, we're going to keep calling canned pumpkin what we all want to believe it is – for now.
I think as I'm getting older I have a more natural aversion to overly sweet things, so that's the other reason I prefer to make my fancy cappuccinos and lattes at home.
Not that you would believe I don't have a sweet tooth given all the delicious desserts I'm making lately, like this Whiskey Caramel Pretzel Apple Crisp, these Mint Chocolate Fudgsicles, these White Chocolate Chip Funfetti Ice Cream Sandwiches or this Deep Dish Smarties Treatzza Pizza!
But ANYWAYS!
Not only do you save a TON of money making frappuccinos at home, but once you have the ingredients on hand, you can make some fancy coffee drinks ALL THE TIME. No driving, no walking, no spending.
Fancying a Salted Iced Coconut Milk Caramel Macchiatto?
No problem, because you've already got it all in your kitchen, you little barista, you!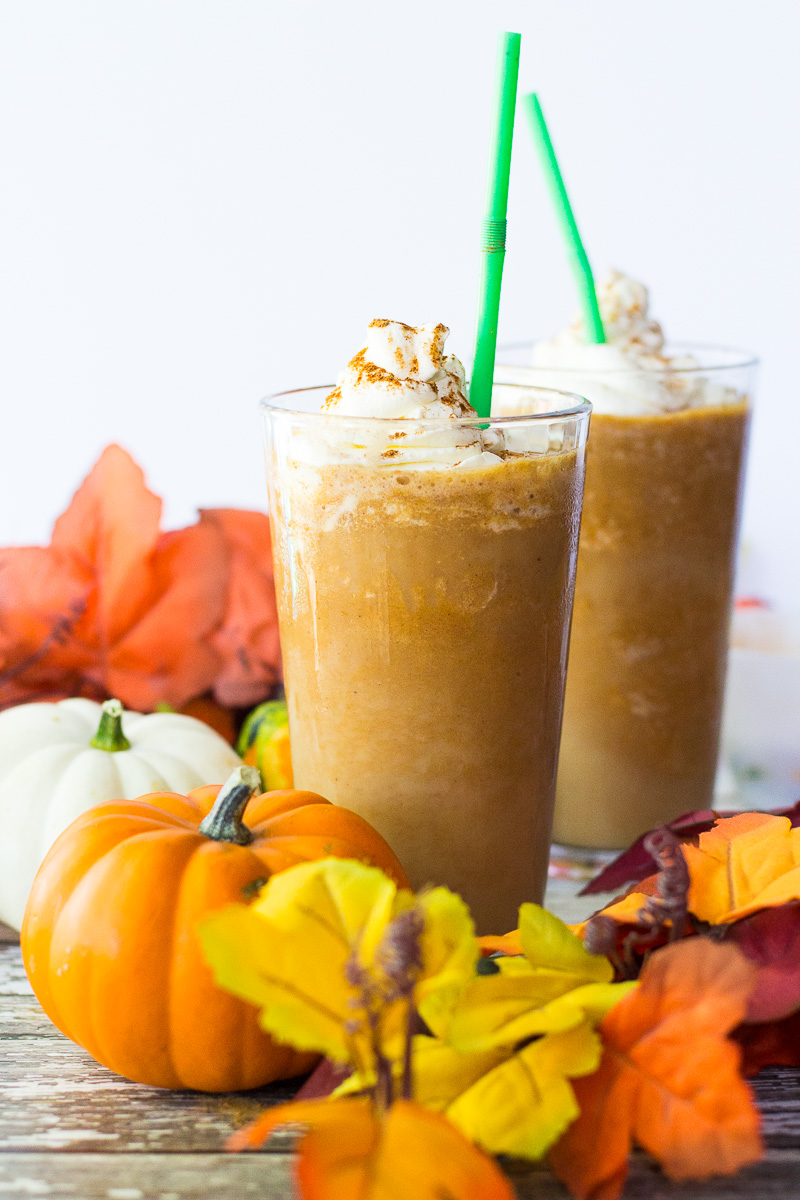 Whatever you wanna call it, just do yourself a favour and get off the computer and start making these Pumpkin Spice Frappuccinos NOW! And remember, if you try any of my recipes, be sure to let me know on Instagram, Twitter or Facebook – I'd love to hear from you!
Print Recipe
Pumpkin Spice Frappuccinos!
Ingredients
4

espresso shots

1/3

cup

simple syrup

more or less depending on how sweet you like things

1

cup

2% milk (whole milk for a creamier frapp

1% or skim if you want a low-fat version)

1/4

cup

+ 1 tbsp pumpkin puree

2

tsp

pumpkin spice mix

12

ice cubes

Whipped cream

Pumpkin spice mix for garnish
Simple syrup
1/3

cup

boiling water

1/3

cup

sugar
Pumpkin Spice Mix
2

tbsp

cinnamon

2

tbsp

nutmeg

1

tbsp

ginger
Instructions
Make simple syrup by boiling water and mixing it with sugar. In a small bowl, mix together the pumpkin spice mix and set aside.

Add espresso, simple syrup, milk, pumpkin puree, pumpkin spice mix and ice to a blender (my favourite obviously is my Vitamix but you can use any blender you want).

Mix together until there are no chunks of ice left.

Add whipped cream and garnish with a pinch of pumpkin spice mix. Serve and enjoy right away!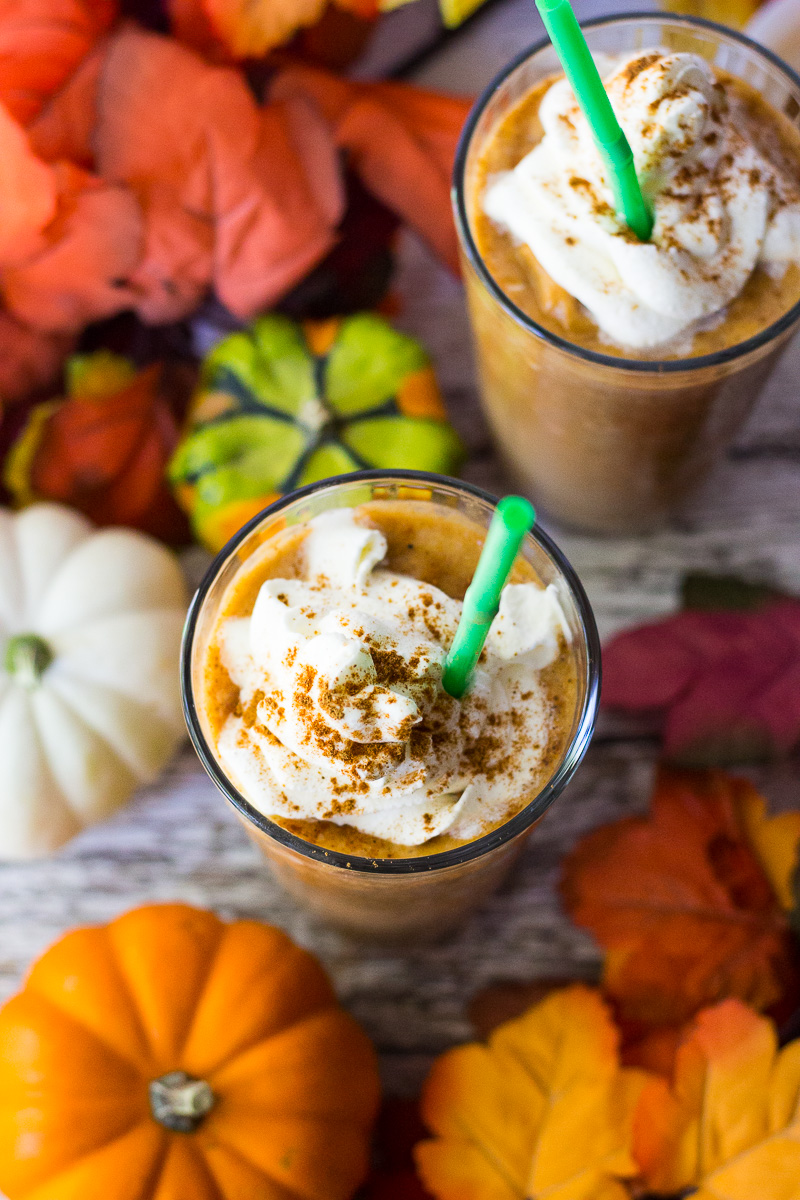 Pumpkin spice for all!