This Thai Pumpkin Curry is made in one pot for an easy fall meal – this spicy dish is flavoured with coconut milk, red curry paste, garlic and ginger.
How to make Thai pumpkin curry
This is a one pot meal, and you'll want to make it constantly because it's so flavourful and easy! Though it's a fan favourite for fall, you can enjoy this recipe all year long!
Just a few simple steps is all that stands between you and this pumpkin curry!
Cook the rice while you're cooking your curry. (I do this in a rice cooker so the process is hands off.)
Cook the squash in a bit of coconut oil.
Add chicken and onion.
Add in the sauce ingredients.
Simmer everything in coconut milk.
Serve over rice and garnish with cilantro.
Skip the Ads and Get Right to the Recipes!
ZERO ADS on over 600 recipes!
Weekly Meal Plans, Grocery & Prep Lists
Bonus eBooks
Ingredients in Thai pumpkin curry
The main ingredients for this dish are chicken and either pumpkin or butternut squash – it's harder to find pumpkin to cook with and they can be harder to peel, so I typically opt for canned pumpkin puree for the sauce and use butternut squash as the main vegetable of choice for the curry.
To make the sauce, you will need:
Onion
Garlic
Ginger
Pumpkin puree
Red curry paste
Turmeric
Coconut milk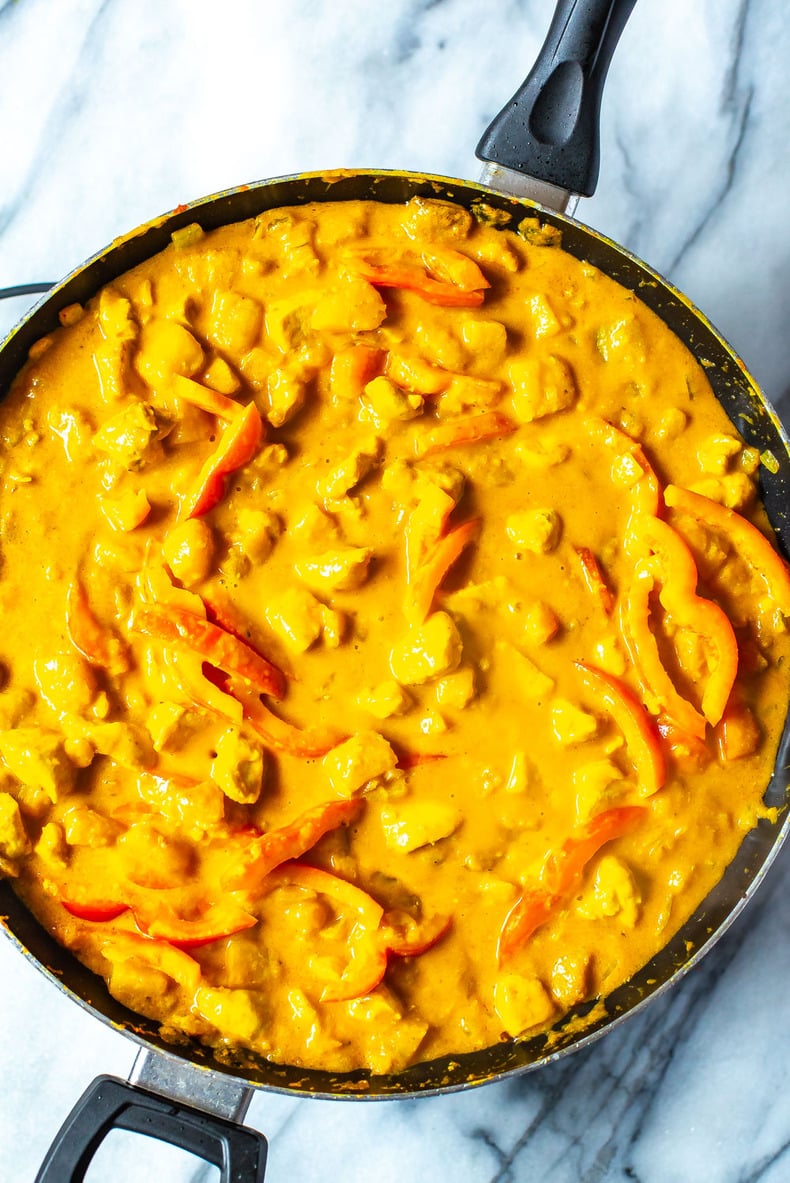 How to choose curry paste
When you are at the store, there are a number of curry pastes to choose from. You can use any of these in this curry but my personal preference is red curry. It's typically the type of curry I order when I go out and it's medium spice level so you still get a bit of a kick without it being too hot.
Green
Green curry paste will be hotter than red curry paste. The green chili paste has a sweeter taste because it has a base of coriander root, which also gives it the green hue. It may throw the colour off in this recipe but it would still taste amazing!
Red
Red curry paste has a less earthy, herbal taste. It contains dried red chilis instead of fresh. This paste is the perfect compliment for meat and vegetables like pumpkin.
Yellow
Yellow curry paste is the most common, and is usually paired with vegetables. It's not very spicy at all and you can even use dried yellow curry powder too, which may make this curry easier to make since you likely have a stocked pantry drawer.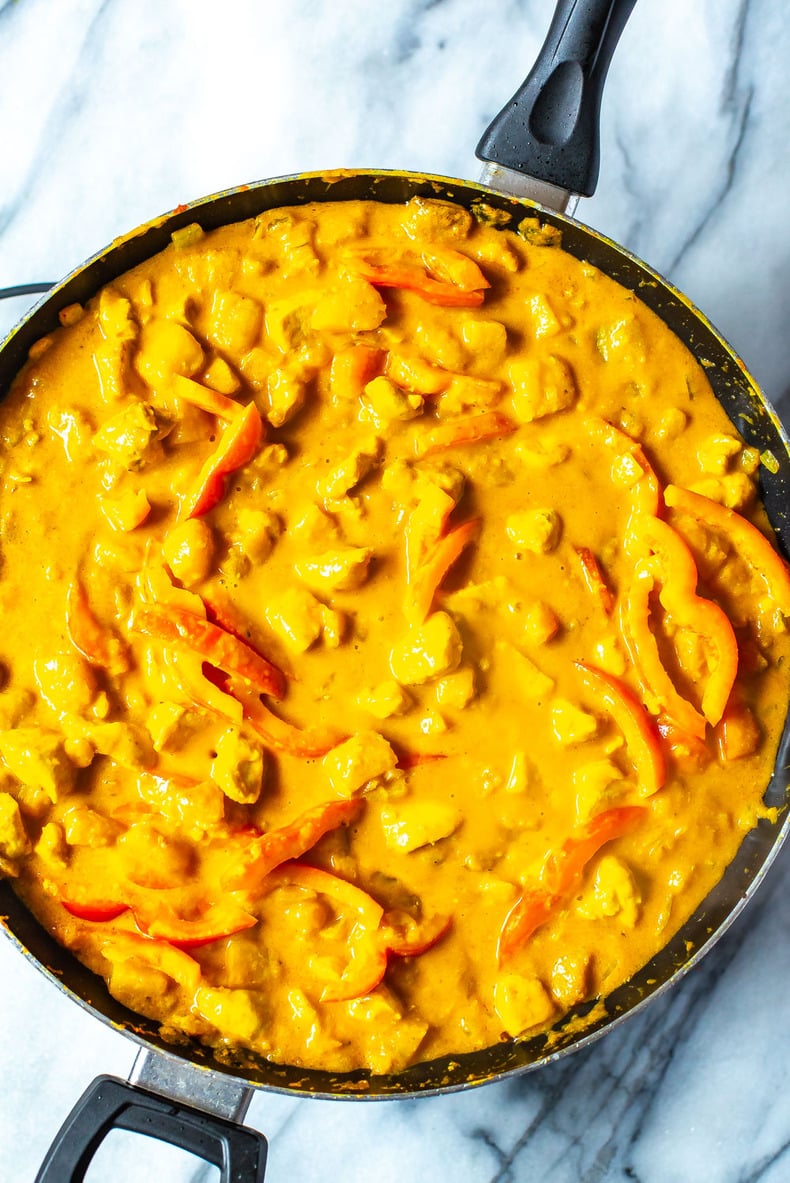 What to do with leftover pumpkin puree
You only need 1/3 cup of pumpkin puree for this recipe. I know it may seem like a waste but the pumpkin adds a bit of sweetness and makes the curry creamier so it is worth adding. If you will be using the leftovers within a week or two, you can store leftover pumpkin puree in a glass container in the refrigerator.
I know personally, I go through a lot of pumpkin puree in the fall because I make things like pumpkin cookies and I stir it into pumpkin spice lattes and my morning oatmeal. There are so many ways you can incorporate it into your daily meals so you'll use it up in no time!
You can also freeze leftover pumpkin puree for up to 3 months. You can freeze it all in one container, or put small portions into ice cube trays. These are great for making smoothies or adding smaller bits of a time to curries like this one!
Can I make this in an Instant Pot or slow cooker?
Yes, you can make this pumpkin curry recipe using your pressure cooker or a slow cooker.
To make this in your Instant Pot:
Use the saute function to cook the onions and sear the chicken.
Dump in all the other ingredients except the red pepper.
Manually set the Instant Pot for 3 minutes on high pressure.
Do a quick release of the pressure.
Stir in the red peppers, then let it sit with the lid on for 5 minutes before serving over rice.
To make pumpkin curry in the slow cooker:
Stir all the sauce ingredients.
Submerge the butternut squash and chicken pieces in the sauce.
Cook on high for 4 hours or low for 6-8 hours.
Add the red pepper in the last 15 minutes of cook time, then serve over rice.
Ingredient substitutions
There are a few things you can alter in this pumpkin curry recipe:
Vegetarian option: For a meatless option, leave the chicken out, or use chickpeas or lentils instead.
Different squash: You can use a winter squash like acorn squash instead of pumpkin or butternut squash.
Curry paste: Use different curry pastes based on your taste preference. Use the brief guide above to help you make a decision.
Vegetables: You could also include additional vegetables. Spinach would add a pop of color. You would just stir this in at the very end, giving it enough time and heat to wilt.
Cooking the rice
There are several methods of cooking the rice to serve with the Instant Pot Thai pumpkin curry.
Rice cooker: Use 1 ¼ cups of water for every cup of rice. Set it and let it work its magic while you make the pumpkin curry.
Instant Pot: For this method, use a 1:1 ratio of water and rice. Jasmine rice takes three to five minutes to cook and most Instant Pot models have a preprogrammed rice option.
Stove top: You can always cook rice on the stove top with no special equipment. Use 1 ½ cups of water for every 1 cup of dry rice. Allow it to simmer until the water is absorbed.
How to meal prep this pumpkin curry
You can easily make this dish ahead, which will save you time on a busy weeknight.
The recipe makes six servings. Trust me on this, you don't want to divide it in four as it's too much food for one serving. You may choose to make a little bit more rice to account for 6 servings but I found 1/6 of the recipe to be very filling as it's a heartier, heavier dish.
After cooking and cooling the curry, divide it into six equal portions. I like to use glass meal prep containers. It's a great way to store it in the refrigerator or freezer, and you can reheat it in the same container.
Storing and reheating Thai pumpkin curry
Thai pumpkin curry keeps well in the refrigerator for up to five days. This means that leftovers can be used for another meal during the week! Sprinkle a bit of water overtop and then microwave for 2-3 minutes. Garnish with fresh cilantro on top and this recipe tastes as good as it does fresh!
You can also freeze the pumpkin curry for up to three months. It is possible to freeze both the curry and the rice, but it is best to do so separately. To reheat, sprinkle some water overtop, then microwave for 6-7 minutes, stirring halfway through.
Wanna Learn How To Meal Prep?
My meal planning service, Dinner Prep Pro, removes the guesswork and helps you get dinner on the table in 15-20 minutes each night. My meal prep checklists only take 1 hour each week!
More pumpkin recipes
Meal prep tools for this recipe
Thai Pumpkin Curry
This Thai Pumpkin Curry is made in one pot for an easy fall meal – this spicy dish is flavoured with coconut milk, red curry paste, garlic and ginger.
Print
Pin
Rate
Click Here to Remove Ads
Servings: 6 servings
Calories: 402kcal
Ingredients
1 tbsp coconut oil
2 cups butternut squash or pumpkin, cut into 1/2 inch cubes
1 lb chicken breasts, diced
1 yellow onion, diced
4 cloves garlic, minced
1 tbsp fresh ginger, minced
1/3 cup pumpkin puree
2 tbsp red curry paste (I use Thai Kitchen brand)
1 tsp turmeric
1 tsp salt
400 mL coconut milk
1 red pepper, chopped
Chopped cilantro
Jasmine rice
1 cup jasmine rice
1 1/4 cups water
1 tsp butter
1 pinch salt
Instructions
Add ingredients for the rice to a rice cooker and start cooking before you cook the curry. It should be finished by the time the rest of the recipe is done.

Add coconut oil to a large skillet over med-high heat. Add squash, cooking for 5 minutes until softened slightly. Add chicken and onion sauteing for 4-5 minutes until chicken is lightly browned. Add garlic, ginger, pumpkin puree, red curry paste, turmeric and salt, stirring to combine.

Add coconut cream and bring to a boil, then simmer for 15 minutes. Stir in red pepper in the last 5 minutes of cook time then serve curry with rice in large bowls, garnishing with cilantro and lime wedges. Enjoy!

Store leftovers up to 5 days in the fridge, and reheat for 2 minutes in the microwave.
Video
Nutrition
Calories: 402kcal (20%)Carbohydrates: 37g (12%)Protein: 21g (42%)Fat: 20g (31%)Saturated Fat: 16g (100%)Cholesterol: 50mg (17%)Sodium: 505mg (22%)Potassium: 732mg (21%)Fiber: 3g (13%)Sugar: 3g (3%)Vitamin A: 8531IU (171%)Vitamin C: 39mg (47%)Calcium: 62mg (6%)Iron: 4mg (22%)
Join The Girl on Bloor Premium!
ZERO ADS!
Weekly Meal Prep Checklists
Bonus eBooks