These 17 Healthy Instant Pot Recipes for Meal Prep are the easiest way to cook during the work week. Dump your ingredients and press start!
Disclosure: This post contains affiliate links – that means I will make a very small commission if you happen to make a purchase through one of my links; this helps me keep my site up and running so I can continue to provide you with free recipes and resources 🙂 There is no additional cost to you!
So, let's talk about the Instant Pot and how amazing it is for meal prep (the Instant Pot DUO Plus 60
 is the version I use by the way). I know you've likely seen all the Instant Pot recipes I've been putting up on the site recently and that's mainly because they are just so easy, and you can make so many spins on your favourites like Pad Thai, Pho soup, pastas, tacos and more. Today I'm bringing you the BEST Instant Pot recipes to make during hectic work weeks – they'll get you through a busy schedule, I promise.
Basically, anything you can make in the slow cooker you can make QUICKLY in the Instant Pot and it's an amazing appliance to have on hand in the kitchen! Whether you're looking to make all your lunches in bulk for the work week, or you're just looking for a dinner you can dump in then set and forget, you're likely to find a few favourites to add to your menu rotation each week.
And in case you're in need of some meal prep tools, here are my staples:
Glass meal prep bowls are perfect for storing your Instant Pot eats after
These Bento box containers are perfect for packing snacks along with your work week lunches
Restock your freezer with grass-fed beef and poultry from Butcher Box – it's always great to have proteins on hand ready to go in the Instant Pot
I've rounded up some of my favourite healthy Instant Pot recipes from around the web – we've got some vegetarian options, a delicious breakfast, mac and cheese, delicious soups, burrito bowls and more to get you started in learning more about pressure cooking and how easy it can make your life!
This round up is also filled with some of the best instant pot chicken recipes so you can dress up those boring, bland chicken breasts and turn them into something amazing. These 17 Healthy Instant Pot Recipes for Meal Prep are bound to get you through the work week and then some!
Instant Pot Cilantro Lime Pulled Chicken Tacos via The Girl on Bloor
These Cilantro Lime Pulled Chicken Tacos are an amazing way to meal prep for the week ahead. You cook the chicken whole with some seasonings, shred it all up and then you can use it for tacos, salads, rice bowls, enchiladas or pretty much any way you can imagine! And it's freezer-friendly too, so you can enjoy for weeks to come!
Quinoa Fried Rice by Life Made Sweeter
This Quinoa Fried Rice is such a unique way to enjoy your favourite superfood, and another great meal prep option. Cook a bunch of this ahead of time and customize it to include your fave veggies and proteins too. You'll have work week lunches ready in a flash!
Cinnamon Crunch Instant Pot Grain Free Oatmeal by What Great Grandma Ate
Steel cut oats cook up fabulously in the Instant Pot, and they're a great breakfast meal prep option. Divide it all into separate containers and store in the fridge, then grab one on your way out the door in the morning. Grab and go breakfasts don't get any easier, and there's very little clean up too!
Instant Pot Zucchini Noodle Pho by The Girl on Bloor
Yes, you can meal prep pho! This pho broth is vegetarian, so you can feel free to just add in some chickpeas or tofu after it's finished cooking in the pressure cooker. I keep my pho broth in mason jars once I've made it in the Instant Pot and strained it, and then I'll use the broth all week long or keep it in the freezer for future meals. And it's made all in one pot with very little clean up or cook time. AMAZING!
Instant Pot Pasta with Sausage, Spinach and Tomatoes by Rachel Cooks
You already know I GOT you with this AMAZING looking Instant Pot Pasta recipe! Yes, you can make pasta in the Instant Pot and it is way less messy than the conventional way. You're looking at one pot, a bunch of tasty ingredients and a dinner ready to go in under half an hour. Beats takeout right?
Easy Instant Pot Chicken Tortilla Soup via Seasonal Cravings
The Instant Pot is amazing for making soup – no need to saute in advance or tend to the soup on the stove and check in on it. Just dump everything in, set it and forget it. And such a great way to enjoy a big bowl of comfort food after a long day. Most soups also make good freezer meals too!
20 Minute Instant Pot Chicken Burrito Bowls by The Girl on Bloor
These burrito bowls OMG what do I even say? This is another dump it, set it and forget style recipe where you put in dried rice, raw chicken, taco seasoning, some chicken broth, salsa and diced tomatoes and you've got a set of work week lunches ready in no time. Add some fresh veggies on top and you're good to go!
Instant Pot Spiced Quinoa and Cauliflower Rice Bowls via Yay! For Food
Yes, you can do tofu in the Instant Pot! These curried quinoa bowls jam pack all kinds of superfoods into lunch or dinnertime, and it all mostly comes together with a little help from some pantry staples!
Instant Pot Golden Turmeric Lentil Soup by The Girl on Bloor
This Golden Lentil Soup is an amazing option for cozy nights in where you just don't feel like cooking, and another vegetarian option – all you need are some pantry staples like lentils, and a couple fresh veggies like carrots, celery and spinach.
Spicy Peanut Soup with Sweet Potato and Kale via Pinch of Yum
Peanut butter and curry lovers get ready for this amazing peanut soup! Pinch of Yum is one of my favourite food blogs of all time and they have some killer Instant Pot recipes on their site. If you're looking to cook up some classics like Minestrone Soup or Mac and Cheese, they've got you covered!
Instant Pot Beef and Broccoli via Savory Tooth
Why grab takeout on the way home when you can just make it in your Instant Pot? This beef and broccoli recipe is super simple and comes together in no time in the pressure cooker. It's actually probably even faster than ordering in, and much healthier too!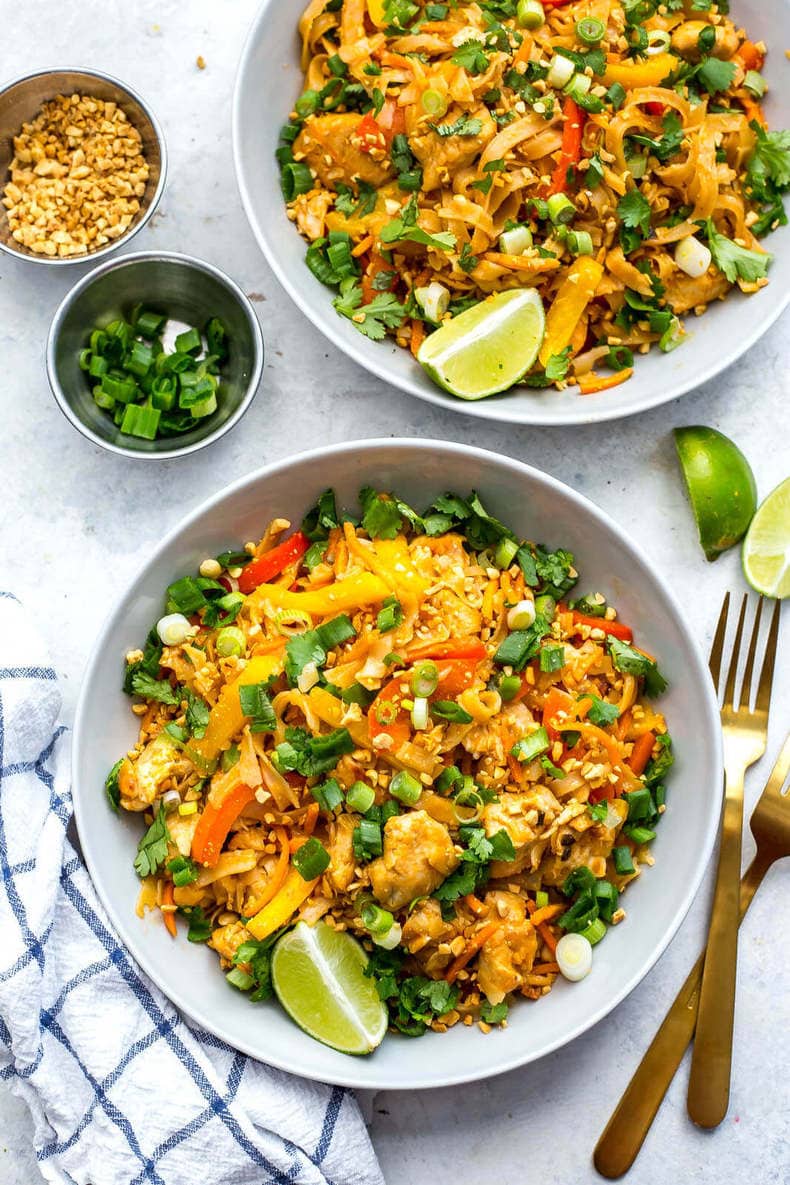 Instant Pot Chicken Pad Thai via The Girl on Bloor
Not feeling the beef and broccoli? Well then get ready for PAD THAI in the Instant Pot! OMG, so much yes! You cook the rice noodles in the Instant Pot along with the chicken and a simple sauce. It doesn't get any easier than this!
Pressure Cooker Sweet Potato, Chickpea & Red Lentil Soup via Super Golden Bakes
This vegetarian soup is high in fibre and the perfect thing to meal prep in your pressure cooker – and you can probably store it in the freezer to enjoy in the future too!
Instant Pot Sweet and Spicy Chicken Recipe via Eat Well 101
Now we all love delicious Instant Pot chicken recipes don't we? This shredded chicken is perfect for your weekly meal prep, and it also works as a freezer meal to boot. Prep some this week!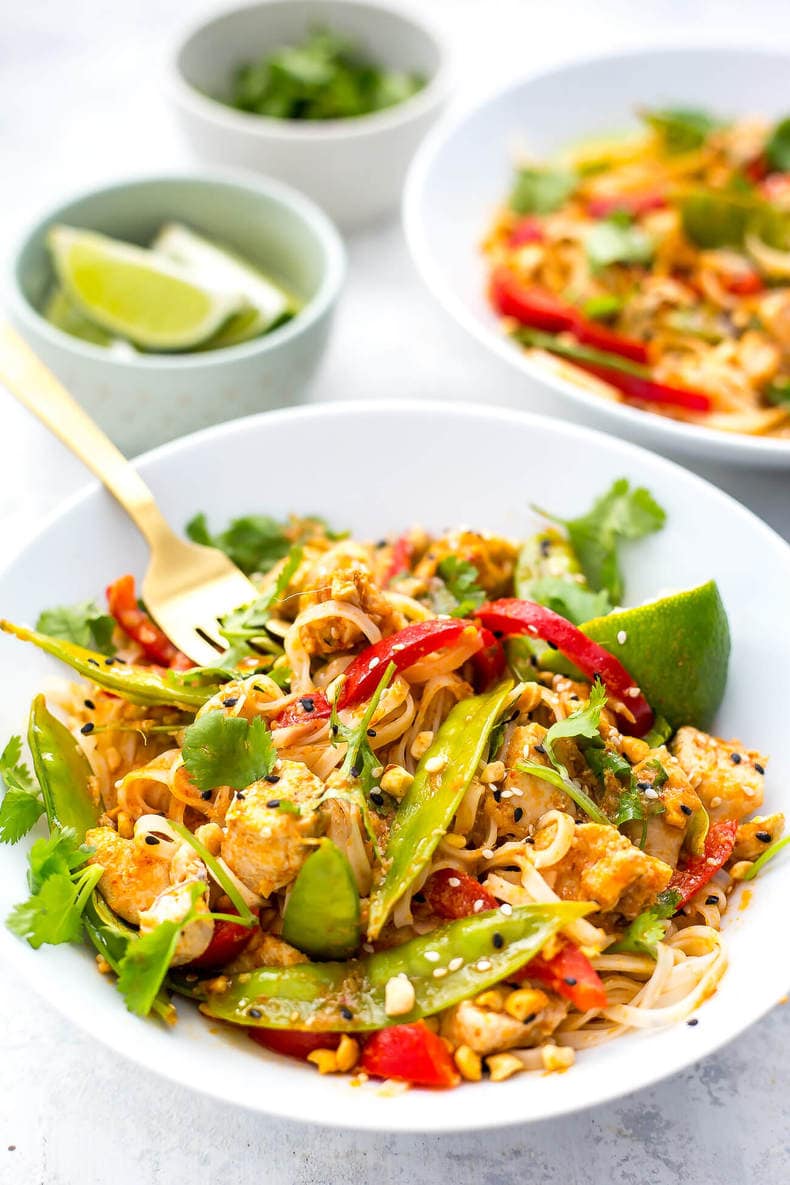 Red Curry Chicken Noodles by The Girl on Bloor
If you loved the idea of Pad Thai, you're going to die over these Red Curry Chicken Noodles! Take coconut milk, red curry paste, chicken and fresh veggies and turn your next curry dish into one that's exploding with flavour and made in the pressure cooker. YUM!
Instant Pot Tortilla Chicken Verde Chili via Cotter Crunch
Now where would we be in this round up without this Instant Pot Chicken Chili?! Satisfy your cravings for Mexican food with this delicious one pot recipe – and it's gluten-free!
Healthy Instant Pot Mac and Cheese via The Girl on Bloor
I've saved the best for last: MAC AND CHEESE!!! Yes, it's sooooo easy to make it in the Instant Pot! This is a white cheddar version with broccoli so you're getting your greens in and enjoying some delish cheese. You have to try it!
Healthy Instant Pot Recipes
These 17 Healthy Instant Pot Recipes for Meal Prep are the easiest way to cook during the work week. Dump your ingredients and press start!
Print
Pin
Rate
Instructions
Follow the instructions of the recipe of choice linked to above.
Nutrition