This Delicious & Healthy Charcuterie Board is a great holiday appetizer idea with low-calorie and protein-packed ingredients.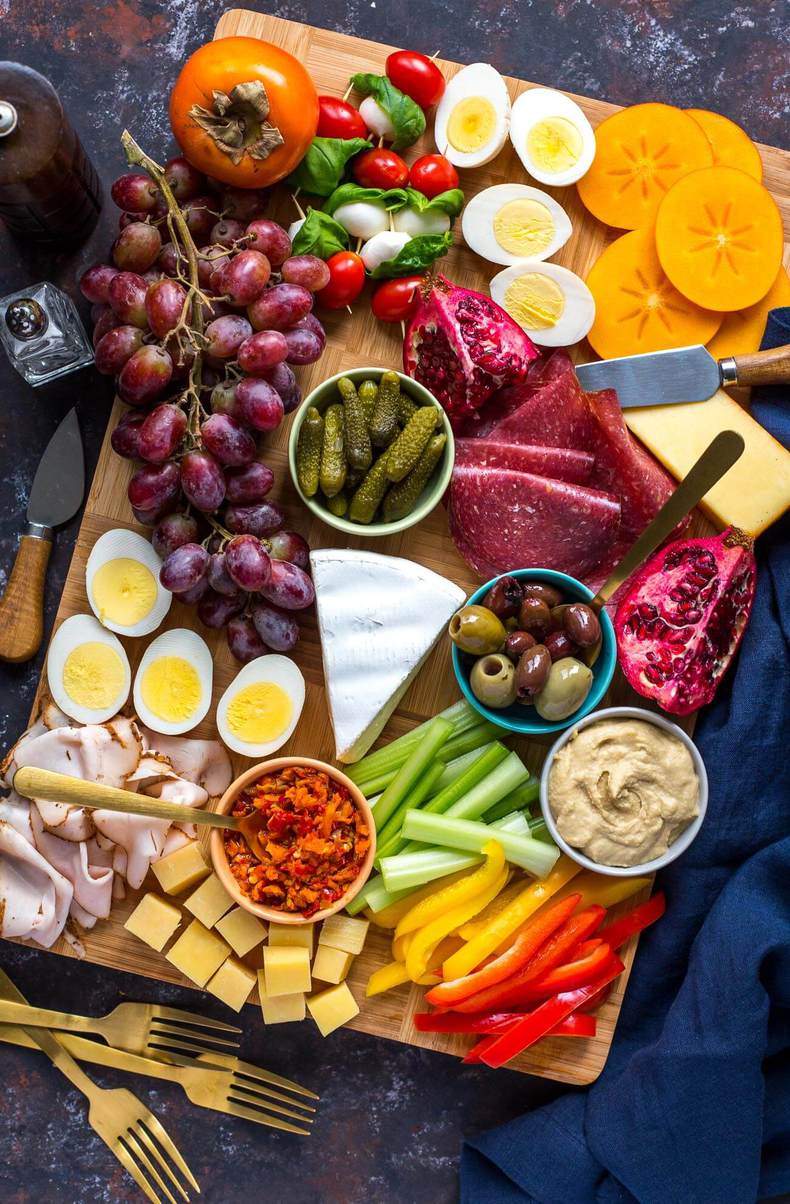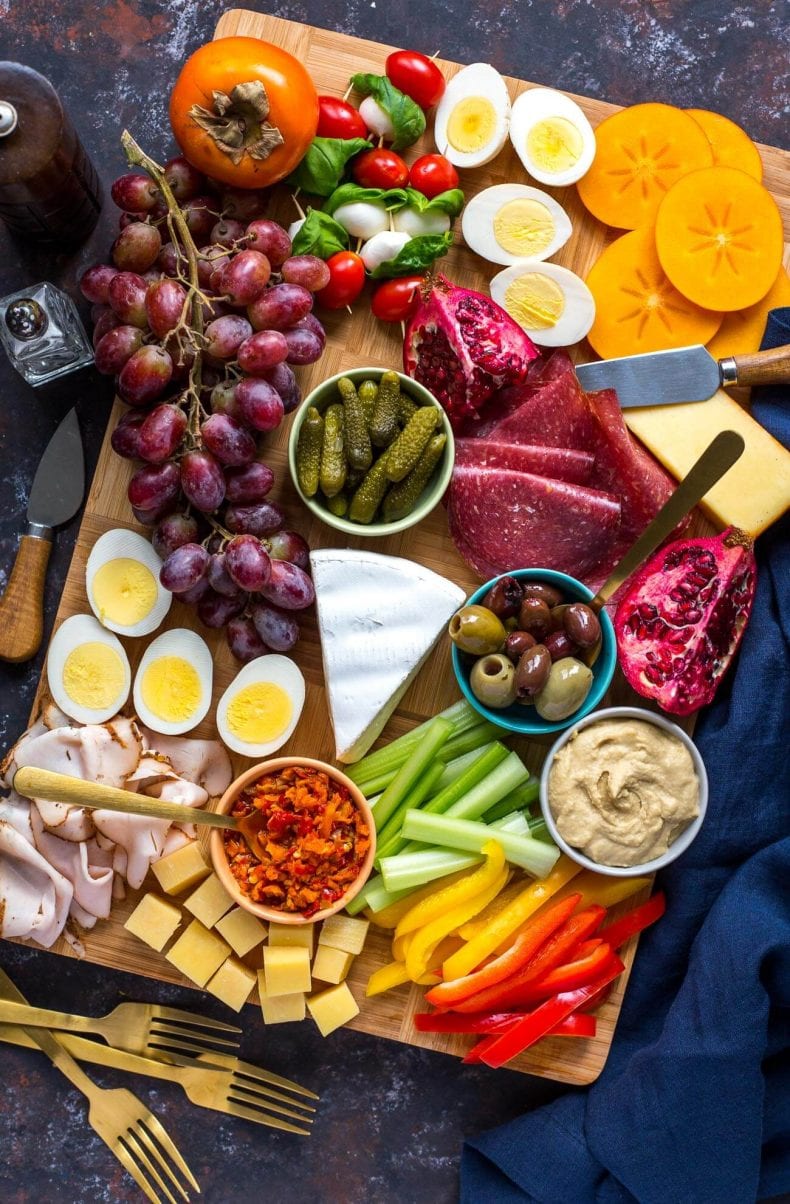 Ingredients and substitutions
Hard-boiled eggs – use tofu for a vegan option.
Smoked turkey – swap out for another meat of your choice like prosciutto, chicken and more.
Salami – see substitution notes above.
Smoked cheddar cheese – substitute for another cheese like mozzarella, Swiss or Gouda.
Brie – see substitution notes above.
Mini bocconcini cheese balls – see substitution notes above.
Fresh basil – arugula would be good too.
Cherry tomatoes – plum or grape tomatoes can be used instead.
Mixed olives – swap out for capers or artichoke hearts instead.
Pickles – use any kind of pickles you like.
Persimmon – plums or figs would be yummy too.
Grapes – try adding some berries like raspberries or strawberries.
Pomegranate – substitute for dry fruit like dried cranberries or apricots.
Celery – carrots will provide a similar level of crunch.
Bell pepper – or another veggie of your choice.
Zucchini – see substitution notes above.
Hummus – tahini would also be good.
Antipasto – use any spread you'd like.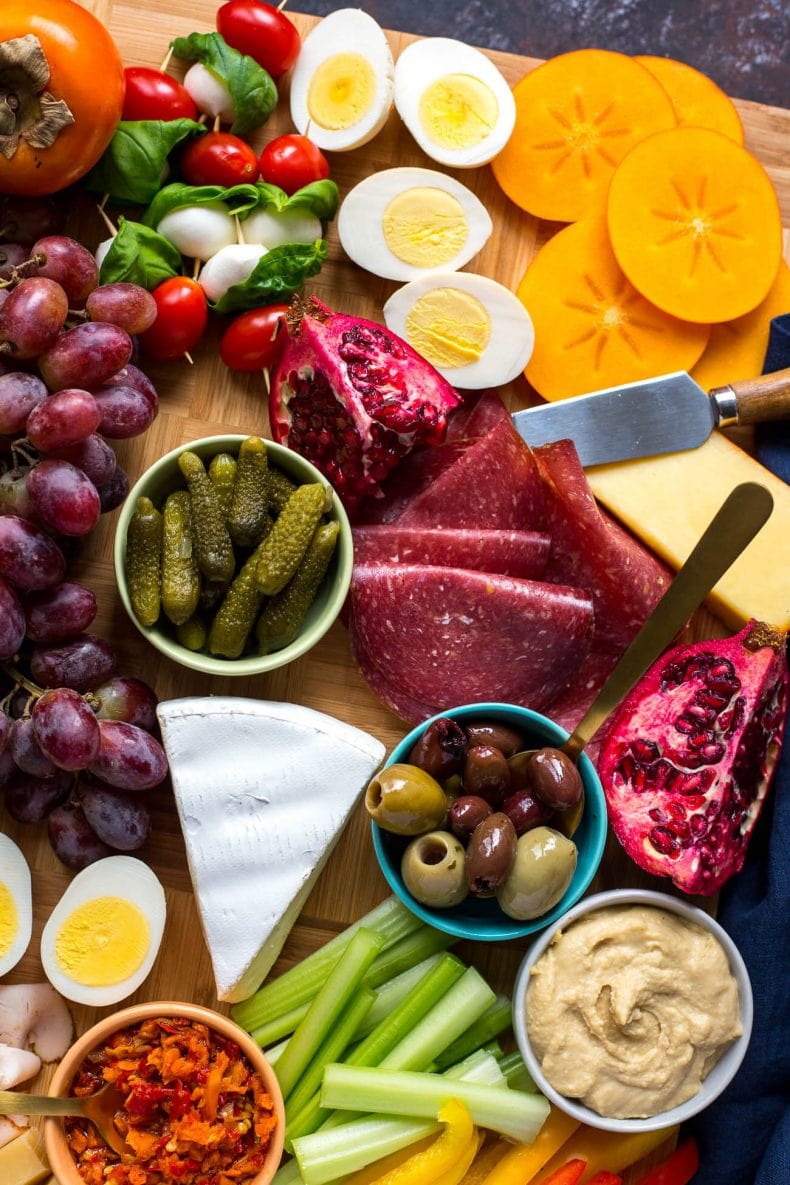 How to make a charcuterie board
Assemble your meats.
Prep your cheeses.
Cut up the fruit.
Put the olives and pickles in bowls.
Choose your spreads.
Serve and enjoy!
What to put on a charcuterie board
You can put pretty much whatever you want on a charcuterie board! The ingredients listed in the recipe card below are all healthy options but feel free to mix and match with whatever you're craving.
Here are some great ideas on what to add to your charcuterie board:
Meats: I like to go with a variety of lean proteins like shaved smoked turkey, beef jerky and beef salami.
Cheeses: Usually a hard cheese alongside a soft cheese is the way to go. Popular options include smoked cheddar, brie, bocconcini, mozzarella, Swiss, goat cheese or gouda.
Fresh fruits and veggies: Celery, bell peppers and carrots are all good vegetable options while figs, pomegranate and persimmons are tasty fruits.
Flavour boosters: Pickles, olives, fresh herbs and mixed nuts are all great ways to add different flavour profiles to your board!
Dips: I LOVE hummus, and with the different flavours available these days you can grab a couple different ones for variety. I also like to get a spicy antipasto but a roasted red pepper dip or even a spinach dip works too.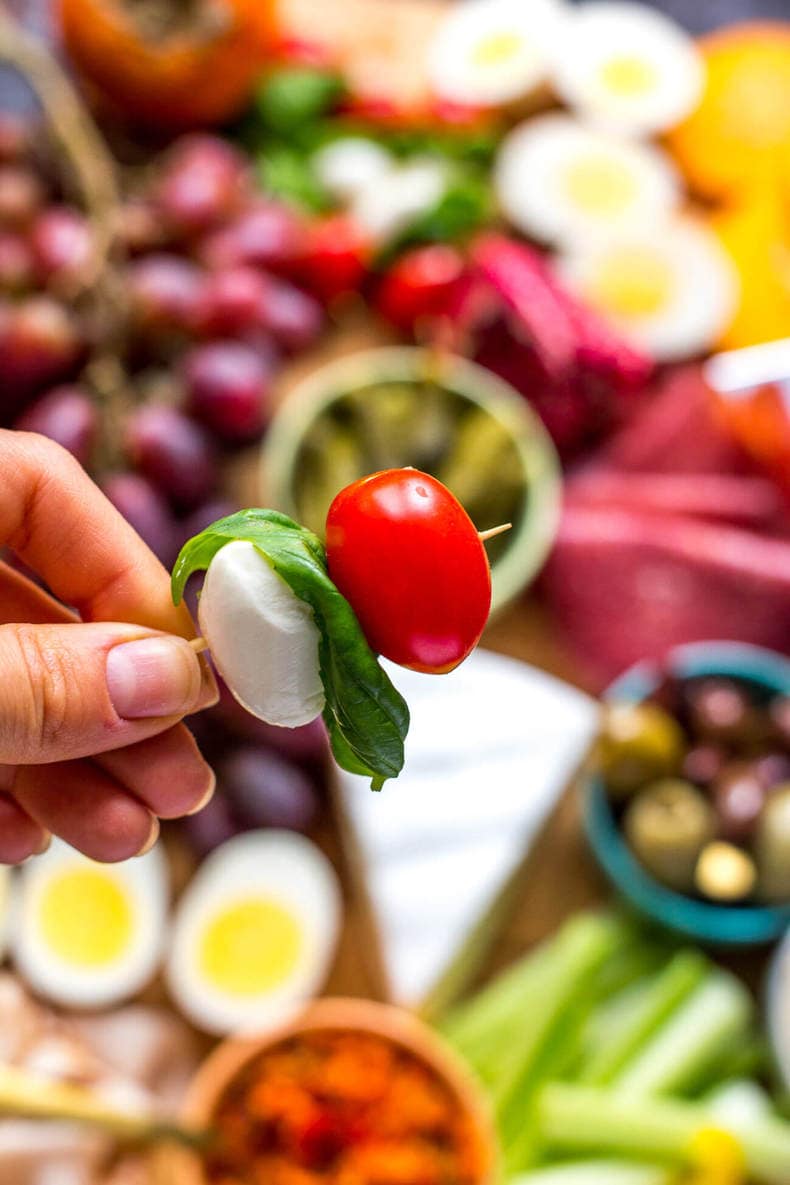 Frequently Asked Questions
What is a charcuterie board?
A charcuterie board is a popular appetizer or snack idea. It's basically a combination of a variety of different cheeses, meats, fruits, veggies and spreads served on a board or a platter for nibbling. You can customize it however you like and it's a great option for holiday parties!
What's the most popular meat?
Prosciutto tends to be one of the most popular meats on a charcuterie board, but it tends to be super salty, so it's not the healthiest option. I like making my charcuterie board with shaved smoked turkey, beef jerky and beef salami – you'll still get plenty of protein and flavour but without the high sodium or calorie count.
How many calories are in this recipe?
The total calorie count will vary, but if you use all the ingredients as listed for this recipe, there should be about 304 calories per serving.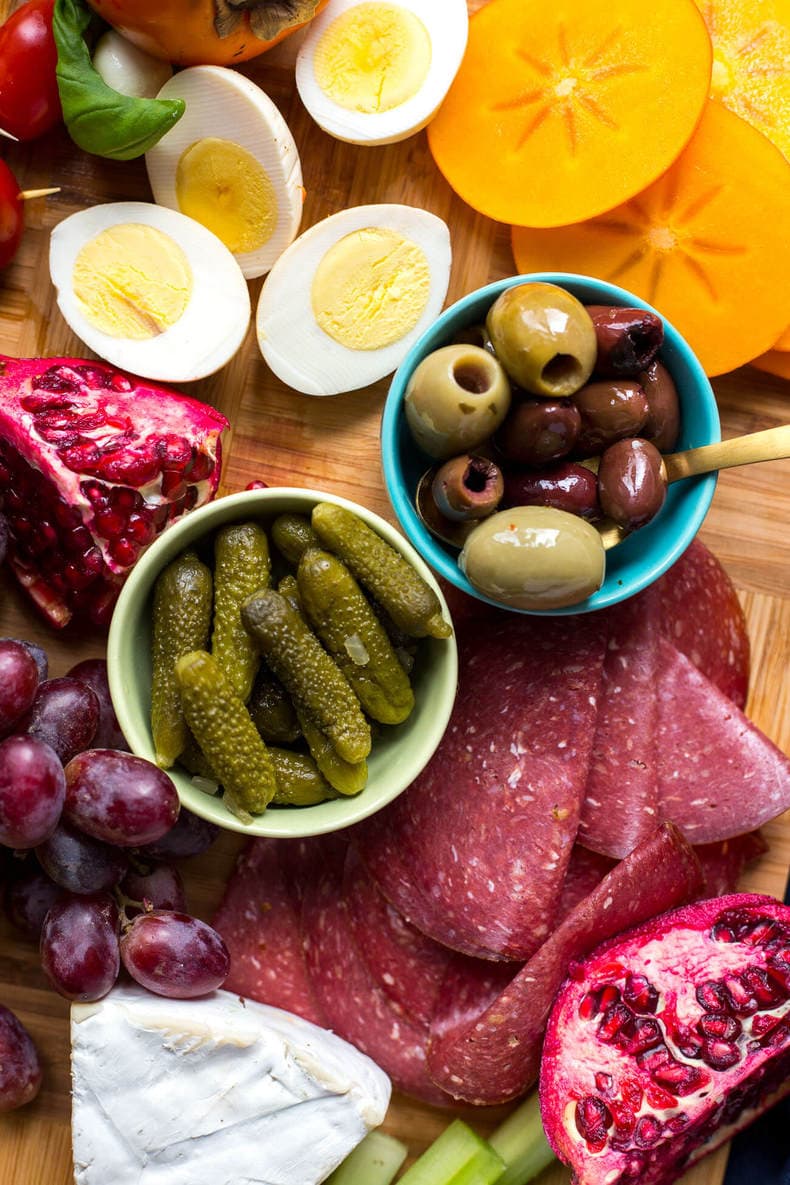 Storing components of this recipe
If you're making this charcuterie board for a holiday party or gathering, you can save time the day-of by prepping a lot of your ingredients beforehand. Cut up the cheeses and meats if necessary, make any spreads and divide everything out into the proper serving sizes. That way, all you have to do the day of is assemble everything on the board and cut up the fresh fruit!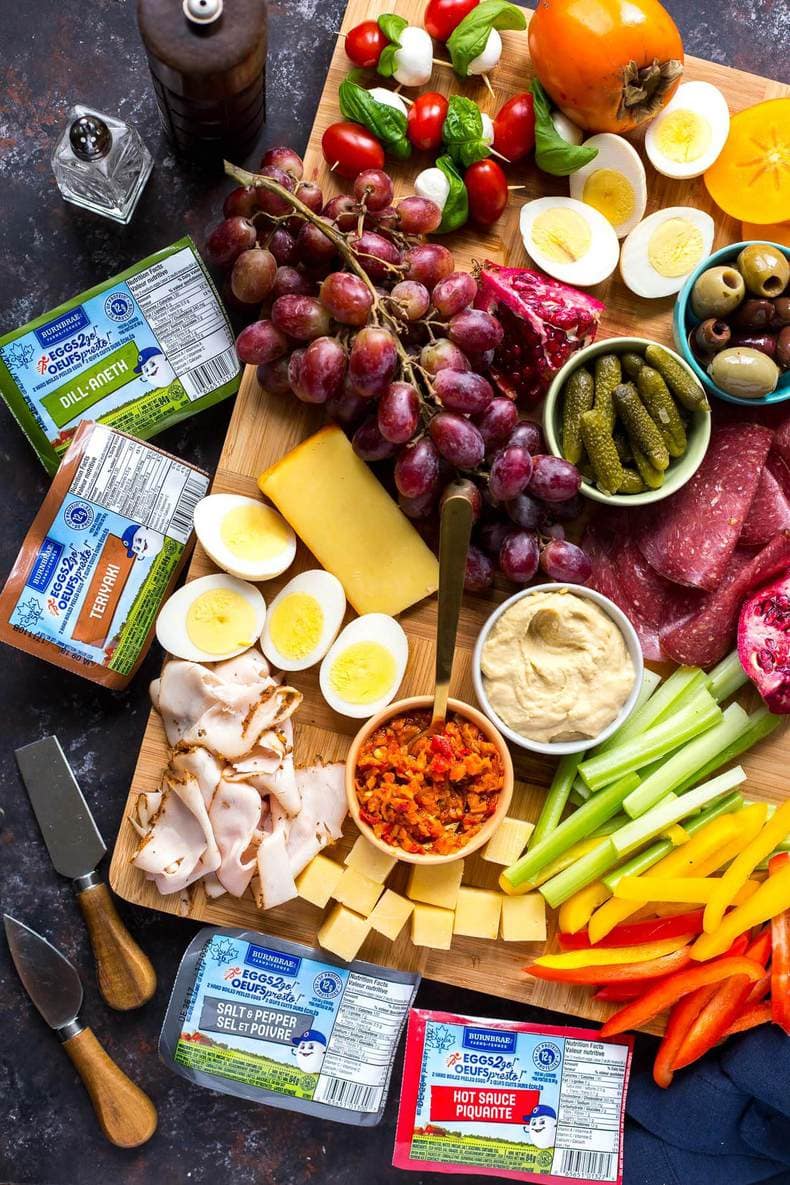 Wanna Learn How To Meal Prep?
My meal planning service, Dinner Prep Pro, removes the guesswork and helps you get dinner on the table in 15-20 minutes each night. My meal prep checklists only take 1 hour each week!
More healthy appetizer ideas
Meal prep tools for this recipe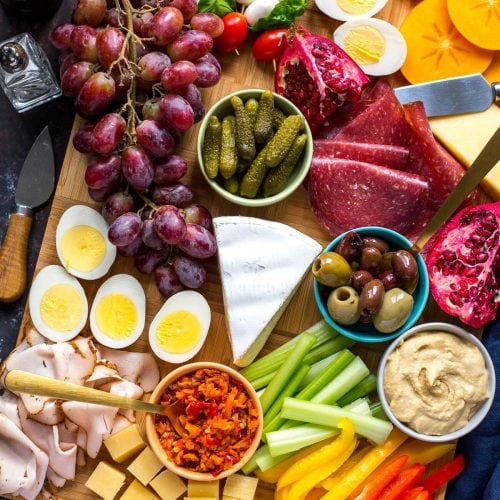 Delicious & Healthy Charcuterie Board
This Delicious & Healthy Charcuterie Board is a great holiday appetizer idea with low-calorie and protein-packed ingredients.
Print
Pin
Rate
FEELING BURNED OUT?We've got you covered with a December self care plan! Sign up for weekly habit audits, 3 weeks of meal prep plans, weekly goal setting printables + live calls!👇
Join our December ✨Feel Good✨ Challenge!
Servings: 10 servings
Calories: 304kcal
Ingredients
4 hard-boiled eggs
1 package deli-style smoked turkey
1 package deli-style salami
1 package smoked cheddar cheese
1 package brie
1 container mini bocconcini cheese balls
1 package fresh basil
1 container Cherry tomatoes
1 cup mixed olives
1 jar pickles (cornichons)
1 persimmon, sliced
1 bunch grapes
1 pomegranate, cut open
2 celery stalks, julienned
1/2 each red and yellow pepper, julienned
1 zucchini, sliced on a diagonal
2 packages hummus (I got roasted garlic and beet flavours)
1 jar antipasto
Instructions
Assemble all ingredients on a large wood board with small bowls for the ingredients like olives, pickles and dips. Include cutlery for cheeses and arrange in a manner so that guests can pick and choose different snacks from the board. To make caprese bites, add cherry tomatoes, basil and bocconcini cheese on toothpicks and add to board. Serve and enjoy!
Video
Notes
Try using different ingredients based on your preferences – you can even try making a vegetarian charcuterie board by swapping out the meat for tofu. Prep all your ingredients ahead of time by chopping up and portioning out the cheeses, meats, etc. If you're adding fresh fruit to your charcuterie board, make sure you cut it right before serving so it stays nice and fresh.
Nutrition
Calories: 304kcal (15%)Carbohydrates: 15g (5%)Protein: 16g (32%)Fat: 21g (32%)Saturated Fat: 8g (50%)Cholesterol: 114mg (38%)Sodium: 899mg (39%)Potassium: 406mg (12%)Fiber: 4g (17%)Sugar: 8g (9%)Vitamin A: 934IU (19%)Vitamin C: 26mg (32%)Calcium: 191mg (19%)Iron: 2mg (11%)