How to Make a Protein-Packed Healthy Charcuterie Board
This Protein-Packed Healthy Charcuterie Board is a delicious holiday appetizer idea with low-calorie ingredients like hard-boiled eggs, lean-deli turkey, a variety of cheeses, pickles, hummus and more! Jump to Recipe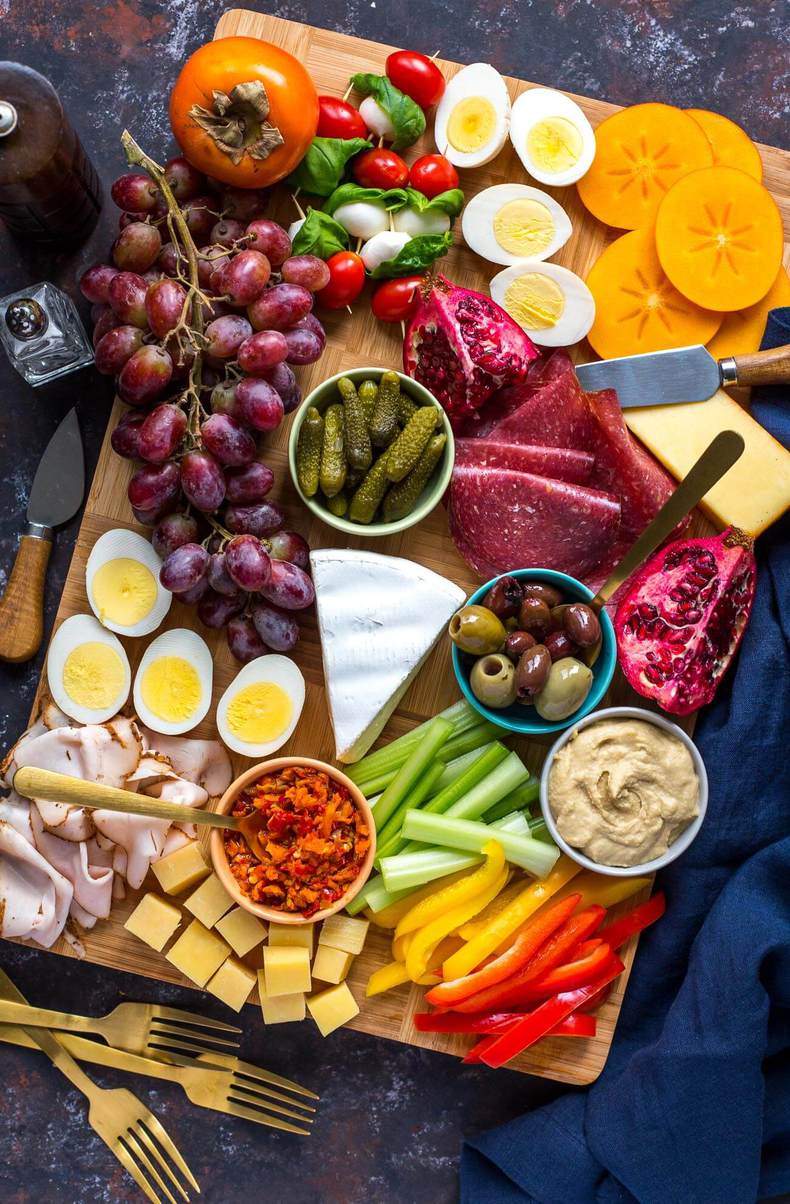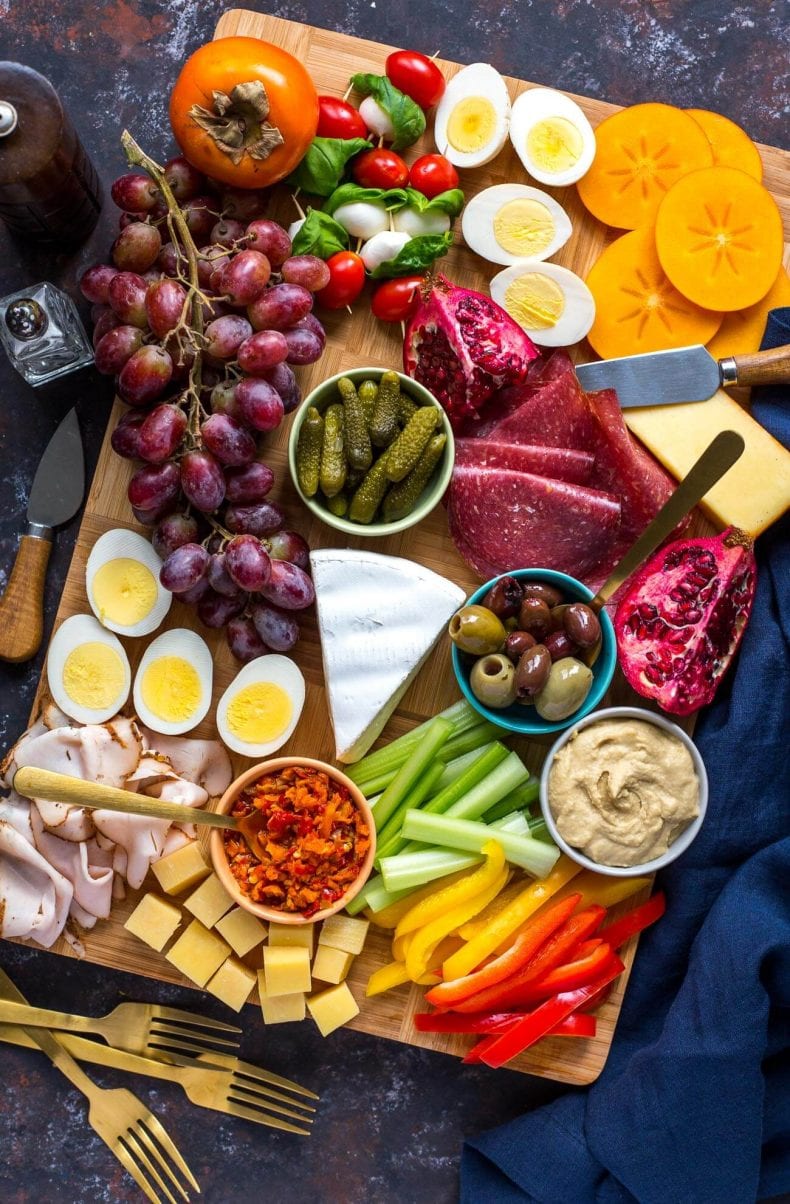 This Protein-Packed Healthy Charcuterie Board is basically a snack and a meal all-in-one. I think the reason we tend to overeat during the holidays is because we don't necessarily see snack food as filling, and I think we all overindulge because we fail to listen to our bodies. Of course, you're going to be hungry at a holiday party, and you should dive in. BUT the right snacks can also be super filling and nourishing, and that's the goal of this Protein-Packed Healthy Charcuterie Board.
As I'm getting older, I find myself more focused on trying to put together healthier charcuterie boards. Ones with less crackers and high calorie dips, and ones with more nutritionally dense options like fruit and veggies alongside high-protein ingredients that will keep me feeling full after eating.
Did I mention the entire thing can also be pulled together in 20 minutes or less?! Or that it's mostly gluten-free and low carb? Umm yeah, it'll be prettyyyyyy easy to stay on track with your health and fitness goals with this Protein-Packed Healthy Charcuterie Board. It's pretty much the answer to all your holiday prayers.
Today we're doing something a little bit different here on the blog, since it's the holiday season and all!
Anyone else OBSESSED with charcuterie boards here? Well, today I've put together a Protein-Packed Healthy Charcuterie Board for those of you who are trying to be more health-conscious this holiday season. It's got a great selection of healthier, delicious treats so that you can still indulge during the holidays but not feel guilty after eating so many snacks.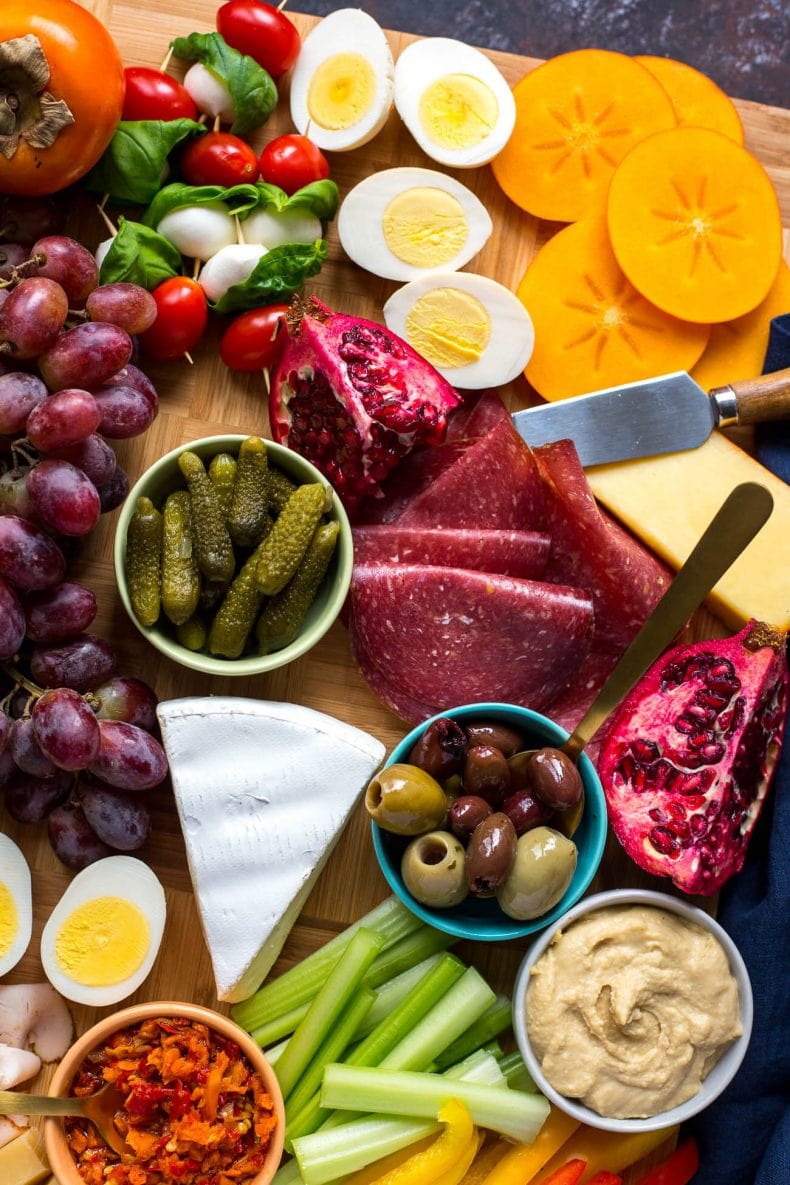 Ingredients in a healthy Charcuterie Board
Here's everything I included in my protein-packed charcuterie board – feel free to swap different ingredients in or out, but these are healthier alternatives that are sure to make your holiday entertaining a breeze!
hard-boiled eggs
deli-style smoked turkey
deli-style salami
cheddar cheese
brie
bocconcini
fresh basil
Cherry tomatoes
olives
pickles
persimmon
grapes
pomegranate
celery
red and yellow pepper
zucchini
hummus
antipasto
How to make a healthy Charcuterie Board
Here's the basic formula of the Protein-Packed Healthy Charcuterie Board:
Step 1: Choose your meats – I like to go with a variety of lean proteins like EGGS2go! (for the non-meat eaters out there) and shaved smoked turkey, as well as unexpected choices like beef jerky, which is packed with protein. I added some beef salami here too
Step 2: Choose your cheeses – usually a hard cheese alongside a soft cheese is sufficient, but I usually try and pick a third as a bonus (who doesn't love cheese right?!)
Step 3: Add in some fresh fruits and veg – celery, bell peppers and carrots are all obvious choices for veggies, and figs are a delicious seasonal option when choosing fruit, along with pomegranate and persimmons (plus, they are soooooo pretty)
Step 4: Flavour boosters – Pickles, olives, fresh herbs and mixed nuts are all bonus flavour profiles for your board!
Step 5: Add in some dips – I LOVE hummus, and with the different flavours available these days you can grab a couple different ones for variety; I also like to get a spicy antipasto but a roasted red pepper dip or even a spinach dip works too
Step 6: ENJOY!!!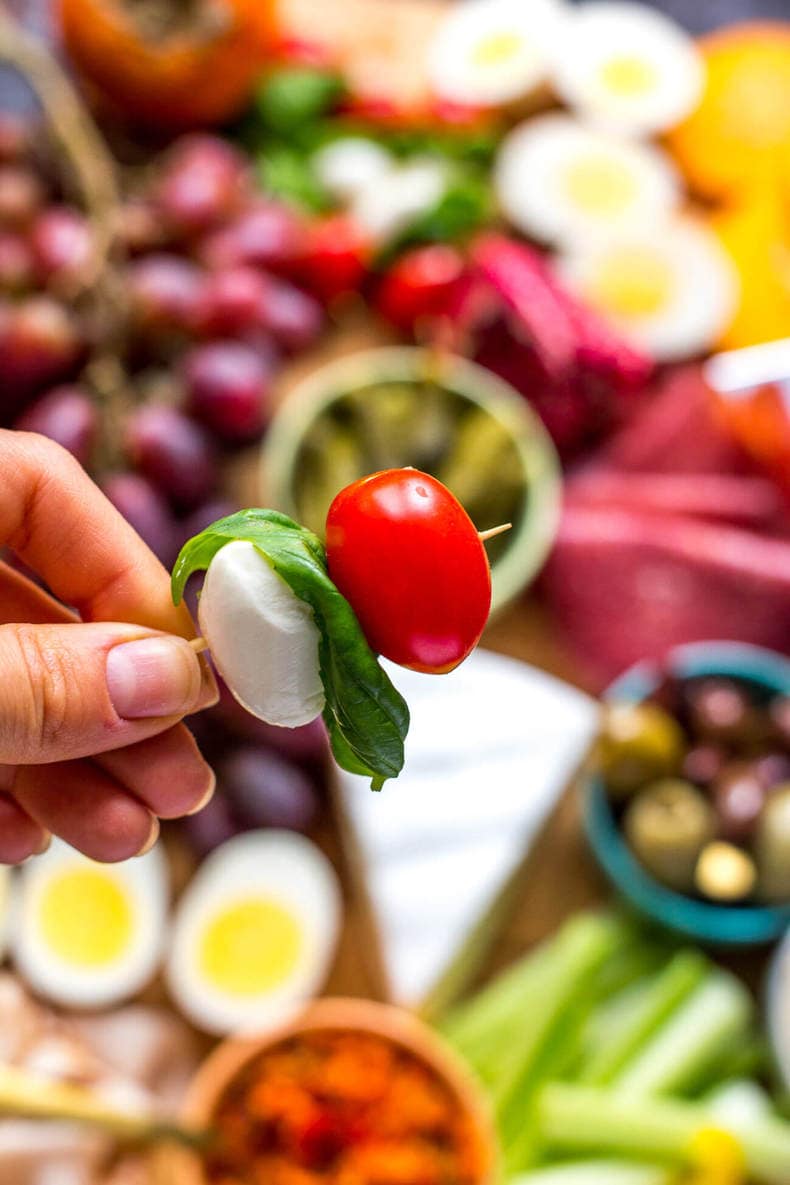 Meal prep tools for this recipe
Meal prep challenge
If you'd like some more help with meal planning, then you'll love my free 5-day meal prep challenge! It's basically a free course that will teach you how to meal prep and cook healthy meals at home with some PDF bonus materials. Sign up for free below: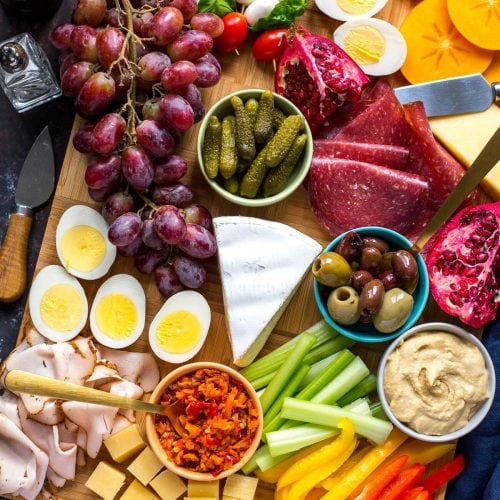 Print Recipe
How to Make a Protein-Packed Healthy Charcuterie Board
This Protein-Packed Healthy Charcuterie Board is a delicious holiday appetizer idea with nutritionally dense, low-calorie ingredients like hard-boiled eggs, lean deli turkey, a variety of cheeses, pickles, hummus and more!
Ingredients
4

hard-boiled eggs

1

package

deli-style smoked turkey

1

package

deli-style salami

1

package

smoked cheddar cheese

1

package

brie

1

container

mini bocconcini cheese balls

1

package

fresh basil

1

container

Cherry tomatoes

1

cup

mixed olives

1

jar

pickles (cornichons)

1

persimmon, sliced

1

bunch

grapes

1

pomegranate, cut open

2

celery stalks, julienned

1/2

each

red and yellow pepper, julienned

1

zucchini, sliced on a diagonal

2

packages

hummus (I got roasted garlic and beet flavours)

1

jar

antipasto
Instructions
Assemble all ingredients on a large wood board with small bowls for the ingredients like olives, pickles and dips. Include cutlery for cheeses and arrange in a manner so that guests can pick and choose different snacks from the board. To make caprese bites, add cherry tomatoes, basil and bocconcini cheese on toothpicks and add to board. Serve and enjoy!
Video
Nutrition
Calories:
304
kcal
|
Carbohydrates:
15
g
|
Protein:
16
g
|
Fat:
21
g
|
Saturated Fat:
8
g
|
Cholesterol:
114
mg
|
Sodium:
899
mg
|
Potassium:
406
mg
|
Fiber:
4
g
|
Sugar:
8
g
|
Vitamin A:
934
IU
|
Vitamin C:
26
mg
|
Calcium:
191
mg
|
Iron:
2
mg