These Philly Cheesesteak Stuffed Peppers are a delicious low-carb spin on the famous sandwich and they are ready in just 30 minutes!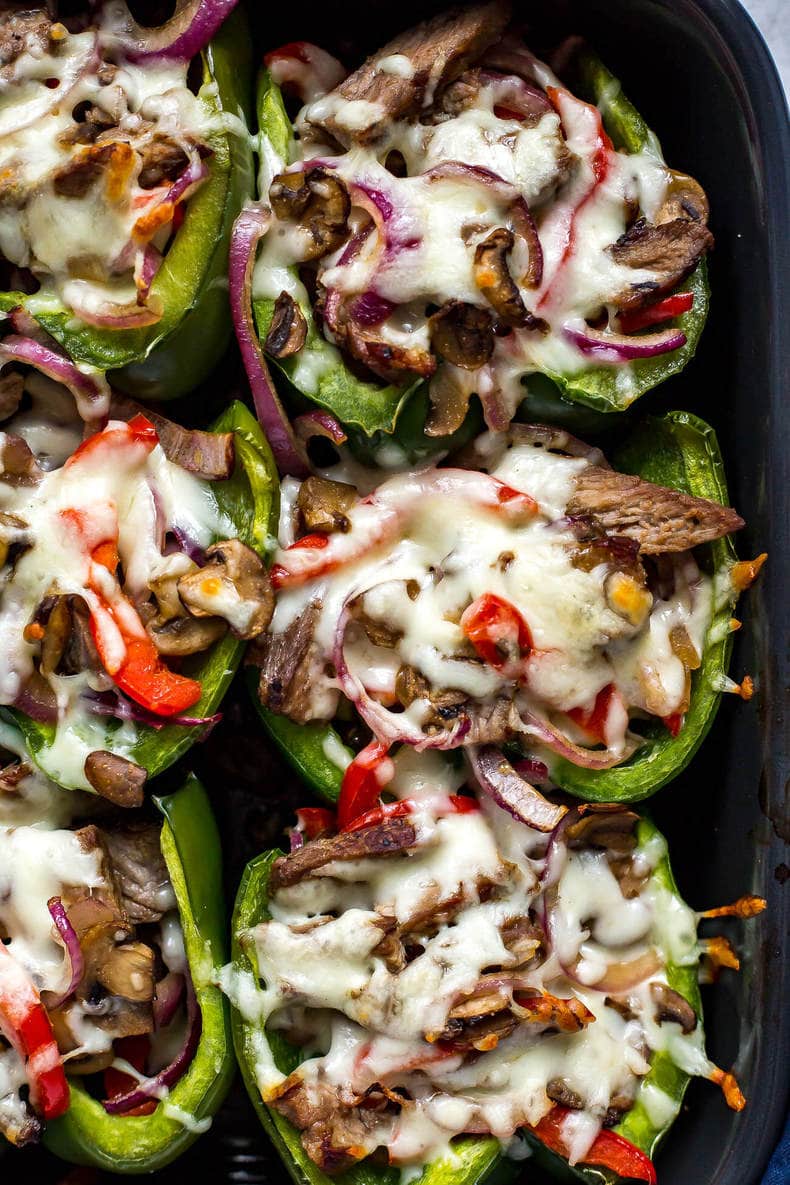 Ingredients and substitutions
If you've ever eaten a Philly cheese steak, these ingredients should look pretty familiar to you:
Bell Peppers — You need green peppers to stuff, and red to fill (and for some colour) – feel free to use any colour bell pepper though!
Mushrooms — I use packaged pre-sliced button mushrooms but you can use any type of mushroom
Steak — Sirloin is my recommendation. It's a nice, lean cut with good texture and flavor. Go for a steak that's about 1″ thick; alternatively, you can use ground beef, ground turkey, chicken breast or any other type of protein
Onion — Red is the way to go here! It's nice and crunchy and adds a pop of color but any type of onion will work
Cheese — Mozzarella is my favorite cheese to use in this recipe, but Swiss works great too – but don't let me stop you from using your fave cheese!
Ingredient add-ins
This is the perfect recipe to "make your own" by swapping out ingredients or adding in new ones. Here are a few suggestions to get your creative juices flowing:
Add in some chopped chili peppers (jalapeno, poblano, or anaheim peppers are great!) for a little heat.
Add some cherry tomato halves and oregano for an Italian twist.
Swap the red for yellow onion for a little more sweetness.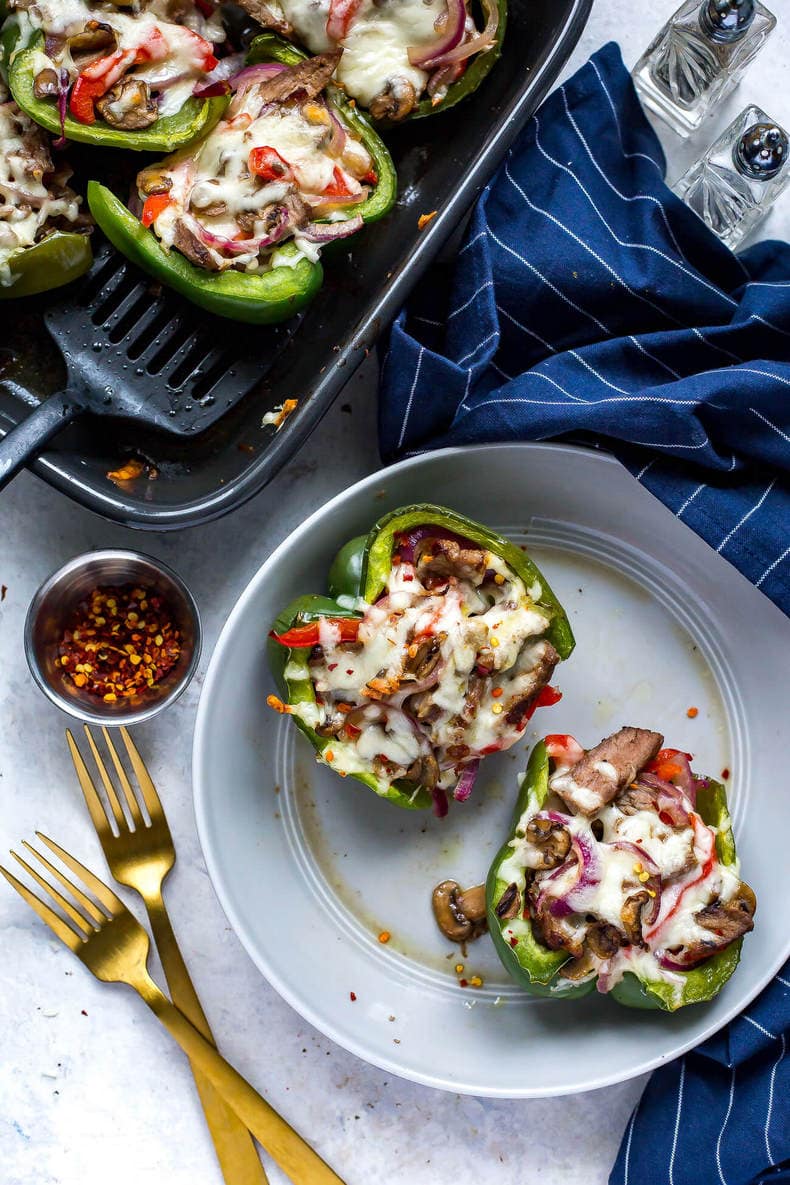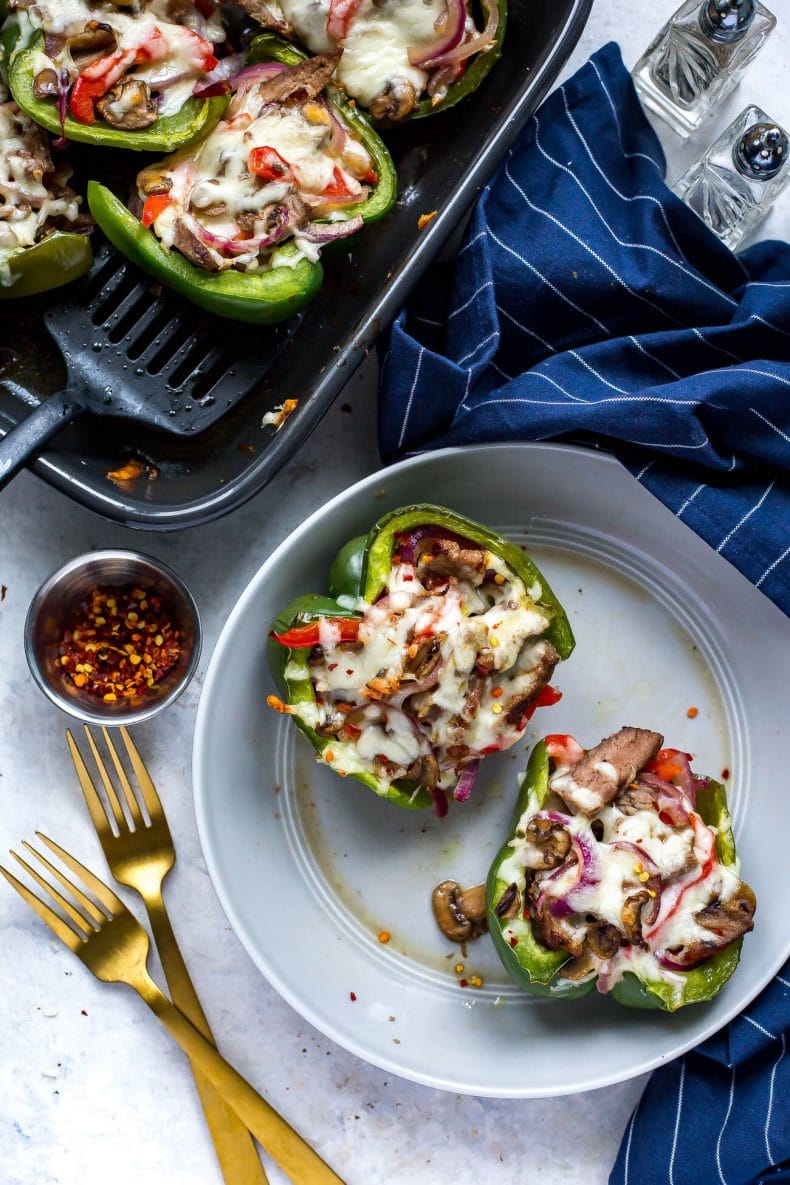 How to make this recipe
Here's a brief overview of how to make this recipe – scroll down to the recipe card for more detailed instructions.
Halve and deseed your green bell peppers. Drizzle with olive oil, season with salt and pepper, and bake for 10 minutes.
Sear steak in a frying pan then slice it thinly.
Fry sliced mushrooms, then add onions and red pepper.
Remove the green peppers from the oven, and divide your steak and veggies evenly between pepper halves.
Top with cheese, then bake for fifteen minutes until cheese is melted – enjoy!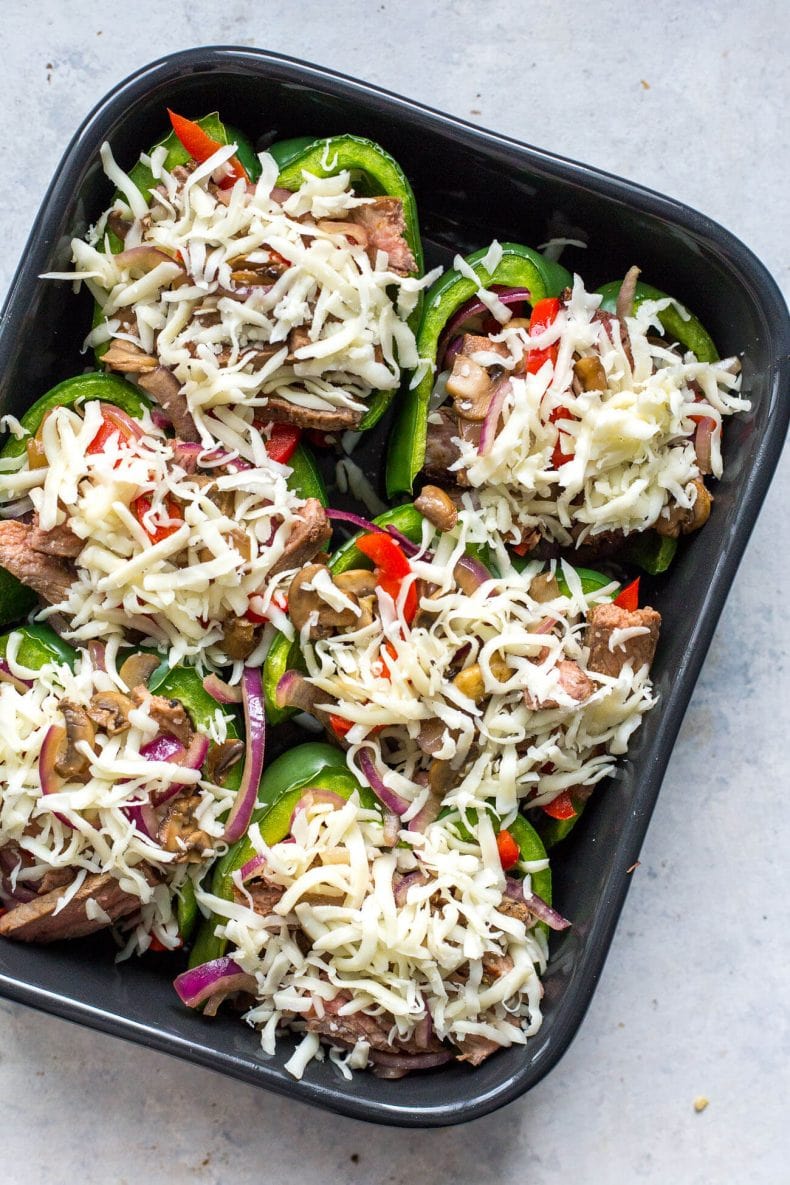 Making stuffed peppers keto
While this meal is low carb, at 12g of net carbs per serving it's not low enough for keto. But it's an easy enough thing to fix!
So if you're following a keto diet and want to bring the carb count even lower, try these solutions:
Green onions/scallions are a safer bet for keto recipes because they have about half the carbs as red onion.
Zucchini boats are a great alternative to the green bell peppers since they've got just a little over half as many net carbs.
Making these simple changes will bring the net carb count down to about 6g per serving!
Using ground beef
You can use ground beef instead of steak in this recipe. Just cook it thoroughly on the stove and drain it well before stuffing the peppers with it.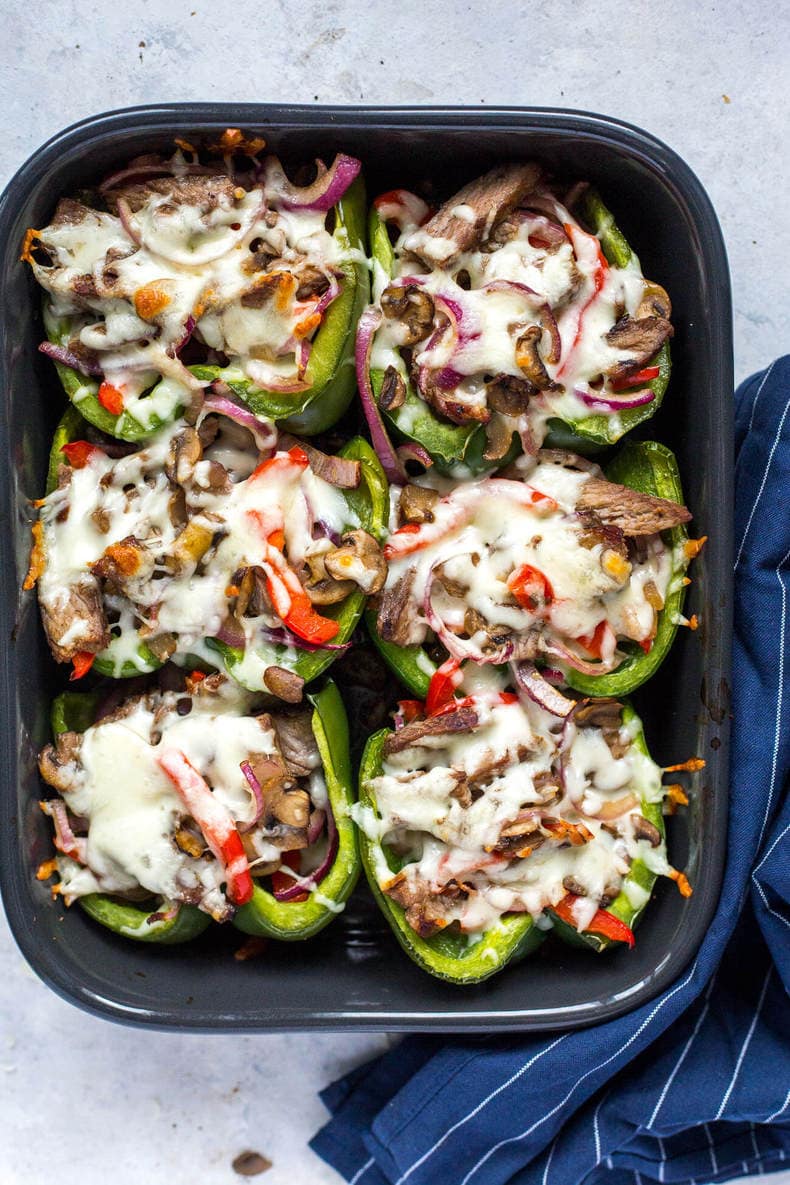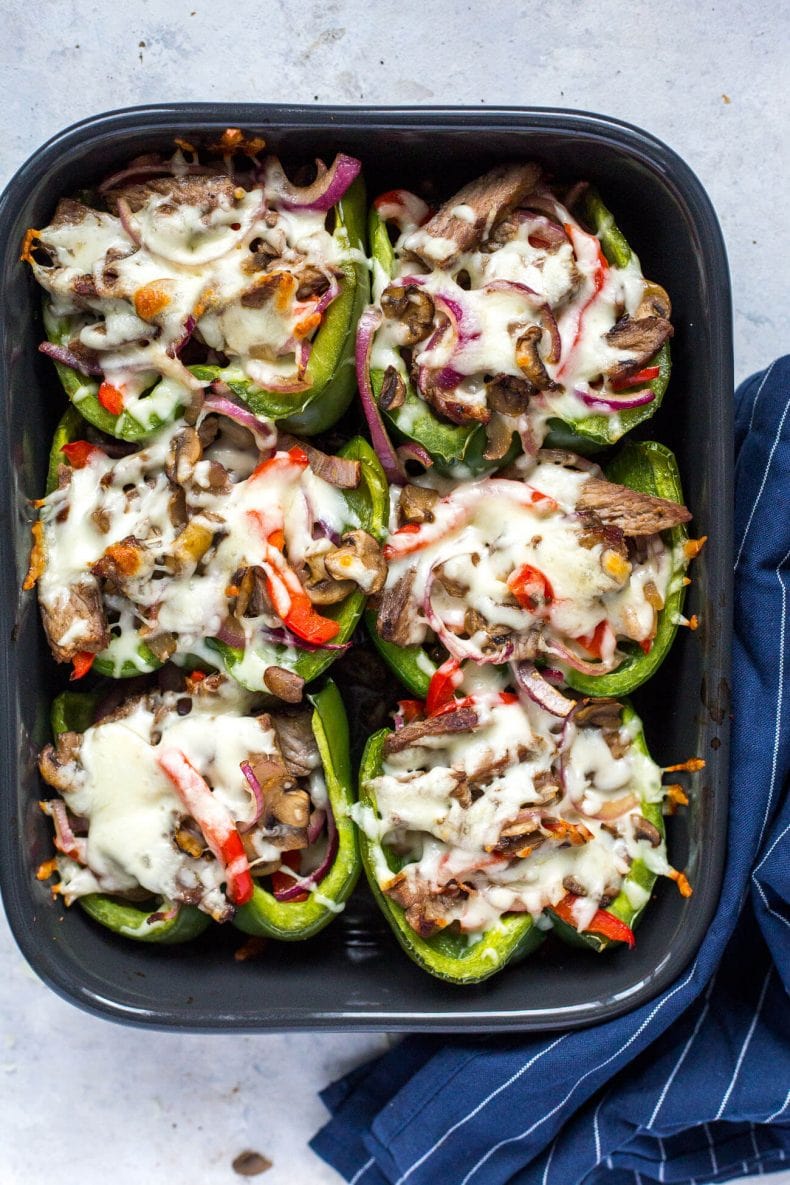 How to make peppers softer
Some people like to have a softer pepper "shell" instead of a firmer one. If this is you, it's really easy to make them that way! It takes a little more time, but worth it if this is your preferred texture:
Instead of 400F, heat your oven to 375F. Stuff the peppers but leave off the cheese, and cover them with aluminum foil. Bake for an hour before removing the foil lid, adding cheese, salt, and pepper, and baking for five to ten minutes until it melts.
Baking them this way will make them nice and soft, but not mushy!
What to serve with stuffed peppers
Some crispy roasted potatoes are the perfect companion for the peppers! Cube them, oil them up, and season them before tossing in the oven with the empty green pepper halves. Then they'll all finish up together!
They're also great with a side of cauliflower rice to keep the carbs down.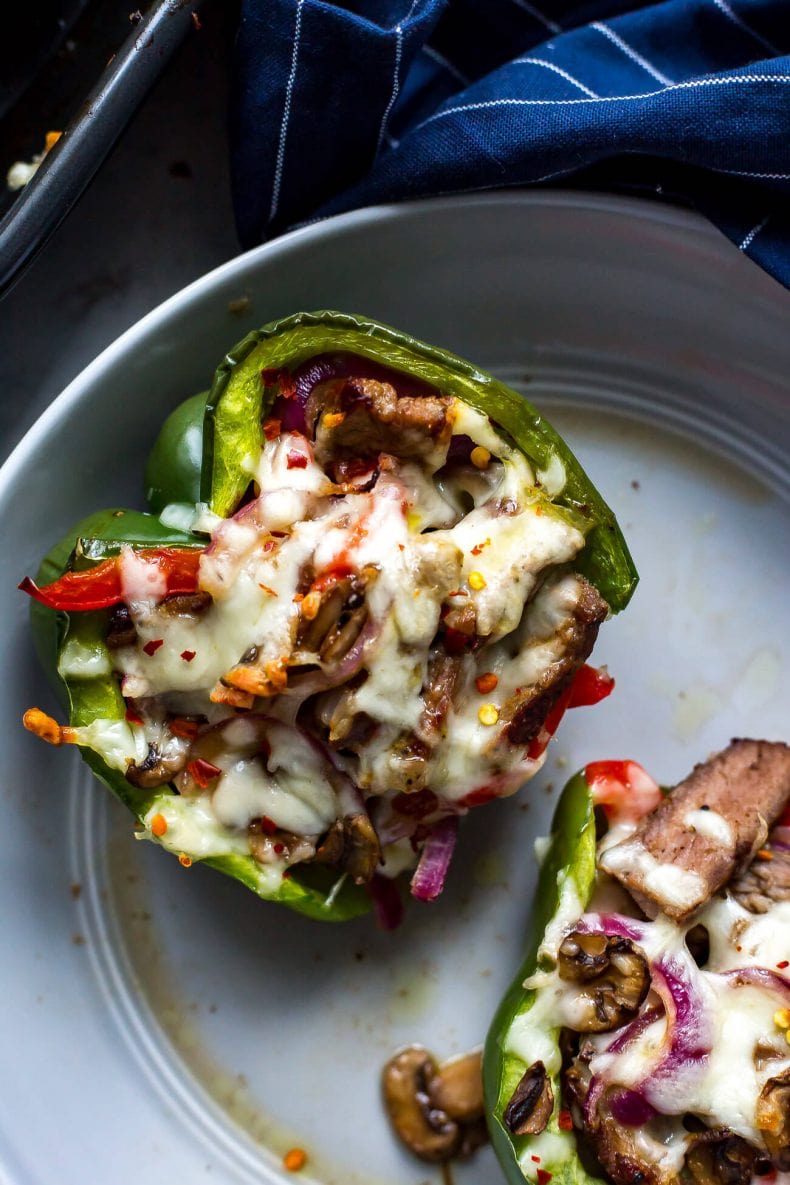 Storing & reheating
You can assemble the peppers the day before and keep them in the fridge before their final bake. Just add ten minutes on to the baking time.
For storing leftovers, keep them in the fridge in some glass meal prep bowls for 3-5 days. Reheat them in the microwave until heated in the center. You can also reheat them in a baking dish covered with aluminum foil at 375F for 30 minutes.
Can you freeze stuffed peppers?
Yes, you can! The texture won't be exactly the same, but they do fare pretty well in the freezer.
Cover and freeze your fully cooked peppers in the baking dish once they're totally cooled. Thaw them by placing in the fridge overnight. Then, just uncover and bake in the oven at 375F for 30 minutes or until hot all the way through.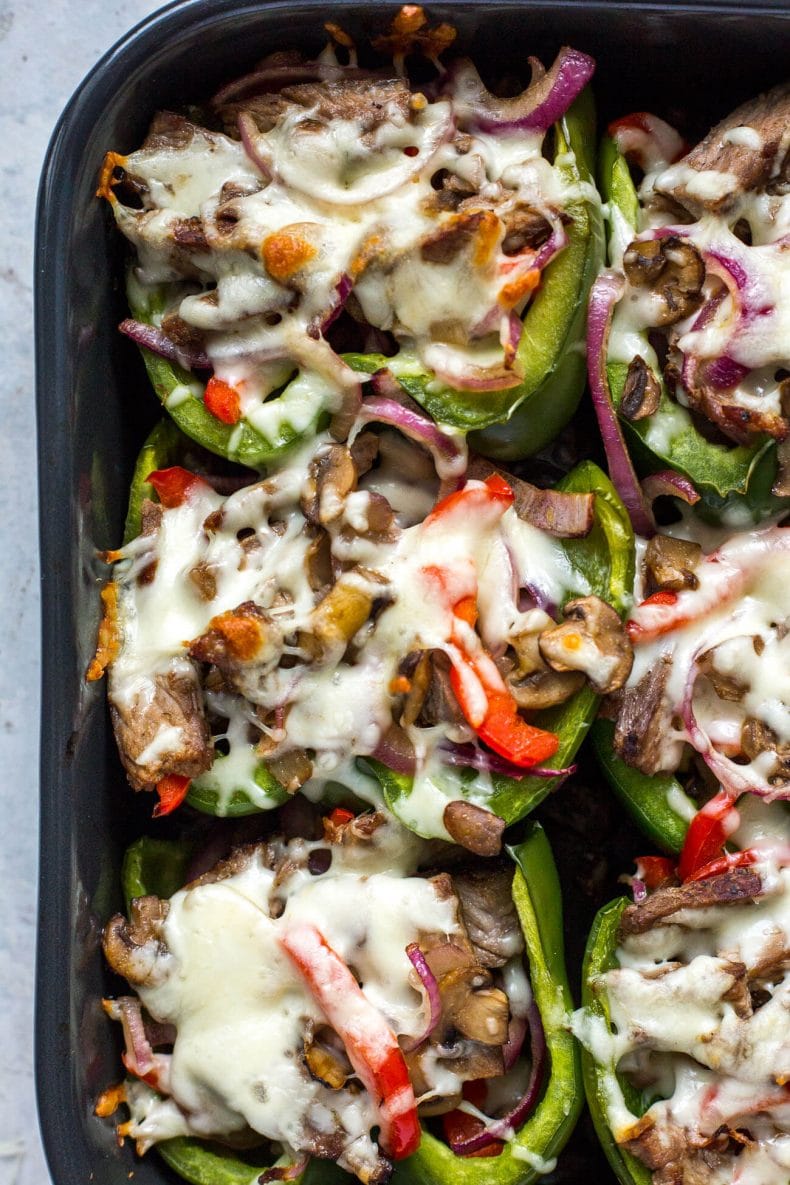 Want to Learn How to Meal Prep? Join Dinner Prep Pro!
Our meal planning service removes the guesswork and helps you get dinner on the table in 15-20 minutes each night thanks to our prep ahead checklists. It takes just one hour of ingredient prep on a Sunday!
More healthy dinner recipes
If you're looking for some more delicious ideas to make busy weeknights easier, check out my top healthy recipes below!
More stuffed pepper recipes:
Meal prep tools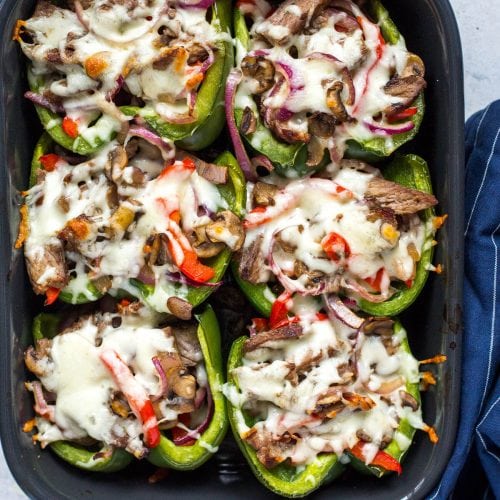 Philly Cheesesteak Stuffed Peppers
These Philly Cheesesteak Stuffed Peppers are a delicious low-carb spin on the famous sandwich and they are ready in just 30 minutes!
Print
Pin
Rate
Servings: 4 servings
Calories: 355kcal
Ingredients
2 tbsp olive oil, divided
4 green peppers, cut in half and deseeded
1 (8oz) sirloin steak
1 1/2 cups sliced mushrooms
1/2 red pepper, sliced
1 small red onion, sliced
2 cups mozzarella cheese, grated
Salt and pepper to taste
Instructions
Preheat oven to 400 F. Cut green peppers in half and de-seed them. Drizzle with 1 tbsp olive oil, season generously with salt and pepper and bake in a 9×13 dish covered with tin foil for 10 minutes.

Add remaining 1 tbsp of olive oil to a large frying pan and heat over high heat until oil is smoking. Add steak, season generously with salt & pepper, then sear for 1 minute per side. Remove from heat and slice very thinly across the grain.

In the same skillet, add mushrooms and cook until they start to release juices, about 2 minutes. Add onions and red pepper, sauteeing for 2-3 minutes until tender and seasoning with salt and pepper.

Meanwhile, remove green peppers from oven. Divide steak and veggies among peppers then top with cheese. Bake for 15 minutes or until cheese is melted. Remove and serve!
Video
Nutrition
Calories: 355kcal (18%)Carbohydrates: 12g (4%)Protein: 27g (54%)Fat: 23g (35%)Saturated Fat: 9g (56%)Polyunsaturated Fat: 1gMonounsaturated Fat: 10gCholesterol: 79mg (26%)Sodium: 391mg (17%)Potassium: 639mg (18%)Fiber: 3g (13%)Sugar: 6g (7%)Vitamin A: 1403IU (28%)Vitamin C: 122mg (148%)Calcium: 319mg (32%)Iron: 2mg (11%)