These Low Carb Lasagna Stuffed Peppers are filled with ground beef, ricotta, spinach and pasta sauce then topped with mozzarella cheese!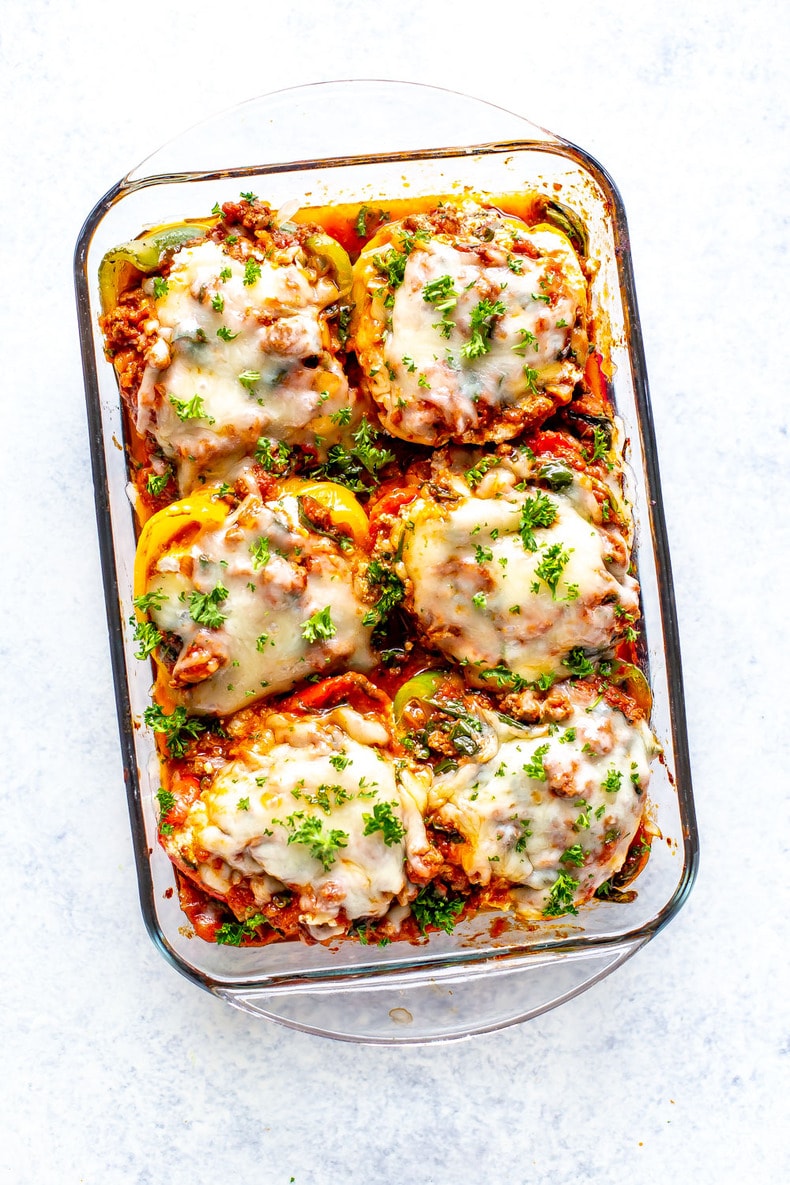 Ingredients and substitutions
Extra-lean ground beef – you can use any ground meat here like ground turkey or pork.
Onion – I used yellow onion, but white or red onion would work too.
Garlic – freshly minced garlic is best but jarred minced garlic will work in a pinch.
Pasta sauce – use your favourite store-bought version or make your own if you're feeling fancy.
Salt & pepper – to taste.
Spinach – another dark leafy green like kale would also be good in these stuffed peppers.
Bell peppers – use any colour bell peppers of your choice.
Ricotta cheese – cottage cheese can also be used, but make sure you strain it to get out any excess moisture.
Mozzarella cheese – feel free to swap out the mozzarella for another shredded cheese of your choice.
Fresh parsley – use fresh basil instead or leave this off altogether.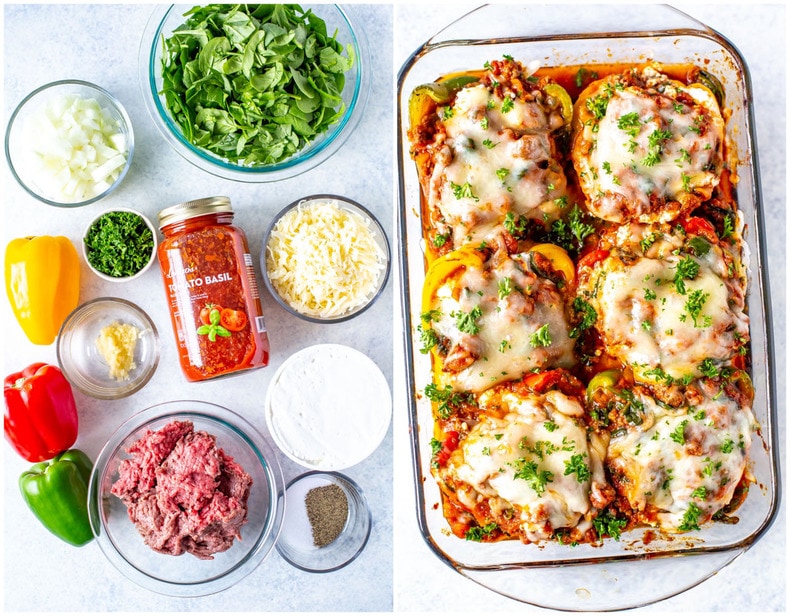 Skip the Ads and Get Right to the Recipes!
ZERO ADS on over 600 recipes!
Weekly Meal Plans, Grocery & Prep Lists
Bonus eBooks
How to make stuffed peppers
Bake the peppers.
Brown the beef.
Make the sauce.
Layer the beef mixture and ricotta.
Add some more beef mixture over top.
Sprinkle on some mozzarella, bake and serve!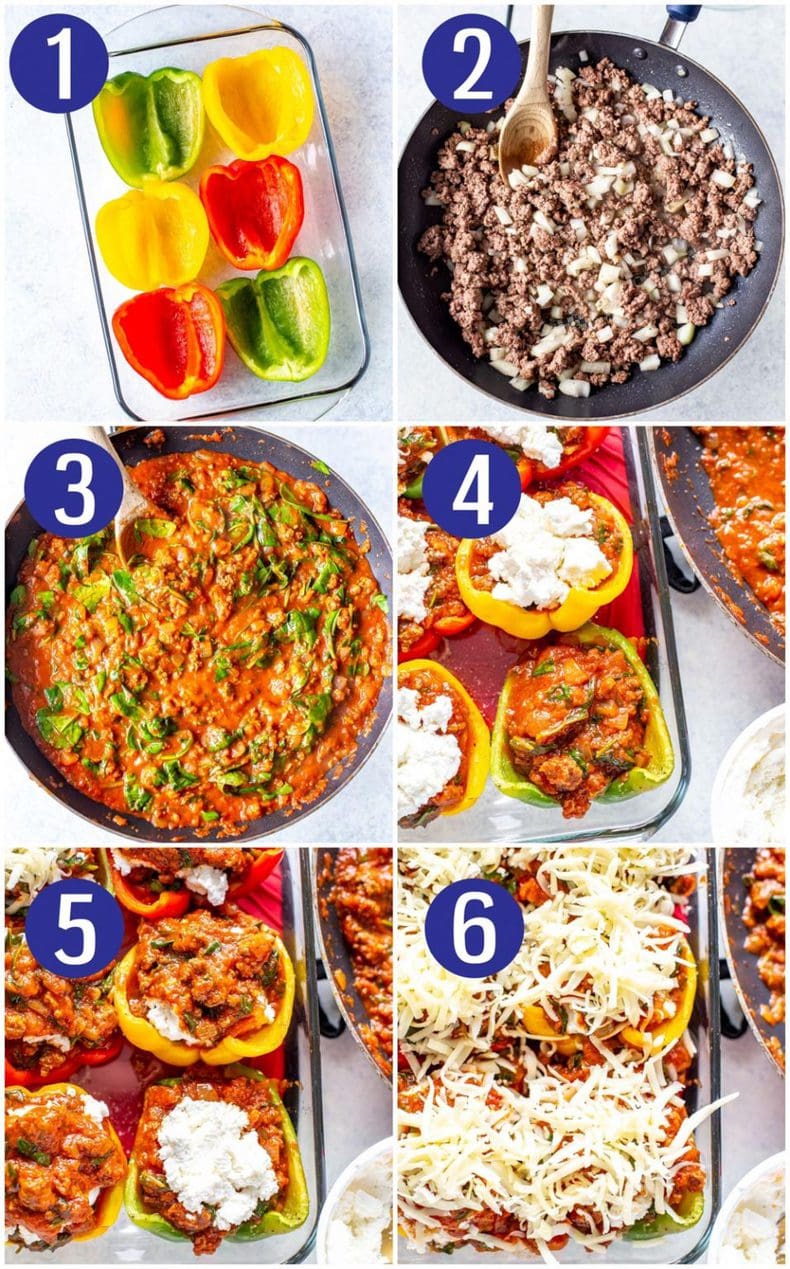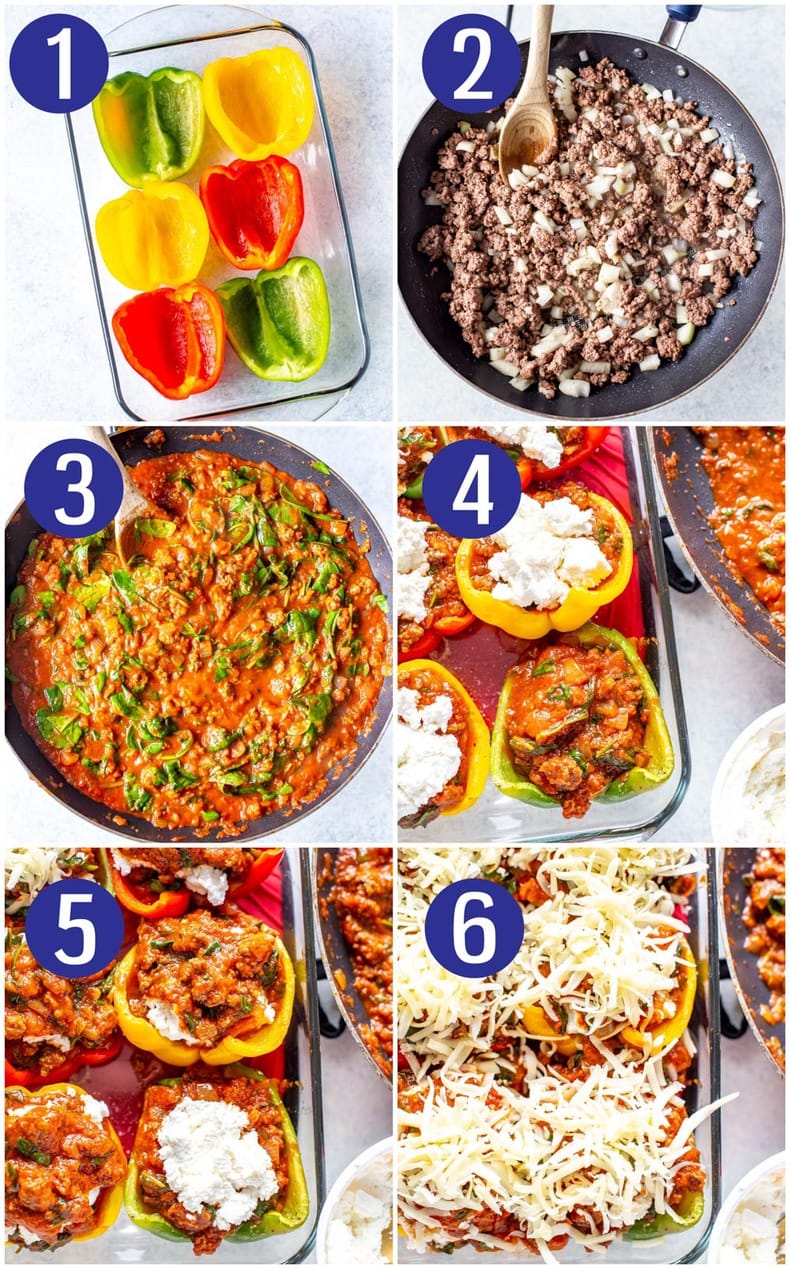 What to serve with stuffed peppers
Many stuffed pepper recipes include the use of meat, some vegetables, dairy products, and a grain such as rice or quinoa. Truly, this makes them a complete meal on their own. My low-carb version includes meat, dairy, and vegetables, but no grains or starchy carbs.
If you want to serve something on the side, here are some healthy, low-carb options to consider:
Garden salad
Cloud bread
Dinner rolls
They're also great with a side of cauliflower rice instead of regular rice, which also keeps the carbs down.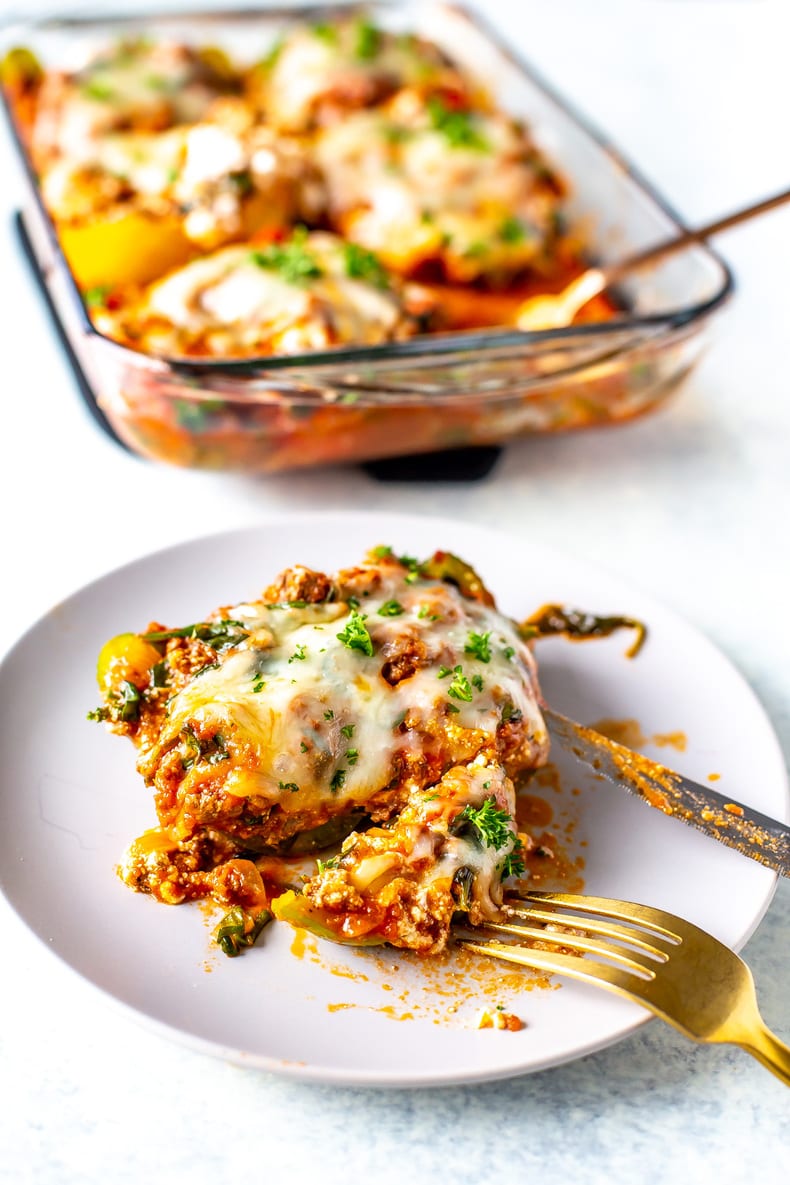 Frequently Asked Questions
Should peppers be cooked before stuffing?
Yes, you will want to bake peppers before stuffing to soften them up. If you like your peppers extra crunchy, you will still need to pre-bake them before baking with stuffing because you risk them staying on the raw side if you bake them while stuffed. If you want them to be more tender-crisp, pre-bake them for half the time (5 minutes instead of 10).
How do you make sure they're not soggy?
The trick to preventing soggy peppers lies in the amount of time you bake them before adding the filling. Baking the peppers before stuffing is a technique for partially cooking them, but you don't want to overbake them. 10 minutes in the oven is enough time to ensure they are tender but not overcooked. You can always bake in 5-minute intervals and test the tenderness as you go before stuffing.
How many calories are in this recipe?
These lasagna-stuffed peppers have 296 calories per serving, so they're a great low-calorie meal option. They also have just 13 grams of carbs per serving – you're getting all those amazing lasagna flavours without any of the extra calories or carbs.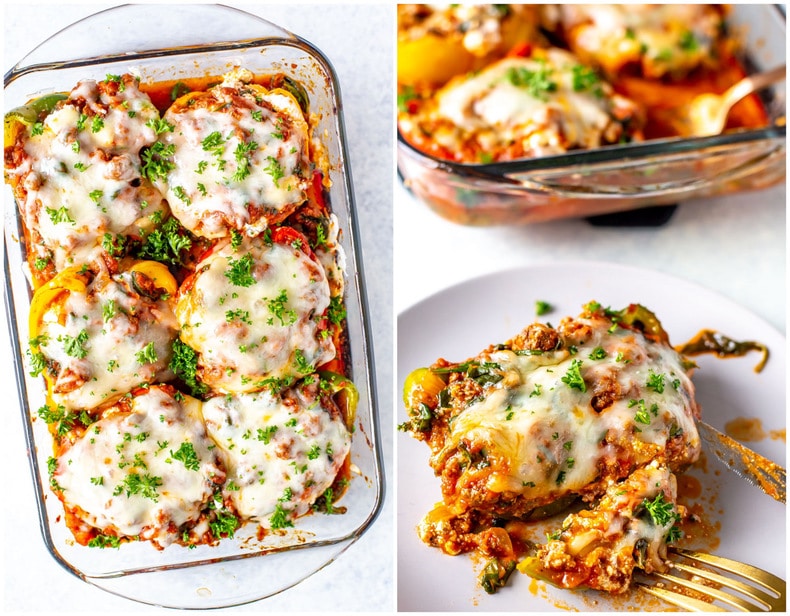 Storing and reheating
This is a fantastic meal prep recipe! Just assemble the peppers the day before you want to serve them, then keep them in the fridge until you are ready to bake. Since everything will be cold, you might need to add an extra 10 minutes to the cooking time.
Store any leftovers in the fridge for up to 5 days. Reheat them in the microwave or place them in a baking dish covered with aluminum foil and bake in the oven at 375° Fahrenheit for 30 minutes.
Freezing this recipe
Although the texture won't be exactly the same after reheating, you can definitely freeze stuffed peppers.
After allowing them to cool to room temperature, freeze the fully cooked peppers in an airtight, freezer-safe storage container and freeze them for up to 3 months. When you're ready to enjoy, thaw them in the fridge overnight then uncover and bake them in the oven at 375° F. for 30 minutes, or until they are hot all the way through.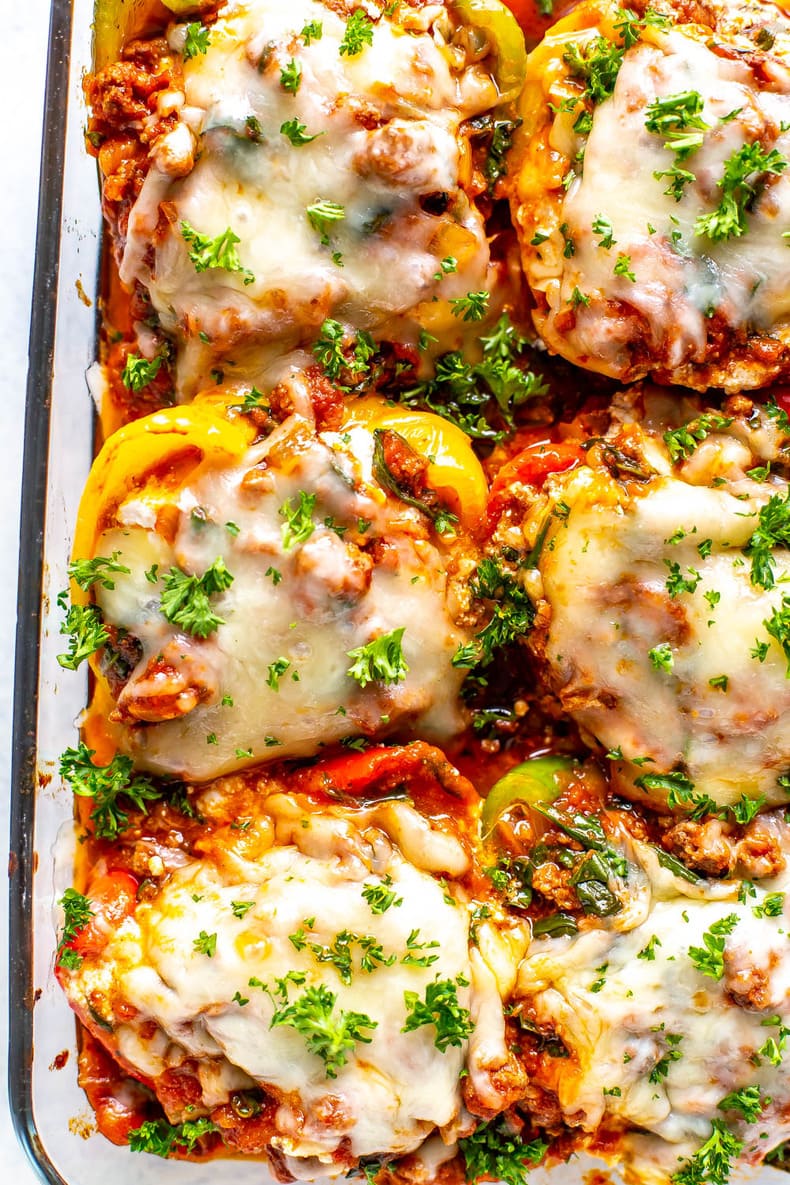 Wanna Learn How To Meal Prep?
My meal planning service, Dinner Prep Pro, removes the guesswork and helps you get dinner on the table in 15-20 minutes each night. My meal prep checklists only take 1 hour each week!
More stuffed pepper recipes
Meal prep tools for this recipe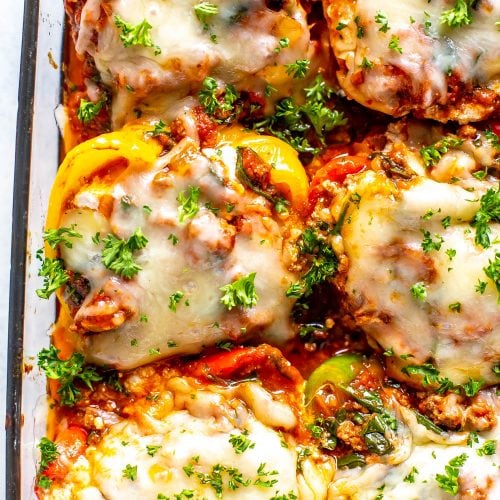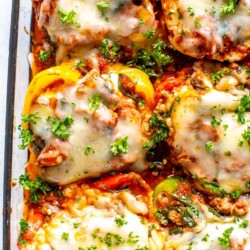 Low Carb Lasagna Stuffed Peppers
These Low Carb Lasagna Stuffed Peppers are filled with ground beef, ricotta, spinach and pasta sauce then topped with mozzarella cheese!
Print
Pin
Rate
Click Here to Remove Ads
Servings: 6 servings
Calories: 296kcal
Ingredients
1 lb extra-lean ground beef
1 yellow onion, diced
2 cloves garlic, minced
1 jar pasta sauce
1/2 tsp each salt & pepper
2 cups spinach, chopped
3 bell peppers any colour
3/4 cup ricotta cheese
1 1/2 cups mozzarella cheese, grated
Fresh parsley or basil, for garnish (optional)
Instructions
Preheat oven to 400 F. Slice peppers in half and scoop out seeds/white piths. Drizzle peppers with a bit of olive oil and season with salt & pepper. Bake 10 minutes, then remove from oven.

Meanwhile, heat a large skillet over med-high heat. Add ground beef, breaking up with a spoon.

Once beef is browned, add onion and garlic, sauteeing for another 5 minutes. Stir in pasta sauce and salt & pepper, bringing to a boil. Stir in spinach, then remove from heat.

Add beef mixture to each pepper, filling up about halfway. Spread with a layer of ricotta cheese (about 2 tbsp), then finish with more beef mixture. Top with mozzarella cheese.

Bake peppers for another 12-15 minutes until cheese is melted. Remove from oven, garnish with fresh herbs if desired, then serve and enjoy!
Video
Notes
NOTE: One serving is half a pepper and is noted in the nutritional values. One half may not seem like a lot but it's filled with 28g of protein! I suggest serving with a side salad for a complete meal. Serve these stuffed peppers with a garden salad, dinner rolls or cauliflower rice. Store the leftovers in the fridge for up to 5 days. Reheat them in the microwave or in the oven covered in aluminum foil for 30 minutes at 375° F. Freeze these stuffed peppers for up to 3 months. Thaw them in the fridge overnight then reheat as normal.
Nutrition
Calories: 296kcal (15%)Carbohydrates: 13g (4%)Protein: 28g (56%)Fat: 14g (22%)Saturated Fat: 8g (50%)Cholesterol: 85mg (28%)Sodium: 856mg (37%)Potassium: 898mg (26%)Fiber: 3g (13%)Sugar: 9g (10%)Vitamin A: 3617IU (72%)Vitamin C: 88mg (107%)Calcium: 245mg (25%)Iron: 4mg (22%)
Join The Girl on Bloor Premium!
ZERO ADS!
Weekly Meal Prep Checklists
Bonus eBooks