These Quinoa & Turkey Stuffed Mini Peppers are a fantastic go-to meal for busy weeknights – they're also a great healthy appetizer!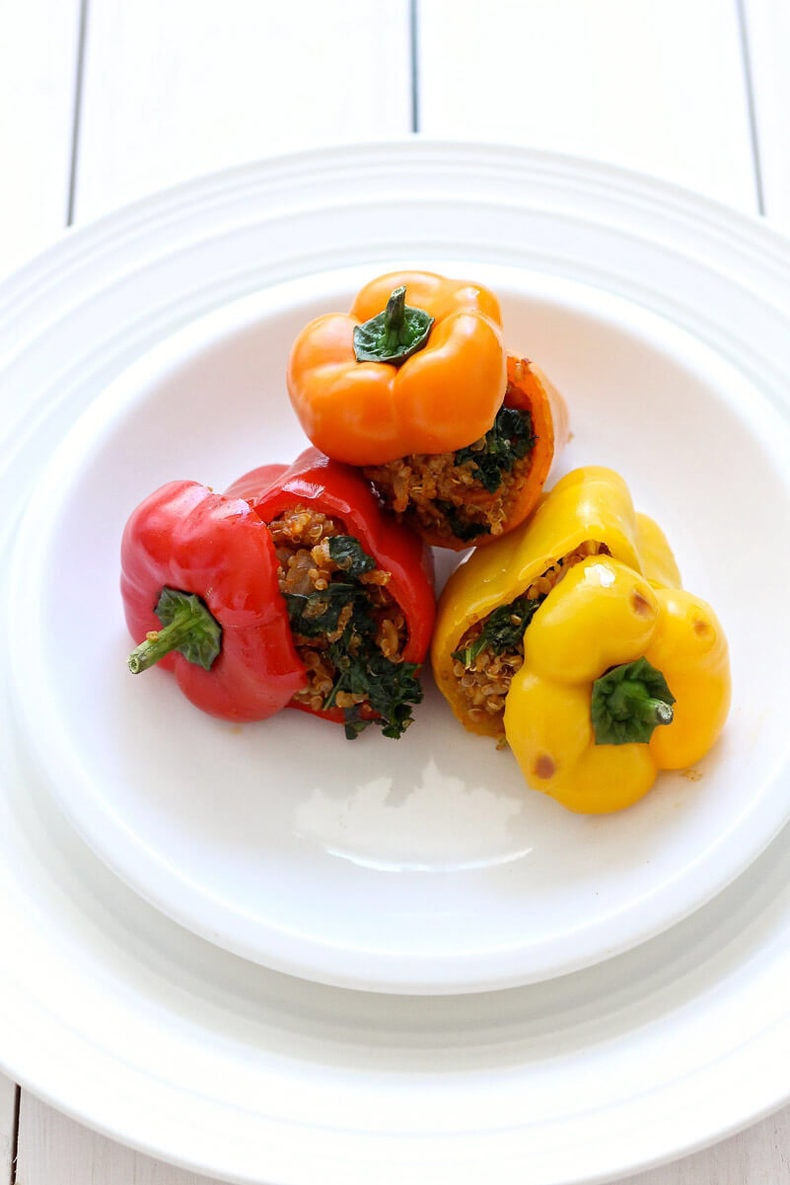 Ingredients and substitutions
Mini bell peppers – use red, yellow and/or orange mini bell peppers. The darker the colour, the sweeter the taste.
Olive oil – or another neutral cooking oil like avocado or canola oil.
Ground turkey – you can also make this recipe with ground chicken or extra-lean ground beef.
Yellow onion – white or red onion would be the best substitutes here.
Garlic – freshly minced garlic is preferred but jarred minced garlic will work too.
Chili powder – paprika would be the best substitute.
Cumin – substitute for coriander if you don't have any cumin on hand.
Salsa – use your favourite fresh or jarred variety.
Salt & pepper – to taste.
Quinoa – you can swap out the quinoa for another grain such as brown rice, farro or barley.
Kale – try another dark leafy green like spinach or Swiss chard.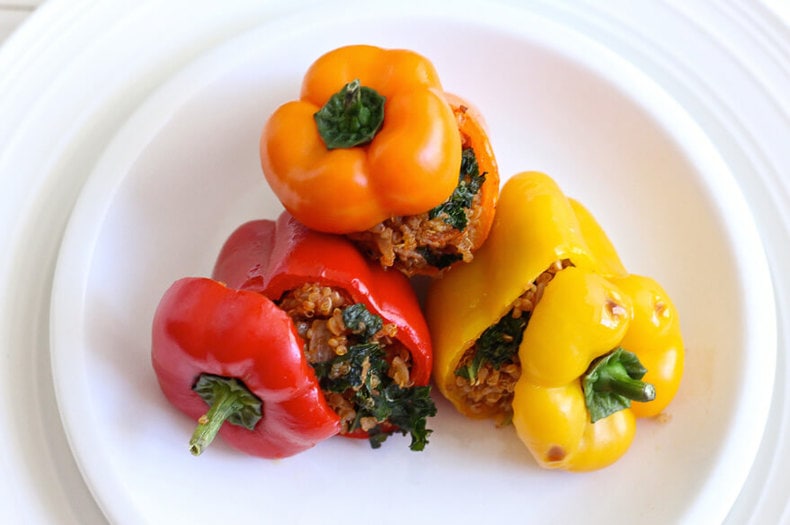 How to make mini stuffed peppers
Cook the peppers.
Sauté the onions, garlic and turkey.
Make the quinoa.
Stuff the peppers with the turkey and quinoa mixture.
Bake then serve and enjoy!
Making the quinoa ahead of time
Cut down on prep time by cooking your quinoa beforehand. Follow the cooking instructions on the package of quinoa – I personally like using a rice cooker because all you have to do is press a button.
Once the quinoa is cooked, let it cool down to room temperature then store it in the fridge in an airtight container until you're ready to use it. Doing this ahead of time will let you skip a step while you're getting dinner ready!
Frequently Asked Questions
Do you have to cook peppers before stuffing them?
Yes, you'll need to cook the mini bell peppers for about 15 minutes before stuffing them. This ensures that they're perfectly tender at the end!
Are mini peppers the same as bell peppers?
Mini bell peppers are similar to regular sized bell peppers although they're generally longer and skinnier. They're also a bit sweeter than larger bell peppers, especially if you get a darker colour like orange or red.
How many calories are in this recipe?
This recipe has 343 calories per serving, which makes it a great low-calorie meal option.
Storing and reheating
These mini stuffed peppers are great for meal prep! Store the cooked peppers in the fridge for up to 5 days. You can reheat them in the microwave, but I find that reheating them in the oven helps the peppers stay nice and crisp. Just stick them in the oven in a foil-covered dish for 10 to 15 minutes at 375° Fahrenheit. Sprinkle some fresh cheese over top towards the end and the peppers will be as good as new!
Freezing this recipe
Once these stuffed mini peppers have cooled, freeze them in an airtight glass container for up to 3 months. When you're ready to enjoy, place them in the fridge overnight to thaw then reheat them in the oven. You can microwave them in a pinch, but the peppers might get soggy.
Wanna Learn How To Meal Prep?
My meal planning service, Dinner Prep Pro, removes the guesswork and helps you get dinner on the table in 15-20 minutes each night. My meal prep checklists only take 1 hour each week!
More stuffed pepper recipes
Meal prep tools for this recipe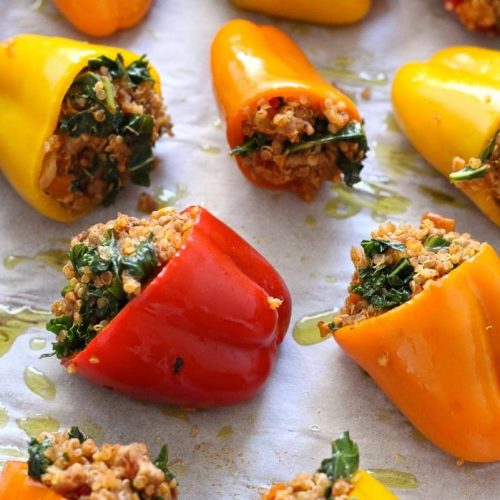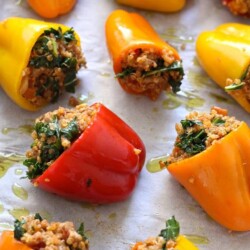 Quinoa & Turkey Stuffed Mini Peppers
These Quinoa & Turkey Stuffed Mini Peppers are a fantastic go-to meal for busy weeknights– they're also a great healthy appetizer!
Print
Pin
Rate
IN A CYCLE OF EATING POORLY?We've got you covered with our free Routine Revamp mini course! You'll receive 8 lessons and free coaching with us! Register👇
Join Routine Revamp!
Servings: 4 servings
Calories: 343kcal
Ingredients
1 lb mini bell peppers
1 tbsp olive oil
1 lb ground turkey
1 yellow onion diced
2 cloves garlic minced
1 tbsp chili powder
1 tsp cumin
1/2 cup salsa jarred or fresh
1 tsp salt
1/2 tsp pepper
1 cup cooked quinoa
1 cup chopped kale
Instructions
Preheat oven to 375 F. Cut tops off peppers (set those aside to cook later) and remove the white pithy parts of the peppers. Drizzle with olive oil and season with salt and pepper and cook in oven, with tin foil covering pan, for 15 min.

Meanwhile, heat olive oil in large frying pan and add onions and garlic, cooking for 1-2 min until fragrant. Add turkey, chili powder, cumin, salt and pepper and cook for about 5 min on med-high heat, breaking turkey up with spoon.

At the same time, cook quinoa according to package directions (usually 1/2 cup of quinoa with 1 cup of water in a pot on the stove until liquid has absorbed) and chop kale.

Add salsa and quinoa and cook for another 3-4 min. Add kale and cook for 2 min until leaves are slightly softened.

Around this time, peppers should be coming out of the oven. Stuff peppers with turkey and quinoa mixture, then add tops of peppers once filled. Place in oven and cook for another 10 min, taking out to top with shredded cheese if desired (highly recommended!!)
Notes
Keep in mind that the darker the colour, the sweeter the mini peppers will be. Make your quinoa a few days in advance to cut down on prep time. Store the leftovers in the fridge for up to 5 days. Reheat in the microwave or in the oven for 10-15 minutes at 375 F. Freeze this recipe for up to 3 months. Defrost in the fridge overnight then reheat as normal.
Nutrition
Calories: 343kcal (17%)Carbohydrates: 35g (12%)Protein: 34g (68%)Fat: 8g (12%)Saturated Fat: 1g (6%)Polyunsaturated Fat: 2gMonounsaturated Fat: 4gTrans Fat: 1gCholesterol: 62mg (21%)Sodium: 921mg (40%)Potassium: 1005mg (29%)Fiber: 7g (29%)Sugar: 8g (9%)Vitamin A: 6014IU (120%)Vitamin C: 168mg (204%)Calcium: 84mg (8%)Iron: 4mg (22%)
Don't wait until January to eat healthy!Sign up for our free Routine Revamp mini course!
Join Routine Revamp!