These Kalbi Beef Tacos are seasoned with sesame oil for an Asian-inspired flair, then topped with a delicious citrus slaw, pickled red onion and jalapenos!
Get ready for the ultimate Friday night dinner.
I really must say that despite the fact that I have been eating tacos almost everyday for the past two weeks (recipe development folks, it ain't always easy?), I would be down to eat these Kalbi Beef Tacos again tonight.
They're just that good.
I'm talkin' tons of spicy, savoury sesame flavours married with a delicious citrusy coleslaw, pickled red onions, loads of cilantro, hot sauce and jalapenos. These definitely aren't your average Mexican-inspired tacos, but an international Asian twist on basically my fave food ever.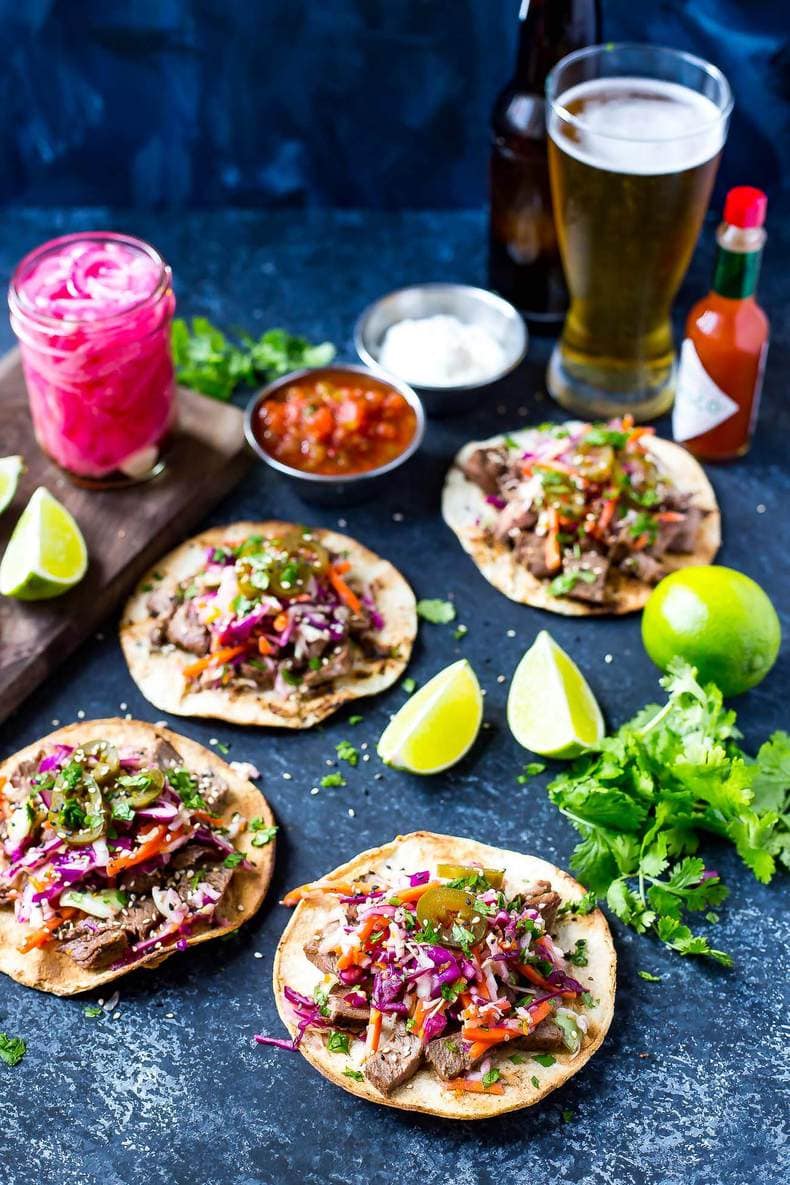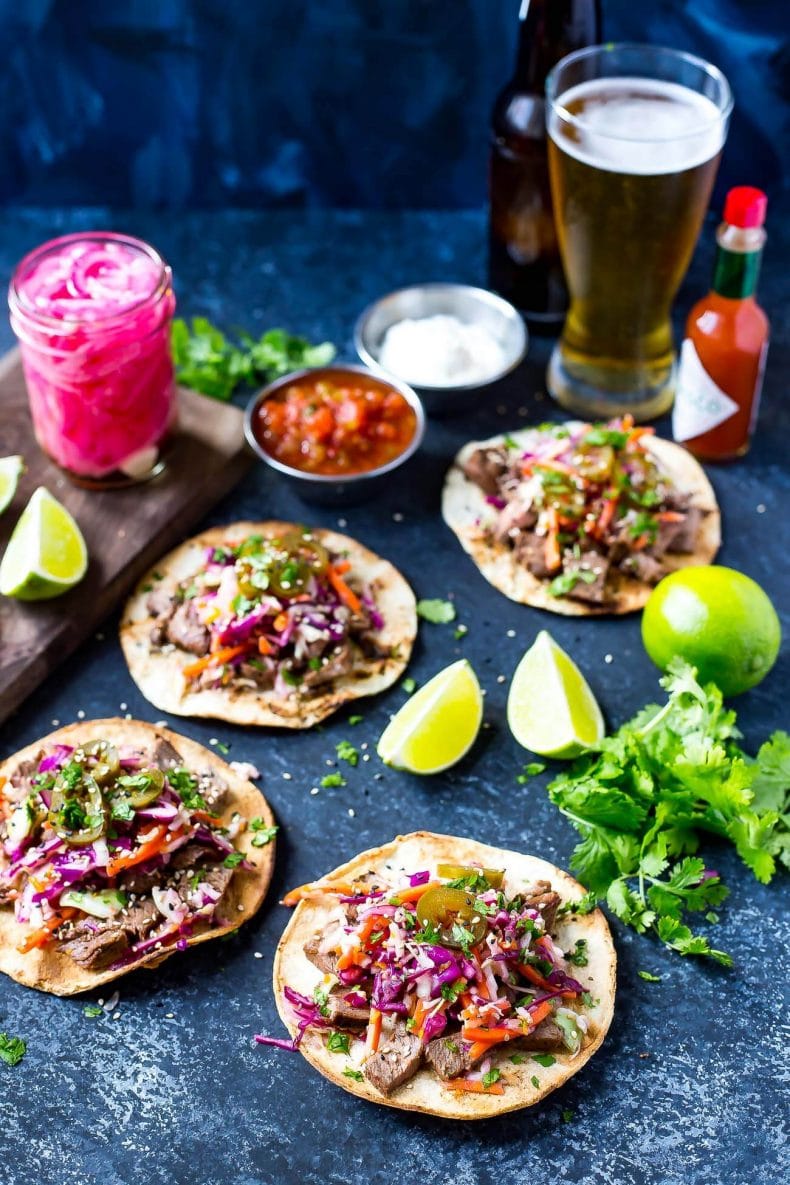 When I moved home to Hamilton to build my photography and blogging business, I thought I would have a super hard time adjusting to the 'burbs. I thought I would miss my friends like crazy, that I would be completely out of the loop as far as networking and fun events go and that I would start to go stir crazy working from home all day and living at my parents'.
Temporary sacrifices, I told myself.
Except you know what?
It's kind of nice to have company after a long week. Fridays are usually reserved for carefree, fun food with the family (like these Kalbi Beef Tacos, or pizza, for instance) and I actually really love getting outside around nature more, going for long runs and hikes in the woods, having more of a community feel at the local gym, etc. I also love having a car to go and get my groceries in.?
And surprisingly, I haven't really been cut off from my friends as much as I thought I would be. In fact, we probably make even more of an effort to see each other on a regular basis and during the good weather I love travelling back and forth on the train, reading some good books?, drinking a coffee☕️, kicking back and having an hour to myself to think. There have definitely been some real benefits to this whole lifestyle change, and not just for the growth of my business.
One thing I do really miss about Toronto though, and just isn't the same here in Hamilton, is the food.
Don't get me wrong. Hamilton's food scene is really up and coming, and there are some fantastic places I haven't had the chance to try yet. But everytime I travel to Toronto, I go nuts and make it my mission to pick up at least one of my favourite kinds of takeout, or drag my friends to one of my favourite restaurants.
I'm obsessed with the Playa Cabana restaurants, founded by a Mexican chef who creates killer tacos and enchiladas. I will go there and easily drop $75 on food, ordering like 4 or 5 different things and taking some back to Hamilton the next day. Everything is just so irresistable and my mouth is watering just thinking about it.
Having a bazillion margaritas, chips and guac also really helps to seal the deal.?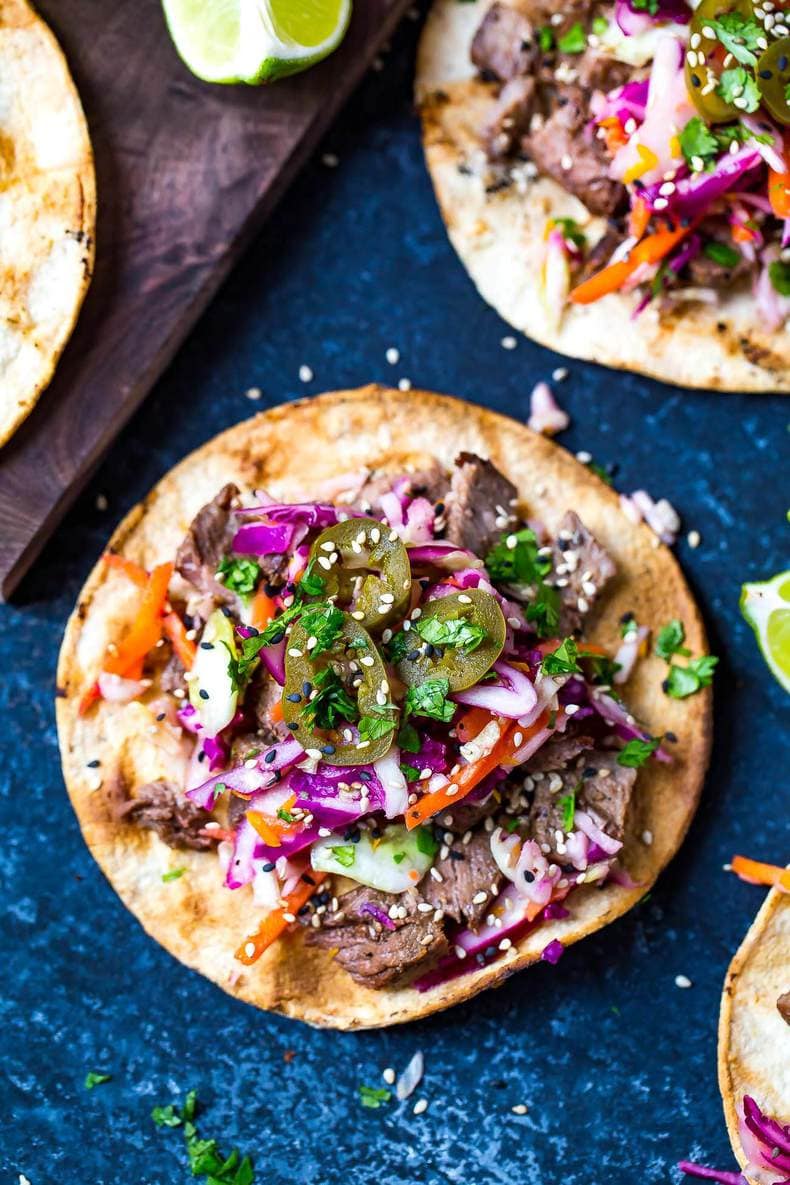 These Kalbi Beef Tacos are my own attempt to recreate their LA Truck Taco. Of course I don't know the exact recipe and tried desperately to remember the flavours but I think I've come pretty close.
Except I don't know if you noticed that I cooked the shit out of the steak in these photos LOL.
But not even that could ruin these tacos.
And you know what? The leftovers make for an absolutely fantastic next-day brunch. My little brother comes home from college every weekend and usually he ends up poking his nose around in the fridge sniffing for something decent to eat (you know college boys…) and more often than not he ends up asking me what I made for the blog that week.?
So in the midst of trying to help him out, I ended up topping the leftovers from these Kalbi Beef Tacos with a fried egg, some chili-spiced corn, shredded cheese and some Sriracha. Let's just say it made me wish I had held onto that plate myself.?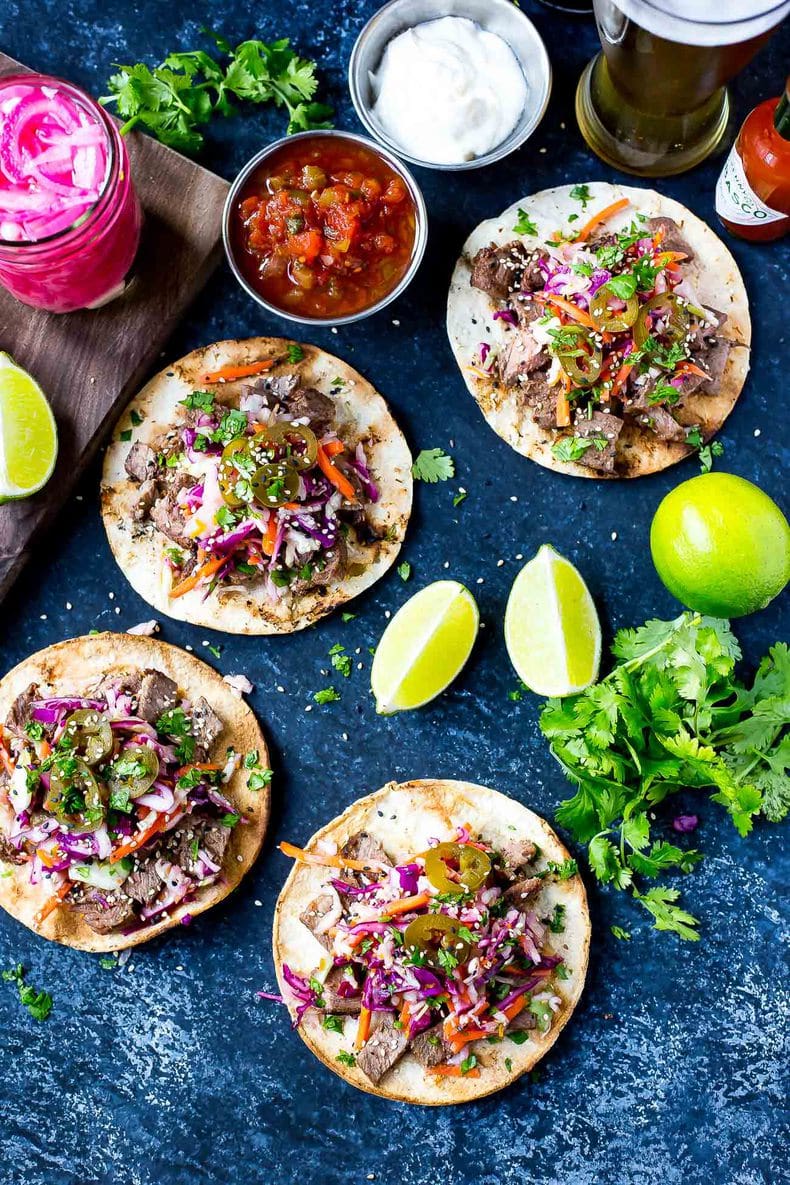 Along with the kalbi beef and pickled red onions, the citrus coleslaw in this recipe is an absolute must and is something special in its own right. A little bit of orange zest kicks it up a notch in terms of flavour, and it blends perfectly with all the other flavours in these Kalbi Beef Tacos.
And you HAVE to use corn tortillas. I have talked about this several times in all my other posts about tacos and Mexican food, but flour tortillas just don't cut it. It's not the same flavour. Honestly, flour tortillas really make me gag and I don't know how people can eat them. I won't rule them out of course if made authentically and served to me at a restaurant, but all I know is the storebought ones are terrible.
Look for corn tortillas at an international market, and from time to time they will have them frozen or refrigerated at your local grocery store. Whenever I happen to find them I load up and buy 3 or 4 at a time and freeze them – I think there's something like 100 tortillas per package and they're like $2 so not only do they taste way better than flour, they are cheaper too.
I took the quick pickled onion recipe from The Kitchn – it's my go-to whenever I make them and you just can't go wrong. I keep them on hand to use as a condiment for healthy bowls or other kinds of Mexican food. They usually last in the fridge up to a couple weeks and it only takes 5 minutes to make so it's a worthy addition to these Kalbi Beef Tacos. However, if you're in a rush, the citrus slaw, some cilantro and sesame seeds will do as toppings.
Serve up a giant pile of these with some ice-cold beers, hot sauce and Netflix time.
Or, if you're spending Friday night in my house, you might have these while watching HGTV's Island Hunters wishing you had enough money to buy a beachfront getaway, instead of looking at all the snow outside while Canadian winter wraps up.
But anyway.
Will you be making these Kalbi Beef Tacos?
They are a delicious international spin on my fave kind of food, and they are so versatile that you can pretty much use any veggies or toppings you have kicking around. Although I may judge you if you skip out on the citrus slaw. Just saying.
If you try any of my recipes be sure to let me know on Instagram, Twitter, Facebook or in the comments – I'd love to see what you come up with!???
Kalbi Beef Tacos
These Kalbi Beef Tacos are seasoned with sesame oil for an Asian-inspired flair, then topped with a delicious citrus slaw, pickled red onion and jalapenos!
Print
Pin
Rate
Ingredients
Citrus Slaw
1

bag

coleslaw mix

1/3

cup

finely chopped red cabbage

1/4

cup

Carrot matchsticks

1/4

cup

vinegar

2

tbsp

sunflower oil

2

tbsp

sugar

2

tsp

orange zest

1

tsp

salt

1/2

tsp

pepper
Kalbi beef marinade
2

sirloin steaks

1/4

cup

sesame oil

2

tbsp

soy sauce

1

tbsp

adobo sauce (you can get this from a can of chipotle peppers)

1

tbsp

Sriracha

4

cloves

garlic minced

2

tbsp

orange juice

2

tsp

lime juice

1

tsp

dried ginger
Taco toppings
12

corn tortillas

Pickled jalapenos

1/4

cup

finely chopped cilantro

2

tbsp

sesame seeds
Pickled red onion
1

small

red onion, thinly sliced

3/4

cup

vinegar

1/2

tsp

sugar

1/2

tsp

salt

1/2

tsp

peppercorns (optional)

1

clove

garlic, cut in quarters (optional)
Instructions
Mix together marinade for steak in a small bowl. Add marinade and steaks to a large plastic bag and set aside, marinating for at least 15 minutes.

Meanwhile, prepare pickled red onions. Stir sugar, salt, garlic and peppercorns in with vinegar in a medium-sized mason jar. Place thinly sliced red onions in a strainer in the sink. Slowly pour a kettle full of boiling water over onions. Immerse semi-cooked onions in vinegar mixture and let sit for 10-15 min before serving. Onions will last in the fridge for a couple weeks - use them as a condiment for other meals!

Make citrus slaw by tossing all ingredients together. Meanwhile, preheat BBQ to med-high heat.

Add steak and corn tortillas to grill. BBQ steak for 2-3 min each side for medium-rare, and 4-5 min for well-done. Grill corn tortillas for about 1-2 min per side, longer if you want the taco shells to be crispy.

Add steak, coleslaw, pickled red onion, jalapenos, cilantro and sesame seeds to each taco. Serve and enjoy!