These Kalbi Beef Tacos are inspired by Korean cuisine with a delicious kalbi marinade and pickled red onions topped with citrus slaw!
Ingredients and substitutions
Citrus Slaw
Coleslaw mix – use any bagged coleslaw mix (ex: cabbage slaw, broccoli slaw, etc.) or thinly slice up some cabbage.
Vinegar – rice vinegar, white vinegar or apple cider vinegar will work. In a pinch, use lemon or lime juice.
Sugar – honey or maple syrup are great alternatives.
Sunflower oil – any other neutral oil can be used in place of sunflower oil.
Orange zest – use the zest of another citrus if you don't have any orange.
Salt & pepper – to taste.
Kalbi beef
Sirloin steaks – ribeye or New York steak strips can also be used.
Sesame oil – grapeseed oil and canola oil are great bets but won't be as aromatic as sesame oil.
Soy sauce – coconut aminos or tamari can also be used.
Adobo sauce – feel free to use the sauce that comes with canned chipotle peppers.
Sriracha – sambal oelek is a great sriracha alternative.
Garlic – I always recommend fresh garlic but jarred minced garlic also works well.
Orange juice – for best results, use freshly squeezed juice from half an orange. If you're in a pinch, use store-bought orange juice.
Lime juice – use freshly squeezed juice from half a lime or store-bought bottled lime juice.
Dried ginger – fresh grated ginger can also be used in this recipe.
Taco toppings
Corn tortillas – flour tortillas will also work.
Pickled jalapenos – fresh jalapenos would be good here too.
Cilantro – to garnish.
Sesame seeds – to garnish.
Pickled red onion
Small red onions – shallots can be used for a similar taste. Other onions can be used but will alter the taste.
Vinegar – white vinegar is recommended for pickling onion but red cider vinegar and apple cider vinegar also works.
Sugar – use maple syrup or honey in place of sugar.
Salt – to taste.
Peppercorn – feel free to leave this out altogether.
Garlic – fresh minced garlic is best but garlic powder will also work, or you can leave this out altogether.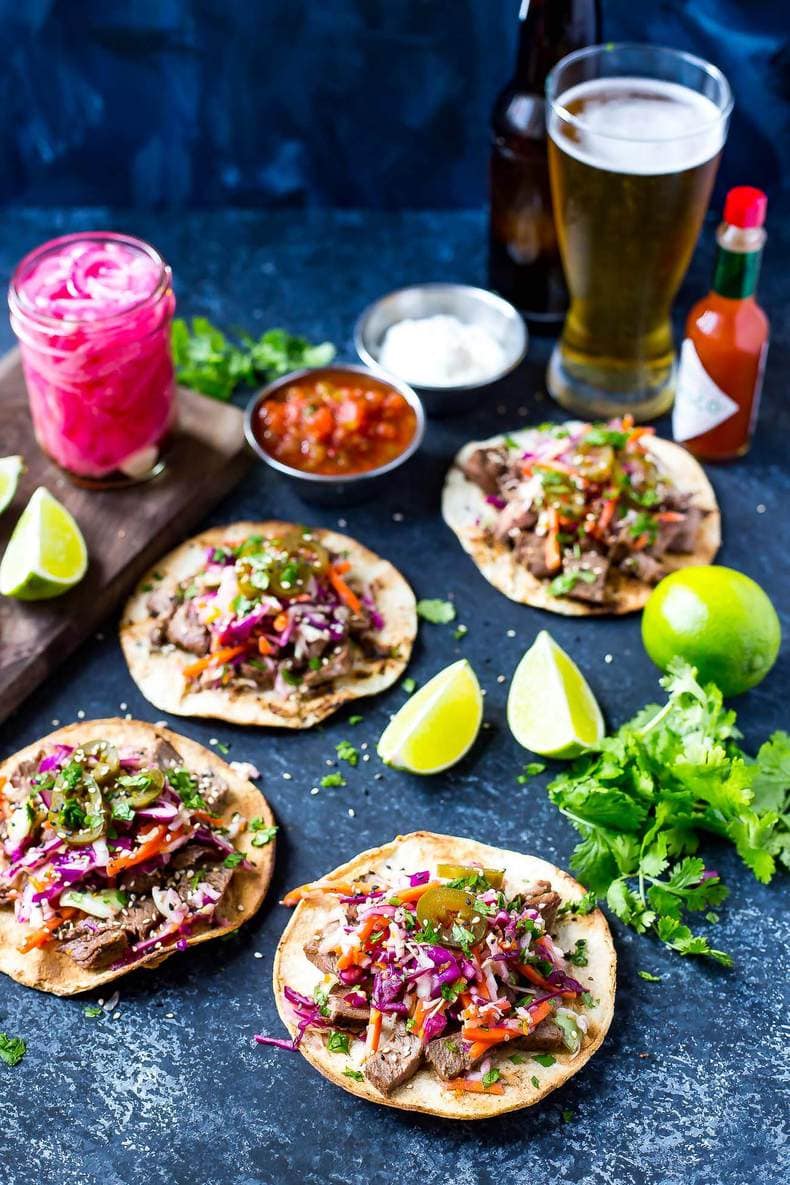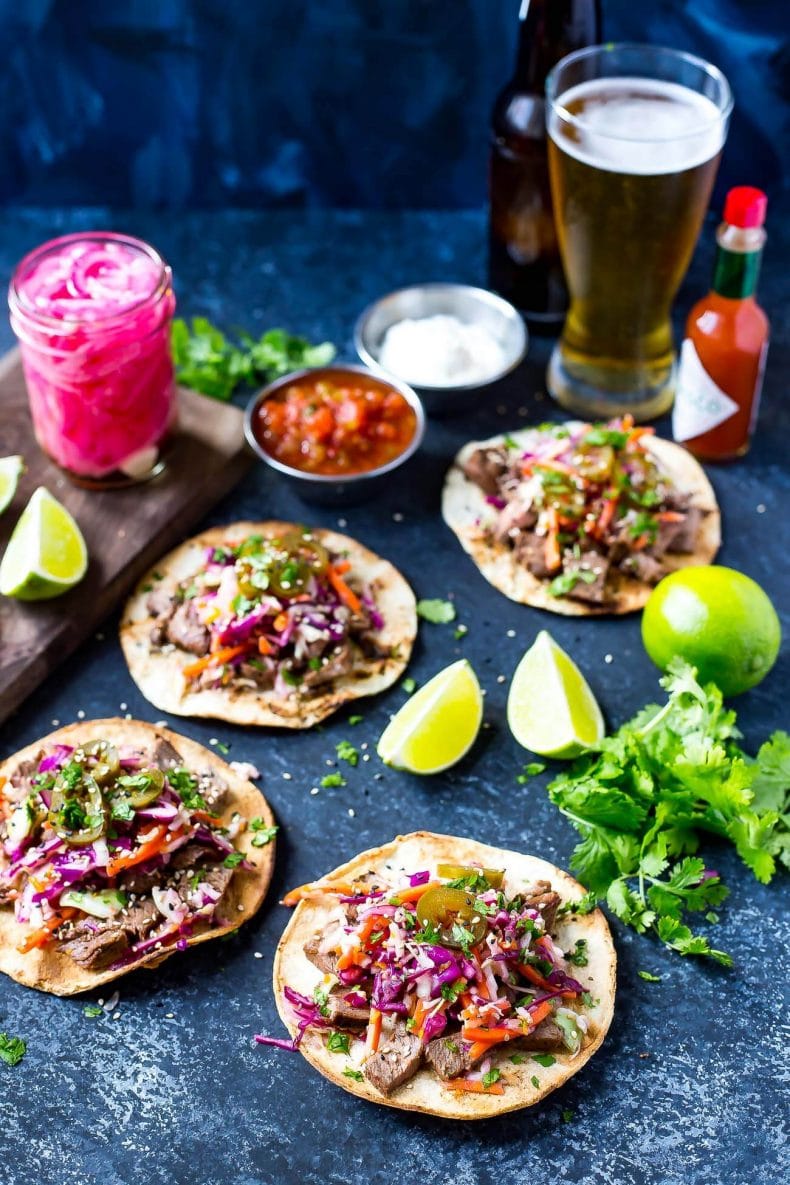 Skip the Ads and Get Right to the Recipes!
ZERO ADS on over 600 recipes!
Weekly Meal Plans, Grocery & Prep Lists
Bonus eBooks
How to make this recipe
Make the marinade.
Marinate the steak.
Prepare the pickled red onions.
Toss together the citrus slaw.
Grill the steak and tortillas.
Assemble your tacos and enjoy!
Kalbi beef marinade
While kalbi tacos are traditionally made with beef short ribs, this recipe uses a traditional kalbi marinade with steak. The kalbi marinade is super easy to make – just mix together all the ingredients under the marinade heading and let the steak marinate for at least 15 minutes. The longer it marinates, the more flavourful the beef will be!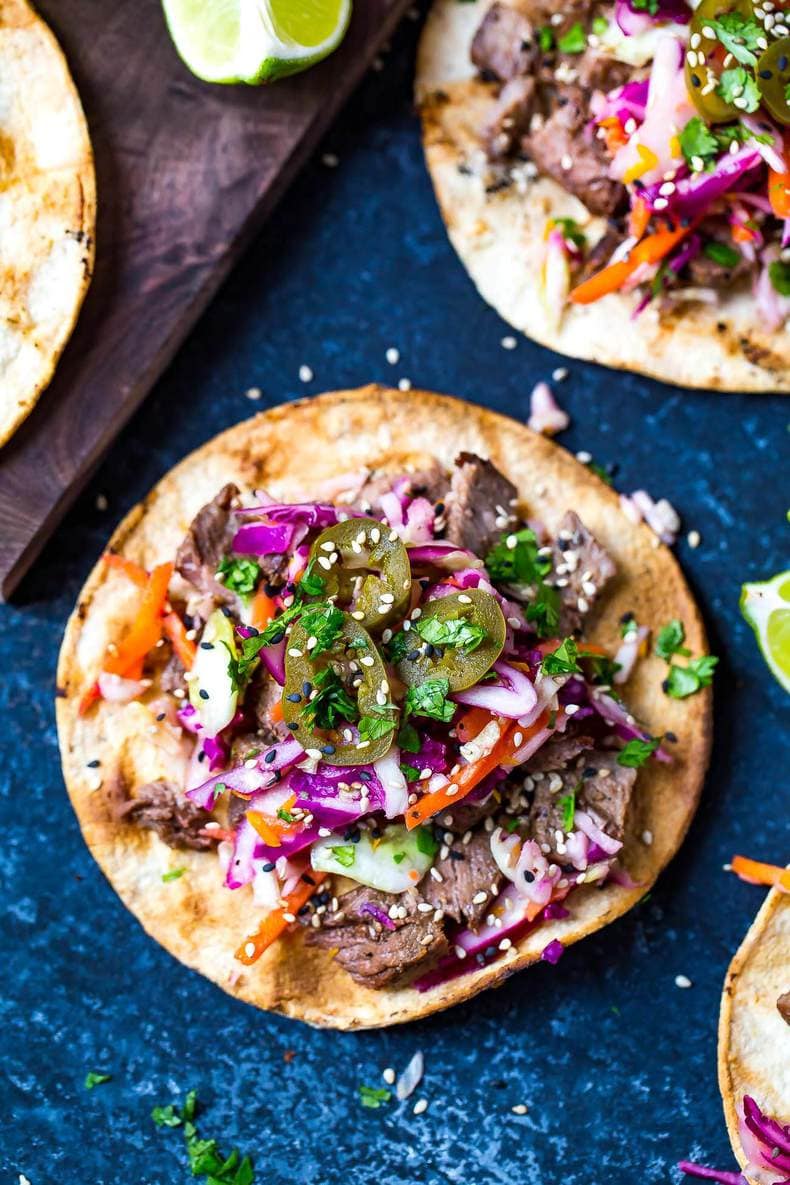 Frequently Asked Questions
What cut of meat is kalbi beef?
Kalbi beef is most commonly seen in Korean dishes. Kalbi refers to dishes in Korean cuisine that use beef short ribs in a special marinade. This recipe isn't an authentic creation of Kalbi because it doesn't use short ribs, but uses the marinade found in most Kalbi dishes.
What should I serve with my tacos?
I love making these tacos with citrus slaw that you can put on top of your tacos or eat on the side. If you're looking for more side dish options, you can keep up with the Korean-inspired cuisine by serving them with some kimchi or a nice fresh mango salad.
How many calories are in this recipe?
This recipe has about 163 calories per taco. It's a great way to indulge while still enjoying a low-calorie meal! If you want to cut down on calories even further, you can use lettuce wraps instead of corn tortillas for a low-carb option.
Storing and reheating
To make the storing process as easy as possible, store the steak and toppings separately in their own containers. When you're ready to serve your tacos, build them as you're eating them rather than preparing many in advance. If you build more tacos than needed, it will be very difficult to store the fully loaded tacos for later.
Leftovers should be kept in airtight containers in the refrigerator. The meat and toppings will keep well in the fridge for up to 5 days. Store leftover corn or flour tortillas in the fridge for longer keeping.
Any leftover beef can be reheated quickly on a grill or in the oven. If you're in a pinch, feel free to microwave the steak. However, microwaving the steak is not recommended because it can easily dry out, even if you don't use full power. If you do microwave, make sure to sprinkle some water over top first so the beef doesn't dry out.
Freezing the leftover beef
If you have any extra beef, cooked or uncooked, the good news is that you can freeze it for future meals!
To store any raw meat in the freezer, you have the option to freeze the beef raw in the marinade. This way, it will be full of flavour and ready to cook when you're ready to enjoy it.
To store any leftover cooked beef in the freezer, let the beef cool to room temperature first. Once cooled, transfer the meat into a freezer bag, meal prep container or another freezer-safe, airtight container.
Either way, the meat will keep in the freezer for 3-4 months. You will want to defrost the meat before ice crystals or freezer burn appears on it. Once it has developed any freezer burn, it will still be good to eat but will have lost its taste and texture.
Wanna Learn How To Meal Prep?
My meal planning service, Dinner Prep Pro, removes the guesswork and helps you get dinner on the table in 15-20 minutes each night. My meal prep checklists only take 1 hour each week!
More tasty taco recipes
Meal prep tools for this recipe
Kalbi Beef Tacos + Citrus Slaw
These Kalbi Beef Tacos are inspired by Korean cuisine with a delicious kalbi marinade and pickled red onions topped with citrus slaw!
Print
Pin
Rate
Click Here to Remove Ads
Servings: 12 tacos
Calories: 163kcal
Ingredients
Citrus Slaw
1 bag coleslaw mix
2 tbsp vinegar
2 tbsp sugar
1 tsp sunflower oil
1 tsp orange zest
1 tsp salt
1/2 tsp pepper
Kalbi beef marinade
1 lb sirloin steaks
2 tbsp sesame oil
2 tbsp soy sauce
1 tbsp adobo sauce (you can get this from a can of chipotle peppers)
1 tbsp Sriracha
4 cloves garlic minced
2 tbsp orange juice
1 tsp lime juice
1 tsp dried ginger
Taco toppings
12 corn tortillas
Pickled jalapenos
1/4 cup finely chopped cilantro
2 tbsp sesame seeds
Pickled red onion
1 small red onion, thinly sliced
3/4 cup vinegar
1/2 tsp sugar
1/2 tsp salt
1/2 tsp peppercorns (optional)
1 clove garlic, cut in quarters (optional)
Instructions
Mix together marinade for steak in a small bowl. Add marinade and steaks to a large plastic bag and set aside, marinating for at least 15 minutes.

Meanwhile, prepare pickled red onions. Stir sugar, salt, garlic and peppercorns in with vinegar in a medium-sized mason jar. Place thinly sliced red onions in a strainer in the sink. Slowly pour a kettle full of boiling water over onions. Immerse semi-cooked onions in vinegar mixture and let sit for 10-15 min before serving. Onions will last in the fridge for a couple weeks – use them as a condiment for other meals!

Make citrus slaw by tossing all ingredients together. Meanwhile, preheat BBQ to med-high heat.

Add steak and corn tortillas to grill. BBQ steak for 2-3 min each side for medium-rare, and 4-5 min for well-done. You can also saute this amount of time in a skillet over medium-high heat. Grill corn tortillas for about 1 min per side, longer if you want the taco shells to be crispy. Alternatively, you can heat them for a few seconds in the microwave

Add steak, coleslaw, pickled red onion, jalapenos, cilantro and sesame seeds to each taco. Serve and enjoy!
Notes
Nutritional info is for 1 taco. Use lettuce wraps instead of corn tortillas for a low-carb option. You can freeze the raw steak in the marinade ahead of time for 3-4 months. Thaw in the fridge overnight then cook as normal. Store the beef and toppings separately in the fridge for up to 5 days. Reheat the beef on the grill, oven or in the microwave then assemble your tacos fresh.
Nutrition
Calories: 163kcal (8%)Carbohydrates: 17g (6%)Protein: 11g (22%)Fat: 6g (9%)Saturated Fat: 1g (6%)Polyunsaturated Fat: 2gMonounsaturated Fat: 2gCholesterol: 23mg (8%)Sodium: 523mg (23%)Potassium: 239mg (7%)Fiber: 2g (8%)Sugar: 3g (3%)Vitamin A: 21IUVitamin C: 8mg (10%)Calcium: 56mg (6%)Iron: 1mg (6%)
Join The Girl on Bloor Premium!
ZERO ADS!
Weekly Meal Prep Checklists
Bonus eBooks