These Easy 20-Minute Potsticker Bowls are a quick and delicious dinner idea that are also low-carb. All you need is some ground chicken, a bag of coleslaw, mushrooms and a soy-sesame sauce!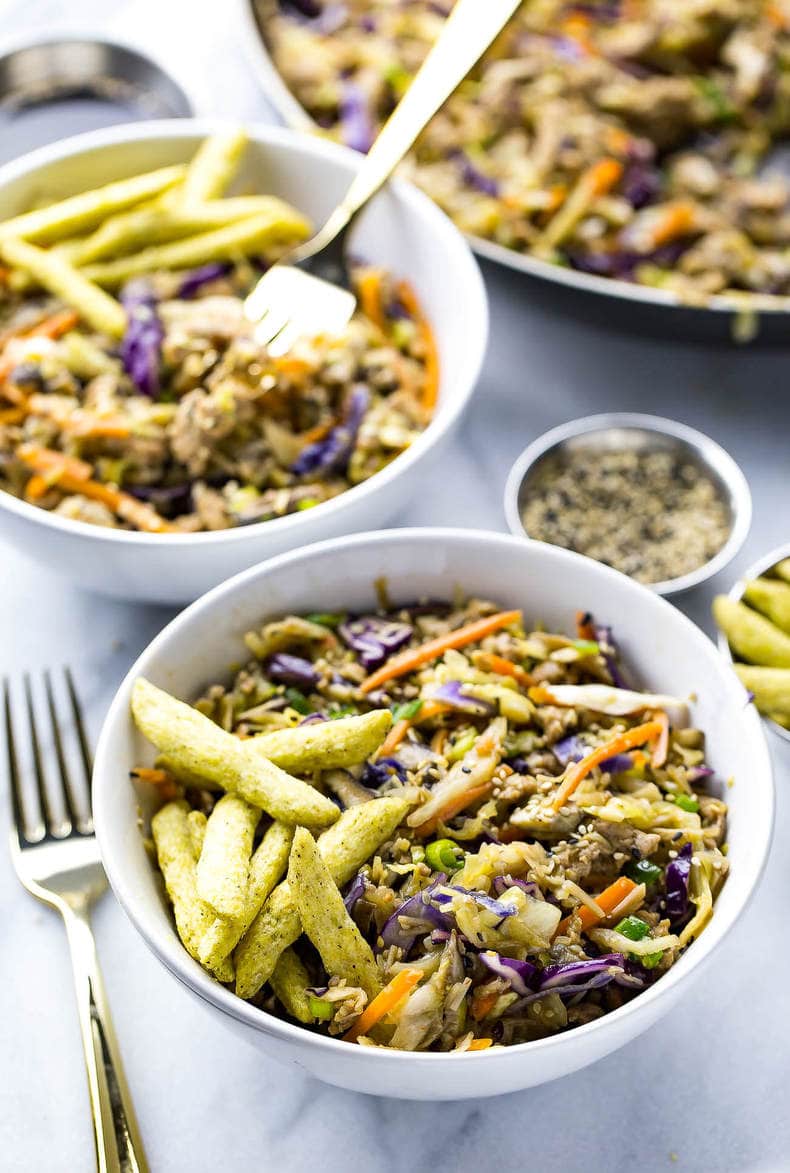 This post is sponsored by Harvest Snaps. Thanks for supporting the brands I love – they help keep my blog up and running!
Oh hi there Monday.
We meet again.?
I don't know that I have an easier dinner recipe on the blog – these 20-Minute Potsticker Bowls are the most delicious low-carb solution to your dinner woes, and you don't need too many ingredients either. Craving all the flavours of a potsticker but too lazy to actually make the dumplings? These bowls are for you.
And while I consider myself the queen of all things bowls, I really can't take too much credit here because these Potsticker Bowls are just too easy. I mean, they almost aren't even a proper recipe. Take some ground chicken, add some sesame oil and soy sauce, then add mushrooms, coleslaw mix and green onions.
Boom, done.
I know, I'm a genius.?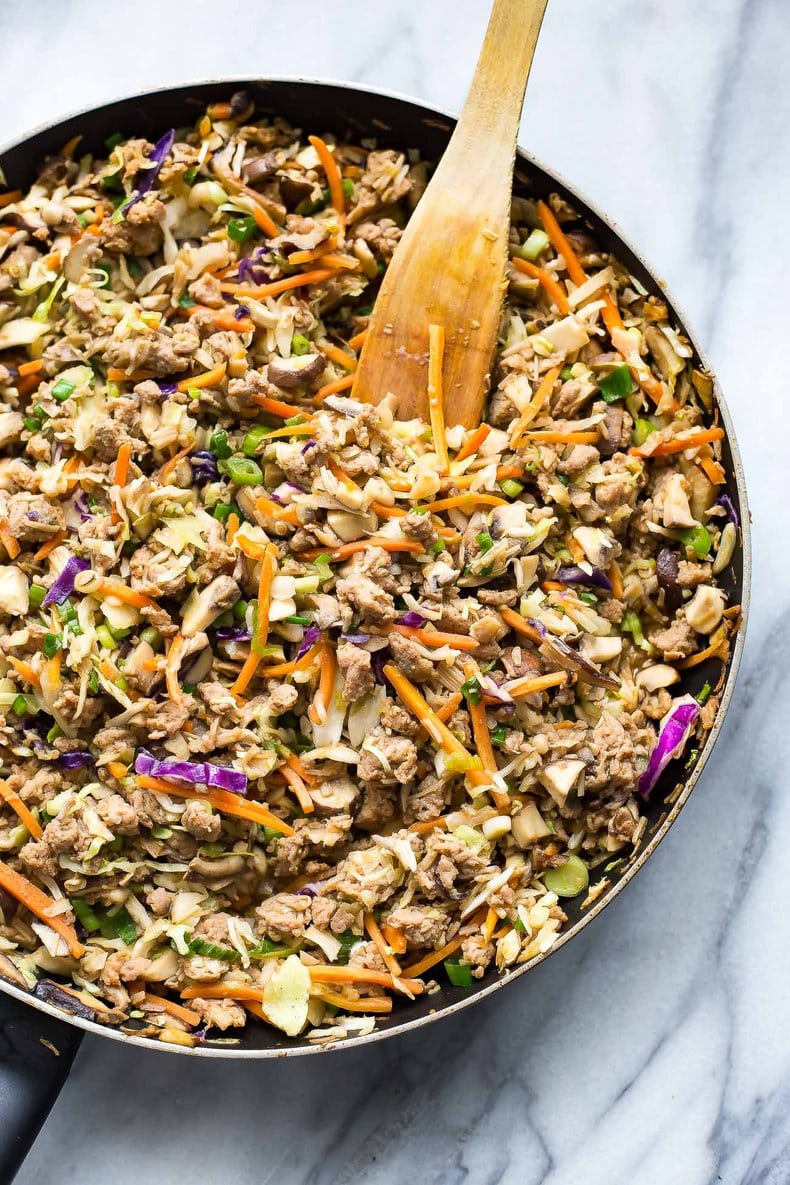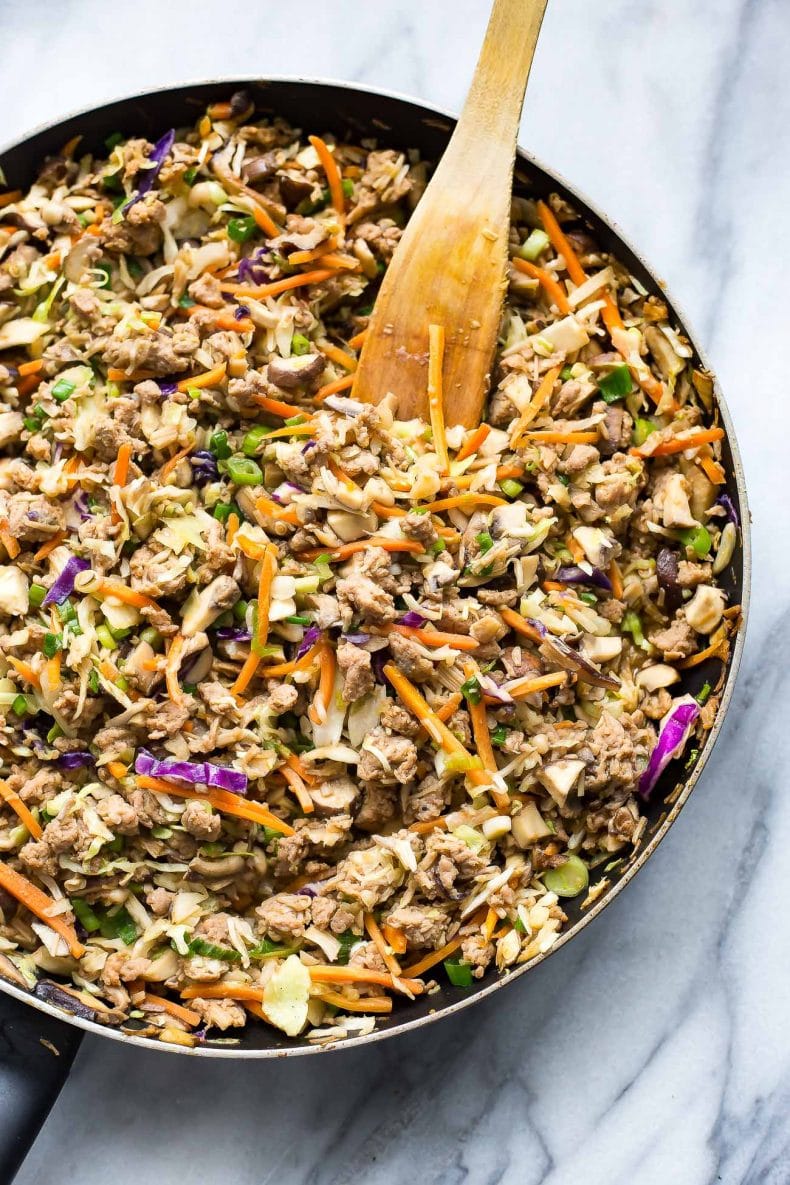 I made these ground chicken and triple mushroom potstickers last year for the blog to celebrate Chinese New Year, as a matter of fact, and while I was experimenting with different seasonings I found myself ravenously hungry in the middle of making the dumplings and fiddling around with the wonton wrappers.
And naturally, bit by bit I had to do a little tasting here and there? to make sure my potsticker filling was coming along and that I was really nailing the flavours.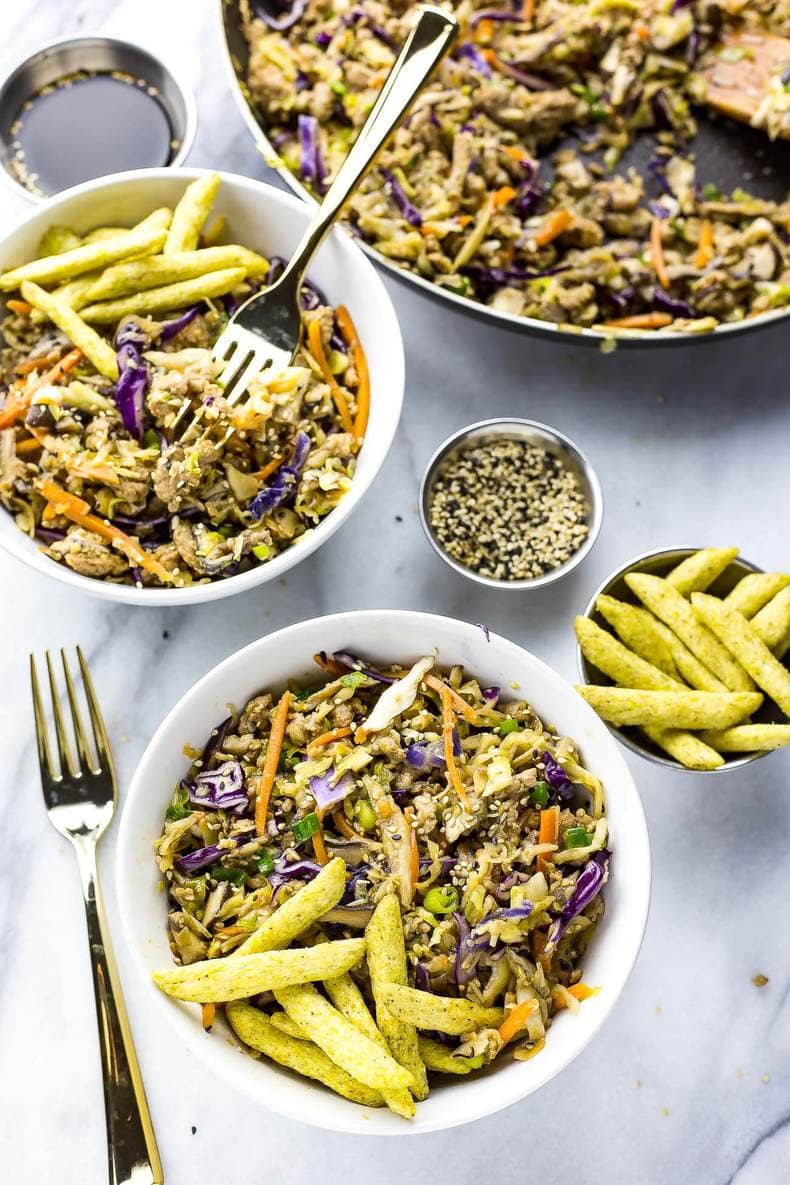 I'm not gonna lie, I probably ate like a third of the ground chicken filling before I realized I had to save some for the actual dumplings themselves. It was kind of a problem that the ground chicken mixture was that good, but that's how I knew I had stumbled onto something amazing.??
And for the longest time, I thought I was crazy and that I couldn't possibly make a meal out of that potsticker filling alone, because it was just TOO easy. But lately, I've been seeing all these Egg Roll Bowls going nuts on Pinterest, so it caused me to revisit this idea of a low carb, Asian-inspired stir fry bowl and here we are at just about my fave weeknight dinner ever.
And of course, naturally, you know my love of all things Harvest Snaps. Not only are they one of my favourite snacks ever, but I've been enjoying them alongside some of my other fave low carb recipes, like these Coconut Crusted Chicken Salad Bowls. Add an unexpected little bit of fun, crunchy flavour in there!!!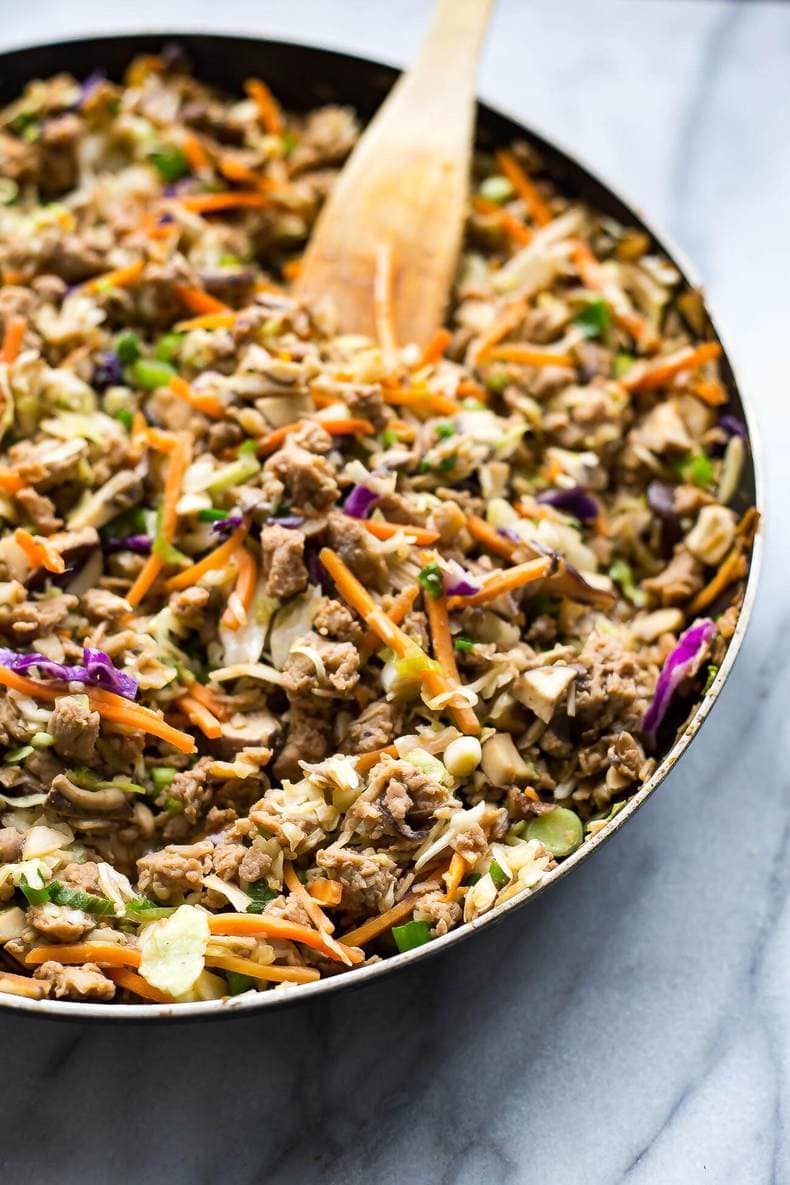 I know it may even seem like an unorthodox combo at first but I should probably fill you in on how I started pairing Harvest Snaps with recipes like this.
I'm actually pretty positive you might be able to relate.
I'm one of those people who sometimes eats while they're waiting for their actual food to cook. It's pretty funny actually, because I do this even with 20-minute meals or while I'm microwaving something.
It's like I decide I've gotten to this point where I'm so hungry and the anticipation of waiting for even leftovers to heat up is too much to bare and I start rummaging through my snack cupboard trying to find something to aleviate whatever I'm craving, which is usually something savoury and crunchy (hello, chips!?)
I'm also at the point in my life, though, where I'm really trying to eat healthier and not load up on a ton of calories – especially right before eating an actual meal LOL. Adult goals, right?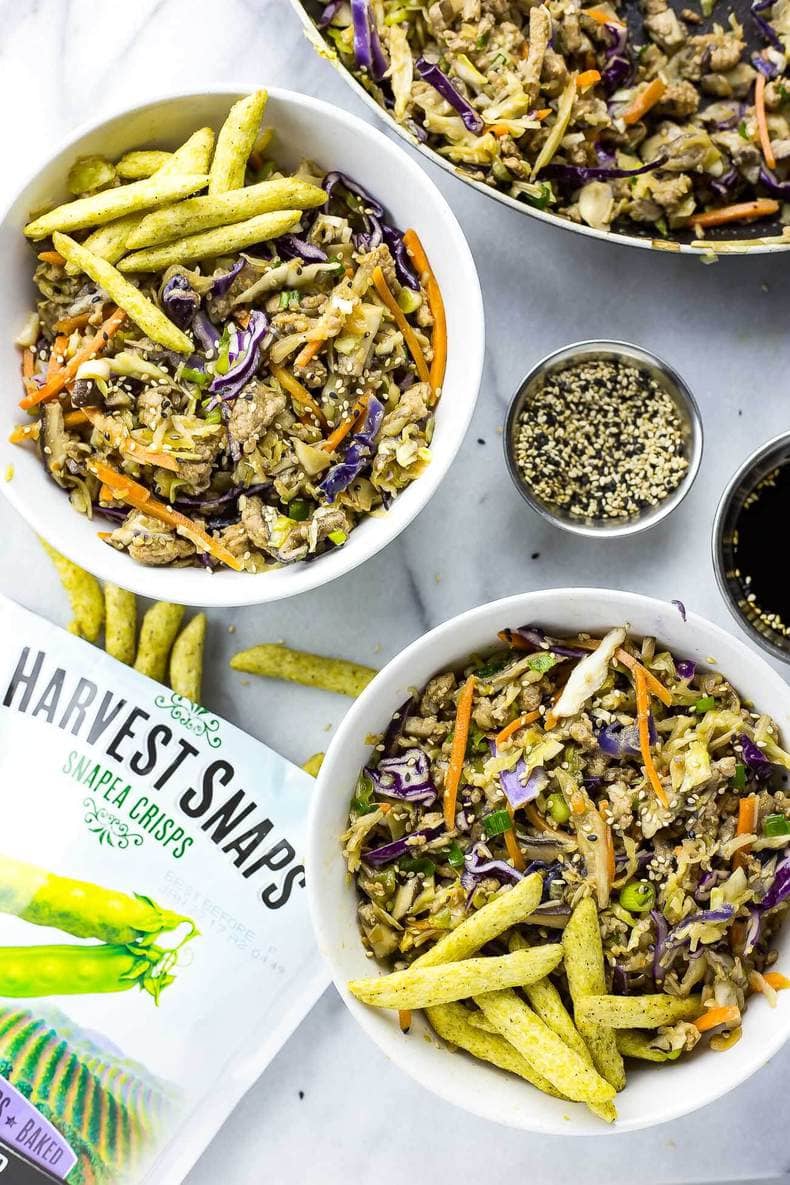 So when I was in grad school, there were these giant annoying periods of time where we would have to stay on campus working on various projects waiting for our next class to begin, but luckily we had a grocery store across the street. One time, my friend bought these delicious snap pea crisps called Harvest Snaps. I began eating them ferociously, probably hogging the whole bag she bought because they were just that good. In the end I felt kind of guilty, and no, not because I ate my friend's snacks, but because I thought I had completely ruined my diet for the day. Nope!!!
Ever since then, I've pretty much had at least one or two Harvest Snaps bags in my snack cupboard and out they come while I'm waiting for something to cook. But even better? Sometimes I actually include them as part of my meals now (like in this case!) instead of ruining my appetite beforehand.
That's what I call a win-win.??
And in case you haven't been listening to me ramble on and on enough about just how easy these Potsticker Bowls really are, or how much I love Harvest Snaps, let me just break it down for you one more time. All that's standing between you and dinner tonight is the following, and one large frying pan:
Ground chicken or turkey
Coleslaw mix
Shittake, enoki and cremini mushrooms (just the cremini will do just fine if you're in a bind)
Soy sauce
Sesame oil (and seeds if you wish)
Scallions
Harvest Snaps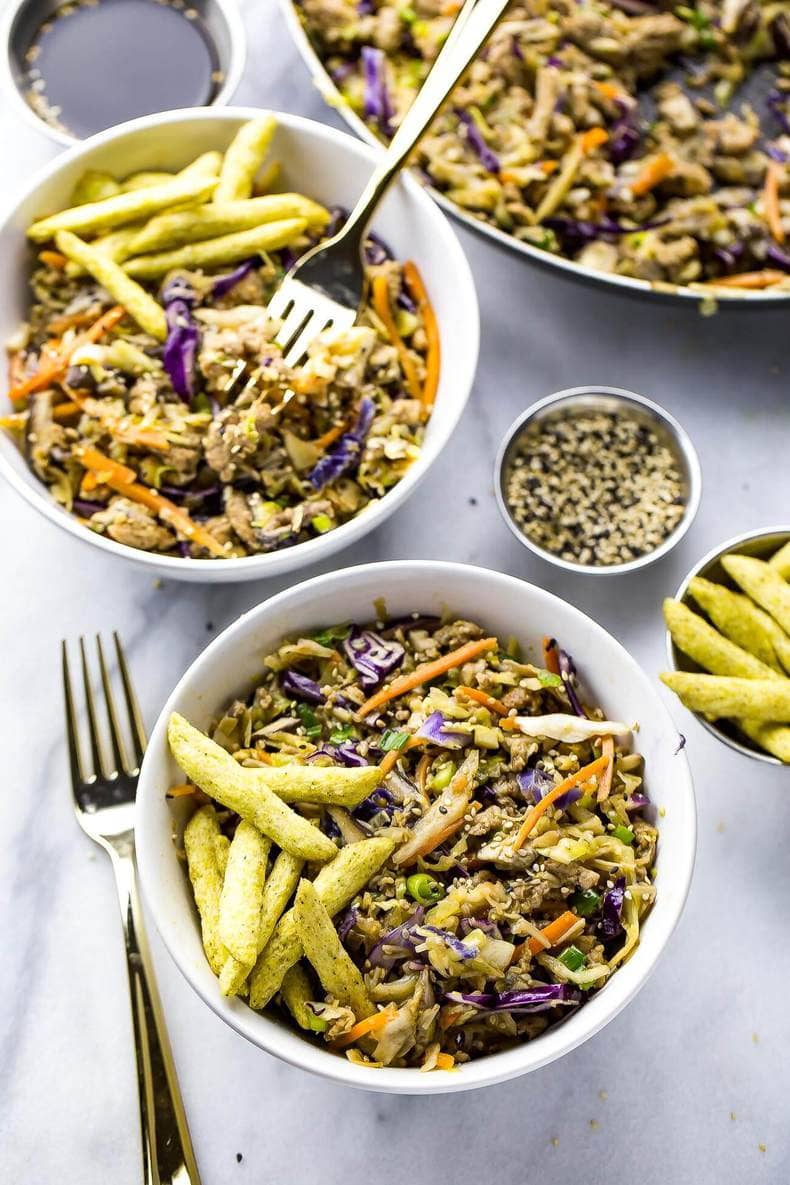 Will you be trying these Easy 20-Minute Potsticker Bowls?
They are quickly becoming one of my go-to dinners when I'm in a rush and I can honestly tell you that they won't let you down! Even as I was making these bowls to shoot for the blog I was surprised again and again how easy the process was. Everybody needs a 20-minute dinner idea up their sleeve!
If you try any of my recipes be sure to let me know on Instagram, Twitter, Facebook or in the comments – I'd love to see what you come up with!???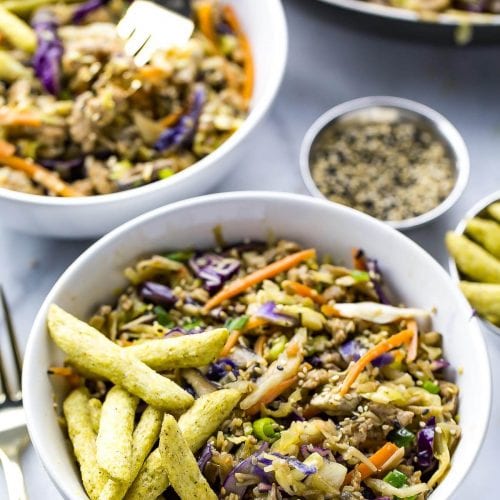 Easy 20-Minute Potsticker Bowls
These Easy 20-Minute Potsticker Bowls are a quick and delicious dinner idea that is also low-carb. All you need is some ground chicken, a bag of coleslaw, mushrooms and a soy-sesame sauce!
Print
Pin
Rate
Ingredients
1

tbsp

sesame oil

4

cups

raw chopped cremini, enoki and shittake mushrooms

1

lb

Ground chicken or turkey

2-3

tbsp

soy sauce

1

bag

coleslaw mix

4

green onions, sliced

1

tbsp

sesame seeds (optional)

2

tsp

chili garlic sauce (optional)

1

bag

Black Pepper Harvest Snaps
Instructions
Heat sesame oil in a large frying pan over med-high heat. Add mushrooms, sauteeing for 3-4 minutes until liquid starts to release. Add chicken and soy sauce, breaking up as meat cooks with spoon.

When meat is almost fully cooked (after about 7-8 min), stir in coleslaw mix, stir frying for 3-4 min until cabbage wilts. Remove from heat, and stir in green onions, sesame seeds and chili garlic sauce, mixing well to combine.

Serve in large, deep bowls and top with Black Pepper Harvest Snaps for some crunch. Enjoy!