These Stuffed Chicken Breasts are INCREDIBLE! Try broccoli-cheddar, Margherita, spinach-artichoke, mushroom-onion or asparagus-provolone.
How do I stuff a chicken breast?
Stuffing a chicken breast intimidates some people, and that is understandable. Where are you supposed to put all of the delicious fillings on that plump chicken breast?
Butterflying the breast is the secret.
What does it mean to butterfly chicken?
Butterflying is a common technique for making a chicken breast thinner so it cooks faster, or to prepare a pocket to hold stuffing. In this case, we are going to load it up with delicious fillings!
Once your stuffing or filling of choice is prepared, you will use a sharp chef's knife to create a pocket for the filling to bake in. Using a sharp knife and a clean work surface makes doing this much easier.
To butterfly a chicken breast:
Place the chicken breast onto a cutting board; hold your knife along the long side of the breast.
Using your other hand to hold the chicken stable, carefully slide the knife through the breast, stopping just before the knife reaches the other side. Open the breast and what you will have is one larger, much thinner chicken breast.
Place your choice of ingredients onto one half and then flip the other half back over the fillings. The ingredients will cook right inside the chicken breast. If you use a lot of filling, you may need to use toothpicks to keep everything secure.
Then, simply bake the stuffed chicken breasts just as you would any other chicken dish.   to watch the video on how to do this.
Making stuffed chicken step-by-step
Here's how to make the stuffed chicken each step at a time. It's a super easy process once you know how to butterfly the chicken.
Preheat oven to 425 F and lay out all your toppings so that they are ready to go.
Cut a shallow slit in the chicken where the chicken breast naturally opens up. Add 1-2 tbsp of stuffing ingredients of choice – be sure to not add too much or it will all spill out of the chicken.
Fold the breast over then secure with toothpicks if needed – I find this helpful if you've overloaded the breasts as I sometimes do LOL!
Place each breast on a parchment-lined baking sheet and rub with a bit of olive oil, then season with salt & pepper. Bake for 22-25 minutes, making sure they reach an internal temperature of 165 F before serving.
Serve with your side of choice and enjoy!
5 stuffed chicken breast variations
These baked stuffed chicken breast recipes look like they take hours to make, so they are perfect for impressing guests. The truth is, all 5 recipes are so easy to make, you will spend most of the time enjoying your dinner guests rather than working in a hot kitchen!
Here are my top 5 stuffed chicken breast recipes pictured below and labelled. Most have only two or three ingredients so they are easy to make and no need to run to the store for a bunch of different ingredients.
Margherita stuffed chicken
Mushroom swiss stuffed chicken
Broccoli cheddar stuffed chicken
Spinach artichoke stuffed chicken
Asparagus provolone stuffed chicken
How long to cook stuffed chicken breast
These stuffed chicken breast recipes require a cook time of cook 22 to 25 minutes depending on your oven and how hot it gets.
Cook the chicken to an internal temperature of 163 degrees Fahrenheit before removing it from the oven. As it rests before serving, the chicken will continue to cook, increasing the internal temperature another 3 degrees or so.
Use an instant-read food thermometer to take a reading of both the breast and the stuffing if you are cooking them together.
Tips for juicy chicken breasts
My perfect baked chicken breast post has all kinds of tips and tricks to getting super moist chicken without drying it out.
Here are the primary things you need to know:
Get the oven temperature right: bake at 425 F to get enough heat to cook the chicken through but not too much heat so that the chicken overcooks
Don't bake too long: 22-25 minutes will do the trick on medium to large sized breasts. Don't be tempted to overcook for 30-40 minutes. Chicken takes less time than you might think!
Spoon the juices overtop: when you take the chicken out of the oven, spoon the juices overtop of it
Let the chicken rest: once it comes out of the oven let it sit for 5-10 minutes just as you would with a steak before cutting into it so the chicken can retain its moisture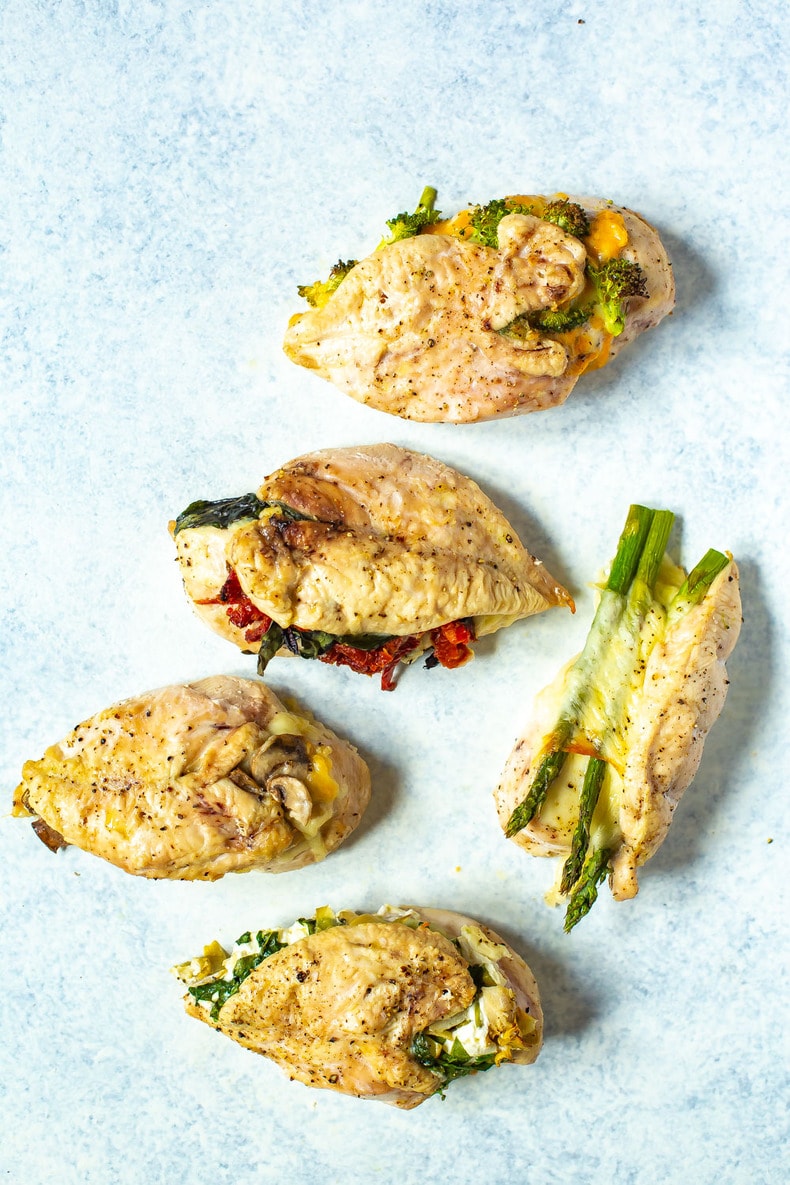 Storing stuffed chicken breasts
These stuffed chicken breast recipes will last in the fridge up to 4 days. Store them in glass meal prep containers to make them easy to microwave straight out of the fridge.
To reheat, simply sprinkle some water overtop so the chicken retains moisture, then microwave for 2-3 minutes. I actually prefer to slice the chicken and sprinkle with 1-2 tsp of water so that the chicken reheats more evenly and then I don't have to do all the work of slicing it with a fork and knife as I eat it but that's just my personal preference!
Can these stuffed chicken breasts be frozen?
Yes they can! Just freeze in a glass container once the chicken has cooled. You can freeze them up to 3 months and then defrost in a 350 F oven for 20-30 minutes until warm inside. I recommend adding a bit of water overtop so that the chicken stays moist, but other than that freezing the cooked chicken is no issue.
You can also freeze uncooked stuffed chicken in freezer-safe Ziploc bags depending on the fillings. Broccoli cheddar, spinach & artichoke and margherita are the varieties of stuffed chicken that freeze best raw. Defrost the chicken in the fridge for 24 hours and then bake according to the regular instructions in the recipe card.
What to serve with stuffed chicken
Since these stuffed chicken breast recipes are pretty hearty and filling on their own, I recommend serving something small as a side dish. I don't think you need a starch and veggie with these – even just a simple side salad or arugula will do.
Here are some other ideas of what to serve with stuffed chicken:
Salad
Baked potatoes
Mashed sweet potatoes
Sweet potato fries
Roasted veggies such as broccoli, carrots, brussels sprouts and more
Steamed veggies such as cauliflower
How to safely handle raw meat
Raw chicken carries harmful salmonella bacteria. This bacteria is responsible for the majority of food-related poisoning cases each year. For this reason, chicken has a bad reputation as a food safety hazard.
However, by following some basic guidelines and safety tips, you won't have to worry about making anyone sick.
Whenever you make regular or stuffed chicken breast recipes:
Do not thaw chicken at room temperature. Keep the chicken cold until you are ready to prepare it for cooking. Bacteria grows more rapidly at room temperature.
Do not wash or rinse raw chicken. Not only is it unnecessary, but it also allows bacteria to splash onto your kitchen sink and countertop. From there, it can spread and grow on any other surfaces it comes into contact with.
Keep work area clean. Thoroughly wash your hands as well all kitchen utensils and cutting boards immediately after using them to prepare raw chicken.
Gauge doneness using a food thermometer. Cook chicken to an internal temperature of 165 degrees Fahrenheit before serving.
Microwave defrosting is also not recommended, primarily because the outside of the chicken will start to cook while the inside remains frozen. As a result, it will be very difficult to butterfly the chicken to make the stuffed chicken breast recipes.
The safest way to thaw frozen chicken is overnight in the refrigerator. To prevent salmonella bacteria from contaminating other foods in your fridge, place the frozen chicken into a zip top plastic bag or covered container.
More stuffed chicken breast recipes
Meal prep tools for this recipe
Grab some glass meal prep bowls if you plan on making any of the baked stuffed chicken recipes for your weekly lunches.
I get all my free-range chicken from Butcher Box, conveniently delivered to me frozen.
Get a meat thermometer to make sure your chicken is cooked through
Use these Ziploc bag holders if you're making the stuffed chicken then freezing it
Freeze this recipe in glass microwave-safe bowls up to 3 months
Stuffed Chicken Breast Recipes
These Stuffed Chicken Breasts are INCREDIBLE! Try broccoli-cheddar, Margherita, spinach-artichoke, mushroom-onion or asparagus-provolone.
Print
Pin
Rate
Ingredients
1

tbsp

olive oil

4

medium-sized chicken breasts
Broccoli cheddar stuffing
broccoli florets, finely chopped

Shredded cheddar cheese
Margherita stuffing
Sundried tomatoes, finely chopped

Spinach or arugula

Shredded mozzarella cheese
Asparagus provolone stuffing
Asparagus, chopped

Provolone cheese slices
Spinach artichoke stuffing
Spinach, chopped

Canned artichokes, drained and chopped

Cream cheese or goat cheese
Mushroom stuffing
Mushrooms, thinly sliced

Shredded Swiss cheese
Instructions
Preheat oven to 425 F. Cut a shallow slit in the chicken where the chicken breast naturally opens up. Add 1-2 tbsp of stuffing ingredients of choice to each breast, then fold over.

Place each breast on a parchment-lined baking sheet and rub with olive oil, then season with salt & pepper. Bake for 22-25 minutes.

Serve with side of choice and enjoy! Leftover chicken will last up to 3 or 4 days in the fridge.
Video
Nutrition
Calories:
221
kcal
|
Carbohydrates:
1
g
|
Protein:
28
g
|
Fat:
11
g
|
Saturated Fat:
4
g
|
Cholesterol:
87
mg
|
Sodium:
223
mg
|
Potassium:
469
mg
|
Fiber:
1
g
|
Sugar:
1
g
|
Vitamin A:
245
IU
|
Vitamin C:
11.6
mg
|
Calcium:
113
mg
|
Iron:
0.6
mg