This Cauliflower Pizza Crust is a PERFECT low carb recipe with just 3-ingredients! The how-to video will show you how to make it.
Is cauliflower crust really healthy?
Where calories and carbs are concerned, cauliflower crust wins the match.
One plain, 12-inch traditional pizza crust has 804 calories and 64 net grams of carbohydrates. On the other hand, my recipe for cauliflower pizza crust has a few extra calories because of the cheese (958) but only 21.4 net grams of carbs.
Yes, there is a LOT of cheese in the crust, plus any cheese you add on top. However, you will add less sauce, cheese and toppings to cauliflower crust pizza than a traditional pizza because it's smaller and has a thinner crust, so in the long run you do save on calories as well as carbs. Plus, you're getting far more protein too!
If you are concerned about the higher fat content, you can use low-fat cheese.
Ingredients in this cauliflower pizza crust recipe
This recipe is perfect because it's so simple to make AND because you only need THREE ingredients to make it!
1 head of cauliflower
1 egg
2 cups Parmesan cheese
Why so much Parmesan cheese?
There is a lot of cheese in this recipe for two good reasons:
to lower the carbs
to keep the crust from falling apart
A traditional pizza crust gets its structure from strands of gluten in the flour. Because cauliflower is gluten-free, you have to use cheese to hold the crust together and parmesan cheese is a good hearty cheese that will keep this crust relatively firm.
How to make riced cauliflower
The first step in making a cauliflower crust is to chop and steam the cauliflower. After that, the cauliflower is put through a food processor or blender to make cauliflower rice. This is the easiest way by far to get the cauliflower ready for the dough.
As seen in the process shots and the recipe card below ( ), you will boil the cauliflower for a few minutes, then drain it.
After that, the cauliflower will be soft enough to turn into a fine rice-like texture.
Do I need a food processor?
I don't have a food processor so I use my blender, adding a bit of water to the bottom of the blender in order to blend it easier. I even puree the cauliflower almost completely sometimes. Don't worry if you have some extra liquid because you will end up squeezing it out using a clean towel or cheesecloth anyway.
Variations on cooking the cauliflower
You can cut up the cauliflower into florets, then boil and make rice out of it once it's soft as I have done in this recipe, or you can buy cauliflower rice at the store (or turn it into rice in your food processor when raw) and then bake or saute it for 10-15 minutes until it's soft and cooked through. Either method will work, but I do find cooking the cauliflower then ricing it to be the quickest way to get it ready for the pizza dough.
Can I use frozen cauliflower?
Yes, you can use frozen cauliflower rice to make cauliflower crust. Just be sure to cook it according to the package directions.
How to make cauliflower crust pizza (step-by-step)
Here is exactly how to make cauliflower pizza step-by-step:
Cook the cauliflower in boiling water, then drain it. Blend it up into a fine rice-like texture using a food processor or blender.
Squeeze out excess liquid using a clean kitchen towel or cheesecloth. Add the cauliflower to a large bowl with egg and parmesan cheese, mixing well to form the dough.
Spread the dough out onto a parchment-lined baking sheet. Bake for 20 minutes, then flip the crust and bake another 10 minutes.
Add your toppings, then bake another 5 minutes. Serve and enjoy!
Do you really need to use cheesecloth?
Because cauliflower contains almost 60 percent water, and nobody likes a soggy pizza crust, the water needs to be removed from the cooked cauliflower rice. The easiest method is to squeeze it through a piece of cheesecloth.
Cheesecloth is the best option (buy some here) because its fibers have enough space between them to allow liquids to pass through easily. In addition to that, cheesecloth has a smooth surface that helps to prevent the rice from sticking to it.
If you can't find any cheesecloth, you can use a linen kitchen towel. This is honestly what I use because I can't be bothered to buy cheesecloth LOL! I have no trouble getting a ton of liquid from the riced cauliflower. It just takes a good 5 minutes of squeezing and squeezing it in batches.
How much water should you squeeze from the cauliflower?
For the crust to become crispy during baking, it's very important to remove as much moisture from the cooked cauliflower as you possibly can. If you squeeze hard enough, maybe it will burn enough calories for you to have an extra slice of pizza. 😉
All joking aside, you should expect to remove about 1 to 1 1/2 cups of water from the cooked cauliflower rice and the rice should have a very dry texture. When you form it into the dough, it will feel sticky and sort of similar to pizza dough.
How thick should the crust be?
Roll the crust out to approximately one-half inch thick. You can go thinner if you'd like a thinner crust and longer, larger pizza but I find 1/2 inch to be a nice size and fills a baking sheet very well, as pictured below.
I also find the crust to be a bit more sturdy if you make it thicker. There's less risk of it falling apart during the cooking process.
How long to bake cauliflower pizza crust
At an oven temperature of 425 F., the crust will take a total of 30 minutes to bake. You will want to bake the crust for longer in the beginning (20 minutes) so that it's easier to flip. After that, you only need to cook another 10 minutes before adding the toppings. A higher oven temperature helps to make the crust a bit crispier too.
Tips to flipping the crust
Twenty minutes into the cooking time, you will flip the cauliflower pizza crust over.
To do this:
Before you place the crust onto your baking sheet, line it with 2 pieces of parchment paper.
To flip the crust, use the top piece of parchment paper to lift and turn the crust over onto the other piece of parchment.
Topping Ideas for Low Carb Pizza
Since this cauliflower pizza crust recipe is low carb, add low carb toppings to make it a great meal! Some topping ideas for low carb pizza include:
Cooked meats: Pepperoni, sausage, bacon, and ground beef are good options (you can also use turkey bacon/sausage to cut down on calories)
Chicken: Bite-sized pieces of cooked skinless chicken breast or pulled/shredded chicken. Crockpot salsa chicken makes a great topping for a Mexican pizza.
Low carb veggies: Bell peppers, broccoli, spinach, even summer squash or zucchini. I don't recommend using mushrooms. The moisture in them will soak into the cauliflower crust. As a result, you'll have a soggy crust.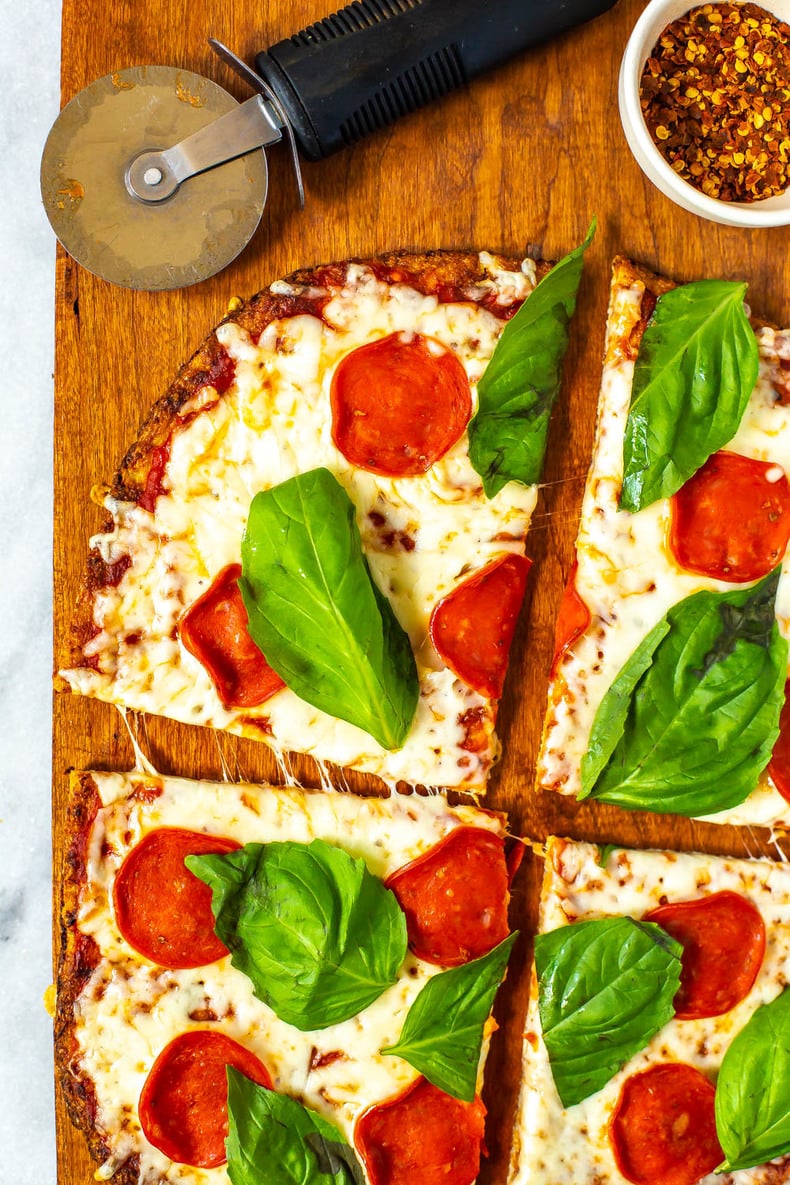 Making the crust ahead
You can make this crust a couple days ahead of time before you go to serve it as pizza. Just follow all of the instructions in the recipe card below and then store in a large Ziploc bag in the fridge for up to 2 days.
To serve, just pull the crust out, put it on a parchment-lined baking sheet, load it up with toppings and bake at 450 F for 5-10 minutes. You may need a little longer to ensure the crust gets re-heated all of the way since it will now be cold but it should reheat and taste just like new so it's a great option to make it ahead of time.
Storing cauliflower crust pizza
Store any leftover pizza wrapped in foil or in a large Ziploc freezer bag in the fridge. The leftovers taste good up to 5 days in the fridge.
Reheating leftover pizza
I will sometimes reheat in the microwave for 1-2 minutes if I'm in a rush and want my pizza ASAP. However, the crust will get a bit soggy and you will have to eat it with a fork and knife.
To refresh leftover pizza, you can reheat in the oven at 450 F for 5-10 minutes. Watch the crust so it doesn't burn, but that should get you a bit of crispiness back.
Can you freeze cauliflower pizza crust?
Yes, you can freeze cauliflower crust! Just be sure that it is completely cool first.
Once it's cool, wrap the crust tightly in plastic wrap, then add a layer of aluminum foil over that. It will keep in the freezer for up to  3 months.
For easy meal prep, you can also freeze cauliflower pizza crust ahead of time. Freeze the baked crust without any sauce or toppings on it. A few hours before you're ready to use the crust, transfer it to the refrigerator so it can thaw.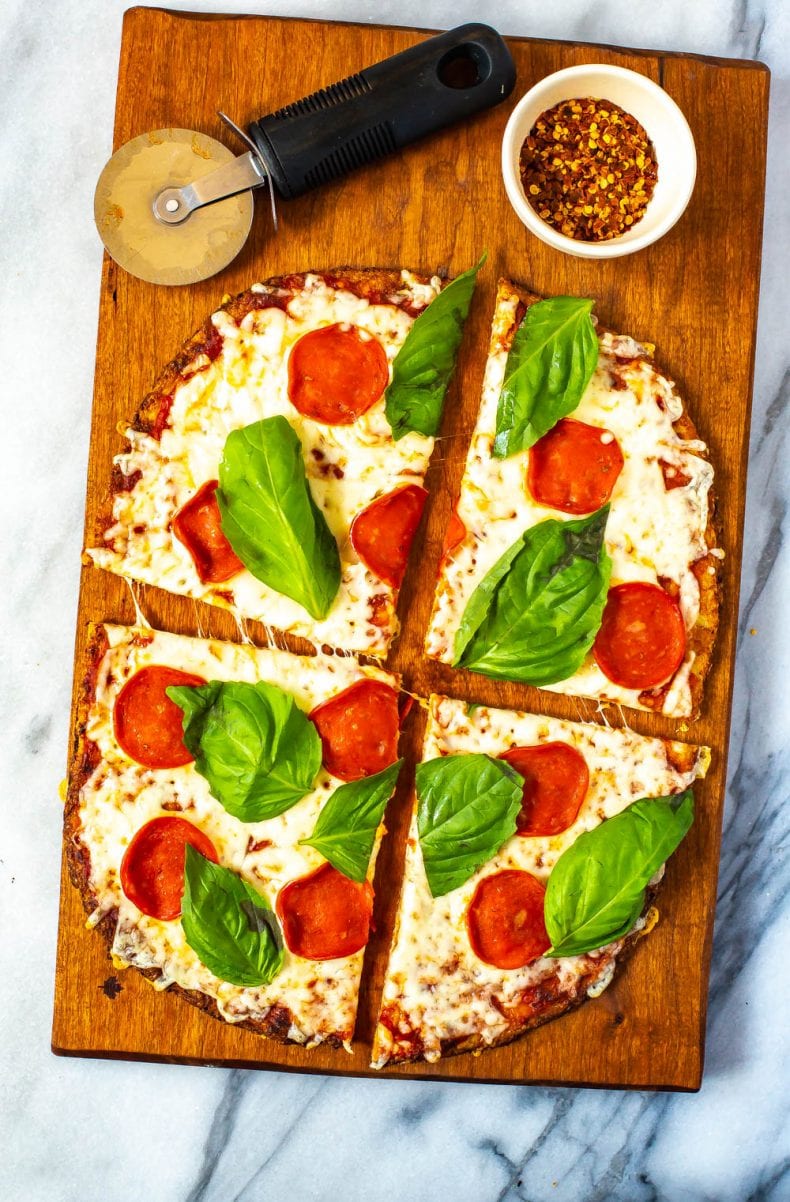 Differences between regular pizza and low carb pizza
As delicious as cauliflower crust pizza is, I feel that I should have a disclaimer on here for everyone who hasn't tried it before. It is NOT the same as regular pizza. It sure comes close in terms of mimicking all the flavours, but you just can't get the same hearty, crispy crust as you can with regular pizza.
That's not to say this crust isn't delicious in its own way, and if you are looking to enjoy a healthier version of pizza I would recommend you try this pizza. It's worth the effort, and honestly I like it better than regular pizza (GASP!)
However, it's not for everyone and I just thought I would try to get you to set your expectations before trying it because it is different from what you would be used to in a pizza.
More low carb cauliflower recipes
Meal prep tools for this recipe
Easiest Cauliflower Pizza Crust
This Cauliflower Pizza Crust is a PERFECT low carb recipe with just 3-ingredients! The how-to video will show you how to make it.
Print
Pin
Rate
Ingredients
1

head

cauliflower, cut into florets

2

cups

grated parmesan cheese

1

egg
Optional toppings
1/4

cup

Pizza sauce

1/2

cup

Grated mozzarella cheese

Pepperoni

Fresh basil leaves

Any other toppings you'd like! Note: I would not reccomend mushrooms because they release water and can make the crust fall apart
Instructions
Preheat oven to 425 F. Bring a large pot of water to a boil. Cook cauliflower in boiling water for 3-5 minutes until softened. Drain, then add cauliflower to a blender or food processor. Pulse until fully blended.

Whisk egg in a large bowl, then mix in parmesan cheese. Drain cauliflower mixture with a linen towel or cheesecloth (squeeze out as much liquid as possible), then mix cauliflower into cheese/egg mixture until well-combined.

Press the dough onto a parchment-lined baking sheet or silpat mat. Make the dough 1/2" thick. Bake for 20 minutes, then flip the crust using the parchment paper (make sure there is another sheet of parchment underneath) and bake another 10 minutes.

Top with pizza sauce, cheese and other desired toppings (don't add too much or it will become soggy). Put back into oven and bake until the cheese has melted, about 5 minutes.
Video
Nutrition
Calories:
313
kcal
|
Carbohydrates:
10
g
|
Protein:
27
g
|
Fat:
19
g
|
Saturated Fat:
11
g
|
Cholesterol:
96
mg
|
Sodium:
991
mg
|
Potassium:
569
mg
|
Fiber:
3
g
|
Sugar:
4
g
|
Vitamin A:
655
IU
|
Vitamin C:
70.4
mg
|
Calcium:
663
mg
|
Iron:
1.5
mg