These healthy shrimp recipes will help you create shrimp dinners, lunches, and easy appetizers that are not just healthy, but packed with flavour, too!
Is it healthy to eat shrimp?
On its own, shrimp is healthy seafood, low in calories and rich in antioxidants. Shrimp is also high in protein, provides vitamins, minerals, and Omega-3 fatty acids, allowing it to help improve heart and brain health.
Studies show that some varieties of fish and shellfish contain high levels of mercury. The good news is, shrimp is low in mercury. Still, it's never a bad thing to know where the seafood we eat comes from.
Healthy Shrimp Recipes
Shrimp is easy to incorporate into delicious meals, cooks quickly, and is pretty affordable. Creating healthy shrimp recipes does require using moderation. Be careful, because many shrimp recipes use lots of butter and rich cream sauces.
There are some easy swaps you can use to make healthy shrimp recipes. A couple of suggestions for making your shrimp recipes healthier.
When making shrimp pasta recipes, use spiralized veggie noodles instead of traditional pasta.
Try to avoid making deep-fried shrimp, or do it in moderation. Instead, make grilled shrimp, steam it, or bake it in an oven.
Here are 19 favorite healthy shrimp recipes for you to try. When you find something you want to make, grab the recipe by clicking on the image or the link underneath it.
Shrimp Stacks with Mango Salsa via The Girl on Bloor
Lighter Pasta Primavera with Shrimp, via The Girl on Bloor
Shrimp Shooters with Corn Salsa, via It's Yummi
Lemon Herb Spaghetti Squash with Roasted Shrimp, via Eat Yourself Skinny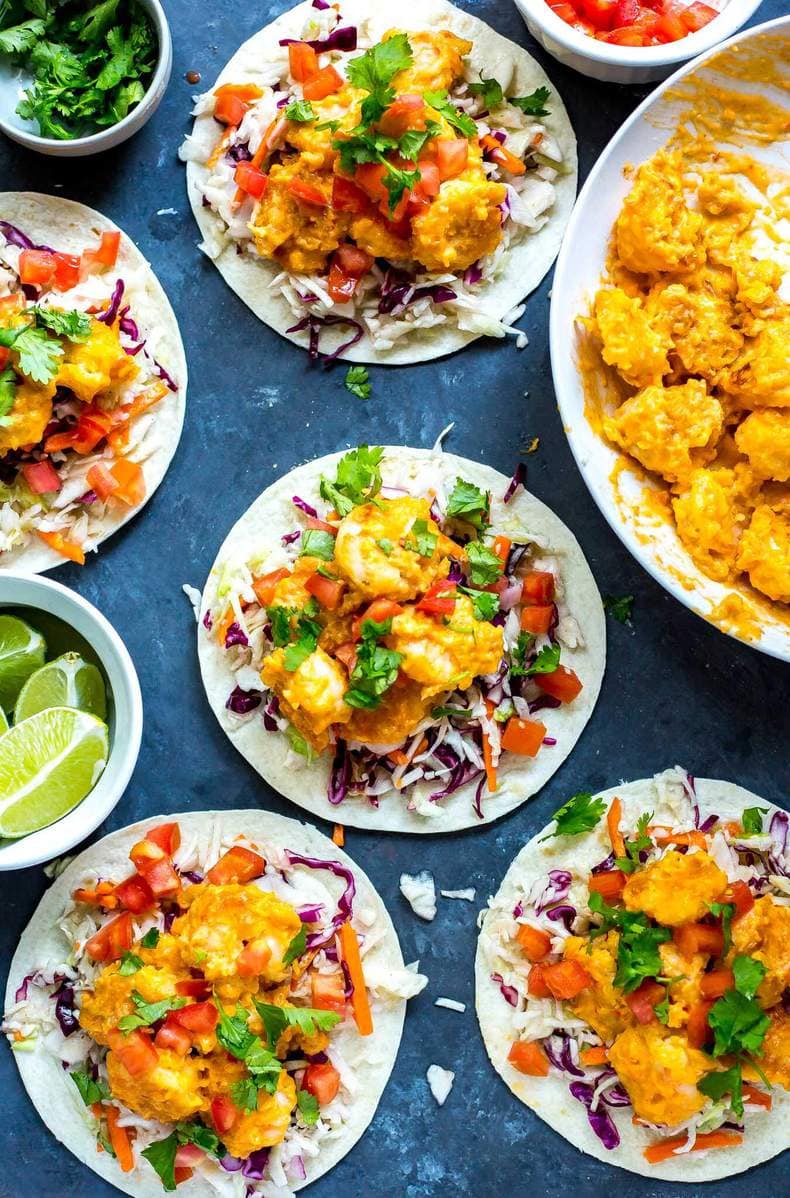 Easy Bang Bang Shrimp Tacos, via The Girl on Bloor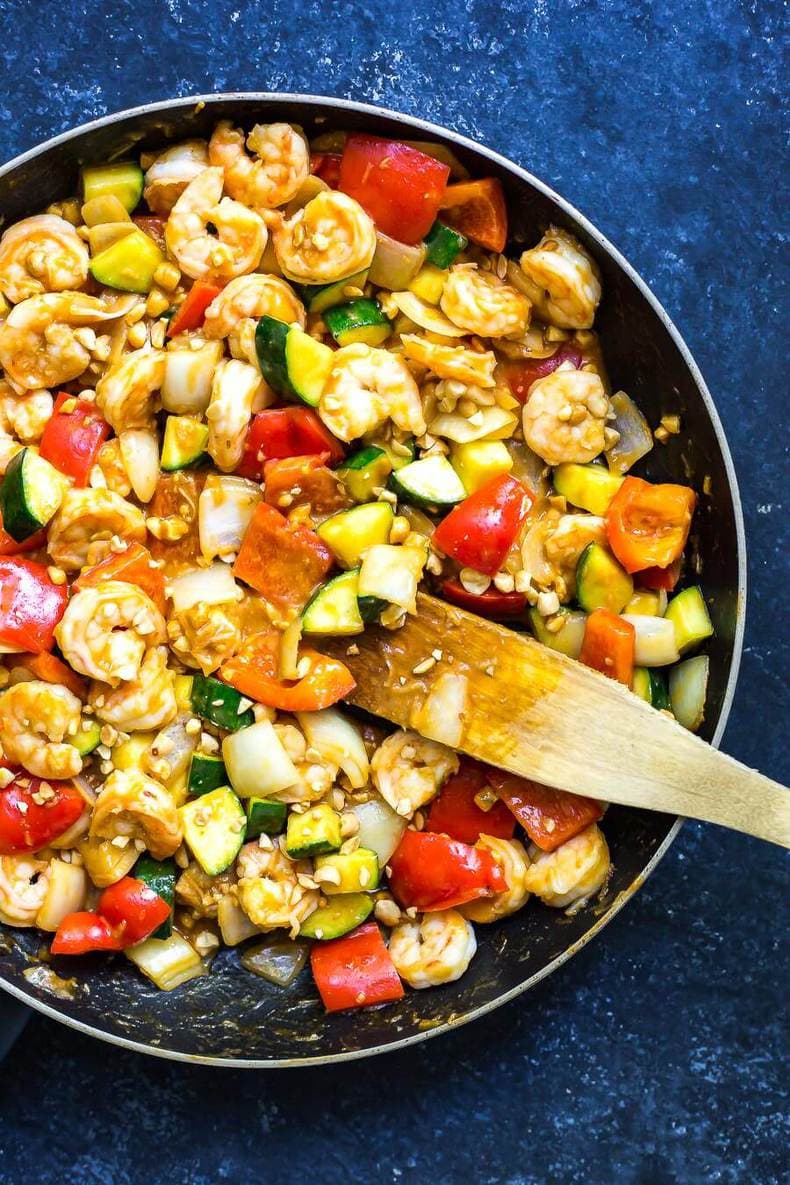 Kung Pao Shrimp via The Girl on Bloor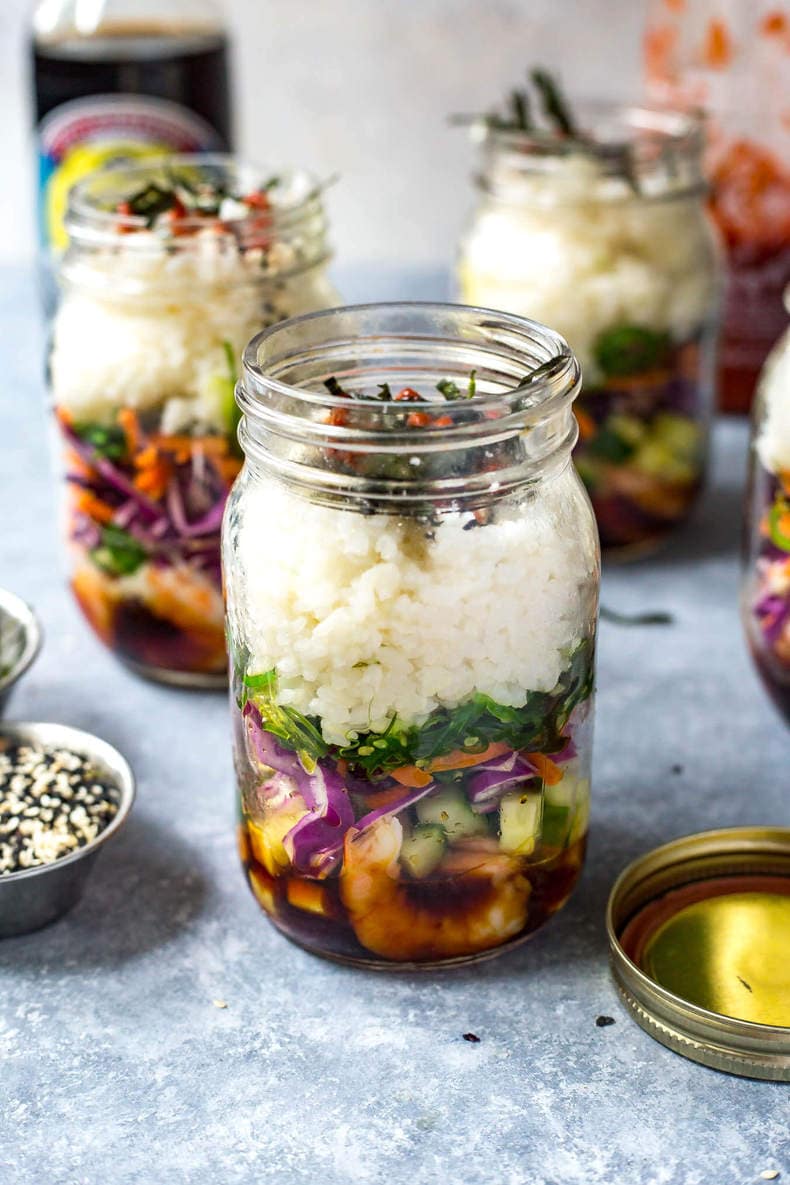 Shrimp Sushi Jars via The Girl on Bloor
Jerk Shrimp Tacos with Pineapple Salsa, via The Adventure Bite
Strawberry Avocado Spinach Salad with Shrimp, via Garden in the Kitchen
Grilled Chipotle Shrimp with Cilantro Lime Quinoa, via Fox Valley Foodie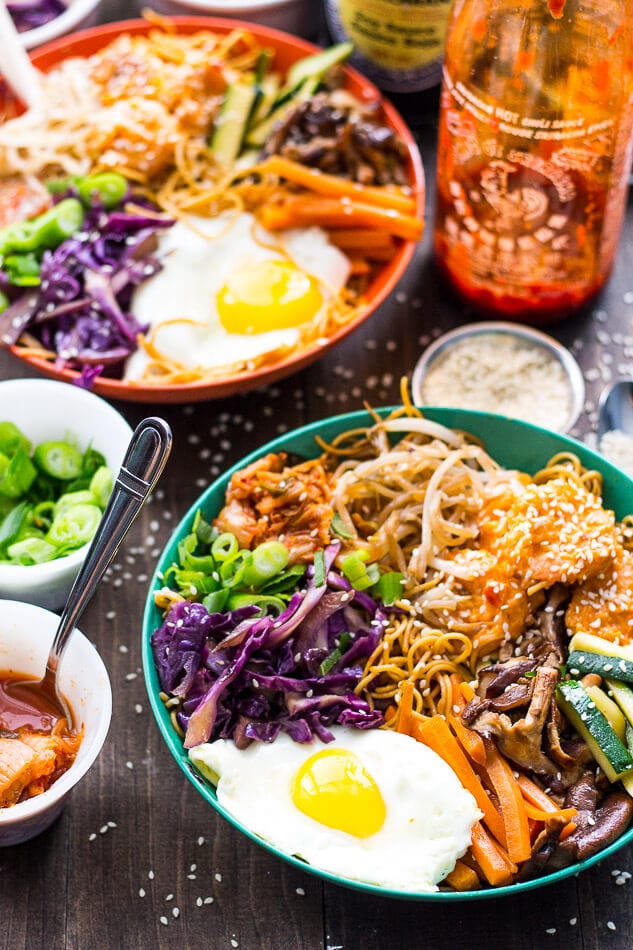 Bang Bang Shrimp Bibimbap Noodle Bowls, via The Girl on Bloor
15-Minute Garlic Shrimp Zoodles, via Salt and Lavender
Healthy Shrimp Scampi, via Skinny Fitalicious
Fresh Shrimp Spring Rolls, via Sunkissed Kitchen
Cranberry Basil Shrimp Cocktail, via Cotter Crunch
Grilled Avocado Shrimp Nacho Bowls, via Food Faith Fitness
Healthy Mu Shu Shrimp, via Hungry Hobby
Parmesan Roasted Shrimp, via Center Cut Cook
BBQ Shrimp Cheesy Quinoa Bowls, via Cupcakes & Kale Chips