This Canada Day Lobster Poutine is going to blow your socks off! An east coast twist on a Quebecois classic, this poutine is sure to be a memorable indulgence!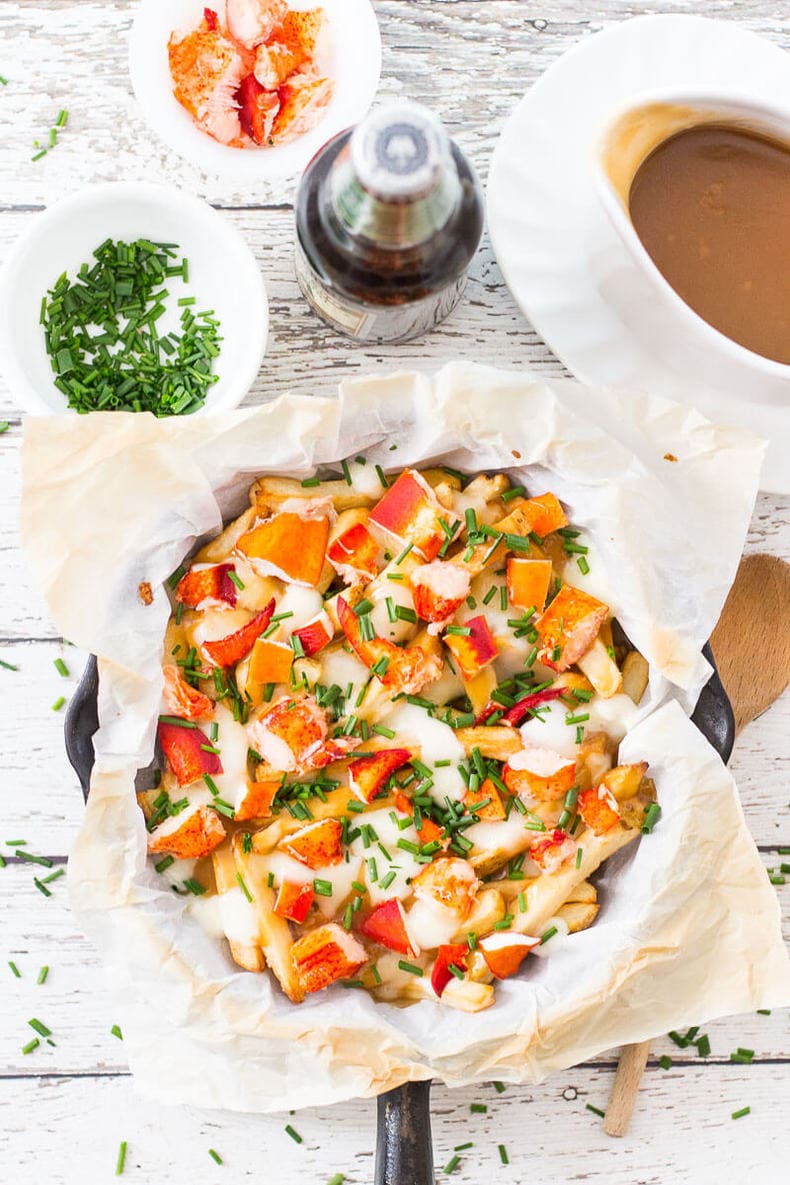 When I was 10, my family and I took a road trip all through the east coast. I'm proud to say that as a Canadian, I have been across almost the entire country and feel so privileged to have experienced it in such different ways – I've been to Nova Scotia, P.E.I., New Brunswick, Quebec, Manitoba, Saskatchewan, Alberta and B.C. All I need to visit are the territories and Newfoundland!
When I was in Nova Scotia visiting my uncle, he and my parents really loved indulging in all the fresh seafood – especially lobster. As a kid, I didn't get it – I have always had a rocky relationship with seafood. As an adult I look back at that kid sitting on that picnic bench seaside and wish I had taken the time to fully appreciate my surroundings. I also wish I had taken the chance to eat lobster for free while I could. HA! Well, this Lobster Poutine has not only brought back some nostalgia from my childhood, but it's also been a great way for me to now enjoy eating it!
The first time I ever tried a Lobster Poutine was from Little Fin in Toronto a couple of years ago. I must say it was absolutely one of the best things I've ever eaten – so gluttonous and rich, but so worth it. I found myself wishing it had more lobster, however, so as I started to build my content calendar for July, I thought I would create my own lobster poutine for the blog! Thirty minutes and some deliciousness later…voila!
I guess I should mention that this isn't so much a recipe as it is a suggestion for entertaining on Canada Day. I really didn't make any of the ingredients, which kind of goes against my personal food policy. But come on, Canada Day and family gatherings are supposed to be easy, so be like me and give yourself a break. Throw in some oven fries, make that stovetop, store-bought gravy and open up that package of cheese curds. Maybe splurge on a lobster tail or two…it's really up to you how far you want to take this thing!
Speaking of Canada Day, it used to be a really fun occasion for me before I reached adulthood. I don't know about you but I remember sparklers and fireworks in the park, beach days and BBQs, road trips. The past few Canada Days, however, have been spent working so I'm happy to say I get to actually be among the majority of people this year who take the day off! Knowing me, I'll probably kick back with a big pitcher full of watermelon mojitos or some passionfruit cocktails…
So this Canada Day, think of me when you decide to whip up this fantastic Lobster Poutine. You really won't have any regrets, I promise!
Will you be trying this Canada Day Lobster Poutine? What are some of your favourite Canada Day traditions? If you try any of my recipes be sure to let me know in the comments, on Instagram, Twitter or Facebook – I'd love to hear from you!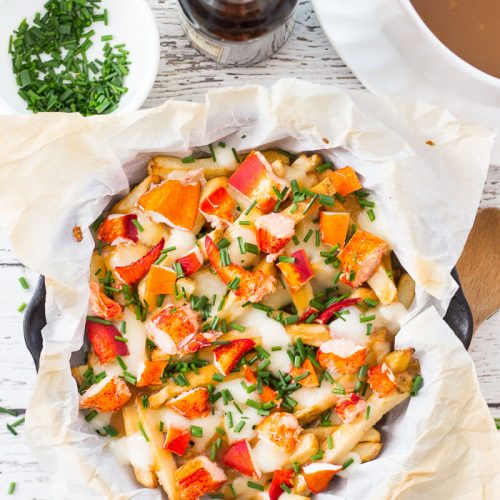 Ingredients
2

bags frozen fries

I used Cavendish's Restaurant Style

1

package store-bought gravy

I used the Swiss Chalet chicken kind

1

package white cheddar cheese curds

Cooked lobster

1

bunch fresh chives

chopped
Instructions
Preheat oven to 450 degrees. Bake fries for 10 min. Flip fries, then bake another 7-10 min.

Meanwhile, make gravy according to package directions on the stovetop.

Remove fries from oven, then switch setting to broil on high heat. Place a piece of parchment over a cast iron pan or oven-safe dish, then fill with fries. Sprinkle fries with cheese curds then top with gravy and lobster.

Broil fries in the oven for 3-5 min until cheese is fully melted. Sprinkle with chives and serve!