These Bang Bang Shrimp Noodle Bowls are inspired by the flavours in bibimbap – they're topped with a fried egg to boot!
Ingredients and substitutions
Sesame oil – peanut oil, canola oil or avocado oil are great substitutes, however they won't be as fragrant.
Prepackaged stir fry noodles – you can use uncooked stir fry noodles as well, but you will need to make sure to boil them prior to cooking.
Garlic – fresh or jarred minced garlic can be used for this recipe.
Soy sauce – tamari or coconut aminos are great alternatives.
Sriracha – samba oelek or chili paste can be used in place of Sriracha.
Zucchini – leave this out entirely or replace it with a veggie of your choice.
Carrot – leave this out entirely or replace it with a veggie of your choice.
Shiitake mushrooms – replace with a mushroom of your choice such as oyster, crimini or portobello mushrooms.
Red cabbage – Napa cabbage or a cabbage blend of your choice can be used instead.
Bean sprouts – replace the bean sprouts with enoki mushrooms, bamboo shoots or snow peas for a similar flavour.
Kimchi – you can make your own or use a store-bought version to save time.
Green onions – chives and shallots are great alternatives to green onions.
Butter – use a neutral cooking oil like olive oil if you're in a pinch or want to make this recipe dairy-free.
Eggs – feel free to leave this off if you're not a fan.
Bang bang shrimp
Olive oil – use any neutral oil such as avocado oil, sunflower oil or vegetable oil.
Shrimp – if you have an allergy to shellfish or don't like shrimp, use fish or chicken instead.
Flour – cornstarch and breadcrumbs or tempura mix can be used in place of flour for frying the shrimp.
Eggs – you can use buttermilk, milk, yogurt or an oil instead of using an egg wash.
Light mayo – swap out the mayo for plain Greek yogurt.
Sweet chili sauce – use some hot sauce with a tablespoon of honey to get a similar result.
Sriracha – any other hot sauce of your choice can be used instead.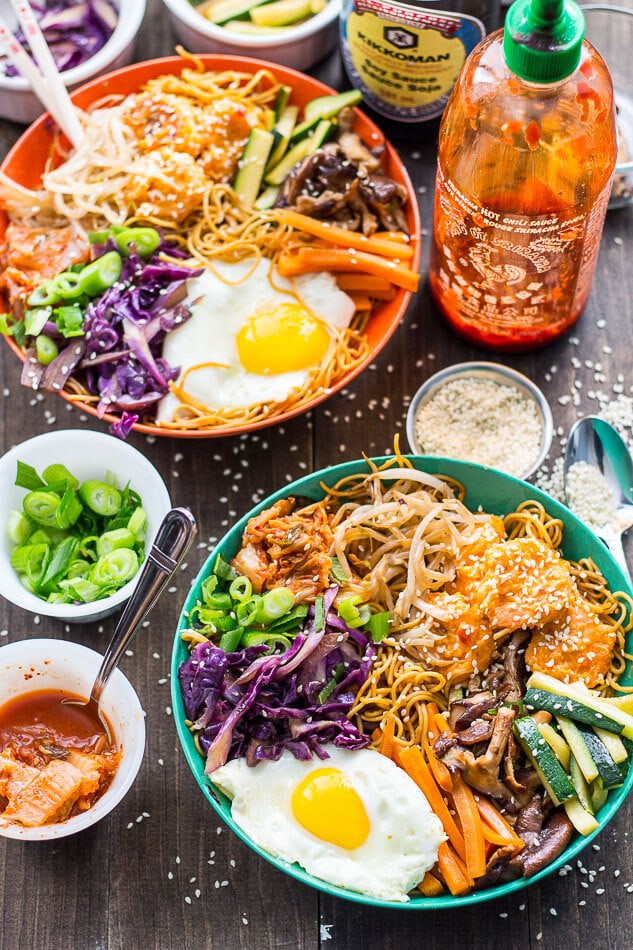 Skip the Ads and Get Right to the Recipes!
ZERO ADS on over 600 recipes!
Weekly Meal Plans, Grocery & Prep Lists
Bonus eBooks
How to make bang bang shrimp bowls
Sauté the veggies.
Make the bang bang sauce.
Coat and fry the shrimp.
Toss the shrimp in the sauce.
Fry an egg.
Assemble your bowls and dig in!
What to serve on the side
These bang bang shrimp noodle bowls are an entire meal on their own, so you really don't need to serve anything on the side. You can feel free to mix up the veggies that you include in your bowls though – it's a great way to get rid of any veggies lying around your fridge.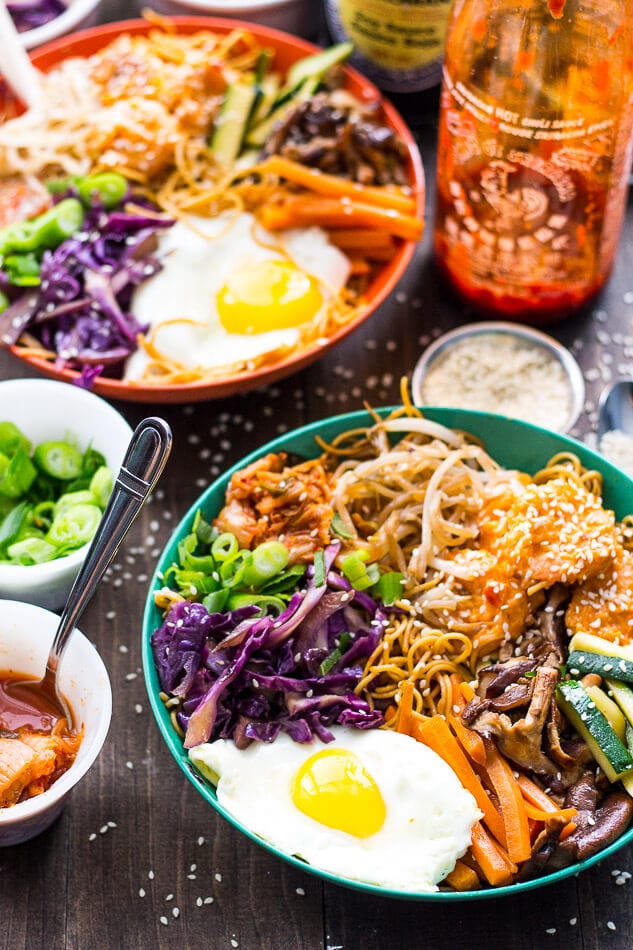 Frequently Asked Questions
What is bang bang shrimp?
Bang bang shrimp consists of yummy shrimp that's breaded, fried and tossed in bang bang sauce. It offers the perfect combination of sweet and spicy!
What is the sauce made of?
The bang bang sauce for this recipe is made of mayo, sweet chili sauce and sriracha. I used light mayo to make this dish a bit healthier, but you can use regular mayo if it's all you have on hand.
Why do they call it bang bang shrimp?
This delicious dish got its name because of the pop of flavour from both the sweet chili sauce and sriracha. It's basically a double 'bang' of flavour!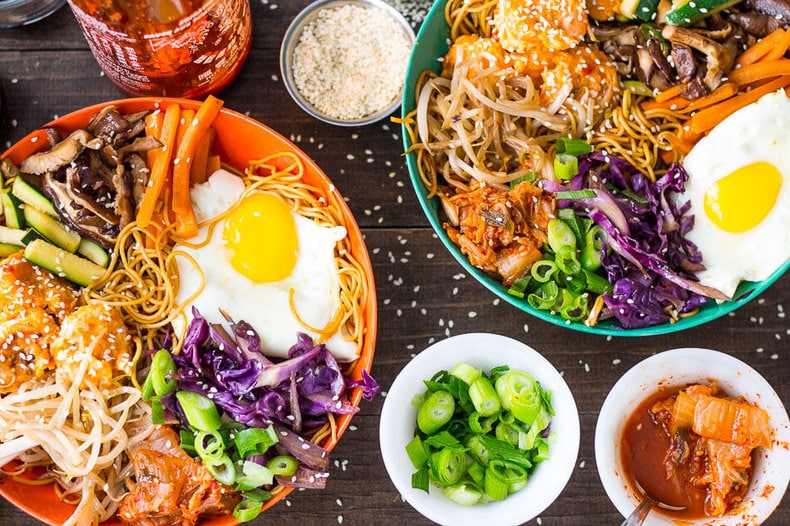 Storing and reheating
Store any leftovers in an airtight container in the fridge for 3 to 4 days. You can store everything but the fried egg, which you'll need to make fresh, since the egg won't refrigerate very well and just won't taste right the next day. You may also want to keep the kimchi separately if you don't want to reheat it with the rest of the bowl ingredients.
When you're ready to enjoy your bowls, warm everything up in the microwave for 1 to 2 minutes. Make a fried egg, then add it to your reheated bowl with some kimchi and dig in!
Freezing this recipe
Unfortunately, these bowls aren't freezer-friendly. You can freeze any leftover fresh shrimp you may have, but if you're using frozen shrimp, you can't re-freeze it.
Wanna Learn How To Meal Prep?
My meal planning service, Dinner Prep Pro, removes the guesswork and helps you get dinner on the table in 15-20 minutes each night. My meal prep checklists only take 1 hour each week!
Meal prep tools for this recipe
Bang Bang Shrimp Noodle Bowls
These Bang Bang Shrimp Noodle Bowls are inspired by the flavours in bibimbap – they're topped with a fried egg to boot!
Print
Pin
Rate
Click Here to Remove Ads
Servings: 6 servings
Calories: 683kcal
Ingredients
2 tbsp sesame oil divided
1 package precooked stir fry noodles
4 cloves garlic minced
1/4 cup soy sauce divided
2 tsp Sriracha hot sauce
1 tbsp water
1 zucchini julienned
1 Carrot julienned
1 cup sliced shittake mushrooms
1 cup red cabbage chopped
1 package bean sprouts
1 cup kimchi
4 green onions, sliced
1 tbsp butter
6 eggs
Bang Bang Shrimp
2 tbsp Olive oil for frying
1 lb shrimp about 1 package
2 cups flour
2 eggs
1/2 cup light mayo
2 tbsp sweet chili sauce
1 tbsp Sriracha
Instructions
In a medium-sized frying pan, heat 1 tsp sesame oil over med-high heat. Add each of the veggies (zucchini, carrots, mushrooms, cabbage and bean sprouts) and 1 tsp soy sauce one at a time, cooking for 2-3 min until softened. For instance, you will stir fry the zucchini for a couple minutes, then place separately in a small bowl and continue these steps with all veggies listed until each is cooked.

Meanwhile, mix light mayo, sweet chili sauce and sriracha together. Set aside as the Bang Bang sauce. Heat 2 tbsp olive oil in a large frying pan over med-high heat.

Toss shrimp in egg then coat in flour, then fry for 2-3 min per side until shrimp are crispy. Remove shrimp and let drain on a paper towel lined plate. Toss in Bang Bang sauce until well-coated.

Deglaze large frying pan, then add remaining 1 tbsp sesame oil. Add garlic and saute for 10 seconds over med-high heat. Add noodles, remaining soy sauce (should be a couple tbsp), sriracha, and water, stir frying for 5 min until noodles are softened. Divide evenly noodles among bowls.

Add 1 tbsp butter to the large frying pan and fry the 4 eggs over med-low heat, carefully ensuring that they don't overcook. When yolk is still mildly runny, remove from heat and place on top of noodles.

Add about 1/4 cup veggies (or about a handful) to each bowl, including kimchi and green onions. Sprinkle with sesame seeds and serve with sriracha. Enjoy!
Notes
Swap out the veggies for any other vegetables of your choice. If you don't like shrimp, use chicken or fish instead – the bang bang sauce will be delicious on just about anything! Store the leftovers in the fridge for 3-4 days without the egg. Reheat in the microwave for 1-2 minutes, top with a fresh fried egg and enjoy.
Nutrition
Calories: 683kcal (34%)Carbohydrates: 78g (26%)Protein: 35g (70%)Fat: 25g (38%)Saturated Fat: 7g (44%)Trans Fat: 1gCholesterol: 389mg (130%)Sodium: 1791mg (78%)Potassium: 446mg (13%)Fiber: 5g (21%)Sugar: 9g (10%)Vitamin A: 2367IU (47%)Vitamin C: 25mg (30%)Calcium: 173mg (17%)Iron: 8mg (44%)
Join The Girl on Bloor Premium!
ZERO ADS!
Weekly Meal Prep Checklists
Bonus eBooks