These Creamy Sriracha Shrimp Poke Bowls are a delicious twist on traditional tuna poke with seaweed salad, lemongrass corn, avocado and wonton strips!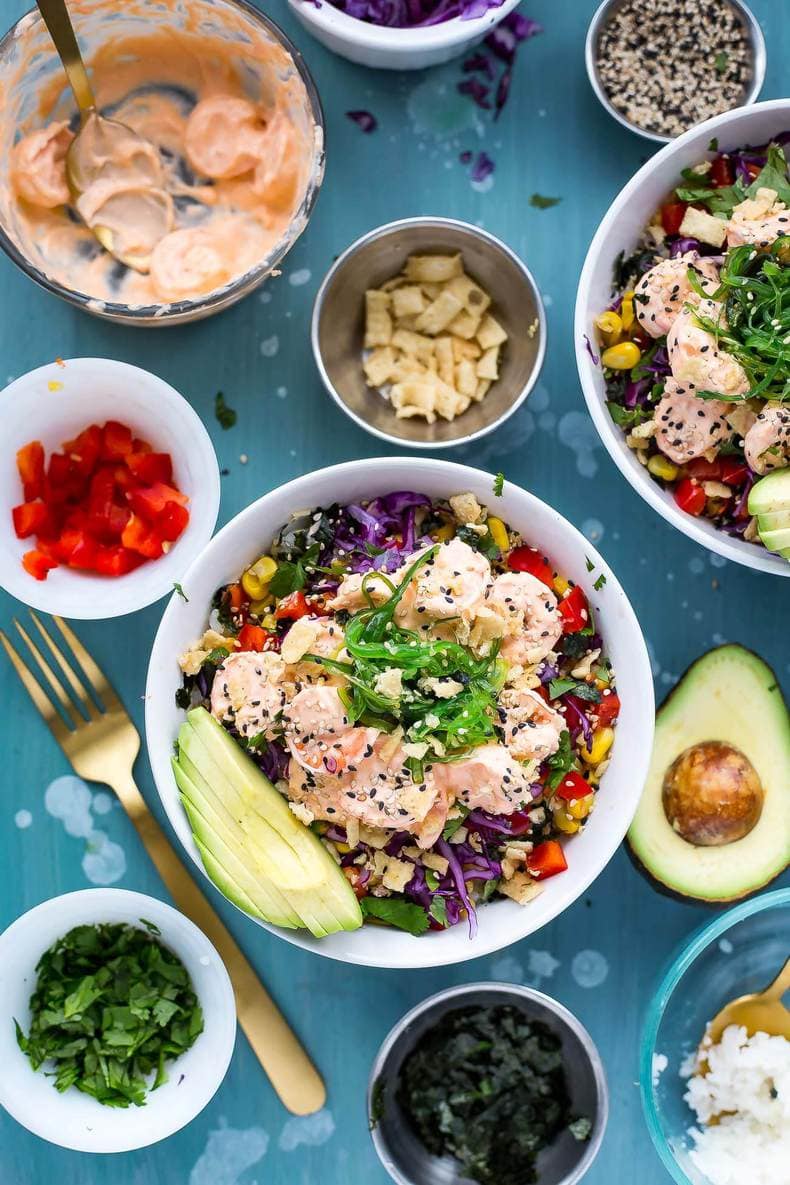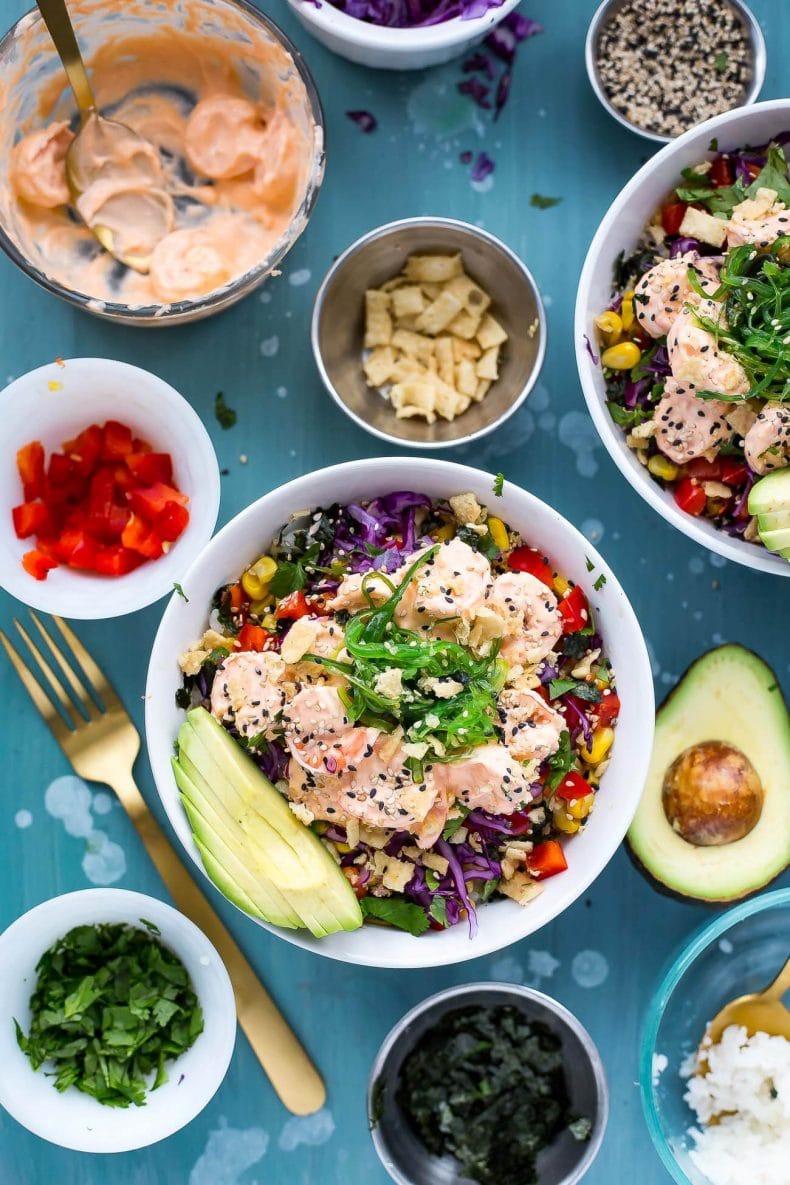 Hi weekend!
I'm coming at ya today with pretty much my new favourite grain bowl. Or fake poke bowl. Would this even technically be considered a buddha bowl?
Whatever you wanna call it, it sure is tasty!
We've talked about this before, but this is another case where I really have to hammer the point home that I'm obsessed with food. The times I get to eat really are the best parts of my day – I always set myself up with a delicious lunch, even on weekdays (hello, work from home life!) and dinner is the main attraction: where I can finally rest easy at 10pm knowing all my work is done for the day and I've got a solid workout in. I barely make plans, but when I do, it revolves around when and what I'm going to eat LOL.
So, whenever I go to visit friends in downtown Toronto, I'm also partially planning a trip to get lots of my favourite kinds of food. One such recent discovery of mine has been Pokito, a poke/sushi burrito restaurant located along Toronto's famous Queen West strip and a convenient 15-minute walk from my friends' place.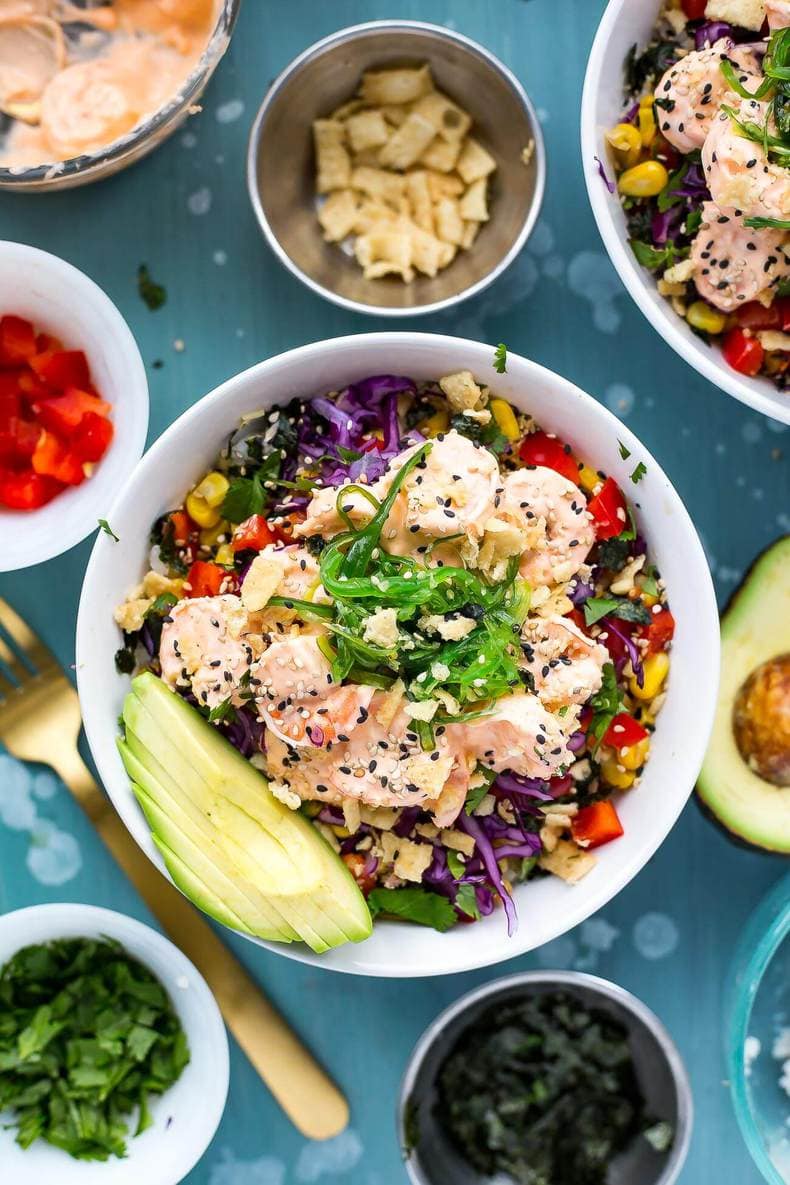 Last time I went I got this crazy-good tuna and shrimp poke bowl. The shrimp was smothered in a delicious coconut sauce, and the tuna was covered in creamy sriracha sauce, and I got to pick all kinds of toppings for my bowl, the base of which was sushi rice. From the minute I tried it, I was in love. Like, as in, I couldn't stop eating even when I was full.
You know something's good when you just can't stop eating.
From that day three weeks ago I was convinced I had to try to make my own Creamy Sriracha Shrimp Poke Bowls and add in a few extra toppings like wonton strips and sliced avocado. I'm dying just thinking about it.
I was also leaning towards a shrimp poke (again, is there even such a thing?) because my mom had talked about going to this supposedly famous poke stand at the Hamilton Farmer's Market, thinking it was a spin on sushi. Ironically, she really hates raw fish, but she's the type of person who loves California rolls, shrimp Dynamite rolls and the like.
So really, these Creamy Sriracha Shrimp Poke Bowls are dedicated to her. The person who can't quite stomach the thought of raw tuna, but wants to hop on the poke bandwagon.
Personally, if given the choice I would go with the tuna, and not only because I like to honour the authentic parts of this dish. Honestly, I just really look at sashimi grade tuna steak as a special treat – it's something you don't get to enjoy very often, especially since it's so expensive (yeah, at $30 a pound you might be better off buying takeout LOL)
Not to mention the fact that tuna also has high mercury levels so you can't really consume it too much more than once a month anyway. At least that's what I've heard. Whenever I go to the store and make actual tuna poke bowls I aim to get just one $10 piece but I find that ends up being too much fish for one serving and I don't really like to eat tuna that's been sitting for more than one day in the fridge. It just doesn't taste as fresh.
Shrimp is the perfect sub-in for these poke bowls because it tastes just as good fresh as frozen (or at least I don't know any better) and guaranteed you probably already have some on hand at home if you keep your fridge and freezer well-stocked. Fresh sashimi-grade tuna steak? Probably not…
So, let me be clear on what's in these bowls:
Shrimp tossed in a creamy sriracha sauce
Sliced avocado
Lemongrass-spiced corn
Seaweed salad
Sushi rice
Nori
Cilantro
Red pepper
Crispy wonton strips
Sesame seeds
Red cabbage
Basically, this is a poke bowl on steroids. The mother of all fake pokes. And perfect for people who aren't quite into the raw fish thing. Although seriously, I should tell you that you can't knock it til you try it!
Will you be making these Creamy Sriracha Shrimp Poke Bowls?
Basically, if you're craving sushi and poke all in one but you don't have the money for real sashimi grade tuna and can't be bothered making the rolls, you've got to give these a try!
If you try any of my recipes be sure to let me know on Instagram, Twitter, Facebook or in the comments – I'd love to see what you come up with!???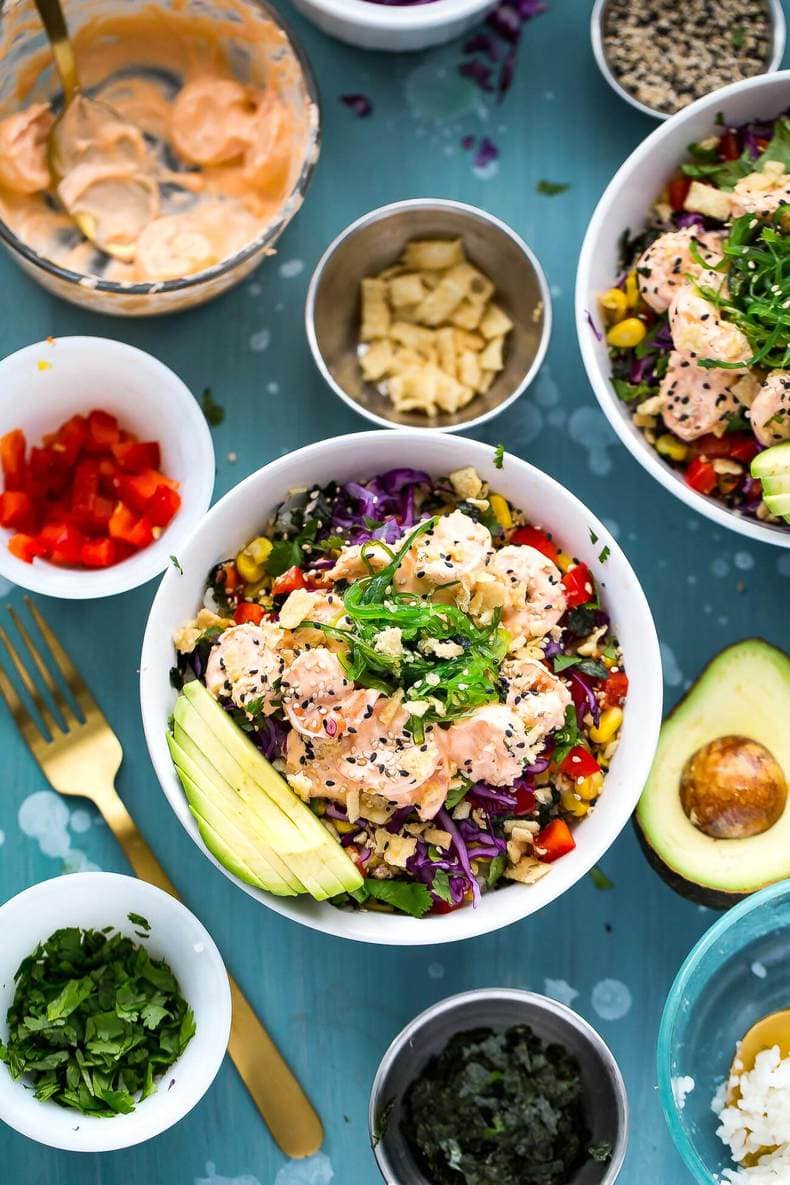 Creamy Sriracha Shrimp Poke Bowls
These Creamy Sriracha Shrimp Poke Bowls are a delicious twist on traditional tuna poke with seaweed salad, lemongrass corn, avocado and wonton strips!
Print
Pin
Rate
Ingredients
30

cooked shrimp

1

sheet

nori, cut into strips

1

avocado, sliced

1

package

seaweed salad

1/2

red pepper, diced

1/2

cup

red cabbage, thinly sliced

1/3

cup

cilantro, finely chopped

2

tbsp

sesame seeds

2

tbsp

wonton strips
Sushi Rice
1

cup

cooked sushi rice (about 1/2 cup dry - see package for water amount, usually 1 1/2 cups)

2

tbsp

sugar

2

tbsp

rice wine vinegar
Creamy Sriracha Sauce
1

tbsp

sriracha

1/2

cup

sour cream
Lemongrass corn
1/2

cup

corn

1/2

stalk

lemongrass, thinly sliced

1

clove

garlic, minced

1

tbsp

soy sauce
Instructions
Cook sushi rice in a rice cooker or according to package directions. When finished cooking, add sugar and rice vinegar, tossing to coat.

Mix creamy sriracha sauce together and toss shrimp in it (can be precooked shrimp or defrost frozen raw shrimp and boil in water for 2-3 min). Meanwhile, stir fry corn, soy sauce, garlic and lemongrass over med-high heat for 5-6 min until cooked through.

Add sushi rice to each bowl, then shrimp and all other toppings. Mix together and enjoy!