These Creamy Sriracha Shrimp Poke Bowls are a delicious twist on tuna poke with seaweed salad, sriracha, lemongrass corn and plump shrimp.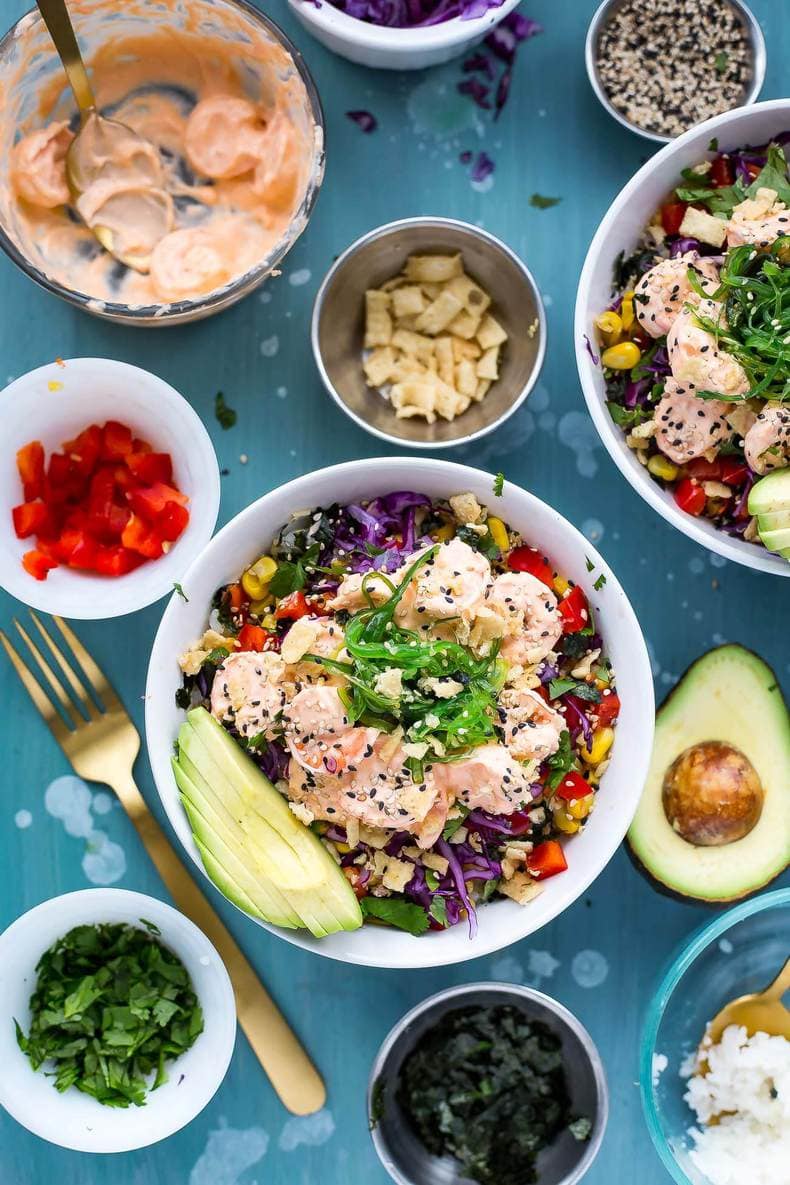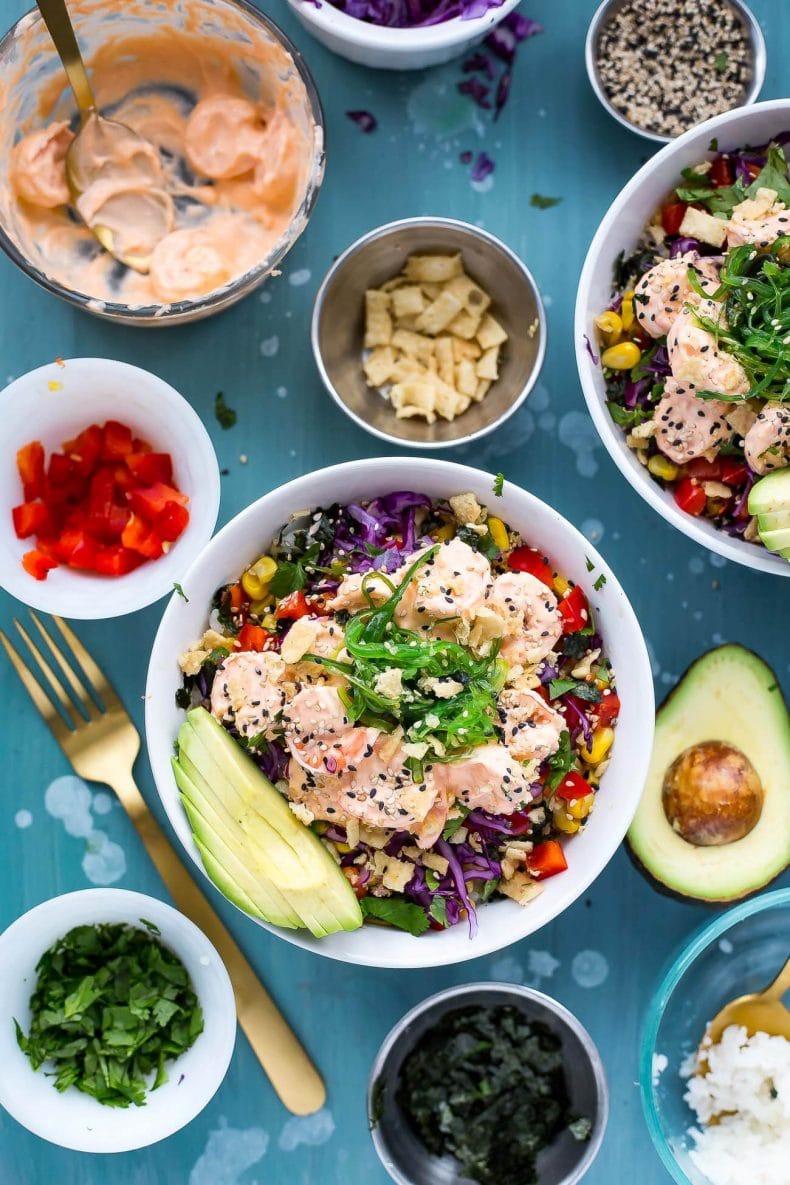 Ingredients and substitutions
Shrimp – use raw, de-shelled shrimp to make this recipe as easy as possible. I use frozen shrimp and let it defrost before cooking
Nori – you can use seaweed salad instead. Both ingredients can be found in the international aisle or the sushi section of your local grocery store
Avocado – fresh avocado is recommended but guacamole will also work.
Seaweed salad – use pre-packaged seaweed salad from the store for easy assembly.
Red pepper – feel free to use whatever veggies you like.
Red cabbage – feel free to use whatever veggies you like.
Cilantro – leave this garnish off altogether if you don't have any on hand.
Sesame seeds – black or white sesame seeds would both be good toppings.
Wonton strips – tortilla strips would also add some crunch to these bowls.
Sushi rice
Sushi rice – you can use brown or plain white rice instead, although sushi rice will give it that authentic flavour.
Sugar – white sugar is best or you can leave this out altogether.
Rice wine vinegar – apple cider vinegar can also be used.
Creamy sriracha sauce
Sriracha – any spicy sauce will work well in this recipe like sambal oelek.
Sour cream – light mayo or plain Greek yogurt can also be used.
Lemongrass corn
Corn – use fresh corn, canned corn kernels or defrosted frozen corn.
Lemongrass – lemon zest or lime zest can also be used.
Garlic – fresh minced garlic is best but jarred minced garlic will work in a pinch.
Soy sauce – tamari or coconut aminos are great gluten free alternatives.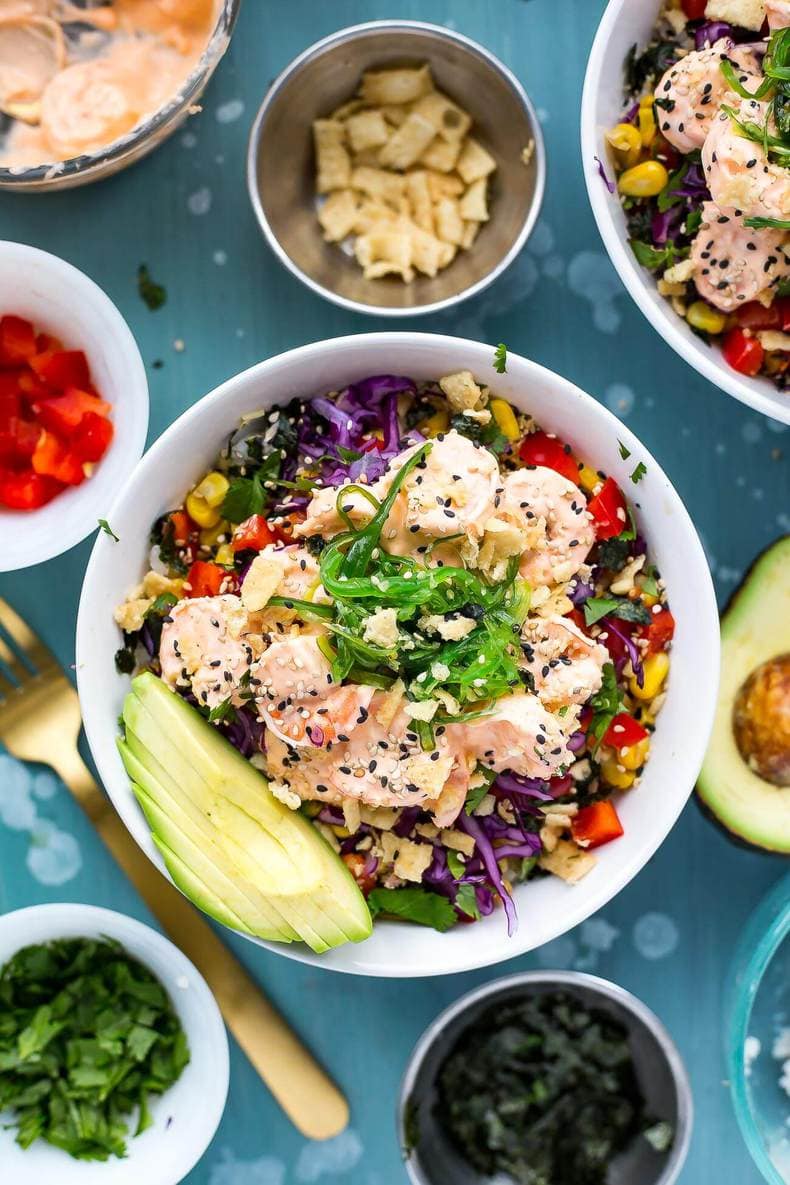 Skip the Ads and Get Right to the Recipes!
ZERO ADS on over 600 recipes!
Weekly Meal Plans, Grocery & Prep Lists
Bonus eBooks
How to make this recipe
Cook the sushi rice.
Make the creamy sriracha sauce.
Toss the shrimp in the sauce.
Stir fry the lemongrass corn.
Assemble your bowls.
Serve and enjoy!
What can you put in a poke bowl?
A poke bowl is similar to a deconstructed sushi roll. Use sushi rice or leafy greens as the base and then add anything you might find in your favourite sushi rolls! Alongside the shrimp, toppings like avocado, corn, seaweed salad, nori sheets and red peppers are all really great additions. Feel free to add in anything else you like such as mango, cucumbers, etc.
Frequently Asked Questions
What is creamy sriracha made of?
This creamy sriracha sauce is super easy to make and only uses two ingredients. All you need is sriracha and sour cream! Feel free to swap out the sour cream for light mayo or plain Greek yogurt instead for a lower-calorie version.
What is the base of a poke bowl?
Sushi rice is usually the base of a poke bowl, since a poke bowl is a deconstructed version of a sushi roll. You can also use plain white rice or brown rice if you don't have any sushi rice.
Does the shrimp need to be cooked?
Yes! I suggest using frozen cooked shrimp and letting it defrost the night before you make your bowls. You can also defrost frozen raw shrimp then boil it in water for 2-3 minutes.
Storing and reheating
These shrimp poke bowls will stay good in the fridge for up 3 days. I suggest storing the shrimp separately to keep everything as fresh as possible, then adding it on right before eating. Since poke bowls are served cold, you don't need to worry about warming them up – they're a great option for when you're on the go!
Freezing the sushi rice
Unfortunately, these bowls won't freeze well, but you can freeze the cooked sushi rice in airtight glass containers or freezer-safe Ziploc bags for up to 12 months. When you're ready to use the rice, let it defrost in the fridge overnight then assemble your poke bowls fresh the next day.
Wanna Learn How To Meal Prep?
My meal planning service, Dinner Prep Pro, removes the guesswork and helps you get dinner on the table in 15-20 minutes each night. My meal prep checklists only take 1 hour each week!
More sushi-inspired recipes
Meal prep tools for this recipe
Creamy Sriracha Shrimp Poke Bowls
These Creamy Sriracha Shrimp Poke Bowls are a delicious twist on tuna poke with seaweed salad, sriracha, lemongrass corn and plump shrimp.
Print
Pin
Rate
Click Here to Remove Ads
Servings: 4 servings
Calories: 521kcal
Ingredients
1 lb cooked shrimp
1 sheet nori, cut into strips
1 avocado, sliced
1 package seaweed salad
1/2 red pepper, diced
1/2 cup red cabbage, thinly sliced
1/3 cup cilantro, finely chopped
2 tbsp sesame seeds
2 tbsp wonton strips
Sushi Rice
1 cup cooked sushi rice (about 1/2 cup dry – see package for water amount, usually 1 1/2 cups)
2 tbsp sugar
2 tbsp rice wine vinegar
Creamy Sriracha Sauce
1 tbsp sriracha
1/2 cup sour cream
Lemongrass corn
1/2 cup corn
1/2 stalk lemongrass, thinly sliced
1 clove garlic, minced
1 tbsp soy sauce
Instructions
Cook sushi rice in a rice cooker or according to package directions. When finished cooking, add sugar and rice vinegar, tossing to coat.

Mix creamy sriracha sauce together and toss shrimp in it (can be precooked shrimp or defrost frozen raw shrimp and boil in water for 2-3 min). Meanwhile, stir fry corn, soy sauce, garlic and lemongrass over med-high heat for 5-6 min until cooked through.

Add sushi rice to each bowl, then shrimp and all other toppings. Mix together and enjoy!
Notes
Swap out the veggies for whatever you're craving or have on hand. Use pre-cooked shrimp or boil defrosted raw shrimp in water for 2-3 minutes. Make a low-calorie sriracha sauce using sriracha and light mayo or plain Greek yogurt. Store any leftovers in the fridge for up to 3 days. Freeze the sushi rice for up to 12 months. Defrost in the fridge then assemble your bowls fresh.
Nutrition
Calories: 521kcal (26%)Carbohydrates: 61g (20%)Protein: 31g (62%)Fat: 17g (26%)Saturated Fat: 5g (31%)Polyunsaturated Fat: 3gMonounsaturated Fat: 7gCholesterol: 301mg (100%)Sodium: 1297mg (56%)Potassium: 563mg (16%)Fiber: 6g (25%)Sugar: 9g (10%)Vitamin A: 1023IU (20%)Vitamin C: 40mg (48%)Calcium: 262mg (26%)Iron: 5mg (28%)
Join The Girl on Bloor Premium!
ZERO ADS!
Weekly Meal Prep Checklists
Bonus eBooks