This cheesy, loaded Chicken Pesto Spaghetti Squash is a healthy low-carb and high protein dinner the whole family will love!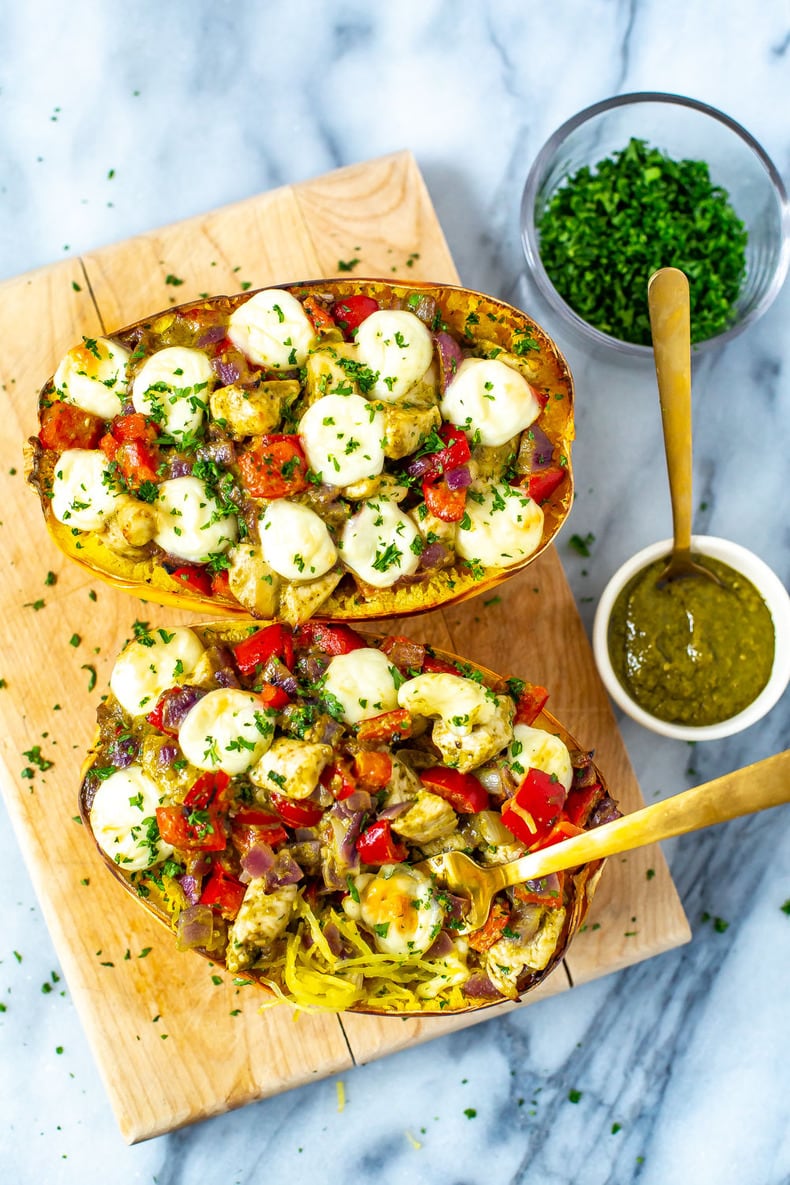 Ingredients in pesto spaghetti squash
The spaghetti squash will act as its own bowl in this amazing dish. Just grab a fork and start eating! Besides a spaghetti squash for every two people who will be eating (you each get half), you'll need these ingredients:
Chicken breasts
Red onion
Red pepper
Pesto
Bocconcini cheese
Pretty simple ingredient list right?!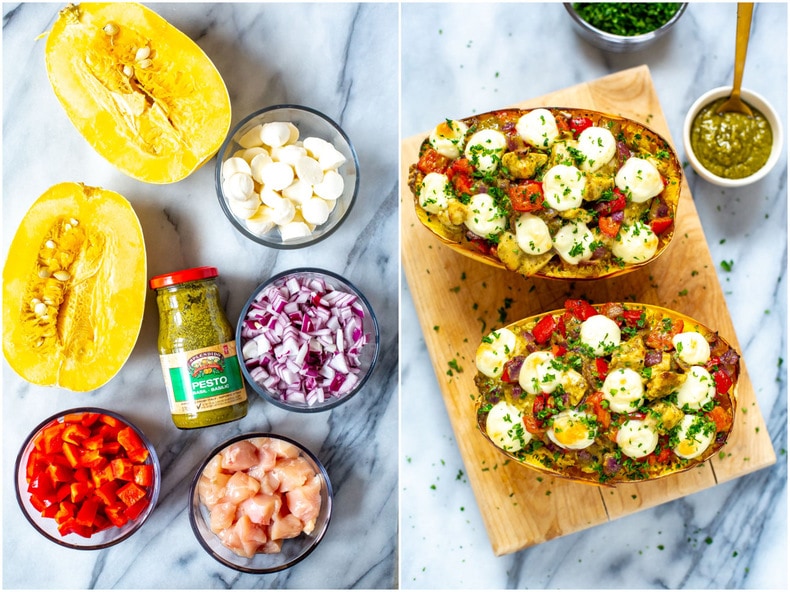 How to make stuffed spaghetti squash
This is a pesto spaghetti squash simple recipe with just a few steps. Most of the cooking is hands-off in the oven.
Prepare the spaghetti squash. Make a dotted line along where to plan to cut the squash. Microwave it for about three to five minutes to soften the skin. Follow the prepared line and cut the squash in half. Scoop out the seeds. Season the squash with olive oil, salt and pepper.
Bake the spaghetti squash for 35 minutes at 425F.
Dice the chicken breasts and saute in oil.
Add red onion and red pepper to the pan.
Toss with pesto and remove from heat.
Scrape the spaghetti squash with a fork to make long strands.
Mix chicken with the spaghetti squash and top with cheese.
Bake for ten minutes until the cheese melts.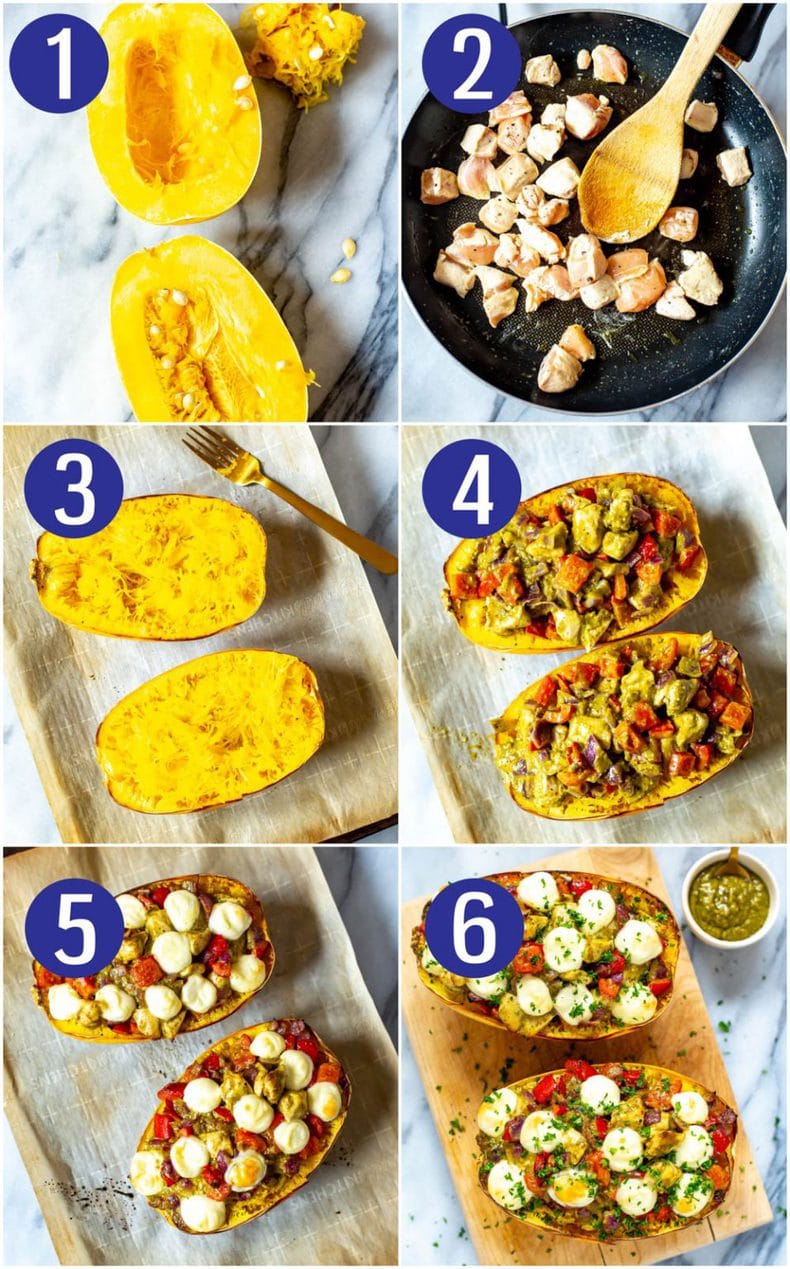 Ingredient substitutions
You can easily substitute other kinds of meat for the chicken in this pesto spaghetti squash recipe. Cubes of turkey, pork or beef will all work. Some may take a little longer to cook than others through. If you want to make this a vegetarian dish, you can omit the meat and double the veggies and cheese.
You can add more veggies or substitute for ones you like better. Any of these taste great with spaghetti squash:
Tomatoes
Mushrooms
Carrots
Olives
Spinach or kale
Broccoli
Eggplant
Zucchini
You can also change up the sauce you use. You could replace the pesto with balsamic vinegar or a tomato based pasta sauce, or even jarred alfredo sauce!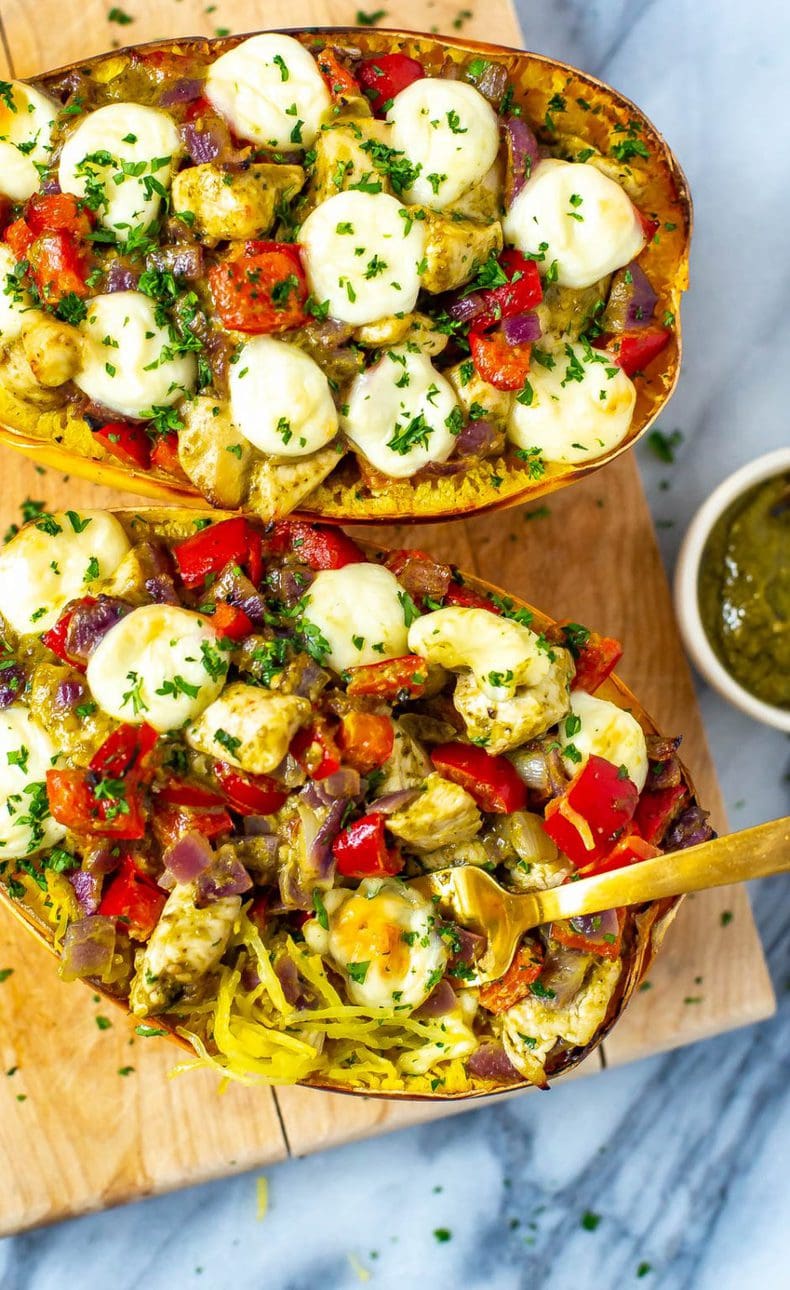 Making it in the Instant Pot
If you want to make pesto spaghetti squash even quicker, you can use your Instant Pot to cook the squash.
Pour a cup of water into the bottom of the Instant Pot. The Instant Pot works when the water creates steam and builds pressure inside the pot.
Place the trivet inside the pot. While you need the water, you don't want your squash to sit in it and get soggy.
You don't even need to cut the squash. Just pierce it a few times with a knife so that it vents and put the whole thing on the trivet.
Set the Instant Pot to cook on high pressure for 15 minutes. This will perfectly cook at three pound squash. If yours is especially big, you can add another three minutes to the cooking time.
Allow the pressure to release naturally for at least ten minutes.
Remove the squash. Cut it in half and remove the seeds. Then you can scrape it into noodles.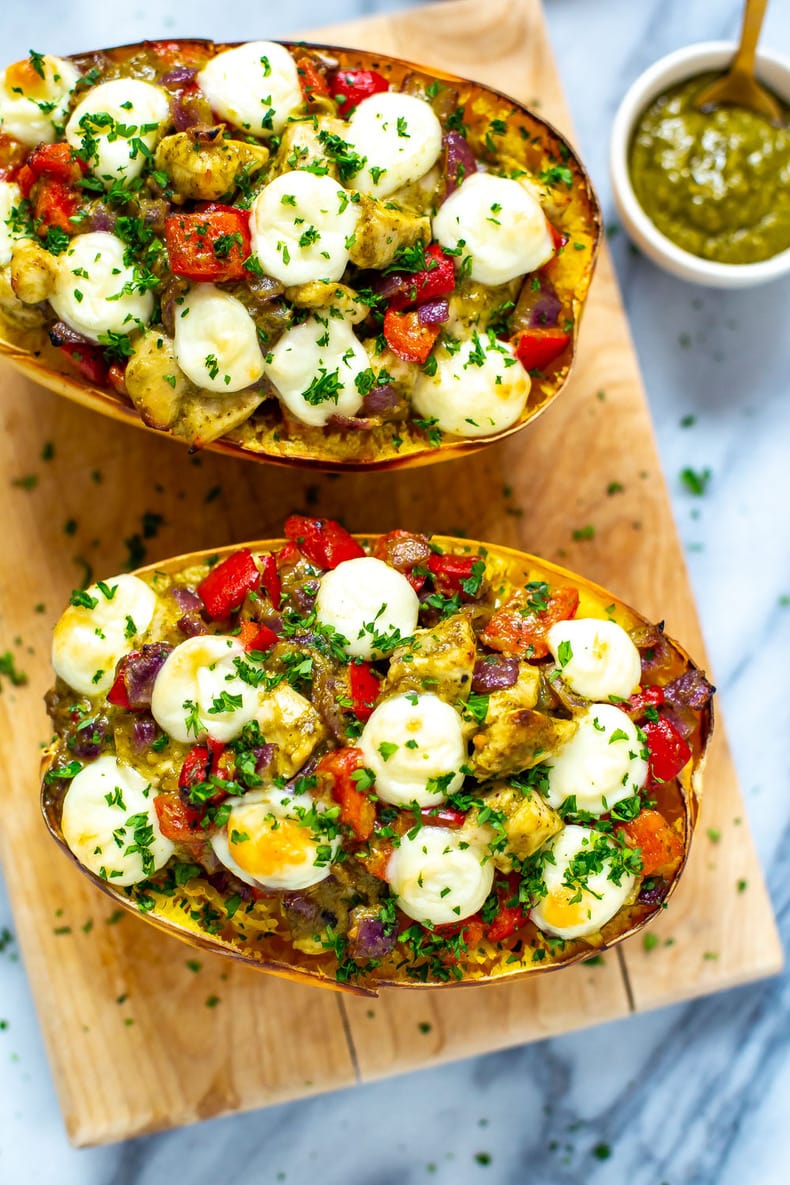 What to serve with spaghetti squash
This chicken spaghetti squash recipe has protein and lots of veggies. A serving size is one-half of a squash with lots of stuffing. This makes a great lunch or a light dinner. Other dishes that go well with spaghetti squash are:
Meatballs – just like spaghetti!
Bacon and fried eggs
Pork chops
Any type of roast
Shrimp
Seared scallops
If you choose to make this spaghetti squash as is, you can just serve a side salad or some garlic bread as a delicious side in case you aren't interested in keeping this dish low carb.
Extra topping ideas
If you want to really heap on the flavors, find other toppings for your pesto spaghetti squash.
Replace an ingredient that you don't love or add more goodness to the recipe with any of these options:
Garlic
Parmesan cheese and butter
Cream sauce
Goat cheese
Parsley and basil
Storing & reheating this recipe
A cooked spaghetti squash can be stored in the refrigerator for up to one week. Once the toppings are all together and inside the squash, you should eat it within four to five days because it contains meat.
The best way to reheat pesto spaghetti squash is in the oven so the squash does not get mushy. However, you can put it in the microwave for a minute at a time until it is warm all the way through.
Freezing spaghetti squash
If you want to prepare more than one spaghetti squash at a time, you can freeze what you have left. The best way to do this is to cook the squash and use your fork to create noodles. Remove the noodles from the shell and store them in an airtight container or bag. I recommend you let the strands sit in a colander before storing them to let any extra moisture drain off.
Spaghetti squash is good for eight months when stored this way.
Spaghetti squash is best if you let it thaw completely before reheating. Let it sit in the refrigerator overnight to thaw. Then you can use it in any recipe, including mixing it with chicken and pesto like this recipe.
Wanna Learn How To Meal Prep?
My meal planning service, Dinner Prep Pro, removes the guesswork and helps you get dinner on the table in 15-20 minutes each night. My meal prep checklists only take 1 hour each week!
More spaghetti squash recipes
Meal prep tools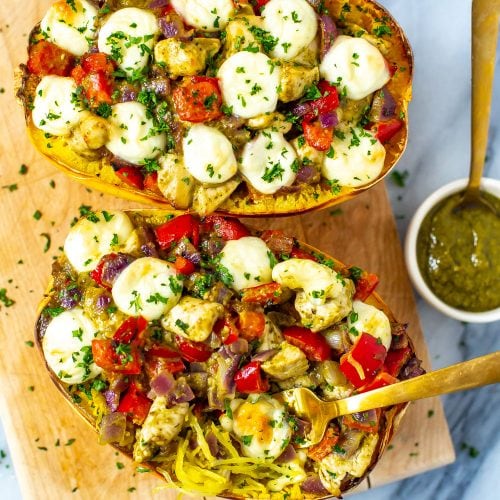 Chicken Pesto Spaghetti Squash
This cheesy, loaded Chicken Pesto Spaghetti Squash is a healthy low-carb and high protein dinner the whole family will love!
Print
Pin
Rate
Click Here to Remove Ads
Servings: 4 servings
Calories: 448kcal
Ingredients
2 spaghetti squash
1 tbsp olive oil
1/2 lb chicken breasts, diced (usually about 2 chicken breasts)
salt & pepper, to taste
1 medium sized red onion, sliced
1 red pepper, diced
1/2 cup store bought pesto
1 cup bocconcini cheese, sliced
Instructions
Preheat oven to 425 F. Cut spaghetti squash in half, scoop out seeds, then drizzle with olive oil and sprinkle with salt and pepper. Bake for 35 min.

Meanwhile, heat olive oil over med-high heat. Add chicken and sautee fo 3-4 min until lightly browned, seasoning with salt & pepper. Add red onion and red pepper, sauteeing for another 3-4 min. Toss mixture with pesto, then remove from heat.

Around this time, spaghetti squash should be coming out of the oven. Once cooled slightly, scrape down the sides of squash with a fork. Add chicken mixture and then top with sliced bocconcini cheese. Bake in oven for 10 min or until cheese is melted. Serve and enjoy!
Video
Nutrition
Calories: 448kcal (22%)Carbohydrates: 40g (13%)Protein: 22g (44%)Fat: 25g (38%)Saturated Fat: 5g (31%)Cholesterol: 48mg (16%)Sodium: 458mg (20%)Potassium: 834mg (24%)Fiber: 9g (38%)Sugar: 17g (19%)Vitamin A: 2153IU (43%)Vitamin C: 51mg (62%)Calcium: 259mg (26%)Iron: 2mg (11%)