These Huevos Rancheros Breakfast Bowls are a delicious brunch idea made healthier – they're also great for your weekly meal prep!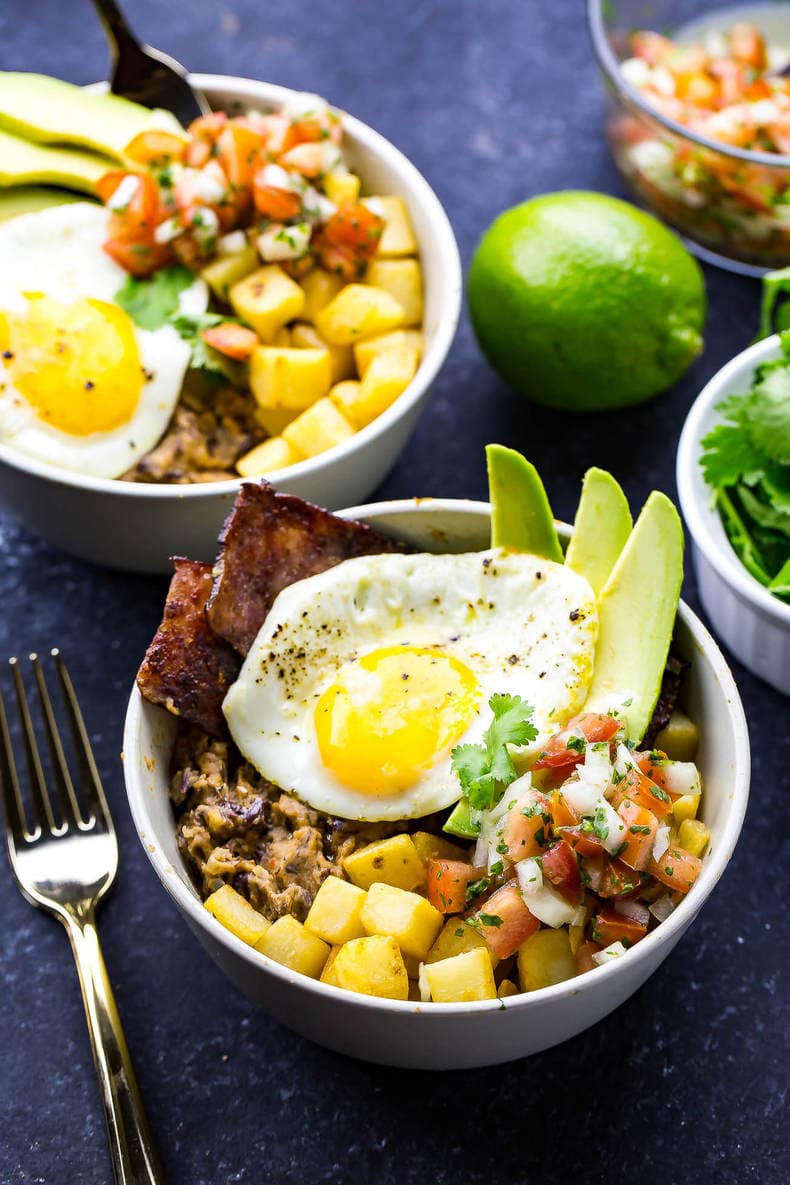 Ingredients and substitutions
Hash browns – use store-bought frozen hash browns for easier prep, or make your own from scratch.
Turkey bacon – turkey bacon is a leaner option but feel free to use regular bacon or tempeh bacon.
Avocado – use fresh avocado slices or guacamole.
Butter – olive oil can be used in place of butter.
Eggs – prepare your eggs as you wish or use carton egg whites.
Refried beans
Black beans – pinto beans or red kidney beans are great substitutes for black beans.
Chili powder – use paprika, chili flakes or cayenne pepper in place of chili powder.
Cumin – ground coriander, paprika or chili powder will work well instead.
Lime juice – you can use fresh or bottled lime juice but I recommend fresh for best results.
Salt – to taste.
Sour cream – for a lower fat option, use plain unsweetened Greek yogurt.
Cheddar cheese – use any shredded cheese blend of your choice, such as Tex Mex or Monterey Jack, instead.
Pico de gallo
Tomato – use Roma tomatoes or cherry tomatoes.
Yellow onion – red onion, white onion or sweet onion will also work.
Lime juice – you can use fresh or bottled lime juice but I recommend fresh for best results.
Cilantro – leave this off altogether if you're not a fan of cilantro.
Salt – to taste.

How to make huevos rancheros bowls
Make the refried beans.
Mix together the pico de gallo.
Cook the hashbrowns.
Fry the turkey bacon.
Make the eggs.
Assemble your bowls, serve and enjoy!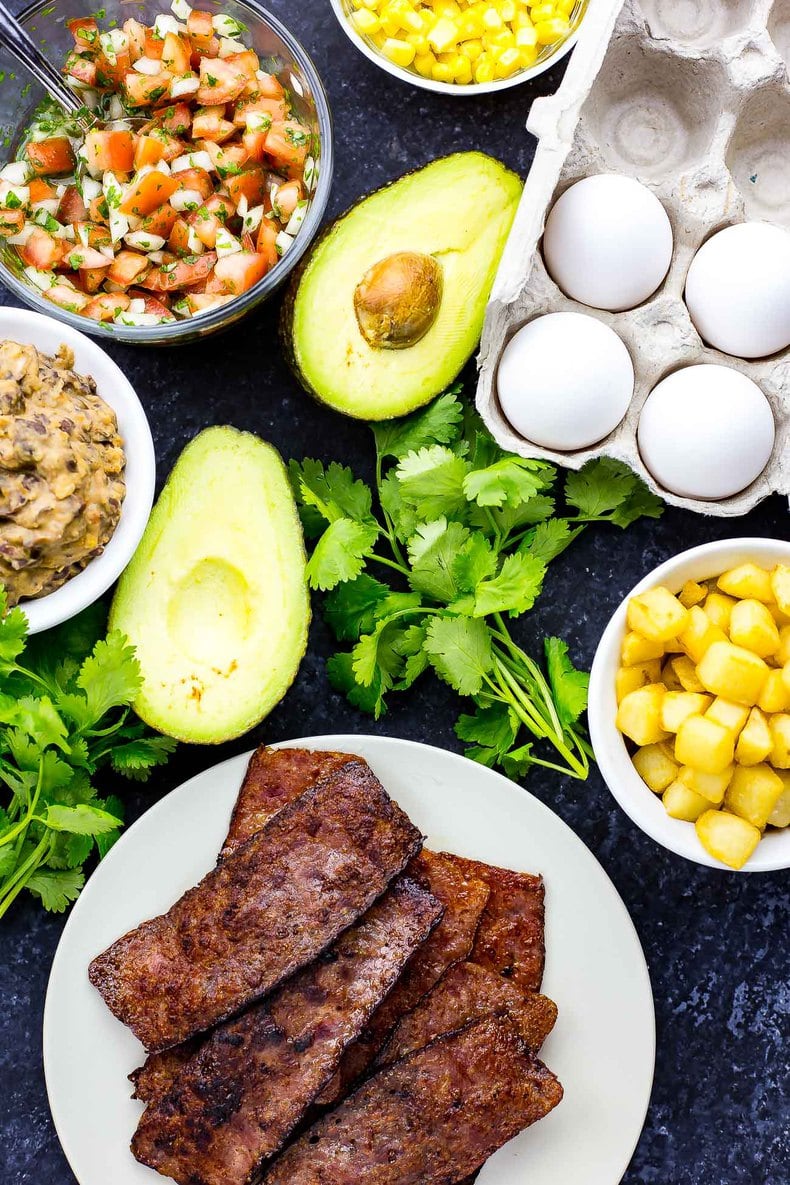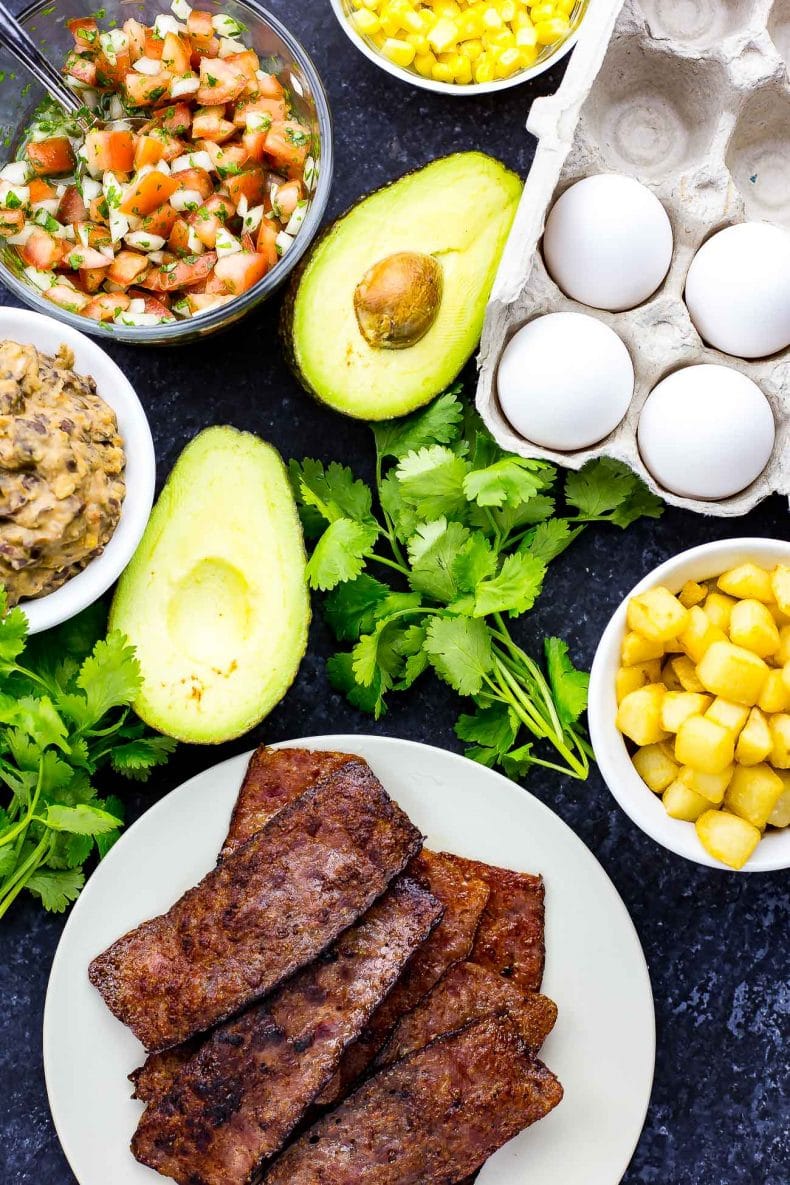 How to prevent the avocado from browning
If you'll be meal prepping these bowls, I'd suggest cutting up a fresh avocado right before eating. If you plan on taking these bowls to work or school, you want to make sure avocado doesn't go brown. Avocados typically turn brown due to an enzyme that's found in them. When that enzyme is exposed to oxygen, it causes the avocado to brown.
The best way to prevent your avocado from browning is by sprinkling the cut avocado with lemon or lime juice. The acidity from the citrus serves as a protective layer for the avocado to stop it from oxidizing and keeps it fresh longer!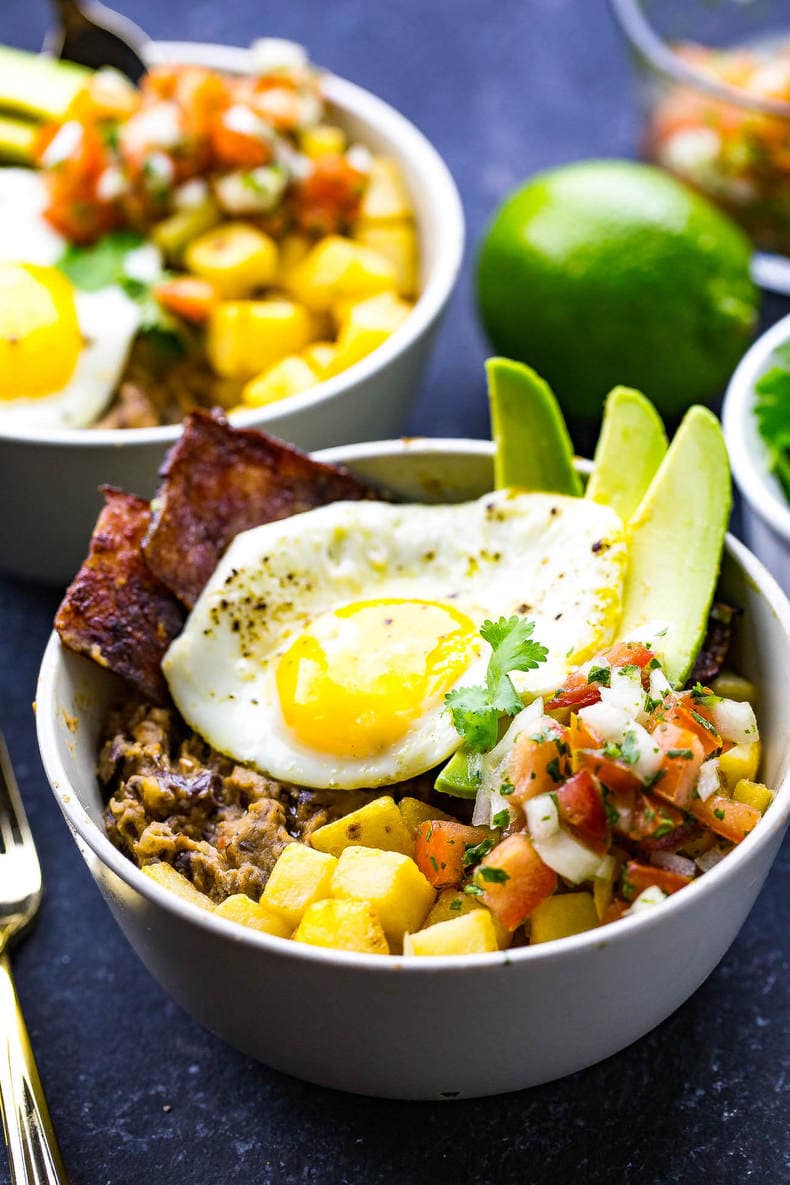 Frequently Asked Questions
What does huevos rancheros mean?
Huevos rancheros translates directly in English to ranch-style eggs. It's a breakfast dish made popular in the Mexican countryside and typically consists of eggs served on tortillas with pico de gallo, refried beans, guacamole and rice. These bowls offer a healthier spin on the Mexican breakfast dish without the tortillas.
What do they contain?
These bowls are made with hash browns, turkey bacon, avocado, eggs, refried beans and pico de gallo. You can prepare the eggs however you want, although the most popular option is to serve the eggs fried or sunnyside up.
Are these bowls vegetarian?
These huevos rancheros bowls are not vegetarian because they contain turkey bacon, but if you want a vegetarian option, just leave the bacon out or swap it out for tempeh bacon! Everything else in this dish is totally vegetarian-friendly and you'll still be getting plenty of protein thanks to the eggs and beans.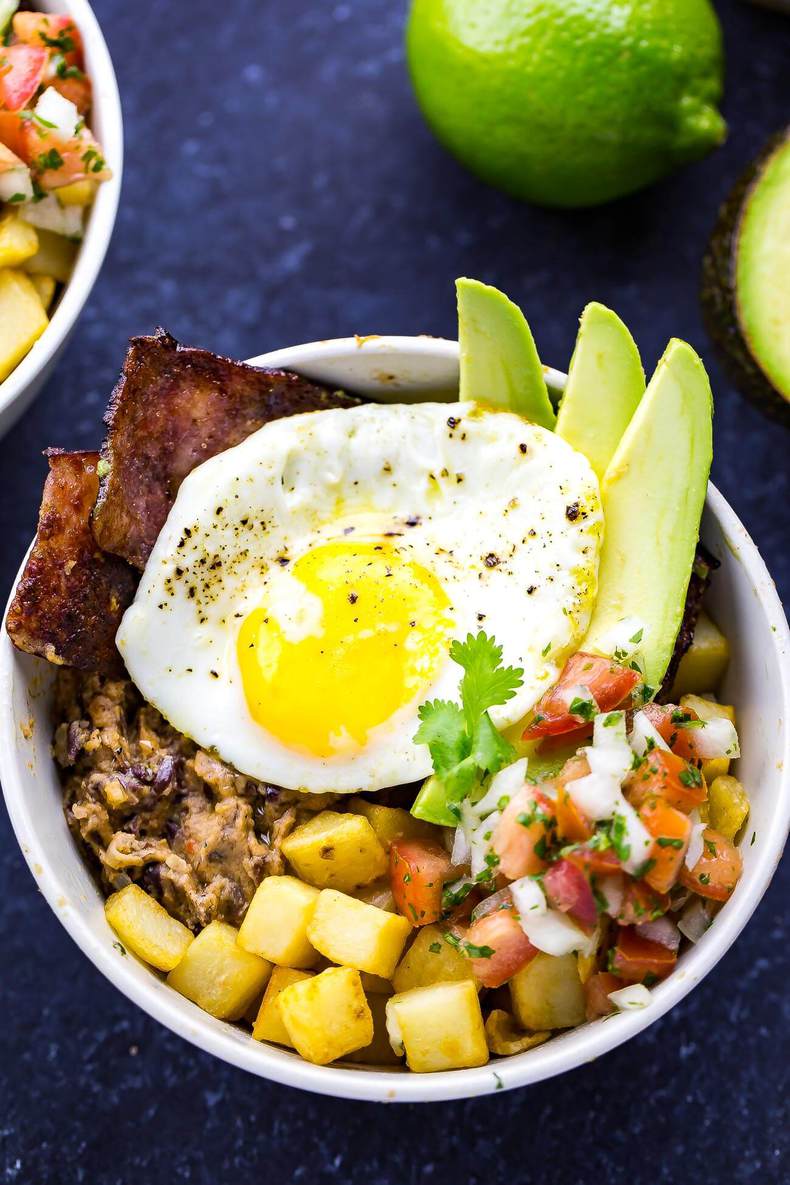 Wanna Learn How To Meal Prep?
My meal planning service, Dinner Prep Pro, removes the guesswork and helps you get dinner on the table in 15-20 minutes each night. My meal prep checklists only take 1 hour each week!
Storing and reheating
If you have leftovers, I suggest storing all the components separately. Each component requires different warming instructions, so storing them together won't give you the best results the next day. The components will last in the fridge separately for up to 3 days.
When you're ready to enjoy your breakfast bowls, warm up the components that need warming (i.e. the hash browns, turkey bacon, beans) and then add the other ingredients to the bowl. You will also want to cook your eggs fresh as they won't store well overnight.
Freezing this recipe
Unfortunately, these bowls aren't freezer-friendly.

More meal prep breakfast recipes
Meal prep tools for this recipe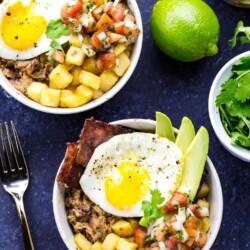 Huevos Rancheros Breakfast Bowls
These Huevos Rancheros Breakfast Bowls are a delicious brunch idea made healthier – they're also great for your weekly meal prep!
Print
Pin
Rate
IN A CYCLE OF EATING POORLY?We've got you covered with our free Routine Revamp mini course! You'll receive 8 lessons and free coaching with us! Register👇
Join Routine Revamp!
Servings: 4 servings
Calories: 419kcal
Ingredients
1 cup frozen hashbrowns
4 slices turkey bacon
1 avocado
1 tbsp butter
4 eggs
Refried beans
1 can black beans
1 tsp chili powder
1/2 tsp cumin
1 tsp lime juice
1/4 tsp salt
1/4 cup sour cream
1/4 cup grated cheddar cheese
Pico de gallo
1 tomato, diced
1 small yellow onion, diced
2 tsp lime juice
2 tbsp finely chopped cilantro
1/4 tsp salt
Instructions
In a small pot, heat all ingredients under the refried beans heading over med-high heat, except cheese. Mash using a potato masher and cook for 7-8 min, mashing and stirring occasionally. Mix in cheese and remove from heat.

Make pico de gallo by mixing all ingredients under the pico de gallo heading together. Let sit so the flavours can mingle.

Meanwhile, cook frozen hashbrowns in a large frying pan over med-high heat for about 10 min, stirring often until fully cooked. Add turkey bacon to the same pan at the same time as the hashbrowns, cooking for about 7-8 min and flipping halfway through.

Remove hashbrowns and bacon from pan. Add butter and crack eggs into pan, cooking for about 3-4 min until yolks are as runny as you desire. Flip for a fried egg, or continue cooking another min for sunny side up.

Add refried beans to bowls and top with hashbrowns, bacon, avocado, pico de gallo and egg. Enjoy!
Notes
Swap out the avocado for guacamole and the pico de gallo for your favourite jarred salsa. Serve the eggs fried, sunnyside up or even scrambled. Store all the components of these bowls separately in the fridge for up to 3 days. Reheat any of the components you want to eat warm then assemble your bowls fresh.
Nutrition
Calories: 419kcal (21%)Carbohydrates: 33g (11%)Protein: 20g (40%)Fat: 24g (37%)Saturated Fat: 9g (56%)Trans Fat: 1gCholesterol: 200mg (67%)Sodium: 780mg (34%)Potassium: 876mg (25%)Fiber: 10g (42%)Sugar: 3g (3%)Vitamin A: 972IU (19%)Vitamin C: 16mg (19%)Calcium: 133mg (13%)Iron: 4mg (22%)
Don't wait until January to eat healthy!Sign up for our free Routine Revamp mini course!
Join Routine Revamp!