These Huevos Rancheros Breakfast Bowls are a delicious brunch idea and the kind of breakfast you'll want to wake up to every morning! Try this spin on a Mexican favourite this weekend!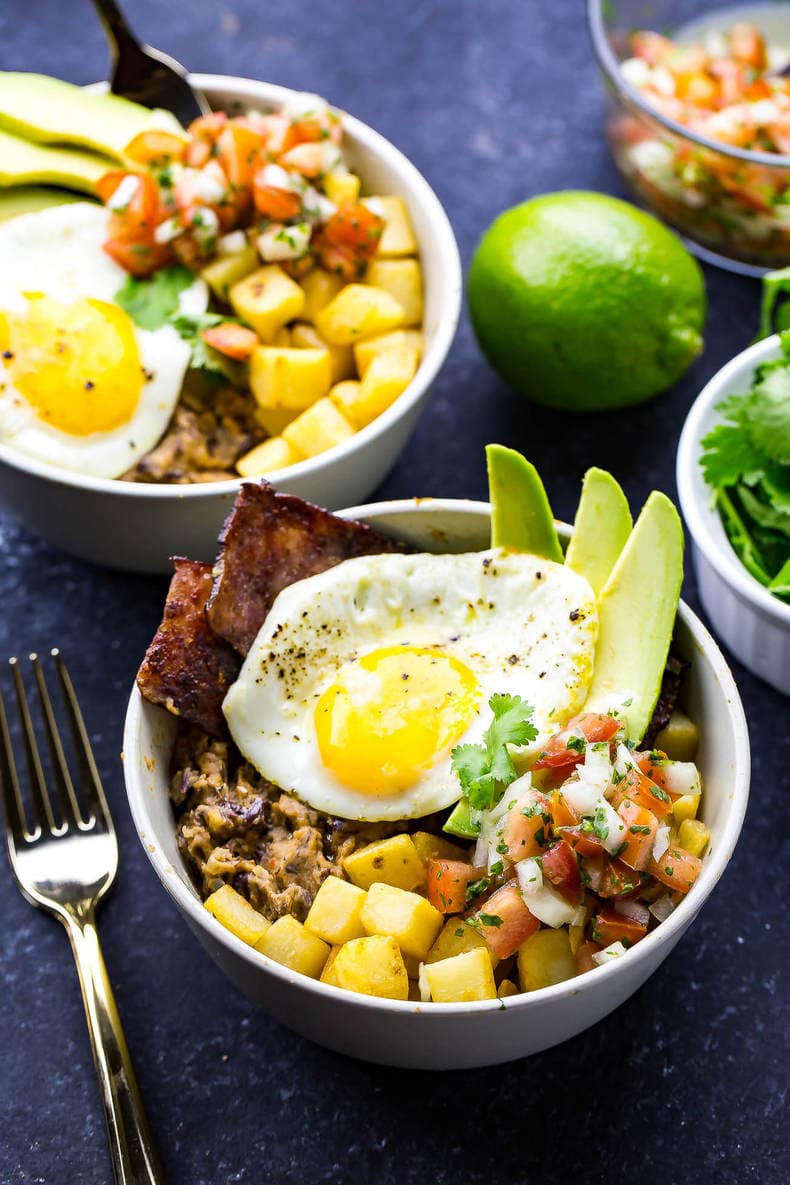 Oh hi there weekend! Don't these Huevos Rancheros Breakfast Bowls look like they're just going to fit into your brunch schedule perfectly? Who needs to go out on Sunday morning, right?
I sure am asking a lot of questions right now.
But my brain is so energized I feel like I'm going into overdrive.
Let me explain.
First of all, it's March, and spring is on the way. Before we even know it, summer will come, and all my favourite things like working on the patio, last minute road trips, cozy campfires and the *very* occasional instance of day drinking with the girls will all become things we can do on the reg.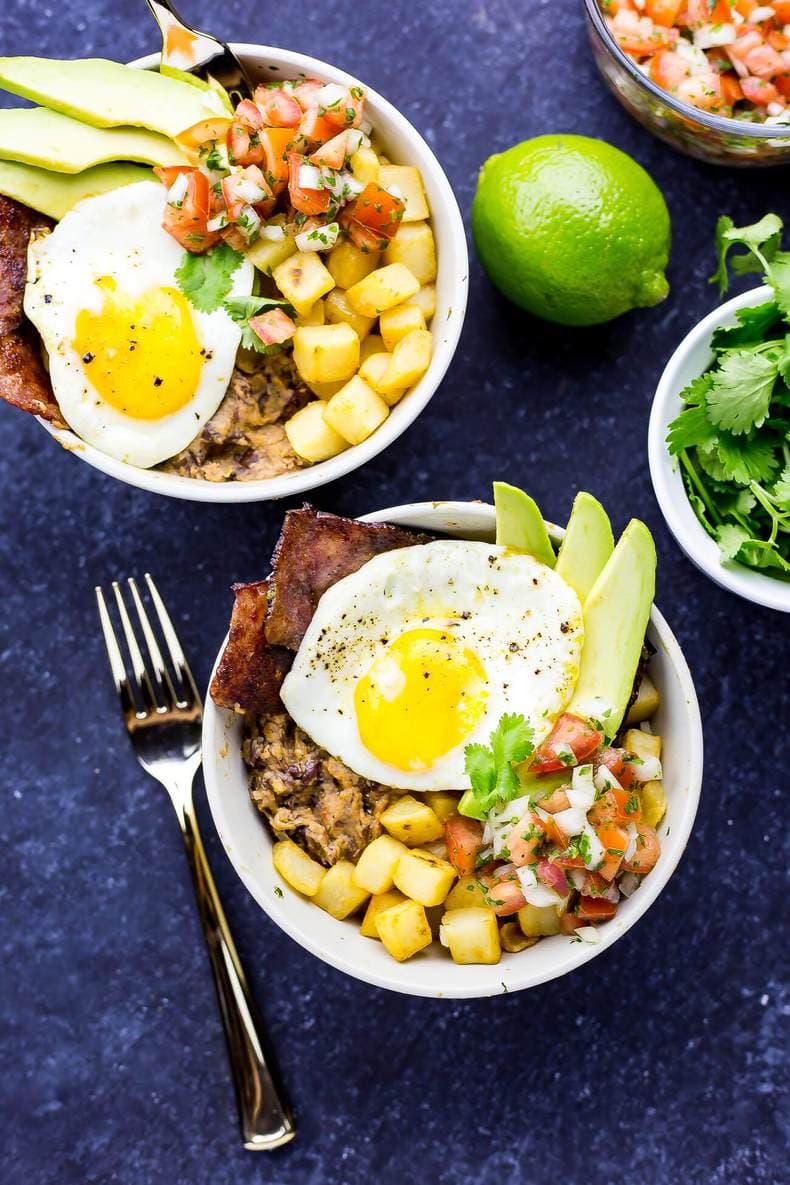 There's just something about spring in sight that is super exciting. It's a time of renewal, new projects, and warm weather that somehow makes working and personal growth seem easier.
I've been working on a lot of things for my photography business behind the scenes, and I'm pretty much in this place where I want to buy all the inspiring, entrepreneurial how-to books, beautiful business planners and food photography props and just go to town. All of this excitement somehow as I'm also busy working on a more professional portfolio and let's just say customizing a new website is really not the most glamorous thing in the world…
But despite all the highs and lows that come with being an entrepreneur, sometimes I can't believe that I actually get to eat and photograph food for a living. Like some days I just stop and remind myself that I have been working for myself, little old me as my own boss, for over a year now.
It really astounds me.
I think us millennials fall into this trap of either wanting to support ourselves and have a solid financial foundation, or we risk everything to do something we love. When we can both make a living and do something everyday that we're passionate about, it means the world.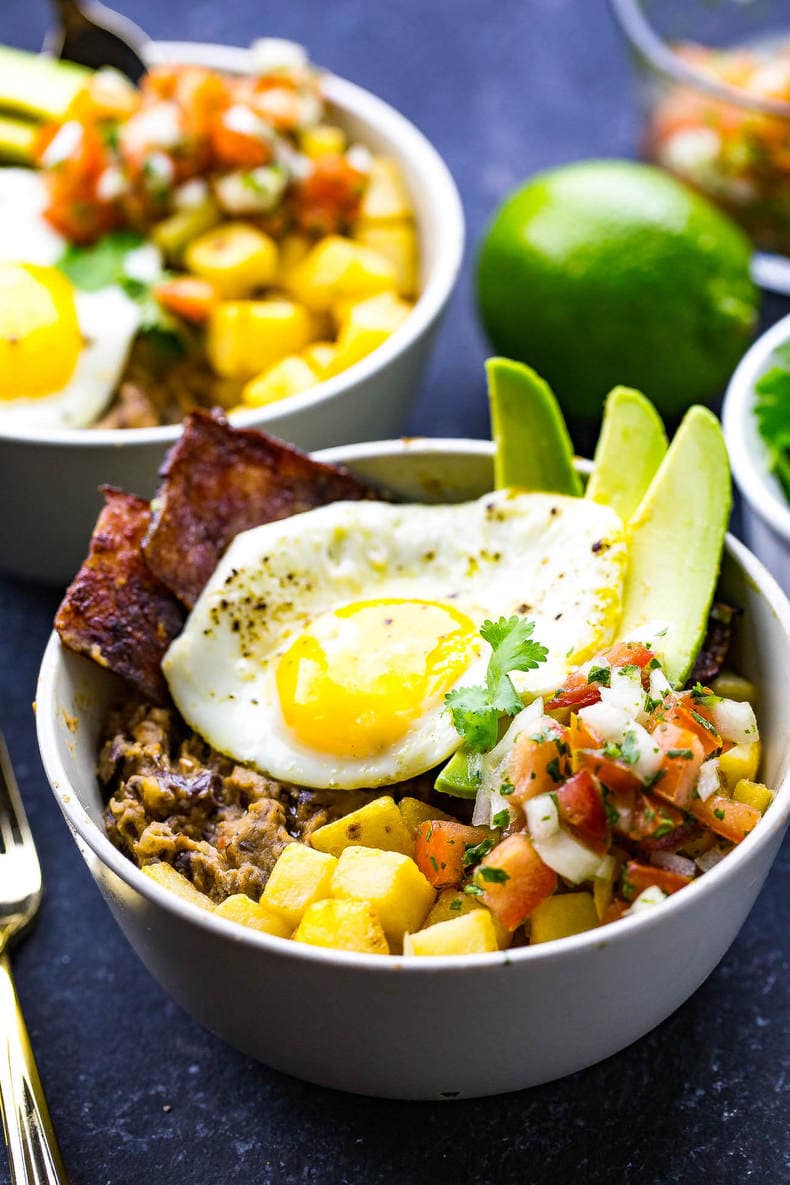 So while I'm going about my day-to-day feeling anxious and nervous and fighting to make the whole photography business thing work, it's also a super exciting adventure where I don't know what's going to happen next. I couldn't imagine living my life any other way.
One thing I really do try to do to keep up with my insane work schedule (which is pretty much wake up, work, repeat until workout and then bedtime…) is to eat really healthy, but I also wanna look forward to every meal I eat. Like, that ish needs to be delicious for me to keep going.
Enter again my new love, Huevos Rancheros Breakfast Bowls.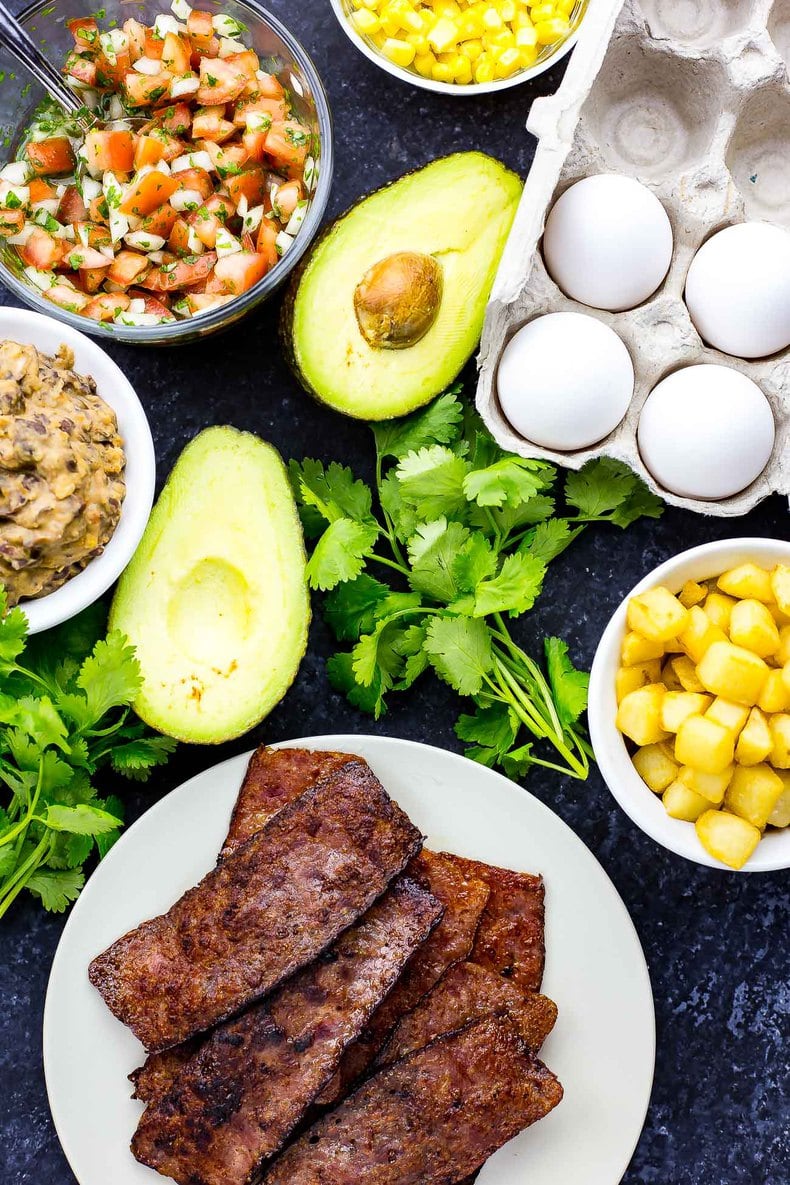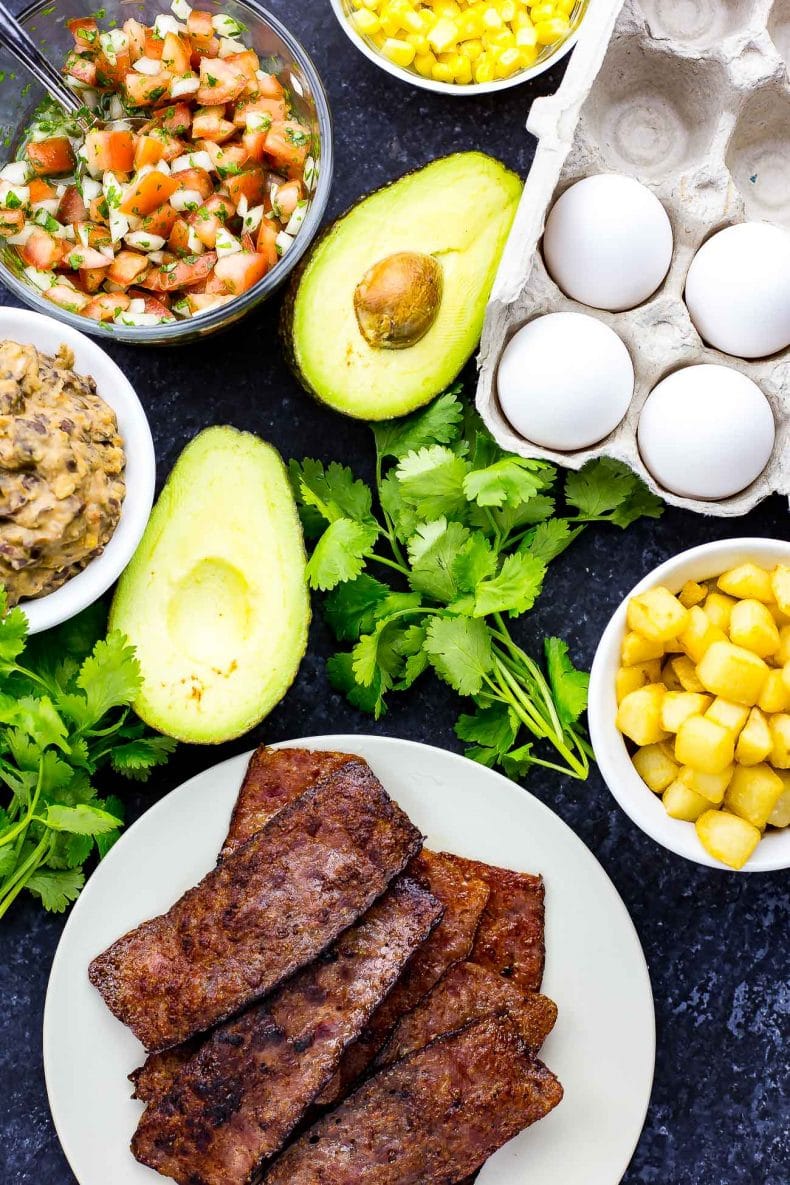 These healthy breakfast bowls offer up a different spin on buddha bowls and huevos rancheros, and I thought it was high time I create something like this at home considering the fact that huevos is my number one brunch order.
Especially when I'm hungover and in need of a little comfort after a crazy Saturday night out. I mean, not that I even really go out anymore because I'm seriously almost always in old lady mode these days. But that's what having a business does to you I think. 😉
Anyways, here's the key to these amazing, giant bowls of Huevos Rancheros:
Homemade refried beans (they only take 10 minutes on the stove, I swear!)
Frozen hashbrowns (convenience is key!)
Turkey bacon (splurge for the more expensive stuff…you'll save a ton of calories as opposed to adding in traditional bacon although you could just go with your fave of course)
Pico de gallo (again, a genius 5-minute condiment)
Sliced avocado (SO necessary)
Fried egg, the perfect finish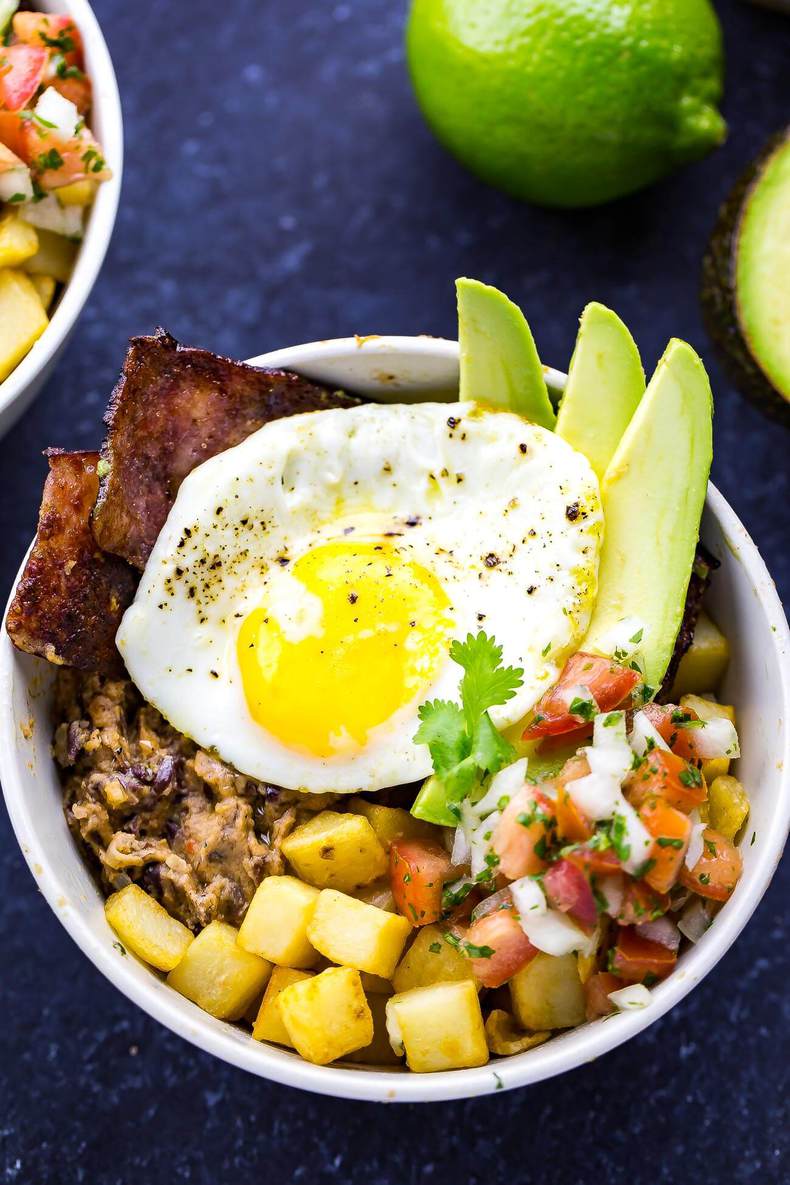 And you bet that if you're the breakfast for dinner type, you're gonna love love love these bowls.
Maybe even more so than my other favourite weekend dinner, Doritos Taco Salad.
Oh yeah, I went there.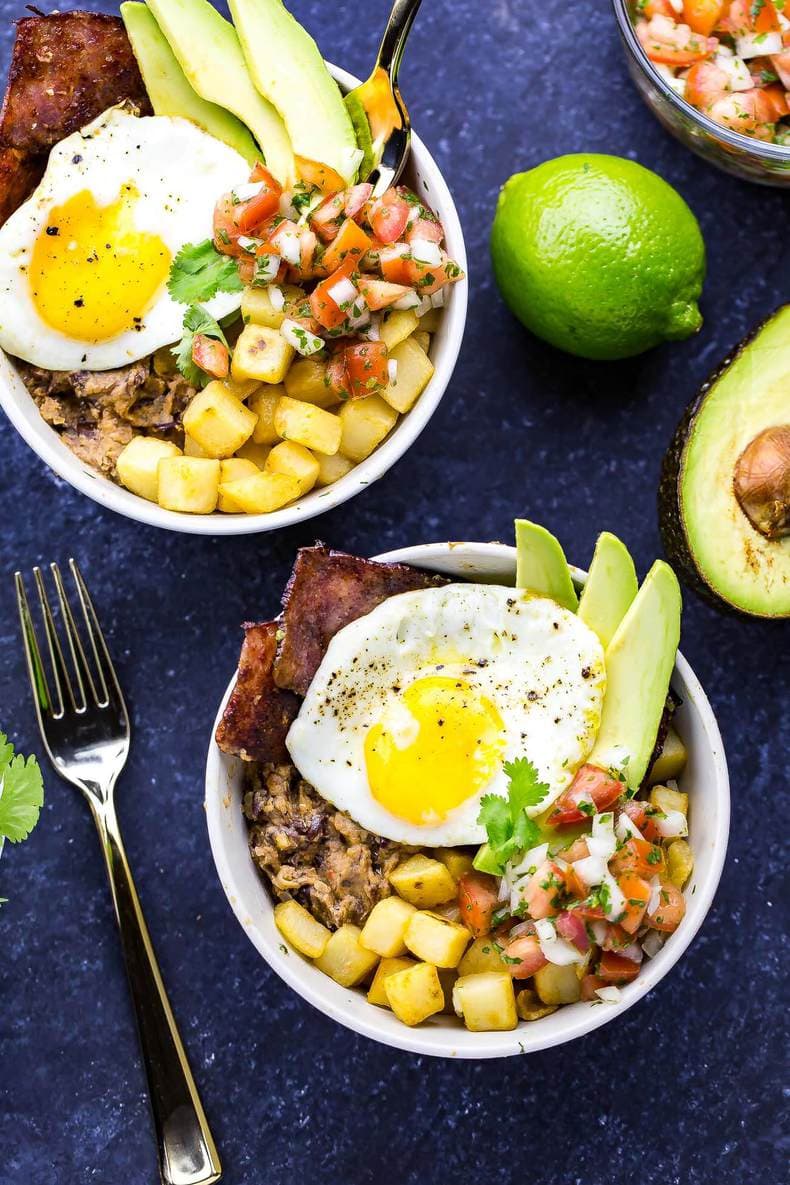 Will you be cooking up some of these Huevos Rancheros Breakfast Bowls this weekend?
You know I'm all about that bowl life for lunch and dinner so why not try out this fun idea for brunch as well? You just might rethink how you eat breakfast all week!
If you try any of my recipes be sure to let me know on Instagram, Twitter, Facebook or in the comments – I'd love to see what you create!?
Huevos Rancheros Breakfast Bowls
These Huevos Rancheros Breakfast Bowls are a delicious brunch idea and the kind of breakfast you'll want to wake up to every morning! Try this spin on a Mexican favourite this weekend!
Print
Pin
Rate
Ingredients
1

tbsp

olive oil

4

eggs

8

slices

turkey or pork bacon

1/2

package

frozen hashbrowns

1

avocado
Refried black beans
1

can

black beans

2

tsp

chili powder

1/2

tsp

cumin

1

tsp

lime juice

1/2

tsp

salt

1/4

cup

sour cream

1/4

cup

grated cheddar cheese
Pico de gallo
1

field tomato, diced and deseeded

1

small

yellow onion

2

tsp

lime juice

2

tbsp

finely chopped cilantro

1/4

tsp

salt
Instructions
In a small pot, heat all ingredients for refried beans over med-high heat with the exception of the cheese. Mash using a potato masher and cook for 7-8 min, mashing and stirring occasionally. Mix in cheese and remove from heat.

Make pico de gallo by mixing all ingredients together. Let sit so the flavours can mingle.

Meanwhile, cook frozen hashbrowns in a large frying pan over med-high heat for about 10 min, stirring often until fully cooked. Add turkey bacon to the same pan at the same time as the hashbrowns, cooking for about 7-8 min and flipping halfway through.

Remove hashbrowns and bacon from pan. Add olive oil and crack eggs into pan, cooking for about 3-4 min until yolks are as runny as you desire. Flip for a fried egg, or continue cooking another min for sunny side up.

Add refried beans to bowls and top with hashbrowns, bacon, pico de gallo and egg. Enjoy!