Breakfast Sandwich Recipes 3 Ways
Try these easy Breakfast Sandwich Recipes 3 Ways: sausage & Swiss, bacon & cheddar or veggie! They are perfect for meal prep and freezer-friendly!  Jump to Recipe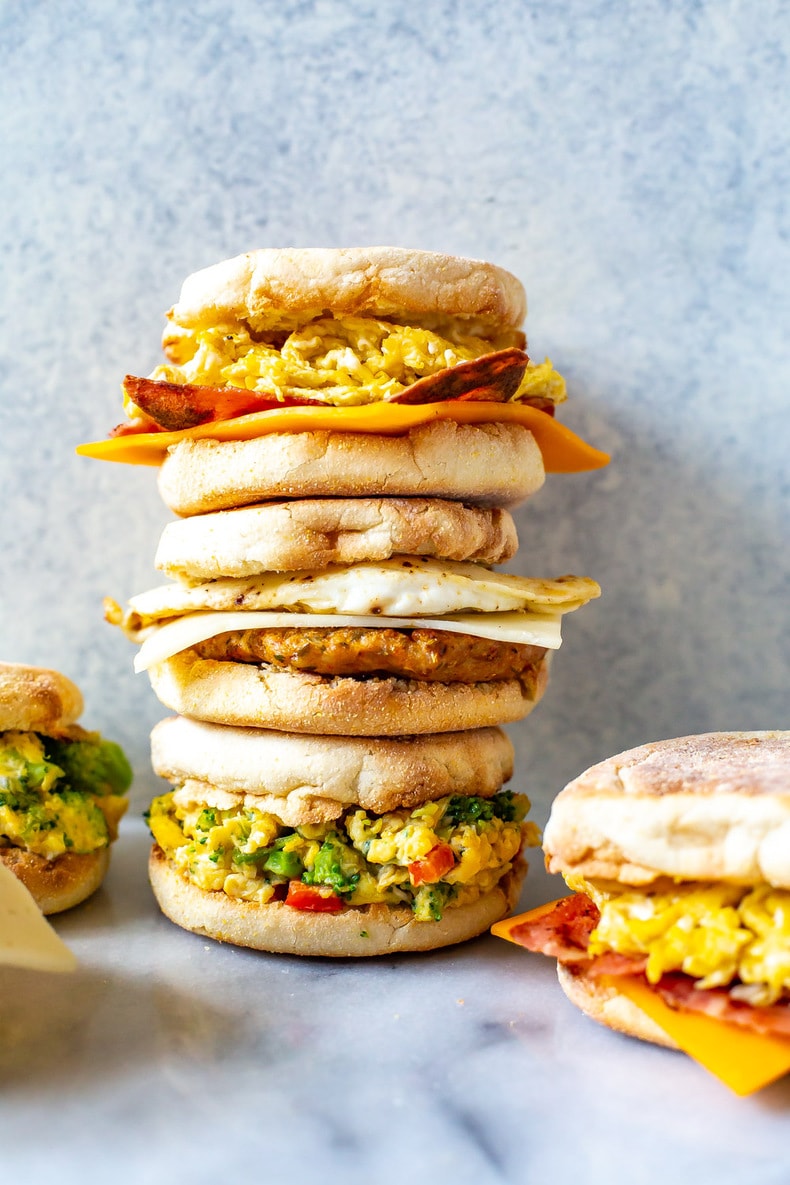 Ingredients in breakfast sandwiches
All of these breakfast sandwiches are served on English muffins. The main ingredient in the breakfast sandwich is eggs. You need one egg per sandwich. I plan to make six sandwiches at a time, but it's easy to double this recipe if you have guests or if you want to have a freezer full of healthy breakfast options.
To make each of the three varieties, you will also need:
Broccoli
Red pepper
Ground turkey
Swiss cheese
Bacon (either pork or turkey)
Cheddar cheese
Seasonings from your pantry
How to make breakfast sandwiches
Your instructions change slightly depending on the type of breakfast sandwich recipe you choose to make.
For the veggie and bacon and cheddar sandwiches, we will use scrambled eggs.
Cook the bacon or the veggies first in the pan. The veggies can stay in the pan with the eggs. Remove the bacon when it is done.
Add the scrambled eggs and seasoning to the pan.
Toast the English muffin
Assemble the sandwiches
For the sausage and swiss sandwich, it's easy to make your own sausage patties. I like fried eggs on this sandwich instead of scrambled.

Breakfast sandwich recipes three ways
With this same breakfast sandwich recipe and assembly method, you can make three different varieties of these breakfast sandwiches.
Veggie will please vegetarians
Sausage and swiss features homemade sausage patties
Bacon and cheddar is a traditional breakfast flavor
Ingredient substitutions
If you are concerned about wheat products or carbs, you can substitute a gluten free bread for the English muffin. Croissants, rye or whole wheat bread are other bread options.
You could use just egg whites if you want to lower the fat and cholesterol in this meal. You will need to double the number of eggs or plan two egg whites per sandwich.
Other veggies that taste great in scrambled eggs are:
Onion
Spinach
Tomatoes
Zucchini
Mushrooms
Shallots
Grated carrots
You could use ground chicken or pork instead of turkey for the sausage patty. Another option would be to crumble the sausage and add it to the eggs instead of forming a patty. Ham, either diced or as a slice is a great source of protein for breakfast. Fish is an impressive and elegant addition to a breakfast sandwich. Perfect for guests or to add something special to any breakfast.
Other kinds of cheese that will work with eggs are:
Feta
Goat cheese
Pecorino
Gouda
Blue cheese
You can skip the cheese completely if you are dairy free.
For more variety, you can put unique toppings on your sandwich. Put these on right before you are ready to eat the sandwich. Some don't freeze well, so wait for the toppings. Try some of these for great flavor combinations:
Avocado or guacamole
Sriracha
Hot sauce
Sprouts
Tomato sauce
Aioli
Sour cream
Hummus
Cucumbers
Can you bake the eggs instead?
If you want, you can bake a large batch of eggs in the oven.
Eggs can be baked in a large pan with a flat bottom like a pie pan or baking dish. Just scramble your eggs, add your veggies and seasonings and pour it into a shallow dish. Bake for 15 minutes or until they are just set. This is especially important if you plan to freeze the sandwiches. Don't overcook them at this stage.
You could also put individual eggs into muffin tins. If you do that, you have single sized portions to put right onto the sandwich. To bake eggs this way, follow these instructions:
Grease your muffin tin
Crack the eggs right into the cups- one egg per muffin cup
Flavor with salt, pepper or any other seasoning you want.
Bake for 17 minutes at 350F
Storing and reheating
These breakfast sandwiches will last in the refrigerator for up to five days. That means that you can make a large batch of sandwiches and have breakfast ready for your whole family for the week.
To reheat breakfast sandwiches, put them in the microwave for a minute. To prevent them from getting soggy in the microwave, wrap the whole sandwich in a dry paper towel while microwaving.
Freezing breakfast sandwiches
In order to freeze breakfast sandwiches, let them cool completely and wrap them tightly in plastic wrap. They will last for two months in the freezer.
These frozen breakfast sandwiches can be thawed overnight in the refrigerator. However, if you forgot, don't worry! You can reheat the sandwiches directly from the freezer. Microwave them for a minute wrapped in a dry paper towel. Flip the entire sandwich over and continue to heat it until it is completely hot.
More meal prep breakfasts
Meal prep tools for this recipe
Grab some glass meal prep bowls if you plan on turning these breakfast sandwiches into your weekly meal prep
I get all my free-range chicken from Butcher Box, conveniently delivered to me frozen.
Meal prep challenge
If you'd like some more help with meal planning, then you'll love my free 5-day meal prep challenge! It's basically a free course that will teach you how to meal prep and cook healthy meals at home with some PDF bonus materials. Sign up for free below: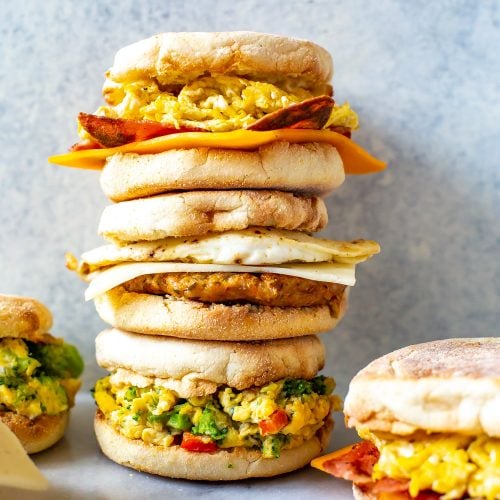 Print Recipe
Breakfast Sandwich Recipes 3 Ways
Try these easy Breakfast Sandwich Recipes 3 Ways: sausage & Swiss, bacon & cheddar or veggie! They are perfect for meal prep and freezer-friendly!
Ingredients
Veggie
6

English muffins

6

eggs

1/2

cup

broccoli, finely chopped

1/2

cup

red pepper, finely chopped
Sausage & Swiss
6

English muffins

6

eggs

1/2

lb

ground turkey

1

tbsp

fennel seeds

1

tsp

onion powder

1

tsp

paprika

1/2

tsp

each salt & pepper

6

Swiss cheese slices
Bacon & Cheddar
6

English muffins

6

eggs

6

turkey or pork bacon slices

6

Cheddar cheese slices
Instructions
Veggie
Whisk eggs together in a large bowl with salt & pepper to taste, then set aside. Add 1 tbsp butter to a medium-sized pan and saute broccoli and red pepper for 3-4 minutes.

Meanwhile, start to toast the English muffins in a toaster. Once veggies are tender, add eggs and scramble over med-high heat for 1-2 minutes.

Add egg mixture to toasted English muffins. Serve and enjoy!
Sausage & Swiss
Mix ingredients for sausage together in a large bowl, then form into 1/2 inch thick patties. Fry in a medium-sized pan over med-high heat with a bit of olive oil, about 5 minutes per side. Remove from pan and wipe clean.

Add 1 tbsp butter to the pan. Start to toast the English muffins in a toaster. Add eggs to pan with melted butter and fry for 2-3 minutes or so before flipping, seasoning with salt & pepper to taste. Cook another minute and remove from heat - egg yolks should be almost set.

Add eggs, sausage and Swiss cheese slices to toasted English muffins in that order. Serve and enjoy!
Bacon & Cheddar
Cook turkey or pork bacon in a medium-sized pan over med-high heat, about 5 minutes. Remove from pan and wipe clean, then add 1 tbsp butter to the pan. Start to toast the English muffins in a toaster.

Meanwhile, whisk eggs together with salt & pepper to taste in a large bowl. Add to pan with melted butter and scramble for 1 minute or so before removing from heat.

Add eggs, bacon and cheddar cheese slices to toasted English muffins in that order. Serve and enjoy!
Video
Nutrition
Calories:
254
kcal
|
Carbohydrates:
27
g
|
Protein:
14
g
|
Fat:
9
g
|
Saturated Fat:
3
g
|
Cholesterol:
178
mg
|
Sodium:
653
mg
|
Potassium:
191
mg
|
Fiber:
2
g
|
Sugar:
1
g
|
Vitamin A:
248
IU
|
Calcium:
61
mg
|
Iron:
2
mg