These Turkey Bacon Egg White Cups are a delicious grab-and-go breakfast idea filled with veggies. They're ready in just 25 minutes!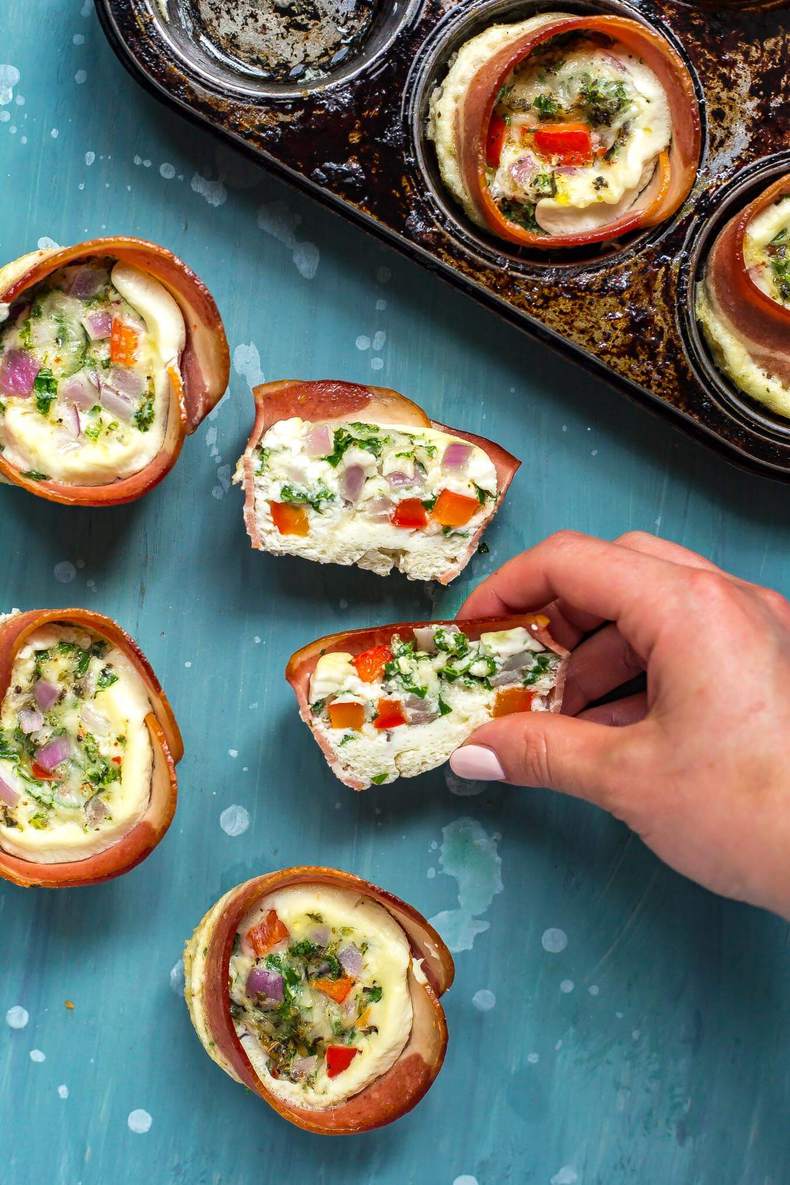 Ingredients and substitutions
Cooking spray – you can also use butter, avocado oil or olive oil.
Turkey bacon – turkey bacon is a leaner option but feel free to use any variety of bacon of your choice.
Egg whites – separate the egg white from the yolk or buy a carton of egg whites.
Italian seasoning – if you don't have Italian seasoning, use a blend of basil, marjoram, oregano, rosemary and thyme.
Sea salt – to taste.
Red pepper – swap out for any bell pepper colour of your choice. If you're not a fan of peppers, use another veggie.
Red onion – white onion, yellow onion or shallots will also work.
Kale – spinach is a great alternative.
Mozzarella cheese – use any shredded cheese blend of your choice.

How to make egg white cups
Line each muffin tin with turkey bacon.
Season the egg whites.
Prepare the veggies.
Divide everything amongst the tins.
Bake in the oven then serve!

Are egg whites healthy?
Yes! Egg whites are definitely healthy and a great option when you're looking for a low-calorie breakfast idea. They're still high in protein (they actually contain about 67% of a whole egg's protein) but are much lower in calories and have less fat and cholesterol. If you're looking to lose weight or cut down on your calorie intake without sacrificing on protein, egg whites are the way to go.
That being said, egg whites don't contain a lot of the nutrients that whole eggs do. When you remove the yolk, you're getting rid of some good minerals and nutrients like vitamin A, vitamin B12, vitamin D and choline.

Frequently Asked Questions
Are turkey bacon and egg whites healthy?
Yes! Turkey bacon is a much healthier and leaner choice than regular bacon. Combined with egg whites, which are low in calories and fat but high in protein, you'll be enjoying a delicious and healthy breakfast that will leave you feeling full and satisfied.
How many calories are in this recipe?
These egg white cups have 303 calories per serving. Each serving contains two egg cups, so there are about 102 calories per egg cup.
What is the egg white called?
The egg white is also known as the albumen or the glair. It makes up the clear liquid in an egg that surrounds the yolk.

Storing and reheating
Make these delicious egg cups ahead of time and store them in the fridge for your breakfast for the week. Once they've cooled down, transfer them from the egg tray to an airtight container or glass bowl for up to one week. To reheat, take the portion you'd like to eat and warm it up in the microwave for 1-2 minutes.
Freezing this recipe
One of the best parts of these egg white cups is that they're freezer-friendly. Wait for them to cool down and then pack them in freezer-safe glass bowls or Ziploc bags. When you're ready to eat them, you can reheat them in the microwave straight from frozen for 4-5 minutes.
Wanna Learn How To Meal Prep?
My meal planning service, Dinner Prep Pro, removes the guesswork and helps you get dinner on the table in 15-20 minutes each night. My meal prep checklists only take 1 hour each week!
More egg recipes
Meal prep tools for this recipe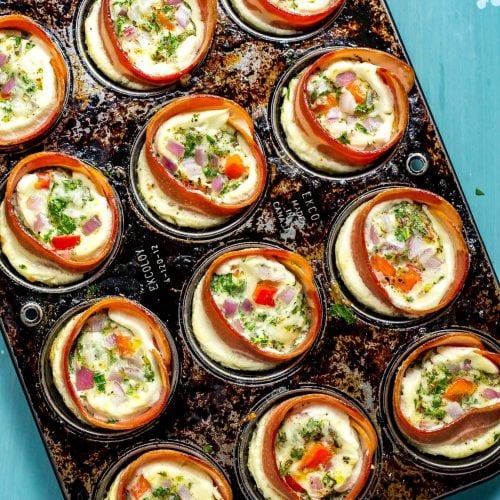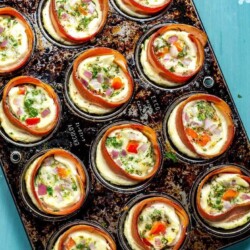 Grab & Go Turkey Bacon Egg White Cups
These Turkey Bacon Egg White Cups are a delicious grab-and-go breakfast idea filled with veggies. They're ready in just 25 minutes!
Print
Pin
Rate
Click Here to Remove Ads
Servings: 12 egg cups (2 is a serving size)
Calories: 303kcal
Ingredients
Cooking spray
12 slices turkey bacon
2 cups egg whites (I use free run eggs from a carton)
1 tsp Italian seasoning
1/2 tsp sea salt
1/2 red pepper, diced
1/2 red onion, diced
1 cup kale, finely chopped
1 cup shredded mozzarella cheese
Instructions
Preheat oven to 350 F. Grease 12 muffin cups with cooking spray, olive oil or butter. Line each cup with turkey bacon slices. Meanwhile, mix egg whites with Italian seasoning and salt. Prepare veggies.

Divide veggies, cheese and egg whites among muffin cups, then bake in the oven for 20 min. Let cool then refrigerate or freeze until ready to eat. Reheat in microwave for 1 min for refrigerated egg cups, or 2-3 min for frozen. Serving size is 2 egg cups.
Video
Notes
Try adding in other veggies like mushrooms, spinach or broccoli. Store these egg white cups in the fridge for up to a week. Reheat in the microwave for 1-2 minutes. Freeze this recipe for up to 3 months then microwave from frozen for 4-5 minutes.
Nutrition
Serving: 2gCalories: 303kcal (15%)Carbohydrates: 5g (2%)Protein: 27.5g (55%)Fat: 19g (29%)Saturated Fat: 4.8g (30%)Polyunsaturated Fat: 2.4gMonounsaturated Fat: 10.5gCholesterol: 7mg (2%)Sodium: 220mg (10%)Potassium: 97mg (3%)Fiber: 0.4g (2%)Vitamin A: 3100IU (62%)Vitamin C: 33mg (40%)Calcium: 100mg (10%)Iron: 0.4mg (2%)