This Sausage Hashbrown Breakfast Casserole is made healthier thanks to the turkey sausage. It's a great freezer meal that you can prep ahead!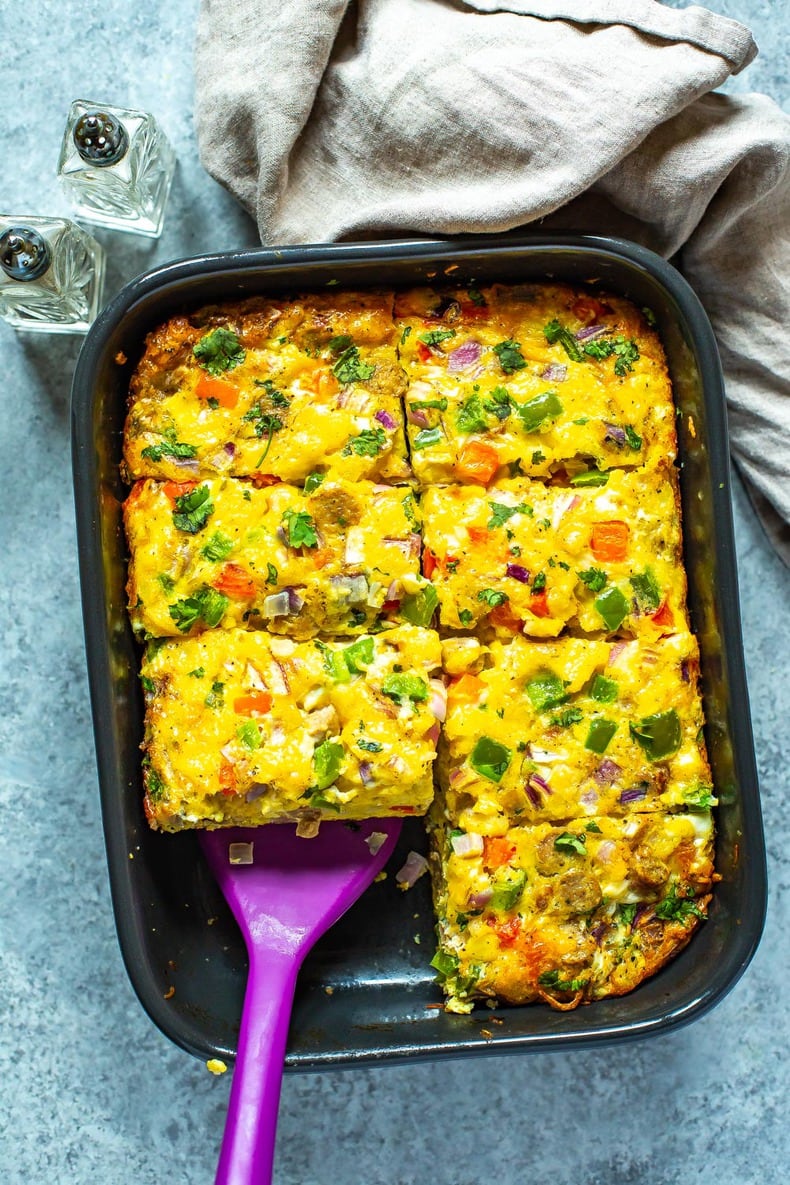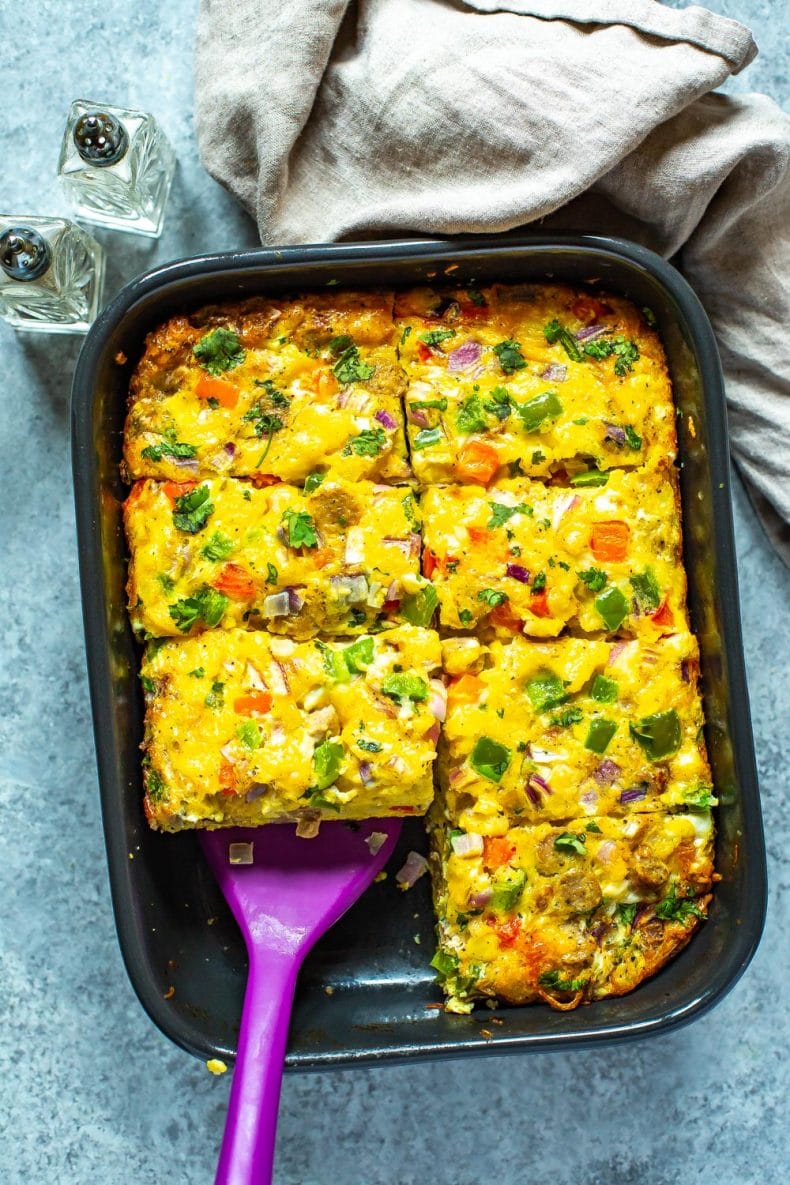 Ingredients and substitutions
Turkey sausage – chicken sausage would also be good. You could also make this breakfast casserole with bacon, ham or chicken.
Butter – or a butter substitute of your choice.
Eggs – fresh eggs are best but eggs from a carton will work in a pinch.
Salt & pepper – to taste.
Frozen hashbrowns – you could also try making this casserole with frozen tater tots.
Red and green pepper – feel free to add in more veggies like spinach, broccoli, diced tomatoes or mushrooms.
Red onion – white or yellow onion can be used, but will have a milder flavour.
Cheese – cheddar, Swiss and Tex Mex cheese are all great options.
How to make breakfast casserole
Cook and slice the sausage.
Mix together the eggs.
Layer the casserole.
Pour the eggs over top.
Bake for 45 minutes.
Serve and enjoy!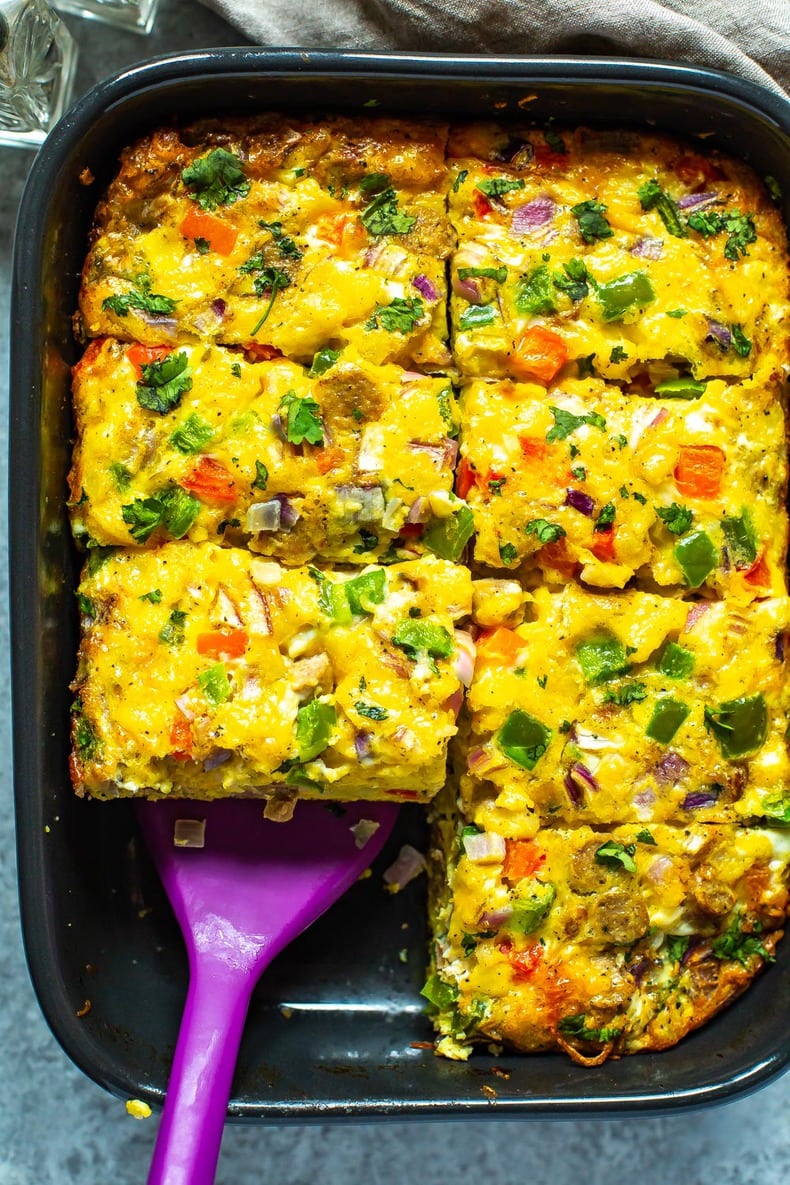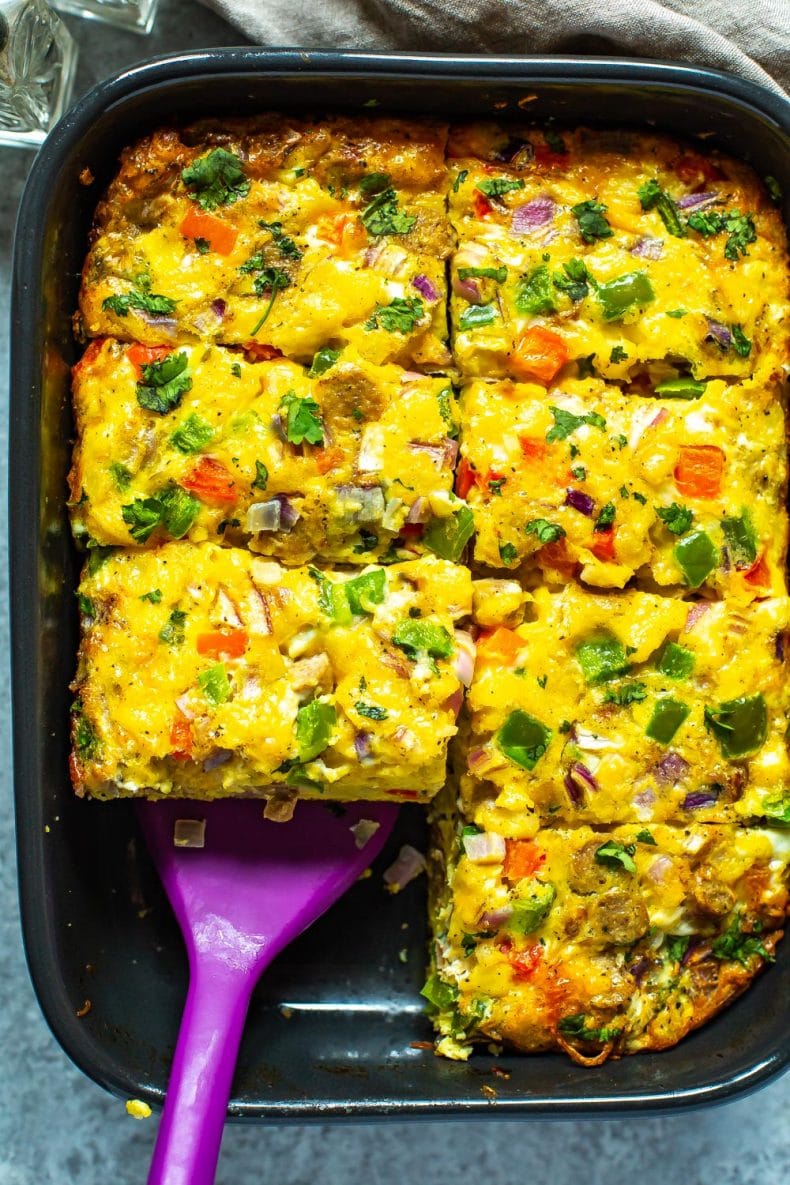 Should you thaw frozen hashbrowns?
There are varying opinions on whether or not to thaw frozen hashbrowns before making a hashbrown breakfast casserole. Some recipes out there have you thaw the potatoes in the refrigerator overnight, but it's really not necessary with this recipe. It only takes a few extra minutes to cook this sausage hashbrown casserole using frozen potatoes, and all the cooking is done in the oven so there's no extra work for you!
You should slightly cook the turkey sausage ahead of time though – you can do beforehand if need be, and the sausage actually doesn't need to be cooked all the way through since it will continue to cook in the oven with the rest of the ingredients.
You just want to ensure that you can slice the breakfast sausage up into rounds so that you can distribute it evenly across the breakfast casserole and get all the flavour throughout.
Frequently Asked Questions
What is hashbrown casserole made of?
This delicious hashbrown breakfast casserole is made with turkey sausage, frozen hashbrowns, eggs, bell pepper, onion and cheese.
How long does it last in the fridge?
If you won't be freezing the casserole, the cooked leftovers should be eaten within 4 to 5 days. It's much better to freeze it since this makes a giant serving, but if you're eating it for breakfast every day you just might be able to eat all the leftovers in that period of time. Just know that you have many options for storage!
What do you serve on the side?
You can enjoy this breakfast casserole on its own, but you can also serve it with other side dishes to turn it into a larger meal. For occasions like Christmas morning or a Mother's Day brunch, for instance, you can serve this dish with a side of salad and a fruit tray – this makes hosting a breeze and you can ensure that you're serving a larger group of up to 8 people comfortably.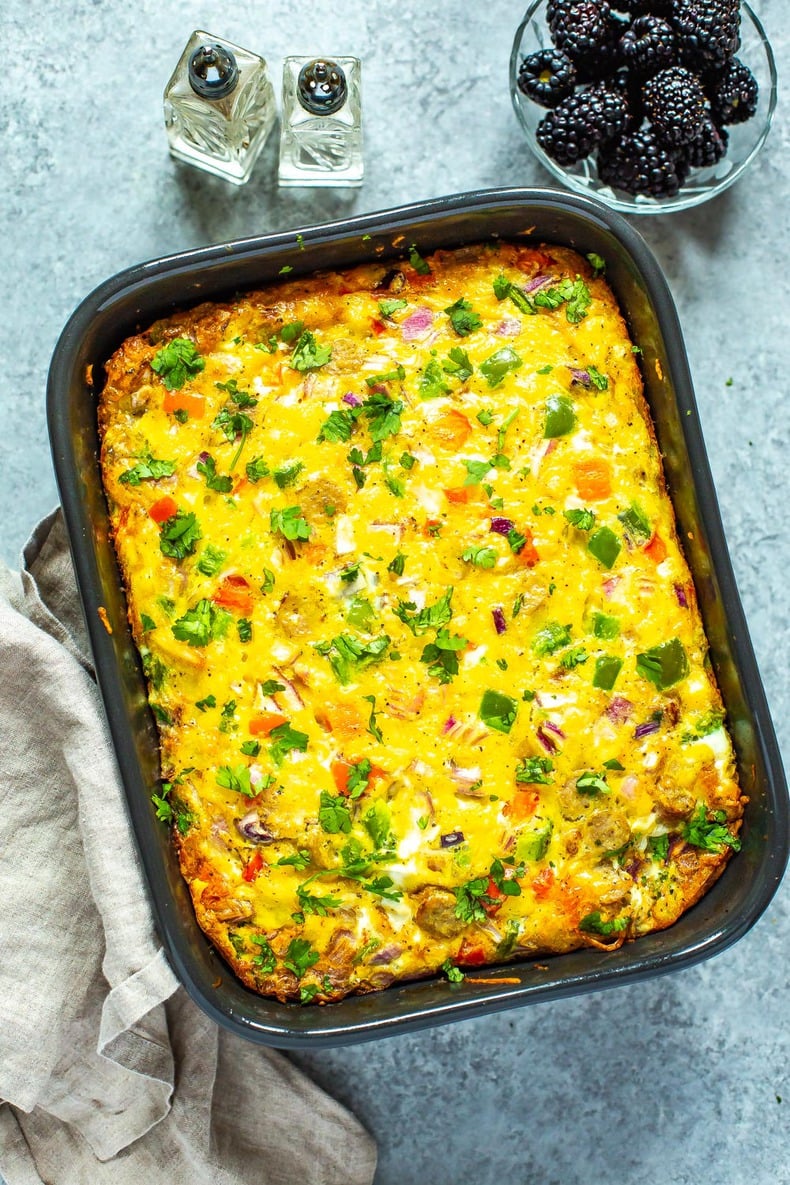 Storing and reheating
Whether you're enjoying this casserole for breakfast or lunch, it can be cut into squares and then stored in glass meal prep containers for up to 5 days. Personally, I believe it reheats just as well as when it comes out of the oven fresh!
I prefer to store individual serving sizes in glass containers because then you can microwave them right from the fridge without having to dirty more dishes. When you're ready to reheat, microwave the breakfast casserole on high for 1 to 3 minutes. This may depend on the wattage of your microwave and how many squares you have packed into your meal prep bowls. If I'm enjoying this casserole for lunch, I will usually pack two squares.
This recipe is perfect to use for make-ahead meals, too. For an overnight breakfast casserole, simply assemble it in a casserole dish. Then, cover the casserole dish well with plastic wrap and place it in the fridge overnight. The uncooked breakfast casserole will keep well in the fridge for up to 3 days.
NOTE: If you plan to make the casserole ahead, you should thaw the frozen hashbrowns first. Otherwise, the egg mixture will become watery as the hash browns thaw.
Can you freeze breakfast casserole?
Yes! This easy breakfast casserole is freezer-friendly, making it perfect for future meals. You can reheat it for another breakfast, pack it into lunch boxes, or have breakfast for dinner. After baking the hashbrown casserole, allow it to cool to room temperature. Pack it up into airtight glass containers and freeze it for 2 to 3 months.
To reheat the casserole, let it thaw in the fridge overnight then reheat individual slice or place the entire casserole into the oven at 350° Fahrenheit. You'll only need to cook it for 20 to 30 minutes, just until it is heated through. I'd suggest covering it with aluminum foil to make sure it doesn't dry out!
You can also reheat individual slices from frozen in the microwave for 5 to 6 minutes. It's a great breakfast or lunch option when you're in a hurry.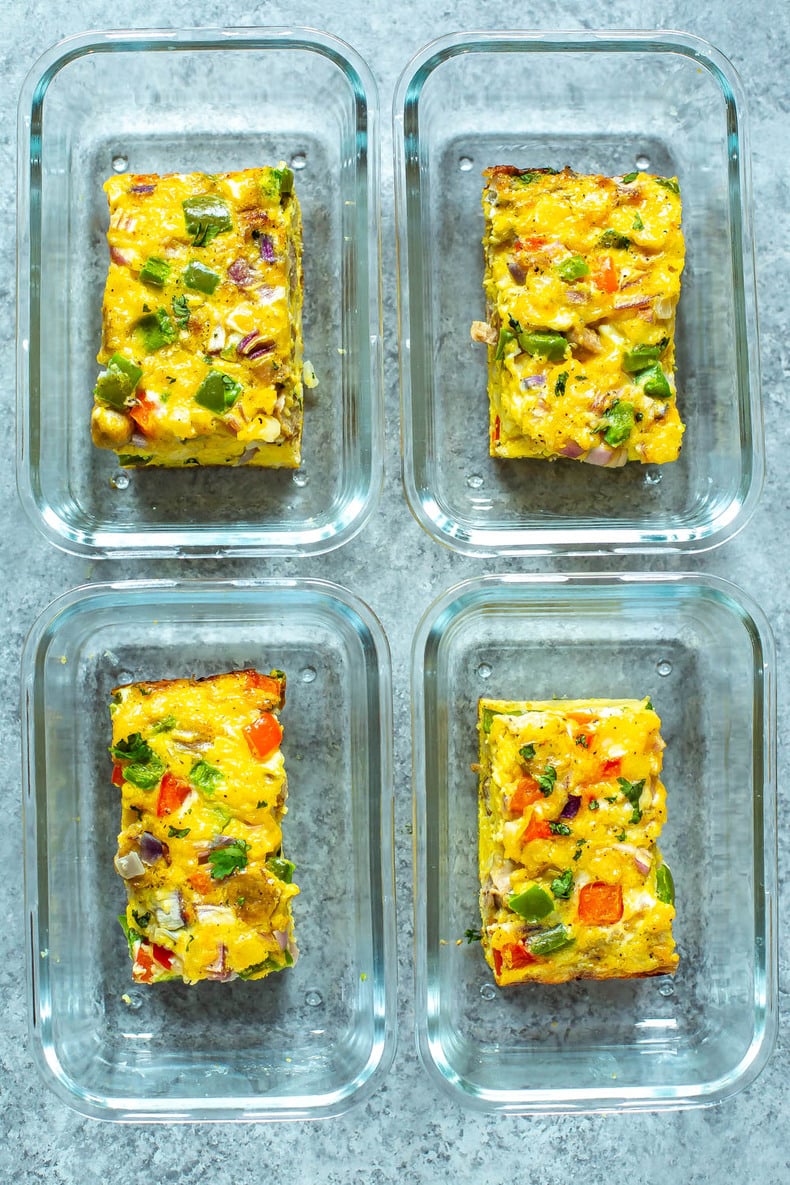 Want to Learn How to Meal Prep? Join Dinner Prep Pro!
Our meal planning service removes the guesswork and helps you get dinner on the table in 15-20 minutes each night thanks to our prep ahead checklists. It takes just one hour of ingredient prep on a Sunday!
More delicious breakfast recipes
Meal prep tools for this recipe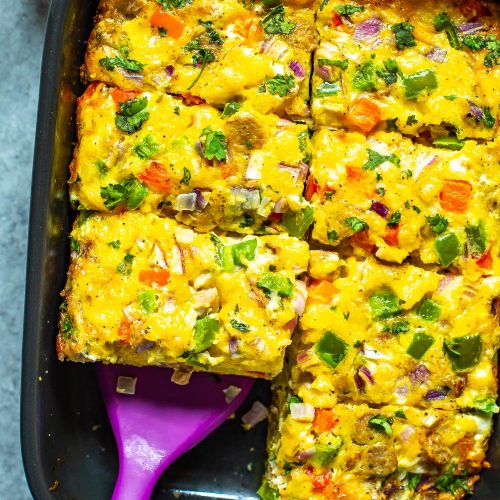 Sausage Hashbrown Breakfast Casserole
This Sausage Hashbrown Breakfast Casserole is made healthier thanks to the turkey sausage. It's a great freezer meal that you can prep ahead!
Print
Pin
Rate
Servings: 8 servings
Calories: 235kcal
Ingredients
10 turkey or chicken breakfast sausage links
1 tbsp butter
16 eggs
1/2 tsp salt
1/4 tsp pepper
2 cups frozen hashbrowns
1/2 each red and green pepper, diced
1 small red onion, diced
1/2 cup cheese
Instructions
Preheat oven to 375 F.

Cook breakfast sausage in a skillet over med-high heat for 4-5 minutes until mostly cooked through. Slice into small pieces and set aside with other toppings.

Grease a 9×13" casserole dish with the 1 tbsp butter (this is the best greasing agent to ensure egg doesn't get stuck – you can also use cooking spray).

Mix eggs together in a large bowl with salt and pepper. Layer sausage, hashbrowns, cheese and vegetables into casserole dish then pour eggs in overtop.

Bake for 45 minutes or until egg is cooked through. Remove from oven and let cool before slicing into individual portion sizes.

Storing: Serve immediately or store in microwave-safe containers up to 5 days in the fridge. You can also freeze in individual portion sizes in glass containers up to 3 months. Reheat frozen portions in microwave for 1-3 minutes until warm.

Video
Notes
Swap out the turkey sausage was bacon, ham or chicken. You can thaw the frozen hashbrowns beforehand, but it's not necessary since they'll cook alongside the rest of the ingredients. Store the leftovers in the fridge for 4-5 days then reheat in the microwave for 1-3 minutes. Freeze the cooked casserole for up to 2-3 months. Defrost in the fridge overnight then reheat in the oven for 20-30 minutes at 350° F.
Nutrition
Calories: 235kcal (12%)Carbohydrates: 12g (4%)Protein: 16g (32%)Fat: 13g (20%)Saturated Fat: 5g (31%)Cholesterol: 347mg (116%)Sodium: 458mg (20%)Potassium: 298mg (9%)Sugar: 1g (1%)Vitamin A: 590IU (12%)Vitamin C: 5.4mg (7%)Calcium: 114mg (11%)Iron: 2.3mg (13%)