This Sausage Hash brown Breakfast Casserole is made healthier thanks to turkey breakfast sausage. It's a great freezer meal prep idea!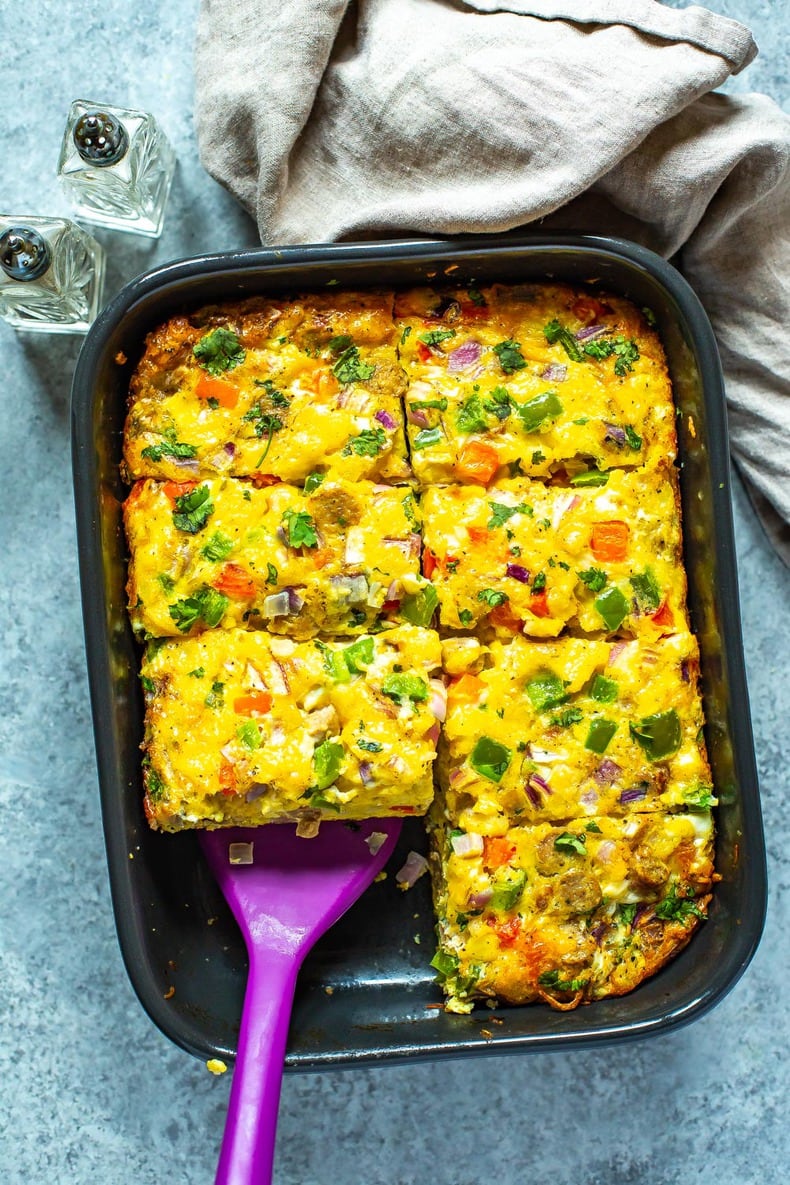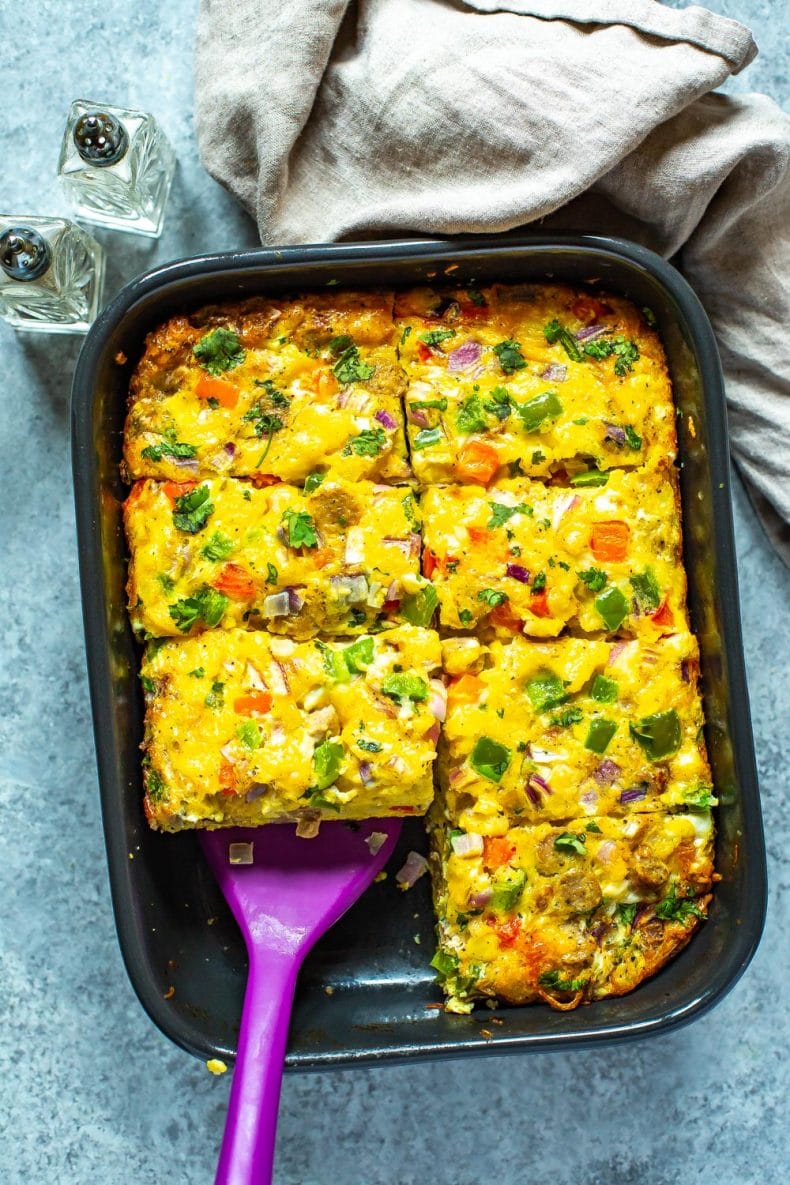 For a casual weekend breakfast or brunch, there isn't much better than an easy breakfast casserole!
Here are just a few reasons to love breakfast casseroles:
They're perfect for entertaining
They're amazing for meal prep
They freeze well
They're made in one pan, which reduces clean up
Just bake and forget it – once this goes in the oven, kick back and relax! The cooking part is hands-off
Actually, this casserole recipe isn't just easy, it's super easy thanks to frozen hashbrowns (my fave!!!)
It's also a healthier recipe because rather than using pork sausage, we'll be using turkey sausage. If you can't find turkey breakfast sausages (or even chicken ones), it's totally cool to use regular breakfast sausage, but just know that the calorie count below will be slightly higher than listed below on the recipe card.
What's in this recipe?
I like this easy breakfast casserole with sausage because it really is a complete meal. It has:
protein from eggs and turkey sausage
carbs from the hash brown potatoes
dairy from the cheddar cheese
vegetables – this sausage hashbrown casserole has bell peppers and onions – you can add more veggies too!
This recipe is really versatile, too. Don't like sausage? Feel free to make this breakfast casserole with bacon (turkey or pork), ham, or even cooked chicken.
Or, for a vegetarian breakfast casserole, leave the meat out entirely. You can add other vegetables that you like, too. Spinach, broccoli, diced tomatoes, and mushrooms are all delicious options.
If you have a dairy allergy, use a brand of dairy-free cheese or nutritional yeast. Or just leave the cheese out altogether too! This sausage breakfast casserole does not use milk and instead uses more eggs than traditional versions for more protein so you don't have to worry about substituting the milk.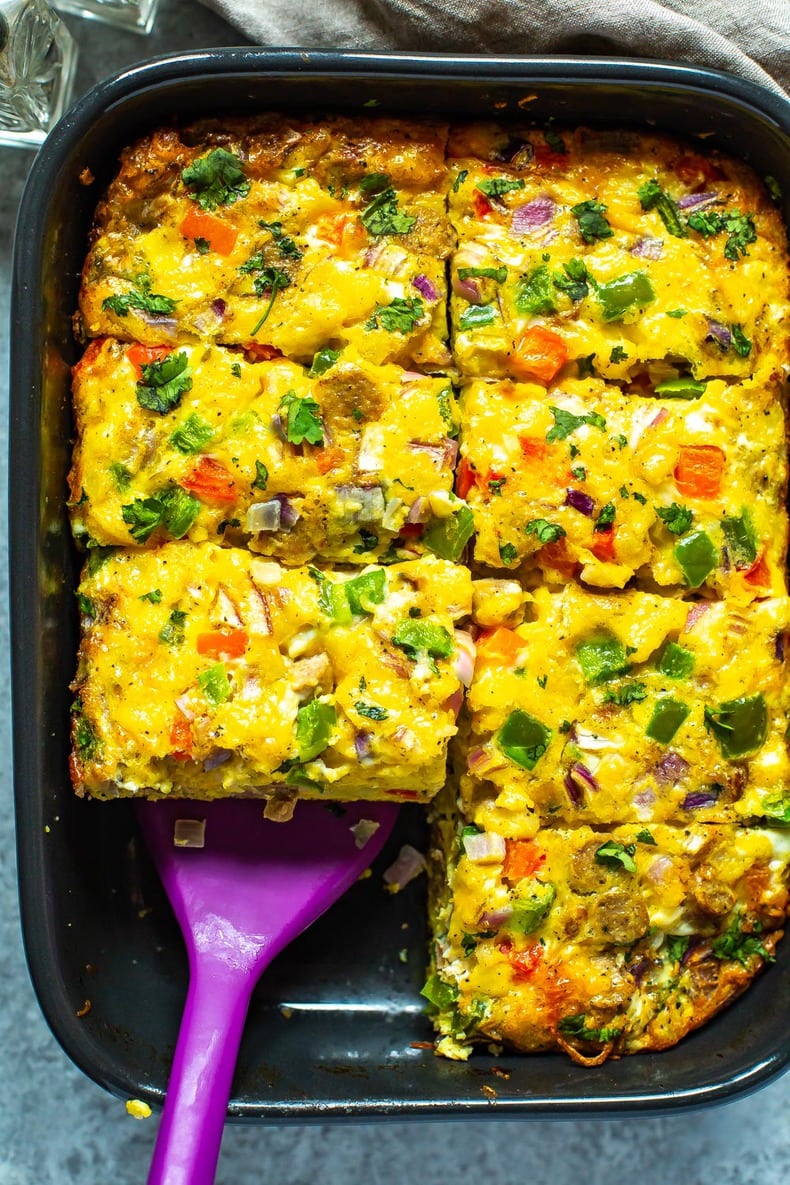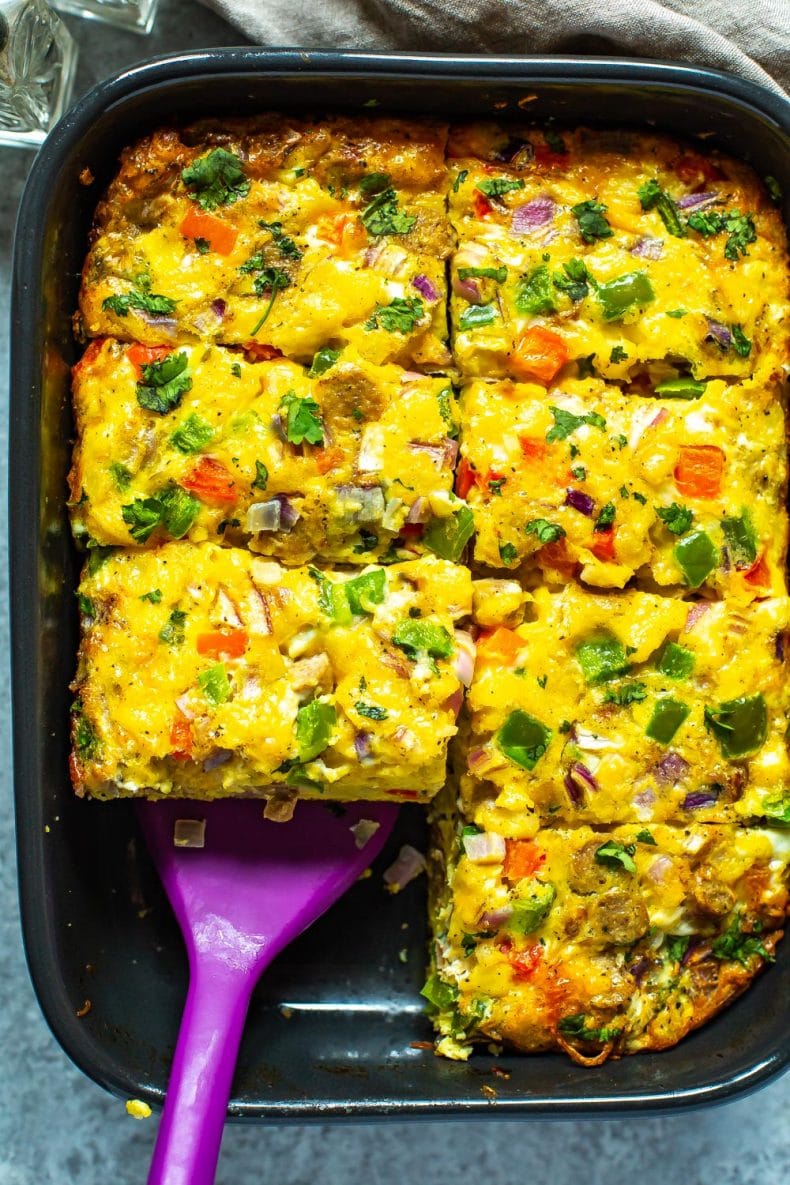 Should you thaw frozen hash browns before cooking?
There are varying opinions on whether or not to thaw frozen hash browns before making a hashbrown breakfast casserole. Some recipes out there have you thaw the potatoes in the refrigerator overnight, but it's really not necessary with this recipe. It only takes a few extra minutes to cook this sausage hash brown casserole using frozen potatoes, and all the cooking is done in the oven so there's no extra work for you!
You should cook the turkey sausage ahead of time slightly though – you can do this ahead of time if need be, and the sausage actually doesn't need to be cooked all the way through since it will continue to cook in the oven with the rest of the ingredients.
You just want to ensure that you can slice the breakfast sausage up into rounds so that you can distribute it evenly across the breakfast casserole and get all the flavour throughout.
Meal prepping this breakfast casserole
As you can see below, it's super easy to make this breakfast casserole as your weekly meal prep!
Whether enjoying for breakfast or lunch, this is a delicious one-pan recipe that can be cut into squares and then stored in glass meal prep containers to be enjoyed later. Personally, I believe it even reheats just as well as when it comes out of the oven fresh!
I prefer to store individual serving sizes in glass containers because then you can microwave them right from the fridge without having to dirty more dishes. When ready to reheat, microwave on high for 1-3 minutes. This may depend on the wattage of your microwave and how many squares you have packed into your meal prep bowls. If I'm enjoying for lunch, I will usually pack two squares.
If you'd like some more help with breakfast and meal prep, then you'll love my free 5-day meal prep challenge! It's basically a free email course that will teach you how to meal prep and cook healthy meals at home with some PDF bonus materials. Sign up for free below!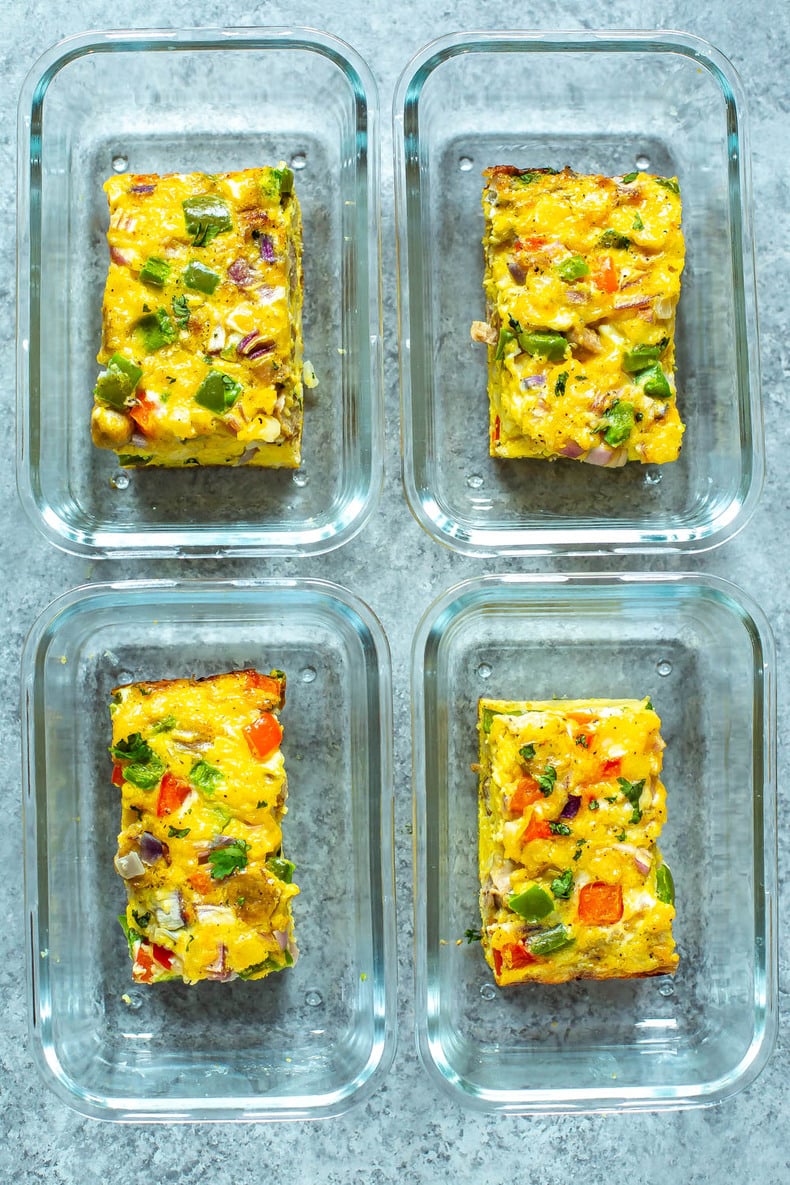 Can you freeze breakfast casseroles?
Yes! This easy breakfast casserole is freezer-friendly, making it perfect for future meals. You can reheat it for another breakfast, pack it into lunch boxes, or have breakfast for dinner.
After baking the hash brown casserole, allow it to cool to room temperature. Then cover it well; the casserole will keep well in the freezer for 2 to 3 months.
To reheat the frozen egg casserole, first let it thaw overnight in the fridge. Then, reheat individual slices as desired, or place the entire casserole into a preheated oven. Preheat the oven to 350 degrees., or even 325 degrees Fahrenheit.
To prevent the sausage breakfast casserole from drying out, cover the dish with aluminum foil. You'll only need to cook it for 20 to 30 minutes, just until it is heated through.
You can also freeze in individual glass square bowls with lids as you see pictured above – freeze them just like you would refrigerate them and then reheat in the microwave for 5-6 minutes until fully defrosted and warm.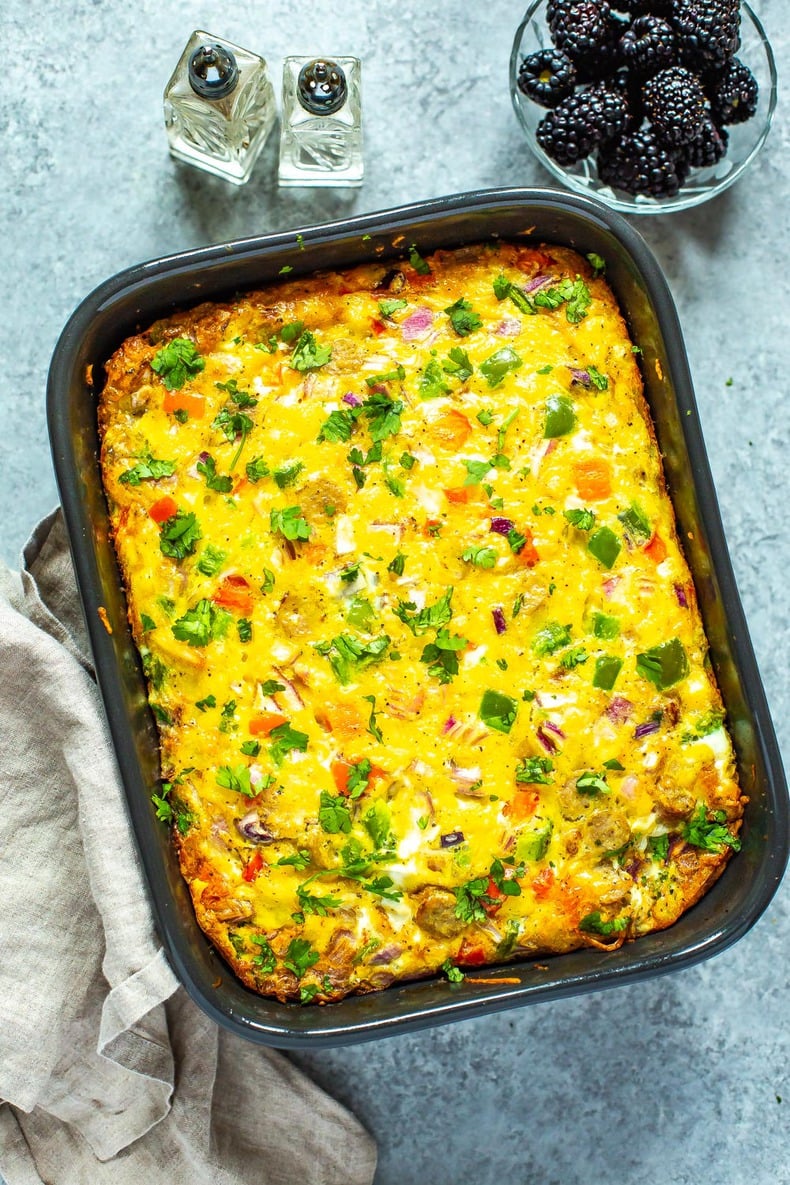 Making this breakfast casserole ahead of time (overnight)
This recipe is perfect to use for make-ahead meals, too. For an overnight breakfast casserole, simply assemble it in a casserole dish. Then, cover the casserole dish well with plastic wrap and place it in the fridge overnight.
The uncooked breakfast casserole will keep well in the fridge for up to 3 days. NOTE: If you plan to make the casserole ahead, you should thaw the frozen hash browns first. Otherwise, the egg mixture will become watery as the hash browns thaw.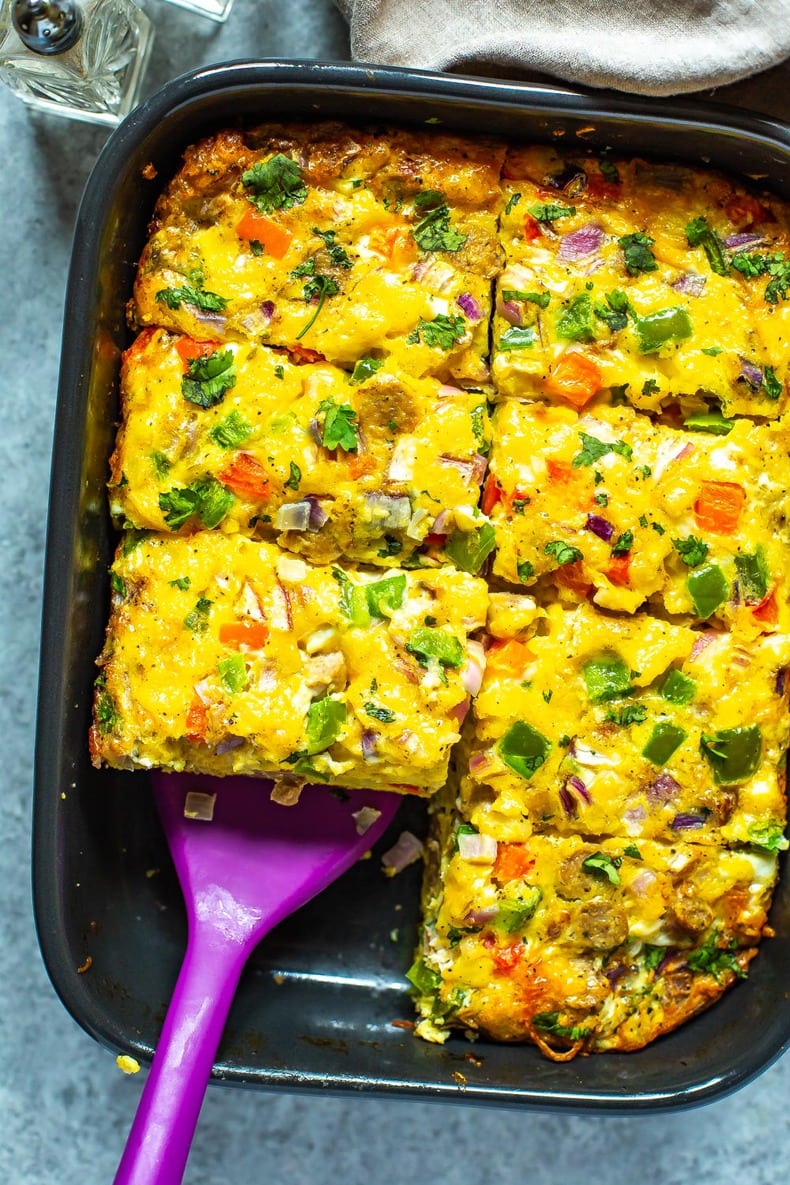 How long does hash brown casserole last in the fridge?
If you won't be freezing the casserole, the cooked leftovers should be eaten within 4 to 5 days. It's much better to freeze it if you're not making it for company since this makes a giant serving but if you're eating it for breakfast everyday you just might be able to eat all the leftovers in that period of time. Just know that you have many options for storage!
Serving suggestions for breakfast casserole
You can of course enjoy this breakfast casserole on its own but you can also serve it with other side dishes to turn it into a larger meal. For occasions like Christmas morning or a Mother's Day brunch, for instance, you can serve this dish with a side of salad and a fruit tray – this makes hosting a breeze and you can ensure you're serving a larger group of up to 8 people comfortably.
Meal prep tools for this recipe
Other easy breakfast meal prep
Want some more easy breakfast recipes? I've got you covered with these other amazing options and they are perfect for meal prep or for entertaining!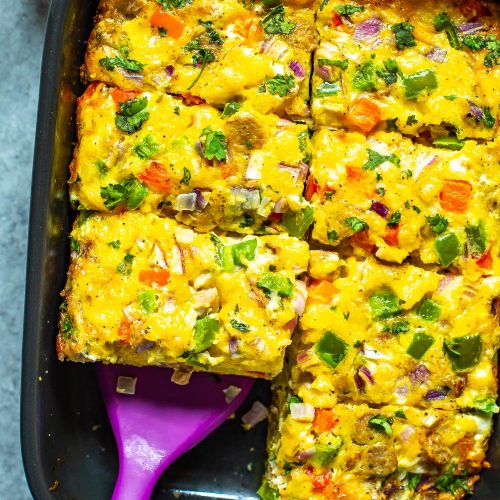 Sausage Hashbrown Breakfast Casserole
This Sausage Hashbrown Breakfast Casserole is made healthier thanks to turkey breakfast sausage and less cheese - it's a great meal prep idea that is also freezer-friendly!
Print
Pin
Rate
Ingredients
10

turkey or chicken breakfast sausage links

1

tbsp

butter

16

eggs

1/2

tsp

salt

1/4

tsp

pepper

2

cups

frozen hashbrowns

1/2

each

red and green pepper, diced

1

small

red onion, diced

1/2

cup

cheese
Instructions
Cook breakfast sausage in a skillet over med-high heat for 4-5 minutes until mostly cooked through. Slice into small pieces and set aside with other toppings.

Grease a 9x13'' casserole dish with the 1 tbsp butter (this is the best greasing agent to ensure egg doesn't get stuck - you can also use cooking spray).

Mix eggs together in a large bowl with salt and pepper. Layer sausage, hashbrowns, cheese and vegetables into casserole dish then pour eggs in overtop.

Bake for 45 minutes or until egg is cooked through. Remove from oven and let cool before slicing into individual portion sizes.

Storing: Serve immediately or store in microwave-safe containers up to 5 days in the fridge. You can also freeze in individual portion sizes in glass containers up to 3 months. Reheat frozen portions in microwave for 1-3 minutes until warm.

Video
Nutrition
Calories:
235
kcal
|
Carbohydrates:
12
g
|
Protein:
16
g
|
Fat:
13
g
|
Saturated Fat:
5
g
|
Cholesterol:
347
mg
|
Sodium:
458
mg
|
Potassium:
298
mg
|
Sugar:
1
g
|
Vitamin A:
590
IU
|
Vitamin C:
5.4
mg
|
Calcium:
114
mg
|
Iron:
2.3
mg