Sweet Chili Chicken Meal Prep Bowls
These Sweet Chili Chicken Meal Prep Bowls with jasmine rice, bean sprouts & cilantro are a delicious one-skillet make-ahead lunch idea that'll carry you through the work week!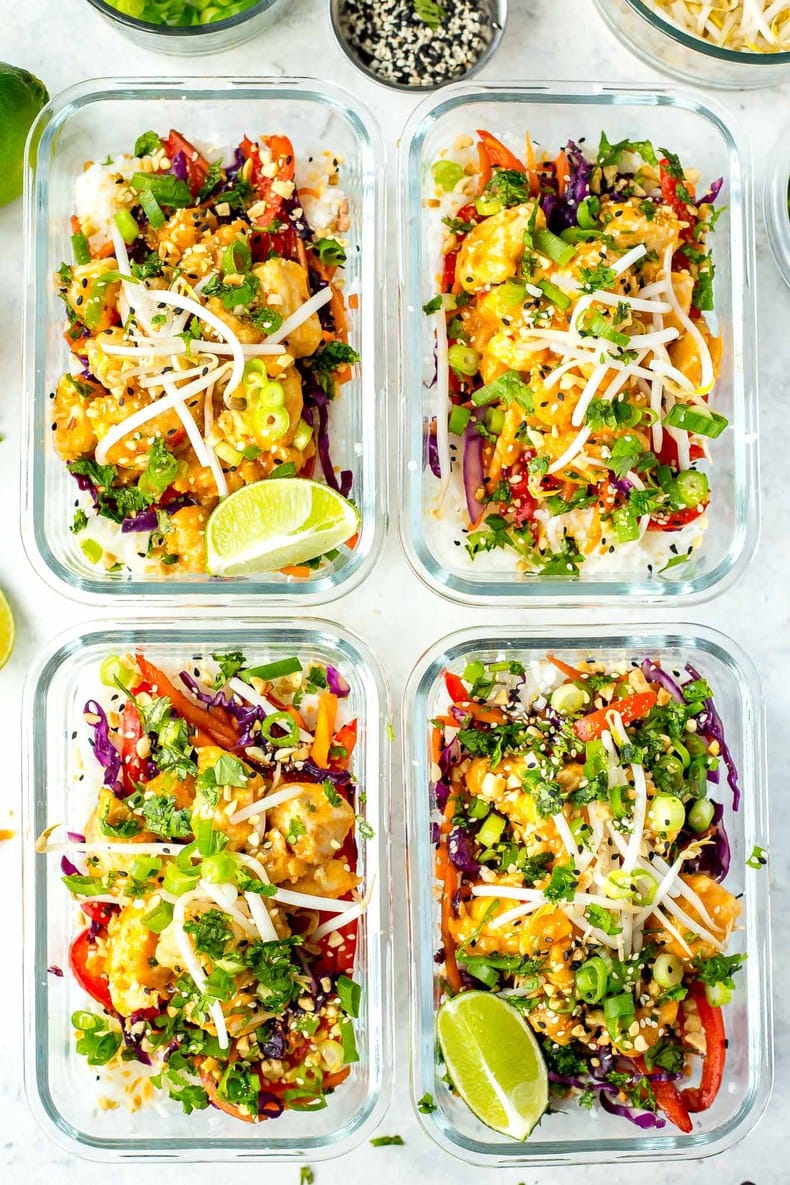 Okay hands down these Sweet Chili Chicken Meal Prep Bowls are my new favourite lunch. I know I've said that about various bowls in the past, and maybe that's just because I go through phases of food obsessions and I constantly have new flavours of the week.
I'm such a food-a-holic (that's a thing right? Tell me that's a thing) that I sometimes feel like I'm even cheating on my fave food with other food.
Those pulled chicken burritos I had for dinner last night?
Yeah, they're already old news in my head, and I'm already thinking of new ways to put the leftover pulled chicken to good use for my lunches this week.
But for now, bring on ALL the sweet chili Thai sauce. Aka my fave sauce ever (flavour of the moment quite literally so to speak!)
My obsession with this sauce actually first started with these Bang Bang Shrimp Tacos. I had had them a few times at Bonefish Grill in the States and was absolutely convinced that I could create an exact replica at home, and of course I made them a little bit healthier by reducing the oil and just tossing them in egg and flour before sauteeing. I've actually got an updated video on those babies coming in the next couple of weeks to the blog so stay tuned!
Of course while I was making these Bang Bang Shrimp Tacos over and over, I kept running out of sweet chili sauce, and at my local grocery store there's only these tiny little bottles that are like $4.49 each so needless to say my little shrimp taco habit was getting expensive.
Around this time my little brother was heading back to college and stopped by Costco to pick up a few essentials for his student house and guess what he comes waltzing in with? An absolutely GIANT bottle of sweet chili sauce! I was in love!!!
Too bad he took the damn thing with him…
Ever since then I think I truly realized the magic of sweet chili sauce and have since added it to my roster of go-to sauces and use it in just about every kind of meal prep possible – remember these Sweet Chili Chicken Salad Jars? Yep, another one of my faves using this sauce.
SO GOOD.
Now the key to these Sweet Chili Chicken Meal Prep Bowls is tossing cut up chicken breast chunks with egg and cornstarch to create a little bit of faux breading on the outside. I also added breadcrumbs to the mix but I've made chicken this way a few times without the breadcrumbs and think I actually prefer it without. This way you can cut down on the simple carbs a bit and just enjoy with jasmine rice.
Anybody else really LOVE jasmine and basmati rice? I could care less about regular rice but there's something about the overall aroma and fragrance of these two types that can take any regular meal from pretty ordinary to deliciously spectacular.
So anyway, getting back to this chicken. Once you have it coated, go ahead and saute with some olive oil and salt until browned. Toss with sweet chili sauce and sriracha (optional, for spicier bowls!) and then top with whatever veggies you have on hand! I sauteed some red cabbage, matchstick carrots and red pepper together with some soy sauce but there's no reason you couldn't throw some broccoli or spinach in there, or maybe some mushrooms or just mixed bell peppers.
The trick to meal prep is just keeping everything simple and reducing your food waste as much as possible so go nuts with the veg here!
Will you be making these Sweet Chili Chicken Meal Prep Bowls? 
When you've got meal prep like this on hand for the week, you'll wonder why you ever let yourself stumble through the work week before without delicious lunches. SO easy, delicious and healthy!!!
If you try any of my recipes be sure to let me know on Instagram, Twitter, Facebook or in the comments – I'd love to see what you come up with!
Get your square glass meal prep bowls here!
And of course I get all my free-range chicken breasts from Butcher Box!
Print Recipe
Sweet Chili Thai Chicken Meal Prep Bowls
These Sweet Chili Chicken Meal Prep Bowls with jasmine rice, bean sprouts & cilantro are a delicious one-skillet make-ahead lunch idea for work!
Ingredients
2

tsp

olive oil

1

cup

matchstick carrots

1

red pepper, sliced

1

cup

Shredded red cabbage

1

tbsp

soy sauce

4

cups

cooked jasmine rice
Topping ideas (all of these are optional add-ons to top your bowls with after)
1/2

cup

bean sprouts

4

scallions, sliced

2

tbsp

peanut pieces

2

tbsp

sesame seeds

1/2

cup

cilantro, chopped
Chicken
1

tbsp

olive oil

3

chicken breasts, cubed

1

egg

1/3

cup

cornstarch

2

tbsp

breadcrumbs (optional; though I show this in the video I think I prefer without breadcrumbs!)

1/2

tsp

salt

3/4

cup

sweet chili sauce

1

tbsp

Sriracha
Instructions
In a large bowl, mix chicken together with egg, cornstarch and, is using, breadcrumbs. Heat 1 tbsp olive oil in a large skillet over med-high heat. Add chicken and salt and saute for 5 min until browned. Add sweet chili sauce and sriracha and cook another 3-4 min until chicken is fully cooked.

Meanwhile, cook jasmine rice according to package directions on the stove or in a rice cooker. Remove chicken from pan and move to a bowl, setting aside. Do not wipe skillet clean, instead adding 2 tsp olive oil and sauteeing carrots, red pepper and red cabbage together with soy sauce.

Divide rice among four glass meal prep bowls (I got mine from IKEA!) and top with veggie mixture. Add chicken and your choice of optional add-on toppings. Garnish with lime wedge (optional) and serve! Keeps in fridge up to 5 days.
Nutrition
Calories:
430
kcal
|
Carbohydrates:
70
g
|
Protein:
25
g
|
Fat:
6
g
|
Saturated Fat:
1
g
|
Polyunsaturated Fat:
1
g
|
Monounsaturated Fat:
3
g
|
Trans Fat:
0.01
g
|
Cholesterol:
69
mg
|
Sodium:
656
mg
|
Potassium:
194
mg
|
Fiber:
4
g
|
Sugar:
25
g
|
Vitamin A:
6300
IU
|
Vitamin C:
26.4
mg
|
Calcium:
50
mg
|
Iron:
1.3
mg