My homemade beef jerky recipe is way healthier & cheaper than the packaged stuff, & it's easy to make! All you need to do is put your oven on a low setting!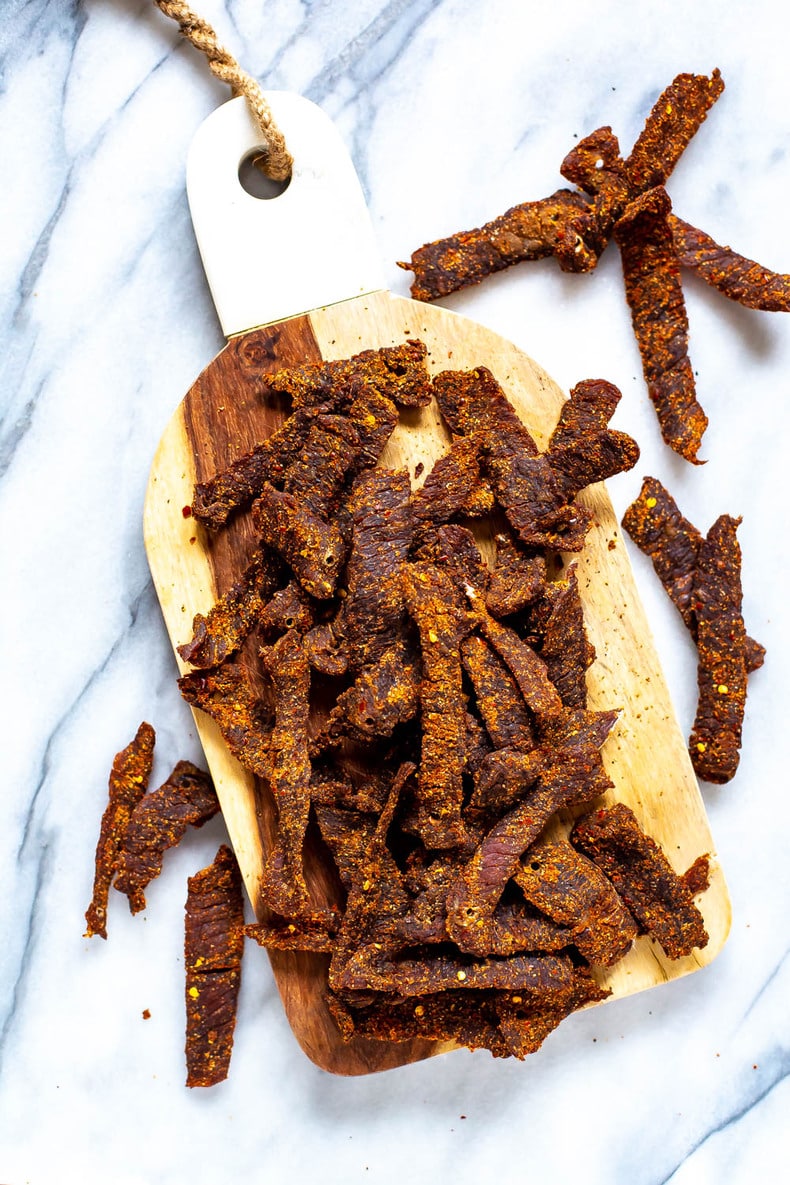 Ingredients in homemade beef jerky
I use top sirloin steak to make homemade beef jerky. It's a pretty lean cut of meat already and we will be trimming away any fat that remains. It is juicy and tender and makes a fantastic choice not just for jerky, but also for grilling or cubing for skewers. I highly recommend buying grass-fed organic beef for the best flavour. I get all my grass-fed beef from Butcher Box.
For flavour, we will marinate the beef. For the marinade you will need:
Soy sauce
Worcheshire sauce
Honey
Hot sauce
Black pepper
Onion powder
Garlic powder
Paprika
Red pepper flakes
How to make this recipe
It takes awhile to make homemade beef jerky. It's an all day project, but thankfully, most of that time is hands-off and you'll be left with plenty of snacks for a few weeks – especially if you refrigerate it or freeze it. Here's how to make it:
Freeze the steak for an hour. This makes it easier to cut into small strips.
Slice it as thin as possible, trimming away any fat as you go.
Mix together the marinade and let the steak sit in it for at least 30 minutes. Pour the marinade and the beef into a ziplock bag for easy marinating.
Squeeze the beef dry on paper towels. Get it as dry as possible to keep it from dripping all over your oven.
Thread the strips of steak on bamboo skewers. Leave about an inch of space between each strip so it dries evenly.
Put one oven rack at the highest position possible. Hang the skewers of beef from this rack so the beef strips hang down. Put the other rack at the lowest setting and cover it with tin foil to keep the mess to a minimum.
Cook the steak at 170F in the oven for five hours. This is the lowest temperature most ovens will set to. Prop the oven door open slightly to release any moisture (you can just stick a pot holder in the door). Check on the jerky about every hour to monitor the progress. You can dry it to the consistency you prefer.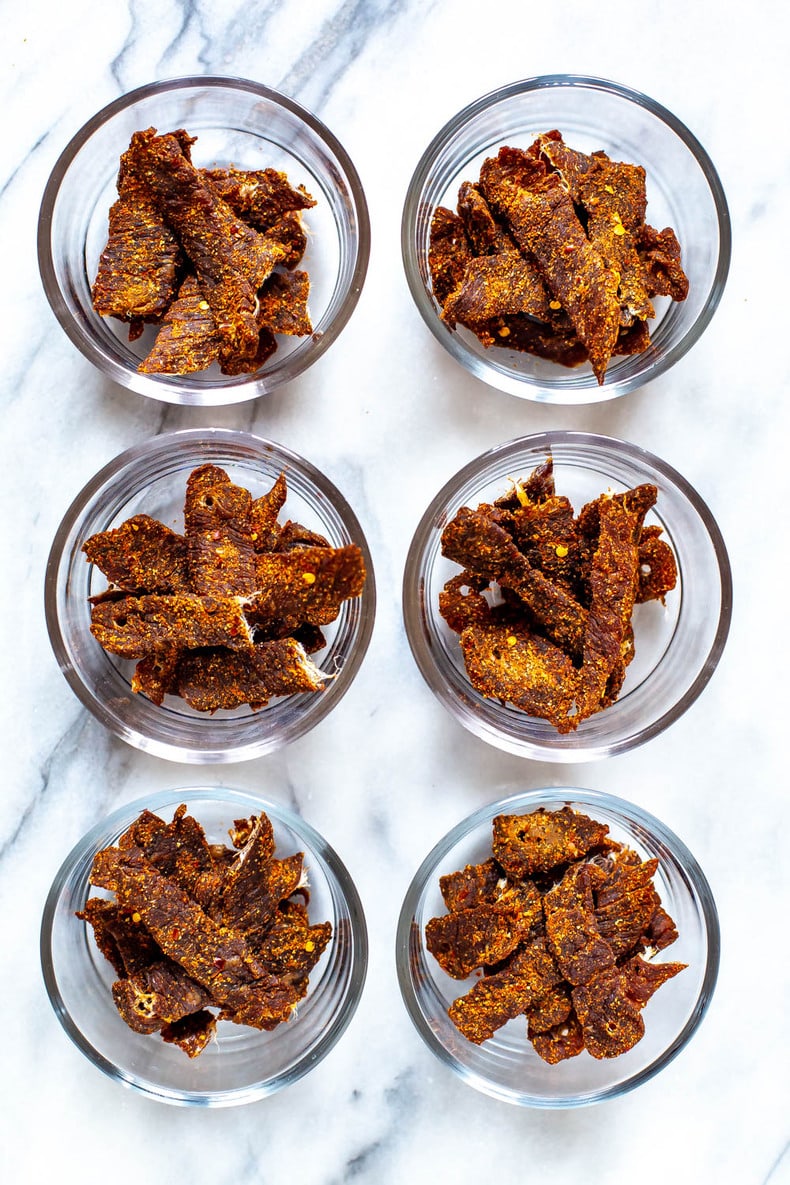 Ingredient substitutions
You can swap out some of the marinade ingredients when making homemade beef jerky. Use more or less hot sauce depending on how spicy you like it to be. You can substitute white wine vinegar for the Worcheshire. Soy sauce contains wheat products. If you are gluten free or avoiding soy, you can use coconut aminos or tamari instead.
You can also add liquid smoke to any marinade blend to create a rich smoky flavor.
If you like your beef jerky to be sweet, add some maple syrup. If you prefer a peppery flavor, include some fresh cracked black pepper.
How to make different marinades
For different flavours of beef jerky, you can change the marinade. There are nearly endless options for the flavour combinations.
You can try to make your own or use some of these suggestions:
Lemon pepper with soy sauce and lemon pepper seasoning
Chili lime with lime juice, Worcestershire sauce, soy sauce and chili garlic sauce
Bring the heat by adding diced jalapeno to the sauce
Asian with soy sauce, rice vinegar and ginger
Sweet and spicy with balsamic vinegar, pineapple juice and teriyaki sauce
Caribbean using jerk seasoning
Thai including cumin and coriander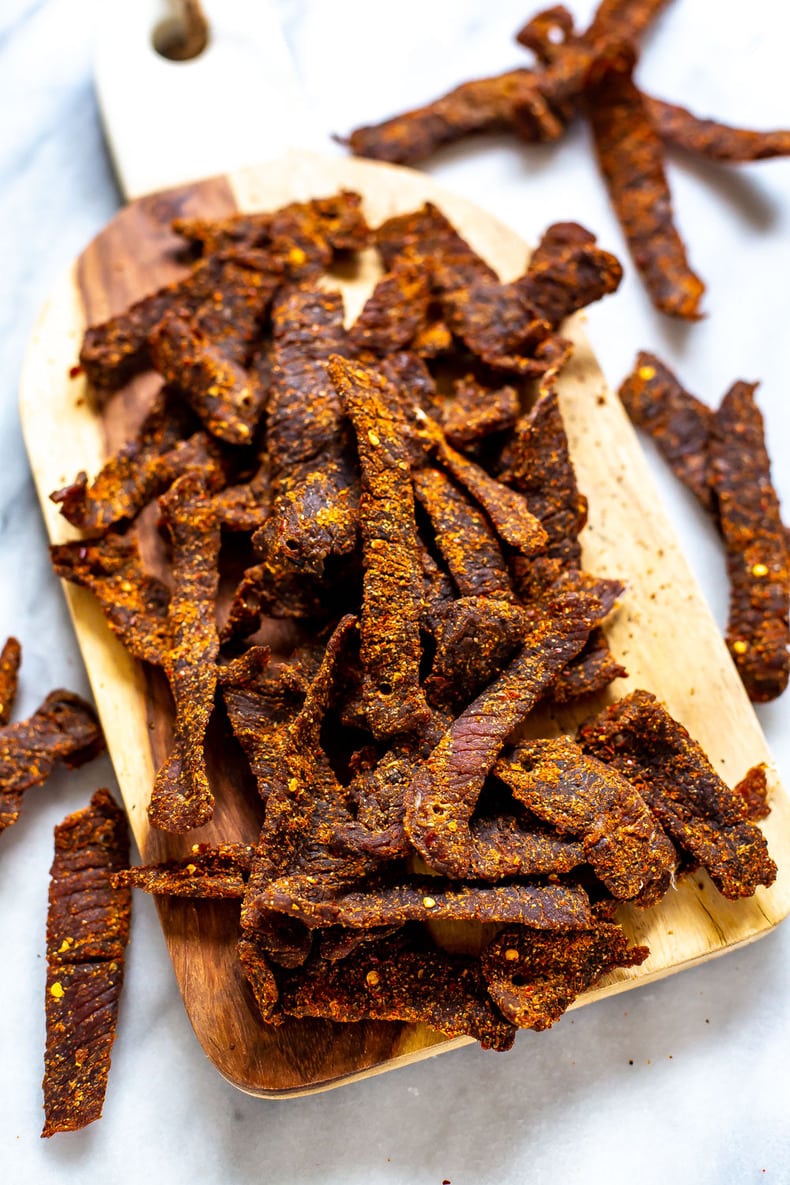 Oven vs. dehydrator
A dehydrator is a bulky piece of kitchen equipment that some of us just don't have room for. While a dehydrator is versatile and can help you dehydrate fruits and veggies as well as beef, you can use your oven instead.
Making homemade beef jerky in a dehydrator takes about twice as long. You will need to leave it for at least eight hours, but it doesn't take over your oven.
Drying the beef jerky in the oven is a little messy though because some of the juice from the meat will drip to the bottom. Just make sure you add some tin foil to the bottom of your oven that you can remove once you're done.
What cut of beef is best?
You can also use top round or bottom round steak for beef jerky. Along with top sirloin, these are the most tender and flavorful cuts of beef.
Jerky can also be made from pork and venison. It is not recommended to use raw poultry for making jerky.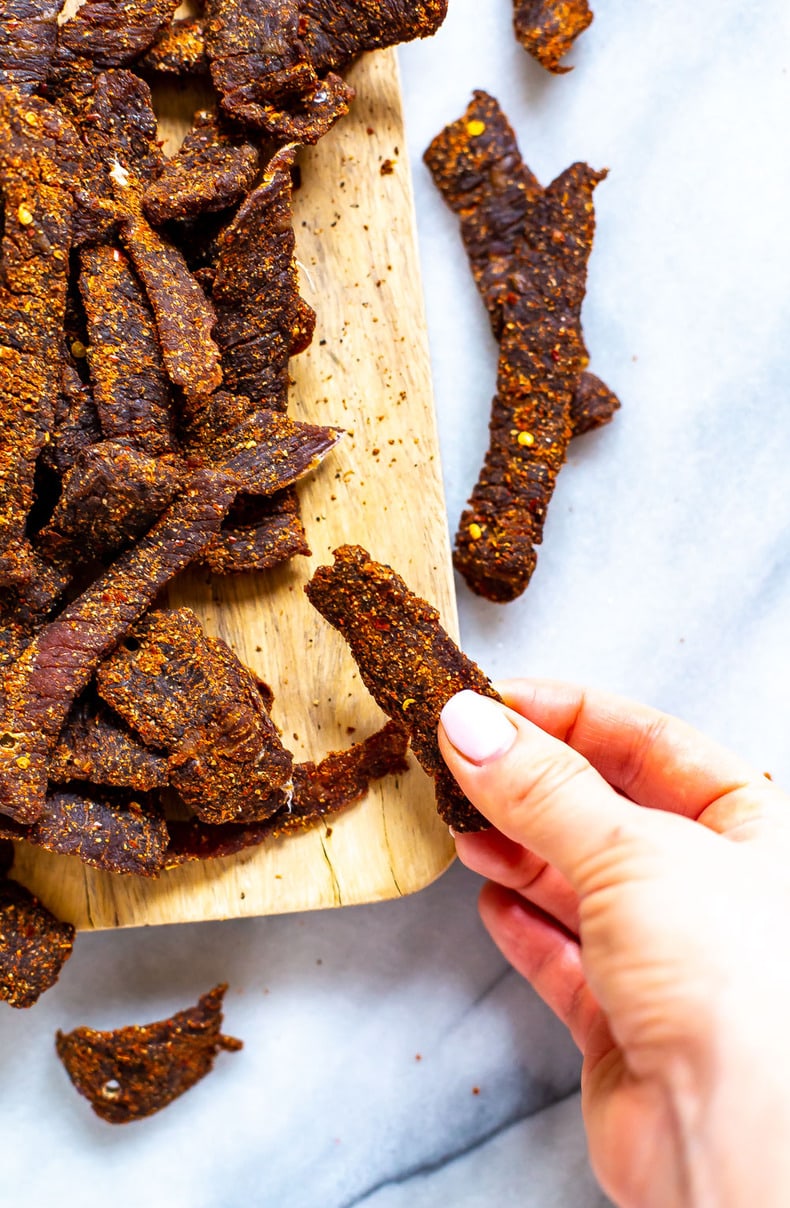 Storing beef jerky
If you are going to eat the homemade beef jerky within three or four days, you can keep it at room temperature.
However, homemade beef jerky is not the same as what you buy at the store and so is not as shelf stable. Put it in the refrigerator to keep it for up to 14 days.
Can you freeze beef jerky?
Beef jerky can be frozen. It's important to get as much air as possible out of the container you are storing it in. Once it is appropriately packaged, beef jerky will last for seven to twelve months in the freezer.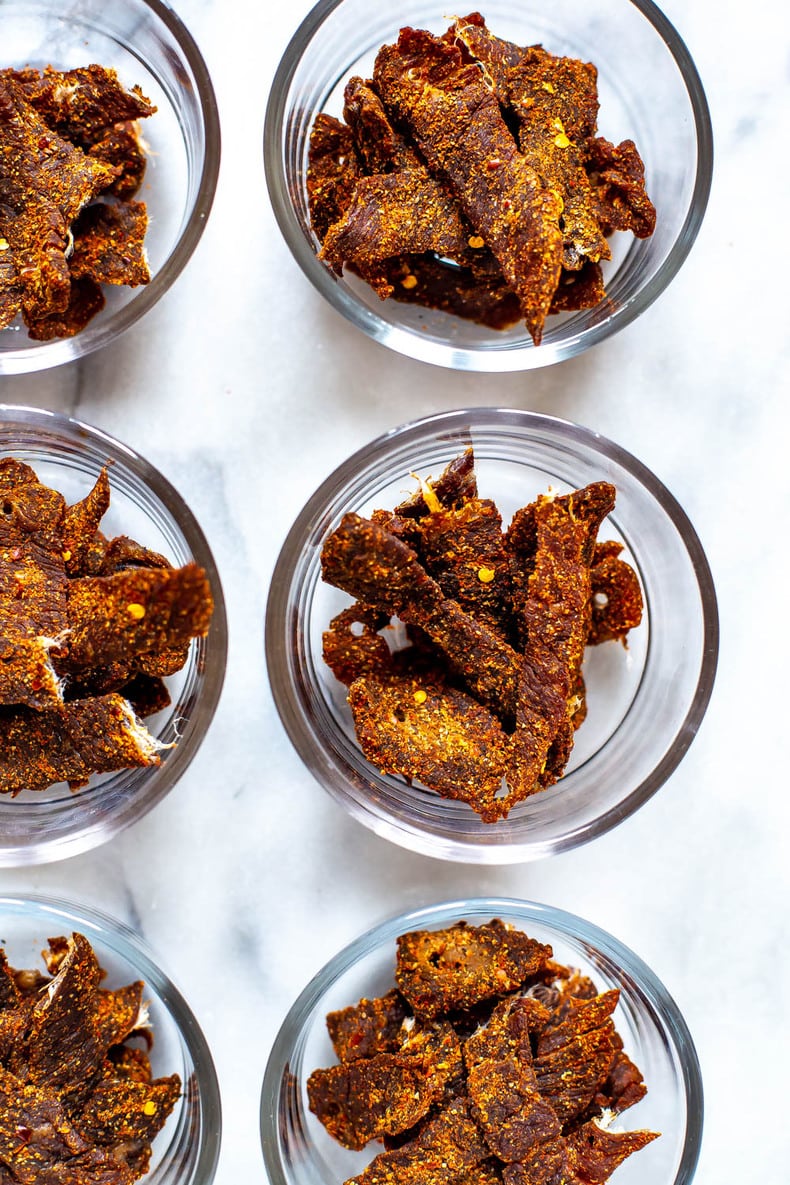 More meal prep snacks
Meal prep tools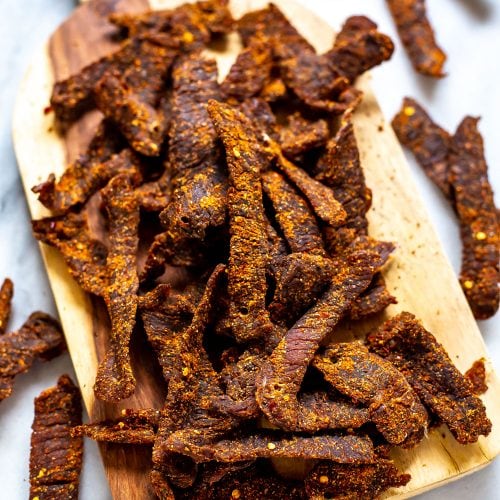 Homemade Beef Jerky Recipe
This Homemade Beef Jerky recipe is one of the easiest out there, and you don't need a dehydrator - just your oven and a simple marinade make this high protein snack!
Print
Pin
Rate
Ingredients
16

oz

top sirloin steak

3/4

cup

low sodium soy sauce

1/4

cup

Worcestershire sauce

2

tbsp

honey

2

tsp

hot sauce (such as Tabasco)

2

tsp

black pepper

1

tsp

onion powder

1

tsp

garlic powder

1

tsp

paprika

1/2

tsp

red pepper flakes
Instructions
Freeze steak for 1 hour and then slice as thinly as possible against the grain, trimming away any fat.

Mix together marinade ingredients then add to a large freezer bag. Add steak strips to a bag and let marinate at least 30 minutes.

Preheat oven to 170 F. Place steak strips on a paper towel-lined plate and squeeze excess liquid out of strips with paper towel until dried. Add steak strips to bamboo skewers, then hang along the highest rack of the oven.

Close your oven door, propping it open slightly with an oven mitt. Be sure to do this so some moisture can escape from the oven, and cook for 5 hours.

When finished, remove jerky from skewers and store in the fridge up to 14 days.
Video
Nutrition
Calories:
108
kcal
|
Carbohydrates:
8
g
|
Protein:
14
g
|
Fat:
2
g
|
Saturated Fat:
1
g
|
Cholesterol:
33
mg
|
Sodium:
650
mg
|
Potassium:
317
mg
|
Fiber:
1
g
|
Sugar:
6
g
|
Vitamin A:
167
IU
|
Vitamin C:
1
mg
|
Calcium:
27
mg
|
Iron:
2
mg