These Healthy Baked Kale Chips are the perfect snack. Here's how to make 3 flavours: salt & vinegar, chili lime and ranch – they're so delicious and have the best crunch!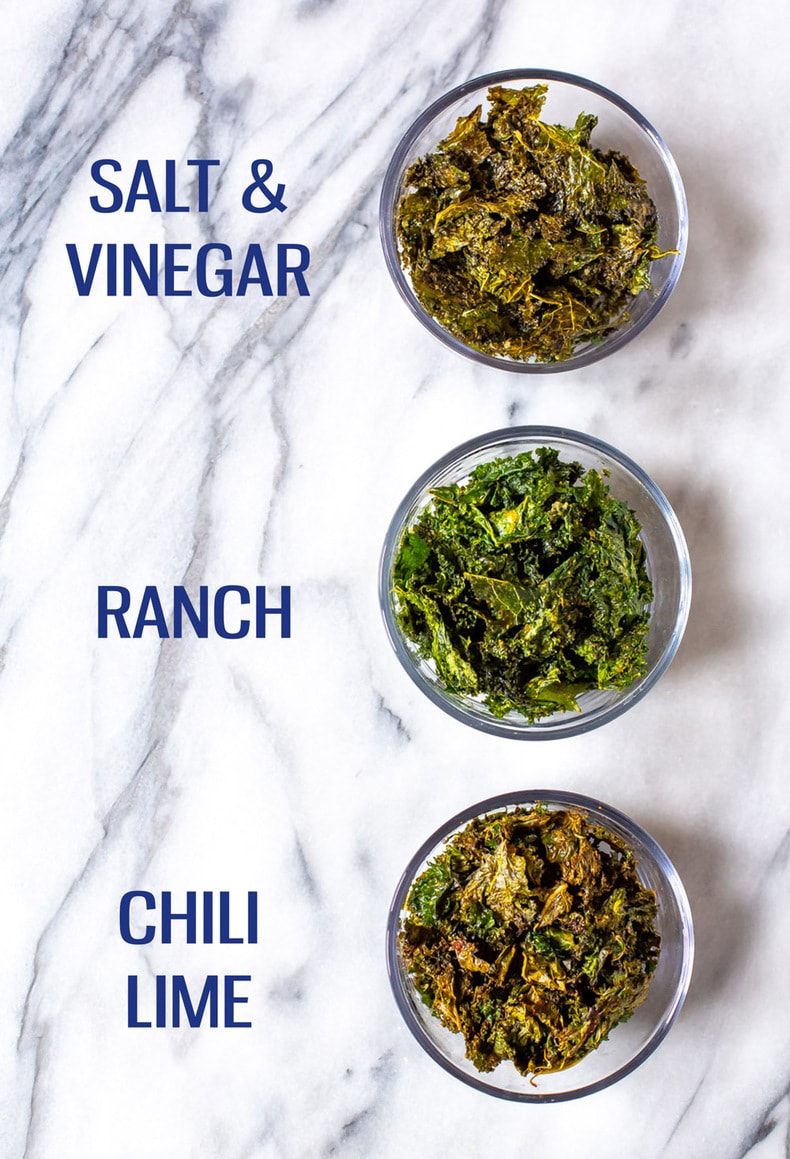 Ingredients to make kale chips
The basic ingredients for each of the three kinds of kale chips are kale and olive oil. When choosing kale at the store, choose leaves that look fresh and bright. Smaller leaves will be mild and tender. The larger the leaves, the tougher they will be. This is especially important to keep in mind when you plan to eat the kale raw or if you plan on baking it.
Avoid any leaves with tiny holes of insect damage or that are yellow or brown.
To make each variety of kale chips, you will need the following ingredients:
Ranch – nutritional yeast, lemon juice and salt
Salt and vinegar – salt and vinegar!
Chili lime – chili powder, lime juice and salt
How to make kale chips
It will take less than 30 minutes to make this delicious and healthy snack! Here's how to make kale chips:
Wash and dry kale leaves.
Cut the leaves away from the stem and discard the stem. It's good for making stock, but not for eating. You can even slide the leaves right off the stem by hand.
Tear the leaves into equal pieces, about two inches each.
Toss the kale with olive oil and seasoning. Massage the oil into the kale leaves. This breaks down some of the tougher parts of the leaves, making it more tender and easier to chew. It also ensures that the oil covers every bit of the leaf.
Bake on a parchment lined baking sheet at 300F for 15 minutes. Spread it in a thin layer with lots of room for the kale to bake. If you are doubling this recipe, use a second baking sheet. If the kale is crowded, it is more likely to be soggy.
Rotate the baking sheet and bake for another eight to ten minutes.
Let cool completely. They will continue to crisp while cooling.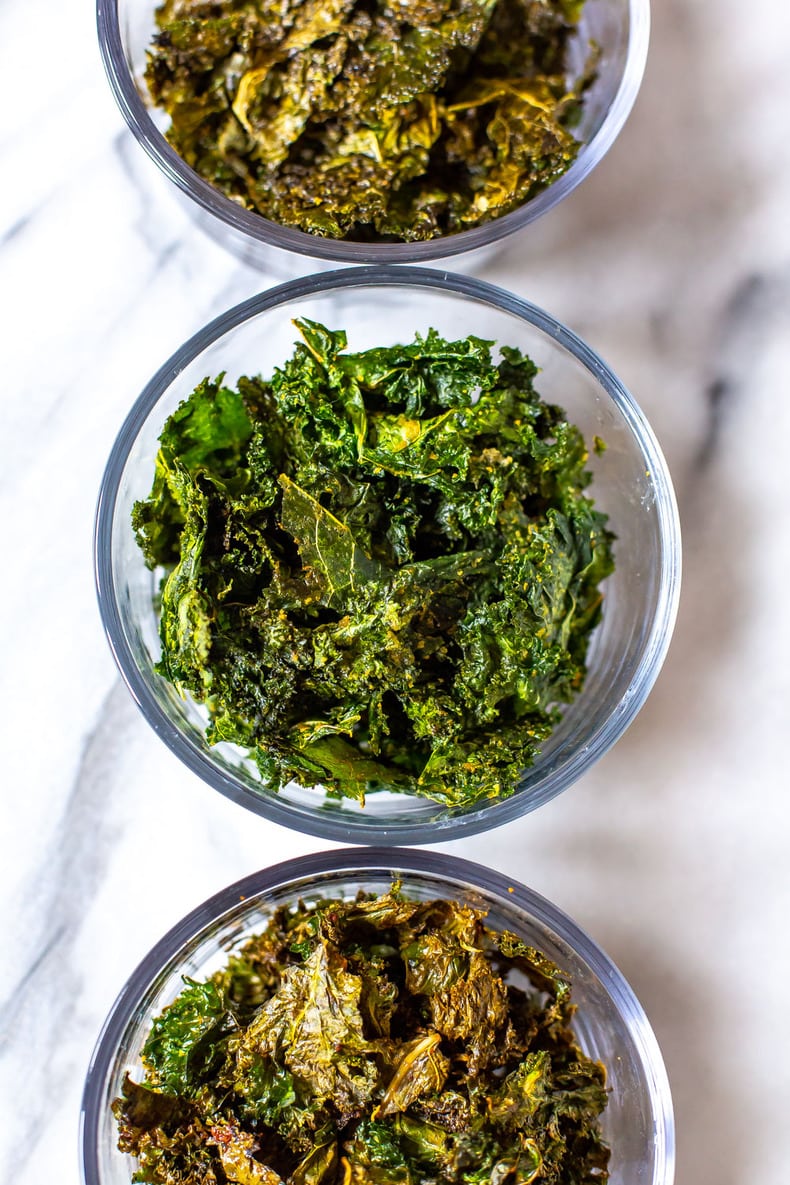 Three seasonings for baked kale chips
This kale chips recipe includes three popular flavors:
Ranch
Salt and vinegar
Chili lime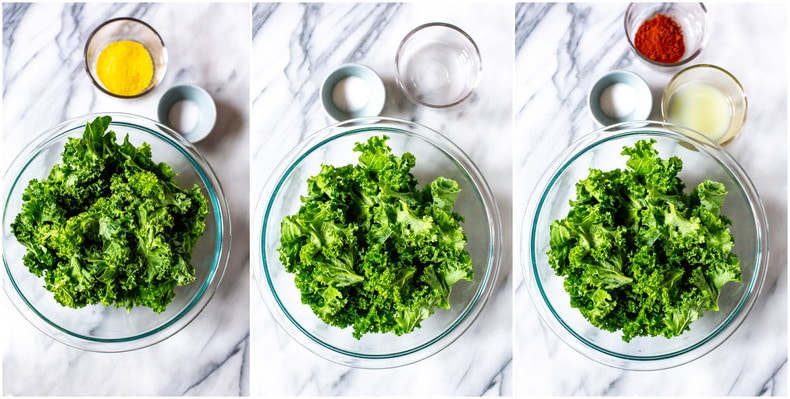 More seasoning ideas
This recipe is just a starting place for your adventure into kale chips. The technique will be the same regardless of the seasonings. Any flavor you like for chips, you can turn into kale chips seasoning.
Try these flavors and ingredients:
Italian style with parmesan cheese and pine nuts
Seaside style with Old Bay, cayenne and lemon
Thai ginger with tamari, lemon, honey and ginger
Dill pickle with apple cider vinegar, dill pickle brine, dill and sea salt
What kind of kale to use
This superfood is not just the one kind of dark leafy green found in every supermarket. There are countless varieties of kale, just as there are most vegetables. Being able to identify them will help you use the right kind of kale each time you cook with it.
Try out farmer's markets or speciality stores for unique varieties of kale to try.
Some kale is popular just for ornamental purposes, but can still be eaten. But these are the most common you will find available to put on your plate:
Curly kale is what you can find everywhere. It's versatile and can be used in nearly any recipe for kale, including these chips.
Tuscan kale doesn't have the curly texture of common kale. Instead it is puckered. This is the kind of kale that is called for in soups and stews, particularly Tuscan bean soup.
Red Russian ranges from a blue-green color to purple and red. It's not nearly as bitter as common kale so it is usually eaten raw.
Chinese kale is a substitute for broccoli because of its similar taste.
Why do you need to dry kale?
You will need to wash and dry your kale before you use it. Because of all the twists and curls in the leaves, it's easy for dirt to get trapped in it and end up in your food.
It's best to wash the kale right after you buy it instead of waiting until you are ready to use it. This way, the dirt won't become embedded in the leaves.
To thoroughly wash the kale, remove the stems and submerge it in water. Swish it around in the water to loosen any debris. Let it soak for five to ten minutes to break up any tougher dirt. Then rinse it under running water.
Make sure to take the time to pat the kale dry with paper towels or use a salad spinner. If you are preparing the kale chips immediately, any water left on the leaves will repel the oil. Water will steam in the oven and make your chips soggy.
If you are storing the kale for later, drying it completely will help it stay fresh longer.
How long will kale chips last for?
Unfortunately these kale chips need to be eaten right away for the best crunch – if left for a few days they will soften and no longer resemble a chip. However, you could try crisping them up again by broiling them in the oven for a few seconds. All of that said, I doubt you will even have leftovers because these things are addictive!!! You'll likely want to eat them all at once anyway. 😉
More healthy snack recipes
If you're looking for more healthy snacks, I've got you covered! Check out these other favorites below:
Meal prep tools for this recipe
Meal prep challenge
If you'd like some more help with meal planning, then you'll love my free 5-day meal prep challenge! It's basically a free course that will teach you how to meal prep and cook healthy meals at home with some PDF bonus materials. Sign up for free below: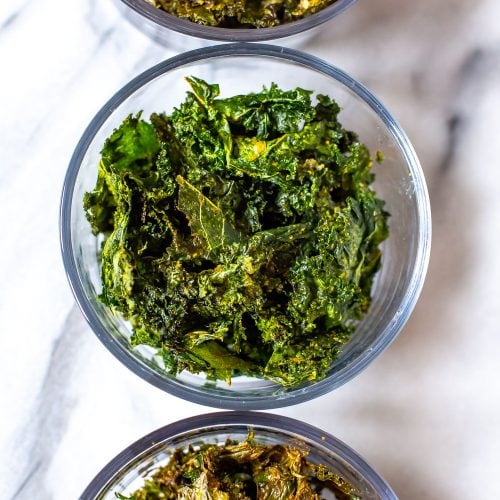 Healthy Baked Kale Chips
These Healthy Baked Kale Chips are the perfect snack. Here's how to make 3 flavours: salt & vinegar, chili lime and ranch - they have the best crunch too!
Print
Pin
Rate
Ingredients
1

tbsp

olive oil

1

bunch

kale
Ranch
1

tbsp

nutritional yeast

2

tsp

lemon juice

1/2

tsp

salt
Salt & vinegar
2

tbsp

vinegar

1/2

tsp

salt
Chili lime
1

tbsp

chili powder

1

tbsp

lime juice

1/2

tsp

salt
Instructions
Preheat oven to 300 F. Wash and dry kale leaves, then tear into 2-inch pieces and add to a large bowl. Toss with olive oil and seasoning of choice.

Bake on a parchment-lined baking sheet for 15 minutes, then rotate baking sheet and bake another 8-10 minutes.

Remove from oven, then let cool. Store in a large airtight container on the counter for up to 3 days.

NOTE: Nutritional info is for half the batch of chips.
Video
Nutrition
Calories:
109
kcal
|
Carbohydrates:
8
g
|
Protein:
5
g
|
Fat:
8
g
|
Saturated Fat:
1
g
|
Sodium:
606
mg
|
Potassium:
394
mg
|
Fiber:
1
g
|
Sugar:
1
g
|
Vitamin A:
6494
IU
|
Vitamin C:
80
mg
|
Calcium:
98
mg
|
Iron:
1
mg