Looking to stock up your kitchen? Here's a list of all the pantry staples you need, including dry goods, oils, canned goods and more!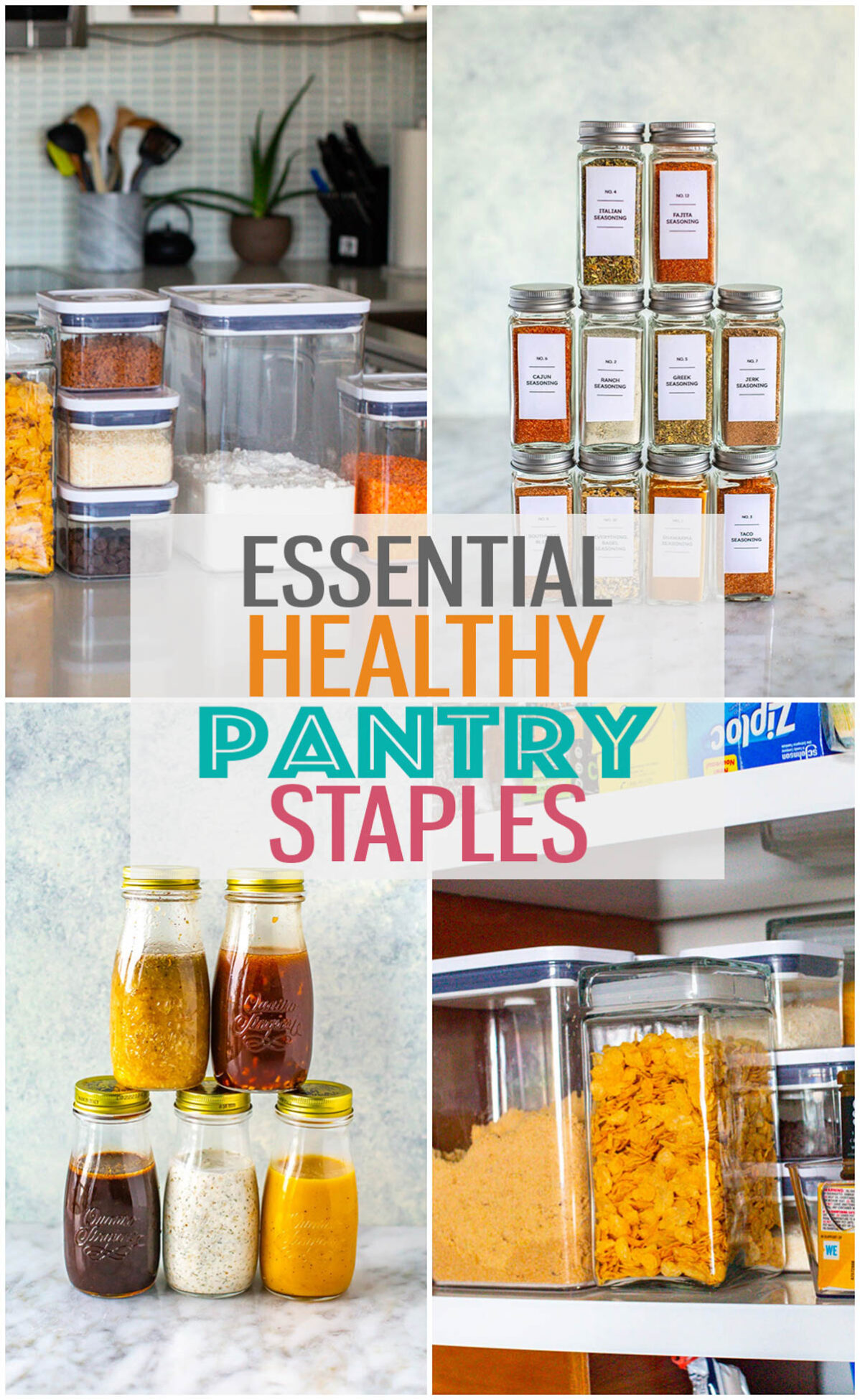 The Ultimate Pantry Staples List
There are few things more satisfying than having a fully-stocked pantry! By stocking up on all the essentials, you'll always be ready to make a healthy and flavourful meal. You can leave the days of running out to the store at the last minute behind – just go shopping in your pantry, instead!
I put together this handy list of pantry staples that every kitchen needs. By stocking up on dry goods, dried spices, canned goods and more, you'll be prepared for any meal! Read on for my handy pantry staples list that includes everything you need to stock up your kitchen.
How to Stock Your Pantry
Do an inventory of what you have: Before going out and buying a bunch of extra pantry staples, make sure you do an inventory of what you already have on hand to avoid doubling up.
Make a list of what you need: Think about the kind of recipes you make and what ingredients are required for each. You don't want to buy a bunch of items that you'll never use, but you want to ensure you have the essentials that will be used for any recipe.
Stock up on each category: Buy any dry goods, oils, vinegars, condiments, dried herbs, spices, seasonings, canned goods and perishables.
Organize your pantry: I recommend organizing everything in clear containers, since it makes it easier to find what you need in your pantry. Here are more tips on how to organize your pantry if you need them!
Get cooking!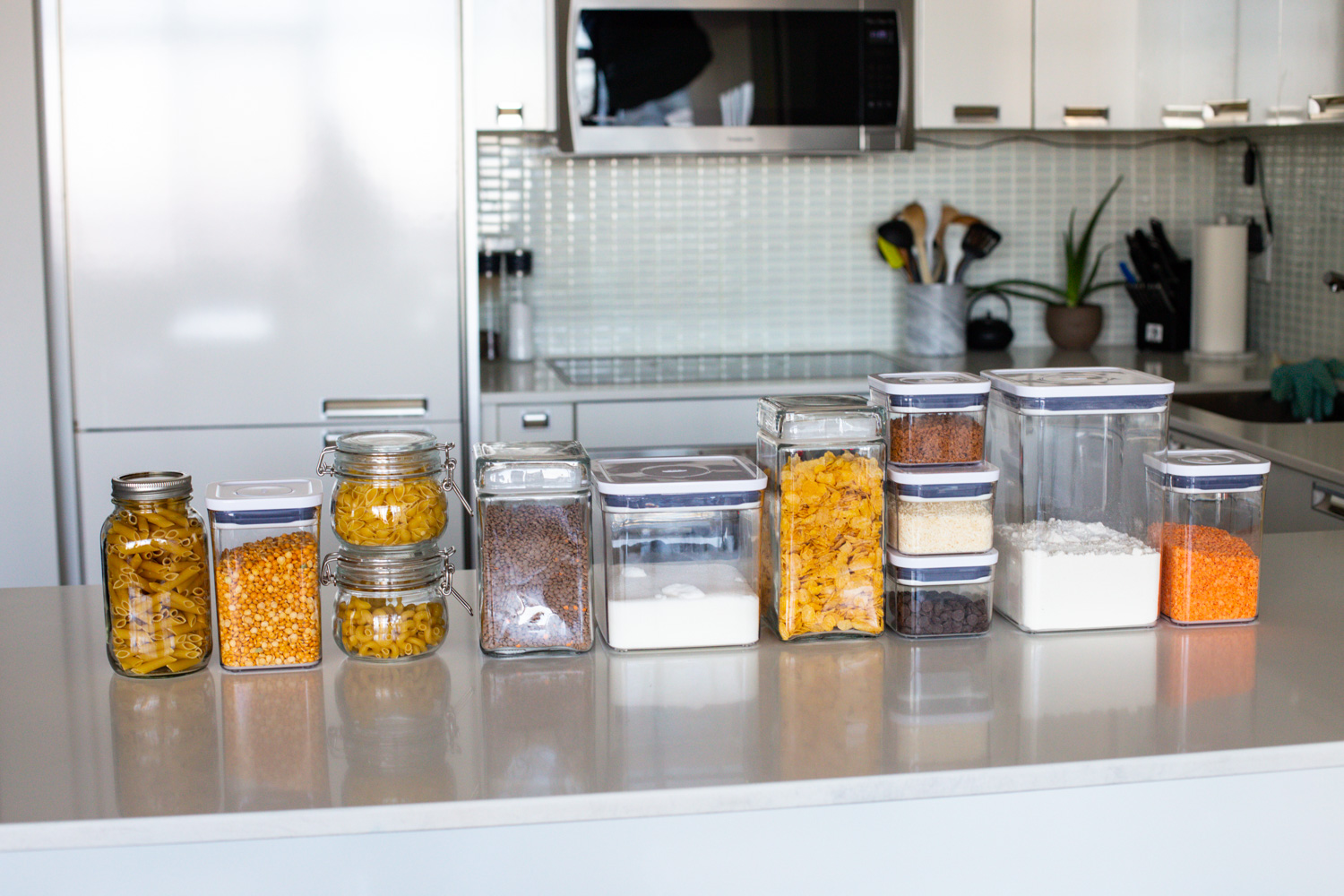 Dry Goods
Flour: All purpose and/or whole wheat
Sugar: White sugar, brown sugar, icing sugar
Oats: old fashioned/rolled oats or steel cut oats
Rice: long-grain white rice, brown rice, basmati rice and/or jasmine rice
Pasta: your favourite shape such as spaghetti or penne
Other grains: quinoa, couscous
Breadcrumbs: plain and/or panko
Baking powder
Baking soda
Cornstarch
Lentils: green, brown and/or red
Nuts: almonds, walnuts, cashews
Skip the Ads and Get Right to the Recipes!
ZERO ADS on over 600 recipes!
Weekly Meal Plans, Grocery & Prep Lists
Bonus eBooks
Oils, Vinegars & Condiments
Oils: olive oil, avocado oil, canola oil, vegetable oil, sesame oil
Vinegars: apple cider vinegar, balsamic vinegar, red wine vinegar, rice vinegar, white vinegar
Salad dressings: store-bought or make your own
Ketchup
Mayonnaise
Honey
Mustard: Dijon and/or yellow
Soy sauce
Hoisin sauce
Barbecue sauce
Hot sauce: sriracha, tabasco, buffalo sauce
Nut/seed butter: peanut butter, almond butter, or sunflower butter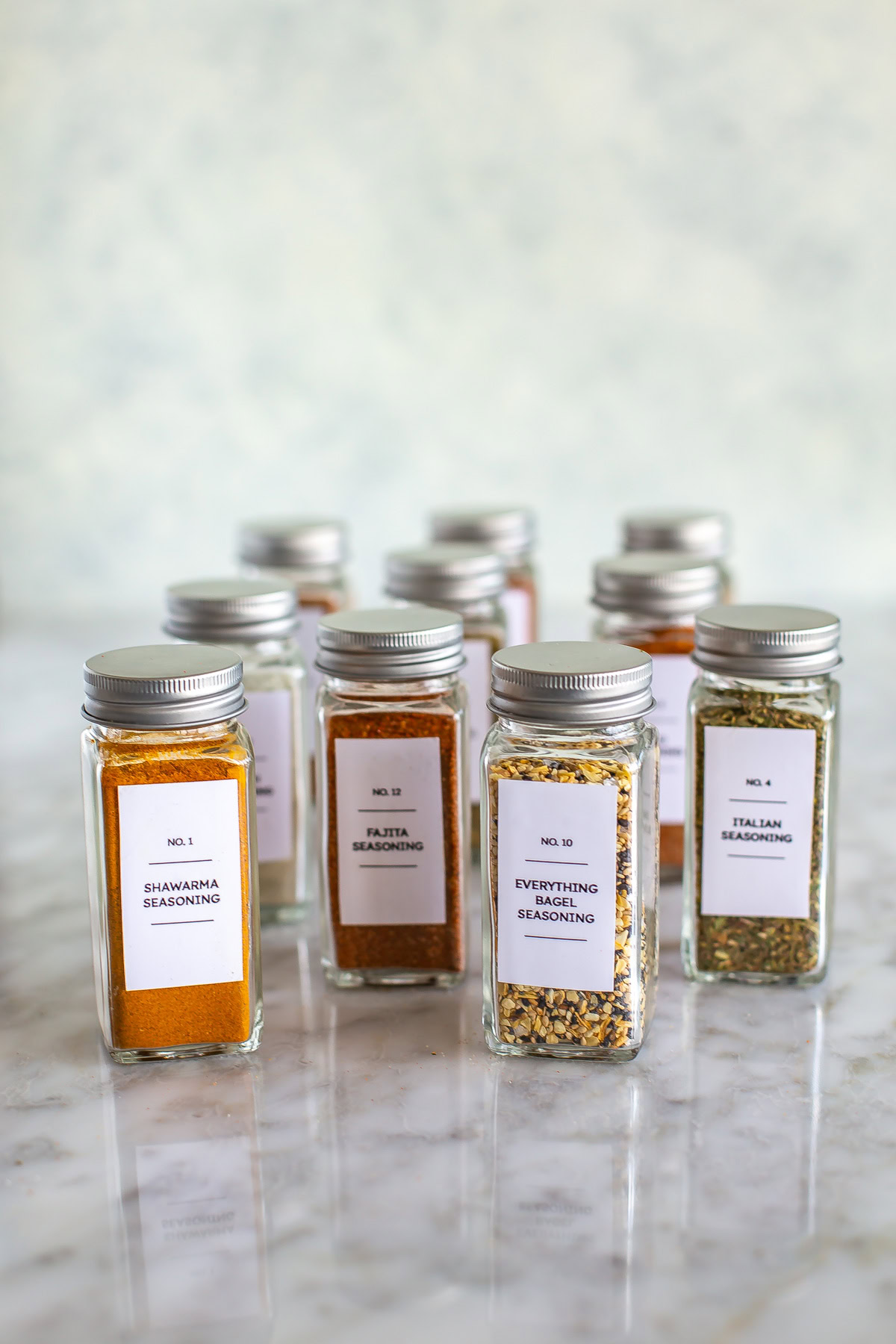 Dried Herbs, Spices & Seasonings
Salt: table salt, kosher salt, sea salt
Pepper
Oregano
Basil
Chili powder
Cumin
Cayenne
Garlic powder
Ginger
Onion powder
Paprika: regular, smoked
Red chili flakes
Thyme
Turmeric
Italian seasoning: store-bought or homemade
Taco seasoning: store-bought or homemade
Cinnamon
Vanilla
Canned Goods
Beans: black beans, chickpeas (garbanzo beans), cannellini beans
Tomatoes: whole, crushed, diced
Tomato/pasta sauce
Tomato pasta
Salsa
Coconut milk
Broth/bouillon: chicken, vegetable, beef
Think My Ingredient Prep System Will Work for You?
My web app, Dinner Prep Pro, is a customizable meal planning tool. Every week I send you a new customizable meal plan with grocery and prep ahead checklists that auto-populate, regardless of changes you make!
Perishables
Milk: dairy and/or non-dairy
Butter
Bread
Eggs
Yogurt: regular and/or Greek
Cheese: cheddar, mozzarella, parmesan
Fresh herbs: parsley, cilantro, basil
Fruits: lemons, apples, bananas, fresh or frozen berries
Vegetables: onions, potatoes, carrots, celery, salad greens (i.e. spinach or kale)
Proteins: chicken breasts, ground turkey, ground beef, tofu
Frozen food: frozen fries, puff pastry
Pantry Organization Tools & Products
Join The Girl on Bloor Premium!
ZERO ADS!
Weekly Meal Prep Checklists
Bonus eBooks