Got a small pantry? Here's how to clean and organize your pantry in 6 easy steps – no matter the size or budget you're working with!

How to clean and organize your pantry
Clean out and wipe down shelves.
Go through things to see what you can get rid of.
Group items into categories.
Determine what containers, bins, etc you might need, then go buy them!
Add items to containers.
Add items back to shelves, organizing together based on the groupings you determined earlier.
Small pantry organization
When you have limited space to work with or a smaller pantry, organization is key to making sure you're maximizing all the room you have. If you don't have a dedicated pantry in your house, you can easily put a bookshelf in a corner of your kitchen or another room close by, which is what I did in my apartment. It's a simple and cost-effective pantry solution!
Having dedicated sections and groupings will keep your small pantry organized. You want to make sure that everything has its own spot, especially when you're dealing with a smaller space, so you don't end up with one big jumbled unorganized mess.
Pantry organization bins
Bins help a lot when it comes to keeping your pantry organized. Instead of having everything sitting loose on the shelves, you can group your items together in bins. Keep all your legumes in one bin, your rice and quinoa in one bin, your pasta in another and so on.
Bins are especially handy when you have a pantry with deep shelves. Instead of having to rummage around on the shelf and move things around, you can pull out the bin and easily find what you're looking for. I recommend getting clear bins so you can see what's inside while you're looking around your pantry
Pantry organization containers
Containers will make your pantry so much more organized and help you maximize space. Instead of doing pantry Tetris and trying to make a bunch of different-shaped boxes and canisters fit together, empty everything into dedicated containers that will fit together seamlessly.
I find that clear containers work best because you're able to easily see what's inside. I splurged on the OXO Good Grips pops containers, but there are plenty of affordable options out there.
Just make sure that whatever container you're using seals properly and is airtight so you can extend the shelf life of your items. There's nothing worse than buying a big bag of something and then finding out it's gone bad because it hasn't been stored properly!
Here are a few of my favourite containers and bins: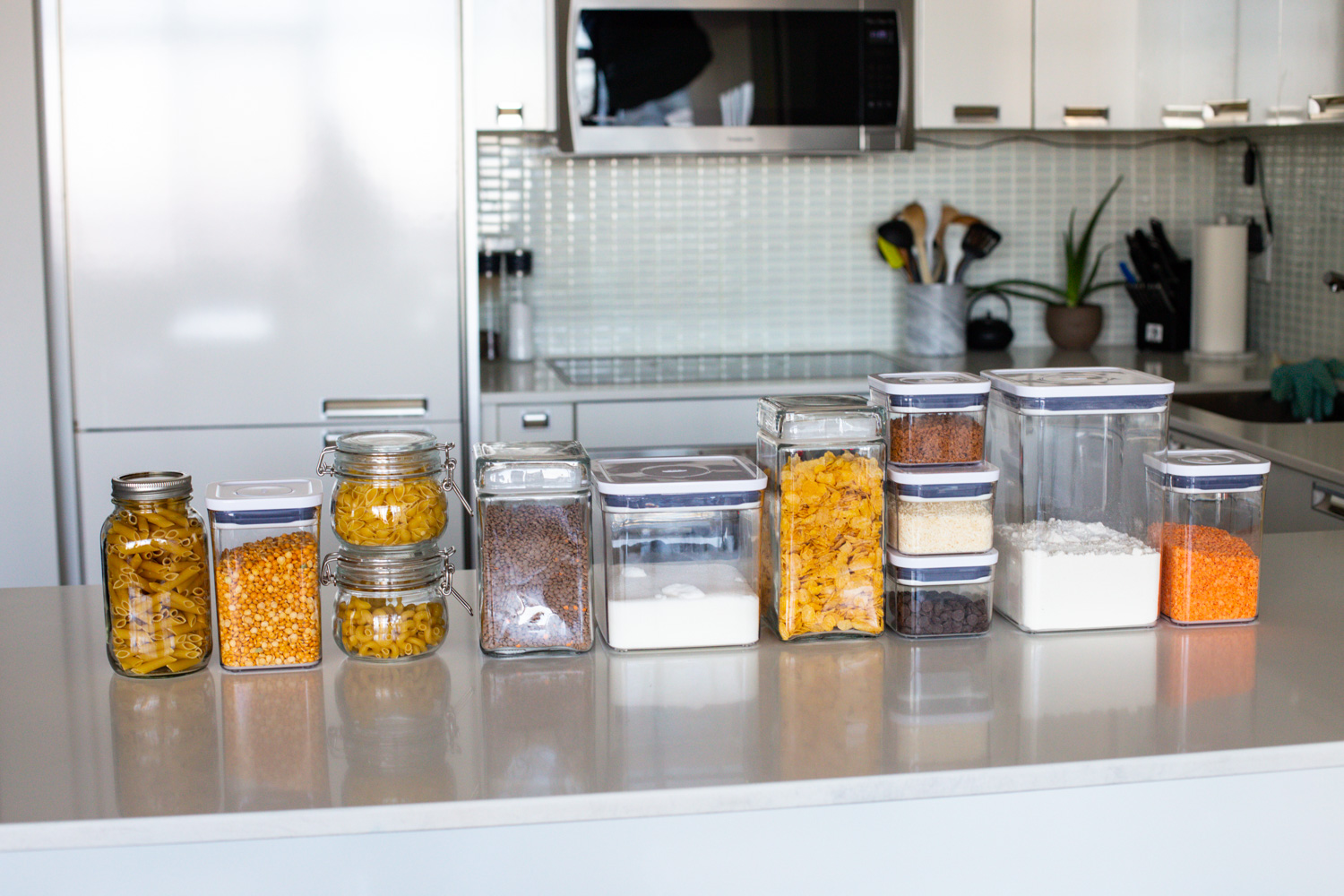 Organizing on a Budget
You don't need to blow your budget when it comes to pantry organization. There are tons of affordable options out there that you can find at the dollar store or online.
Mason jars are one of my favourite budget-friendly items. They're great for storing nuts, seeds, legumes, rice and other dried goods and they're super affordable. You could also use old clear pasta jars or Greek yogurt containers. Just make sure you label anything you can't see through so you know what's inside.
What you can get at the dollar store
The dollar store is a great place to stock up on pantry organizing essentials for less. You can find tons of great stuff there like mason jars, bins and containers of all shapes and sizes. Plus, they'll cost way less than they would at a dedicated storage solutions store.
How do you organize a lot of spices?
You can keep your spices in your pantry, but I personally prefer to keep them in the kitchen where they're easily accessible. That way when I'm cooking, I don't have to run over to my pantry and rummage around for the right spice. I store mine in a bin in their resealable package so I can clearly see what spice it is.
If you do decide to keep your spices in the pantry, store them in labelled containers. You can group them by usage, with the spices you use most towards the front, or alphabetically. It all depends on what works best for you! 
Frequently Asked Questions
How do I group my pantry?
There's no right or wrong way to group your pantry. It all comes down to preference and what will be the most efficient for you. A helpful tip is to think of how things are grouped together at the grocery store by aisle (pasta and rice together, canned goods together, condiments together and so on).
What do you put on the top shelf of your pantry?
I like to use the top shelf of my pantry for overflow items and stuff that I don't use on a regular basis. This might include protein powder, extra kitchen items or anything that doesn't find into my pantry's normal groups.
How can I organize a pantry with deep shelves?
Clear bins are the way to go when it comes to organizing a pantry with deep shelves. By organizing everything in bins, you'll be able to maximize your shelf space and access things more easily. You can just pull the bin off the shelf instead of having to rummage around and try to grab something all the way at the back.
Wanna Learn How To Meal Prep?
My meal planning service, Dinner Prep Pro, removes the guesswork and helps you get dinner on the table in 15-20 minutes each night. My meal prep checklists only take 1 hour each week!
Join The Girl on Bloor Premium!
ZERO ADS on over 600 recipes!
Weekly Meal Plans, Grocery & Prep Lists
Bonus eBooks
…all for less than a cup of coffee per month.