This Freezer-Friendly Turkey Sausage Breakfast Sandwich is a healthy grab-and-go idea with homemade sausage and a spinach egg scramble.
Ingredients and substitutions
Olive oil – use another neutral cooking oil like grapeseed oil, avocado oil or peanut oil.
English muffins – this breakfast sandwich can also be made in a biscuit or a bagel!
Red bell pepper – use any bell pepper colour you prefer or have on hand.
Avocado – use fresh sliced avocados or prepared guacamole.
Microgreens – if you're in a pinch, leave these out completely.
Cheddar cheese – any shredded cheese will pair well with this breakfast sandwich. I recommend using a Tex Mex blend, cheddar cheese or white cheddar.
Sriracha – any other chili sauce will work in place of Sriracha. The most popular substitution is Sambal Oelek, an Indonesian hot sauce.
Egg scramble
Eggs – I haven't tried this recipe with vegan egg substitutions, but you can definitely try to replace the eggs with a plant-based version. You can just use the egg whites.
Spinach – fresh chopped spinach is recommended but defrosted frozen spinach will also work.
Turkey sausage
Ground turkey – make your sausage with any ground meat that you prefer. You can also make this a plant-based sandwich by using your favourite vegan sausage brand.
Fennel seeds – replace with anise or dill seed.
Garlic powder – fresh garlic or garlic salt can be used to replace the garlic powder.
Paprika – use chili powder, smoked paprika, cayenne pepper or crushed red chili flakes instead.
Salt & pepper – to taste.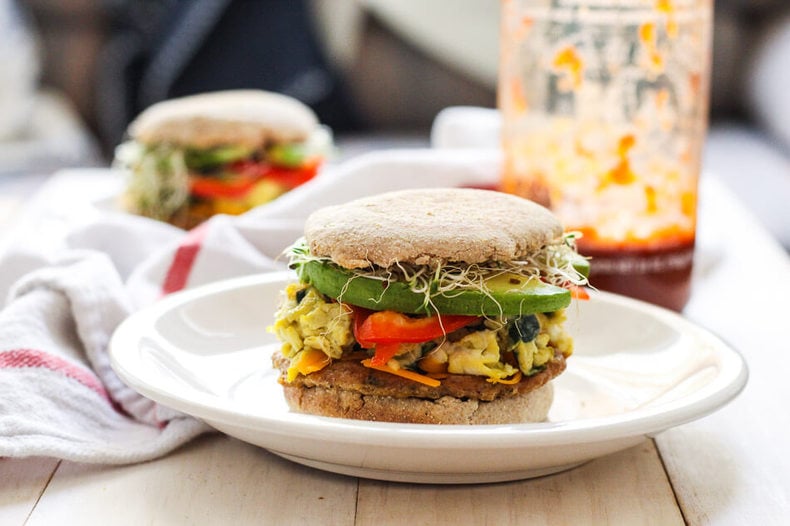 How to make this breakfast sandwich
Prepare your toppings.
Make the turkey sausage.
Cook the spinach egg scramble.
Toast the English muffins.
Assemble your sandwiches.
Eat or store for later.
Homemade turkey sausage
The homemade turkey sausage is one of the best parts of this recipe – it's so good and also super healthy. You can use pre-made breakfast sausage to spend time, but the homemade version is way better (and also generally has less calories).
Making the turkey sausage is surprisingly easy and you don't have to limit it to just breakfast sandwiches. I also love using homemade turkey sausage for stir fries, soups and even pasta.
Here's how to make it:
Mix together the ground turkey with the fennel seeds, garlic powder, paprika, salt and pepper.
Form the mixture into six ¼-inch thick patties.
Cook the patties in a frying pan over medium-high heat for 2-3 minutes per side.
Frequently Asked Questions
What does a breakfast sandwich contain?
A breakfast sandwich normally contains protein, eggs, cheese and some kind of veggies or toppings. For this breakfast sandwich, I used homemade turkey sausage, a spinach and egg scramble, avocado, microgreens and cheddar cheese.
How healthy is turkey sausage?
In general, turkey sausage is a lot healthier than regular sausage. Turkey is a leaner meat than beef or pork so you're saving on the calories and the fat. Plus, when you make the turkey sausage yourself, you'll be using whole ingredients so you can control the amount of salt you put in.
How many calories are in this recipe?
One turkey sausage breakfast sandwich has 472 calories. You're getting a protein-packed meal that will help you start off your day on the right foot! Plus, you won't have to worry about any of those pesky mid-morning stomach grumbles.
Storing and reheating
This breakfast sandwich is a great Sunday brunch recipe that can also be prepared in advanced as an easy weekday breakfast! To store your prepped sandwiches, wrap them in plastic wrap or keep them in an airtight meal prep container and store them in the fridge up to 5 days.
Once you're ready to enjoy your breakfast sandwich, all you have to do is pop it in the microwave for a couple of minutes. If you have more time in the morning, you can even toast them in the oven for 10-15 minutes at 350° Fahrenheit so the English muffin is nice and crispy.
How to freeze breakfast sandwiches
These sandwiches are an amazing freezer-friendly breakfast idea and a life-saver when you're having a busy morning. Let them cool completely then wrap them tightly in plastic wrap and store them in an airtight glass container or freezer-safe Ziploc bag for up to 2 months.
For best results, I suggest thawing them overnight in the fridge before following the reheating instructions above – but if you're in a rush in the morning, you can also reheat them directly from frozen. Wrap your sandwich in a dry paper towel and microwave for 1-2 minutes or until the sandwich is completely hot.
Wanna Learn How To Meal Prep?
My meal planning service, Dinner Prep Pro, removes the guesswork and helps you get dinner on the table in 15-20 minutes each night. My meal prep checklists only take 1 hour each week!
More breakfast sandwich recipes
Meal prep tools for this recipe
These non-stick egg rings are perfect for making the perfect round eggs.
Grab some glass meal prep bowls if you plan on packing these sandwiches as grab & go breakfasts.
Freezer-Friendly Turkey Sausage Breakfast Sandwich
This Freezer-Friendly Turkey Sausage Breakfast Sandwich is a healthy grab-and-go idea with homemade sausage and a spinach egg scramble.
Print
Pin
Rate
IN A CYCLE OF EATING POORLY?We've got you covered with our free Routine Revamp mini course! You'll receive 8 lessons and free coaching with us! Register👇
Join Routine Revamp!
Servings: 6 sandwiches
Calories: 472kcal
Ingredients
2 tbsp olive oil divided
8 eggs
1 cup spinach chopped
6 whole wheat English muffins
1 red pepper sliced
1 avocado sliced
1 cup microgreens
1 cup cheddar cheese shredded
Turkey Sausage
1 lb ground turkey
1 tbsp fennel seeds
2 tsp garlic powder
1 tsp paprika
1 tsp salt
1/2 tsp pepper
Instructions
Chop, slice and prepare veggie toppings as well as shred the cheese before cooking for easy assembly.

Mix ground turkey together with ingredients and form into six 1/4-inch thick patties. Heat 1 tbsp olive oil in a large frying pan over med-high heat, and add sausage patties, cooking for about 2-3 minutes per side.

Remove sausages from the pan and set aside. Crack eggs into a large bowl and whisk until well combined, seasoning with salt and pepper. Heat remaining tbsp olive oil in a medium sized pan and cook eggs until barely set, stirring often. Add spinach and cook for another minute or so until eggs are cooked through.

Meanwhile, add English muffins to a toaster to get toasted to your liking.

Assemble breakfast sandwiches by topping bottom bun with cheese, then turkey sausage patty. Add egg scramble, followed by red pepper, avocado and microgreens. Omit microgreens if freezing.

Serve immediately or wrap in plastic wrap and keep in the fridge (up to 5 days) or the freezer (up to a couple months).
Notes
You can make the homemade sausage with ground chicken, pork or even vegan sausage. Make our breakfast sandwich on a bagel or biscuit instead of an English muffin. Wrap these sandwiches in plastic wrap and store them in the fridge for up to 5 days. Reheat in the microwave or toast in the oven for 10-15 minutes at 350° F. Freeze this recipe for up to 2 months. Defrost in the fridge overnight then reheat or microwave from frozen.
Nutrition
Calories: 472kcal (24%)Carbohydrates: 30g (10%)Protein: 36g (72%)Fat: 25g (38%)Saturated Fat: 7g (44%)Polyunsaturated Fat: 3gMonounsaturated Fat: 11gTrans Fat: 0.04gCholesterol: 279mg (93%)Sodium: 849mg (37%)Potassium: 714mg (20%)Fiber: 7g (29%)Sugar: 6g (7%)Vitamin A: 1841IU (37%)Vitamin C: 31mg (38%)Calcium: 346mg (35%)Iron: 4mg (22%)
Don't wait until January to eat healthy!Sign up for our free Routine Revamp mini course!
Join Routine Revamp!