These Meal Prep Low Carb Big Mac Salad Jars are like a healthy cheeseburger – you probably already have the sauce ingredients!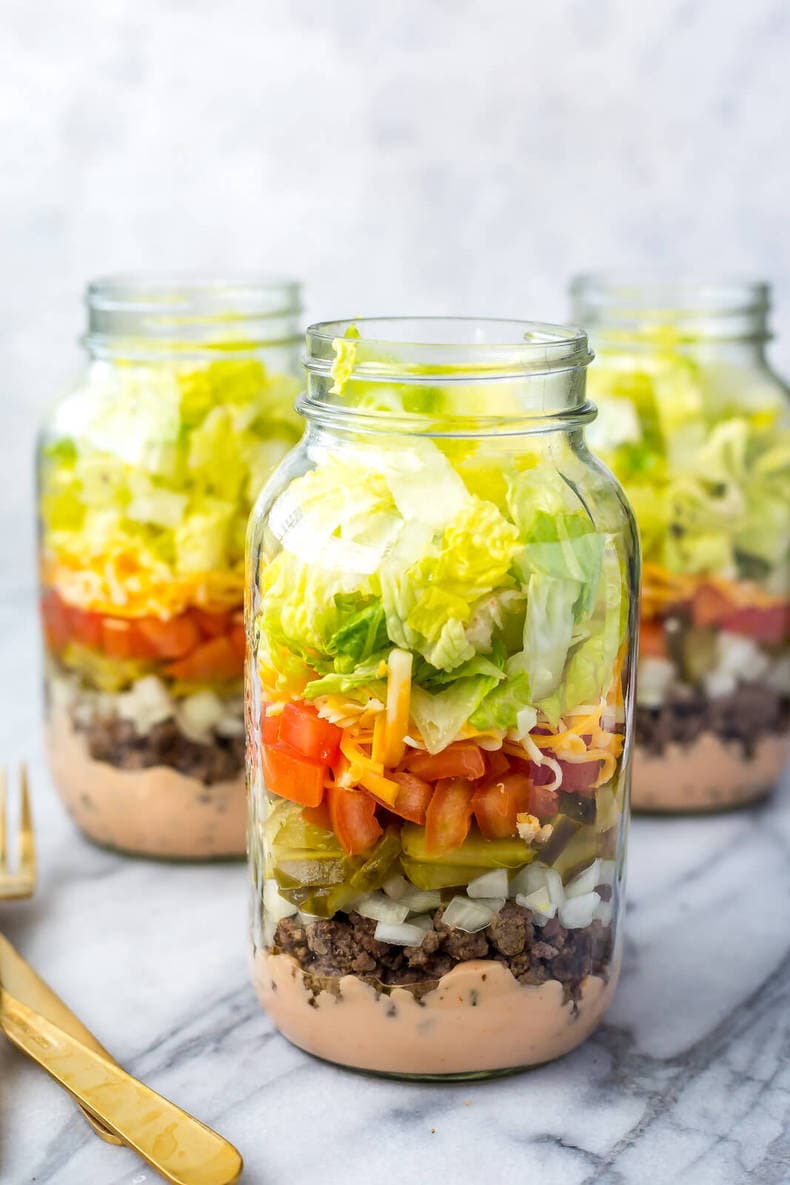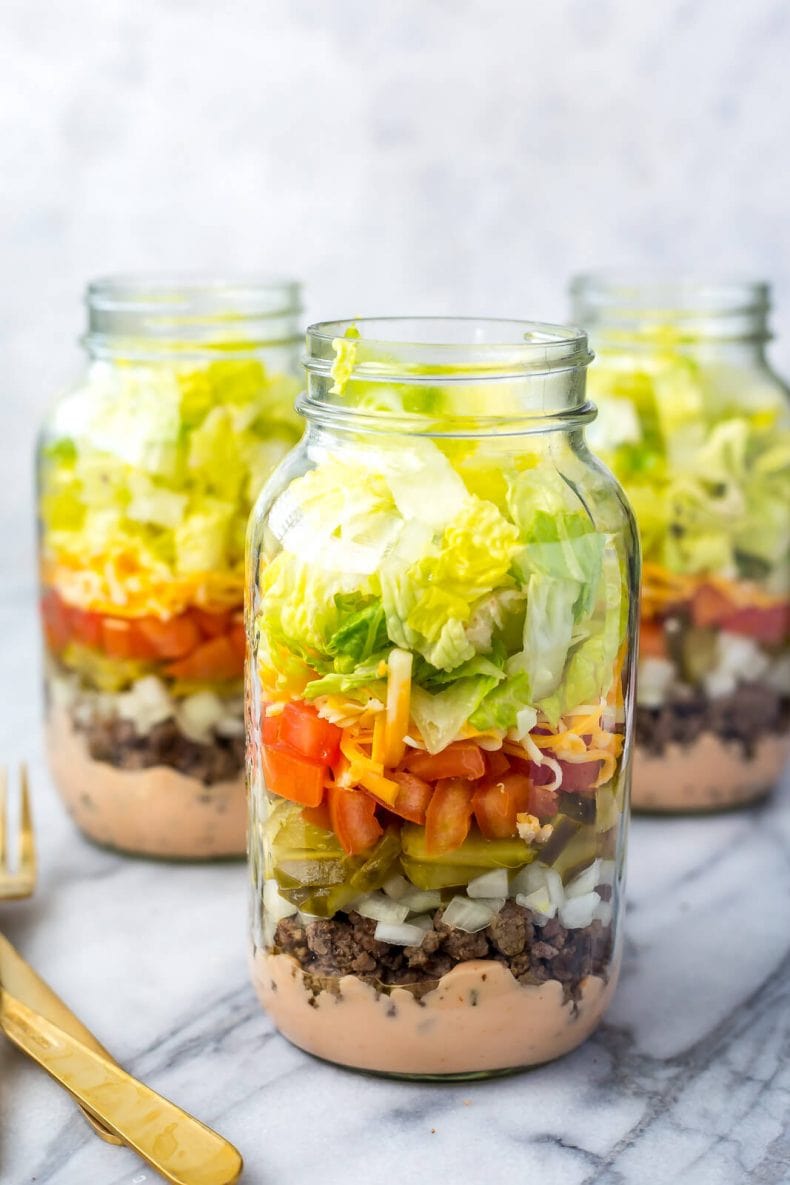 Ingredients and substitutions
Extra-lean ground beef – you can totally use ground turkey or chicken to make these jars even healthier.
Yellow onion – any type of onion will do.
Dill pickles – any type of pickle will work, but dill pickles will give you that signature burger flavour.
Plum tomatoes – Big Macs technically don't have tomatoes so feel free to leave these out. I just like to add a bit more colour and nutrition to my salad.
Cheddar cheese – any type of cheese will work.
Romaine lettuce – iceberg lettuce is more authentic to a Big Mac but this particular lettuce isn't as nutritious as romaine or other types of leaf lettuce. Romaine has a similar crunch to iceberg but packs more nutrition in per serving so that's why I use it with these jars. Feel free to use spinach, kale, arugula, Boston lettuce or any other type of greens you'd prefer to switch it up!
Big Mac sauce
Light mayo – feel free to use regular fat mayo or vegan mayo; unfortunately, Greek yogurt or sour cream will not give you that signature flavour, so mayo is the way to go here.
Ketchup – there's no great substitute for this.
Relish – you can chop up 1 tbsp of pickles instead.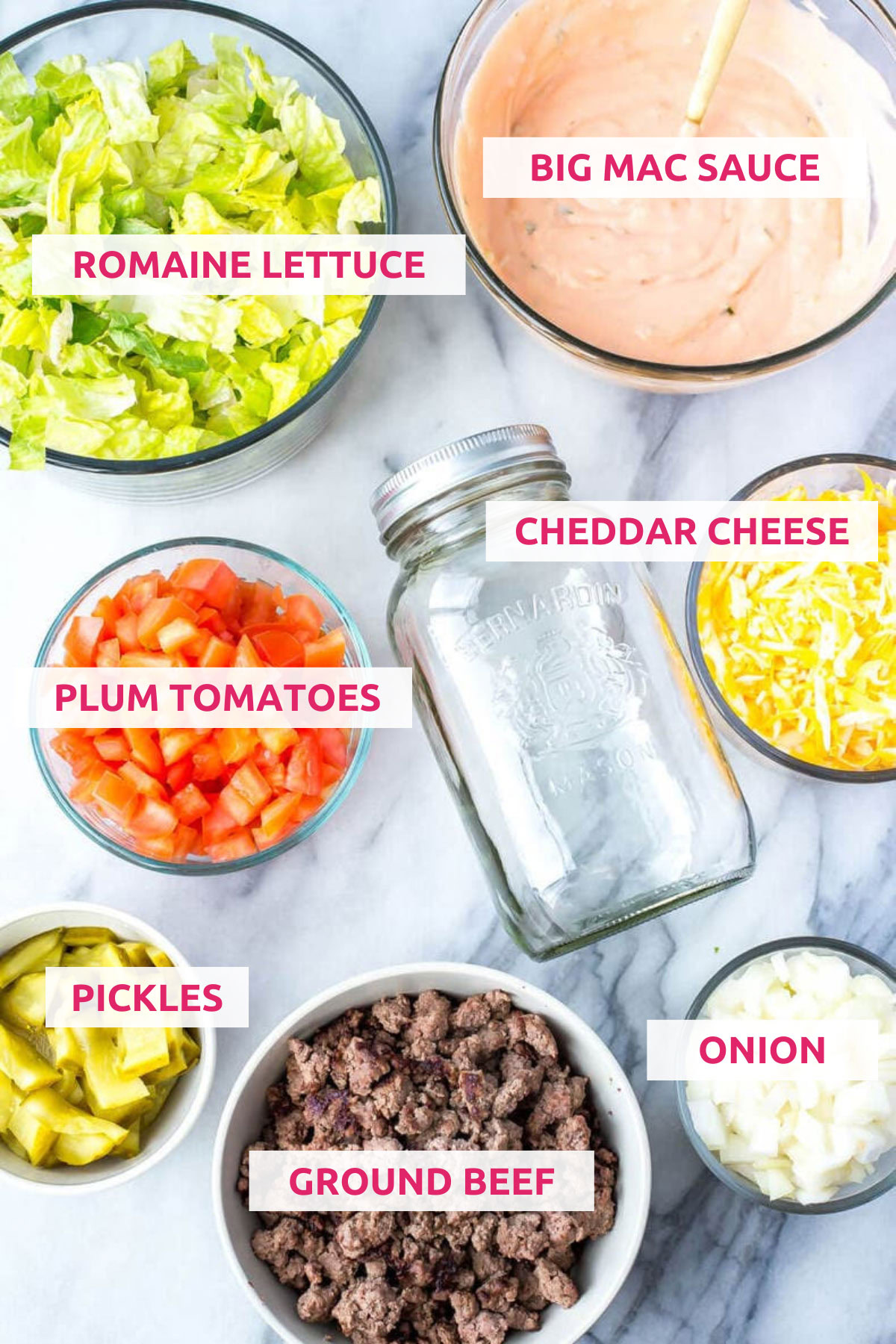 Skip the Ads and Get Right to the Recipes!
ZERO ADS on over 600 recipes!
Weekly Meal Plans, Grocery & Prep Lists
Bonus eBooks
How to make Big Mac salad
Cook the ground beef.
Make the Big Mac sauce.
Assemble your salad.
Serve and enjoy!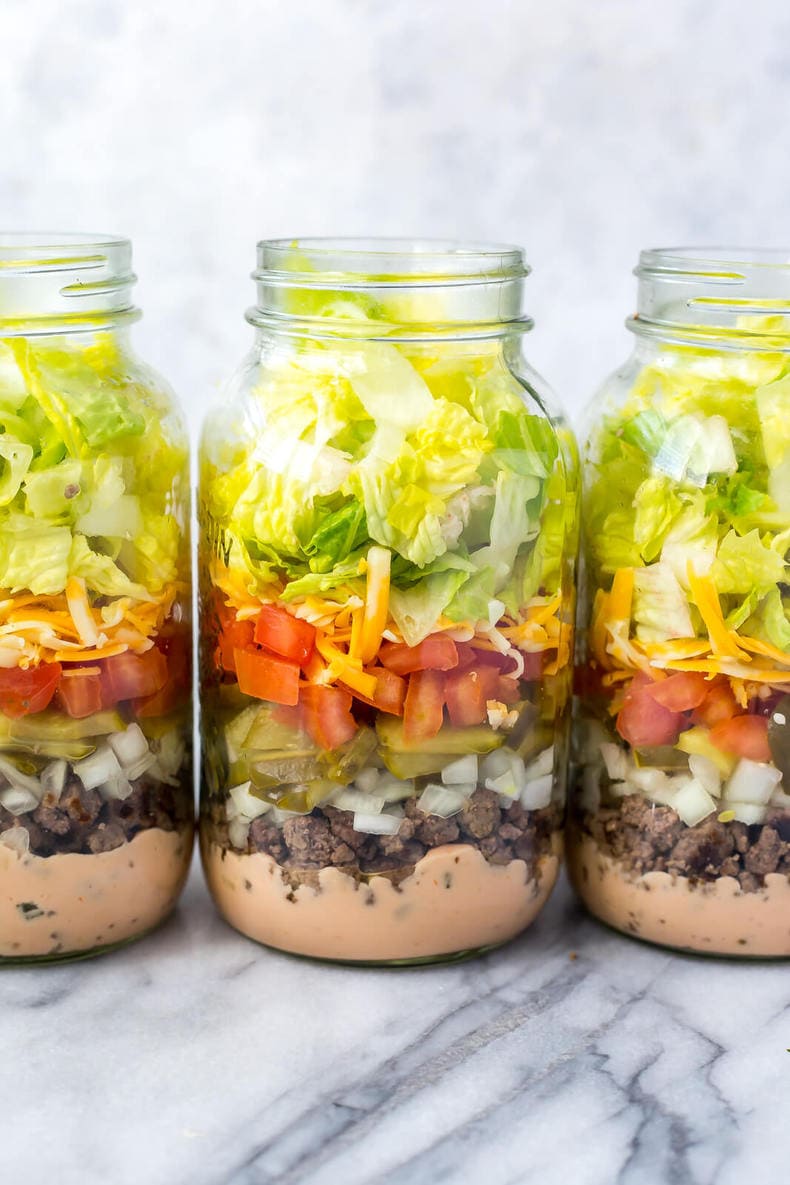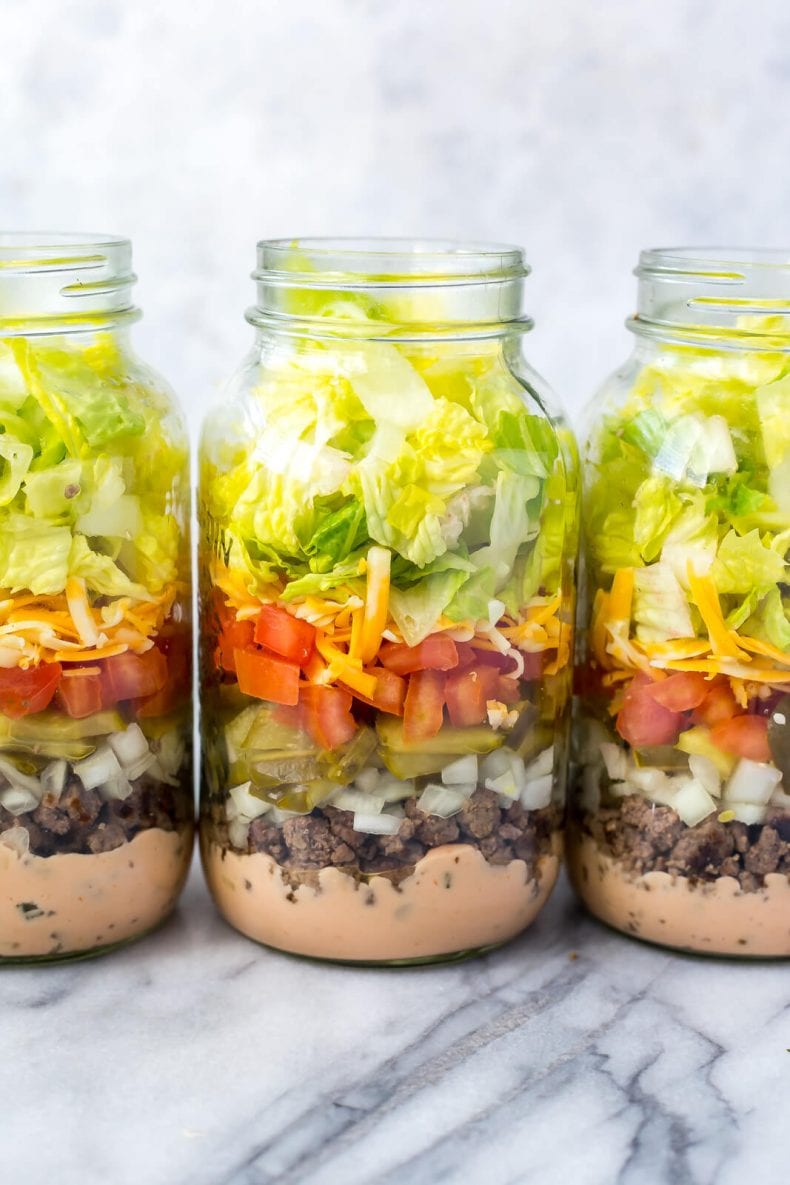 The best Big Mac sauce
Making your own sauce for this Big Mac salad recipe is super easy – all you need is light mayo, ketchup and relish. There are tons of Big Mac sauce copycat recipes out there with other ingredients, but I find that these three are really all you need.
There are also now versions of Big Mac sauce that you can buy at the store. Feel free to keep a jar in the refrigerator and add it to your salad! If you want, you can even try out different salad dressings. These would all be good on this salad:
Thousand Island dressing (the ingredients are very similar to what you will find in this Big Mac sauce)
French dressing
Mustard vinaigrette (it tastes just like one of the burger toppings!)
Salsa will make it taste more like a taco
Greek dressing will give it the feel of a gyro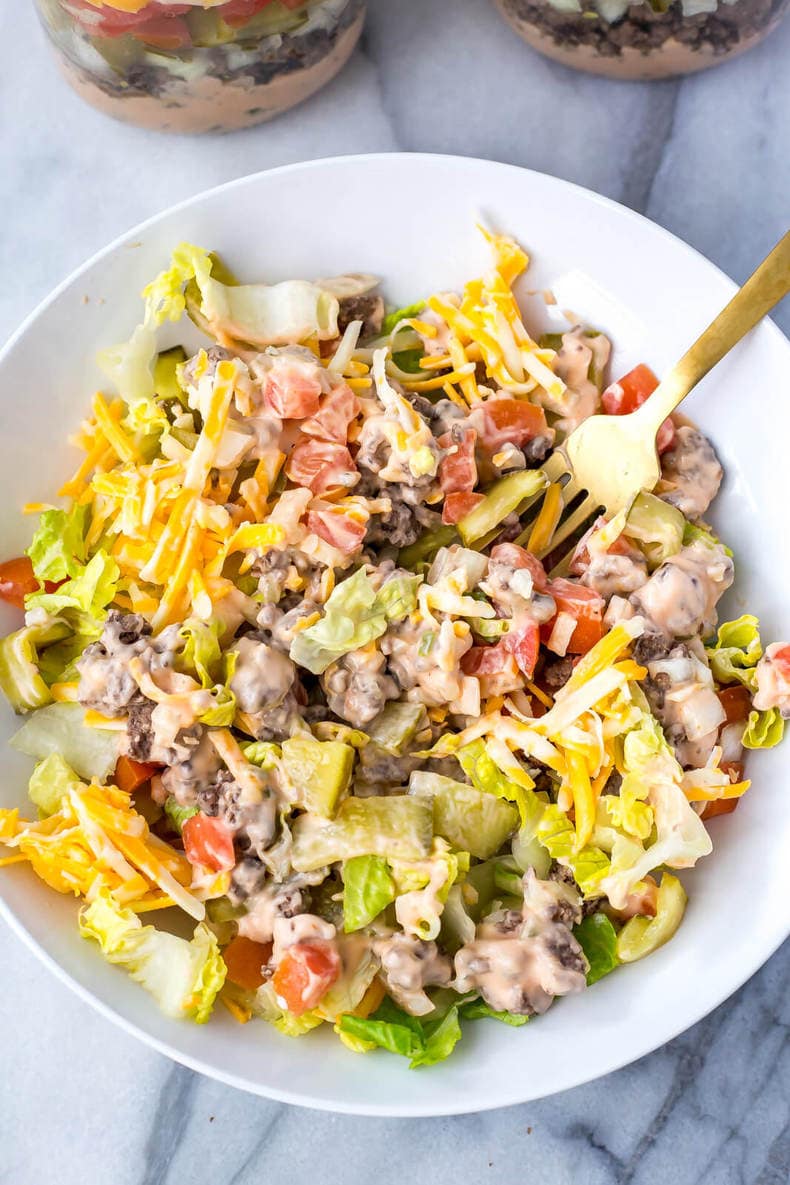 Frequently Asked Questions
How do you layer salad in a jar?
For this keto Big Mac salad, layering is key to ensure your salad stays as fresh as possible. Start with the dressing followed by the ground beef, onions, pickles, tomatoes, cheese and finally the lettuce. This order will keep the salad dressing and ground beef from wilting the lettuce. Packing the onions on the warm ground beef will also give the onions a chance to soften a bit.
Is this recipe keto-friendly?
This recipe is a keto-friendly version of a traditional Big Mac, since you're enjoying all your favourite flavours in salad form. To make it even more keto-friendly, make sure you use low-fat mayonnaise.
What kind of lettuce is best?
A traditional Big Mac is made with iceberg lettuce, but for this Big Mac salad, I used romaine lettuce since it's a bit more nutritious. You can always use iceberg lettuce, I just find that romaine is a healthier option that tastes pretty much the exact same!
Can you eat the beef cold or can you reheat it?
If you're packing this salad into a mason jar, you'll have to eat it cold, since it will already be layered with the rest of the ingredients. If you'd prefer to have the ground beef reheated, store it separately from the rest of the ingredients and reheat it on its own on the stovetop or in the microwave for 1-2 minutes.
What is the best size mason jar to use?
I like using these 16-ounce mason jars for my salads. They're the perfect portion size!
Storing Big Mac salad jars
These Big Mac salad jars will last in the fridge for up to 5 days, and are great for meal prep. You can easily double or triple this recipe if you're making the salad for a big crowd! Once you're ready to eat your salad, dump everything into a bowl or a plate and dig in. You can eat your salad from the jar, I just find it can be a bit tricky.
The Big Mac dressing will also last for a long time in the refrigerator. If it becomes a family favourite, you can make a large batch to use any time!
Freezing the ground beef
While you can't freeze salad, you can cook the ground beef in advance and freeze it for up to 4 months. Let it defrost in the fridge overnight then reheat it in the microwave or in a skillet on the stovetop. Add it to a fresh salad or use it for another recipe of your choice!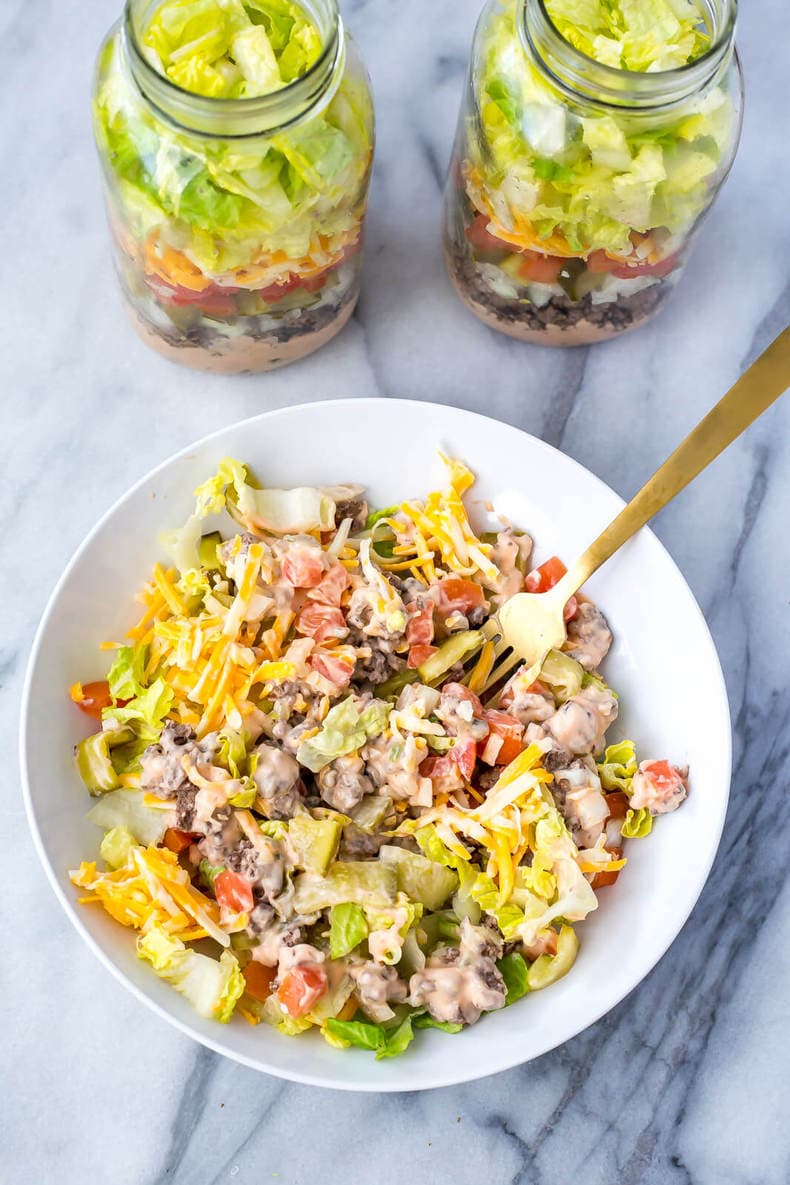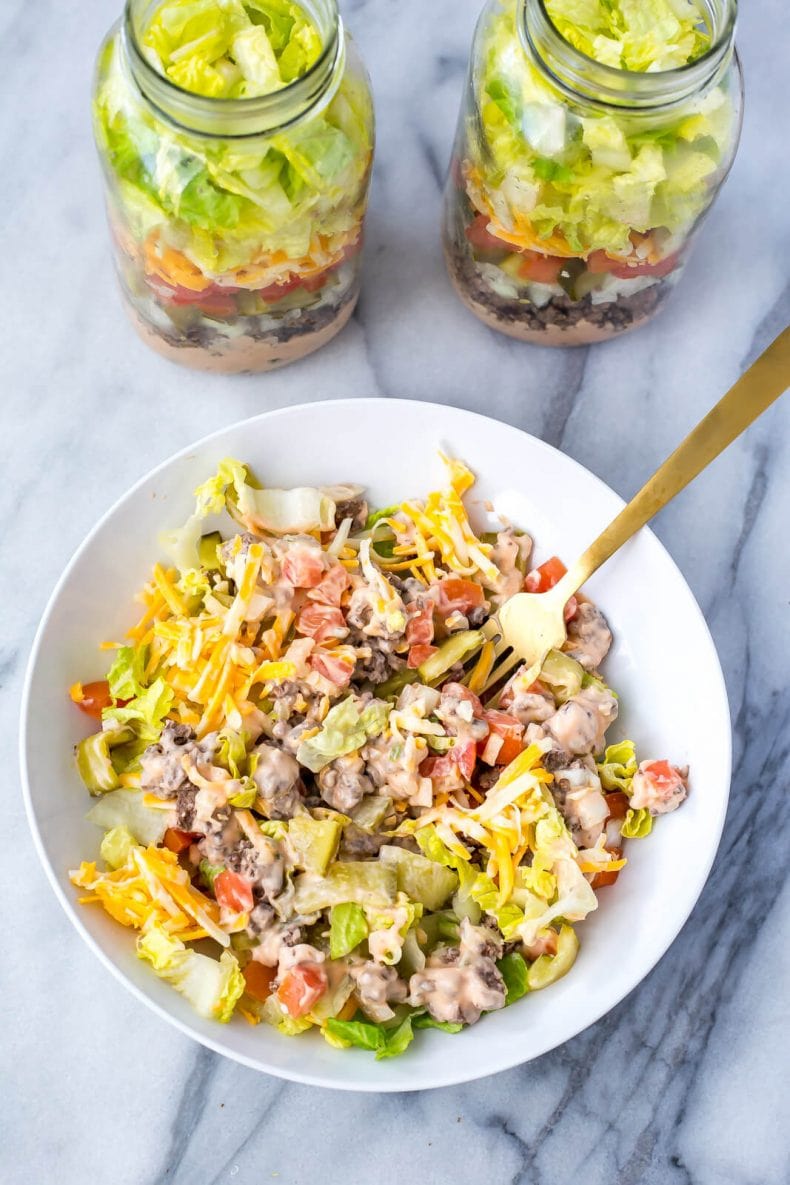 Wanna Learn How To Meal Prep?
My meal planning service, Dinner Prep Pro, removes the guesswork and helps you get dinner on the table in 15-20 minutes each night. My meal prep checklists only take 1 hour each week!
Meal Prep Low Carb Big Mac Salad Jars
These Meal Prep Low Carb Big Mac Salad Jars are like a healthy cheeseburger – you probably already have the sauce ingredients!  
Print
Pin
Rate
Click Here to Remove Ads
Servings: 4 jars
Calories: 426kcal
Ingredients
1 lb extra-lean ground beef
1/2 tsp salt
1 yellow onion, diced
1/2 cup dill pickles, chopped
2 plum tomatoes, diced
1/4 cup shredded cheddar cheese
2 cups romaine lettuce, chopped
Big Mac sauce
1/2 cup light mayo
2 tbsp ketchup
1 tbsp relish
Instructions
Cook ground beef with salt in a medium-sized skillet over med-high heat until fat has absorbed and beef is fully cooked, about 10 minutes.

Meanwhile, mix Big Mac sauce ingredients together. Divide sauce among 4 mason jars. Top with ground beef, then layer with onions, pickles, tomatoes, cheese and lettuce.

Store in the fridge up to 5 days – serve by dumping into a large bowl and enjoy!
Video
Notes
Make this salad even healthier by using ground turkey instead of ground beef. Layer your salads with the dressing on the bottom followed by the beef, onions, pickles, tomatoes, cheese and lettuce. Store these salad jars in the fridge for up to 5 days. Dump into a bowl or onto a plate and serve! Freeze the ground beef for up to 4 months. Defrost in the fridge then reheat in the microwave or on the stovetop.
Nutrition
Calories: 426kcal (21%)Carbohydrates: 15g (5%)Protein: 29g (58%)Fat: 28g (43%)Saturated Fat: 10g (63%)Polyunsaturated Fat: 5gMonounsaturated Fat: 8gTrans Fat: 0.03gCholesterol: 92mg (31%)Sodium: 1041mg (45%)Potassium: 422mg (12%)Fiber: 2g (8%)Sugar: 9g (10%)Vitamin A: 1050IU (21%)Vitamin C: 19mg (23%)Calcium: 40mg (4%)Iron: 3.1mg (17%)
Join The Girl on Bloor Premium!
ZERO ADS!
Weekly Meal Prep Checklists
Bonus eBooks