This McDonald's Southwest Salad is a delicious copycat, right down to the southwest dressing and crispy chicken!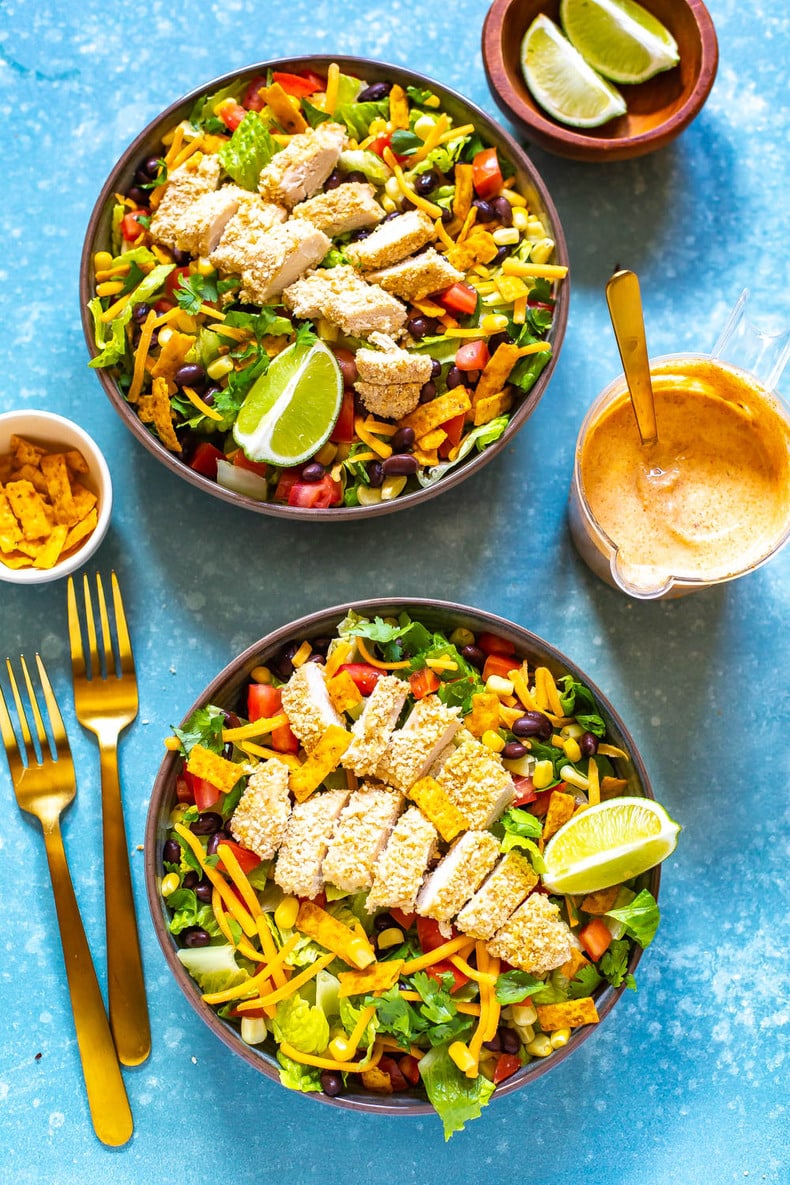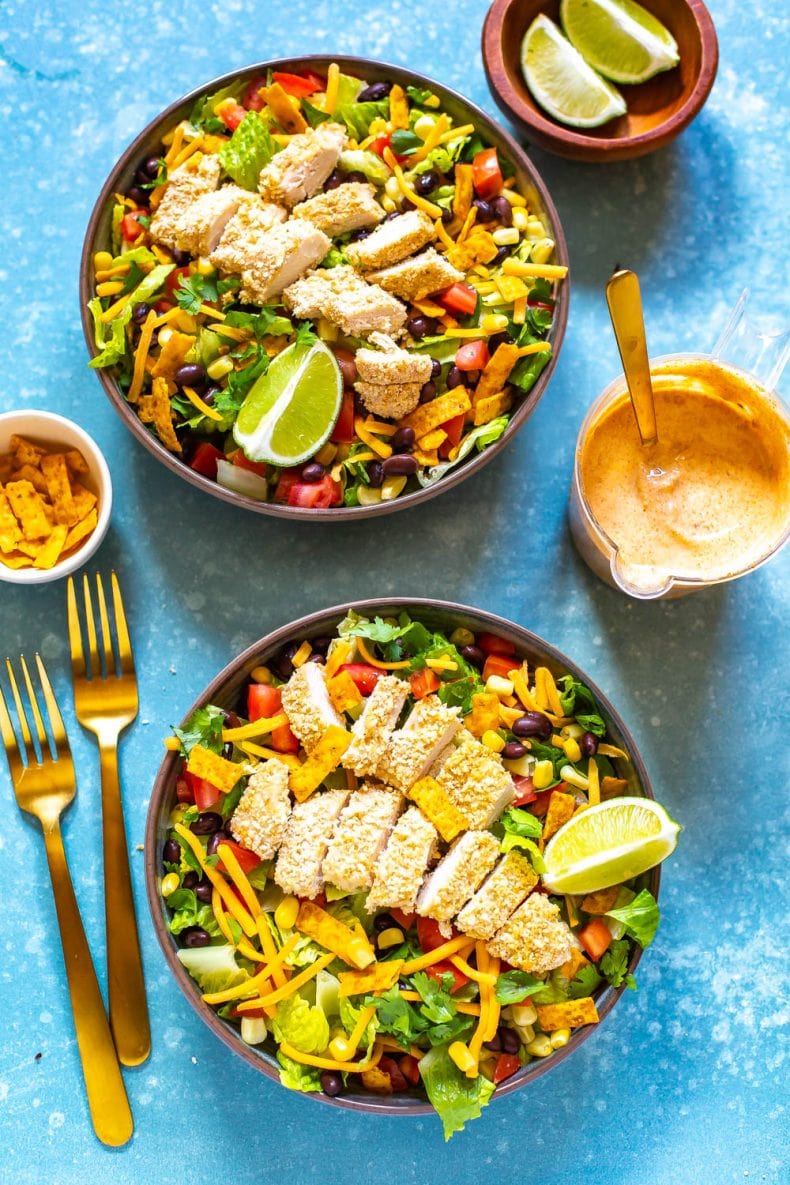 What is in McDonald's Southwest Chicken Salad?
I've brought together all the best parts of this salad in an easy-to-prepare, healthy dinner you can make at home! Just like the McDonalds version, I dress up romaine lettuce with these add-ins:
black beans
corn
tomatoes
cheddar cheese
tortilla strips
The salad dressing McDonald's uses is Newman's Own Southwest. However, I can help you make your own smoky southwest dressing using just a few pantry staples.
What kind of chicken is in this McDonald's copycat recipe?
The McDonald's salad comes with either crispy or grilled chicken. The most popular version has crispy diced pieces of fried buttermilk chicken breast. Normally, breaded chicken is higher in fat and calories. However, with a mixture of breadcrumbs and panko, you can create the same crispy flavour with far fewer calories.
Making the crispy chicken tenders
Dipping the chicken in egg first will help the breadcrumbs stick to the chicken. The breadcrumbs and panko become crispy in the oven.
The real secret to getting the chicken nice and crispy is to increase the temperature of the oven.
You will want to line your baking sheet with foil and spray it with nonstick cooking spray so the breadcrumbs don't stick to the pan. Bake the chicken at 425 F. for six to seven minutes per side. That's all there is to it!
You can also use this recipe to make easy homemade chicken tenders at home – it's one of my go-tos. The key is to not overcook the chicken as it will cook fast when it's cut up into smaller pieces like this. You can buy chicken already cut into tenders at the grocery store, or you can cut up boneless, skinless chicken breasts yourself.
Using grilled chicken
You can also add grilled chicken to this southwest salad. I have a southwest Cobb salad recipe that uses grilled chicken cutlets and you slice them up to add to the salad in the end.
In that recipe, the chicken is seasoned with just a bit of olive oil and taco seasoning, which would work perfectly for this recipe.
If you want more of a smokey flavour and summery feel to this southwest salad, go with the grilled chicken! It will also help cut down on the calories and carbs a little bit.
Can you freeze the chicken?
Yes you can! When it's fully cooked (whether you're using crispy chicken or grilled chicken) you can freeze in a freezer-safe Ziploc bag or glass containers then reheat in a 375 F oven for 10-15 minutes.
If you do plan on freezing the chicken for future use, I would recommend initially undercooking it for 2-3 minutes or so – that way when you go to reheat the chicken, it won't get overcooked.
How to make the southwest salad dressing
McDonald's serves the Southwest Salad with Newman's Own Southwest Dressing and a lime wedge – if you're in a rush you can buy the bottled Newman's dressing at your local grocery store and get the exact same dressing that McDonald's uses!
My salad dressing recipe uses sour cream as a base with lime juice and other spices mixed in. Here's what you see pictured above:
Sour cream
Lime juice
Salt
Cumin
Chili flakes
Paprika
Garlic powder
Feel free to adjust the amount of chili flakes or cumin to make it more or less spicy. This recipe is a great place to start to replicate your favorite drive-through meal.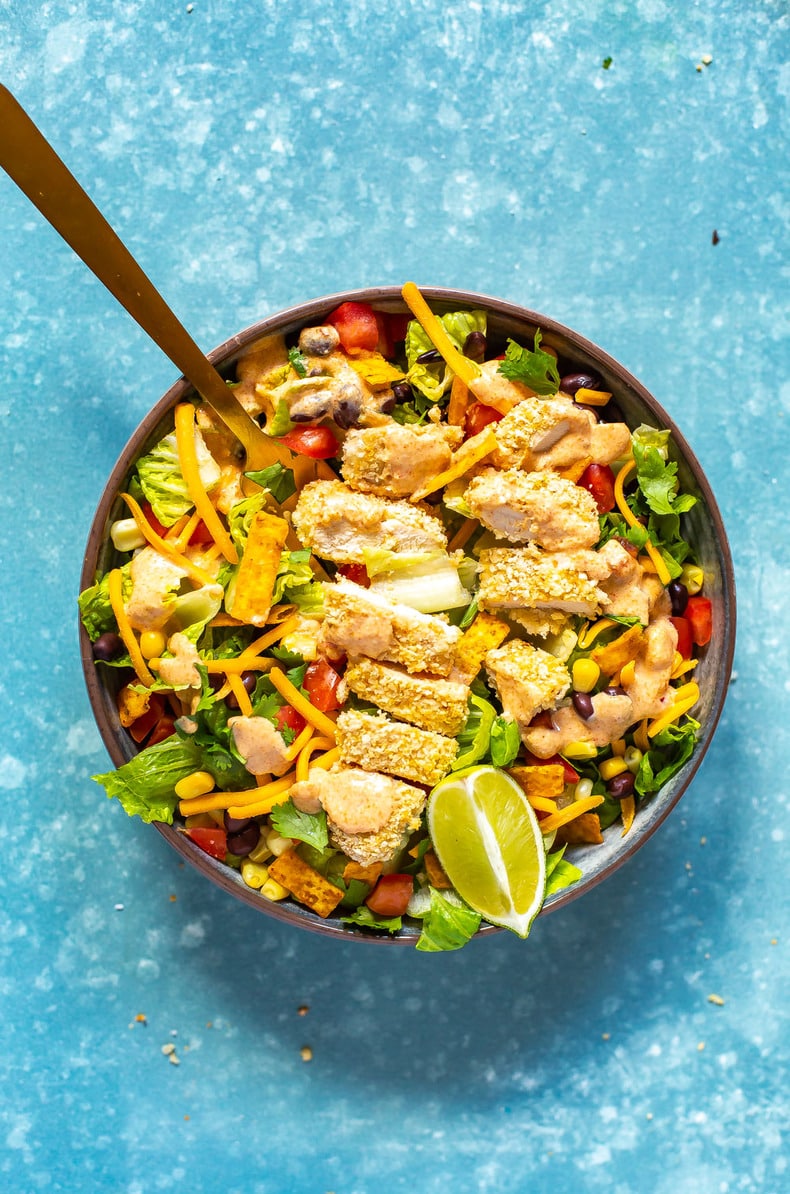 Meal prep shortcuts for this salad
If you're looking to whip up this salad in a hurry, I've got some handy tips and tricks that will help!
Use store bought chicken (whether rotisserie chicken or cooked chicken) to add protein to this salad
Use frozen chicken tenders or chicken nuggets then slice them up overtop
Use pre-shredded cheese so you don't have to grate any
Buy pre-chopped and washed romaine lettuce
Buy the Newman's own dressing as opposed to making your own southwest dressing
You may compromise a bit on the health factor by using some store bought shortcuts but sometimes it's necessary to get a homemade meal. It all depends what your aim is. If you are looking to enjoy a healthier version of the McDonald's southwest salad, you'll want to make as many components as possible from scratch.
How to keep the salad fresh all week
I've got one handy tool for keeping salads fresh for a few days: USE MASON JARS!
Layer the chicken into the bottom of the jars, then add the cheese, tomatoes, lettuce and pack the tortilla chips and dressing on the side. This way, you can enjoy the salad at work for up to 3 or 4 days! Just make sure to use a large bowl to serve your mason jar salads in when you go to eat them.
There are also these super cool bento box meal prep containers so you can keep the chicken, tortilla strips and veggies separate.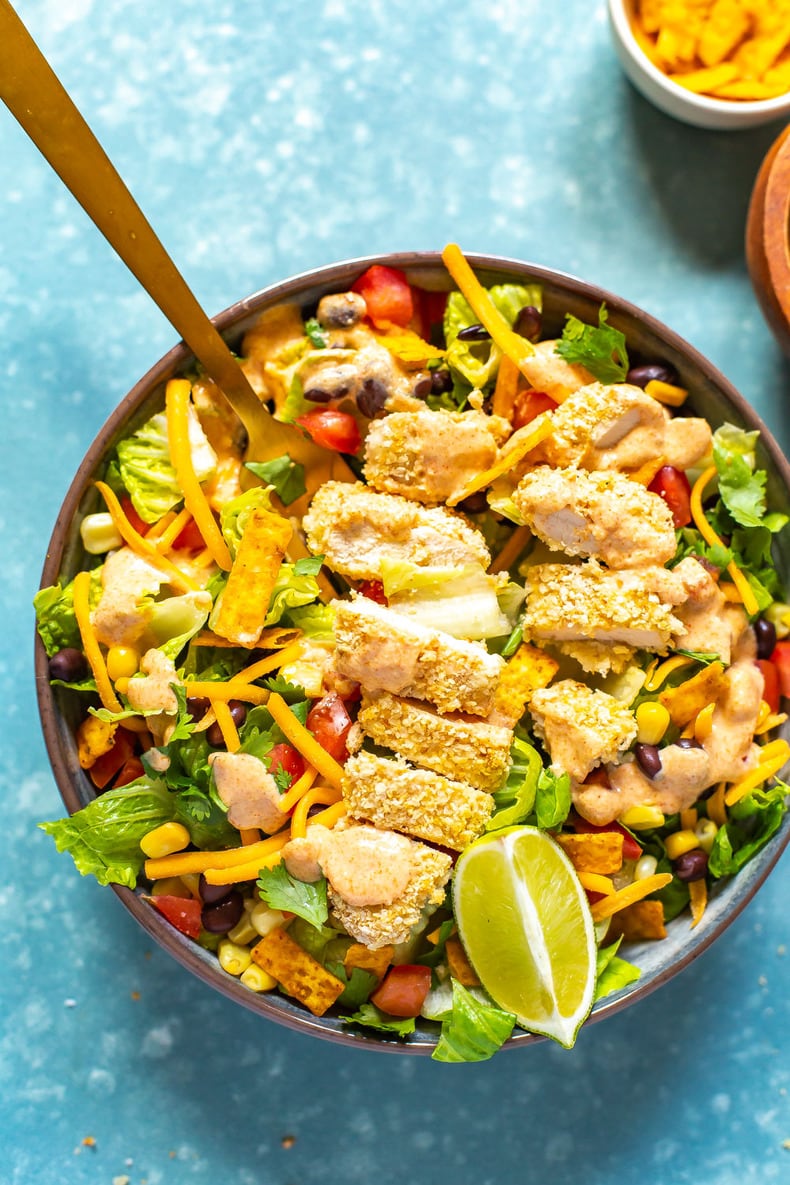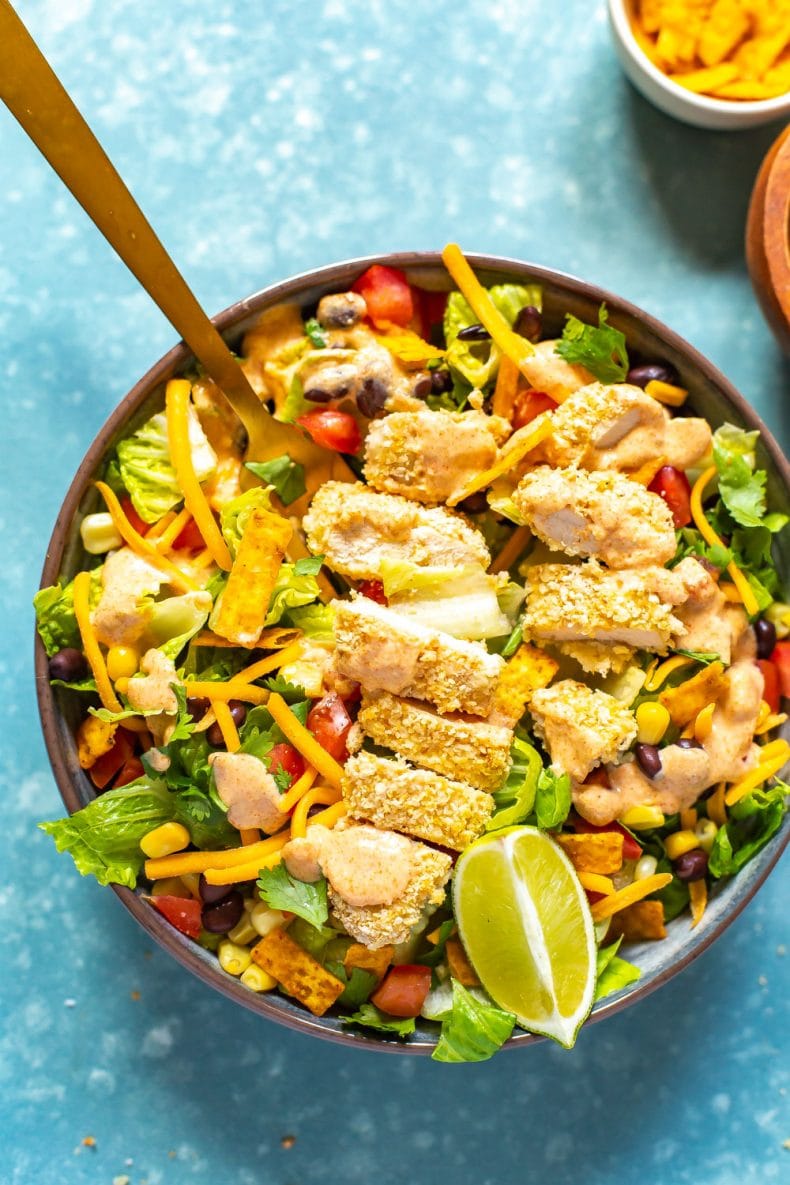 What components can you make ahead of time?
Here's everything you can make ahead of time to save time:
The chicken tenders
Wash and chop up the lettuce
Rinse and drain your can of black beans
Defrost the corn
Grate the cheese
Make the dressing
Chop up the cilantro
How to make this salad gluten free/low carb
While the original McDonald's salad is not gluten free, this recipe can be adapted for that diet.
Breadcrumbs and panko both include wheat flour, but there are gluten free breadcrumbs on the market. You can also use parmesan cheese and egg to make a light coating. This works if you're trying to make this southwest salad low carb as well.
Another possibility is to make grilled chicken and just bake it with desired seasoning instead of breadcrumbs. Tortilla strips are usually made of corn so you can still enjoy them in the gluten-free version of this salad, but leave them out if you're looking to go low carb. You'll also want to leave out the black beans and corn as they are higher in carbs.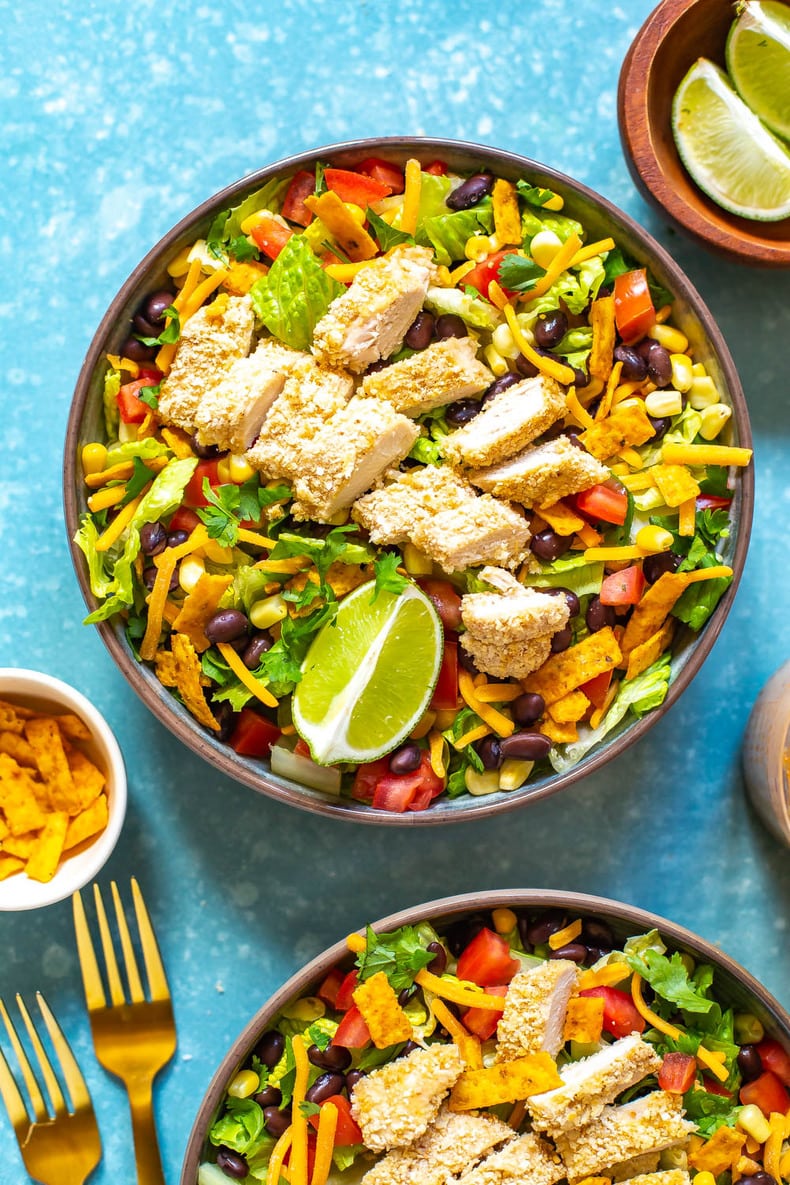 McDonald's Southwest Salad Calories and Nutrition
Despite the fact that it's a salad and should be a healthier menu option, the McDonald's Southwest Salad has 520 calories and 39% of your daily recommended fat intake. It does contain plenty of protein, but also more carbs than you may want to consume due to the breading on the chicken.
McDonalds has provided the option for grilled chicken instead of crispy chicken which can decrease the calories and carbs, but this copycat recipe gives you all of the best of the crispy chicken without the unhealthy benefits.
The Newman's Own southwest salad dressing can also be a problem for those watching their diet. The creamy dressing has 490 milligrams of sodium, which affects blood pressure.
You can also reduce the sodium in the chicken by making your own breading and not adding any salt to the breadcrumb mixture.
Other McDonald's Copycat Recipes
If you want to make more of your favourite McDonald's meals at home, check out these healthier copycat recipes!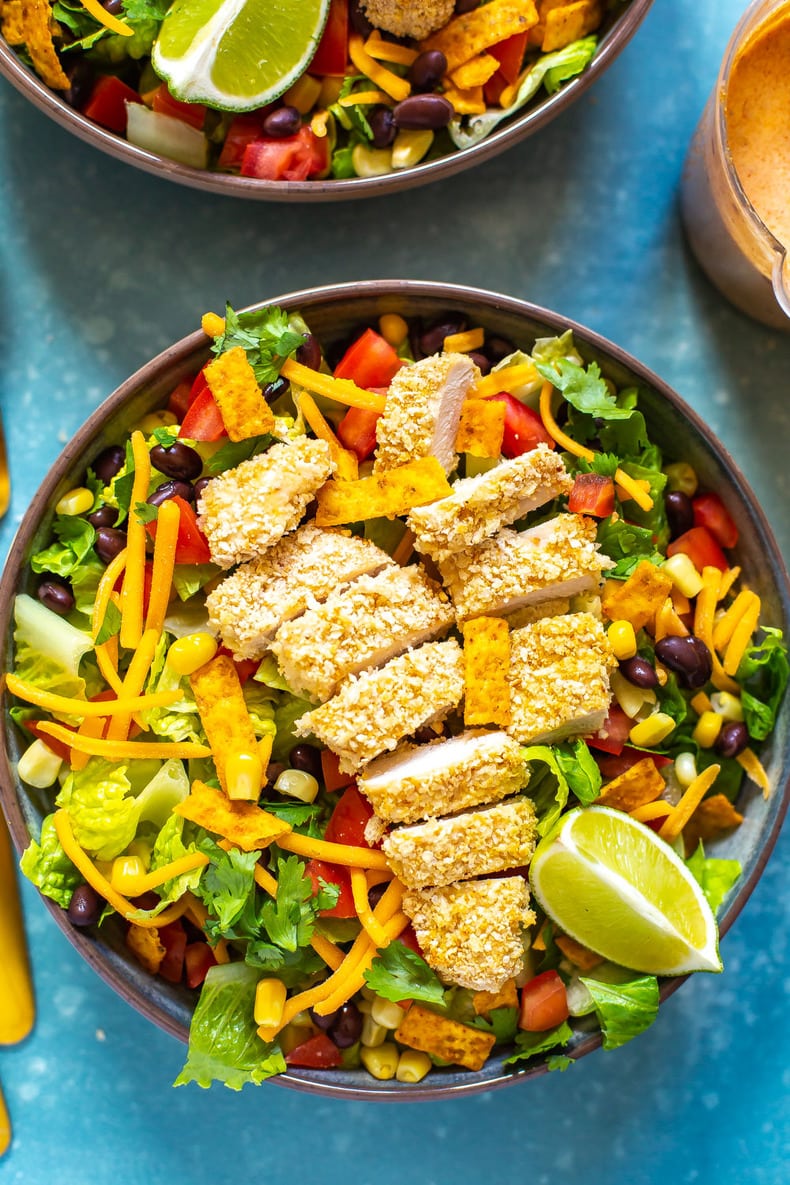 Meal prep tools for this recipe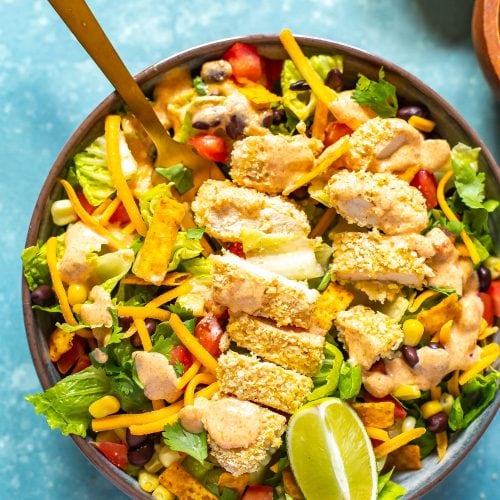 McDonald's Southwest Salad Recipe
This McDonald's Southwest Salad is a delicious copycat, right down to the southwest dressing and crispy chicken! 
Print
Pin
Rate
Ingredients
Crispy chicken
1/2

lb

chicken tenders

2

eggs

1

cup

panko breadcrumbs

1

cup

regular breadcrumbs

Cooking spray & salt to taste (optional)
Salad fillings
1

head

romaine lettuce, chopped

Black beans

Corn

Tomatoes, diced

1/2

cup

Shredded cheddar cheese

Tortilla strips

Cilantro, chopped
Southwest salad dressing
3/4

cup

sour cream

2

tbsp

lime juice

1

tsp

paprika

1

tsp

onion powder

1

tsp

cumin

1/2

tsp

salt

1/2

tsp

chili flakes
Instructions
Preheat oven to 425 F. Crack egg into a large bowl, then coat chicken in it. Mix panko and regular breadcrumbs in a large bowl, then coat chicken in the mixture.

Place chicken tenders on a parchment-lined baking sheet and spray with cooking spray then season with salt if desired. Bake for 6-7 minutes per side until chicken is fully cooked.

Meanwhile, mix ingredients together for salad dressing and assemble ingredients for salads while chicken is cooking.

When chicken is done, remove from oven and let cool. Slice into strips then top each salad with chicken and toss in 2 tbsp of dressing (or less) per salad. Serve and enjoy!
Video
Nutrition
Calories:
431
kcal
|
Carbohydrates:
39
g
|
Protein:
29
g
|
Fat:
19
g
|
Saturated Fat:
9
g
|
Cholesterol:
155
mg
|
Sodium:
645
mg
|
Potassium:
989
mg
|
Fiber:
9
g
|
Sugar:
6
g
|
Vitamin A:
14635
IU
|
Vitamin C:
11.7
mg
|
Calcium:
260
mg
|
Iron:
4.5
mg